Newspapers on Thursday covered the ongoing developments in Iraq and Syria, where the US, Russia, and Turkey are on the verge of a conflict among themselves ahead of an operation to liberate the ISIS-held Mosul in Iraq.
The remarks made by the CEO of Peugeot-Citroen, the French car-maker, about the compensation paid to Iran also received good coverage.
President Hassan Rouhani's ongoing visit to the Southeast Asia was also a top story today.
The above issues, as well as many more, are highlighted in the following headlines:
Abrar:
1- Iraqi PM's Warning to Turkey and Possibility of Regional Conflict
2- Rouhani: Development of Asian Cooperation Is of Great Importance to Iran
3- 2m Yemeni Children Deprived of Education: UNICEF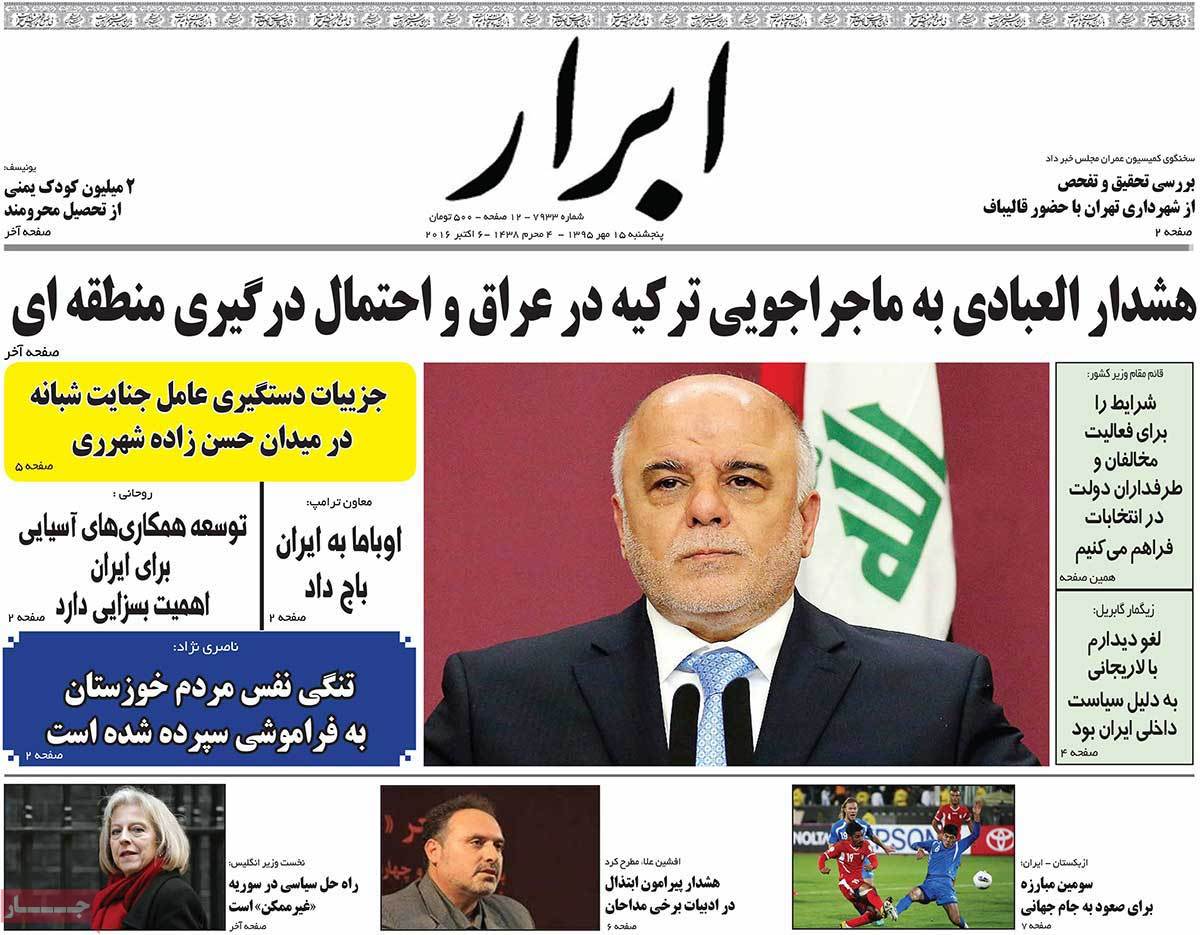 ---
Afkar:
1- IRGC Warns Saudi Arabia
2- Iran Seeks to End Takfiri Sedition in Region: Larijani
3- Boeing Not to Deliver Any Plane to Iran This Year
4- Ban Ki-moon's Biased Report about Iran Human Rights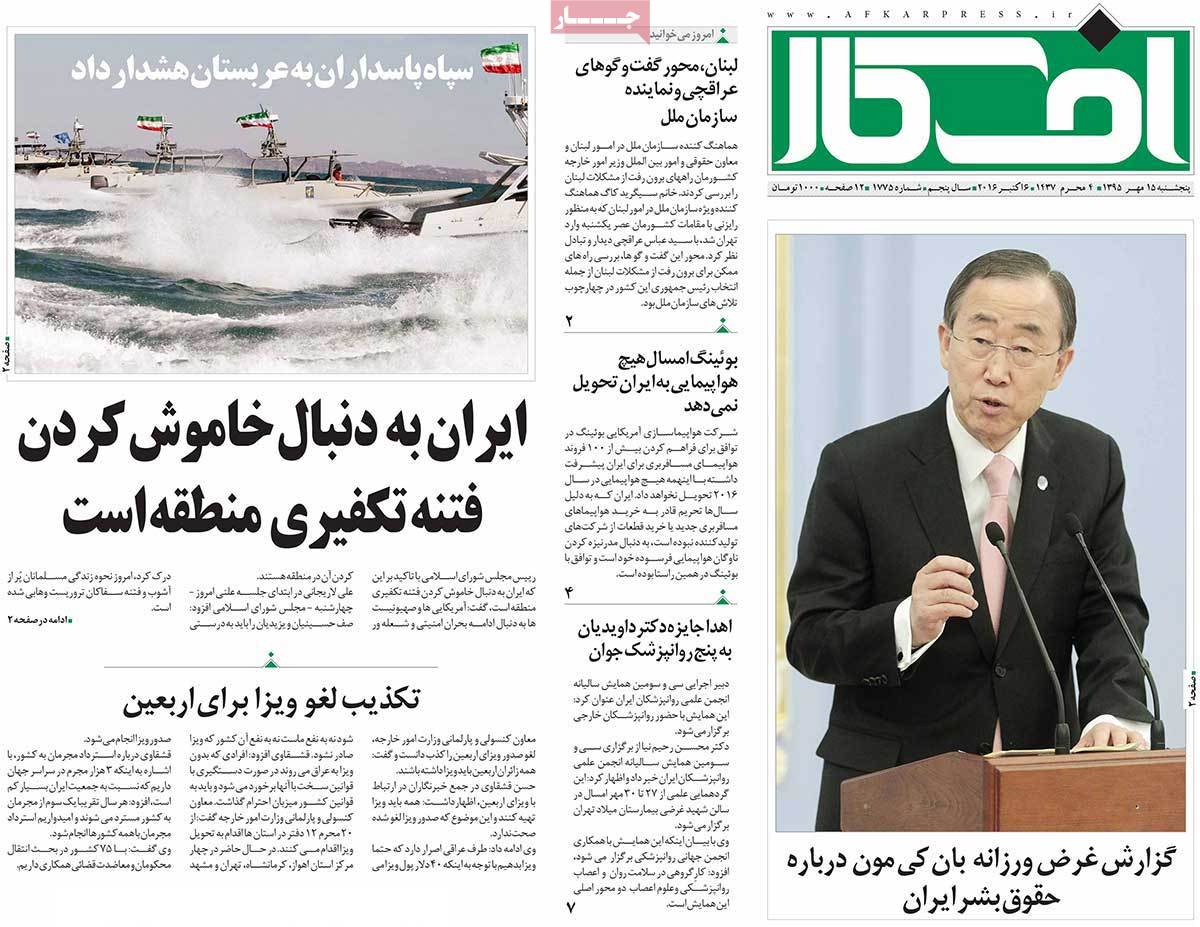 ---
Aftab-e Yazd:
1- Increase in Iran's GDP after JCPOA
2- IMF Predicts Iran's Inflation Rate Will Be 9.2% on Average This Year and Next Year
3- We Paid Compensation to Iran: Peugeot-Citroen CEO
---
Arman-e Emrooz:
1- Reformists in Rouhani's Think-Tank
2- If Rouhani Reshuffles His Cabinet, It'll Be a Good Point for Him in Next Elections: Reformist Figure
3- Ayatollah Rafsanjani: Human Beings Are Getting Closer to Rationality Today
4- Analyst: Rouhani's Presence in East Asia Is a Warning to the West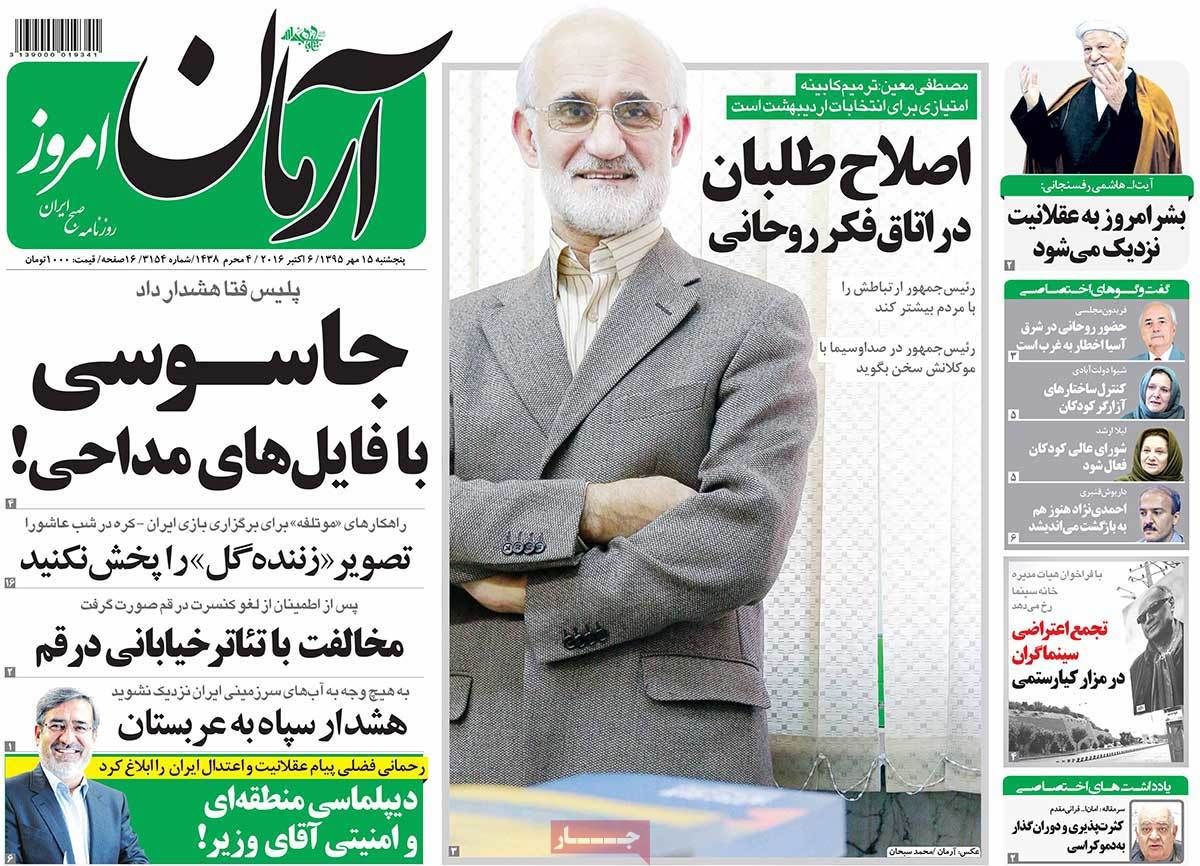 ---
Asrar:
1- Don't Approach Iran: IRGC's Warning to Saudi Warships
2- Iran and Japan Start Banking Cooperation
3- Bahonar Criticizes Those Who Are Running for Presidential Elections Every Time
4- NATO's Plan for Attack on Syria with 800 Fighter Jets
5- German Minister's Visit to Iran Means They Have Ignored Their Own Pre-Conditions: Hamshahri
---
Ebtekar:
1- 21st Century Belongs to Asia: Rouhani
2- A Report on Canals in Tehran Which Have Turned to Shelters for Junkies
3- Turkey's Foot in Iraq's Shoes: Conflict Breaks Out between Two Neighbours
---
Etemad:
1- Bahonar's Advice to Conservatives: Those Who Weren't Successful in Previous Elections Should Better Refrain from Running Again
---
Ettela'at:
1- UN: Hundreds of Thousands of War-Hit Children in Yemen Are Hungry
2- Foreign Ministry Spokesman: UN's Report about Iran's Human Rights Is Invalid
3- 100,000 Added to Iran's Population Each Month: Official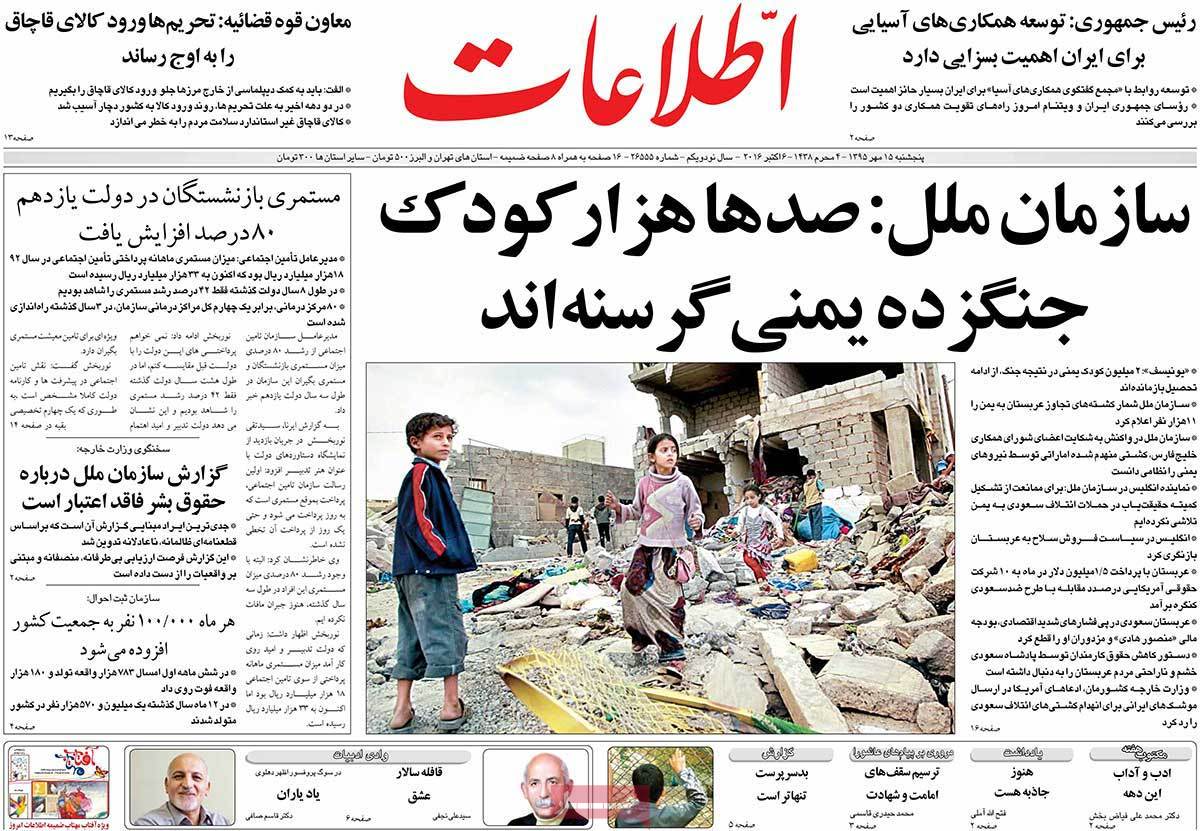 ---
Haft-e Sobh:
1- Peugeot to Produce 200,000 Cars in Iran Each Year
2- No One Liked German Vice-Chancellor
3- From Rasht to Rhine: 20 Interesting Points about Professor Majid Samii
---
Hamshahri:
1- Cars That Pollute the Air Won't Be Allowed in Tehran Anymore
2- Economy Minister: We Wasted Our Money by Paying Cash Subsidies
---
Hemayat:
1- US Is Cheerfully Supporting Wahhabi Terrorists: Larijani
2- Ban Ki-moon's Unsubstantiated Claim in His Last Day!
3- Peugeot CEO: We Paid Compensation to Iran, and Its Amount Is Secret
4- Argument over Iran's Nuclear Program: Hot Presidential Debate between Clinton and Trump's First VPs
5- Secular Thoughts Aimed at Removing Abrahamic Religions Are Regrettable: Iran Official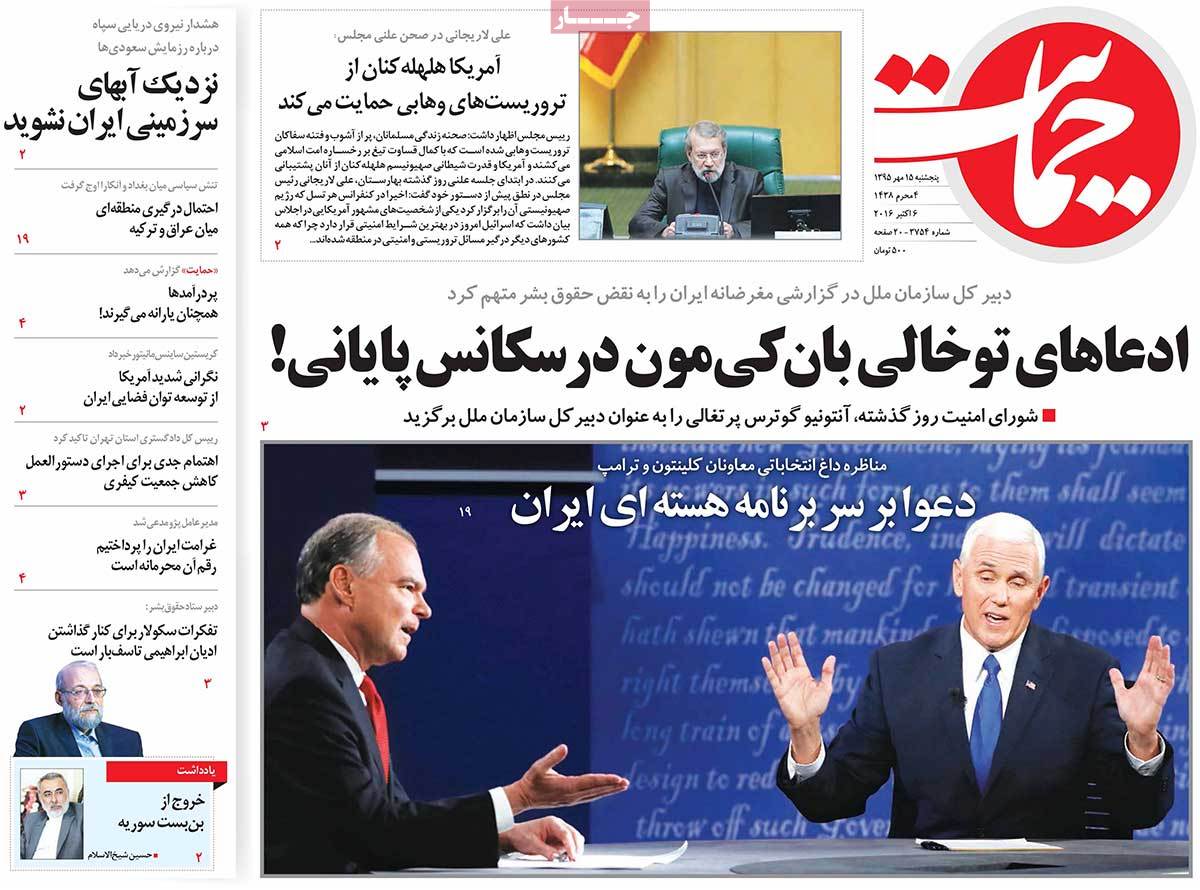 ---
Iran:
1- Southeast Asia, the Destination of Iran's Economic Diplomacy
2- $6.6bn Improvement in Iran's Food Trade Balance
3- Big Scandal for Yahoo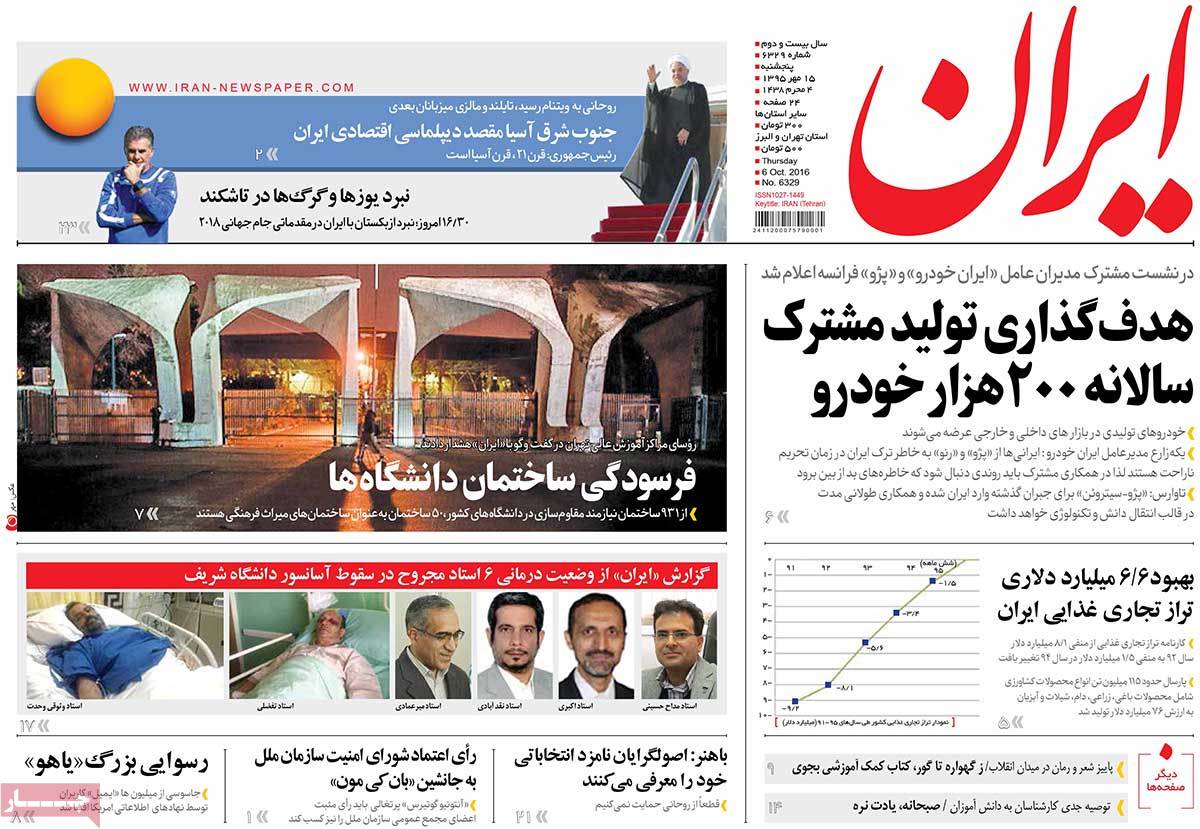 ---
Jame Jam:
1- US Sabotage in Banking Transactions
2- Looking at the East, Working with the Wes: President Rouhani in Southeast Asia
3- Deprived Provinces, the First to Take Part in Online Census
4- The Challenge of Children Having the Final Say in Families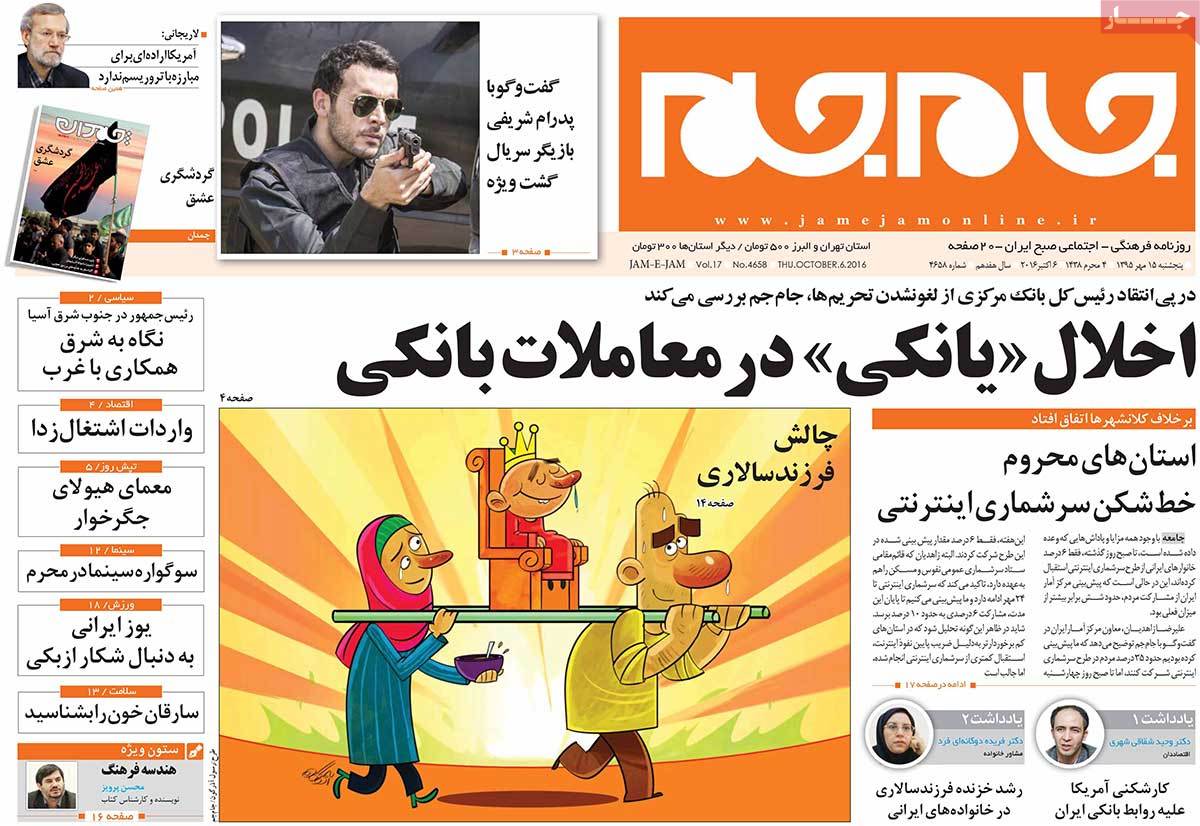 ---
Javan:
1- US and Russia Moving towards Conflict in Syria
2- IRGC: Saudis Shouldn't Even Approach Iran's Territorial Waters
3- 29 Wounded in a Fight after Iranian Singer's Concert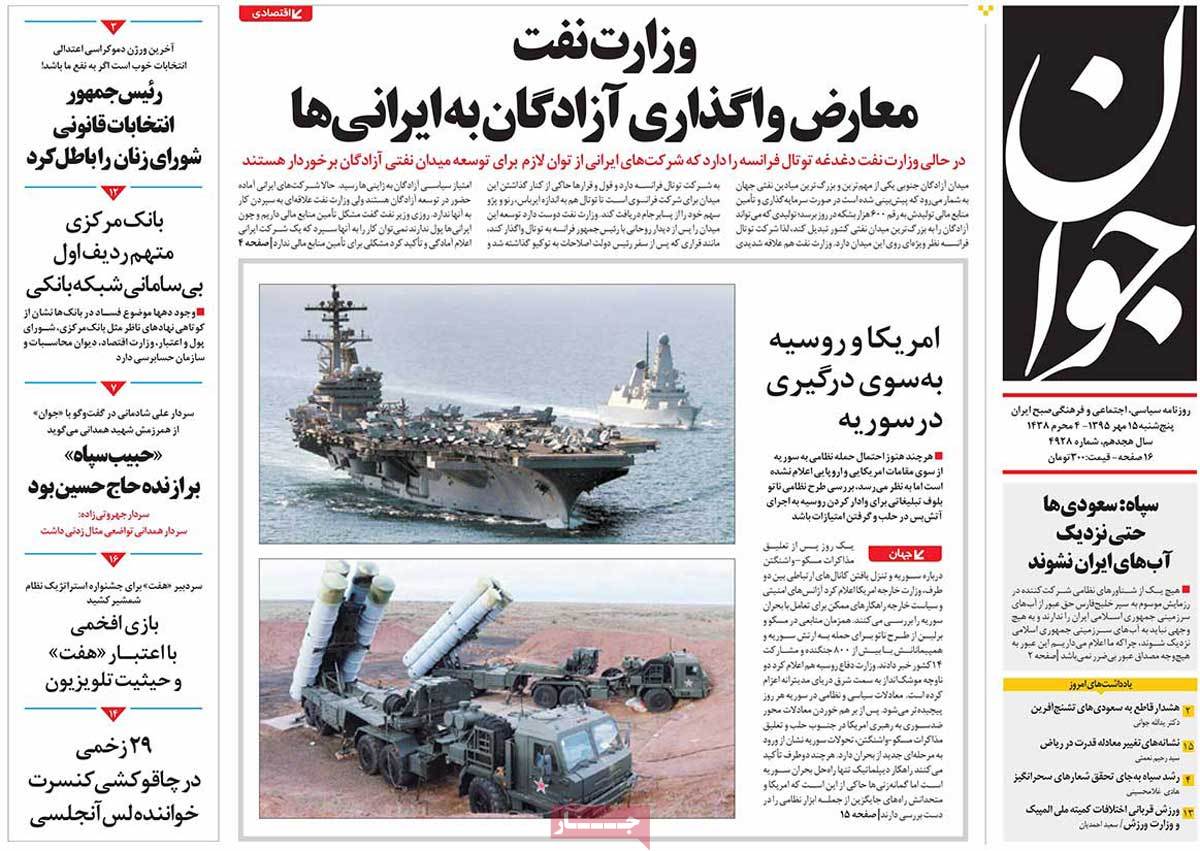 ---
Jomhouri Eslami:
1- New Round of Rouhani's Diplomacy for Expansion of Ties with East Asia
2- Iran's 22-Rank Improvement in World Inflation Ranking
3- Joint Plot by US and Saudi Arabia to Attack Syria Revealed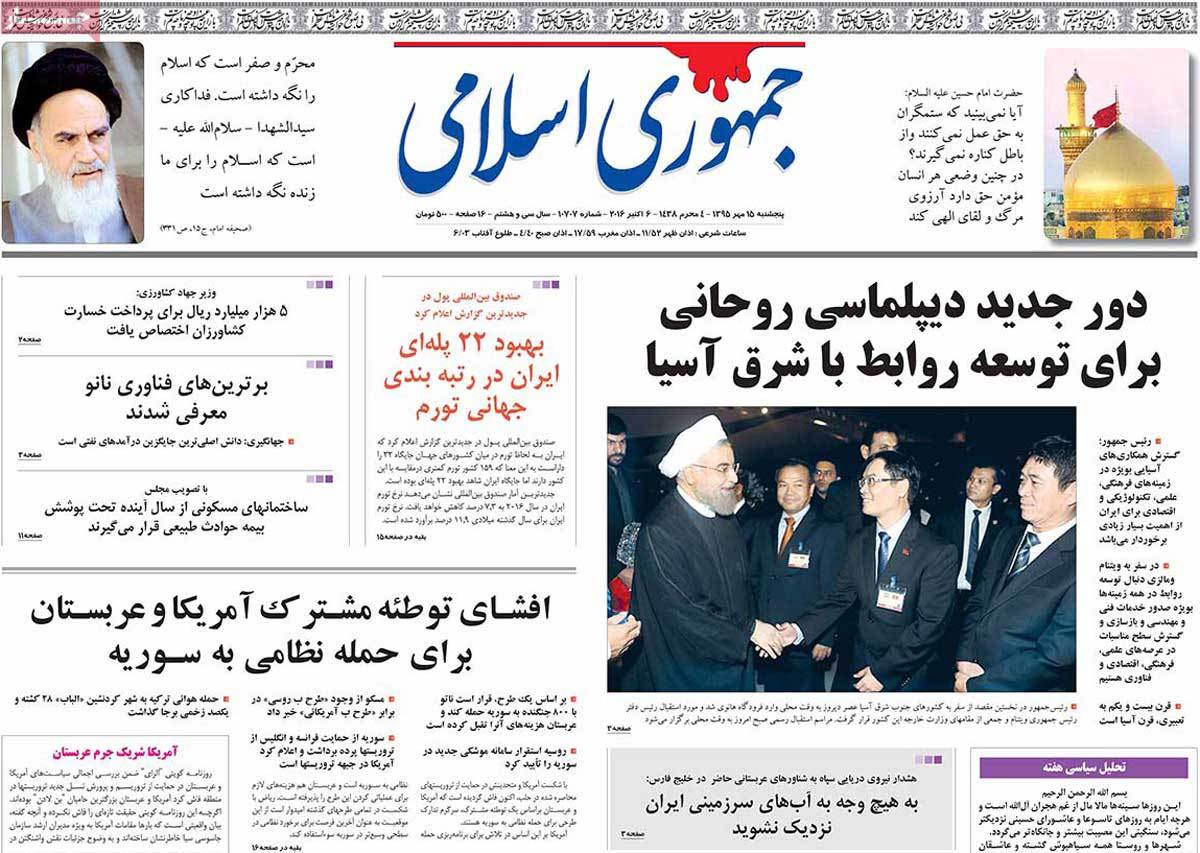 ---
Kayhan:
1- Spirit of New Oil Contracts Is Based on Being Pawns for Foreigners
2- Iraqi Popular Forces: We'll See Turkish Military the Same as ISIS
3- 4 Pakistani Pilgrims Killed in Takfiris' Armed Attack on Shiites' Bus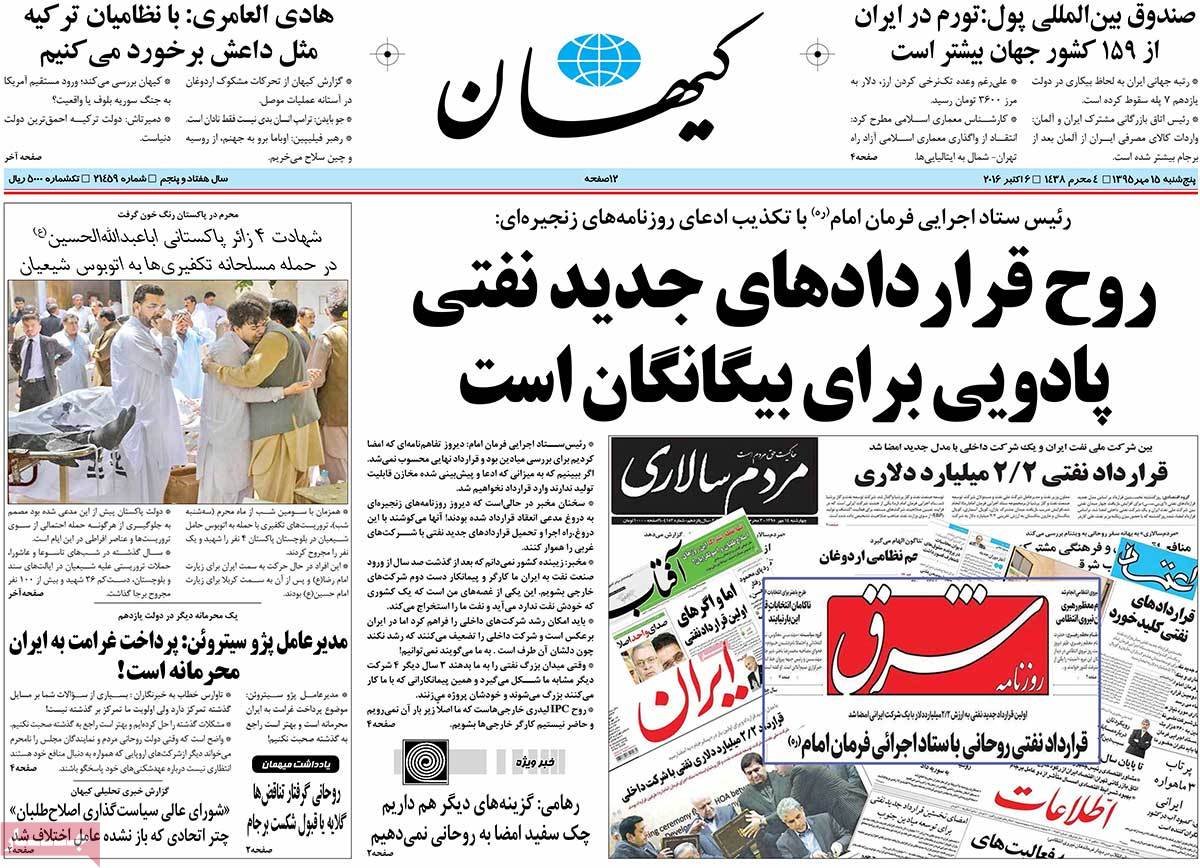 ---
Khorasan:
1- Iran's Central Bank Governor Criticizes Europe's Silence over US Violation of Its Commitments
2- USA's New Gift to ISIS: American Fighters Attack Iraqi Popular Forces on Verge of Mosul Liberation
3- Khorasan's Interview with Master Farshchian in the US
4- Peugeot Vows to Compensate for the Past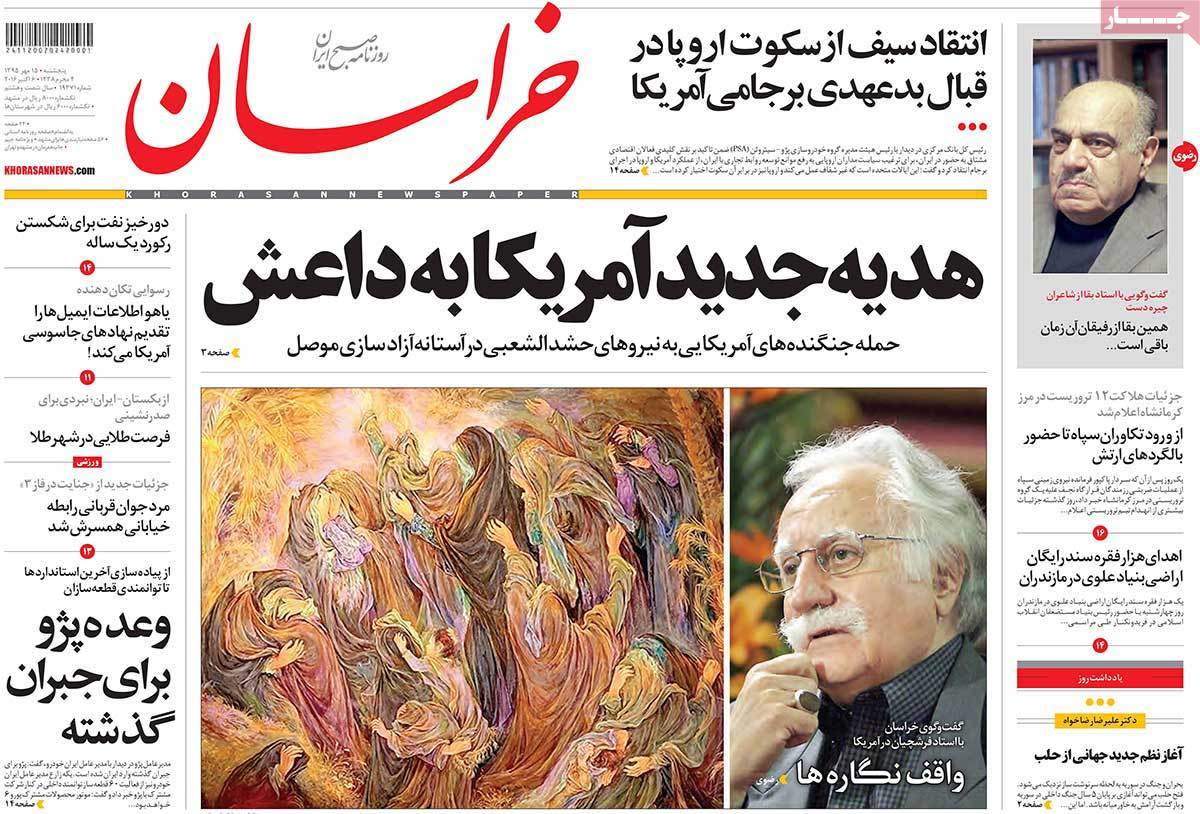 ---
Mardom Salari:
1- Cyberspace: Cultural Shock or Cultural Prosperity?
2- Rumours of World War in Syria: NATO Fighters Getting Prepared on Pentagon's Order
3- Imam Hussein's Movement Showed that Not Any Dirty Means Should Be Used to Achieve One's Goals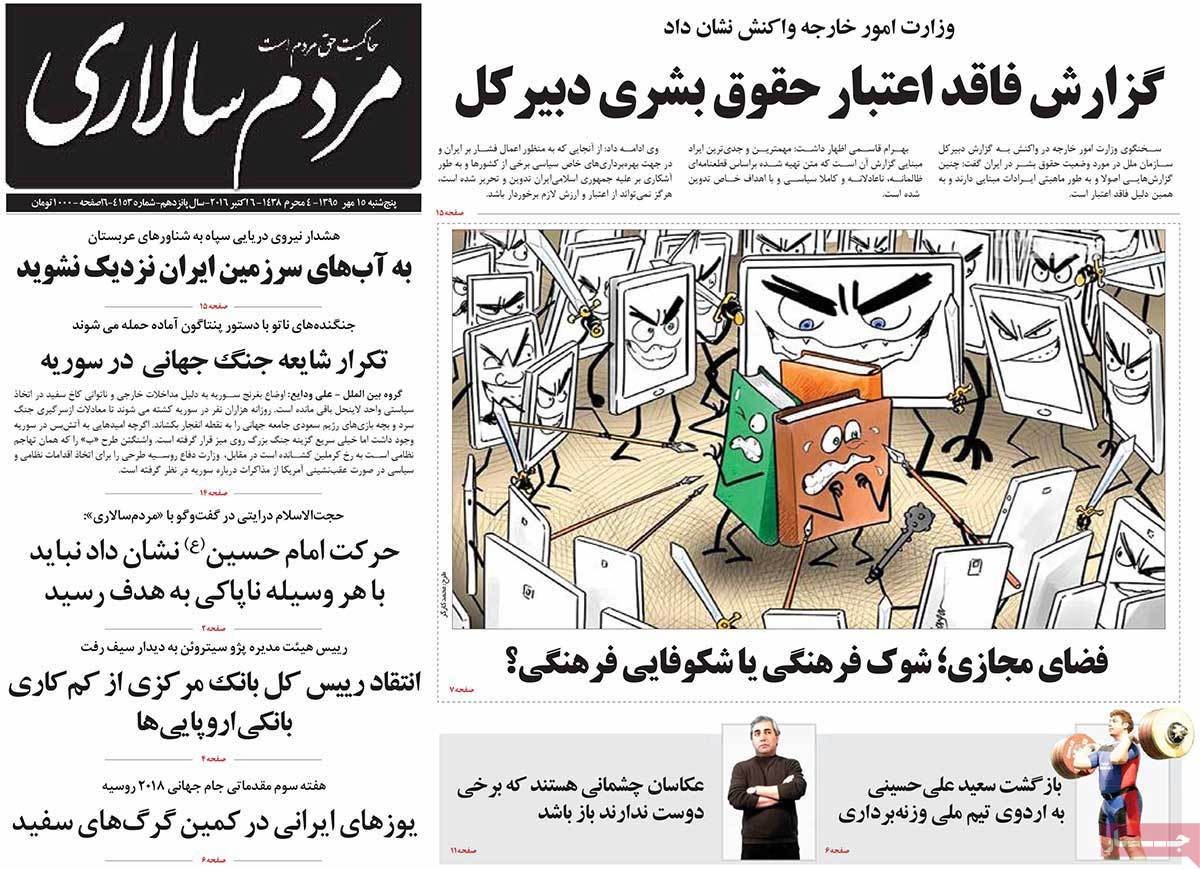 ---
Quds:
1- 40,000 Green Clothes Sewed in Imam Reza Shrine for Infants Taking Part in Muharram Mourning Ceremonies [their parents want them to wear similar clothes to Imam Hussein's infant Ali Asghar]
---
Resalat:
1- Presence of Nationals from 80 Countries in Syria Is a Threat to Global Peace: Leader's Advisor
2- Larijani: There's a Goal behind US Adventures in Middle East
3- Iran Has the Option to Return to Pre-JCPOA Era: Bahonar
4- Chief of Iran's Human Rights Office: We've Guaranteed Civil Rights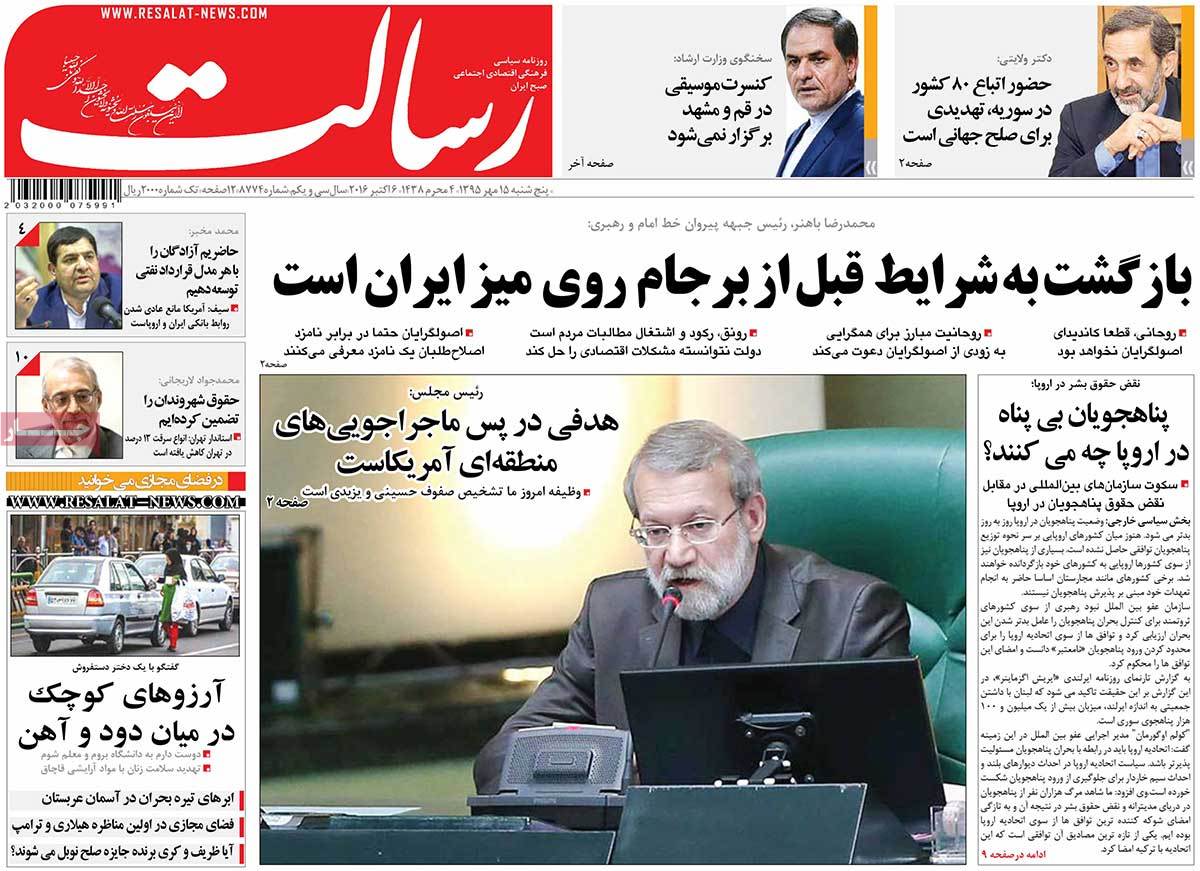 ---
Sayeh:
1- A Curve as Wide as Human Beings: October 7, World Day of Smile
---
Sepid:
1- Iran's High Speed in Controlling Non-Communicable Diseases
2- No to Any Age Discrimination: World Day of the Elderly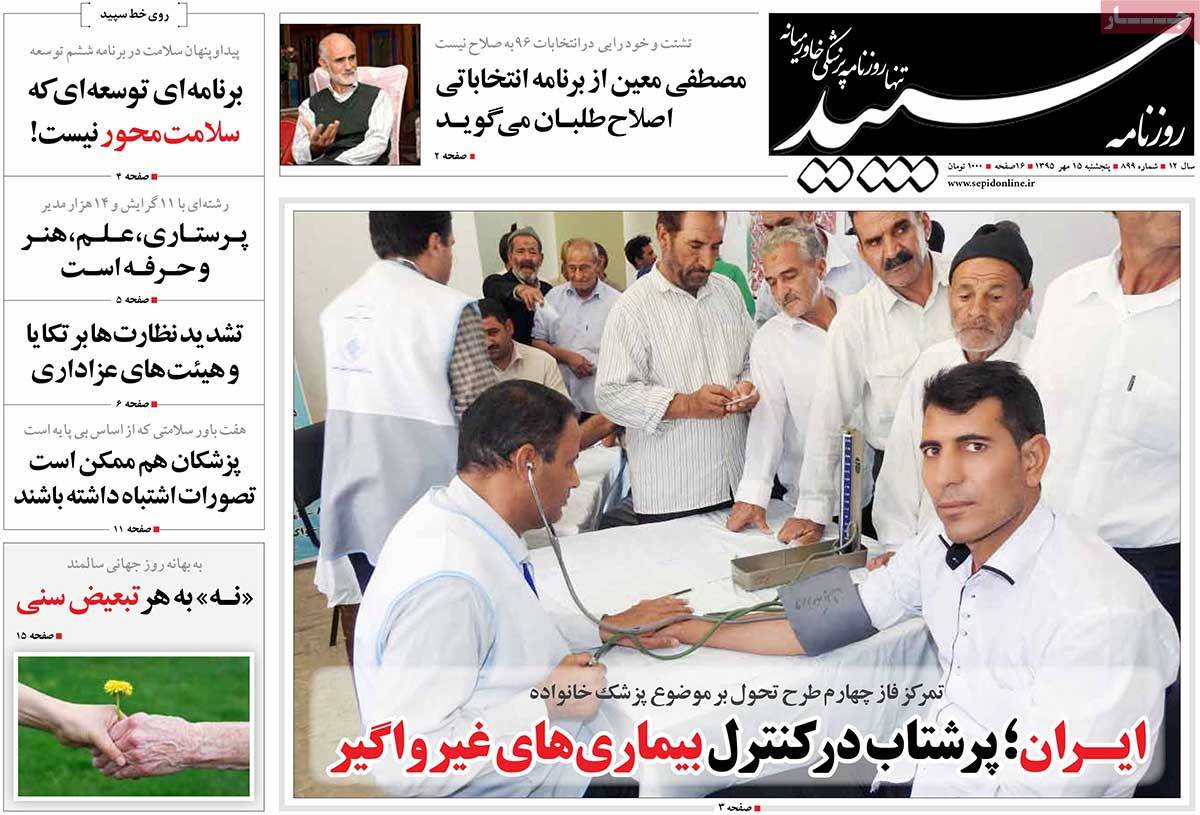 ---
Shahrvand:
1- Peugeot CEO Apologizes to Iranian People: We're Sorry, We Were Victims of the Sanctions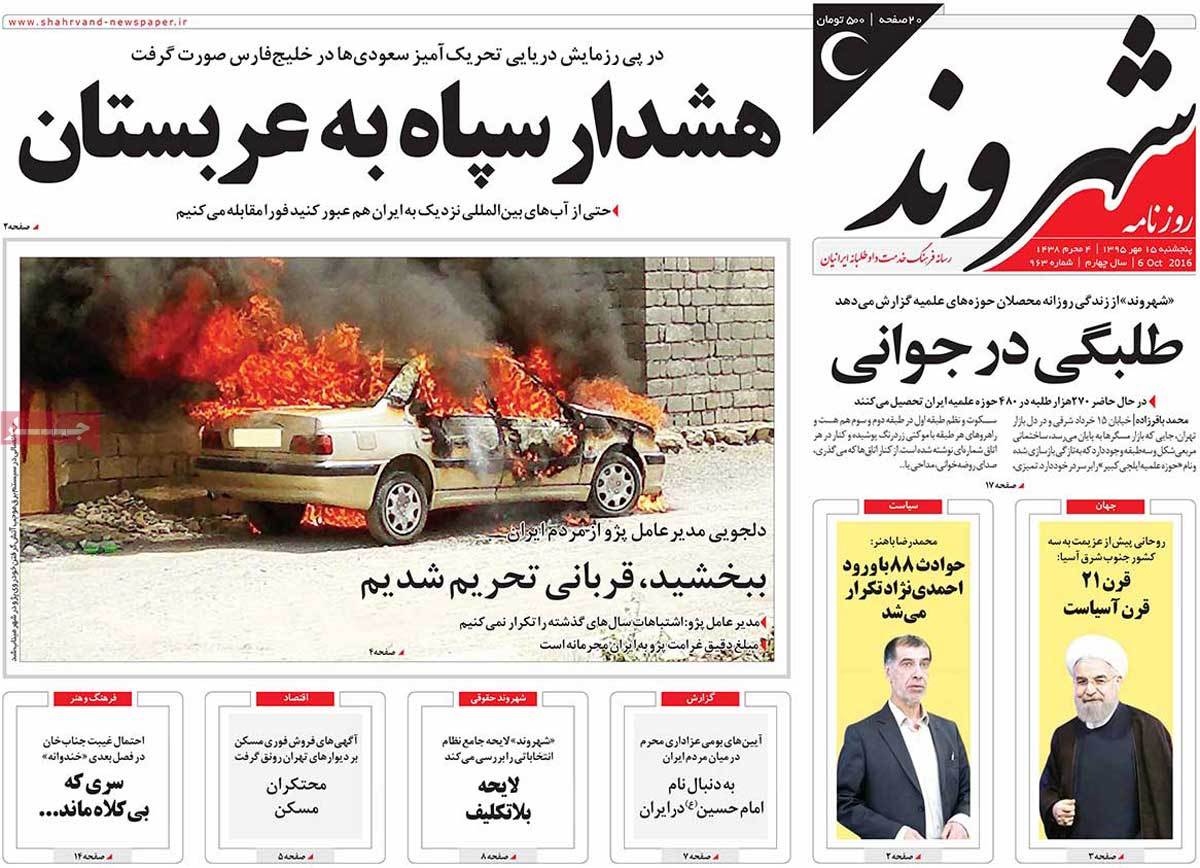 ---
Shargh:
1- Yellow Condition in Persian Gulf: IRGC Issues Warning to Saudi Military Drills
2- Guterres Becomes UN's Secretary General
3- Rouhani Won't Be Our Candidate for Sure: Conservative Figure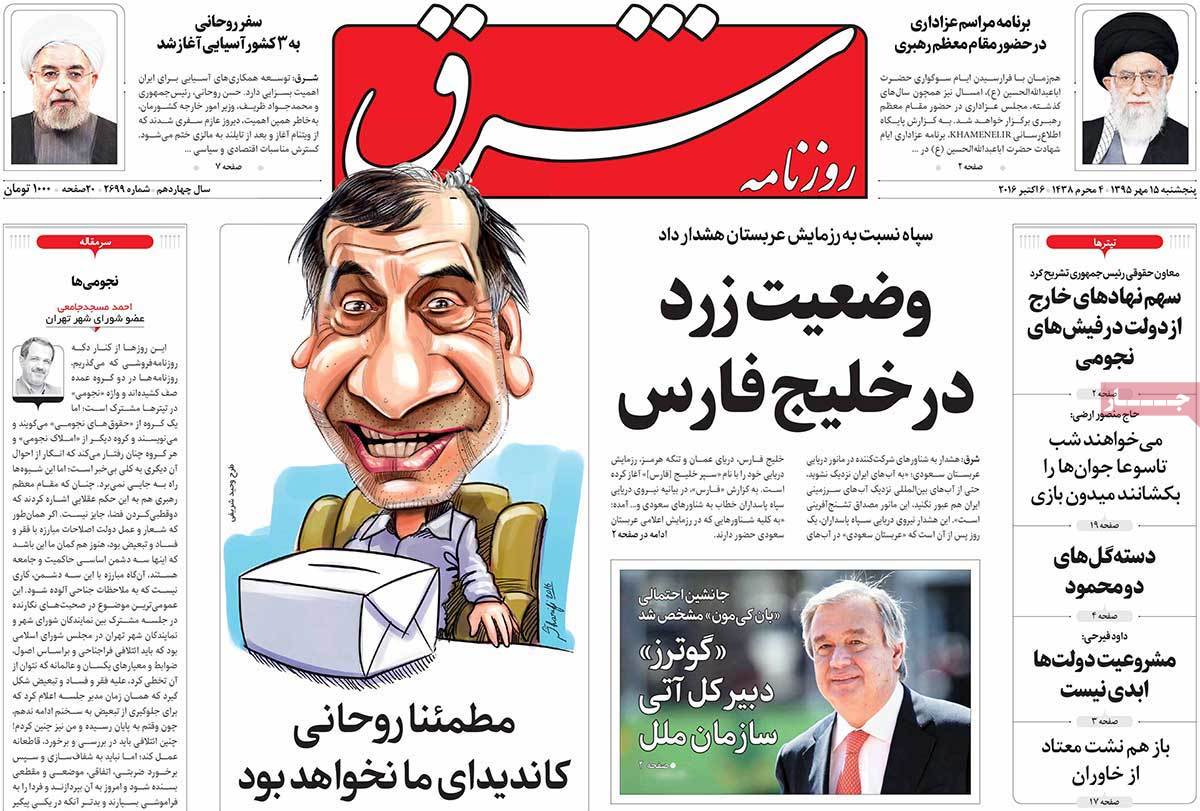 ---