IFP has taken a look at the front pages of Iranian newspapers on Saturday and picked headlines from 21 them. IFP has simply translated the headlines and does not vouch for their accuracy.[:es]IFP ha echado una mirada a las portadas de periódicos iraníes, publicados el sábado, 31 de diciembre de 2016, y ha recogido titulares de 21 de ellos. IFP ha traducido simplemente los titulares y no es responsable de su veracidad.
Newspapers today covered the recent diplomatic row between the US and Russia, which started with the White House's decision to expel a number of Russian diplomats.
The US Secretary of State John Kerry's remarks against the Israeli regime and its Prime Minister Benjamin Netanyahu also received great coverage.
An article by Iranian Foreign Minister Mohammad Javad Zarif about the ways to end the Syrian war was also among the top stories today.
The above issues, as well as many more, are highlighted in the following headlines:
19 Dey:
1- Adversaries of Iran and Russia Confounded: Financial Times
2- Kerry's Clash with Netanyahu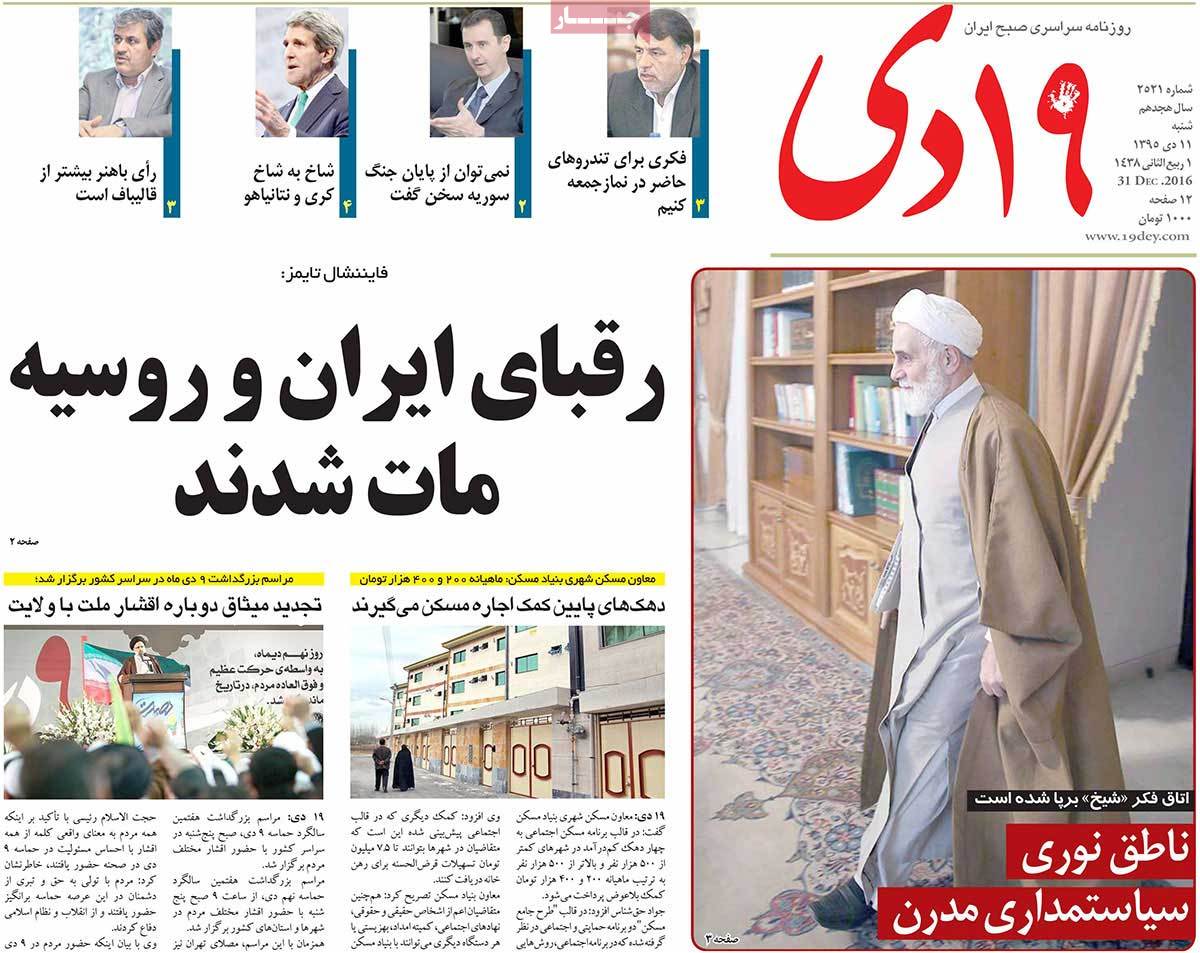 ---
Abrar:
1- Trump to Veto Anti-Russia Sanctions
2- Saudi Arabia Invites Iran for Discussion on Resumption of Hajj Pilgrimage Next Year
3- CNN: Kerry's Efforts to Clinch JCPOA Were Decisive
4- Oman to Join Saudi-Led Military Coalition: Saudi News Agency
---
Abrar-e Eqtesadi:
1- MoU Signed on Iran-Russia Economic Cooperation
2- France Biggest European Customer of Iranian Products
3- South Korean Industrial Giant's Refinery Cooperation with Iran
4- MoU Signed for Development of Iran-Serbia Cooperation
---
Afkar:
1- Ceasefire in Syria, Washington's Submission to Iran and Russia
2- Turkmens' Excessive Demands Prevent Gas Deal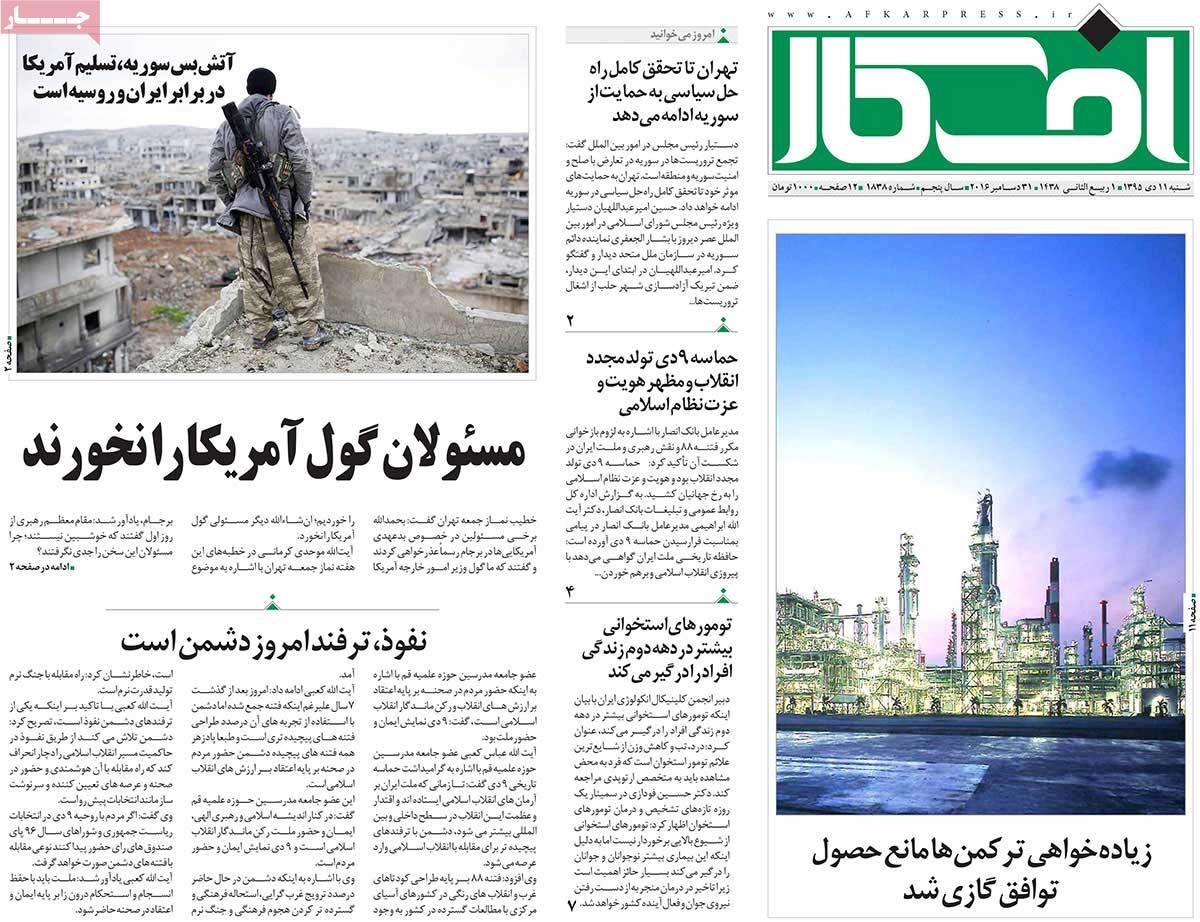 ---
Aftab-e Yazd:
1- Misery of Iranian Refugees in Germany: Extensive Presence of African and Syrian Asylum-Seekers in Europe Has Made Troubles for Iranians
2- US Harsh Diplomacy, Russia's Calm Diplomacy: 25 Russian Diplomats Expelled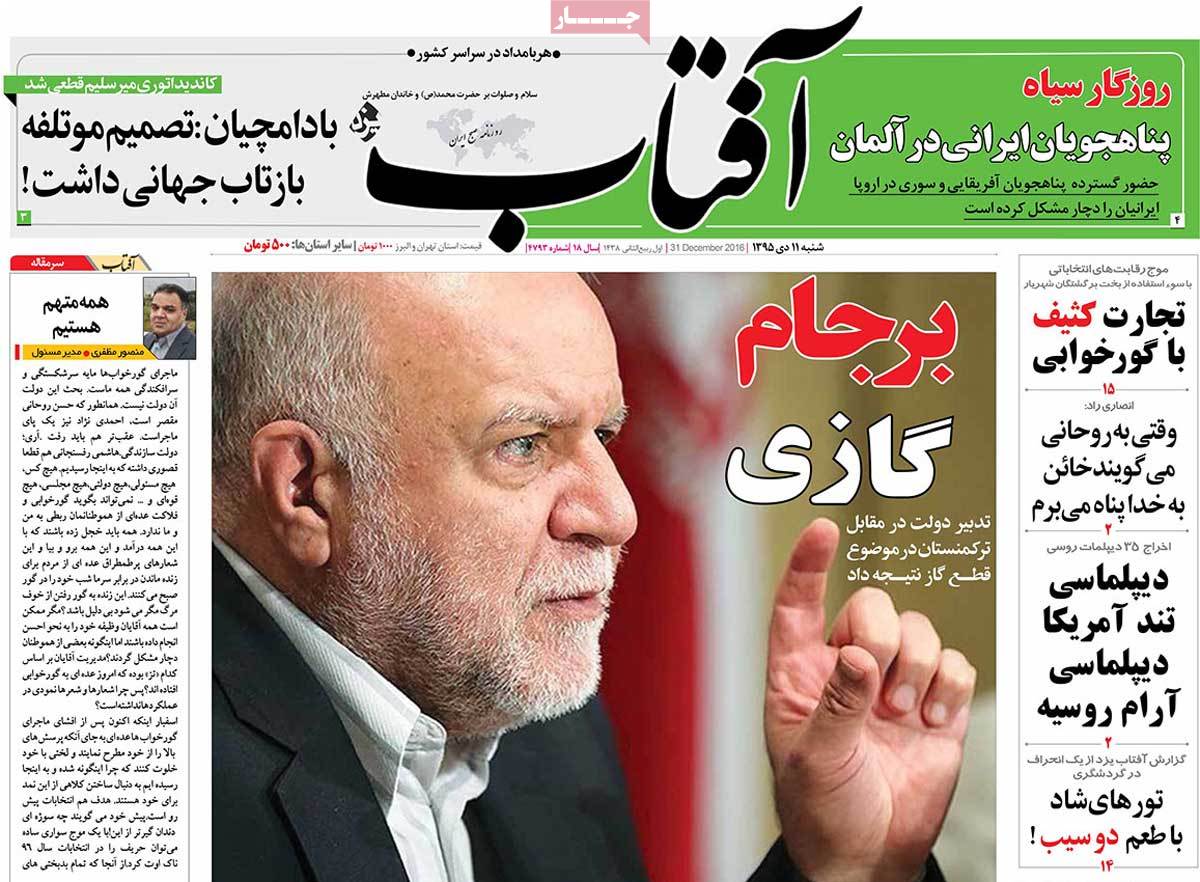 ---
Arman-e Emrooz:
1- Reformist Figure: Rouhani Faced with an Organised Radical Movement; Rouhani's Conditions More Difficult than Khatami's Era
---
Asrar:
1- Putin: I Won't Reciprocate Washington's Move [to Expel 35 Russian Diplomats]
2- Zarif: There's Always a Way to Reach an Agreement
3- Beginning of Comprehensive Ceasefire in Syria
4- Yonhap: Daewoo to Construct Ship-Building Factory in Iran
5- Pakistani Foreign Ministry Spokesman: Airstrike on Iranian Ship with Pakistani Crew in Yemeni Waters Cannot Be Confirmed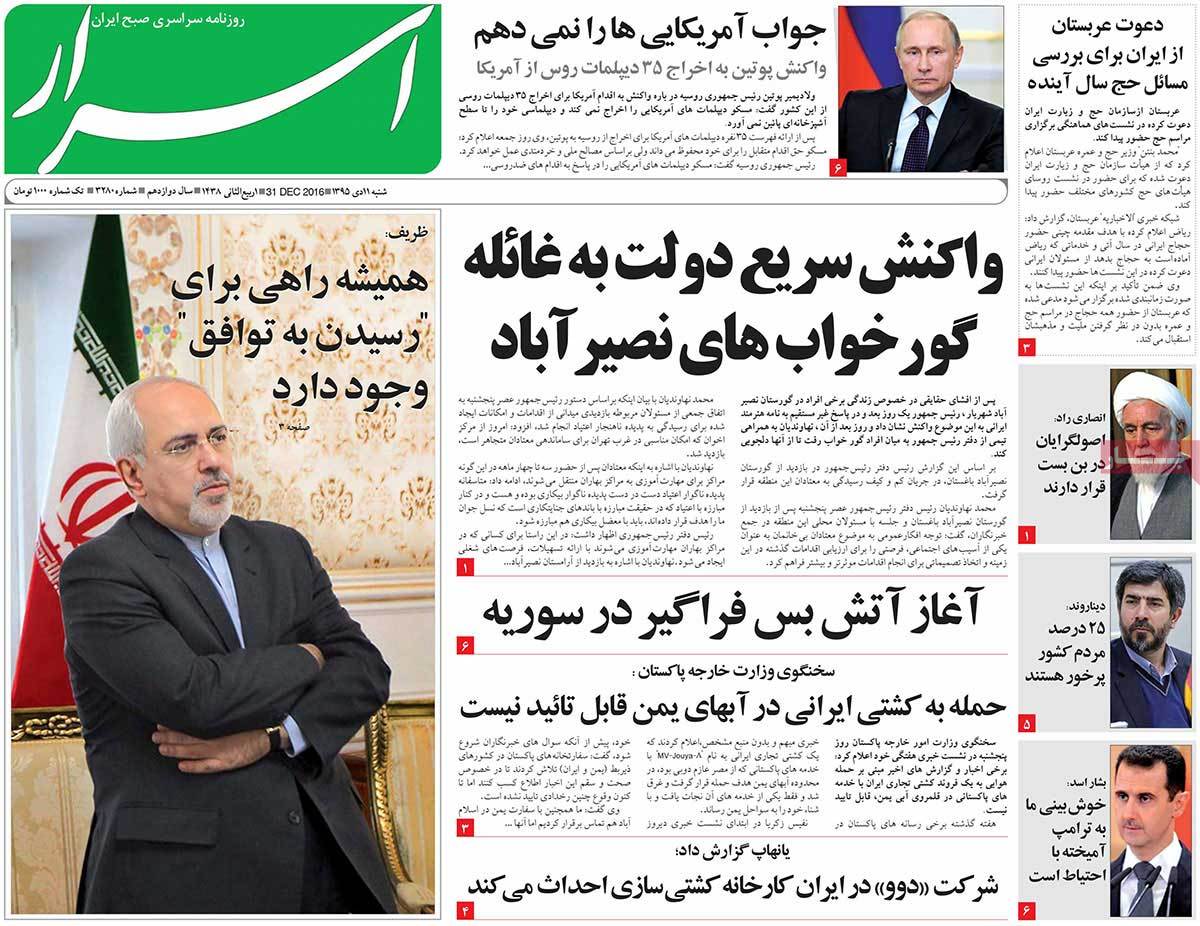 ---
Besharat-e Now:
1- Mostafa Mirsalim Selected as Major Conservative Party's Candidate for Upcoming Presidential Elections
2- Erdogan's Crackdown on Media: Reporters Arrested as a Move to Hide Facts
3- Watching TV Causes Early Death, Spend Fewer Hours Watching It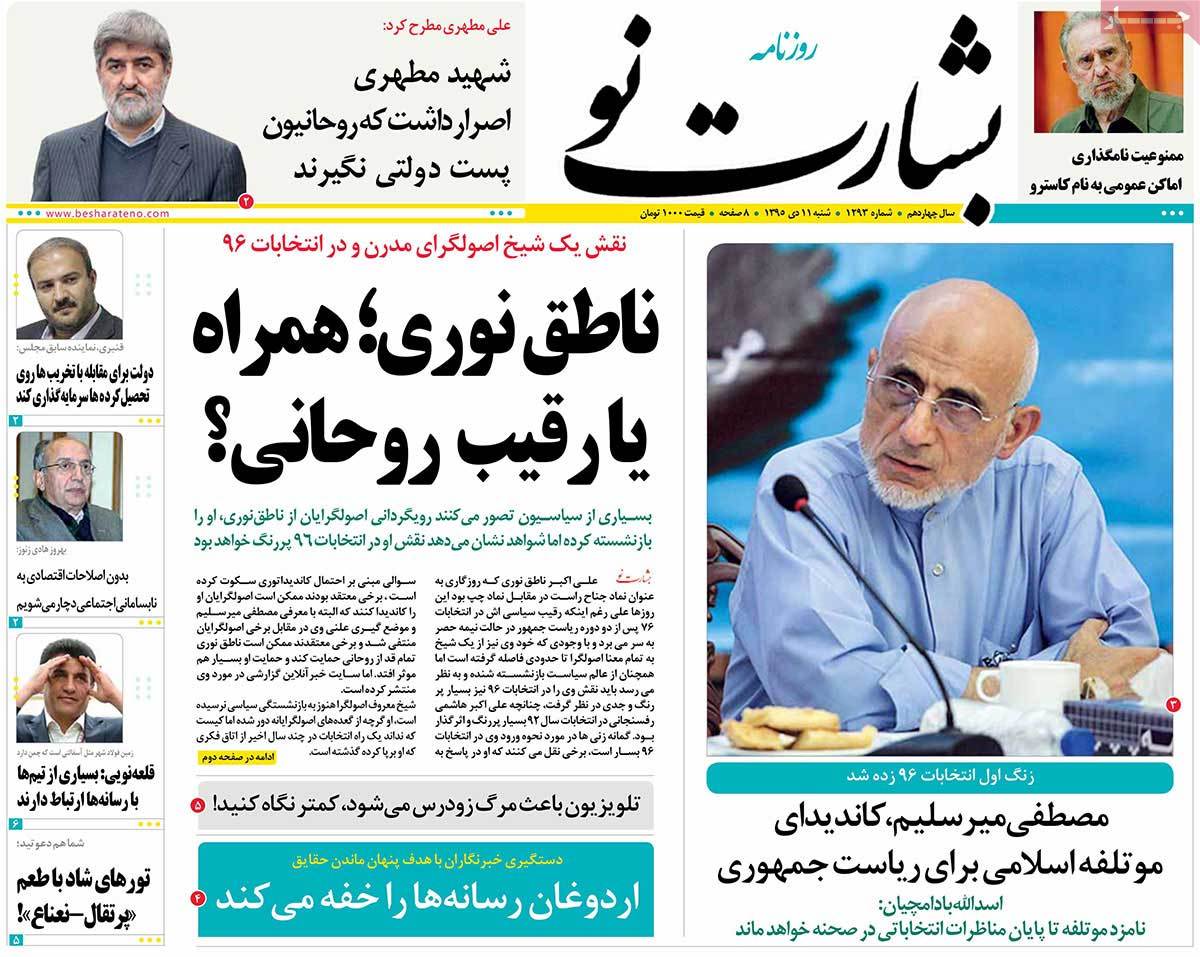 ---
Ebtekar:
1- Putin Avoids Reciprocal Action to Maintain Ties with Trump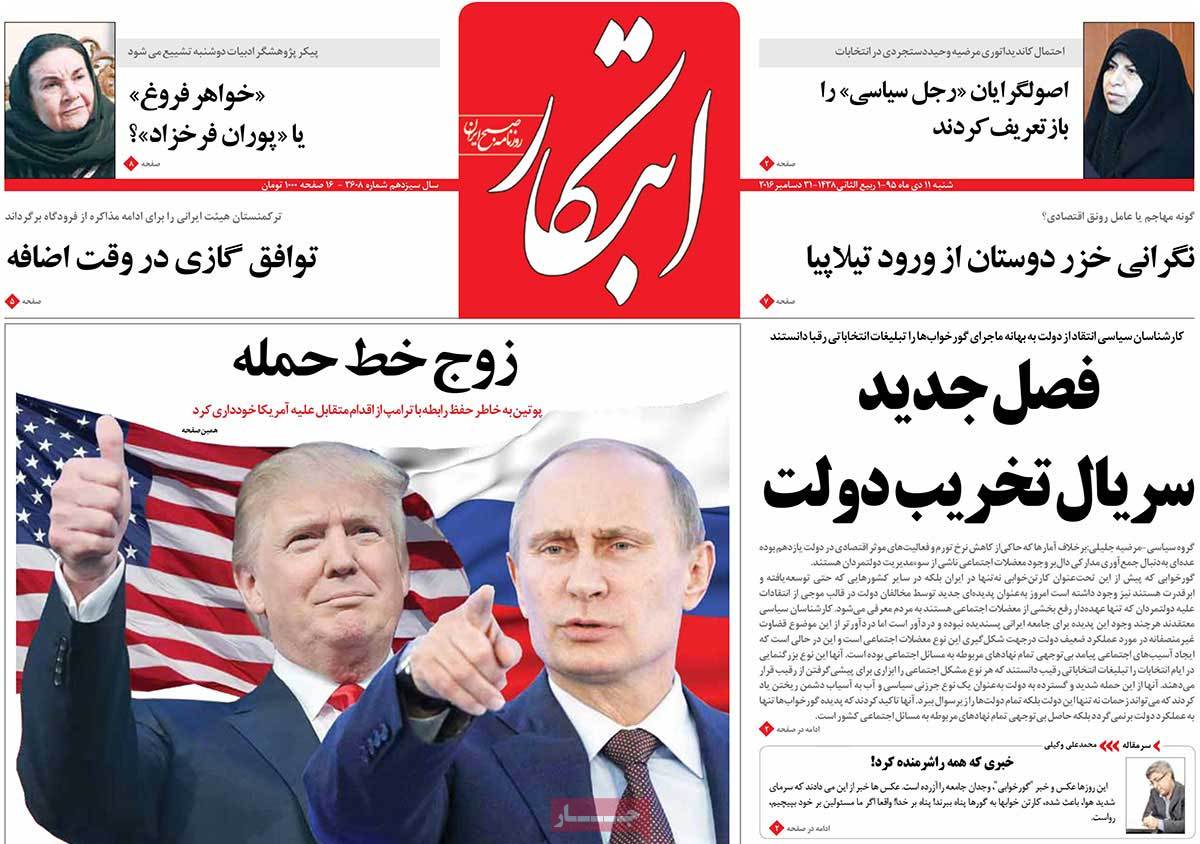 ---
Etemad:
1- Cold War between Obama and Putin: US Expels 35 Russian Diplomats, Putin Sent the Message He'll Wait for Trump
2- Transport Minister: In Case of Airbus and Boeing's Unkind Behaviour, We'll Receive Compensation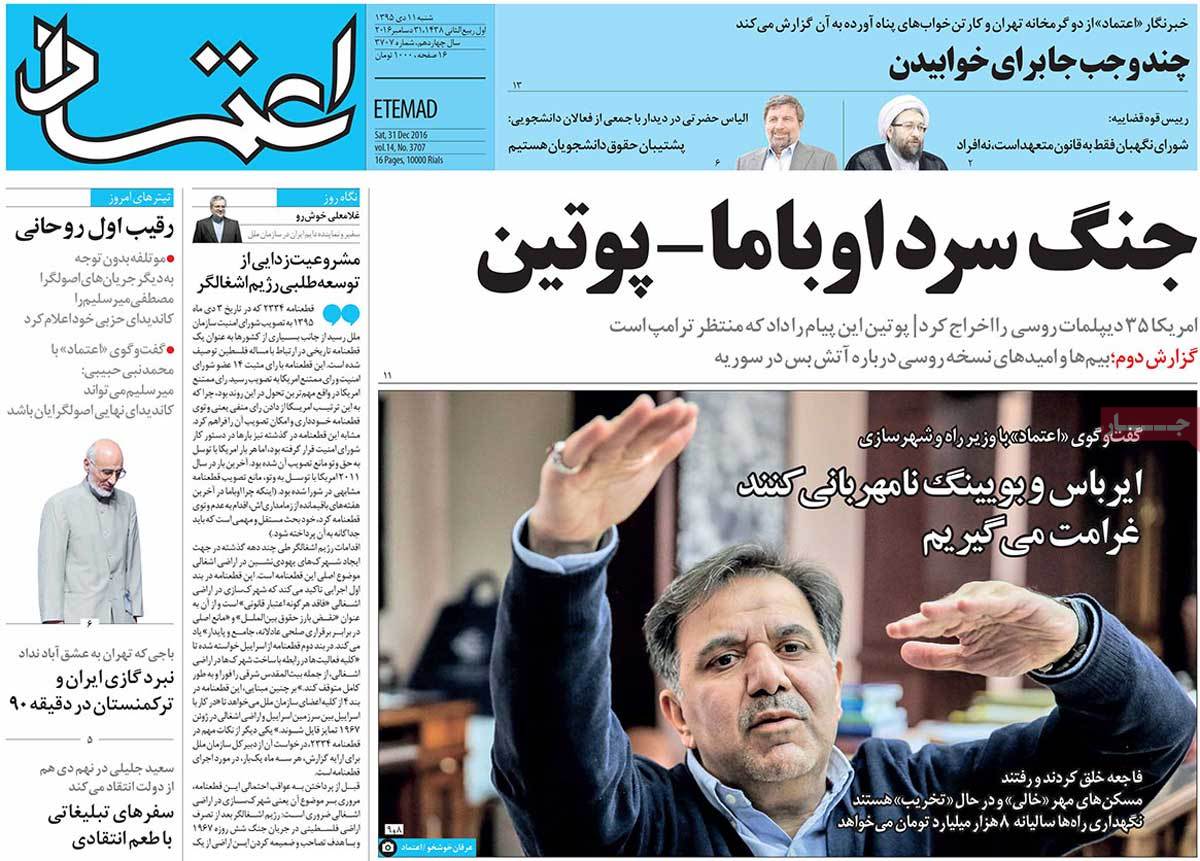 ---
Ettela'at:
1- Comprehensive Ceasefire in Syria
2- Israeli PM Prosecuted for Financial Corruption
3- Tensions Mounting between Moscow and Washington
---
Haft-e Sobh:
1- Major Changes in Middle East
Saudi Arabia Invites Iran for Hajj Talks
Iran, Russia, and Turkey Start Comprehensive Ceasefire in Syria
US Ties with Israel and Russia Soured
Oman Leaning towards Saudi Arabia
---
Iran:
1- President Rouhani's Chief of Staff Nahavandian and Labour Minister Rabi'ei Visit the Rehab Centre Taking Care of Junkies Who Used to Live inside Grave
Nahavandian: Drug Addicts Will Be Transferred to Baharan Centre [a place for socially-harmed people] after Learning Skills
2- Assad's Government and Armed Dissidents Sign Agreement Thanks to Iran, Russia, and Turkey's Mediation
---
Jame Jam:
1- Cold Diplomatic War Becoming Warm: White House's Threatens Kremlin by Expelling Russian Diplomats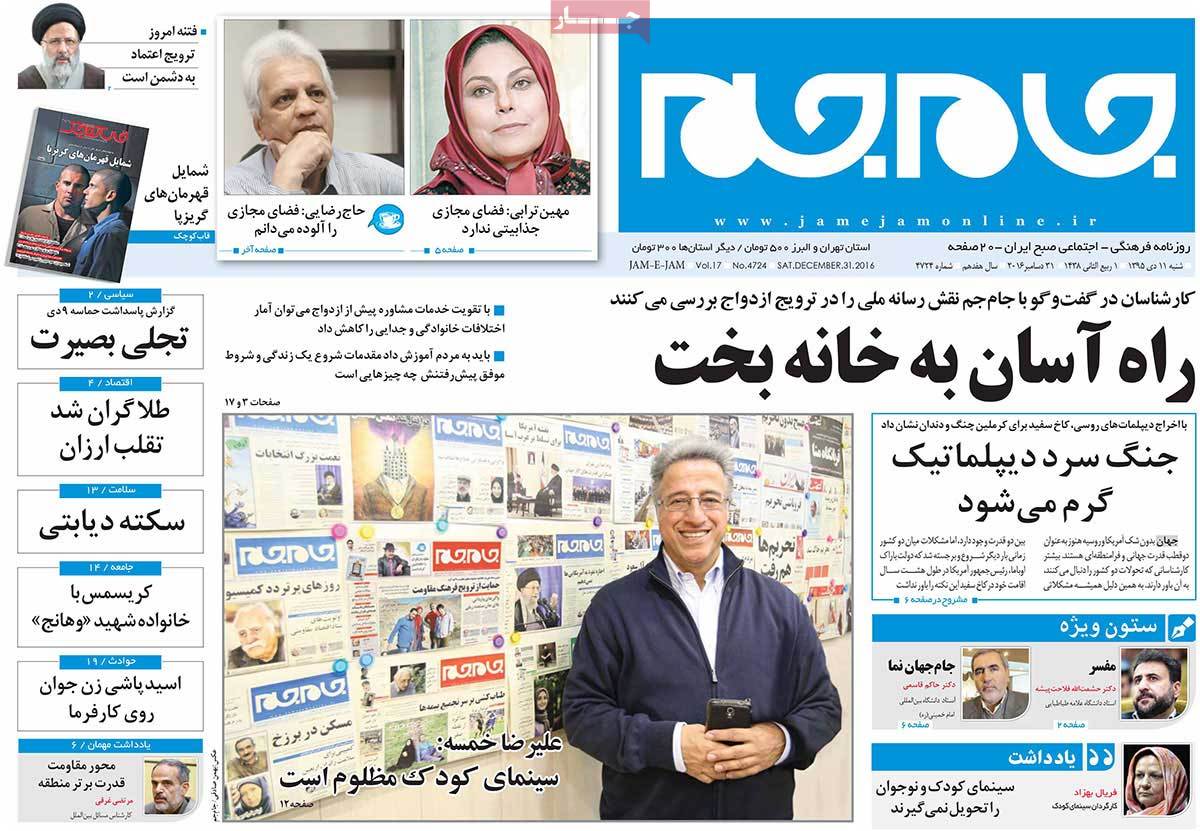 ---
Javan:
1- Father-Child Tensions between US and Israel
2- Pro-Government Economists: Government Is behind Recent Surge in Dollar Rates
3- Obama's Last-Minute Blow to Putin-Trump Honeymoon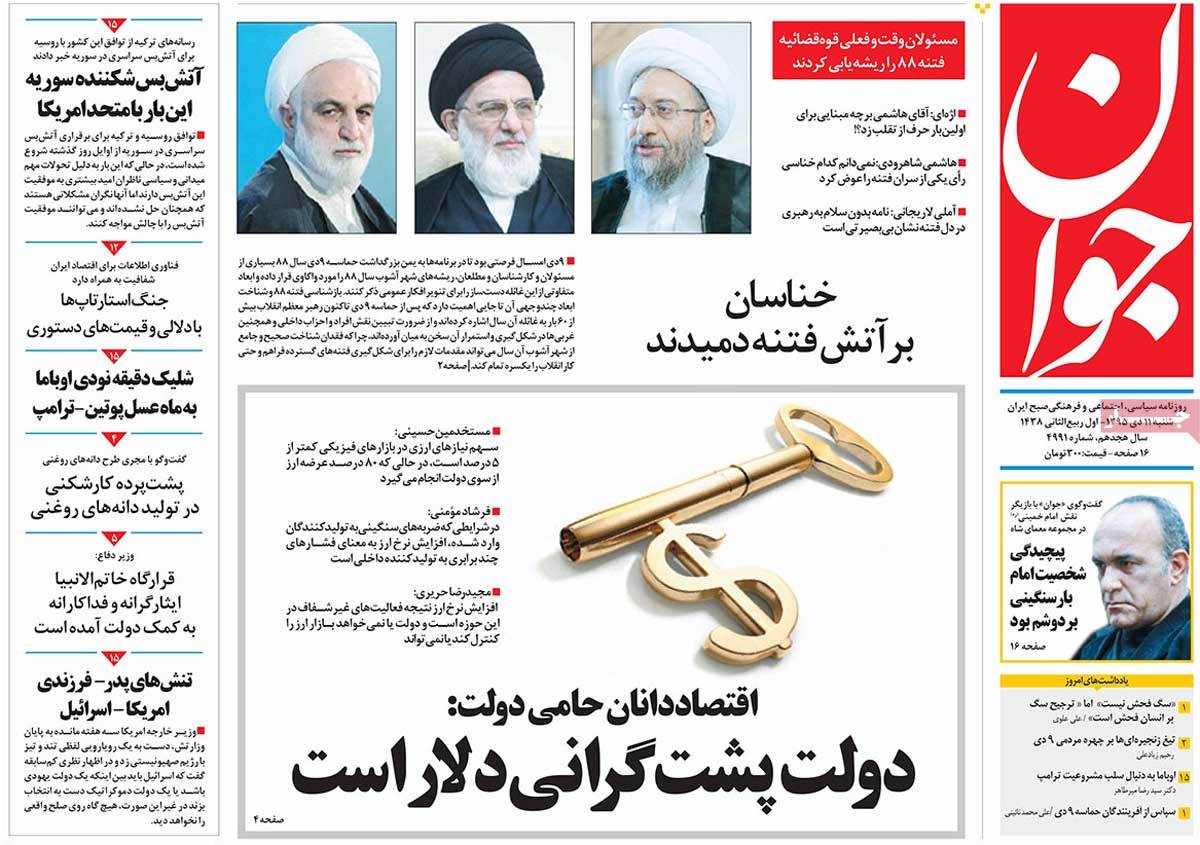 ---
Jomhouri Eslami:
1- Beginning of a New Stage to End Syrian War through Comprehensive Ceasefire
2- Egyptian People Angered by Ratification of a Bill to Give Two Islands to Saudi Arabia
3- Bahraini People Set Fire on Israeli Flag
4- US Secretary of State's Unprecedented Criticism of Zionist Regime of Israel: Kerry Says Netanyahu's Cabinet Is the Most Rightist Cabinet in History and Most Radical People Are Working in His Administration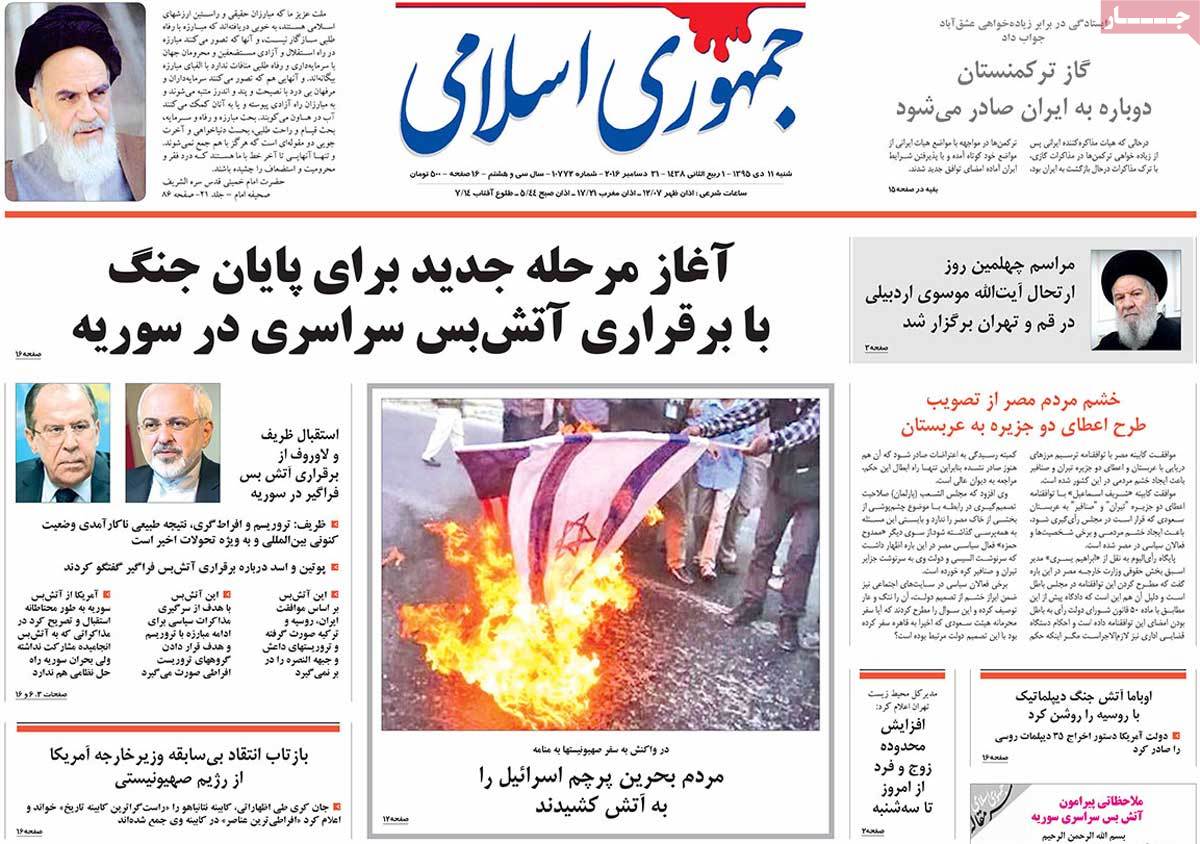 ---
Ka'enat:
1- Final Destruction: Kremlin Says in a Statement Washington Seeks to Destroy US-Russia Ties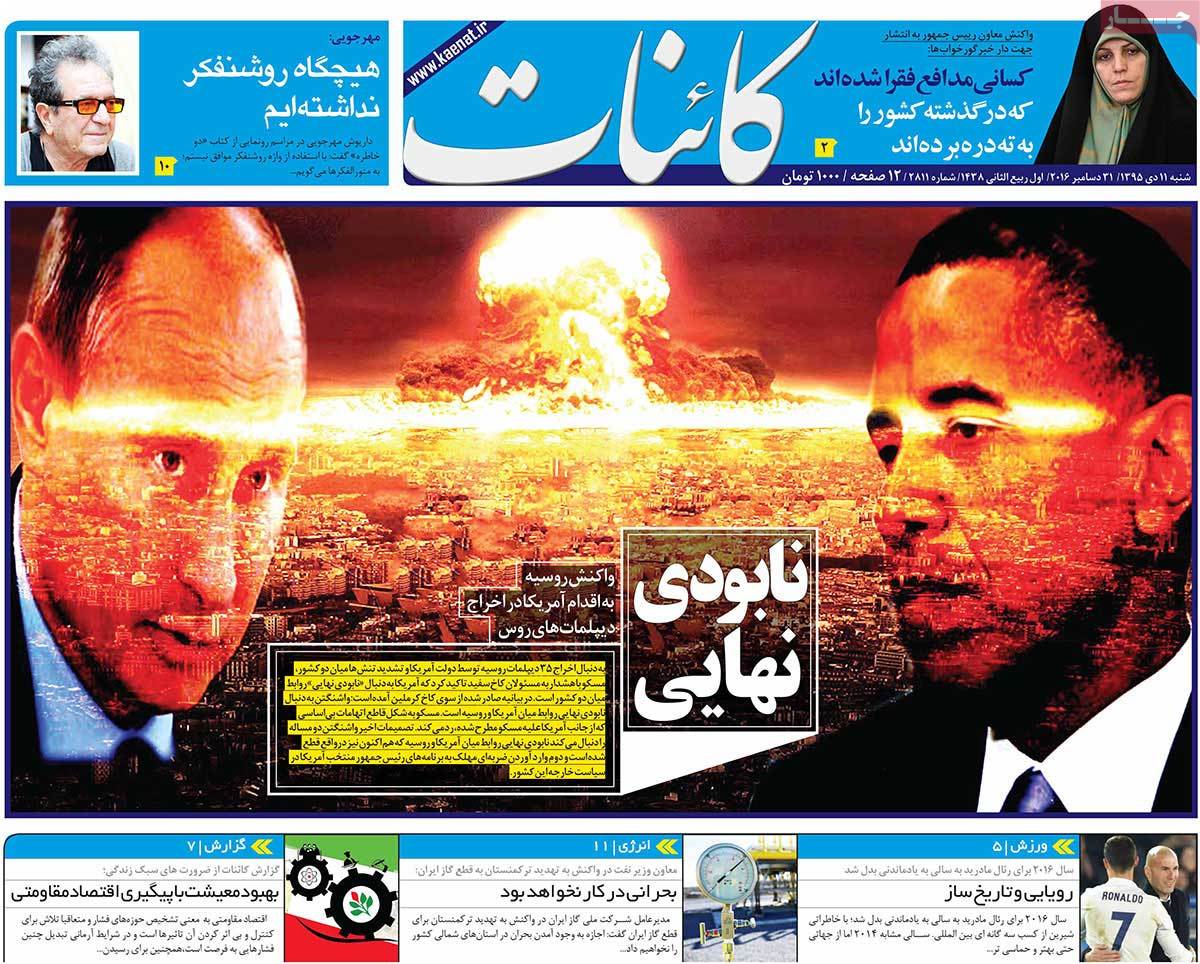 ---
Kayhan:
1- JCPOA Was Not without Any Achievement: Iran's National Currency Value Decreased by 17%!
2- All-Out Diplomatic War between Russia and US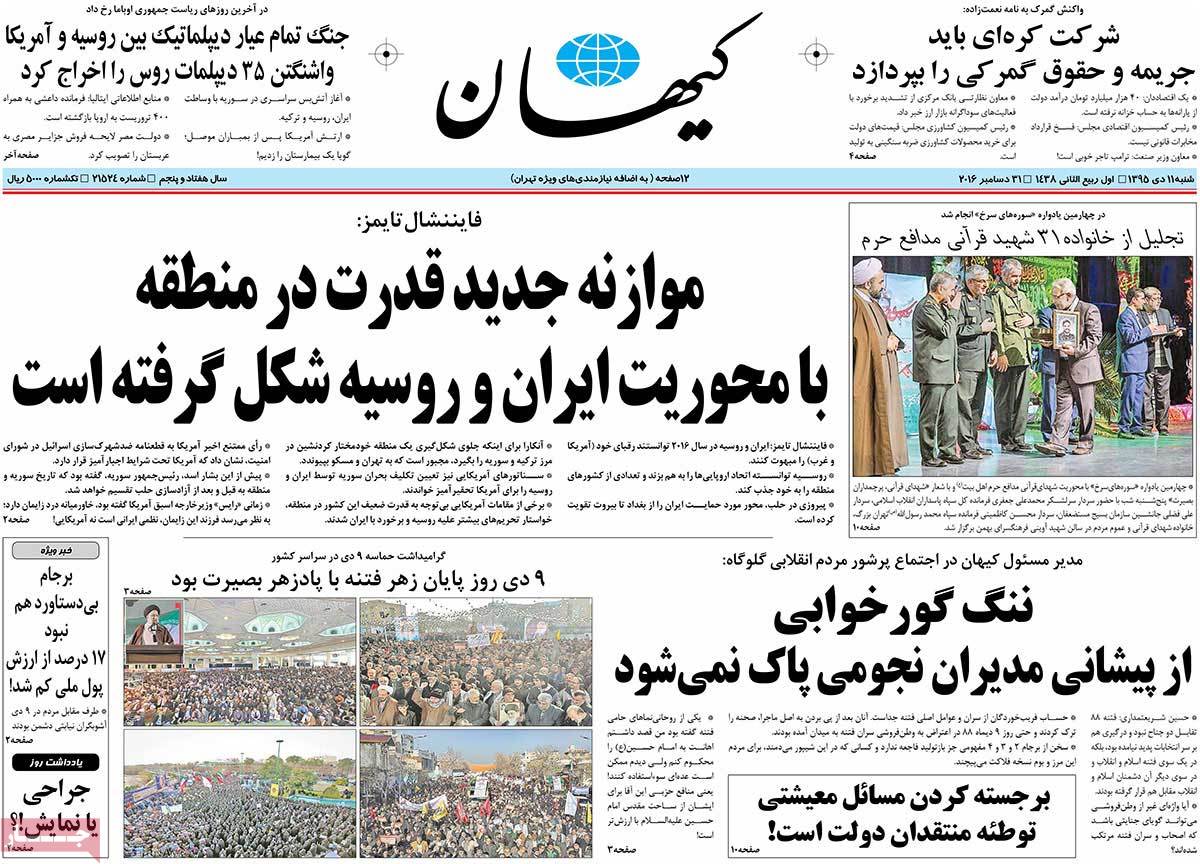 ---
Mardom Salari:
1- Interview with Narges Kalbasi, the Iranian Girl Who Wishes to Return to Iran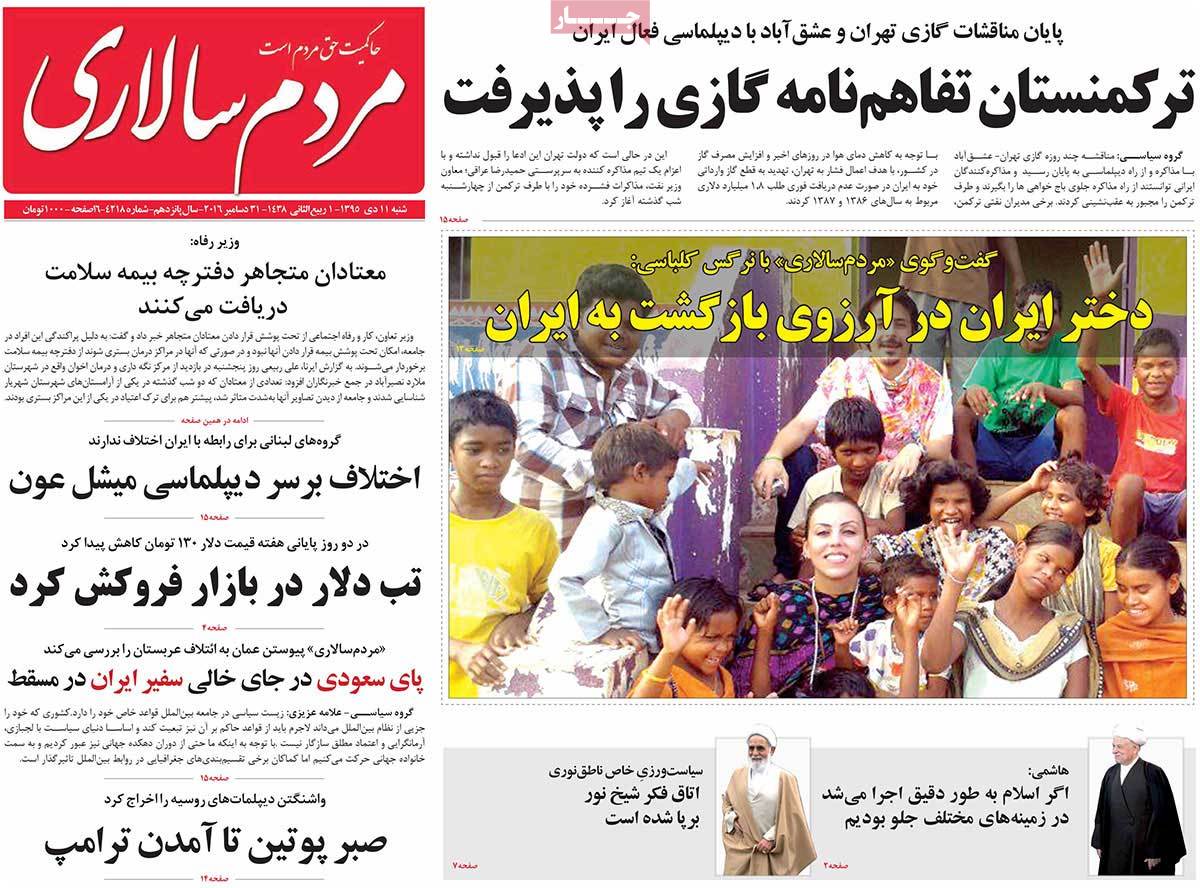 ---
Shahrvand:
1- President Rouhani Gives Order to Follow Up Issue of Homeless People
2- Autopsy of Sleeping in Graves: An Article by Labour Minister Ali Rabi'ei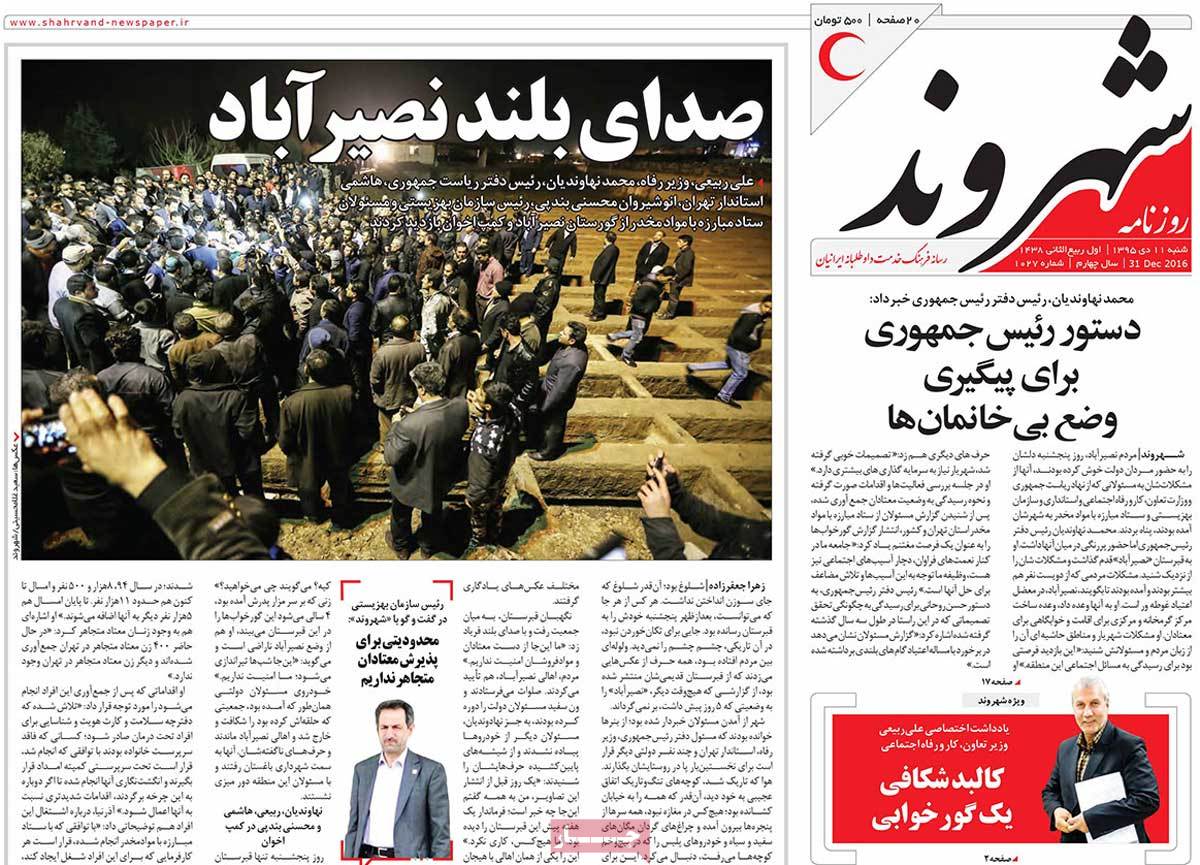 ---
Shargh:
1- Zarif's Article: Ways to Counter Terrorism and Political Violence in Iranian FM's View
2- Everyone vs. One [Editorial about Rouhani's government]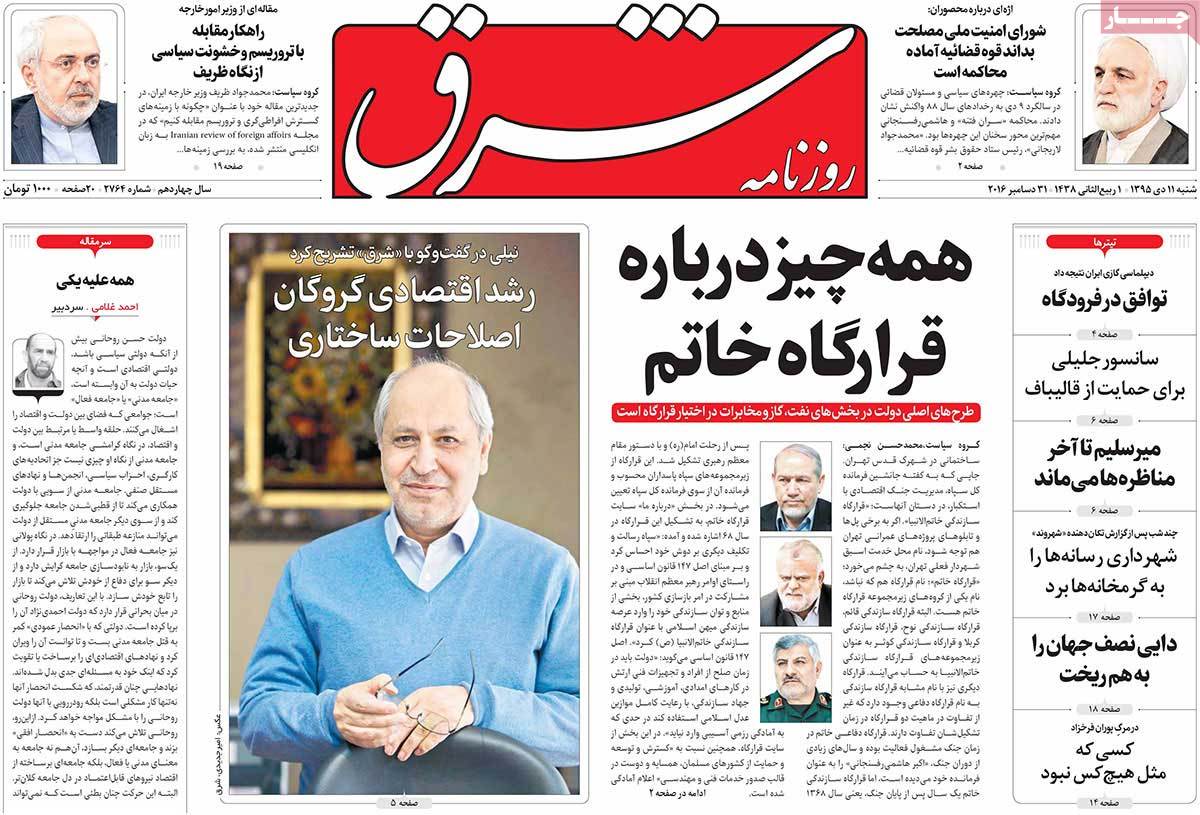 [:es]Los diarios iraníes de hoy, el sábado, han cubierto una retahíla de temas de actualidad política del país y del mundo, a saber:
Los grandes devenires en Oriente Medio; Arabia Saudita invita a Irán a participar en las próximas ceremonias de Hach (Peregrinación); Irán, Rusia y Turquía anunciaron un cese al fuego general en Siria; se disturban las relaciones entre EEUU con Israel y Rusia; Jordania se alista a la coalición saudita
Agrava la tensión entre los Estados Unidos de América con Rusia e Israel; Obama ordena la expulsión de 35 diplomáticos rusos del país norteamericano; John Kerry tacha al gabinete de Netanyahu de "más derechista de la historia de humanidad que ha reunido a políticos más radicales."
El Presidente Hasan Rohani, ordena la investigación del caso de personas sin hogar, que duermen en los cementerios a las afueras de Teherán, tras la publicación de un reporte de las mismas en los periódicos de ayer, quienes viven en las tumbas de un cementerio en las afueras de Teherán.
Noticias relacionadas con la próximas elecciones presidenciales de Irán (2017)
Los temas antes mencionados, así como varias otras cuestiones se destacan en los siguientes títulos:
19 dey:
Los rivales de Irán y Rusia se quedaron con asombro
Kerry y Netanyahu se encaran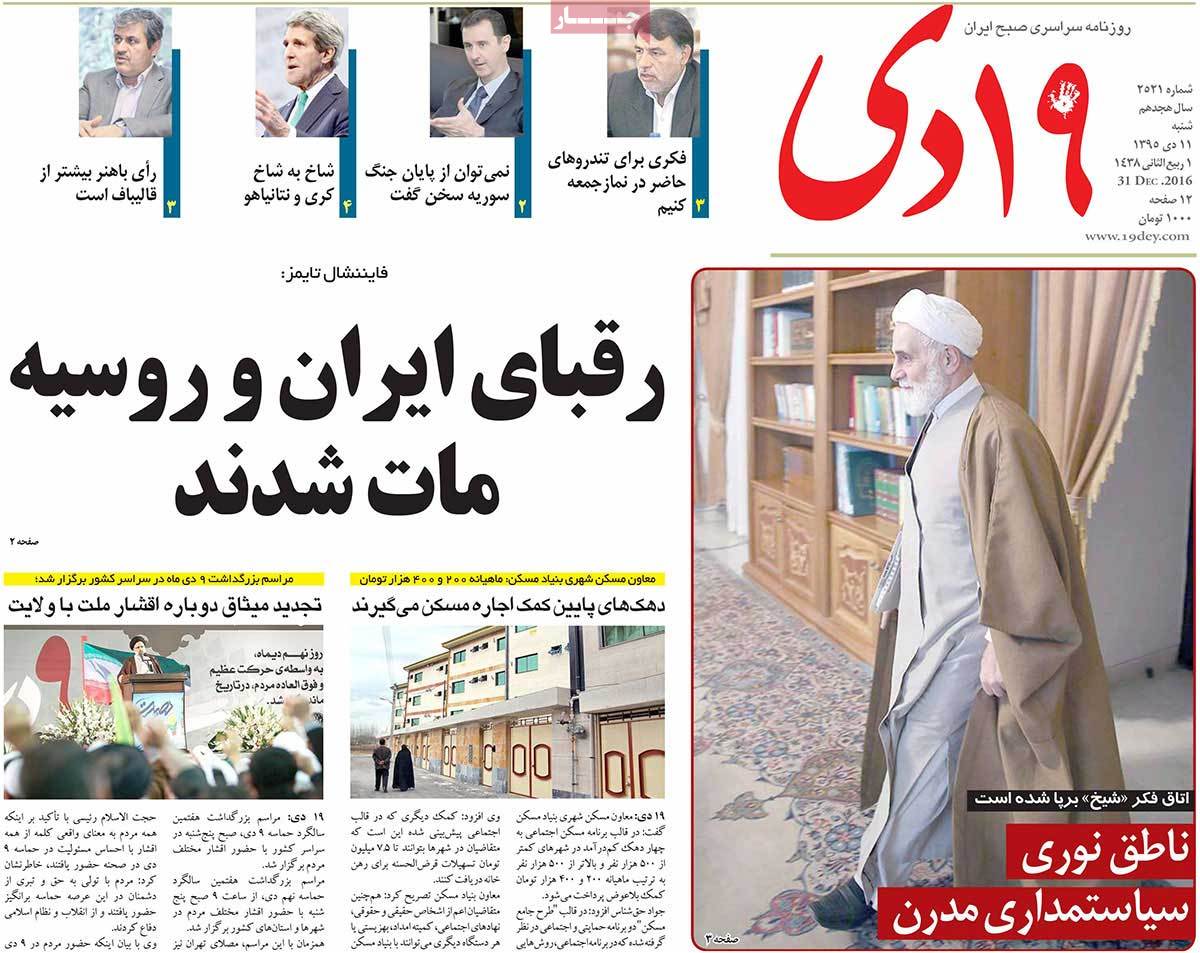 ---
Abrar:
Trump no eliminará las sanciones antirusas
Arabia Saudita invita a Irán para las próximas ceremonias de Hach (Peregrinación)
CNN destaca el esfuerzo de John Kerry por el acuerdo nuclear
Jordania se une a la coalición de Arabia Saudita
---
Abrar Eqtesadi:
Irán y Rusia sellan acuerdo de cooperación económica
Francia, el mayor cliente europeo de productos iraníes
Irán y Corea del Sur cooperan en la construcción de refinerías
Belgrado y Teherán rubrican un pacto del desarrollo de cooperaciones
---
Afkar:
Cese al fuego en Siria; EEUU se rinde ante Rusia e Irán
La avaricia de los turkmenios impide la llegada a un acuerdo con Irán en materia gasífera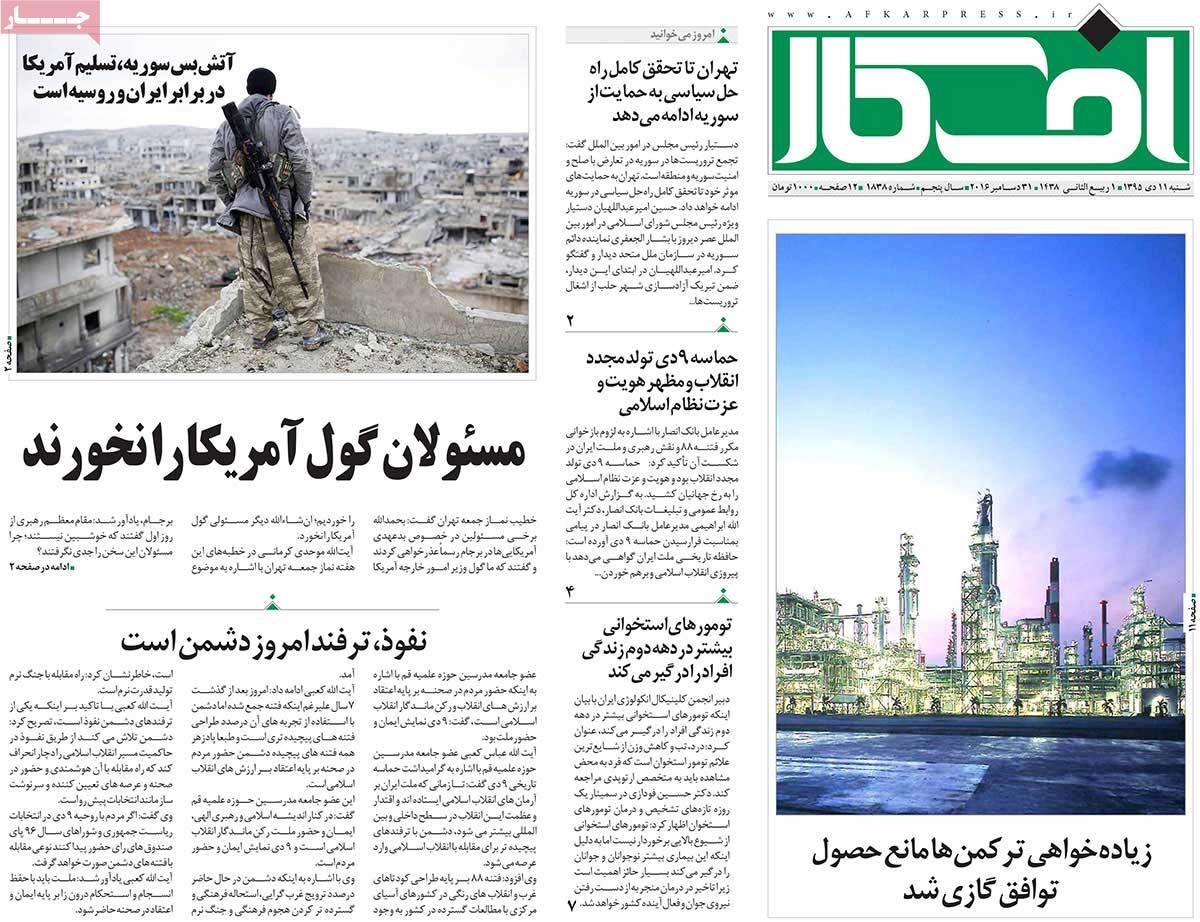 ---
Aftab Yazd:
Pésimas situaciones de los refugiados iraníes en Alemania; La presencia masiva de los migrantes africanos y sirios en Europa ha generado problemas para los iraníes
Diplomacia altiva de EEUU y pacífica de Rusia; expulsado 20 diplomáticos rusos.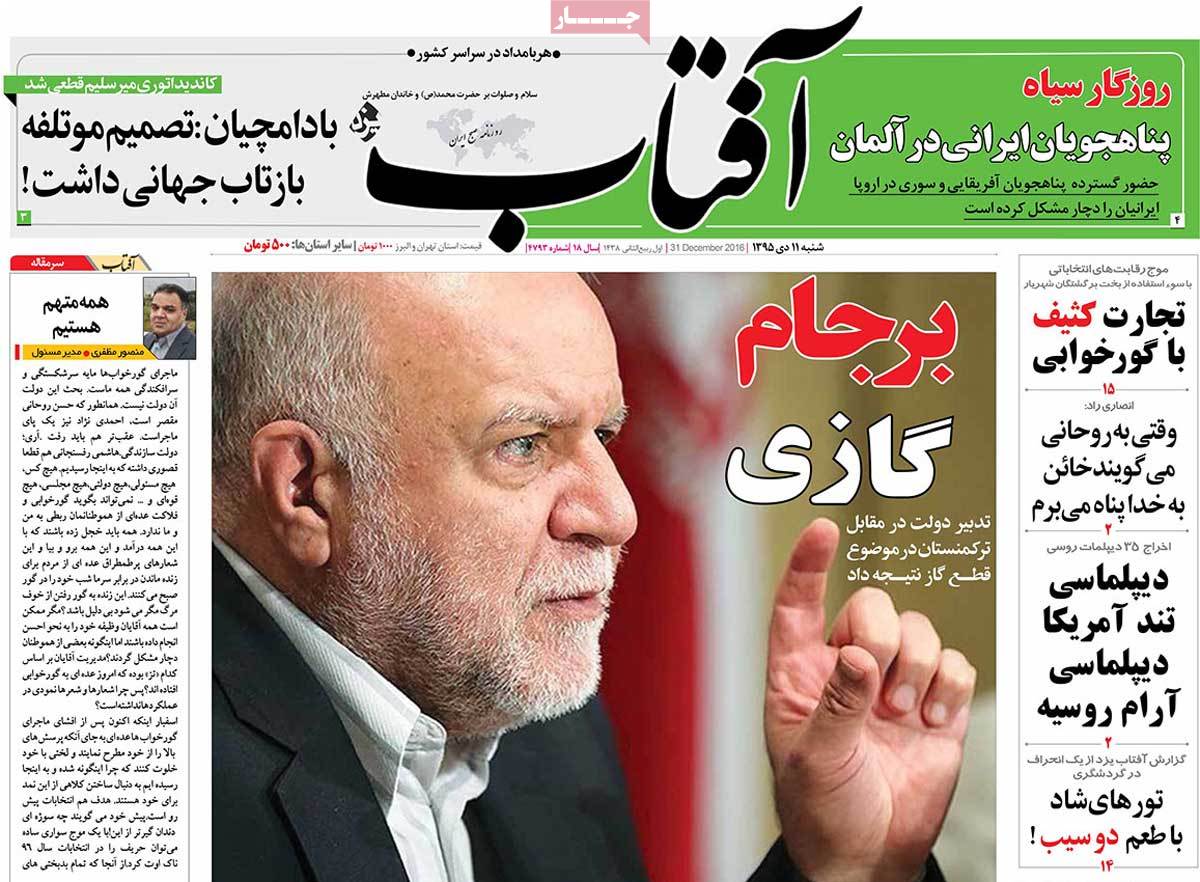 ---
Arman Emruz:
Experto político: "Rohani se enfrenta a una corriente organizado radical."; "Las condiciones actuales son más complicadas que la década 90 y principios años de 2000."
---
Asrar:
Putin: "No respondo a los estadounidenses."
Zarif: "Siempre hay un camino a llegar el acuerdo."
Inicia la tregua general en Siria
Agencia de noticias Yonhap: "La empresa Daewoo fundará en Irán una fábrica de Construcción de Barcos."
El portavoz de la cancillería paquistaní: "No es cierto el ataque a un barco iraní con sirvientes paquistanos."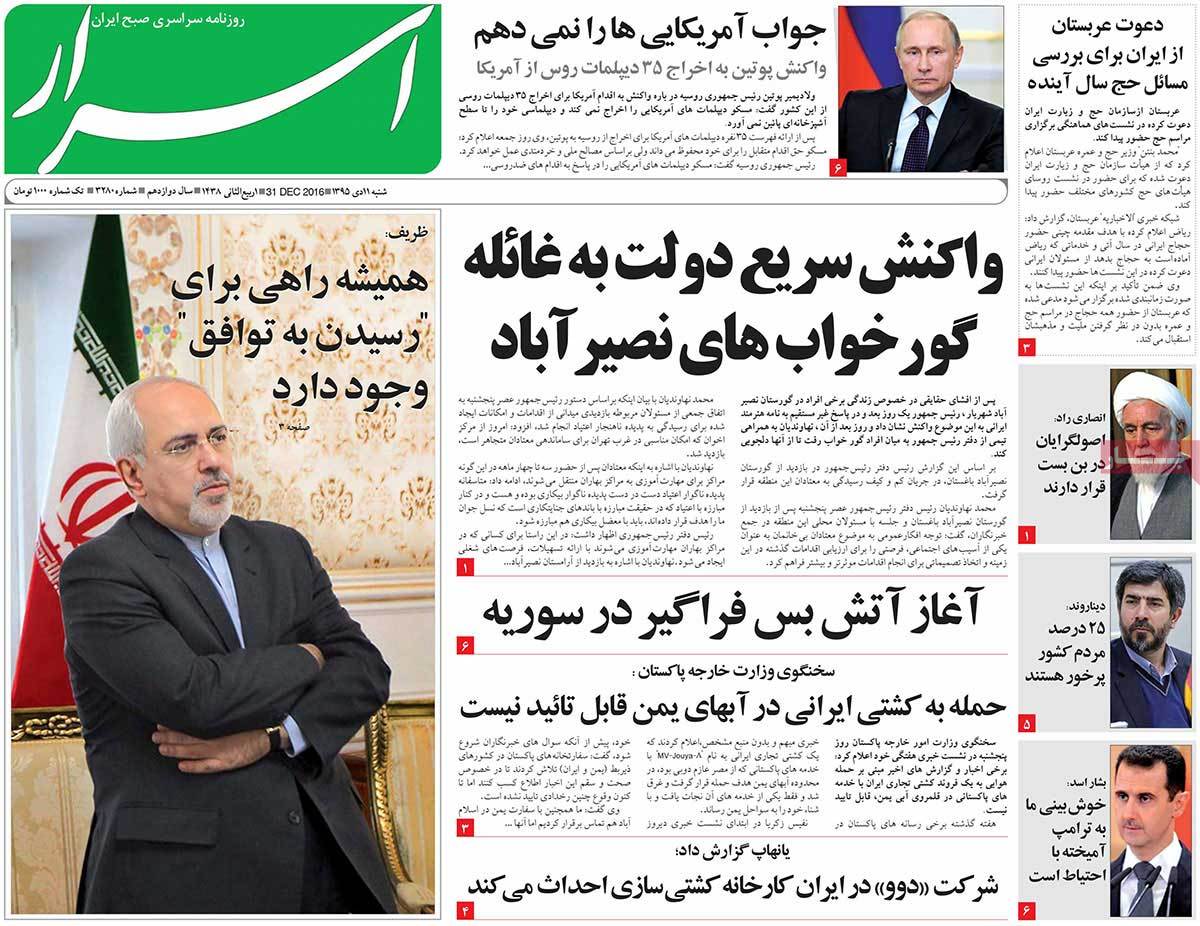 ---
Besharat_e_No:
Presentado el primer candidato a la elecciones presidenciales de Irán (2017); Mosrafa Mirsalim, candidato del partido de la Coalición Islámica.
Erdogan acalla a la prensa; detienen a más periodistas en Turquía con el objetivo de encubrir la verdad
La Tele causa la muerte prematura; vean menos.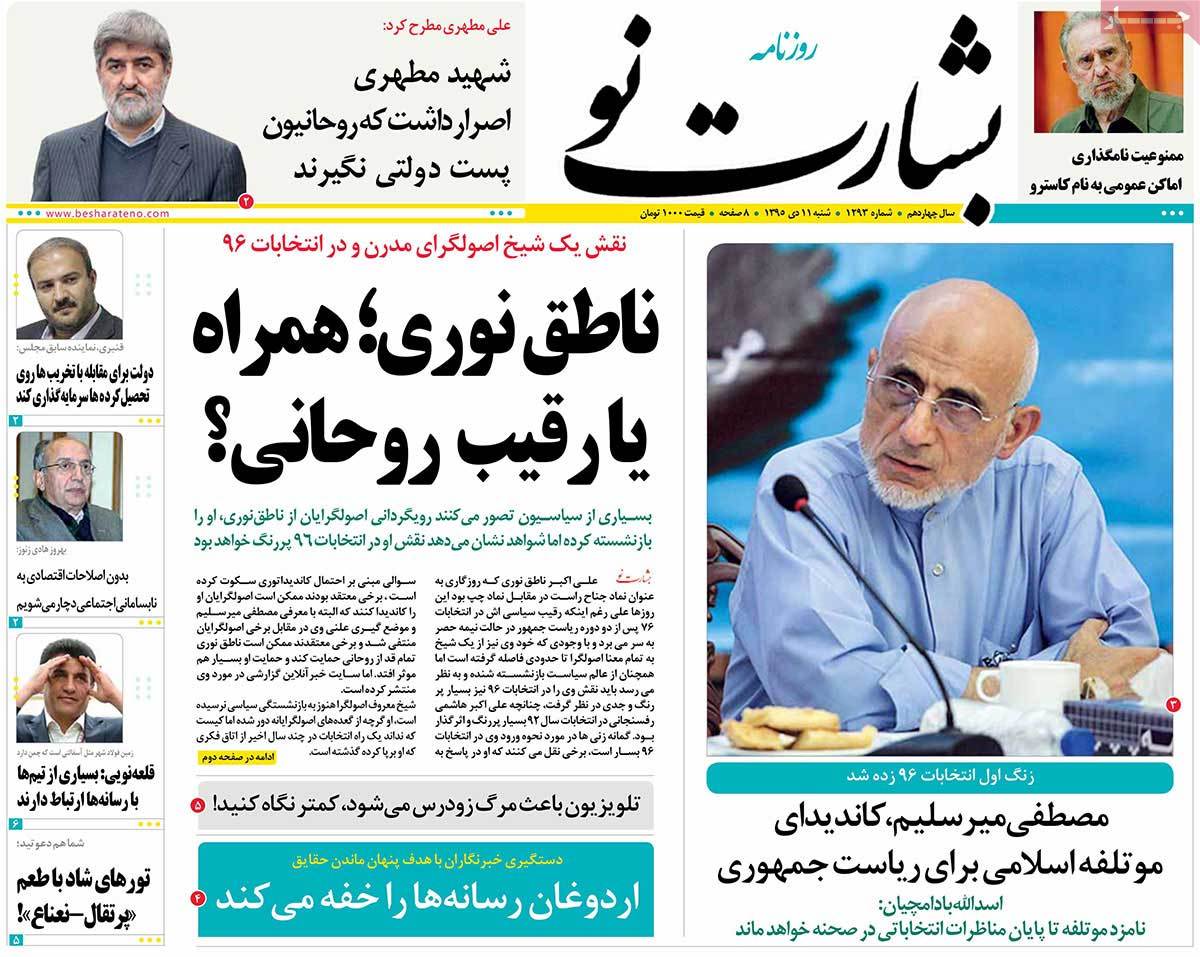 ---
Ebtekar:
Putin se abstiene de contrarrestar la medida de EEUU en expulsar 35 diplomáticos rusos, a fin de conservar su alianza con Trump.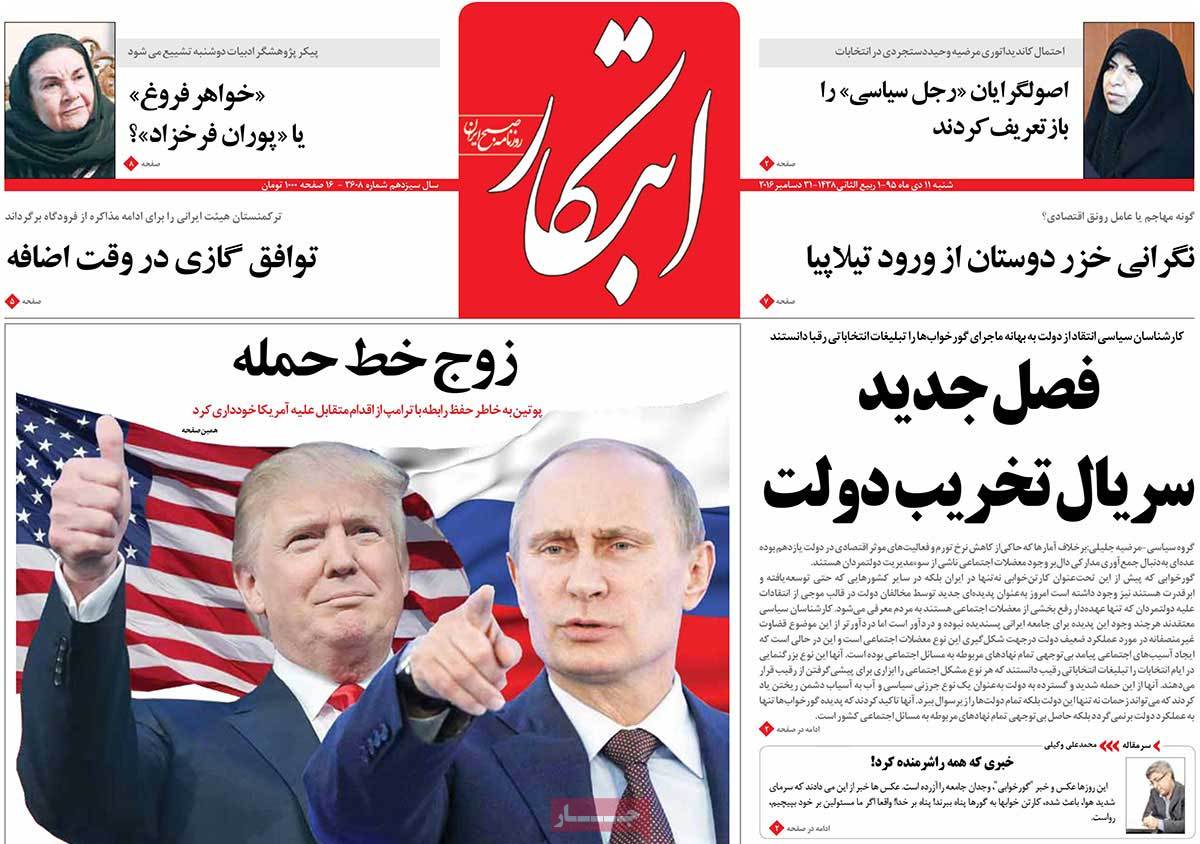 ---
Etemad:
Obama-Putin, implicados en una fría batalla; EEUU expulsa a 35 diplomáticos rusos, mientras Putin resalta que espera la llegada de Trump al poder
El ministro de Carreteras iraní, en una entrevista con Etemad: "Si las empresas Boeing y Airbus no cumplen con sus compromisos exigimos la indemnización."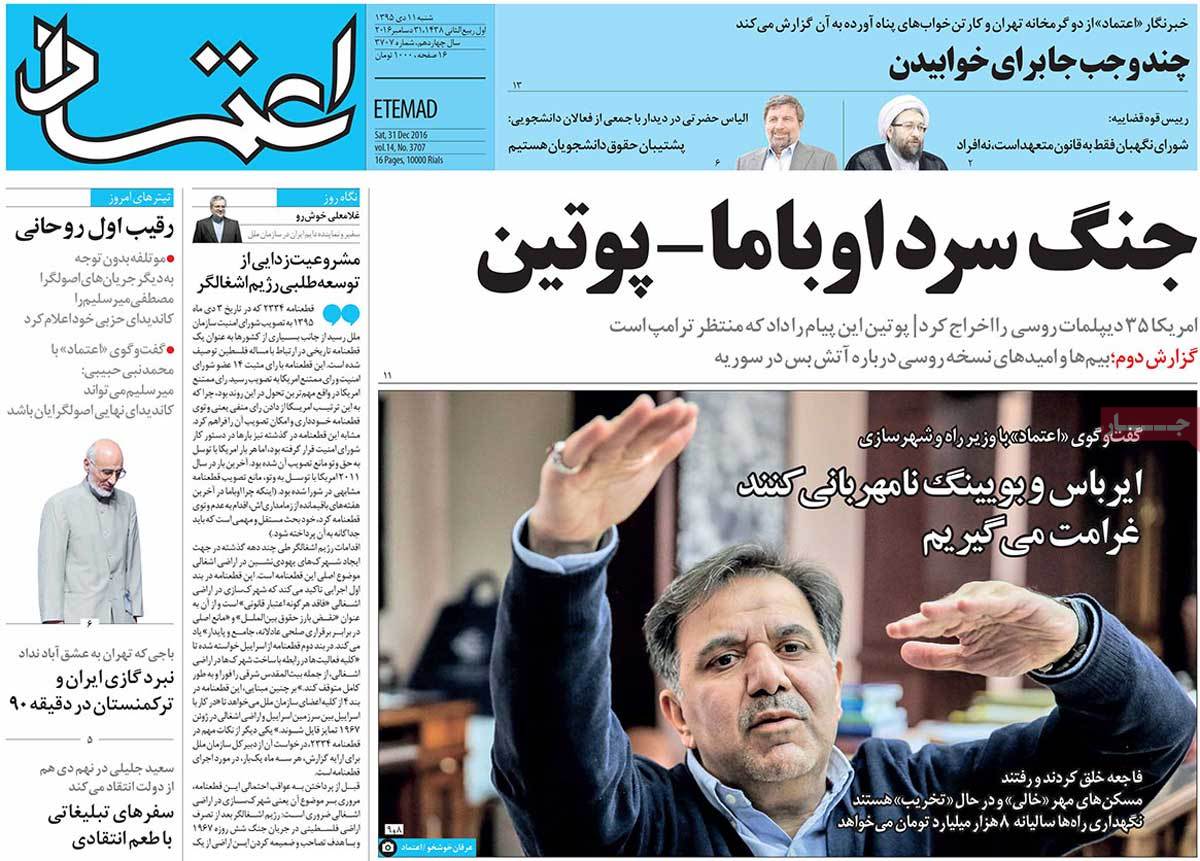 ---
Etelaat:
Tregua general en Siria
El Primer Ministro israelí está en persecución acusado de corrupción financiera
Agrava la tensión entre Washington y Moscú
---
Haft_e_Sobh:
Grandes devenires en Oriente Medio; Arabia Saudita invita a Irán a participar en las próximas ceremonias de Hach (Peregrinación); Irán, Rusia y Turquía anunciaron un cese al fuego general en Siria; se disturban las relaciones entre EEUU con Israel y Rusia; Jordania se alista a la coalición saudita
---
Irán:
EL Vicepresidente y el Ministro de Cooperativos, Trabajo y Bienestar Social de Irán visitan el cementerio donde duermen los desalojados; El Vicepresidente: "Los drogadictos, después de recibir instrucciones y clases de formación serán trasladados a los centros de Acogida."
El gobierno de al-Assad y la oposición siria firman un acuerdo, a merced de la mediación de Irán, Rusia y Turquía.
---
Yaam_e_Yam:
Reaviva la fría Guerra diplomática entre EEUU y Rusia, después de que Washington expulsa 35 diplomáticos rusos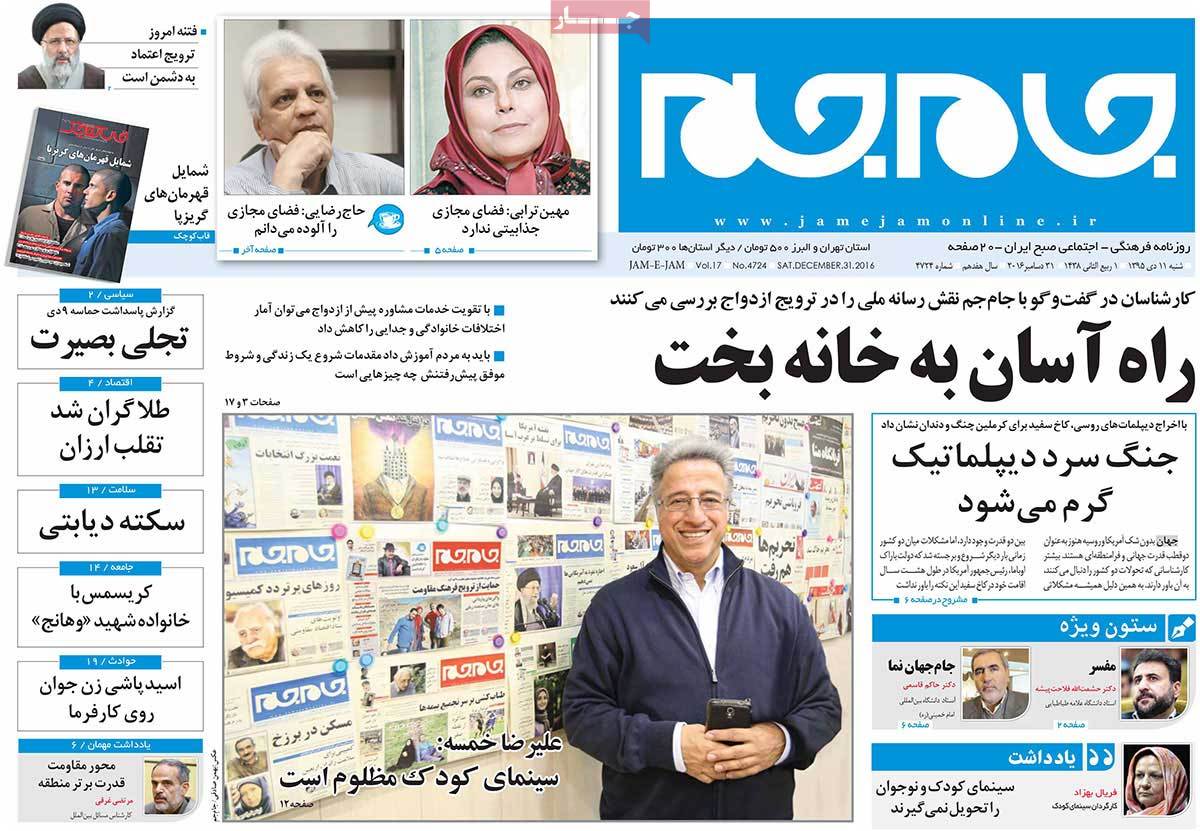 ---
Yavan:
Agravan las tensiones entre EEUU e Israel
Economista progobierno: "El gobierno está implicado en el caso de la subida del precio de dólar."
Obama apunta en los últimos minutos del juego la luna de miel de Trump y Putin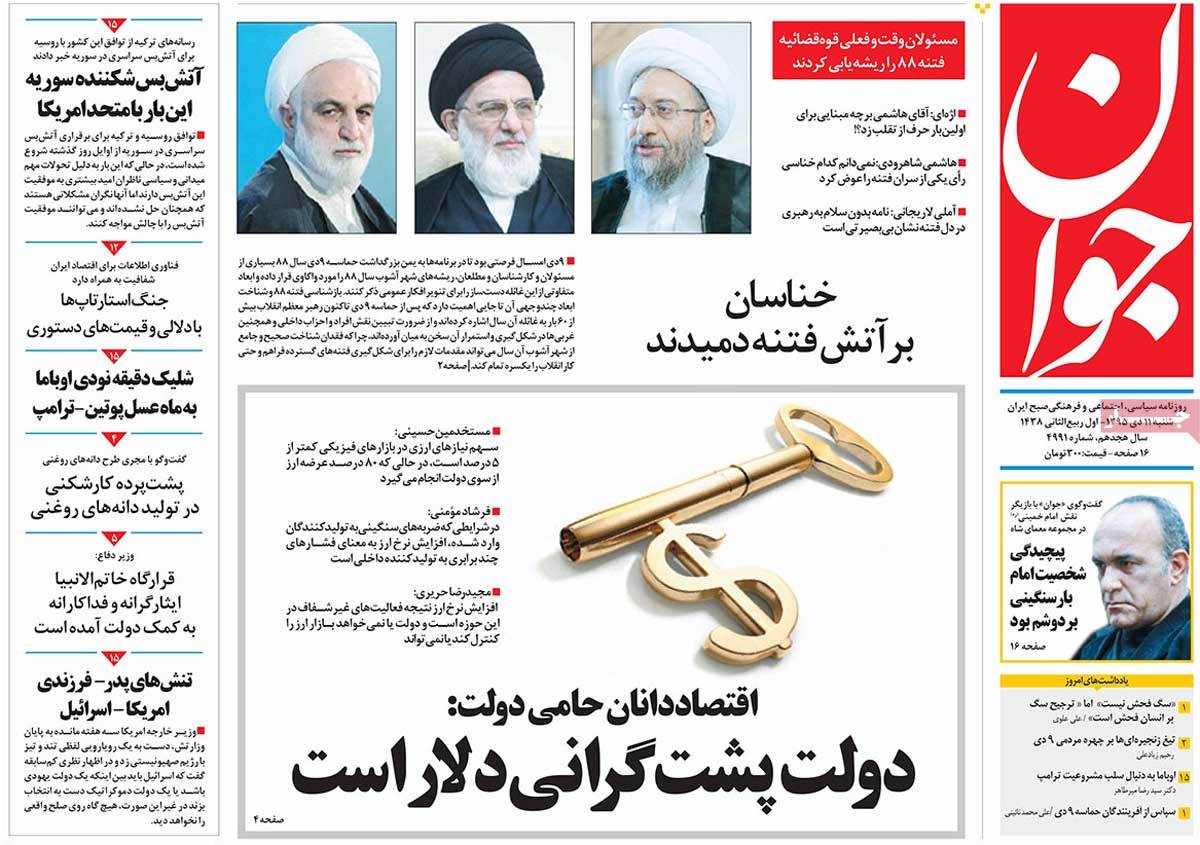 ---
Yomhuri Eslami:
Inicia nueva fase del fin de Guerra en Siria tras el anuncio de una tregua general
El pueblo egipcio se enfurece por el plan de la concesión de dos islas de Egipto a Arabia Saudita
El pueblo bahreiní quema la bandera de Israel
Críticas sin antecedentes del Secretario de Estados de Washington al régimen sionista de Israel; John Kerry tachó al gabinete de Netanyahu de "más derechista de la historia de humanidad que ha reunido a políticos más radicales."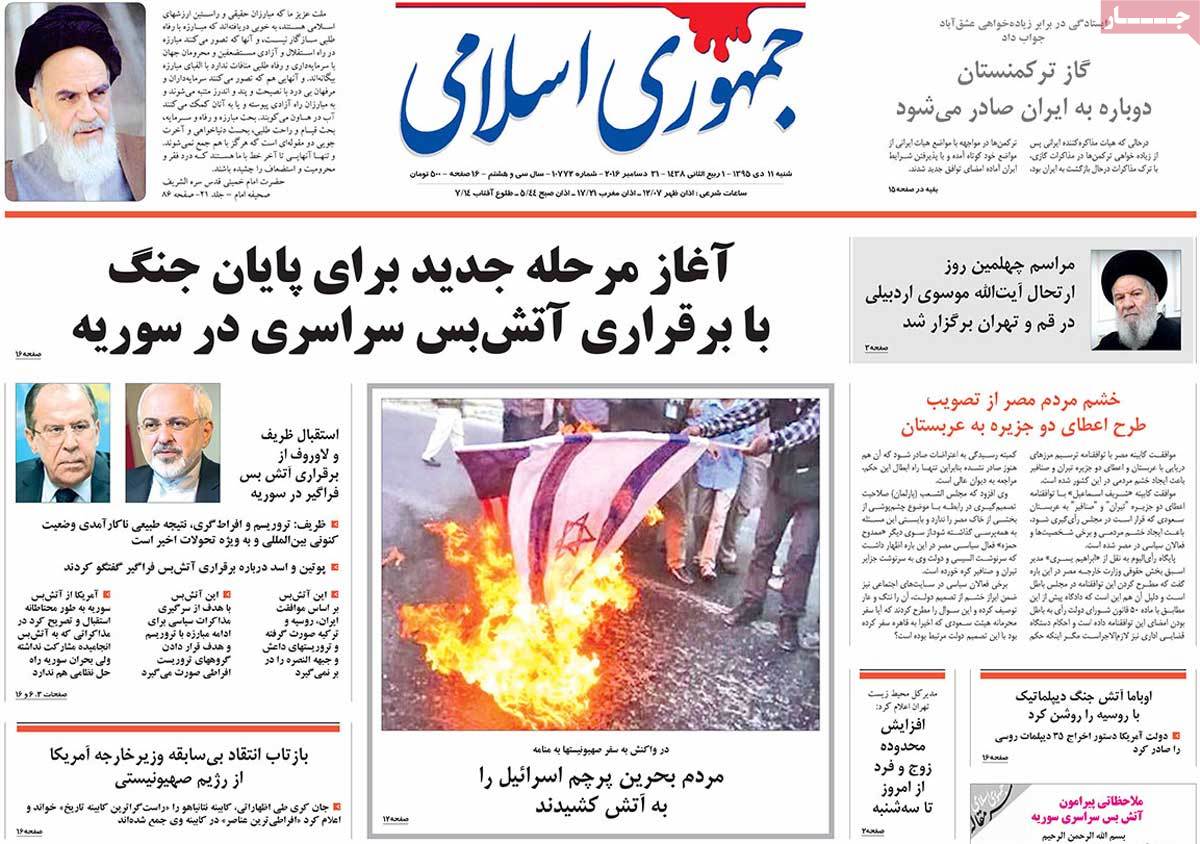 ---
Kaenat:
Destrucción total; La declaraciones del ministerio de Asuntos Exteriores de Rusia: "Washington busca una destrucción definitiva de vínculos EEUU-Rusia."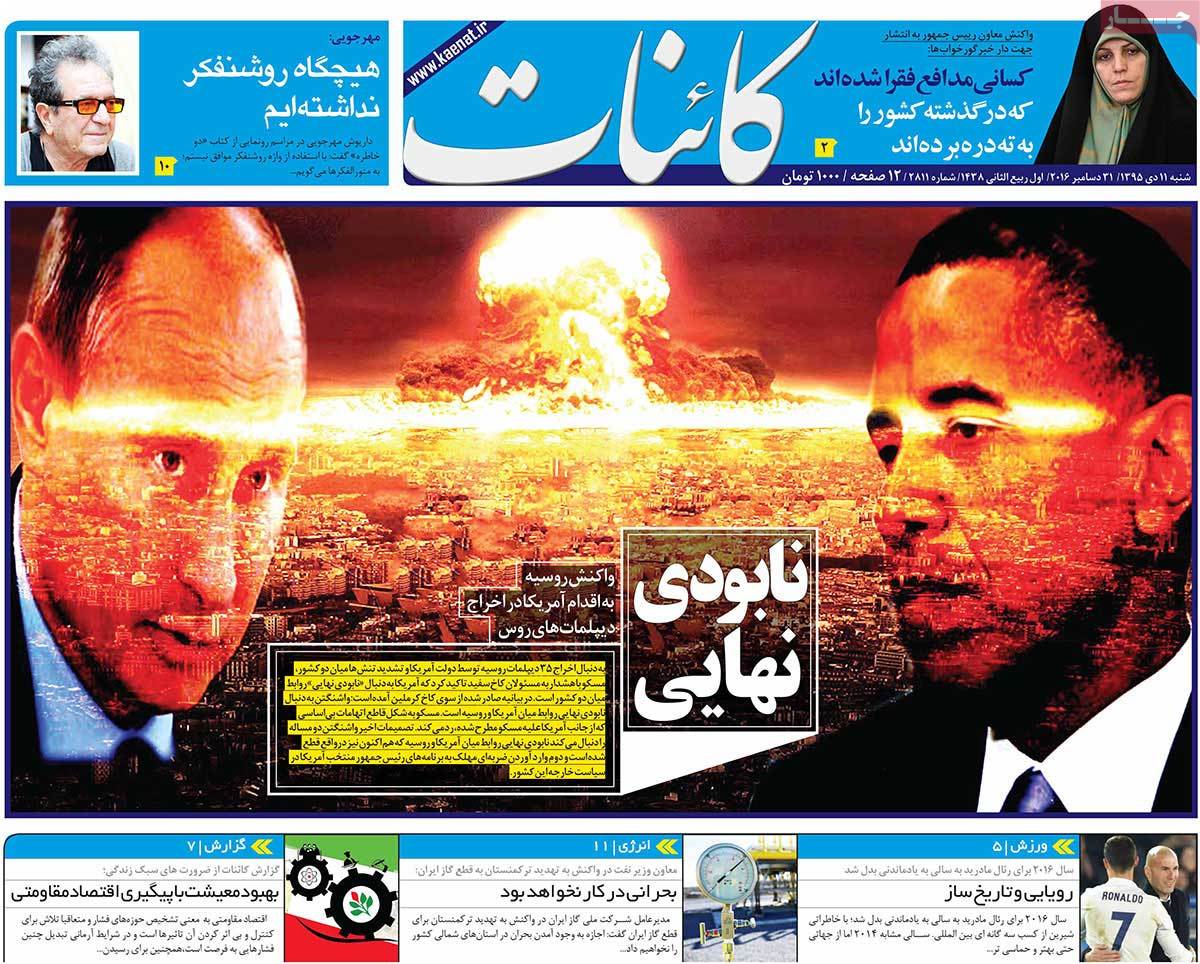 ---
Kayhan:
El PIAC no ha sido infructuoso: causó la caída de 17% del valor de la moneda nacional
Guerra diplomática más intrincada entre Rusia y Estados Unidos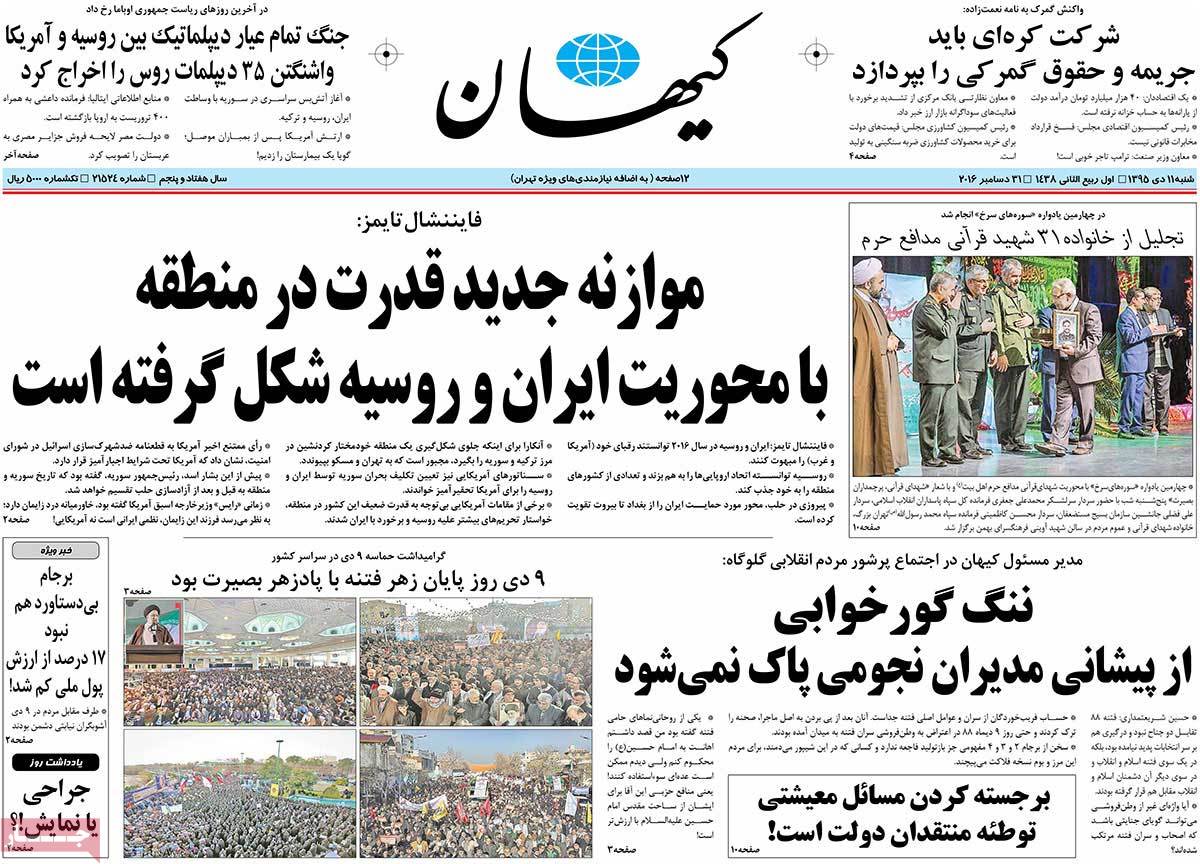 ---
Mardom Salari:
Entrevista con Nargues Kalbasi, una mujer que espera regresar a su patria, Irán. (una mujer samaritana de origen iraní-británico residente en la India)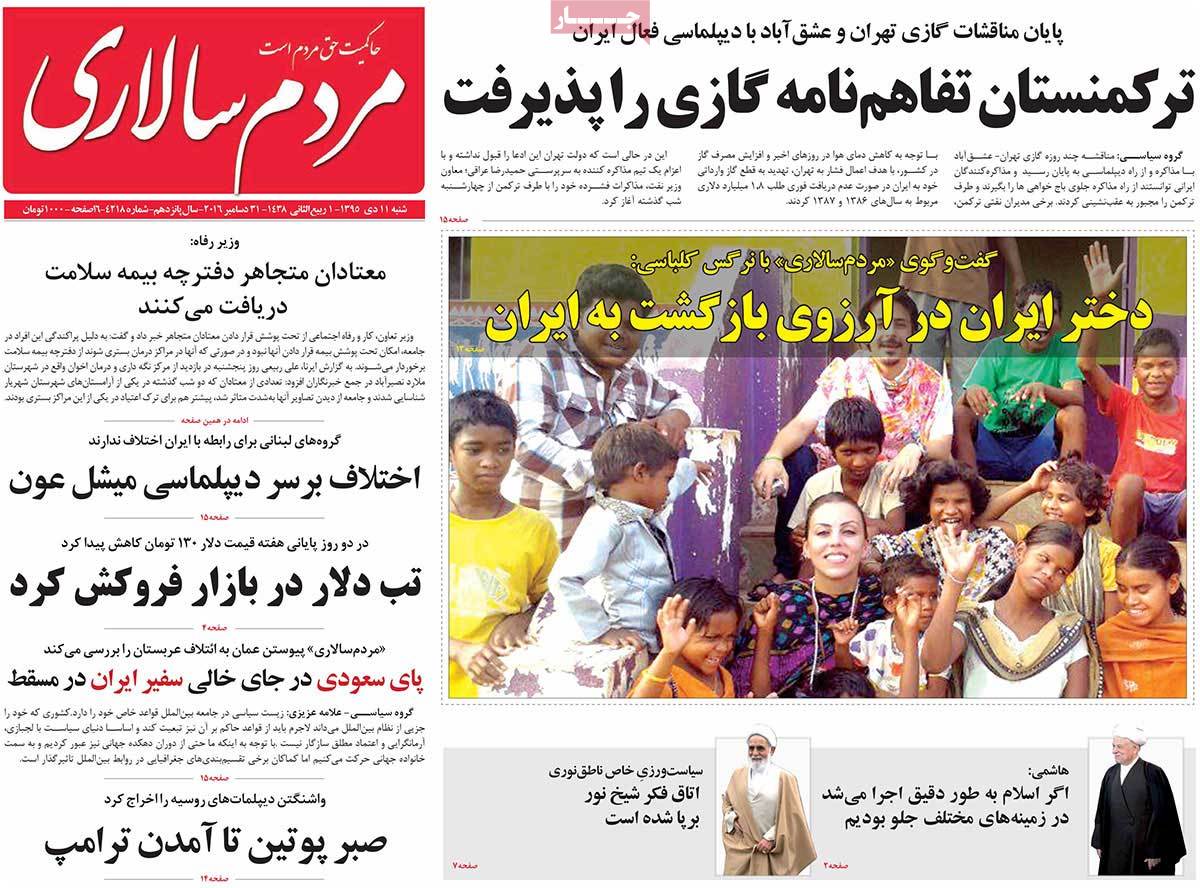 ---
Shahrvand:
EL Presidente ordena investigar el caso de los desalojados (que duermen en un cementerio cerca de la capital)
Autopsia de un desalojado que duermen en las tumbas; (nota escrita por el ministro iraní de Trabajo, Ali rabii)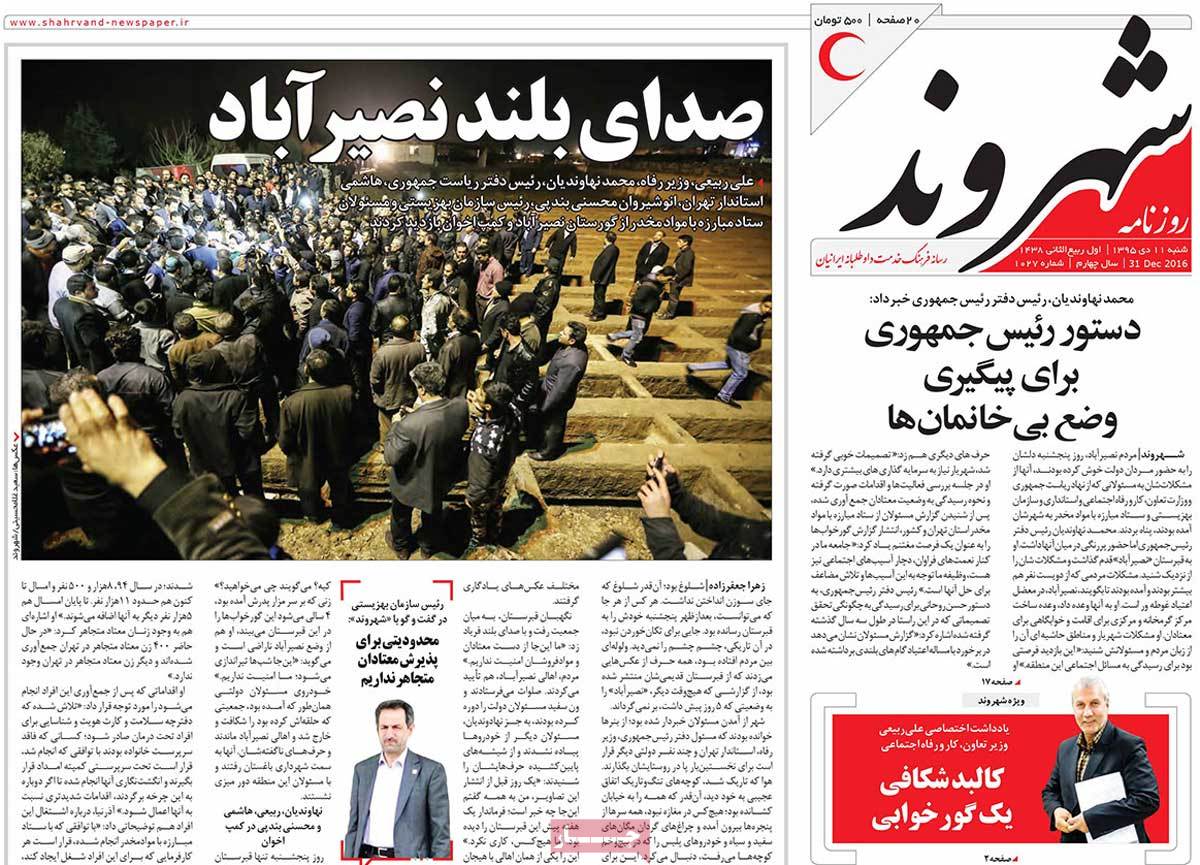 ---
Shargh:
Un artículo del canciller iraní, Mohamad Yavad Zarif; Estrategias para luchar contra el terrorismo y violencia política
Todos en contra de uno (editorial)