IFP has taken a look at the front pages of Iranian newspapers on Sunday and picked headlines from 24 of them. IFP has simply translated the headlines and does not vouch for their accuracy.[:es]IFP ha echado una mirada a las portadas de periódicos iraníes, publicados el domingo, 27 de noviembre de 2016, y ha recogido titulares de 25 de ellos. IFP ha traducido simplemente los titulares y no es responsable de su veracidad.
All newspapers on Sunday covered the message of condolence by the Leader of the Islamic Revolution Ayatollah Seyyed Ali Khamenei on the recent deadly train crash and the ISIS' attack on pilgrims in Iraq's Hilla.
The other top story today was the death of Cuban Revolution leader Fidel Castro who died at the age of 90.
The Iraqi Parliament's move to recognize Iraqi Popular Forces (Hashd al-Shaabi) also received great coverage today.
The above issues, as well as many more, are highlighted in the following headlines:
Abrar:
1- There Is No Security and Military Threat against Iran's Revolution: IRGC Commander
2- Death Toll of Train Collision in Iran's Semnan Increased to 45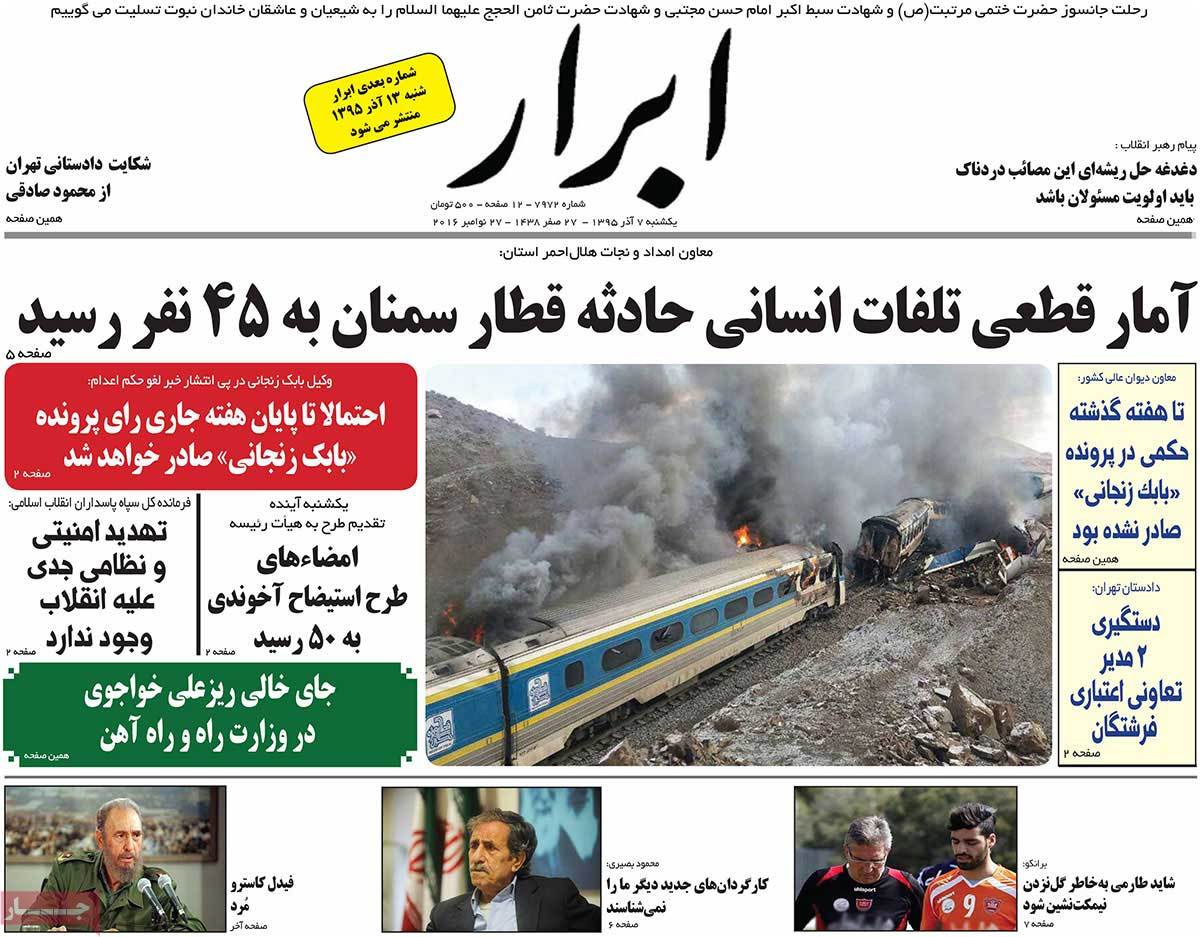 ---
Abrar-e Eqtesadi:
1- German Car Official Highlights Iran's Capacity for Manufacturing German Cars
2- Iran's 3% Share of Iraq's Agriculture Market
3- Iran Starts Cooperation with World Trade Organization
4- Spain to Build Petchem Complex in Iran
---
Afkar:
1- Iranian MPs May Impeach Transport Minister after Deadly Train Collision
2- IRGC Commander: Governments Should Move towards Free Health and Medical Services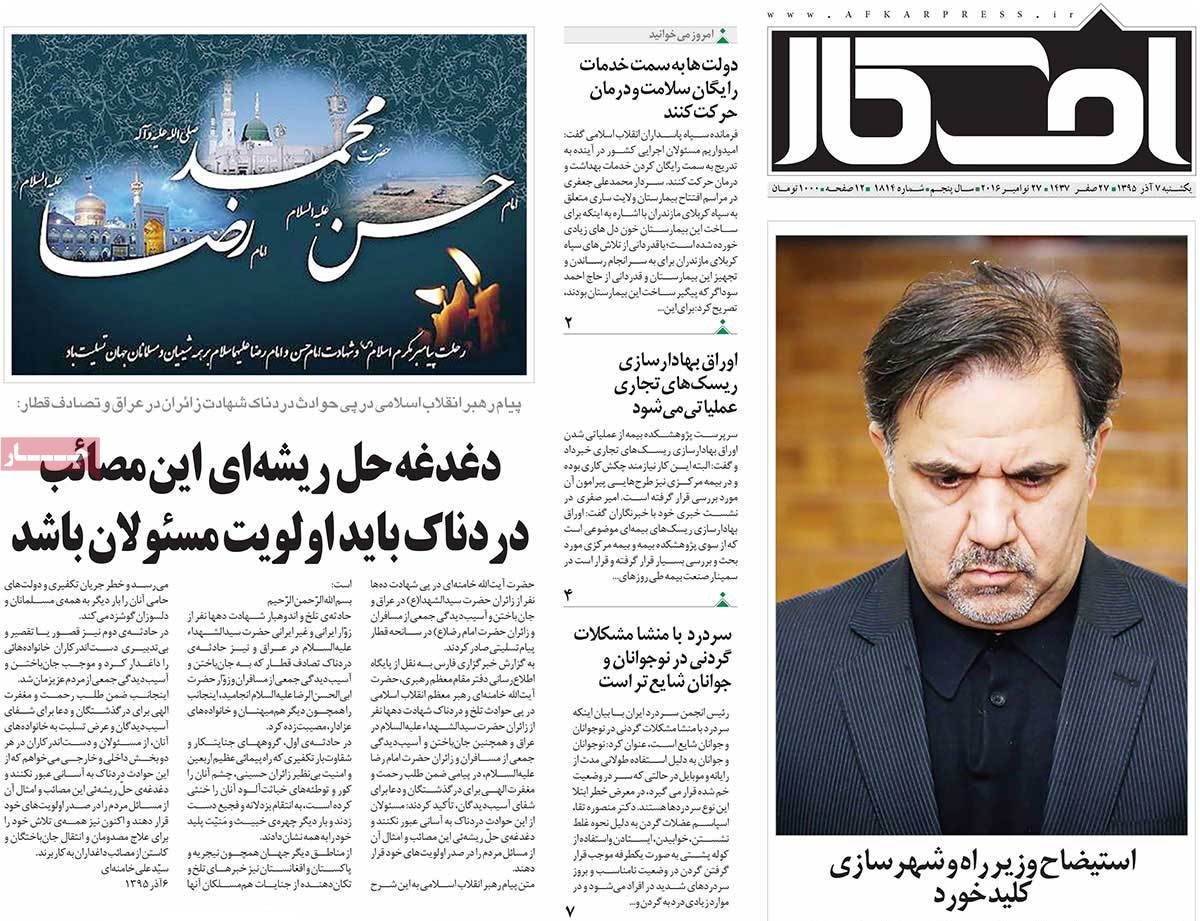 ---
Aftab-e Yazd:
1- Leader Urges Officials to Find Root Causes of Such Painful Incidents as Recent Train Crash and Hilla Attack
2- Political Abuse of People's Blood: Certain Conservative Media Take Strange Approaches towards Recent Train Collision
3- Three Individuals Arrested over Semnan Train Crash
4- Turkish FM Makes Surprise Visit to Iran: What Is Çavuşoğlu Doing in Tehran?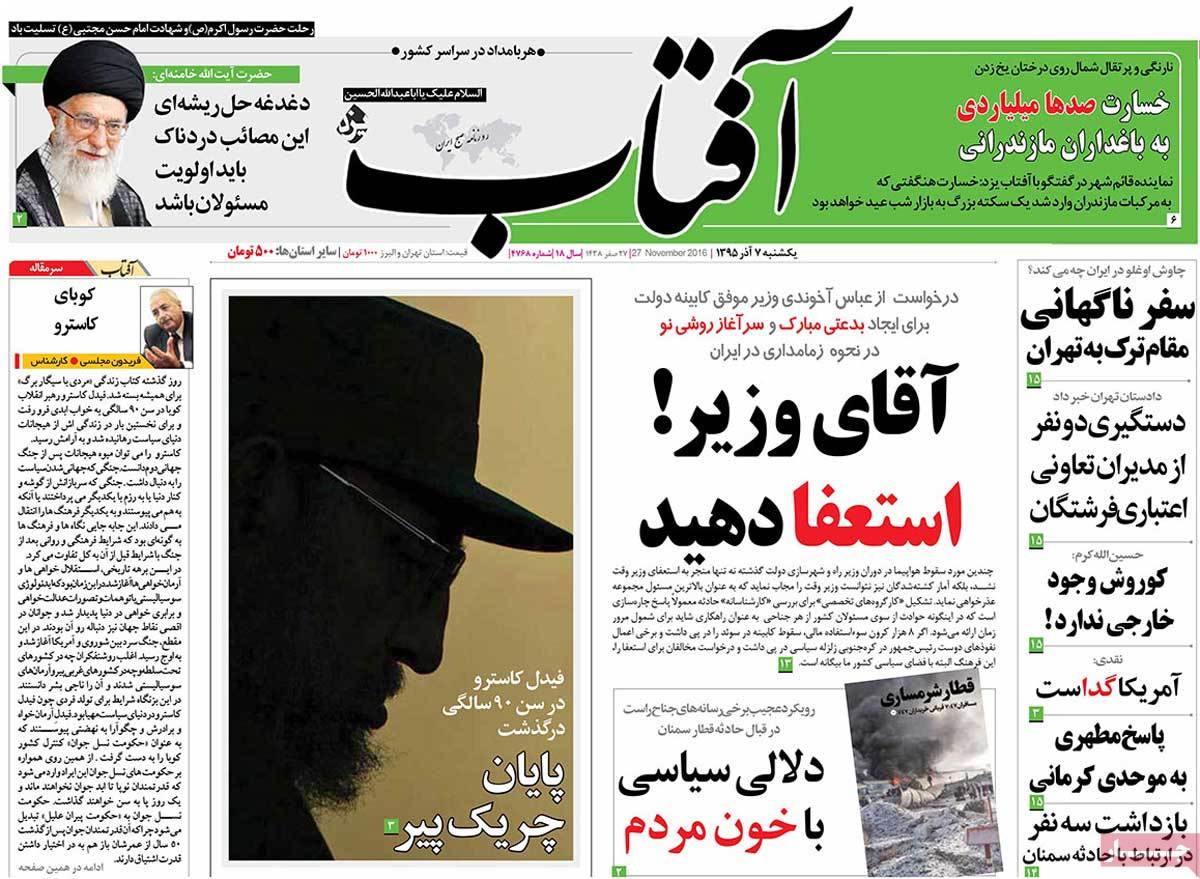 ---
Arman-e Emrooz:
1- Champion of Cuba Crosses the Finish Line; Iran's President: Death of Castro, the Relentless Struggler, Is a Source of Sorrow
---
Asrar:
1- Rouhani: Iran and Turkey Share Views on Major Regional Affairs
2- DM: We'll Let Russia Use Nojeh Airbase Again If Necessary
3- Suspects of Hilla Terrorist Attack Arrested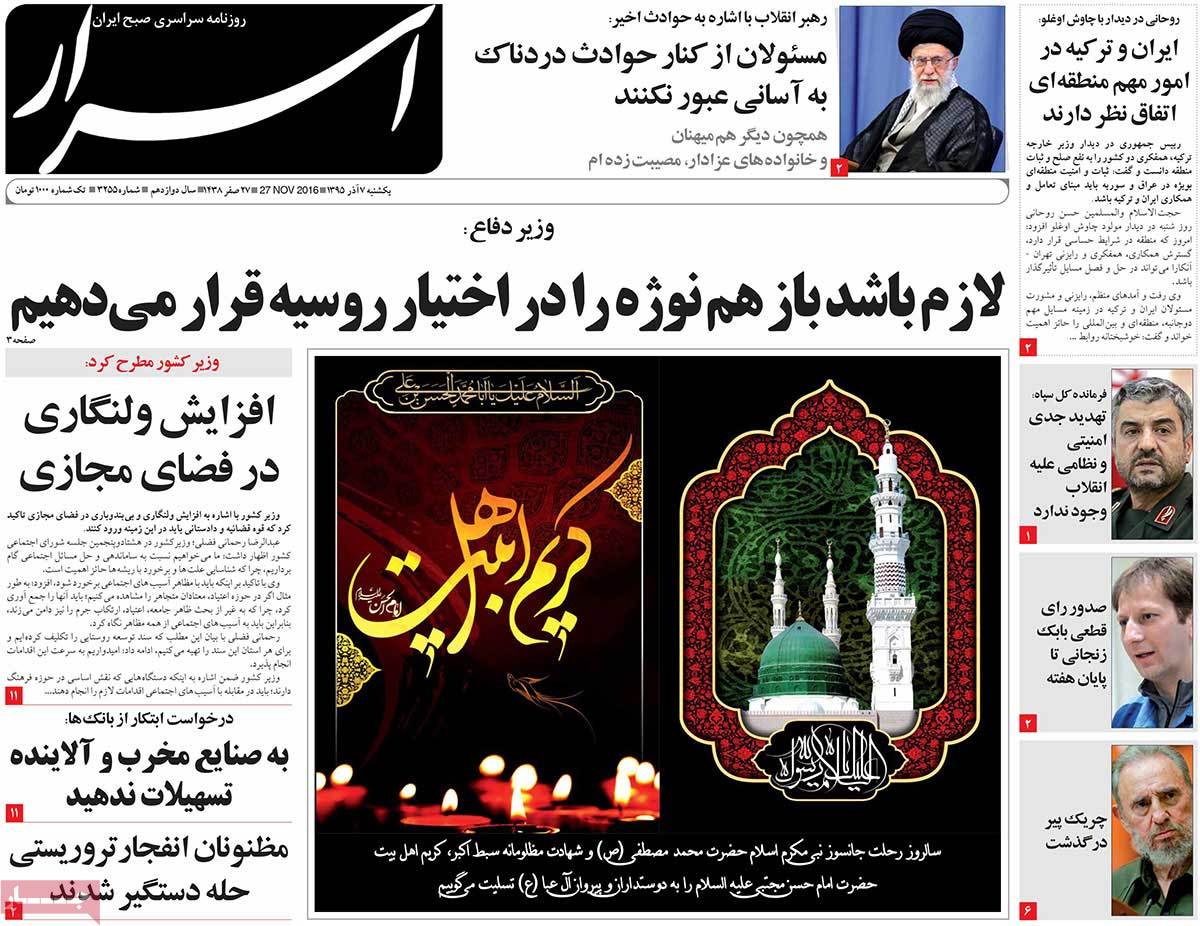 ---
Besharat-e Now:
1- Don't Show the Leader of Islamic Revolution as Someone Opposed with Freedom: Iran's Parliament Vice-Speaker Motahari Reacts to Senior Conservative Cleric's Remarks [who said Motahari should check his words with Ayatollah Khamenei before delivering speech]
2- Return of Populism to Iran Is Possible: Reformist Figure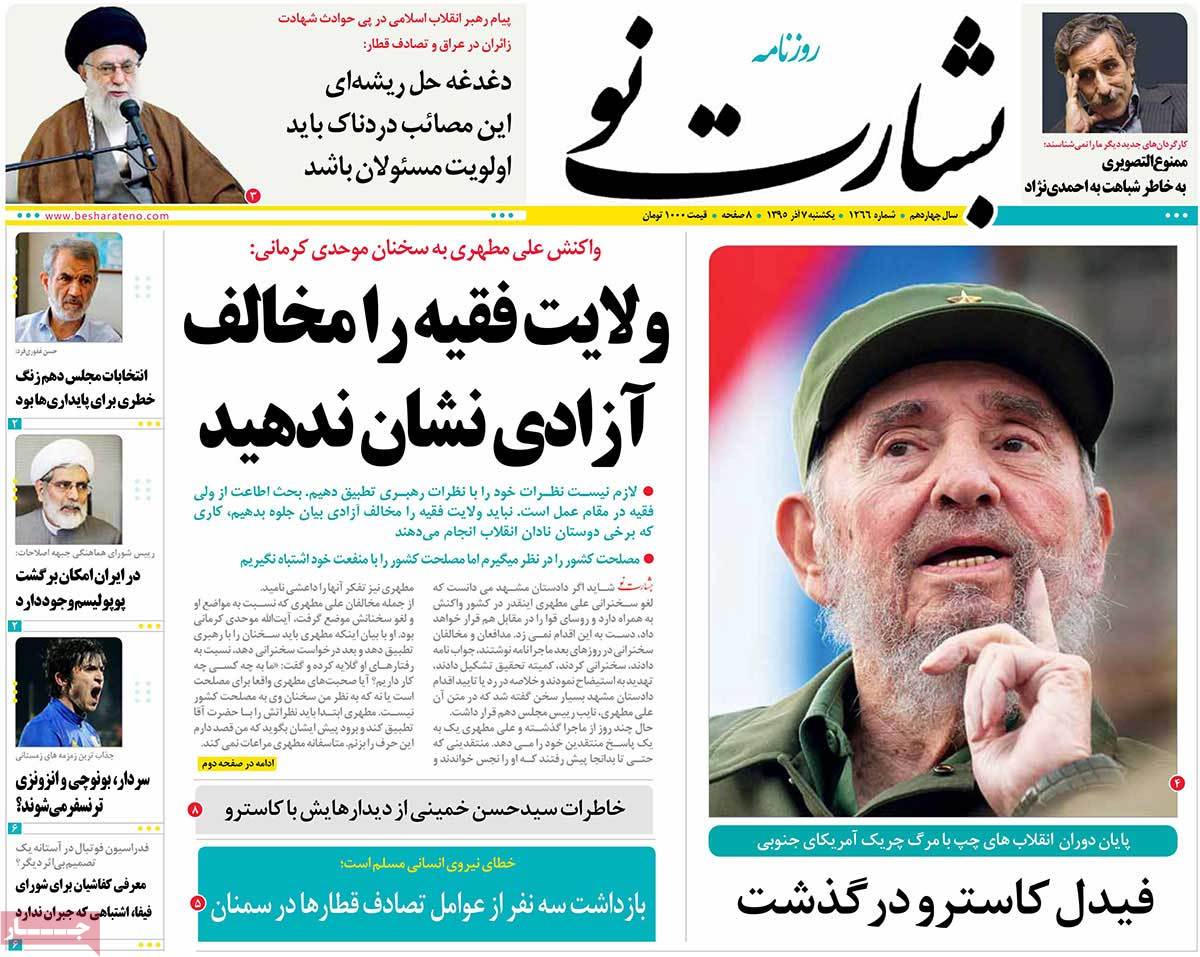 ---
Ebtekar:
1- Oil Freeze under Shadow of Trump's Election and Saudi Arabia's Opposition
2- Culture of Resignation? Political Experts Discuss the the Way Officials React to Unfortunate Incidents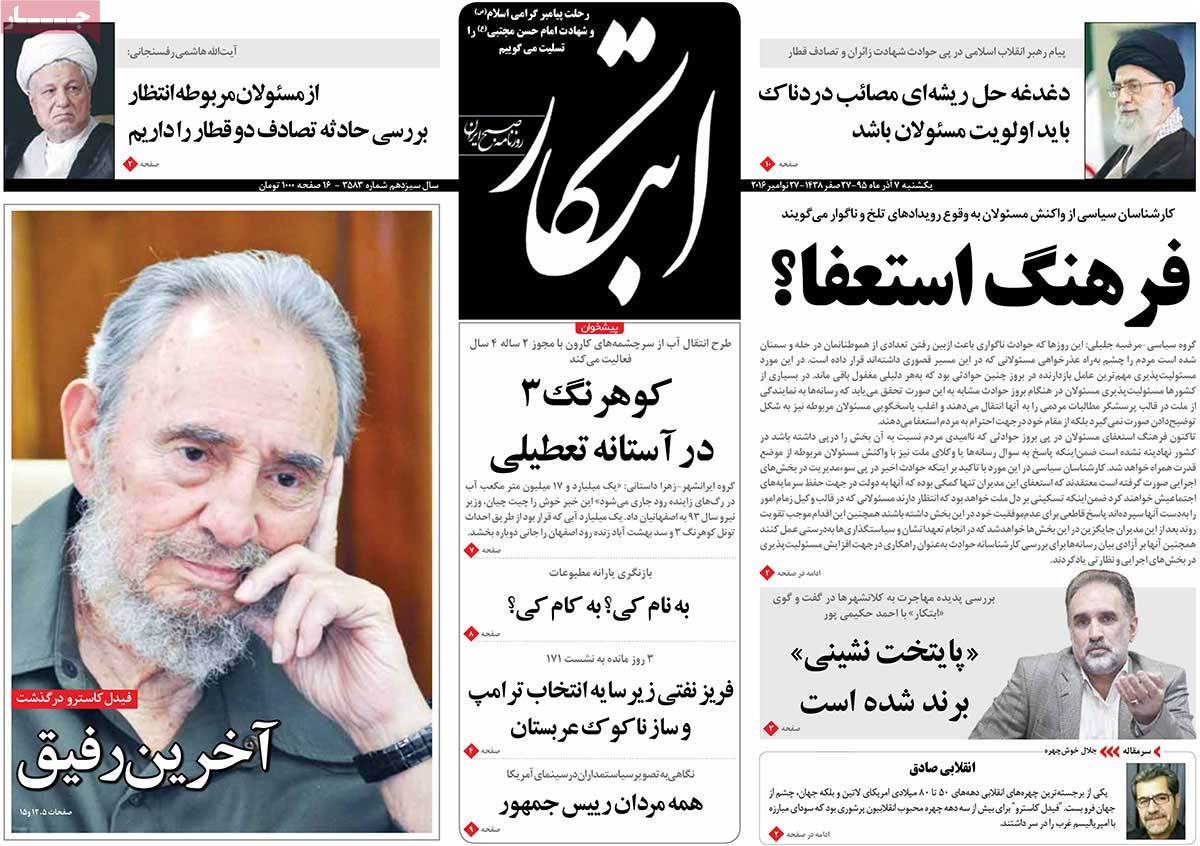 ---
Etemad:
1- A Report on Families of Those Killed in Train Crash and ISIS Attack on Pilgrims: Survivors Talk
2- After Train Collision, Head of Iran Railway Company Resigns on Live TV
3- Without a Commander: Analysis of Cuba with Fidel and Cuba without Castro
4- Algeria's Oil Pact for Tehran: Algerian Oil Minister Arrives in Tehran for Talks on Oil Freeze
5- Political-Security Party in Tehran: Turkish FM and Security Chief Come to Tehran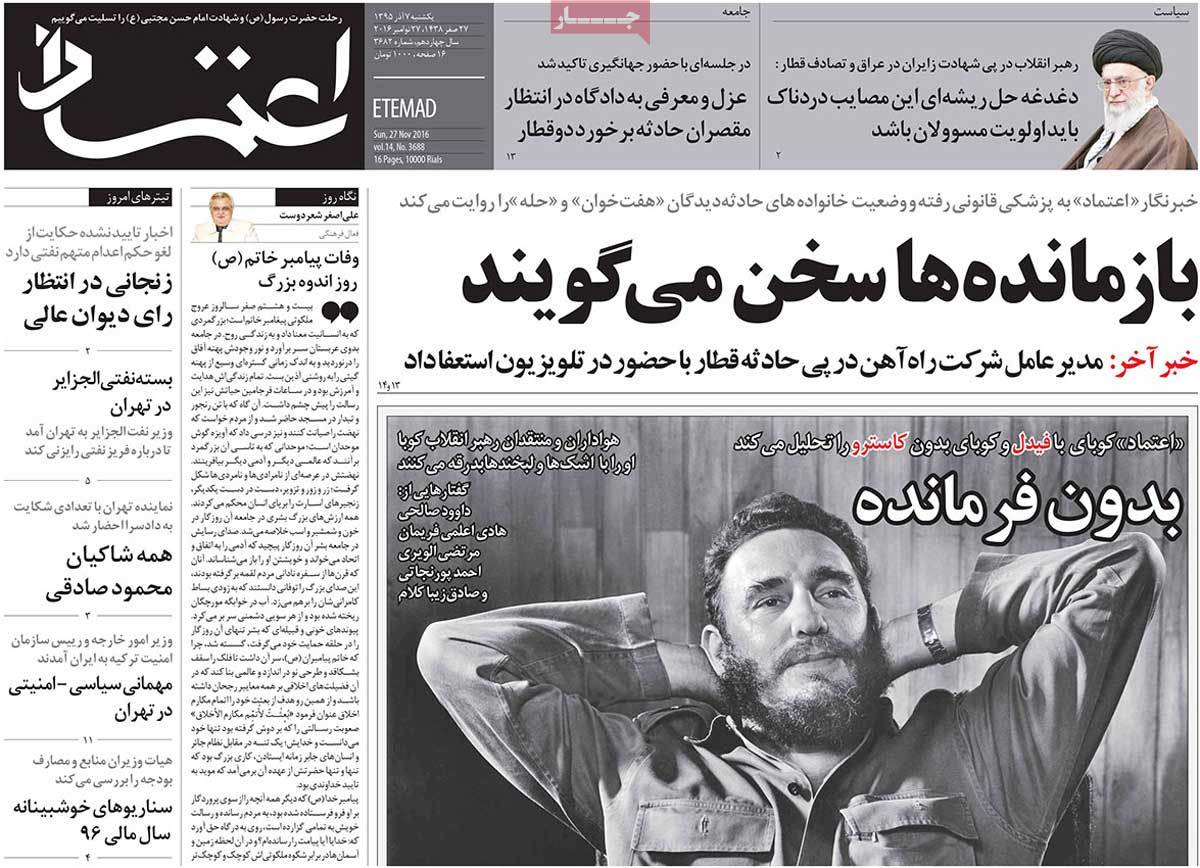 ---
Ettela'at:
1- First Vice-President Seriously Pursuing Train Collision
2- DM: Purchase of Su-30 Fighter Jets in Iran's Agenda
3- Popular Mobilisation Forces Officially Join Iraqi Armed Forces
4- Fidel Castro, the Anti-Colonialism Leader of Cuba, Passes Away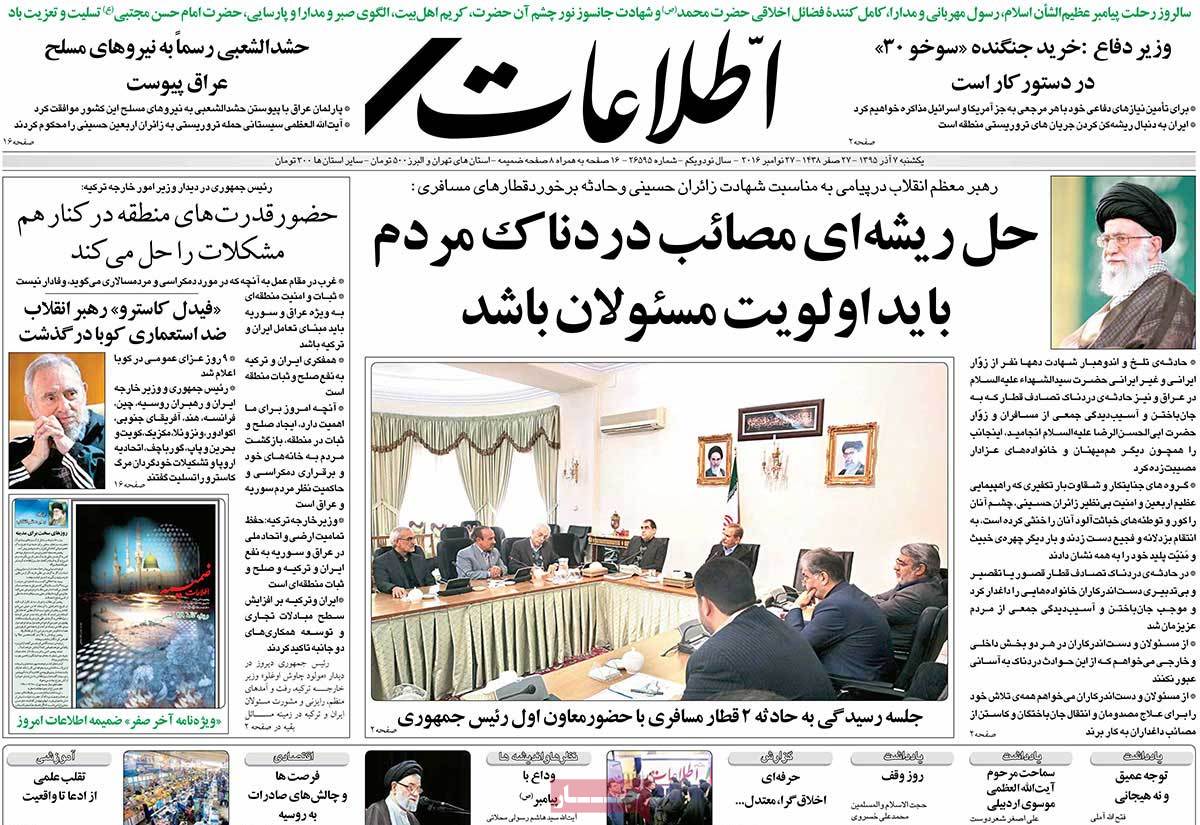 ---
Haft-e Sobh:
1- Secrets of Lasting Investment in Iran
2- Bewildered! Ministers Speed Up Efforts to Deal with Fatal Train Crash in Semnan and ISIS Terrorist Attack on Pilgrims in Iraq
3- Farewell to Last Classic Guerrilla
---
Hemayat:
1- Following Martyrdom of Iranian Pilgrims in Iraq and Iranian Passengers in Semnan Train Crash, Leader Said:
Takfiris Took Cowardly Revenge in Reaction to Massive Arba'een Processions
Negligence and Imprudence of Those Involved Made Many Families Bereaved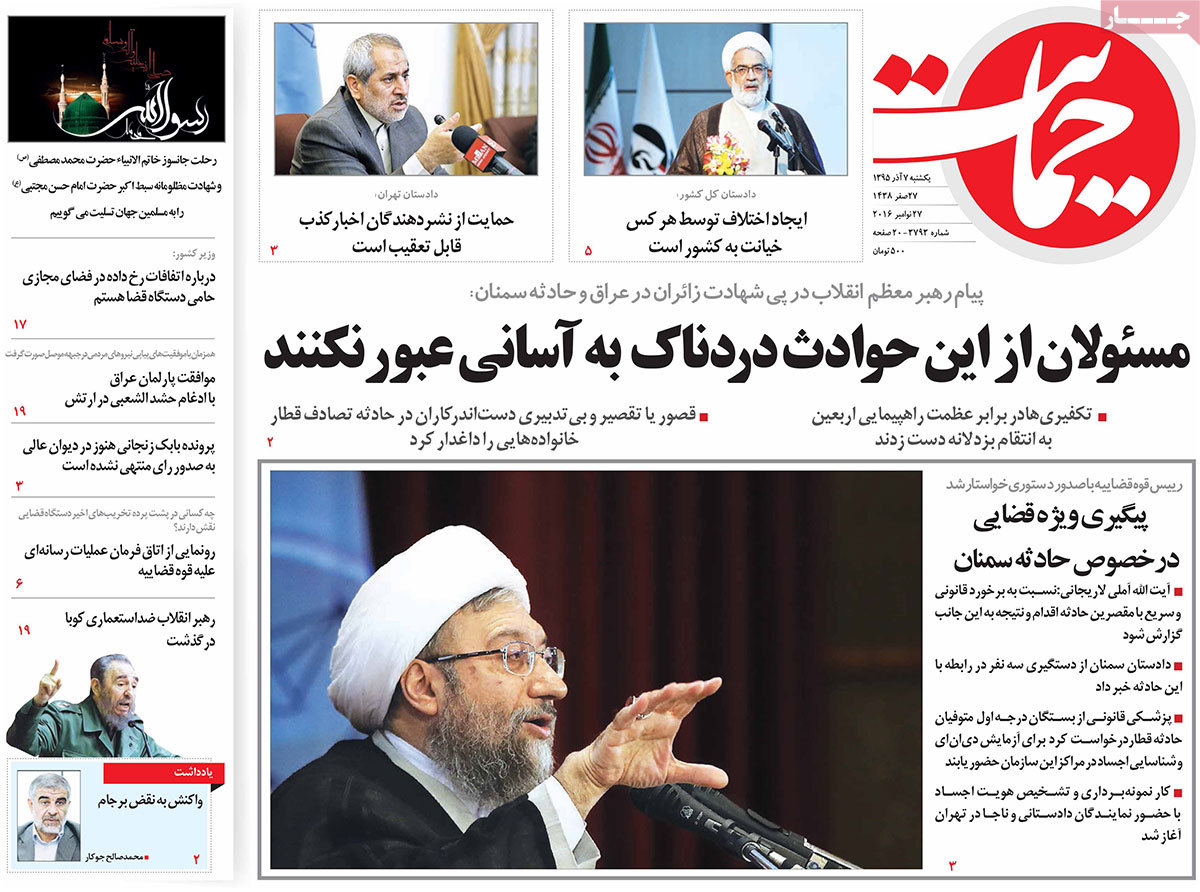 ---
Iran:
1- Last Page of the Guerrilla: Leader of Cuban Revolution Dies
2- Turkish FM Suddenly in Tehran; Çavuşoğlu: It Is to the Interest of Turkey and Iran and Regional Peace and Stability to Maintain Territorial Integrity and National Unity of Iraq and Syria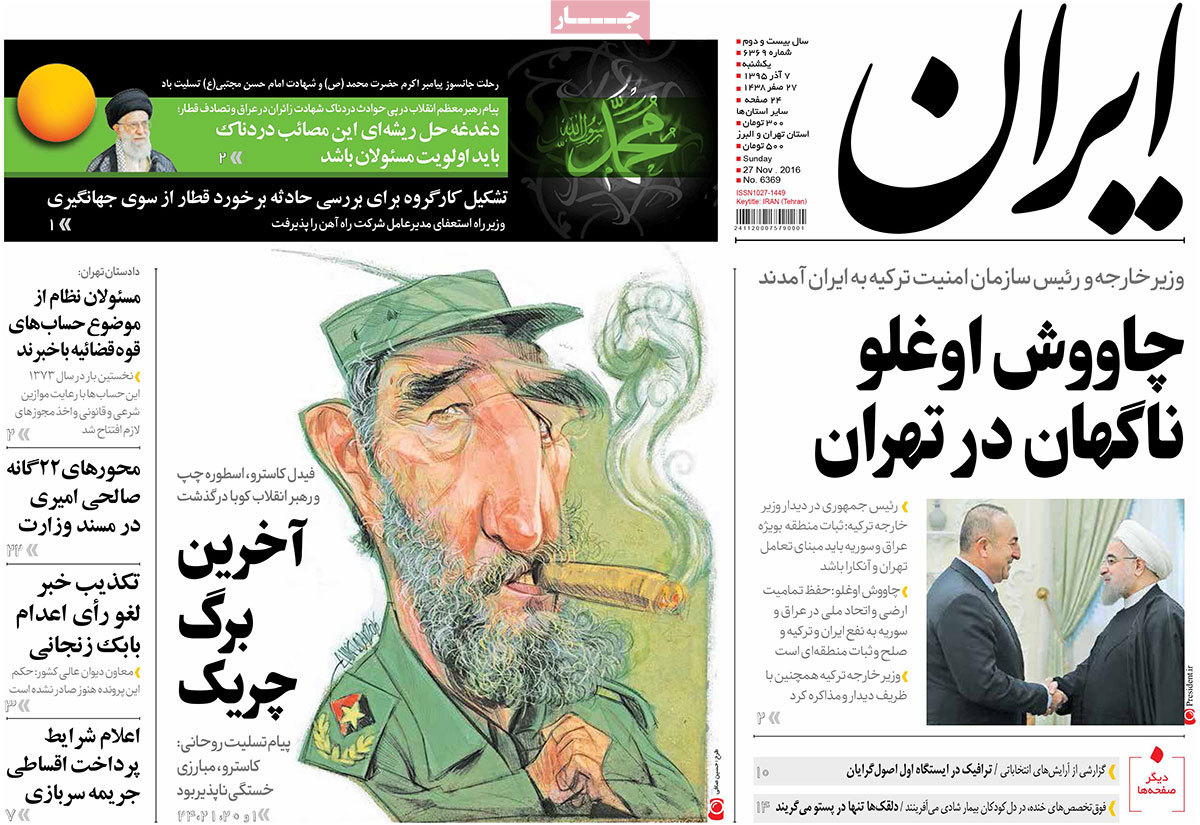 ---
Jame Jam:
1- Leader's Order for Pursuing Recent Incidents
2- Cuba without Castro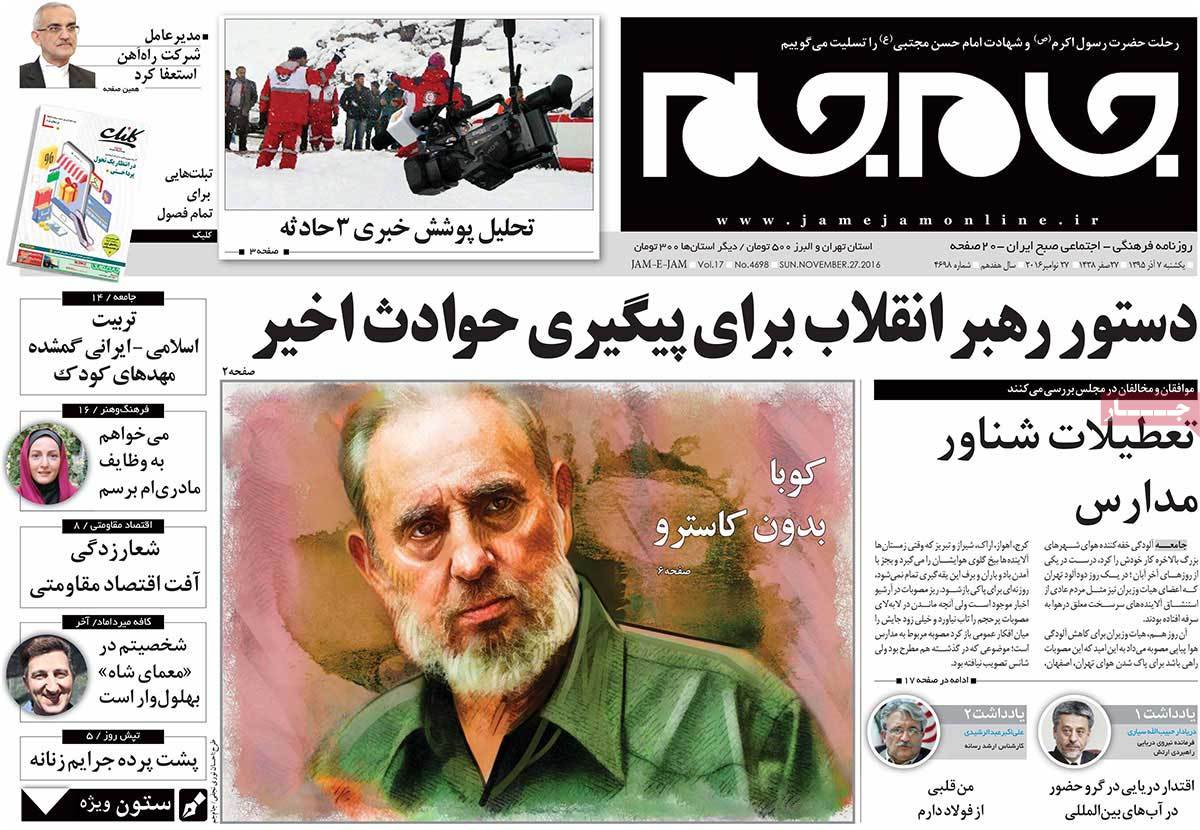 ---
Javan:
1- Iraqi Popular Forces Become Official after Parliament's Vote
2- He Remained Anti-US and Died: Castro Passed Away at 90
---
Jomhouri Eslami:
1- Iraqi Special Forces on Verge of Entering Centre of Tal Afar
2- Former Iraqi PM Maliki Calls on Int'l Community to Insert Wahhabism into List of Terrorists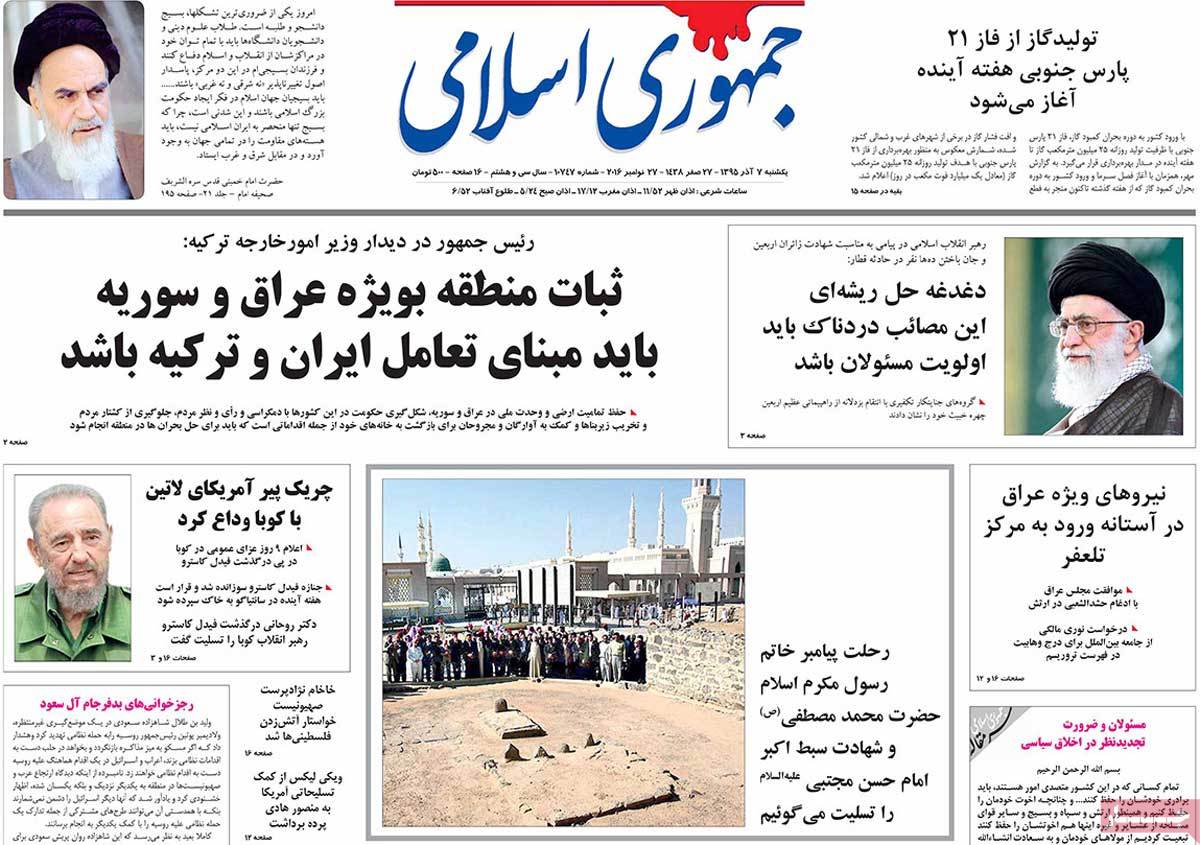 ---
Kayhan:
1- Train Crash Shows Government's Inefficiency
2- For Second Time, American Aboriginals Hold Demonstration against Corrupt System of West with Iran Leader's Message
3- Israel Nuclear Plant Surrounded by Fire
4- Washington Post: Trump Was Right, the US Political System Is Corrupt and Collapsing
---
Mardom Salari:
1- Continued Trend of Whistle-Blowing in US National Security Agency: Know More about 6 NSA Whistle-Blowers
2- End of the Guerrilla of Love and Hatred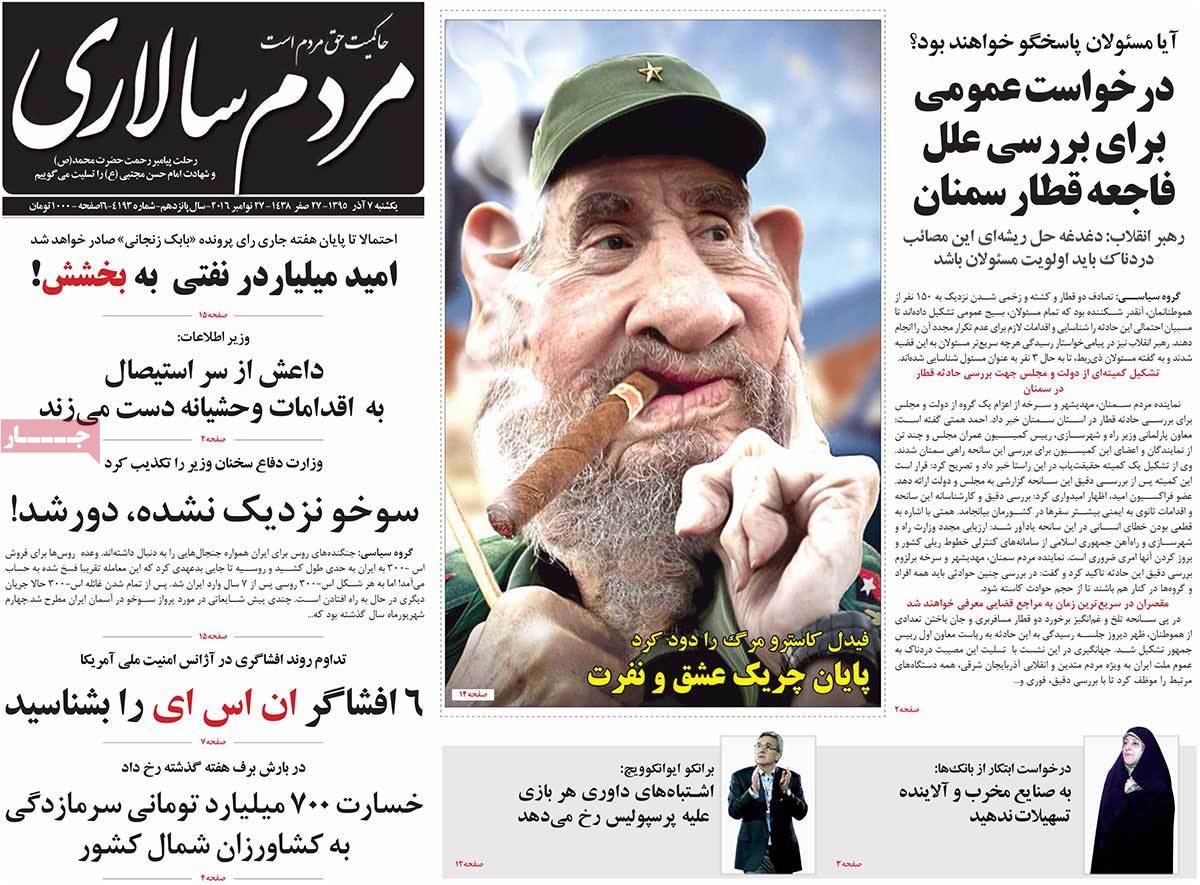 ---
Resalat:
1- Leader Urges Officials Not to Easily Pass over Painful Incidents
2- Democracy Flavoured by Mocking Public Opinion: Not All Votes Have Been Counted Yet; Clinton Calls for Re-Count of Votes
3- Tornado of Nationalism in Europe: Is a Change Possible in United Europe?
---
Setareh Sobh:
1- 2016, the Great Year for Iran: Economist Discusses Iran's Positive Economic Perspective
2- Political Expert Sadeq Zibakalam: Government's Weak Media Team Doesn't Attach Importance to Role of Media
---
Shahrvand:
1- The Old Man Leaves the Judgement to History: Castro Dies
2- Interview with Afghan MP on Int'l Day for Elimination of Violence against Women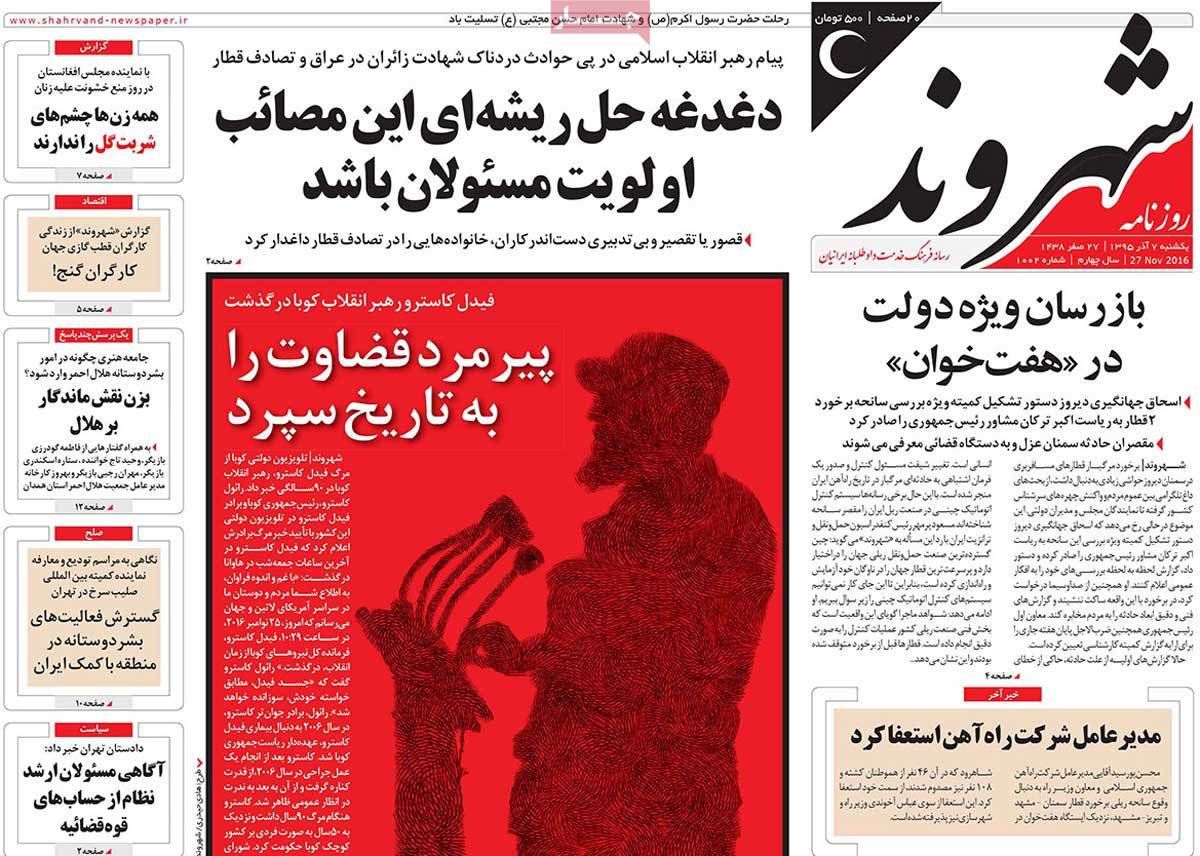 ---
Shargh:
1- Chief of Iran's Armed Forces Highlights Need for Marine Bases in Yemen and Syria
2- Erdogan's Envoy Meets with Rouhani
---
Vaghaye Ettefaghieh:
1- Decrease in Rainfall in Past Two Months Has Brought Iran's Water Resources to Critical Level: 21 Provinces in Dire Water Tension
---
Vatan-e Emrooz:
1- Iran's Top Officer: Country Is Still Gripped by Sanctions; Iran Has Yet to Receive Oil Sale Money
2- Interior Minister Urges Judiciary to Take Action against Misbehaviour in Cyberspace
3- Continued Demonstrations against Corruption in Seoul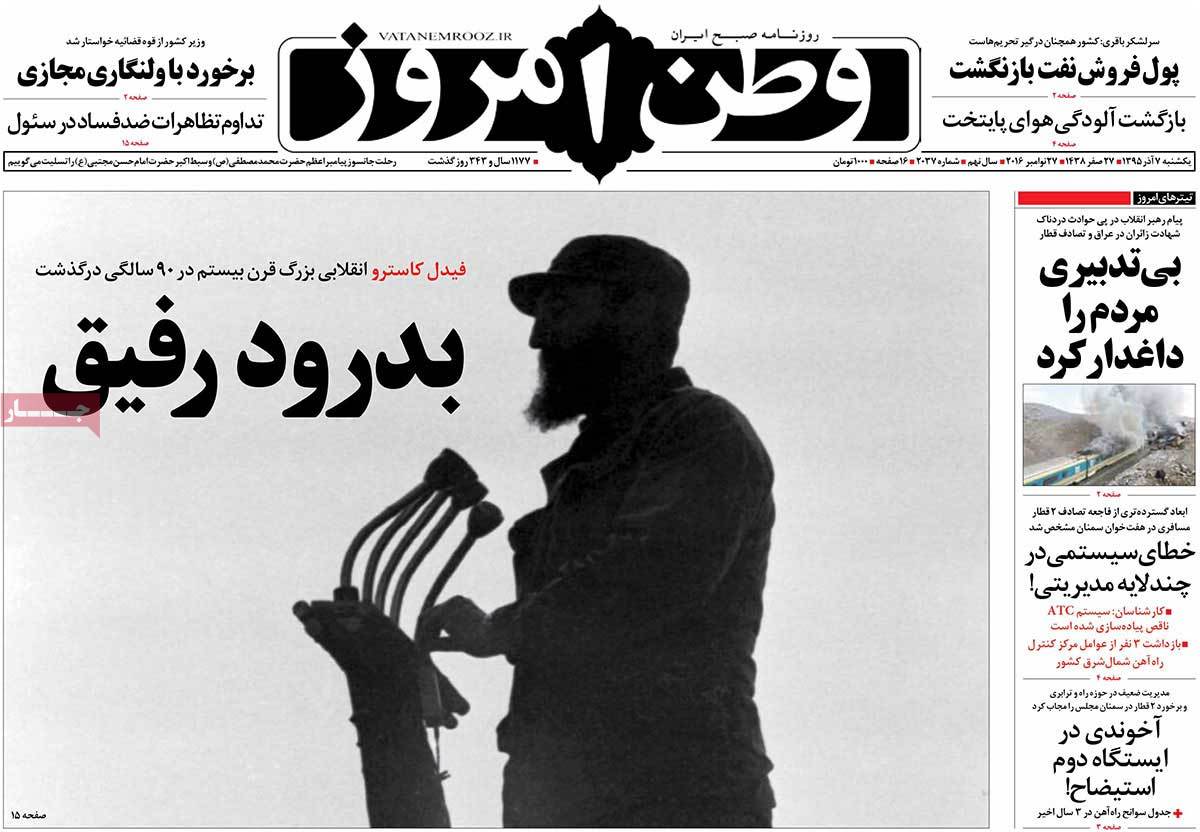 [:es]
La prensa del hoy, el domingo, ha estado enormemente influenciado por el fallecimiento del Líder de la Revolución Cubana, Fidel Castro Ruz, a los 90 años, así como las reacciones de autoridades iraníes de esta noticia.
Por otra parte, el Líder de Irán, el Ayatolá Seyed Ali Jamenei, mediante un mensaje, lamentó la muerte de decenas de civiles y peregrinos iraníes en la última semana, debido a dos siniestros consecutivos, a saber, el atentado terrorista en la localidad iraquí de Hilla contra el autobús de peregrinos iraníes, y el accidente de trenes en la provincia de Semnan, que cobró la vida de 45 personas. Además, pidió a las autoridades a investigar los dos casos e identificar a los autores e implicados. Los diarios cubrieron casi por unanimidad esta noticia.
Otros eventos, como la visita repentina del canciller turco a Irán y el reconocimiento de fuerzas populares de Irak por el parlamento de este país árabe, recibieron una buena cobertura por parte de los periódicos.
Los temas antes mencionados, así como varias otras cuestiones se destacan en los siguientes títulos:
Abrar:
EL comandante de CGRI: "No existe amenaza militar alguna contra la Revolución."
El número definitivo de las pérdidas del siniestro de choque de trenes alcanza 45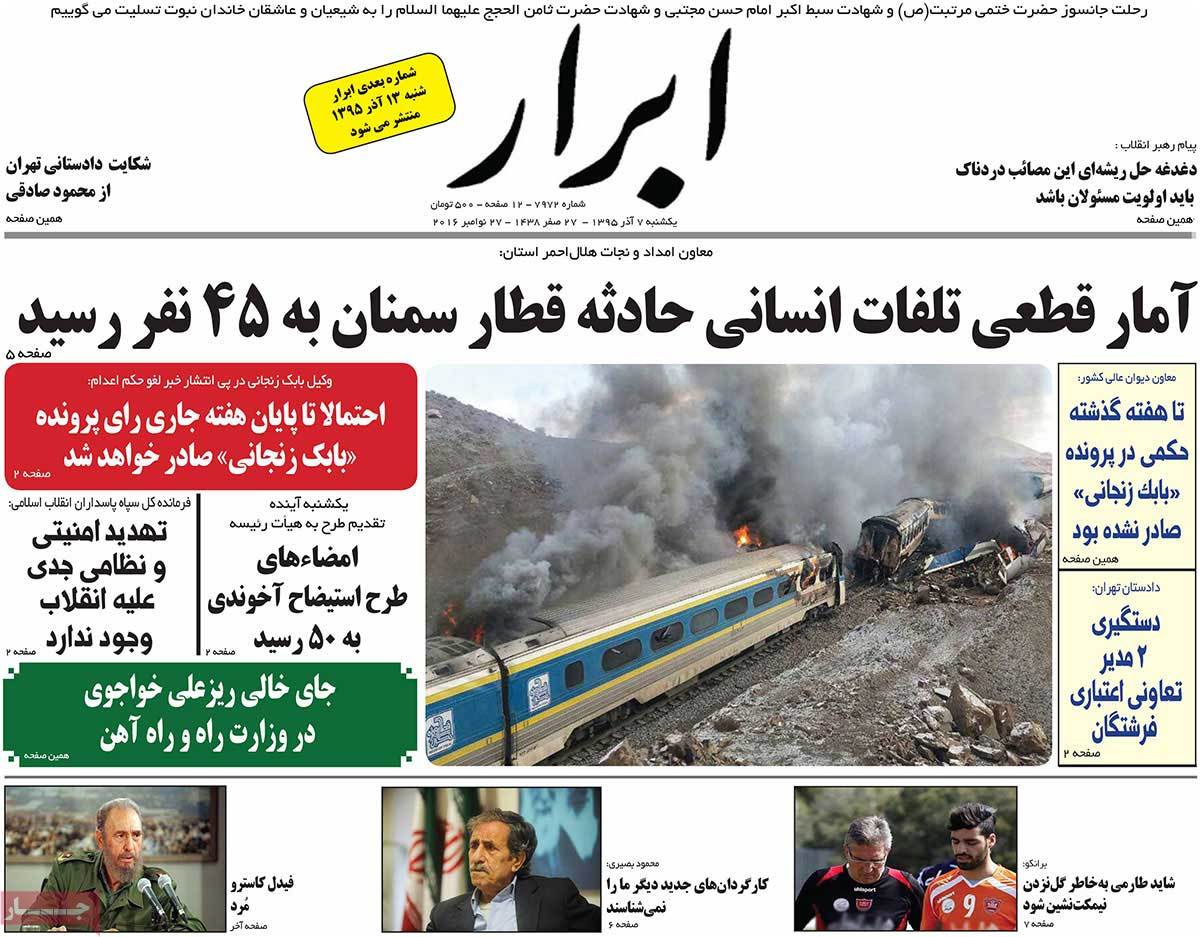 ---
Abrar Eqtesadi:
El director de la Junta de Fabricantes de Autos de Alemania alaba el potencial de Irán para fabricar las marcas alemanas.
Irán adquiere 3% del mercado agrícola de Irak.
Irán entabla su cooperación con la Organización Mundial del Comercio (OMC), mediante un memorando de entendimiento.
España contribuirá al sector petroquímico de Irán.
---
Afkar:
Los diputados del parlamento proponen interpelar al ministro de Carreteras (por el accidente de trenes)
El Comandante de CGRI: "Los gobiernos se encaminan hacia prestar servicios sanitarios gratuitos."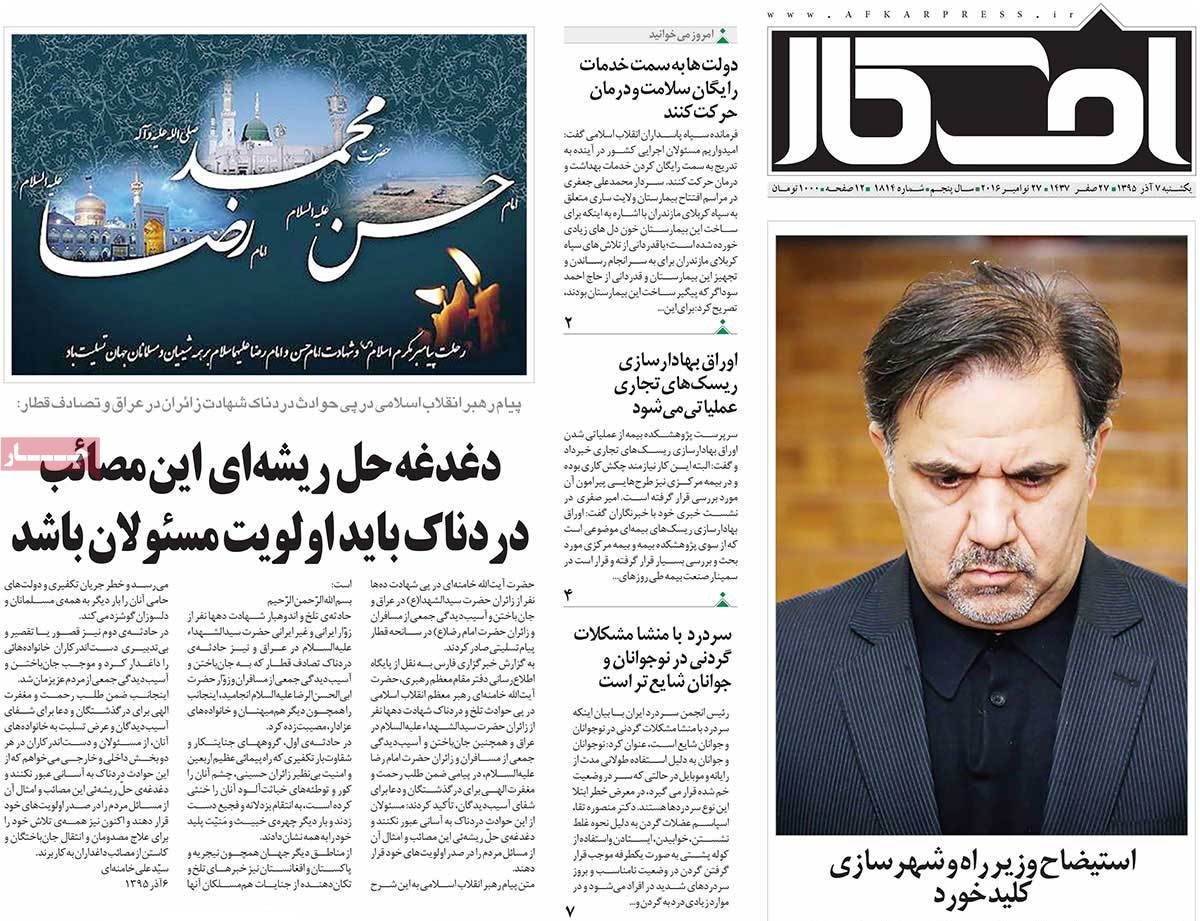 ---
Aftab Yazd:
El Líder de Irán: "Las autoridades deben priorizar la solución de raíz de semejantes siniestros."
Postura extraña de algunos medios de comunicación derechistas acerca del choque de trenes en Semnan.
Detienen a 3 supuestos implicados en el accidente de trenes de Semnan.
Viaje repentino de la autoridad turca a Irán; ¿Qué busca Cavusoglu en Irán?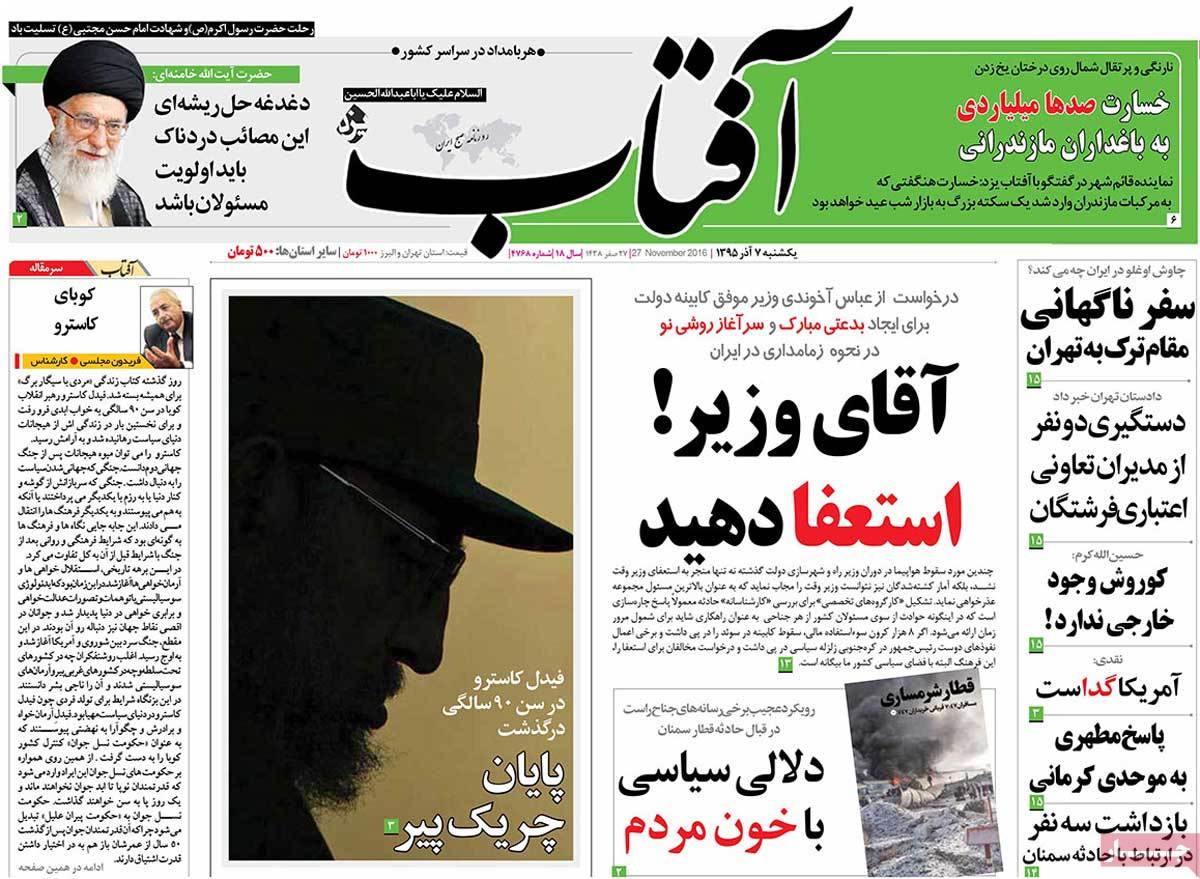 ---
Arman Emruz:
El fin del héroe cubano; Rohani: El deceso de este "luchador incansable" ha sido motivo de tristeza.
---
Asrar:
Rohani, en una reunión con Cavusoglu: "Irán y Turquía comparten puntos de vista con respecto a importantes cuestiones regionales."
El ministro de Defensa iraní: "De ser necesario, Rusia puede usar bases iraníes para atacar Daesh"
La policía iraquí captura a los supuestos implicados en el atentado terrorista de Hilla.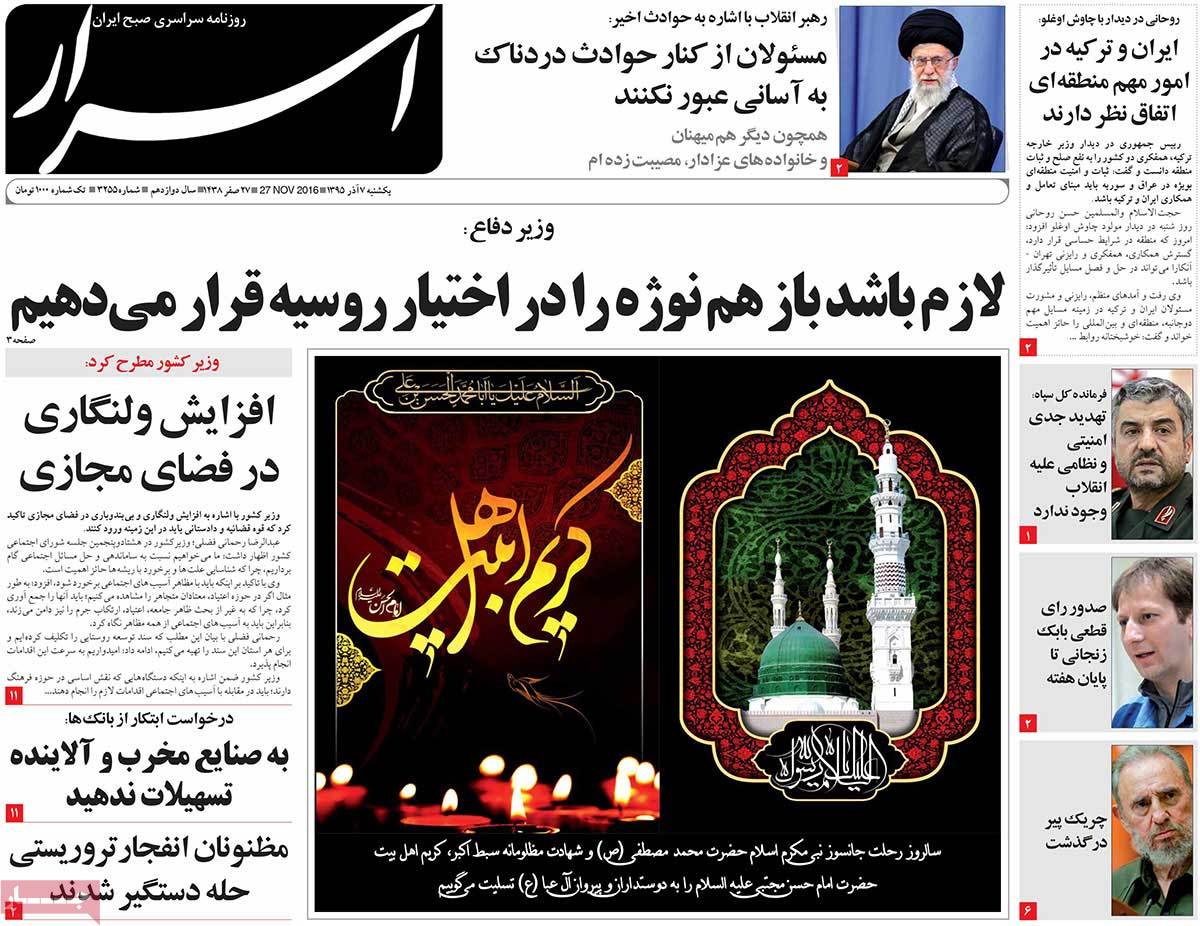 ---
Besharat No:
El vicepresidente del Parlamento iraní reacciona a las declaraciones del Imam del rezo colectivo del Viernes de Teherán: "¡No presente a la Soberanía de Faqih como oponente a la libertad!"
El jefe del Consejo de Coordinación del Partido Reformista: "Irán cuenta con la suficiente potencialidad para reestablecer el populismo."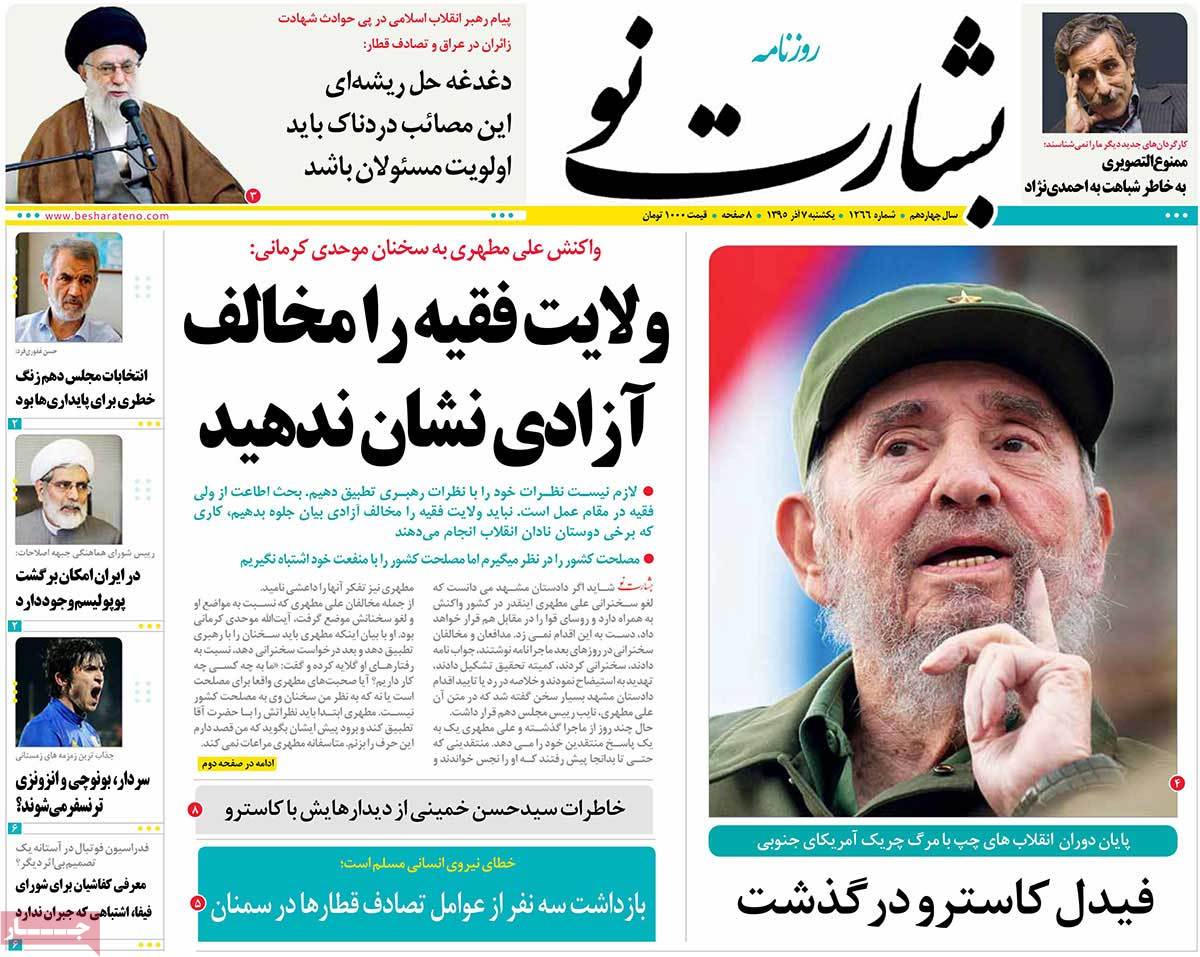 ---
Ebtekar:
El plan de congelación de petróleo entra en el laberinto de Trump y Arabia Saudita.
¿La costumbre de Renuncia?; los expertos políticos estudian la reacción de las autoridades antes trágicos siniestros.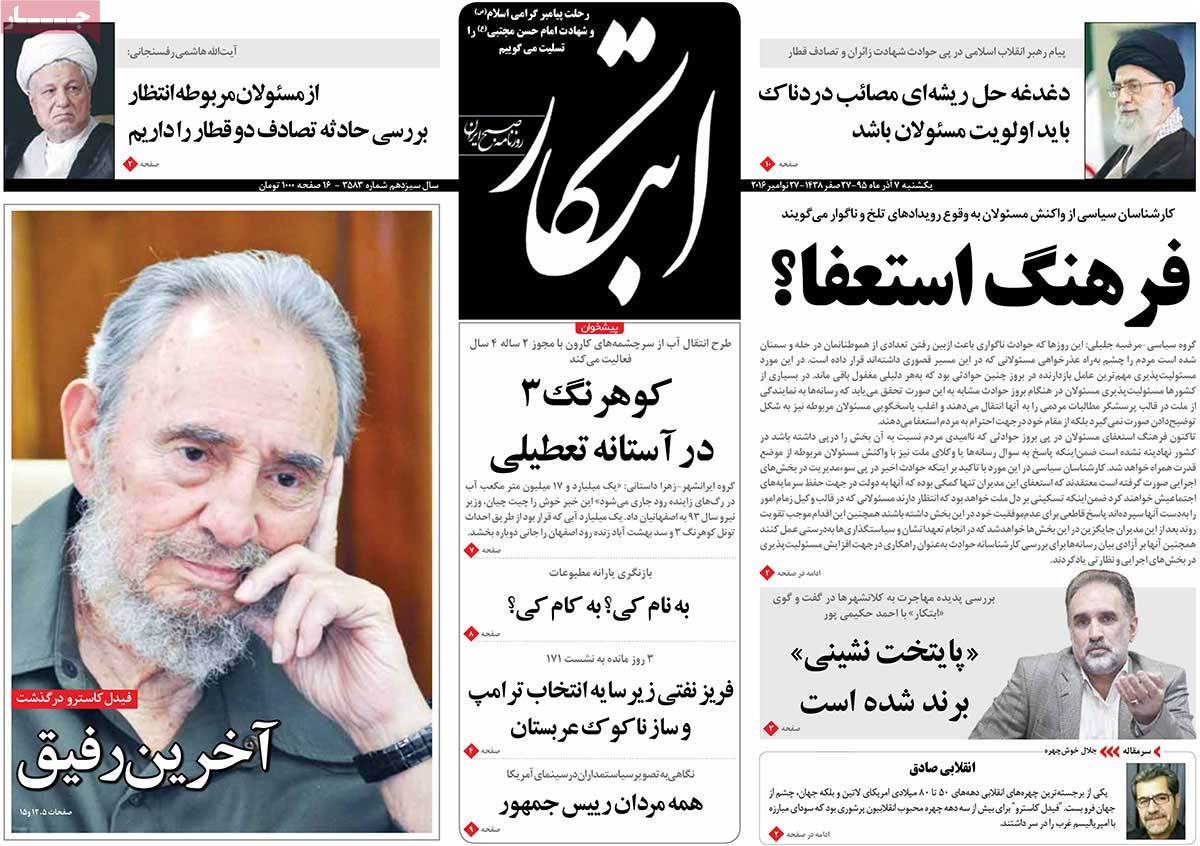 ---
Etemad:
Etemad hace un reporte de los allegados de víctimas del accidente de trenes y el atentado de Hilla (en Irak); Los familiares cuentan.
Dimite el director de la compañía nacional de ferrocarriles de Irán tras el choque de trenes.
Sin Comandante; Etemad ofrece un análisis sobre Cuba con y sin Fidel Castro.
Iniciativa petrolífera de Argelia para Teherán; El ministro argelino de Petróleo arriba a Teherán a fin de negociar sobre el proyecto de congelación del crudo.
Un invitado político- de seguridad en Teherán (El canciller y el Jefe de la Organización de Inteligencia de Turquía viajan a Teherán.)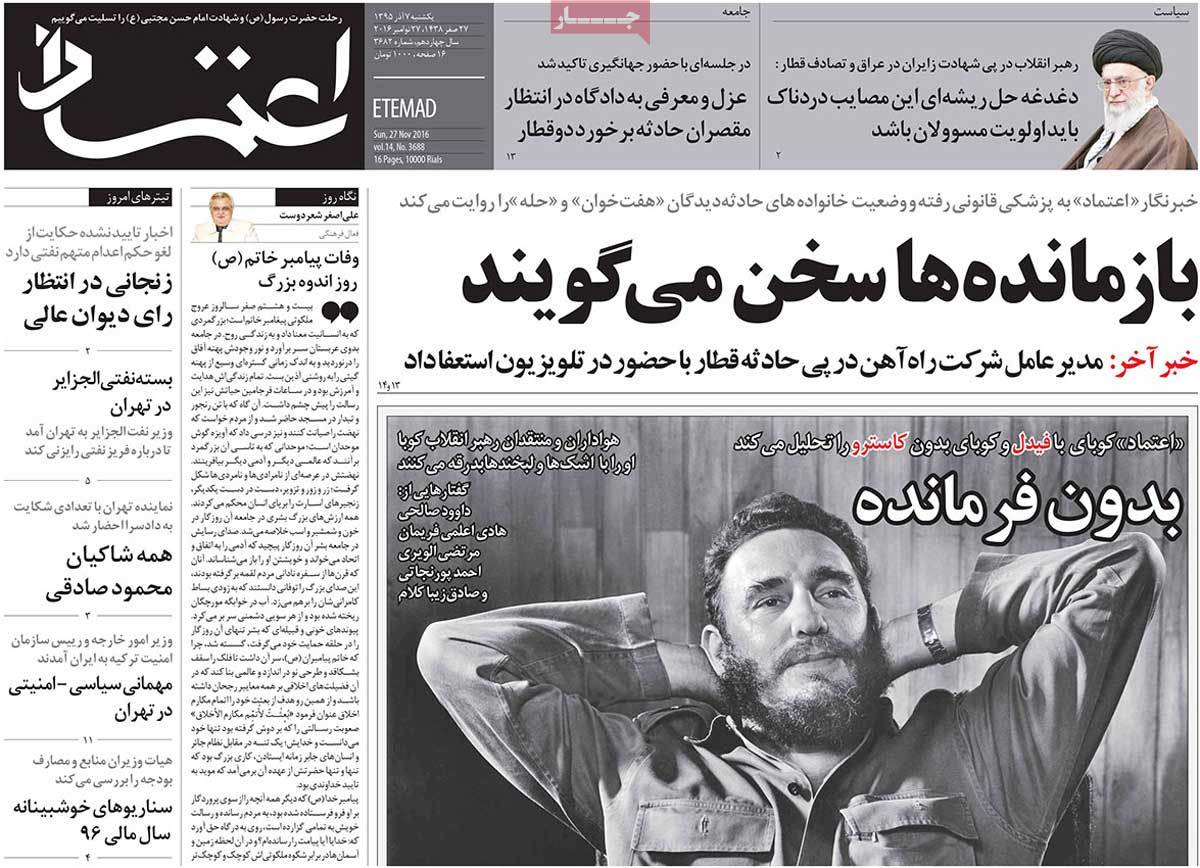 ---
Etelaat:
El primer vicepresidente de Rohani, responsable gubernamental para perseguir el caso de accidente de trenes.
El ministro de Defensa informa sobre la compra de las cazas rusas Su-30.
Parlamento iraquí reconoce a fuerzas populares con rango militar.
Fallece el líder antiimperialista de Cuba, Fidel Castro.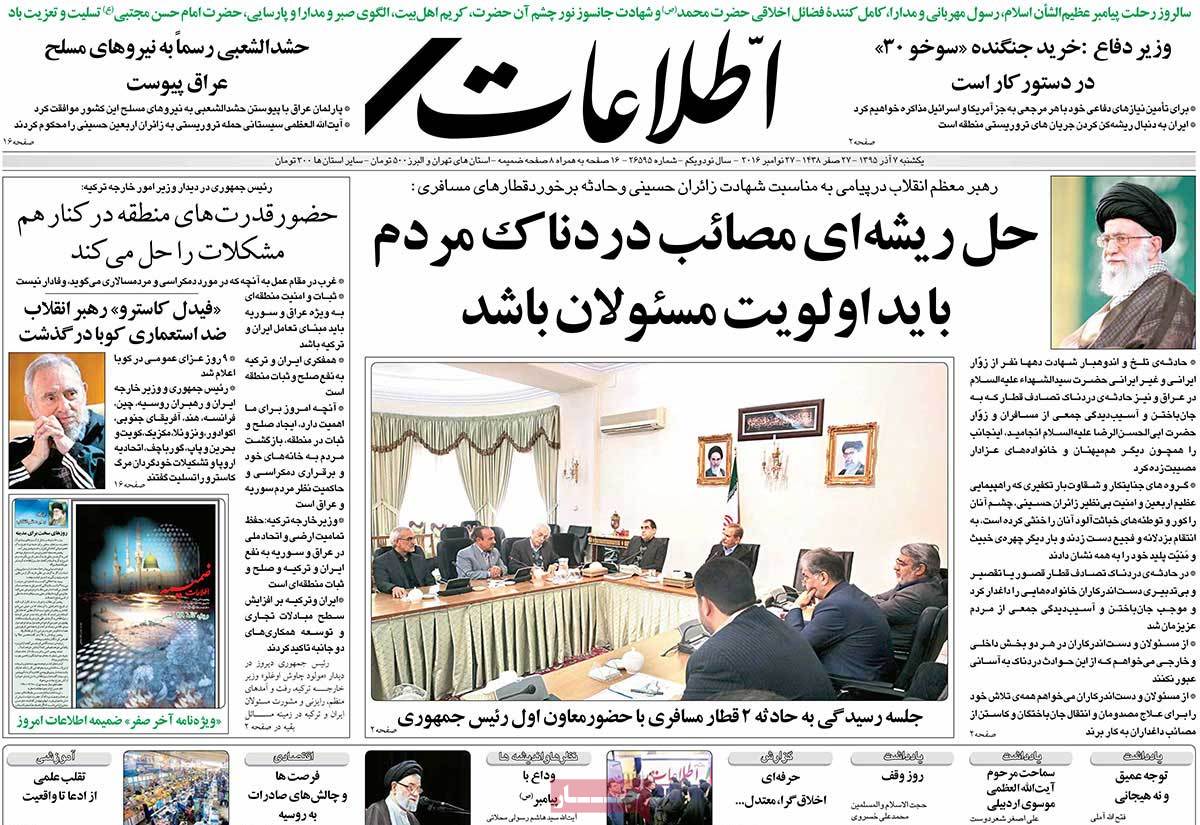 ---
Hafte Sobh:
Secretos de una inversión permanente en Irán.
¡Choque!; Los ministros del gabinete de Rohani se empeñan por atender a los víctimas de los dos recientes siniestros.
Despedida al último guerrillero clásico.
---
Hemaiat:
El mensaje del Líder de la Revolución tras producirse dos siniestros contra el pueblo iraní en Irak y la provincia de Semnan:
Los terroristas takfiríes perpetraron tal crimen de cobarde como venganza de la Marcha de Arbain.
La negligencia y la imprudencia de los funcionarios del sector ferroviario implicó esa tragedia.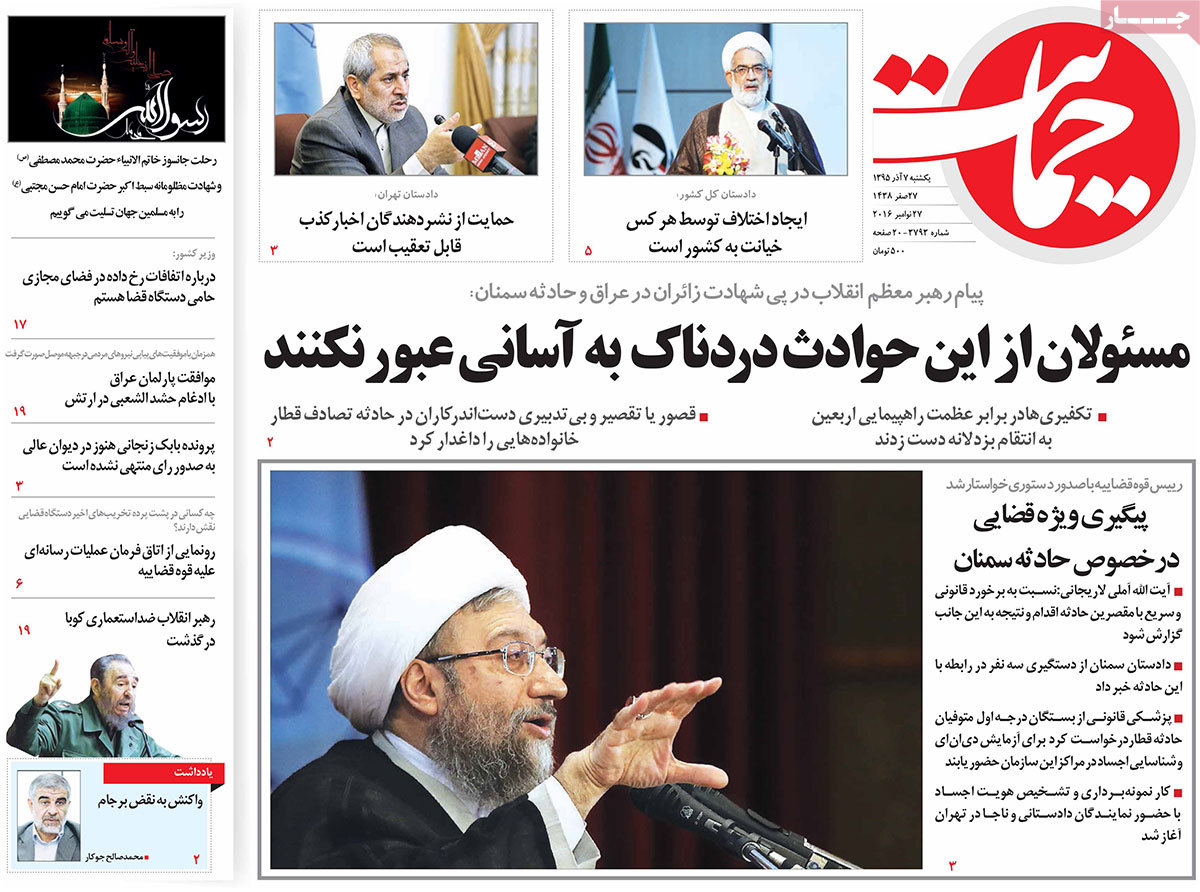 ---
Irán:
Ultima carta de guerrillero; Muere el Líder de la Revolución Cubana.
Cavusoglu en Teherán; El canciller turco: "Salvaguardar la integridad territorial y la unidad nacional en Irak y Siria favorecen a Turquía e Irán así como a la paz y estabilidad reginal."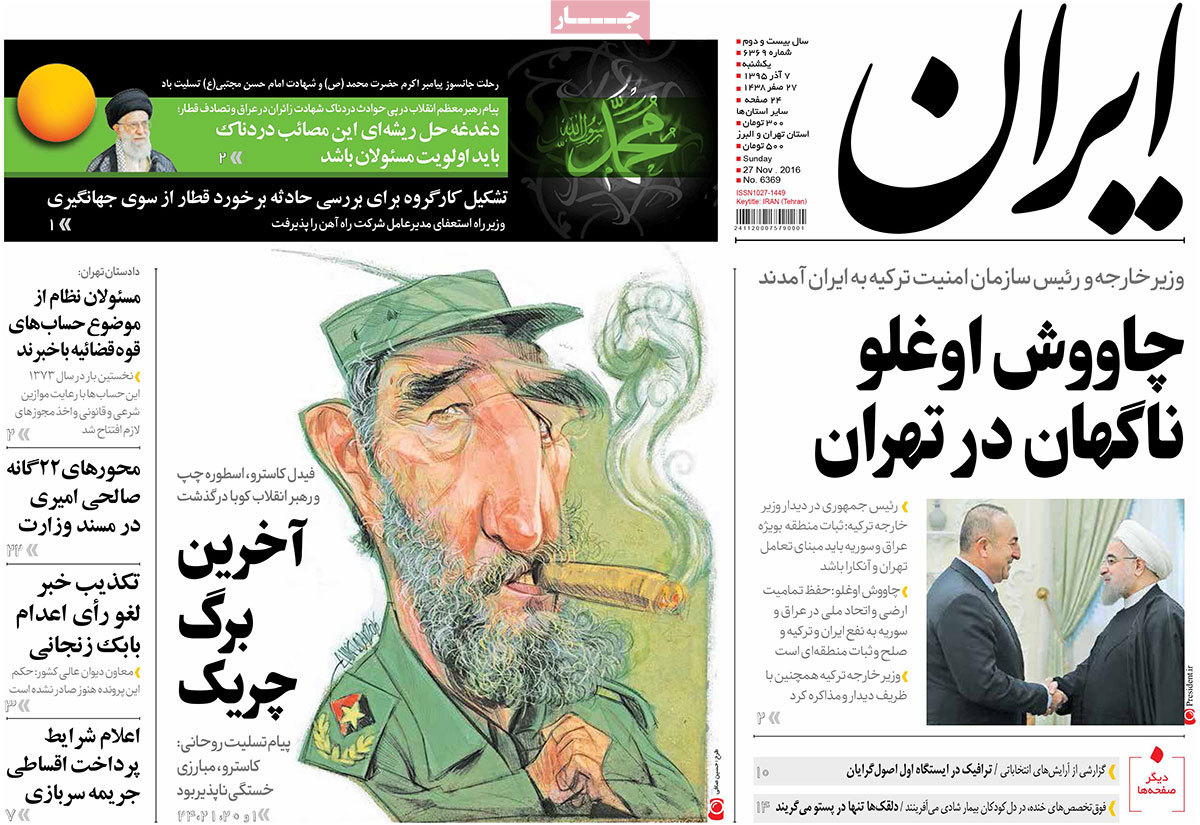 ---
Yaam_e_Yam:
El Líder supremo de Irán ordena investigar los últimos siniestros en Irak y la provincia de Semnan.
Cuba, sin Castro.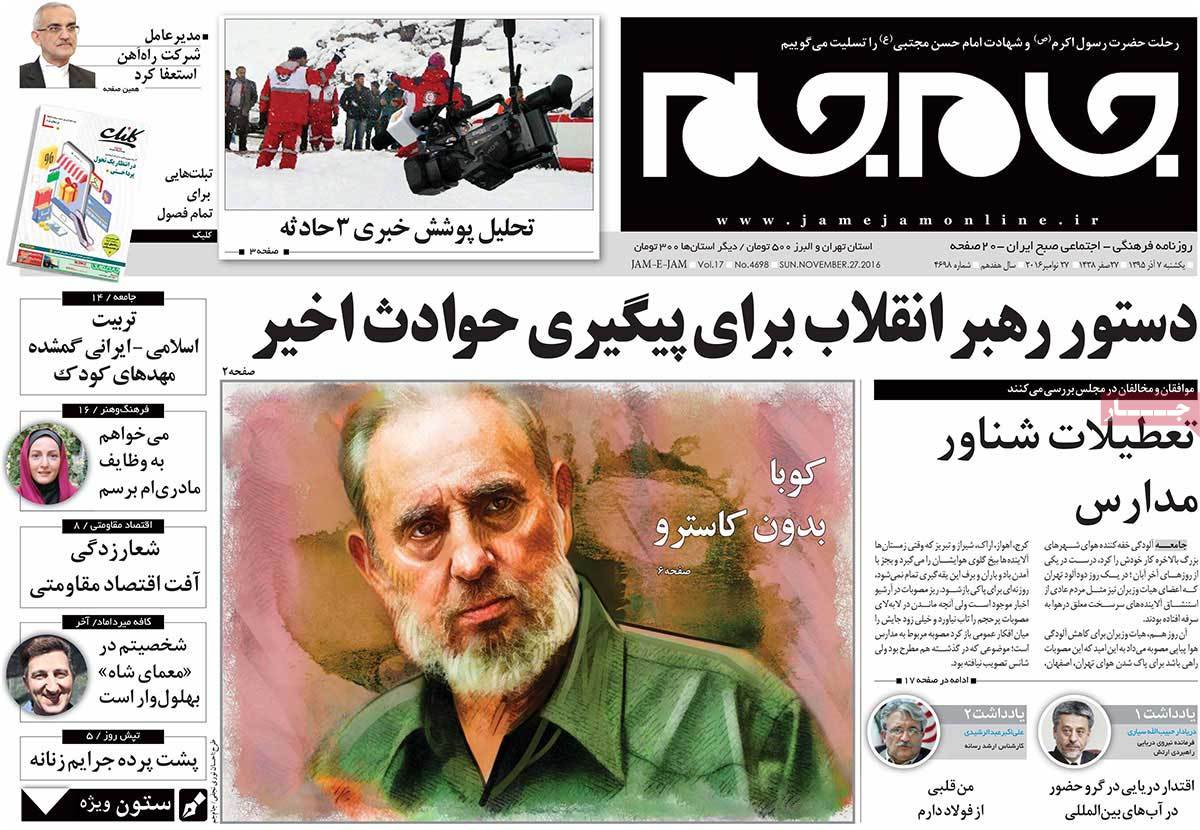 ---
Yavan:
Tras la aprobación del parlamento, se legalizan las fuerzas populares de Irak.
Se quedó antiestadounidense y se fue; Fallecimiento de Castro a los 90 años.
---
Yomhuri Eslami:
Las fuerzas especiales de Irak a punto de llegar al centro de Tal Afar.
Nuri al-Maliki insta a la comunidad internacional registrar al Wahabismo en la lista de grupos terroristas.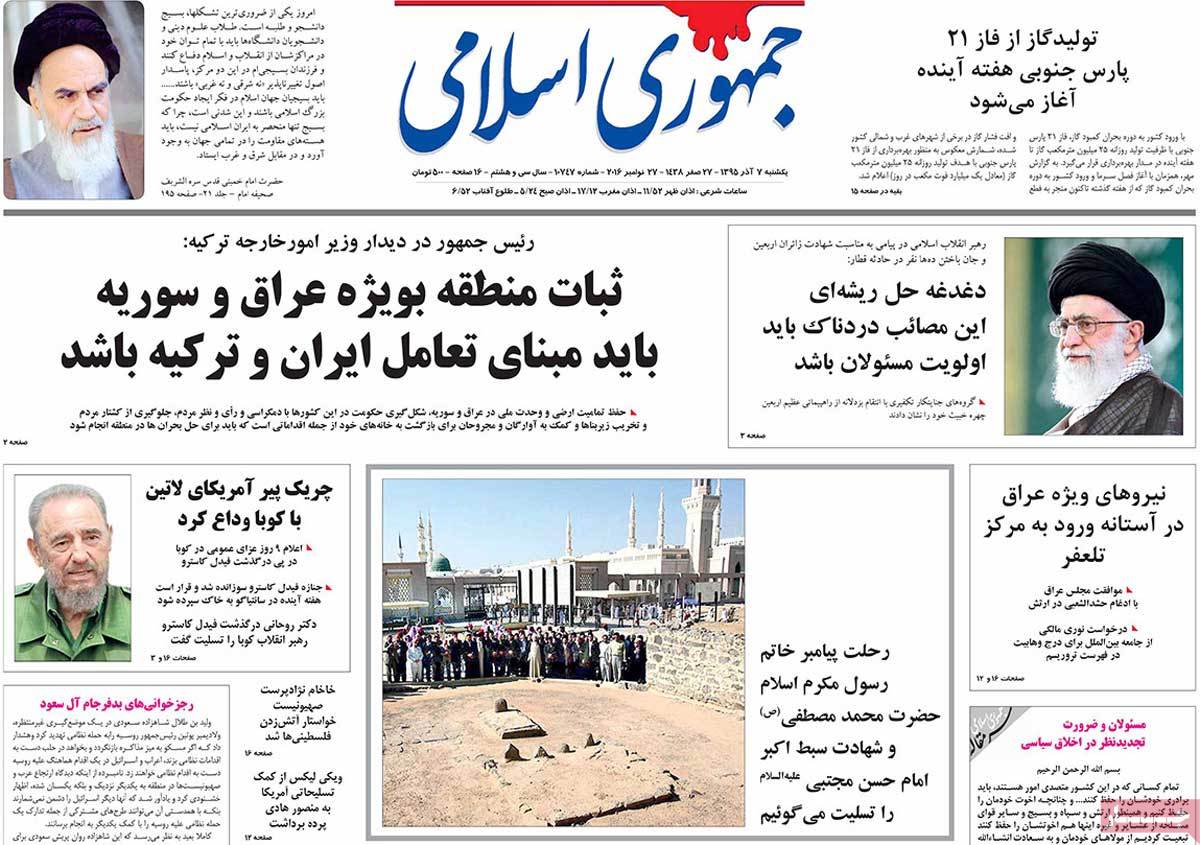 ---
Kayhan:
El choque de trenes es el resultado de ineficacia del gobierno.
Por segunda vez, los aborígenes estadounidenses se manifiestan con mensaje del Líder de la Revolución de Irán contra el sistema corrupto del Occidente.
Planta nuclear de Israel, rodeada por el fuego.
Washington Post: "Trump tenía razón; El sistema de Estados Unidos es corrupto y al borde de colapso."
---
Mardom Salari:
Continúan las revelaciones en la Agnecia Nacional de Inteligencia y Seguridad de EEUU; Conozcan a 6 reveladores de NSA
Fin del guerrillero de amor y odio.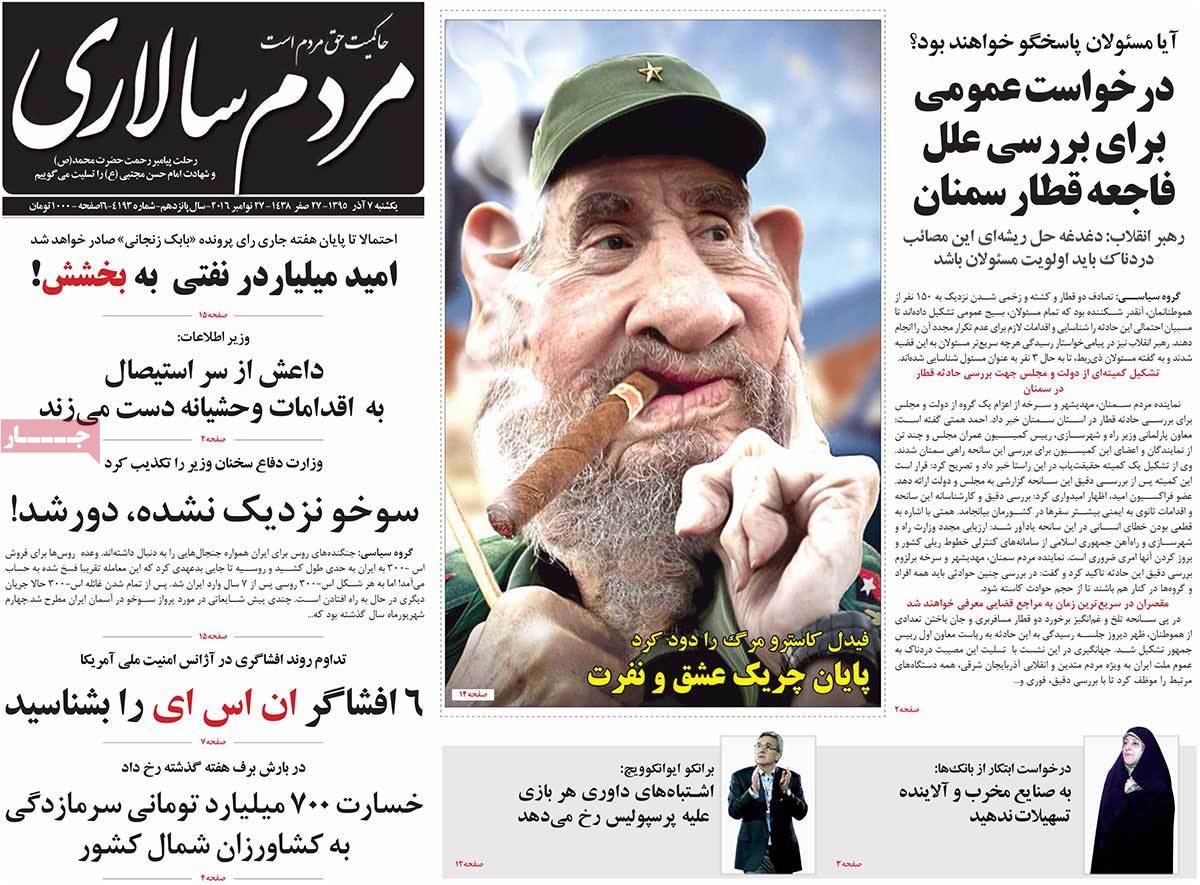 ---
Resalat:
El Líder de Irán, en un mensaje sobre los últimos siniestros en Irán e Irak: "Las autoridades no deben desatender semejantes trágicos sucesos."
La democracia con sabor de ridiculización de opinión pública; Todavía siguen el conteo de votos; Clinton pide reconteo de votos.
Una tormenta de nacionalismo se dirige hacia el Continente Verde; ¿Europa sufrirá está frente a nuevos devenires?
---
Setarei_e_Sobh:
La revista Economist estudia las perspectivas positivas de la economía de Irán: 2016, un gran año para Irán.
El profesor y experto político reformista: "El equipo de prensa del gobierno ha sido muy débil."
---
Shahrvand:
El Viejo dejó que la historia juzgue sobre Él (fallecimiento de Fidel Castro);
La parlamentaria afgana y el Día de Prohibición de Violencia contra las Mujeres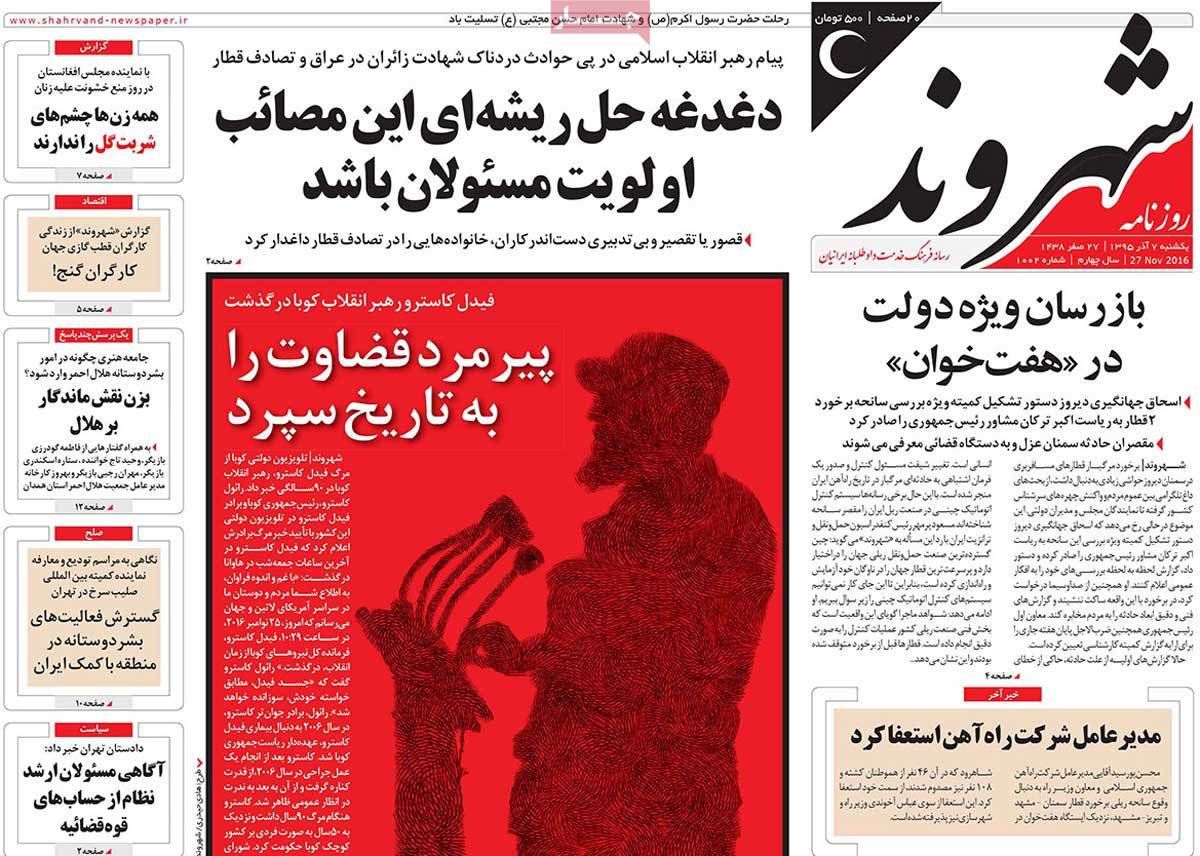 ---
Shargh:
EL jefe del Estado Mayor de Fuerzas Armadas de Irán subraya la necesidad del país a las bases marítimas en Yemen y Siria.
El enviado de Esrdogan se entrevista con Rohani.
---
Vaghaye Etefagie:
Crisis de agua en Irán como consecuencia de la escasez de precipitación estacional en los últimos dos meses; 21 provincias están afectadas
---
Vatan_e_Emruz:
El jefe del Estado Mayor de Fuerzas Armadas de Irán: "Irán sigue luchando contra las sanciones; No fue cobrada la deuda petrolera."
El ministro del Interior de Irán pide al Poder Judicial tomar medidas necesarias contra el fenómeno "libertinaje cibernético".
Siguen las manifestaciones en Seúl contra la corrupción gubernamental.