IFP has taken a look at the front pages of Iranian newspapers on Wednesday and picked headlines from 23 them. IFP has simply translated the headlines and does not vouch for their accuracy.[:es]IFP ha echado una mirada a las portadas de periódicos iraníes, publicados el miércoles, 21 de diciembre de 2016, y ha recogido titulares de 23 de ellos. IFP ha traducido simplemente los titulares y no es responsable de su veracidad.
Newspapers on Wednesday covered the results of a trilateral meeting between Iranian, Turkish, and Russian foreign ministers in Moscow, which was focused on the issue of Syria and ways to resolve the crisis there.
The assassination of Russian Ambassador to Ankara also remained a top story today, with many newspapers covering the issue from different aspects.
An anti-Iran resolution passed by the United Nations Security Council also received great coverage.
The above issues, as well as many more, are highlighted in the following headlines:
19 Dey:
1- Senior MP: Iran Has Used Nuclear Deal; Trump Won't Be Able to Scrap JCPOA
2- Iran-Russia-Turkey Trilateral Meeting Results in a Decision to Revive Syria Peace Negotiation Talks
3- Bosnian Parliament Speaker: JCPOA Was the Victory of Wisdom over Tyranny and Sanction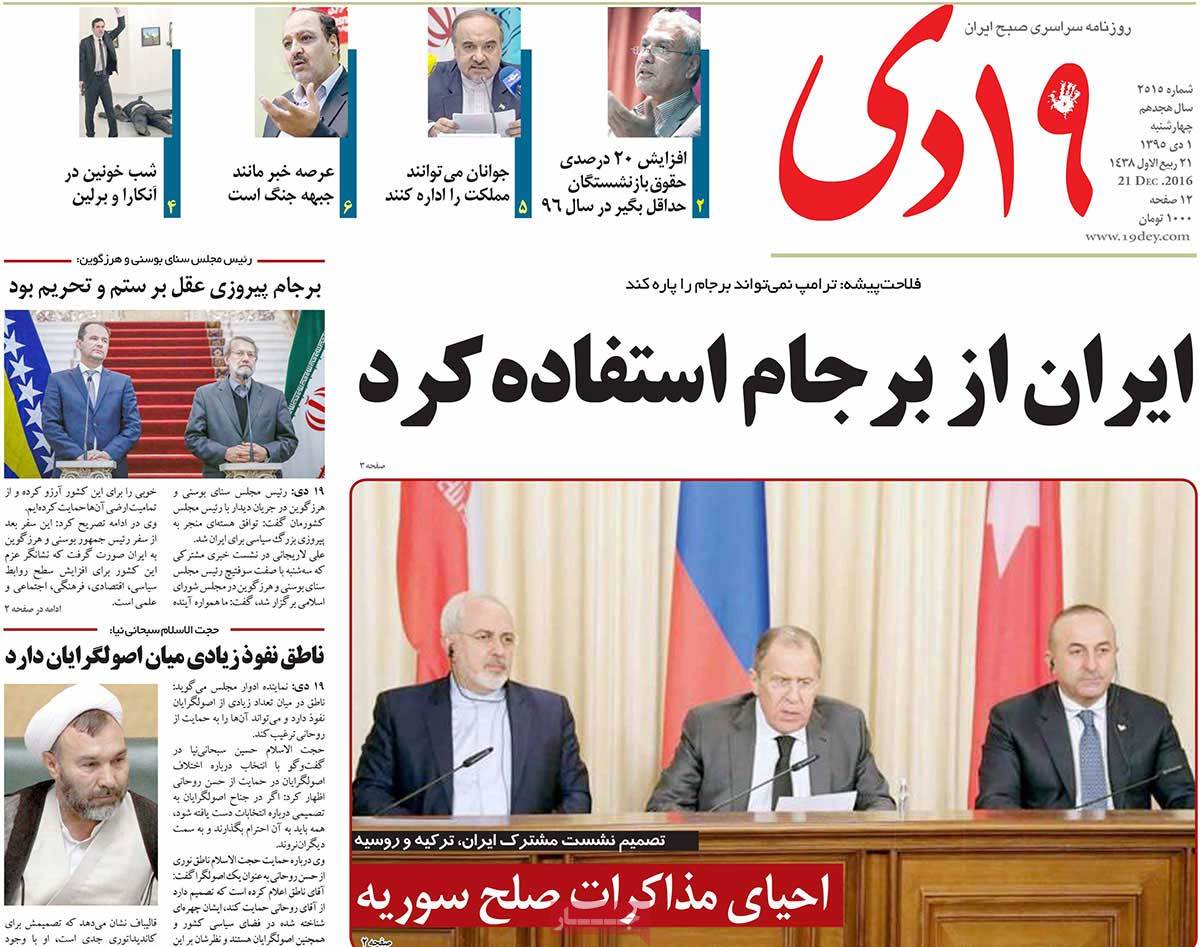 ---
Abrar:
1- Zarif: We Will Obey the Decisions Made by Supreme Board in Charge of Monitoring JCPOA Implementation
2- US State Dept.: Iran Has the Right to Urge JCPOA Joint Commission to Hold Session
3- Iranian Nuclear Energy Organization Spokesman: Fordow Nuclear Facility Won't Be Turned to Football Pitch
4- UN's Ban Worried about Genocide in South Sudan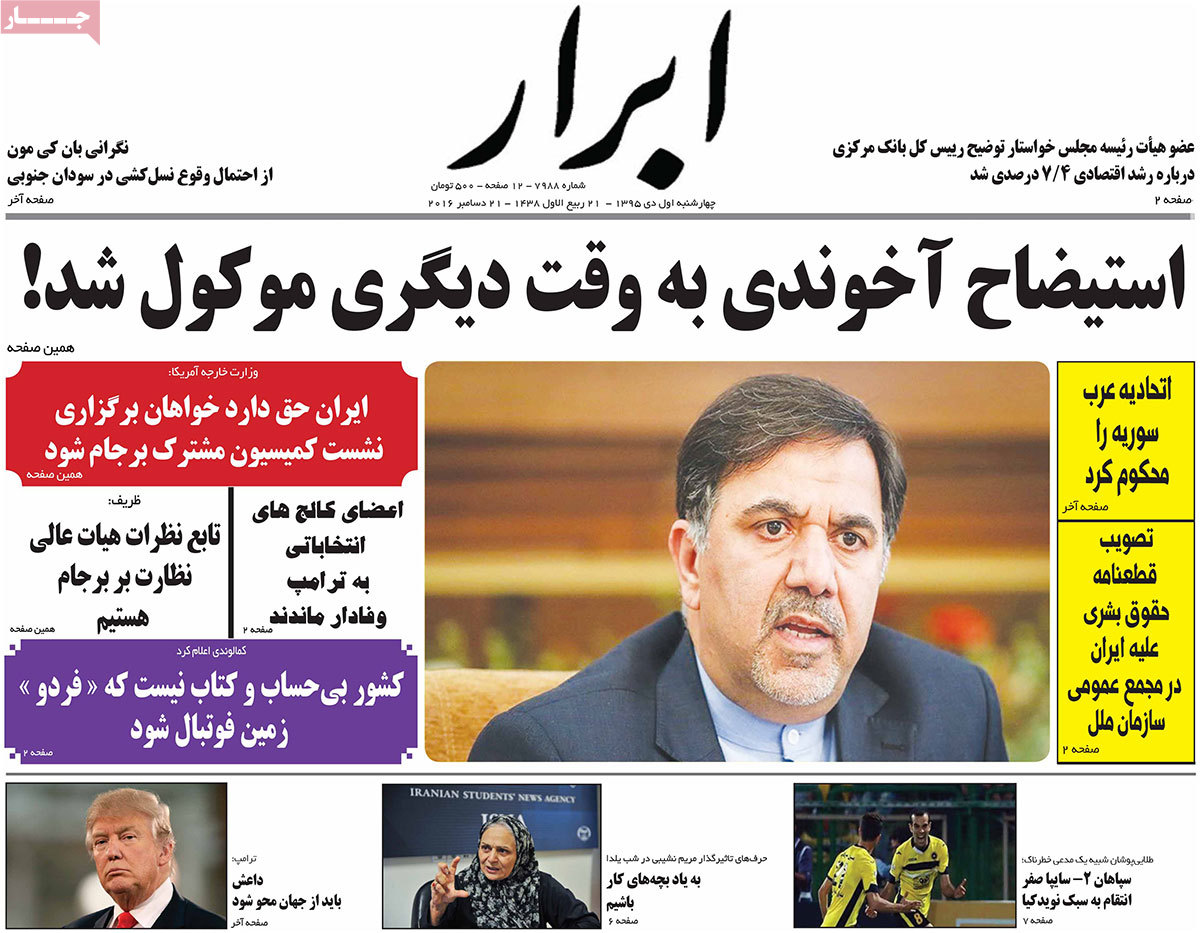 ---
Abrar Eqtesadi:
1- IMF Envoy Predicts: Decrease of Iran's Economic Growth of 3.5%
2- New List of Iran's European Oil Customers Announced
3- Greece Joins Customers of Iran's Gas
---
Aftab-e Yazd:
1- A Corrupt Man Fighting Corruption: Who's the Only Rival of Putin in Russian Presidential Elections
2- Russian President Has His Own Fans Because He Has Revived Nationalism: Analyst
3- Thought-Provoking Results of Comparing Iran and Germany's Education Budgets
4- Iran, Turkey, and Russia Hold Trilateral Meeting: Ankara Accompanies Tehran and Moscow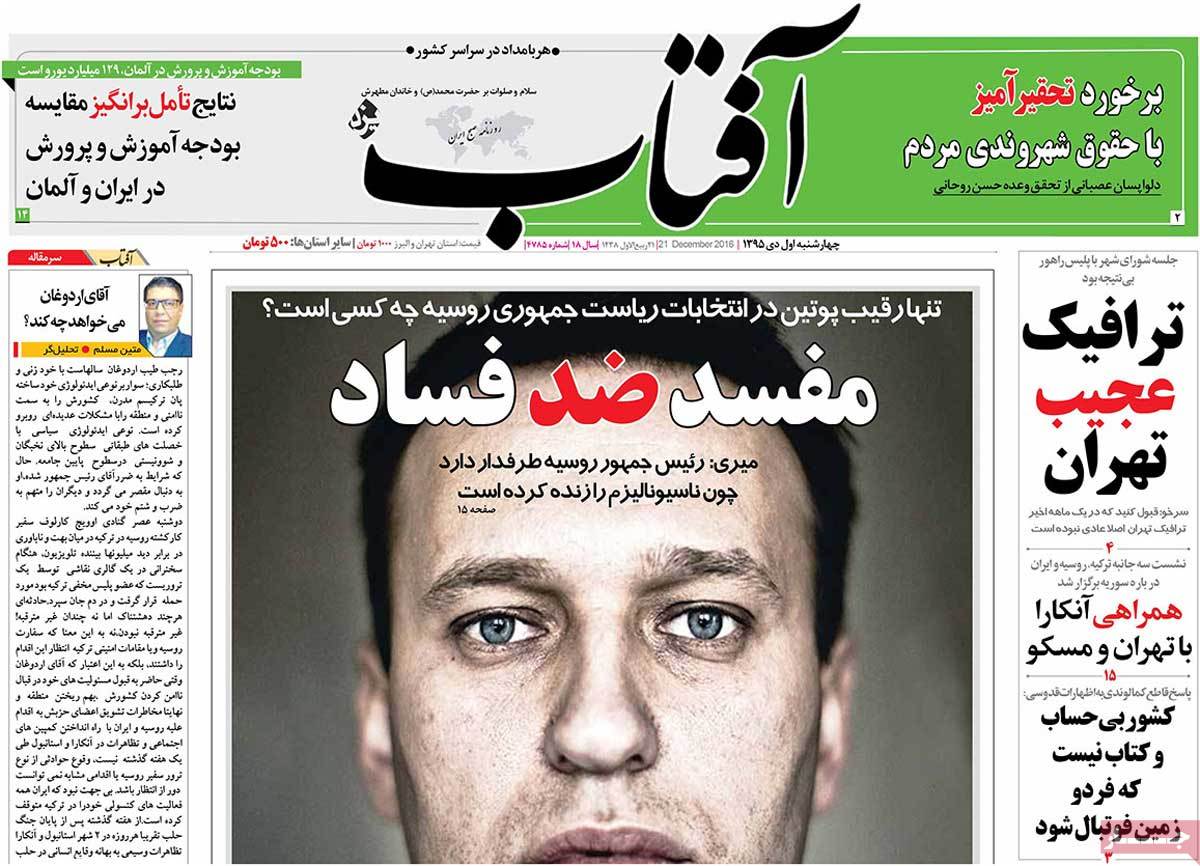 ---
Arman-e Emrooz:
1- Bitter Christmas in Europe: 3 Terrorist Operations in One Day with Same Objectives
2- Parliament's Research Centre: Men Insistent on Marrying Younger Women
3- Iran's Top Security Official Shamkhani: Iran and Russia Have a Joint Base in Syria
---
Asrar:
1- Economy Minister: Iran Has $100 Billion Foreign Exchange Reserves outside the Country
2- Ayatollah Rafsanjani: Opponents Have Much More Media and Tribunes than the Government
3- JCPOA Joint Commission to Hold Session on January 10
4- Ahmadinejad's Government Was the Worst One in Terms of Violating the Law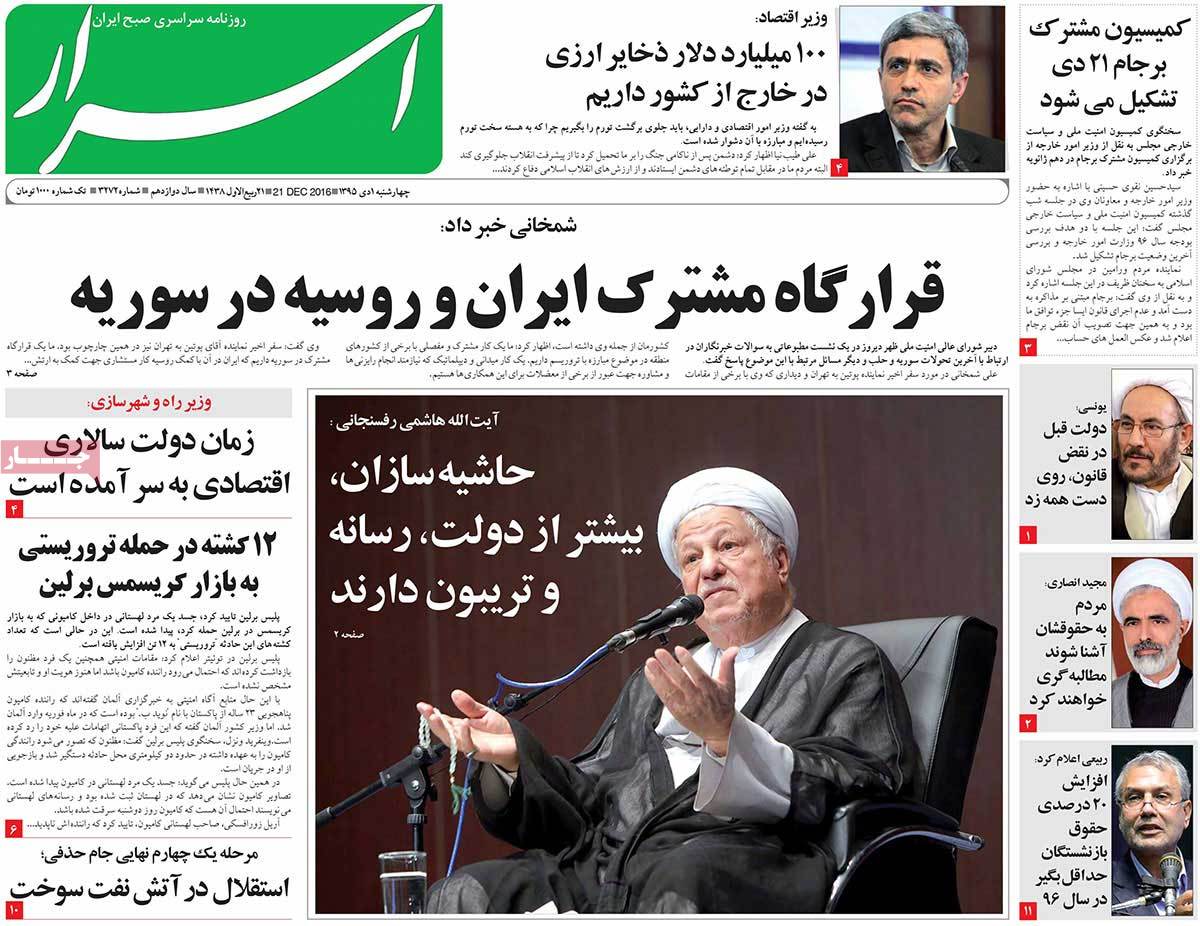 ---
Besharat-e Now:
1- Judiciary Chief: Some Claim that Iran's Islamic Establishment Is Afraid of Human Sciences
2- Zarif: Iran Standing by Russian Government in Fight against Terrorists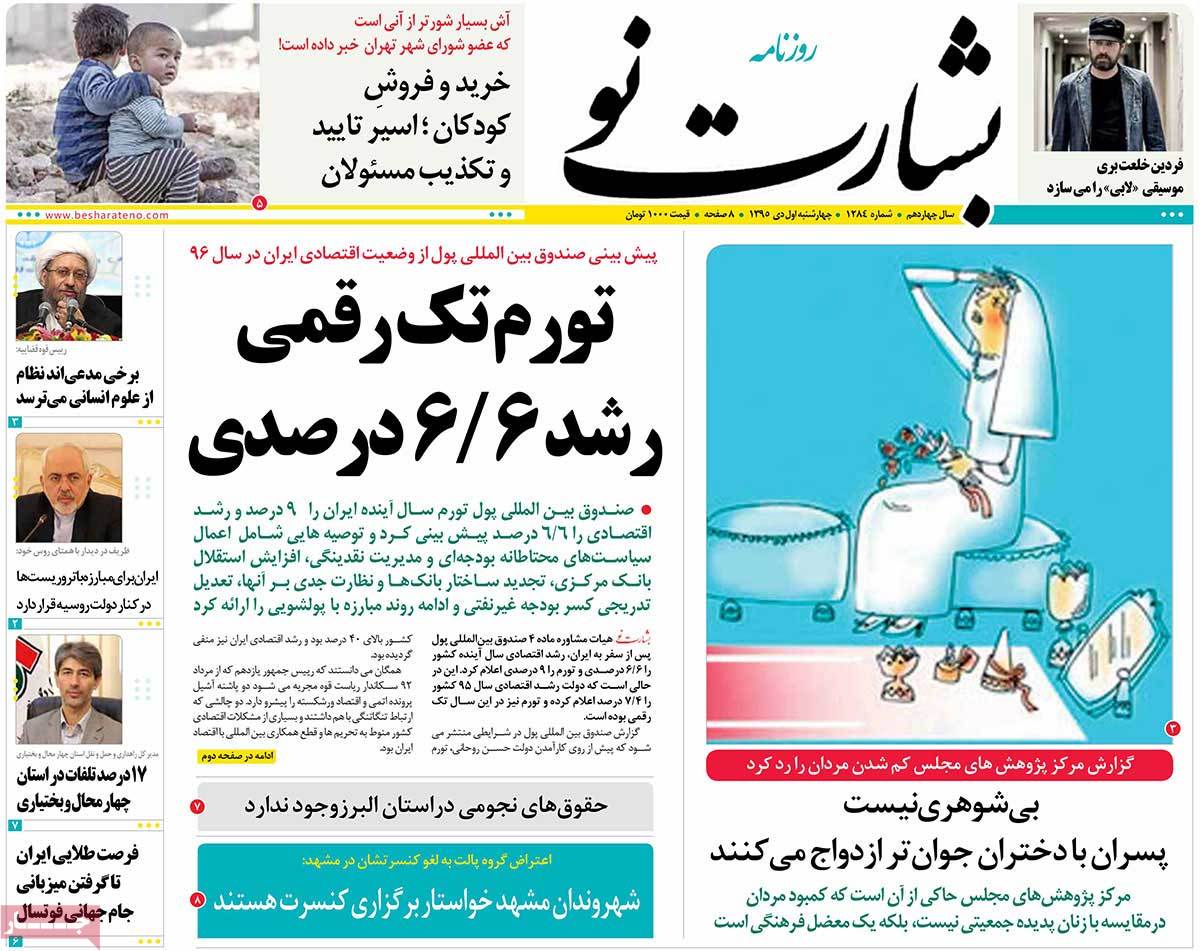 ---
Etemad:
1- No One Will Be Exempted from Paying Tax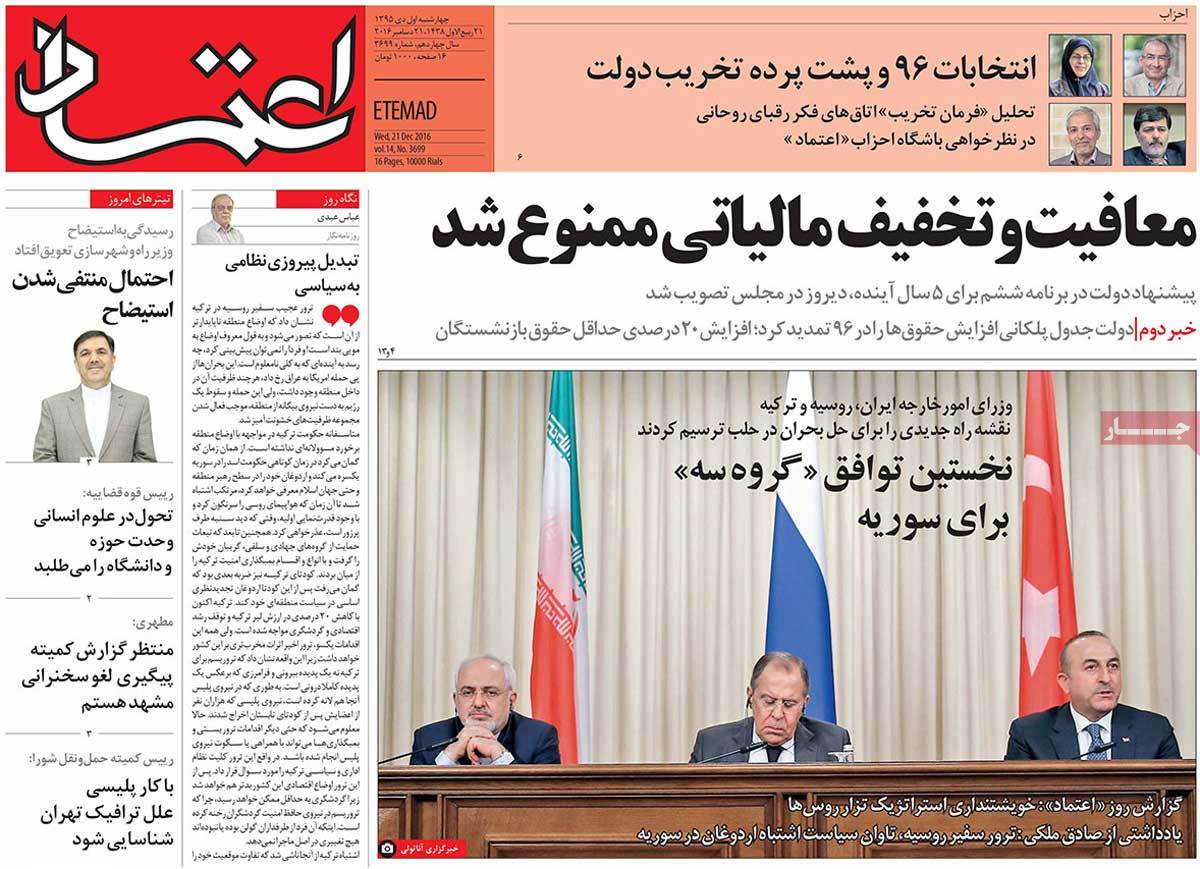 ---
Ettela'at:
1- Moscow Summit Supports Syria's Sovereignty and Territorial Integrity
2- After Karlov's Assassination, We'll Enter New Phase of Fight against Terrorism: Putin
3- President Rouhani's Special Aide: Civil Rights Is Not a Presidential Campaign Gesture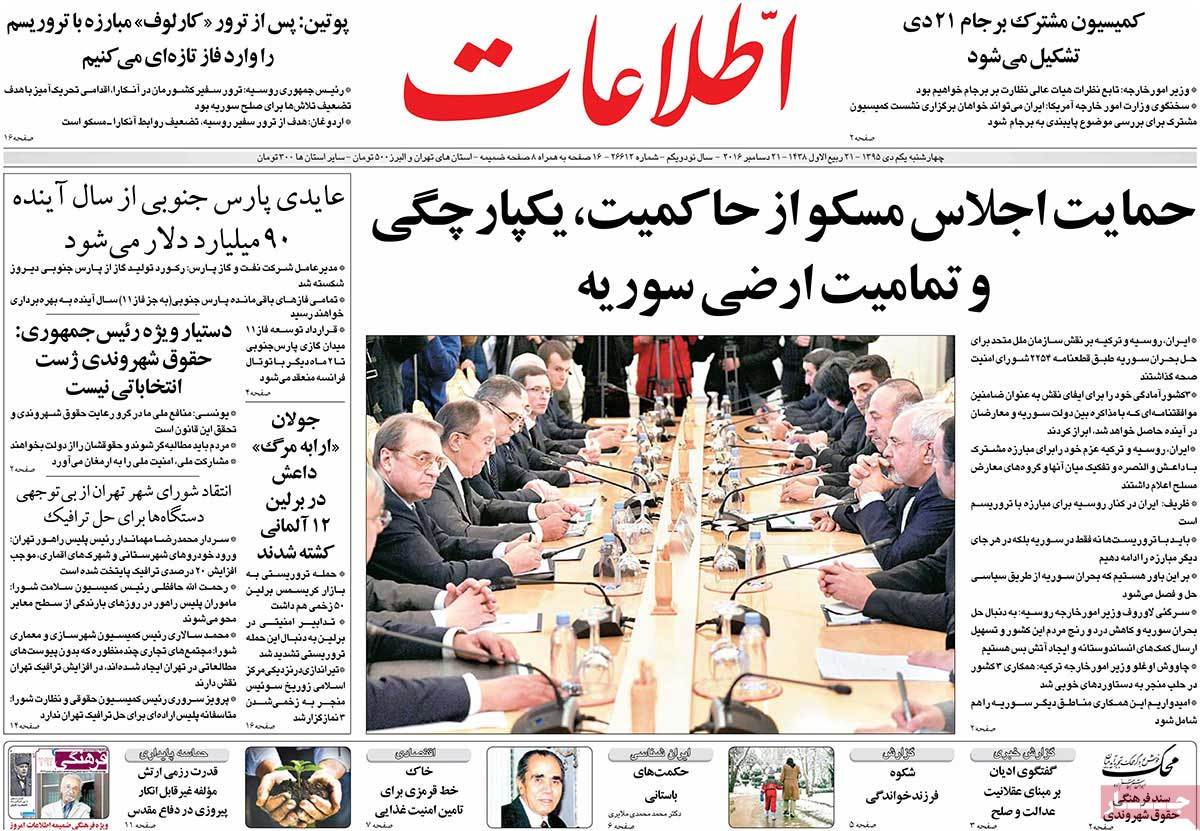 ---
Haft-e Sobh:
1- Gallery of Fear: A Review of Russian Envoy's Assassination in Ankara in 9 Takes; From Atrocity of Shooter to Courage of Photographer
2- Life in Middle East Has Become Like Horror Criminal Films Apparently Made by Tarantino
3- Tragedy in Northwestern Iranian Barracks: 19-Year-Old Soldier Loses His Leg in Mine Explosion after He Rushed to Save a Dog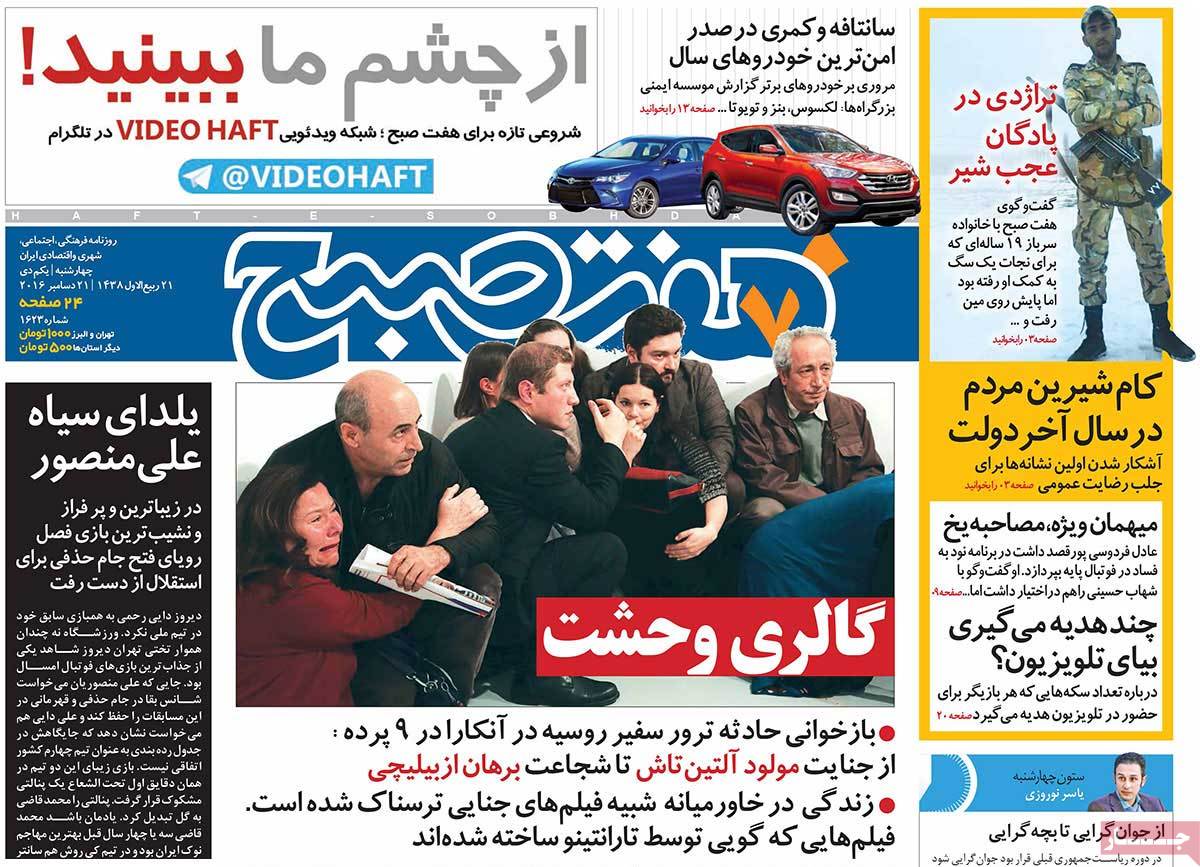 ---
Hemayat:
1- The Big Violator of Human Rights Initiates Anti-Iran UNSC Resolution!
Canada, as the Initiator of Anti-Iran Resolution, Is a Violator of Black and Indigenous People's Rights
2- Putin: They Will Taste the Fight against Terrorism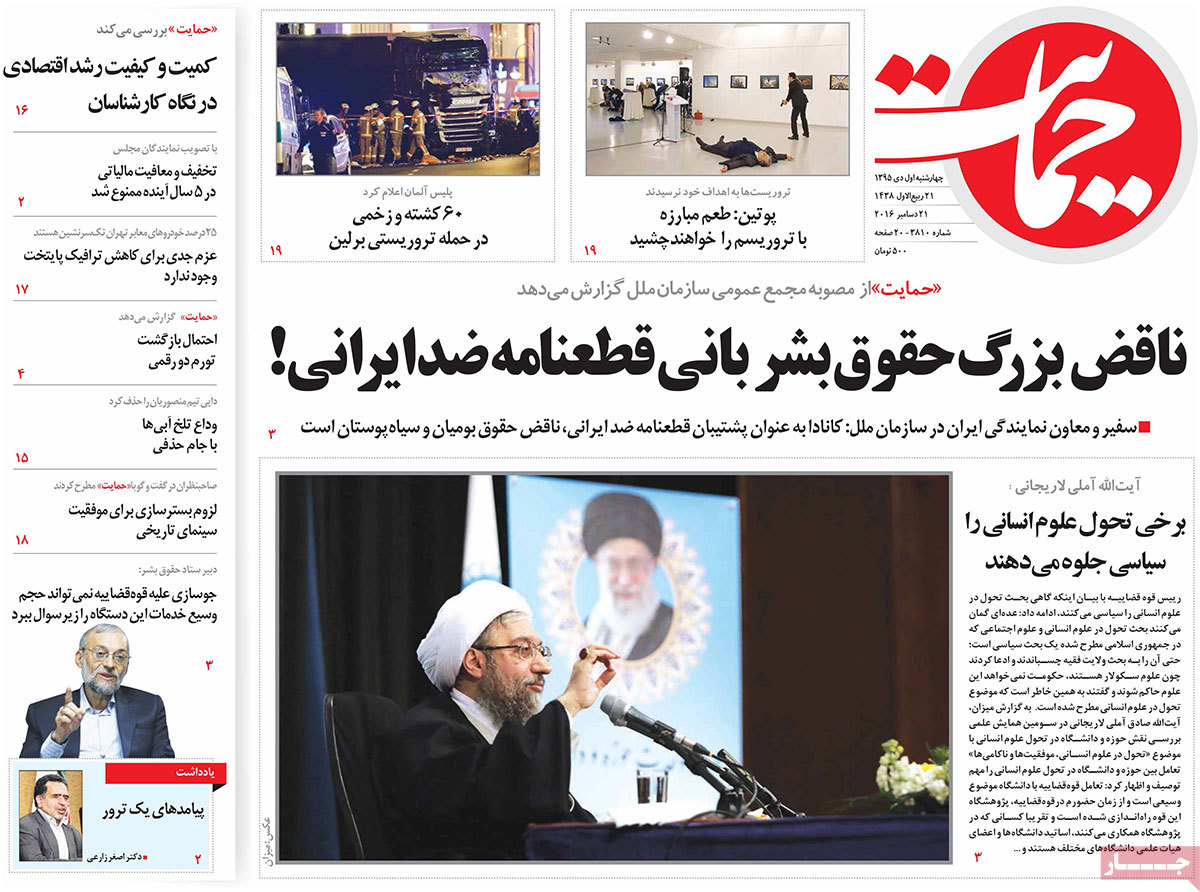 ---
Iran:
1- Minister of Labour: 20% Increase in Salaries of Retired Government Employees
2- World Shocked by Assassination of Ambassador: FMs in Moscow Summit Pay Tribute to Karlov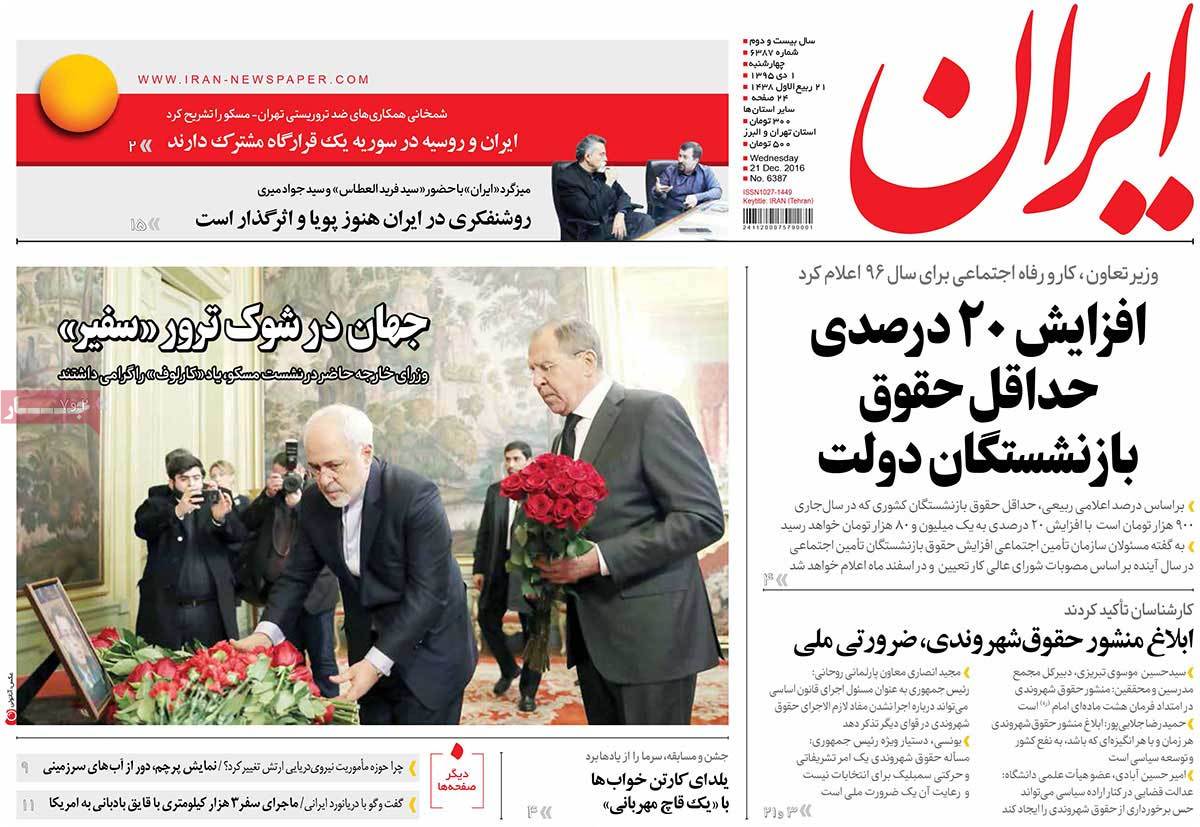 ---
Jame Jam:
1- Riyadh's Genocide under Shadow of London: British DM Reveals Sale of Cluster Bombs to Saudis
---
Javan:
1- Saudi Terrorism Implemented by a Policeman Who Was Erdogan Fan: Saudis Post Tweets of Happiness after Assassination of Russian Ambassador to Ankara
2- Putin to Erdogan: The One Who Issued the Order for Killing Russian Envoy Should Be Exactly Identified
3- Iran's Government Has No Informal Think-Tank or Secret Organization: VP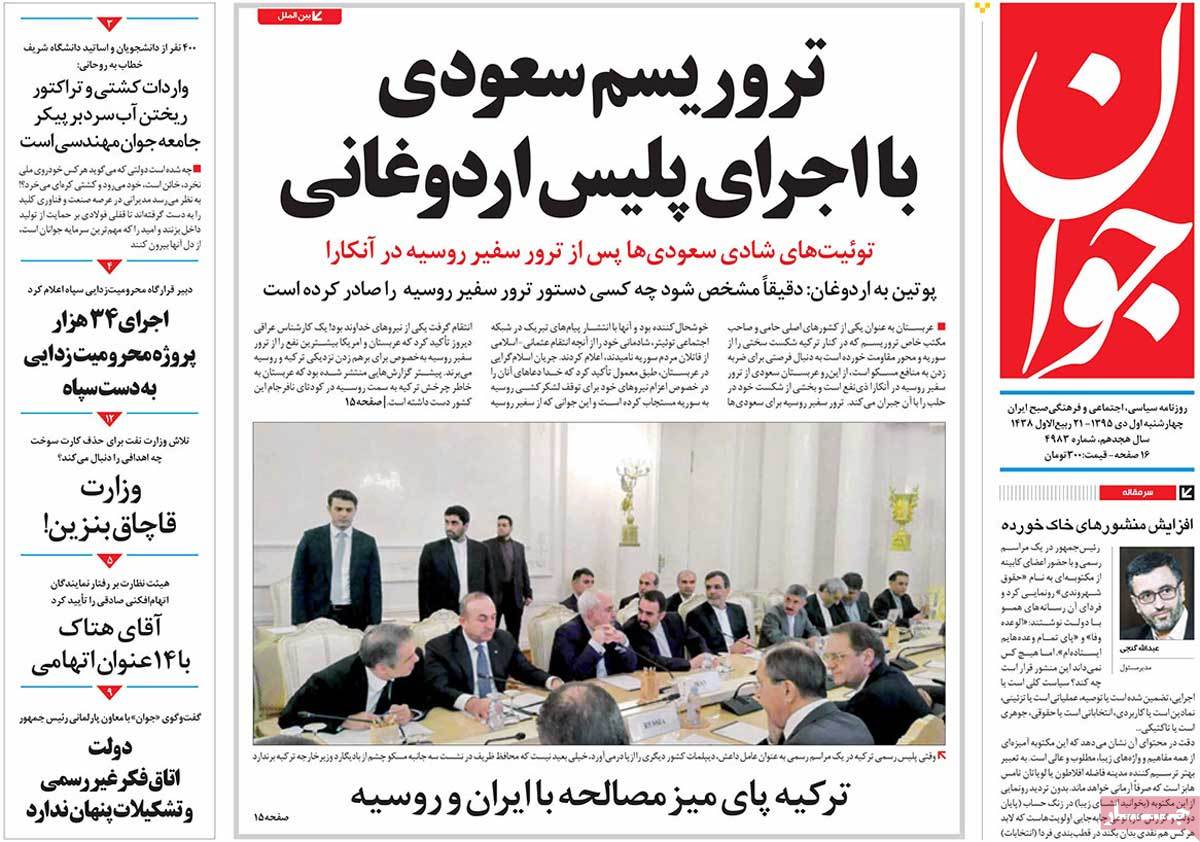 ---
Jomhouri Eslami:
1- Iran, Russia, Turkey Underline Nationwide Ceasefire in Syria
2- International Coverage of Russian Ambassador's Assassination in Ankara: Was Mossad behind the Terror?
3- Amnesty Int'l Accuses Myanmar of Crime against Humanity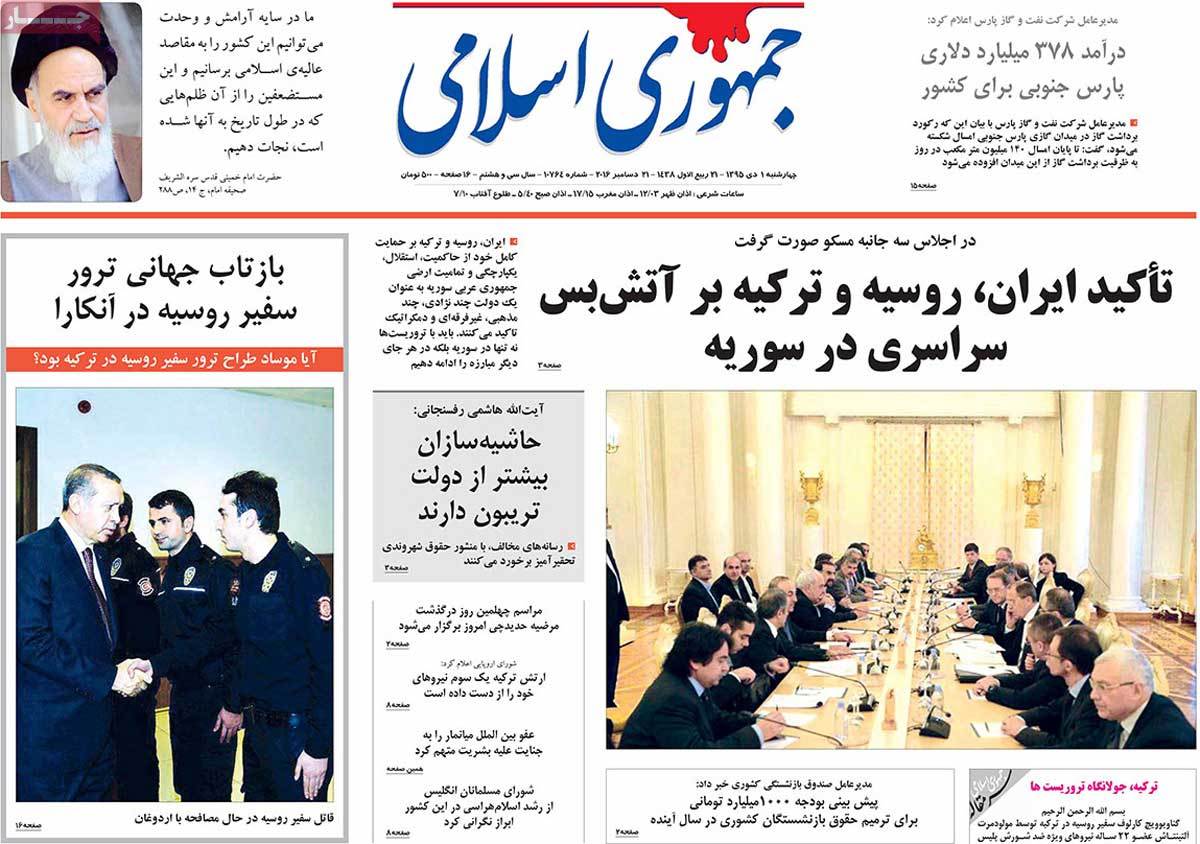 ---
Kayhan:
1- Designing in Washington, Pulling the Trigger in Ankara: A Report on Terrorist Attack against Russian Envoy to Ankara
2- Former CIA Deputy Chief: Kill Russians and Iranians
3- Intelligence Officers of Israel, Saudi Arabia, Qatar, and Jordan Trying to Escape Aleppo
---
Khorasan:
1- Ayatollah Rafsanjani: Opponents of Government Humiliating the Charter on Citizens' Rights Proposed by Rouhani in Their Media
2- Health Minister: All Iranians Will Have Electronic File Showing All Their Health Records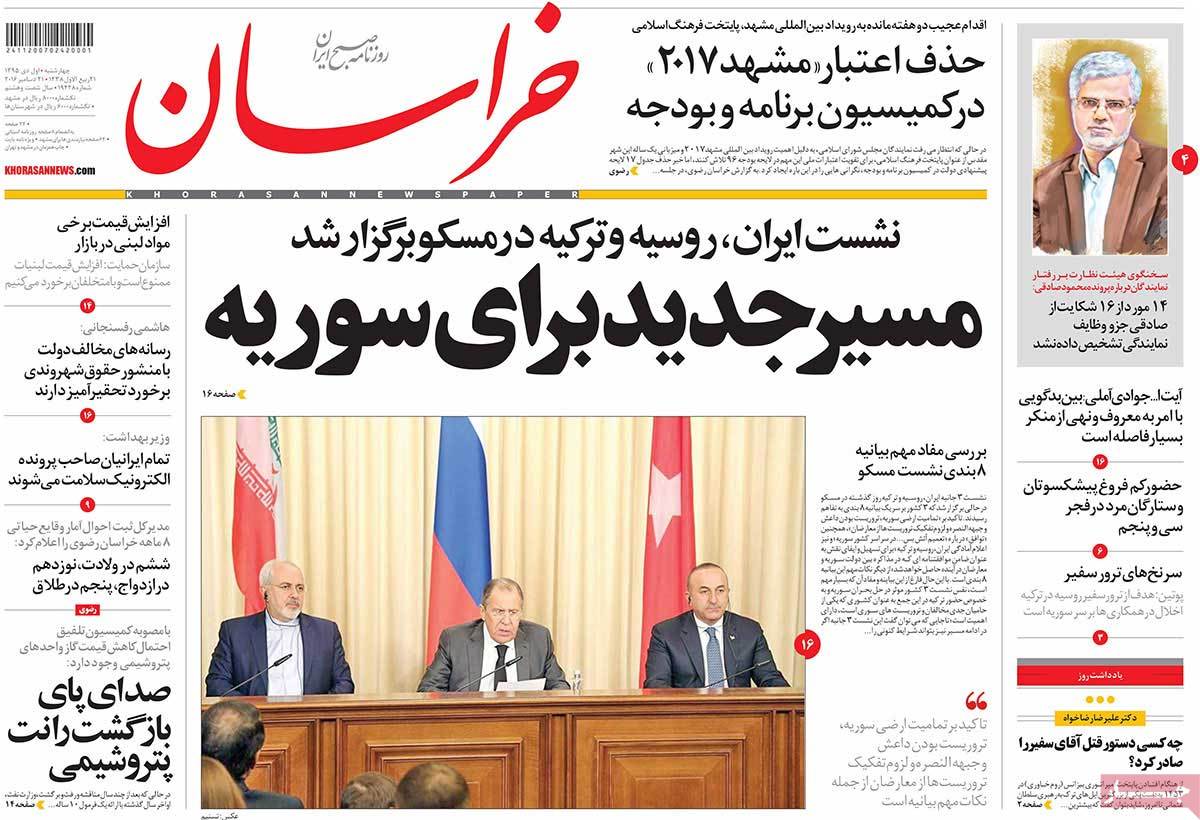 ---
Payam-e Zaman:
1- Iran, Russia, and Turkey Issue Joint Statement: No Military Solution to Syria Conflict
2- New Record in World's Largest Gas Field: South Pars Gas Field Brings $378 Billion Income for Iran
---
Rah-e Mardom:
1- Labour Minister: Rouhani Government's Successful Diplomacy Doubled the Country's Oil Exports
2- Government Doesn't Trust Domestic Producers: A Report on What Foreign Contracts Do to Domestic Production
3- Decrease in Young Population in Alarming Level: Why Increase of Population Is Important for Iran?
---
Resalat:
1- Iranian Spokesman: Our Nuclear Snapback Will Surprise Everyone
2- Former MP's Letter to Parliament: Fighting Corruption Has No Other Way than Transparency
3- Ayatollah Noori Hamadani: Authorities Should Not Raise Their Problems in Media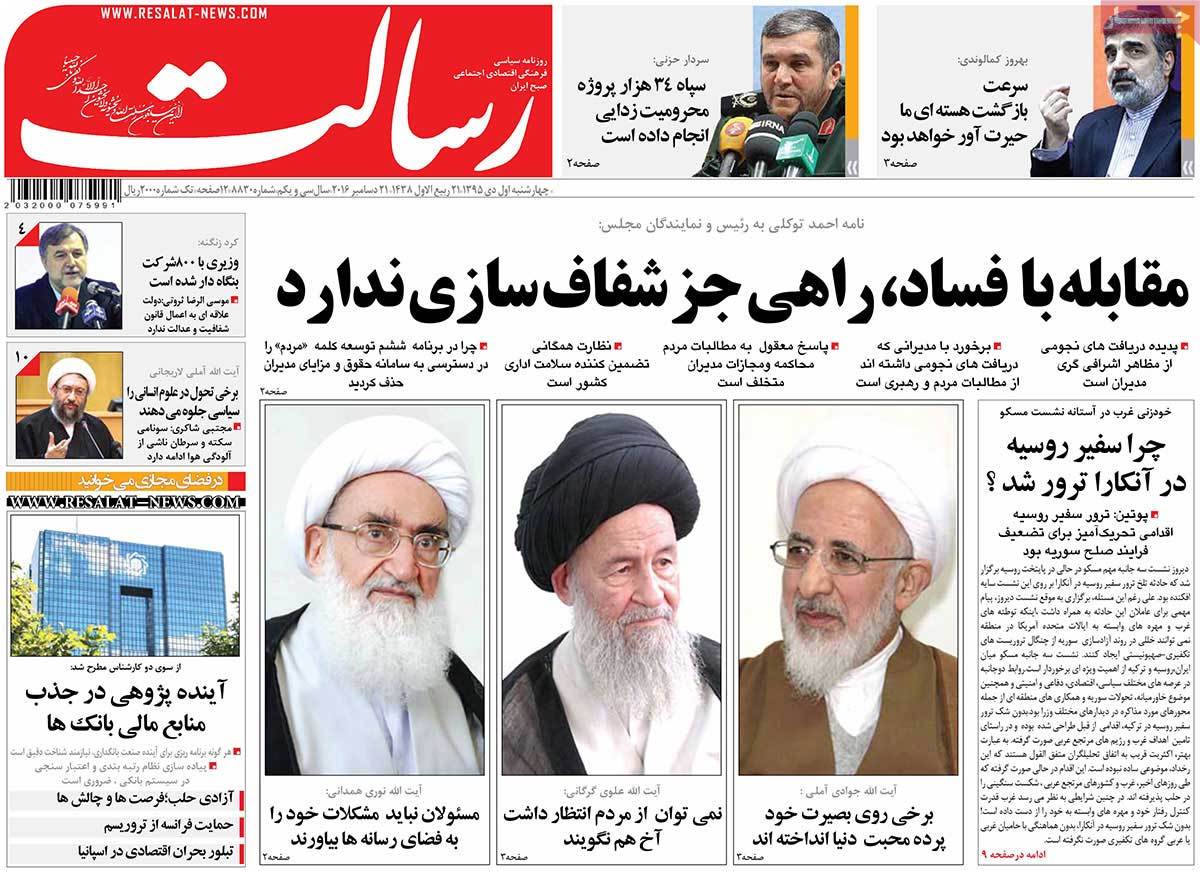 ---
Saheb Qalam:
1- Daily Sale of 700,000 Barrels of Oil to 15 European Countries
2- SNSC Secretary Shamkhani: Syrian Government Should Be Main Party in Every Political Deal
---
Shargh:
1- Mediation Offer to Resolve Syrian Crisis
2- Russia to Send Investigation Team to Turkey over Assassination of Envoy
3- What Iranian Users Said in Twitter?
4- Rouhani: I Keep My Promises about Young People
5- Spokesman: Those Who Don't Have Enough Information Should Keep Silent on JCPOA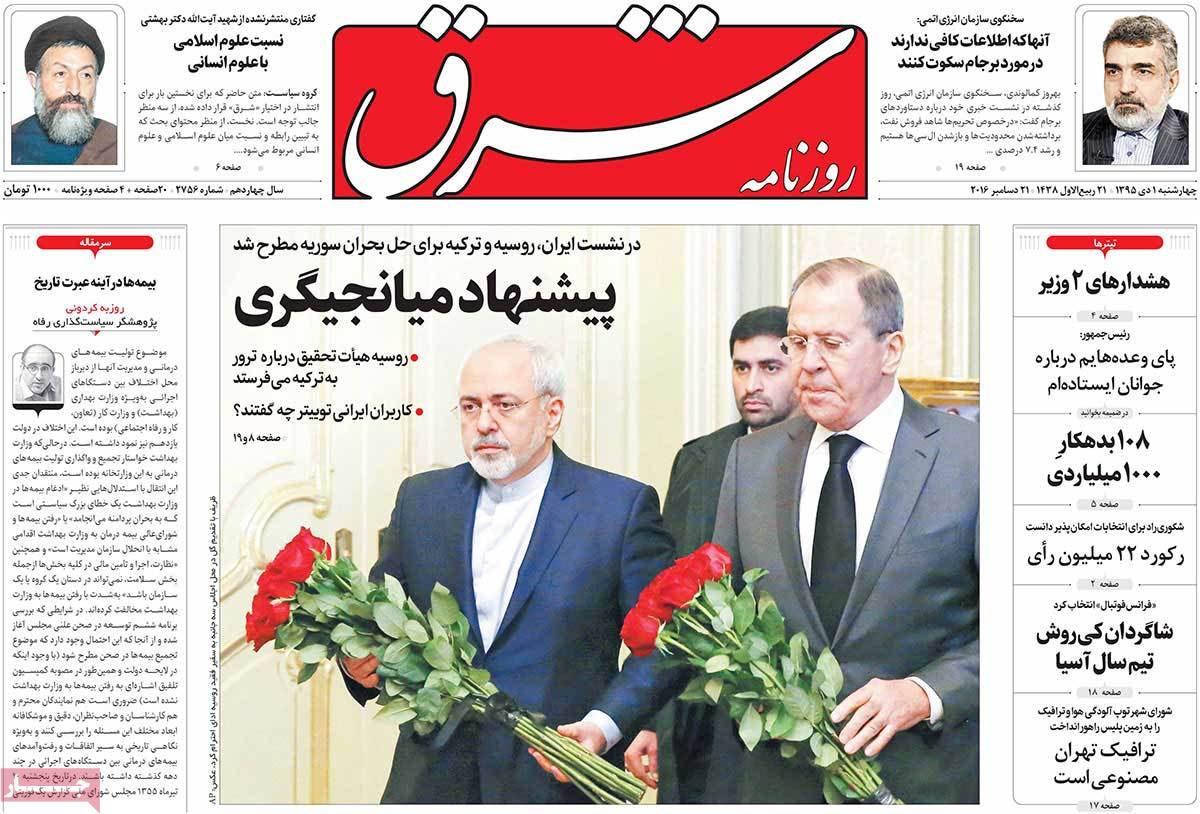 ---
Vaghaye Ettefaghieh:
1- Sexual Crisis in Weak Education: A Report on a Lack of Sexual Health in Iranian Schools and Cyberspace Challenges Swallowing Students
2- Silence over Death of Wildlife: Cold Weather, Illness, and Car Crashes Are Not Causes of Death among Humans Only; 6 Iranian Cheetahs Have Been Killed in Only One 12-Kilometre-Long Road in Iran
3- New Front Formed to Support Assad: Turkey Joins Iran and Russia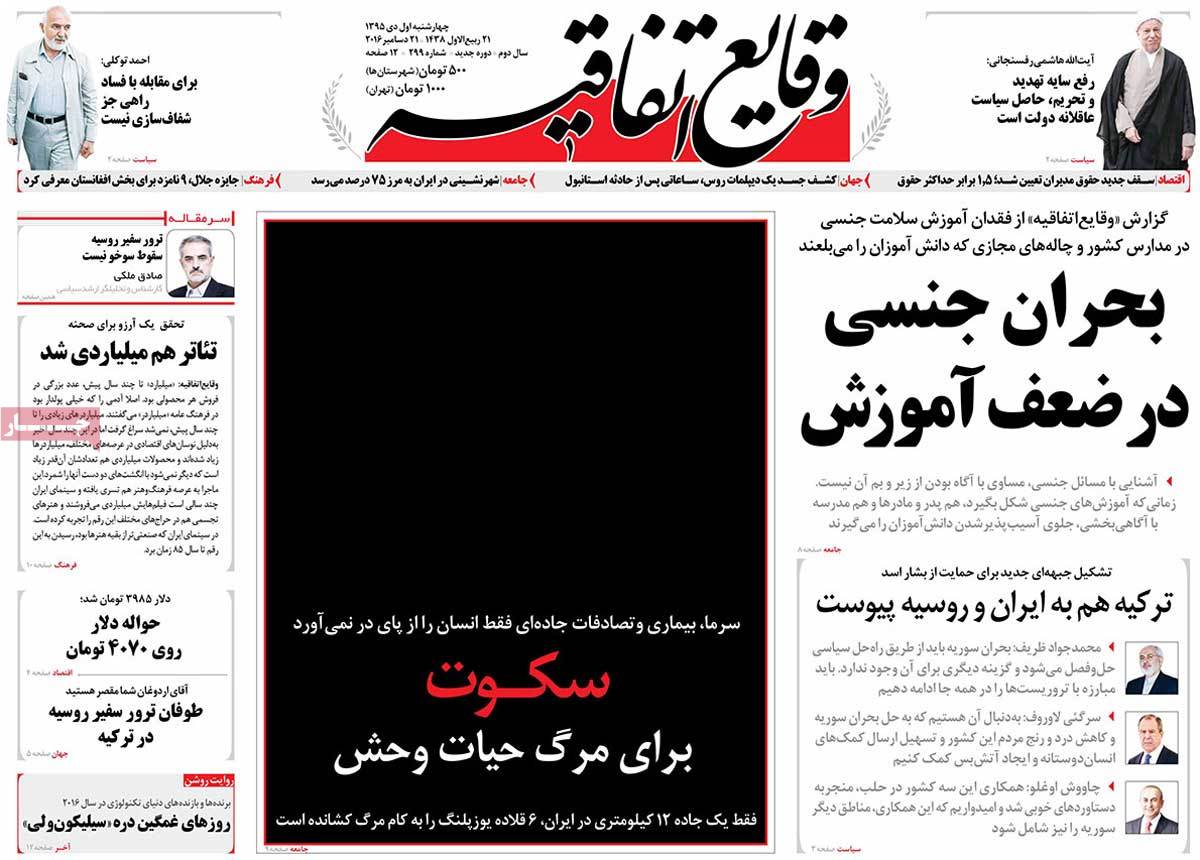 [:es]
Los diarios iraníes de hoy, el miércoles, han cubierto una retahíla de temas de actualidad política del país y del mundo, entre los cuales se destacan siguientes aspectos:
Los resultados de la reunión tripartita Rusia, Irán y Turquía, celebrada el martes en Moscú, capital rusa, con el fin de buscar una salida a la crisis en Siria, en la que las tres partes apostaron por una solución política al conflicto en el país árabe.
Las reacciones sobre el asesinato del embajador ruso en la capital turca, Ankara, a manos de un supuesto agente policial.
Las afirmaciones del portavoz de la Organización de Energía Atómica de Irán (OEAI), Behruz Kamalvandi, sobre las capacidades del país persa para reemprender sus actividades nucleares a un ritmo más rápido y con más vigor y fuerza.
Las opiniones del ministro iraní de Cooperativas, Trabajo y Bienestar Social sobre los logros del gobierno de Rohani.
Los temas antes mencionados, así como varias otras cuestiones se destacan en los siguientes títulos:
19 Dey:
Irán ha aprovechado del acuerdo nuclear; un experto político: "Trump no puede desgarrar el PIAC."
Irán, Rusia y Turquía optan por reestablecer los diálogos de la paz en Siria.
El Presidente del Senado de Bosnia y Herzegovina: "El PIAC es un ejemplo de la victoria de la opresión ante la sanción."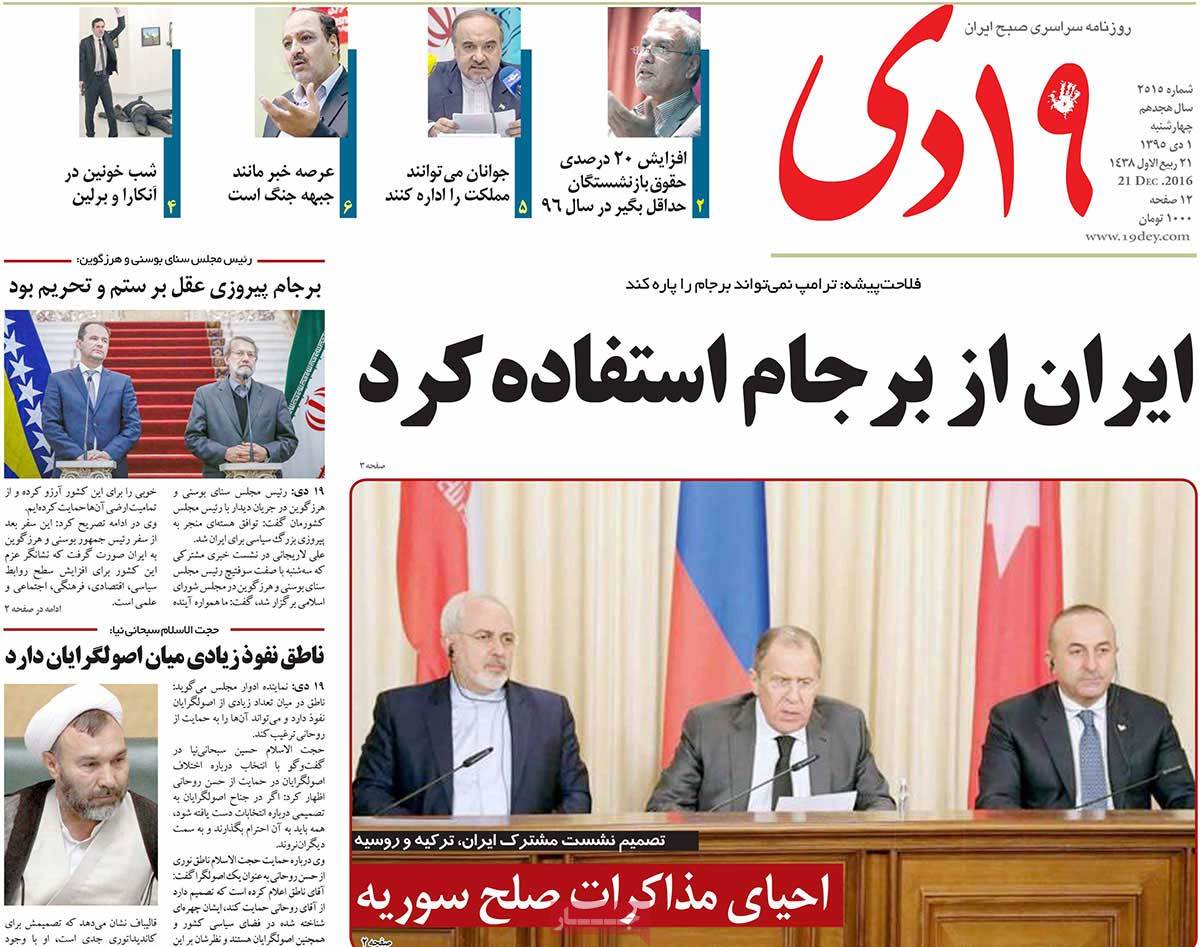 ---
Abrar:
Zarif: "Acatamos a las opiniones de los comités supervisores del acuerdo nuclear."
El Secretario de Estado de EEUU: "Irán tiene derecho a convocar a una reunión de la Comisión Conjunta del PIAC."
El portavoz de la OEAI: "Este país cuenta con sus propias normas y no es un campo de futbol."
Ban Ki-moon, preocupado por el genocidio en Sudán del sur.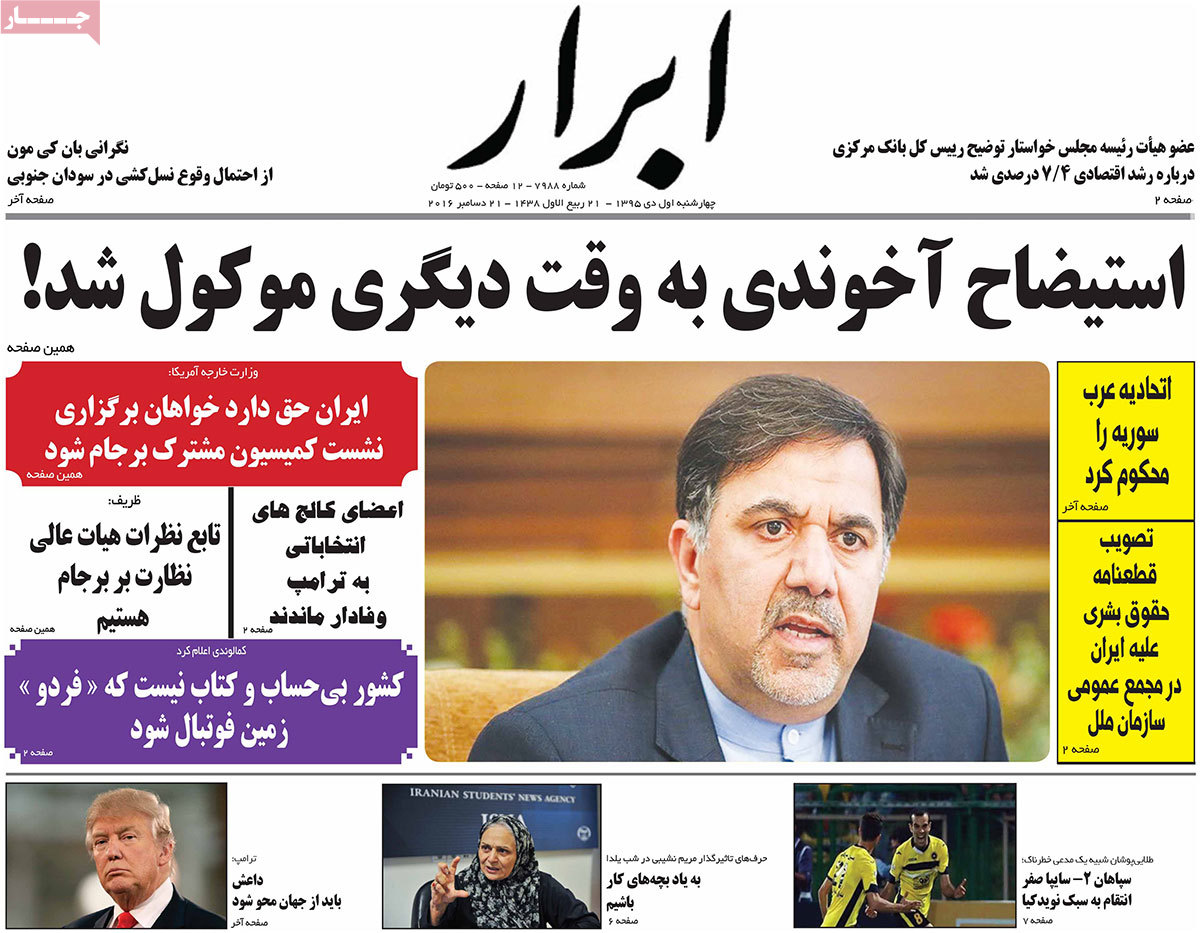 ---
Abrar Eqtesadi:
El representante del FMI prevé un crecimiento económico de 3.5· para Irán.
Publicada nueva lista de clientes petroleros de Irán en Europa.
Grecia compra gas de Irán.
---
Aftab Yazd:
¿Quién es el rival de Putin en las próximas elecciones presidenciales de Rusia?; experto político: "Putin cuenta con bastantes seguidores dado que ha impulsado el nacionalismo."
Resultados alarmantes de la comparación del presupuesto de los sectores educativos de Irán y Alemania.
Irán, Rusia y Turquía mantienen una reunión tripartita; Ankara acompaña a Teherán y Moscú.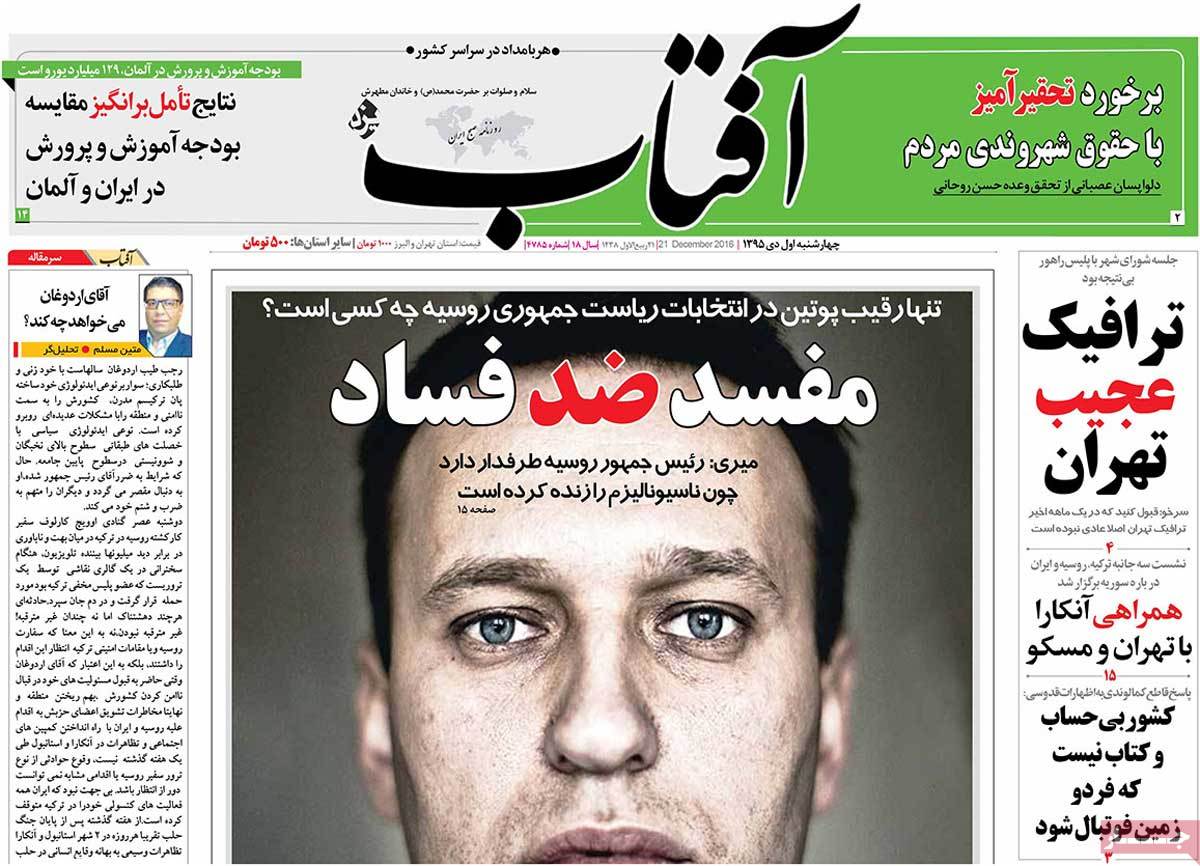 ---
Arman Emruz:
Una navidad dolorosa en Europa; 3 atentados terroristas en un sólo día.
El Centro de Investigaciones del parlamento iraní revela la tendencia social de los hombres a casarse con personas menores
El Secretario del Consejo de Seguridad Nacional explica sobre una base militar conjunta Irán-Rusia en Siria.
---
Asrar:
El ministro de Economía: "Irán cuenta con 100 mil millones de dólares de reservas monetarias en el extranjero."
Hashemi Rafsanyani: "Los opositores en Irán disponen de más tribunas y medios que el gobierno."
10 de enero de 2017, fecha en que se celebrará la Comisión Conjunta de PIAC.
El anterior gobierno de Irán batió el récord de violar las leyes.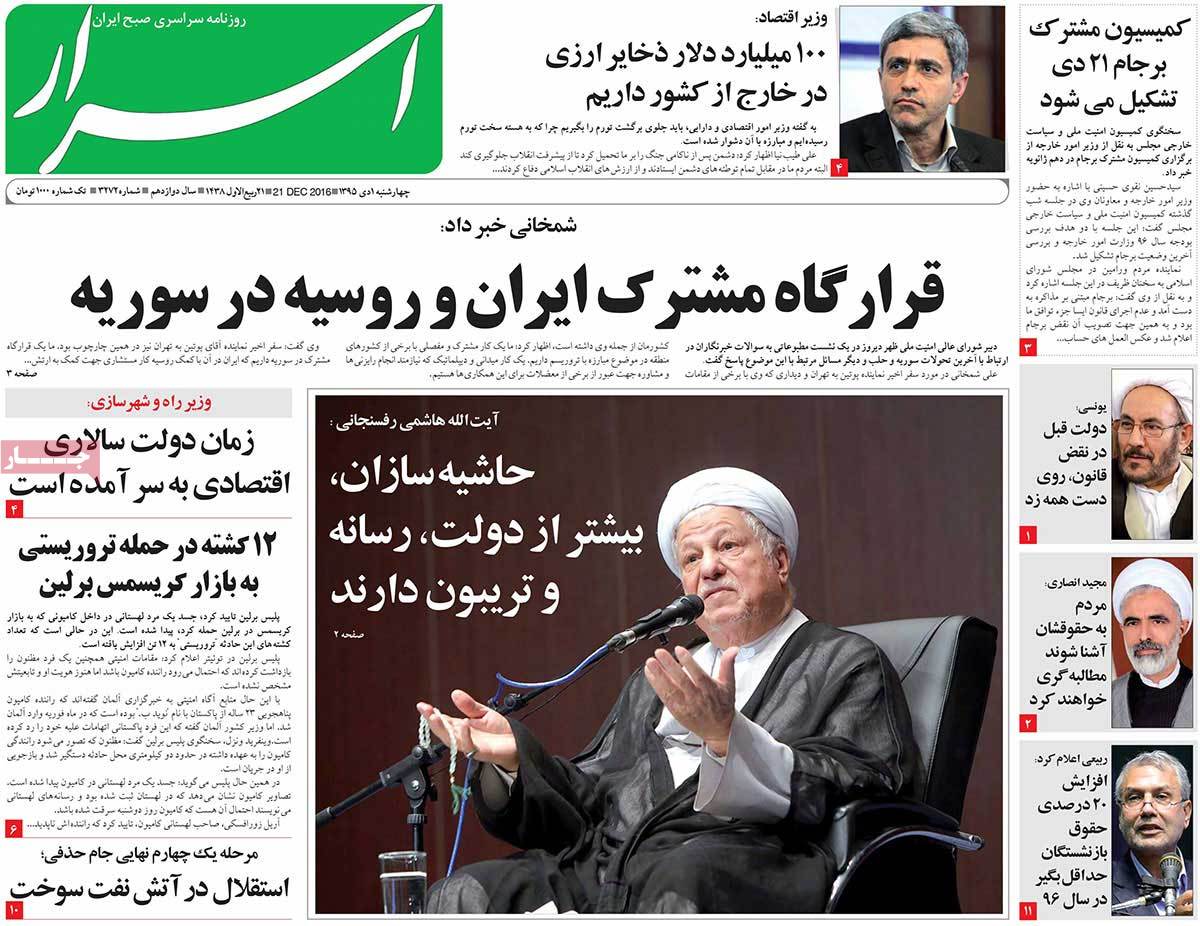 ---
Besharat_e_No:
El Presidente del Poder Judicial: "Existen quienes alegan que el Estado tiene miedo de las Humanidades."
Zarif: "Irán apoyará a Rusia en la lucha antiterrorista."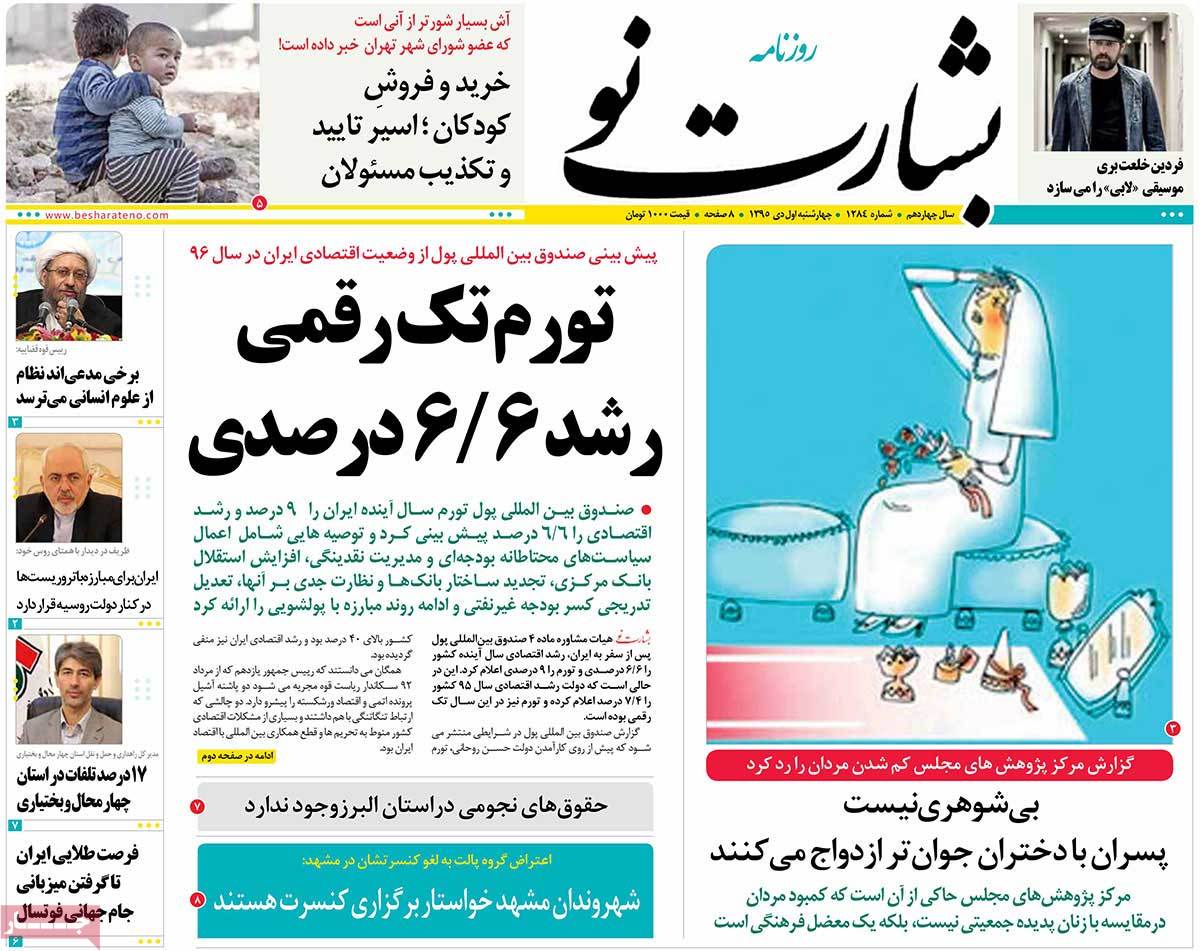 ---
Etemad:
Prohibidas las exenciones y rebajas fiscales en Irán.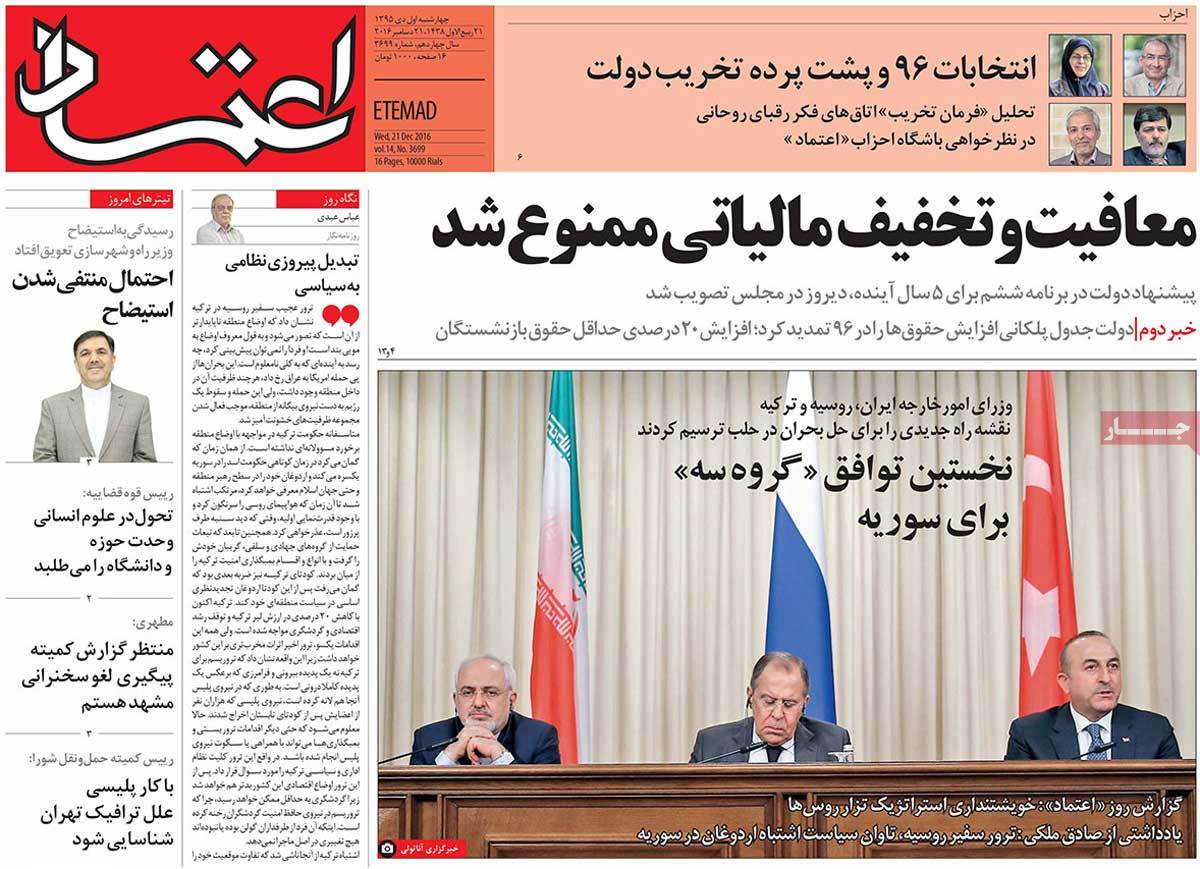 ---
Etelaat:
La reunión de Moscú brinda respaldo a la soberanía, convergencia y la integridad territorial de Siria.
Putin: "Después del asesinato de Karlov, entramos en una nueva fase de lucha antiterrorista."
Asistente especial del Presidente Rohani: "La Carta de Derechos Civiles no es un gesto electoral."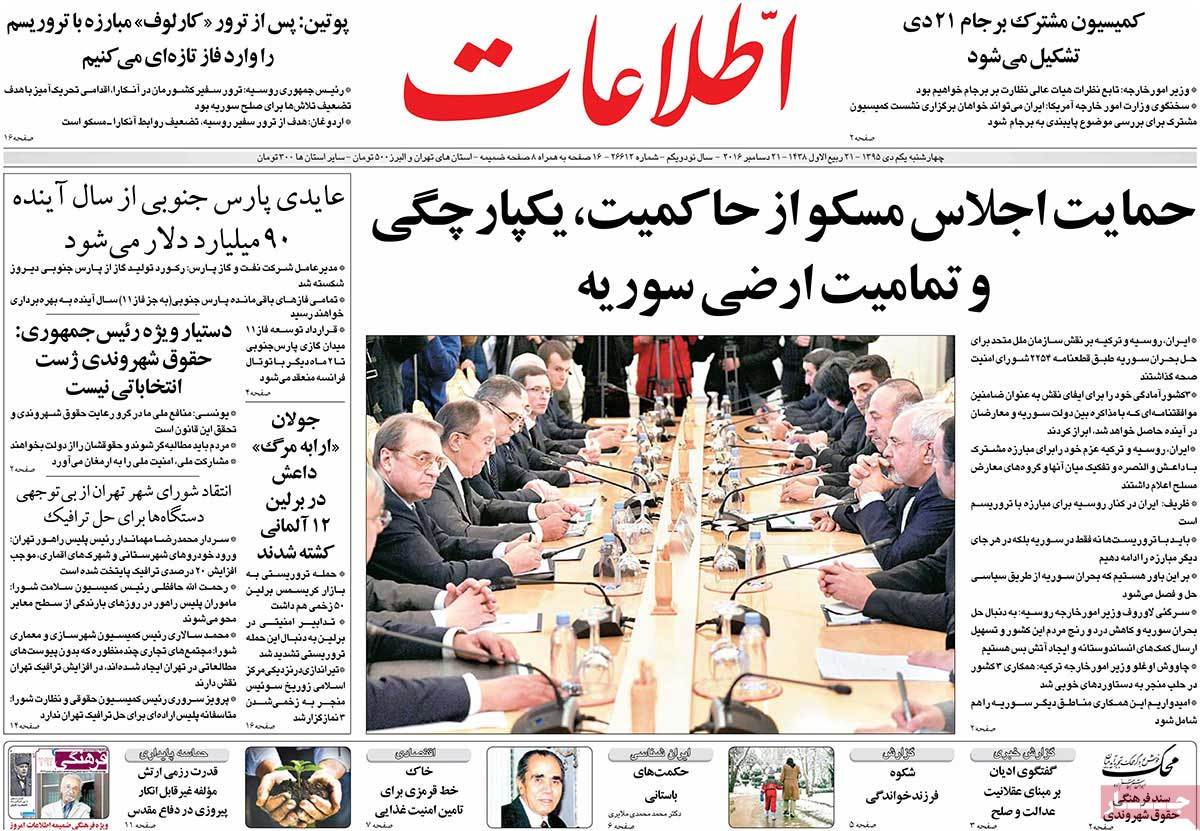 ---
Haft_e_Sobh:
Galería de horror; Una nueva mirada al asesinato del embajador ruso en Ankara, Turquía.
Tragedia en el cuartel militar de Ayabshir; El soldado de 19 años pierde un pie tras pisar una mina, mientras intentaba rescatar a un perro.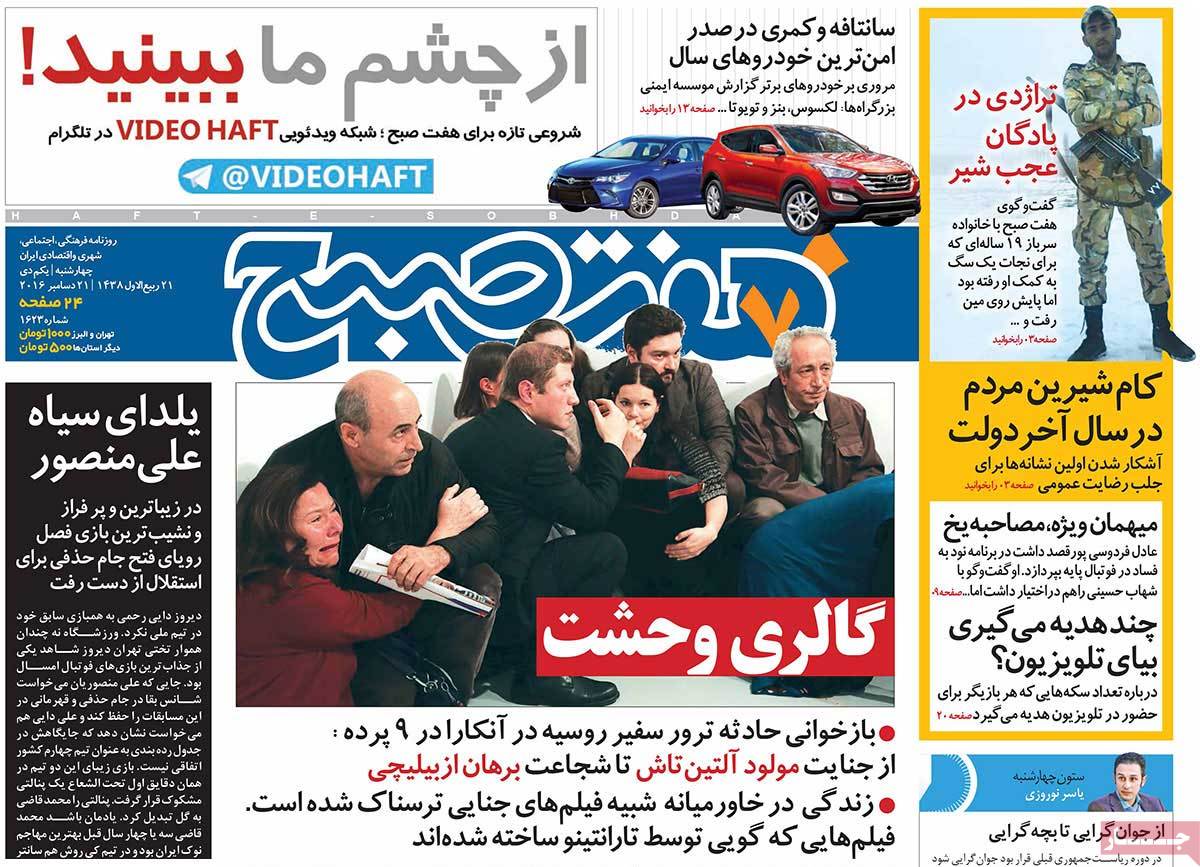 ---
Hemaiat:
El representante de Irán ante la ONU: Canadá, como el mayor violador de DDHH (derechos de los pueblos nativos y los negros), apoya la resolución antiiraní sobre Derechos Humanos.
Putin: "Los asesinos sabrán cómo se lucha contra el terrorismo."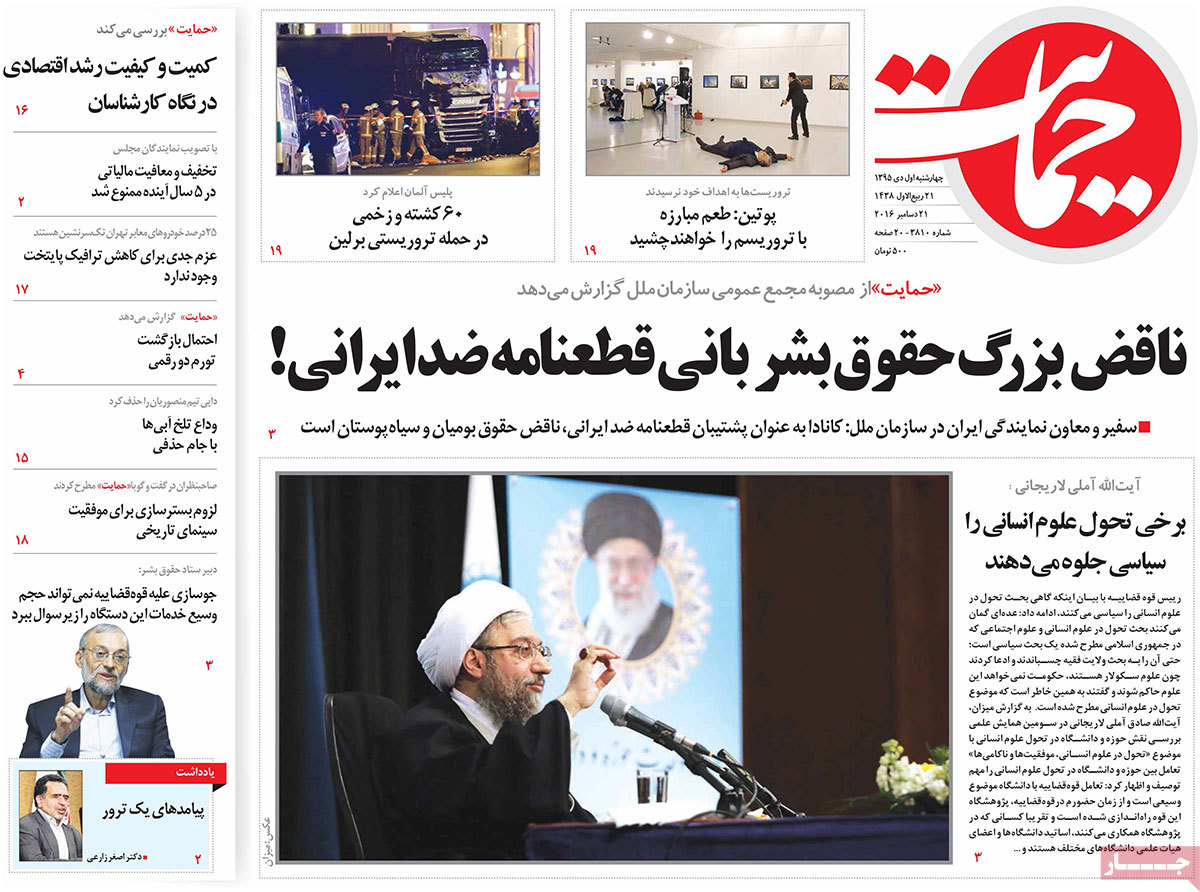 ---
Irán:
El ministro de Cooperativas, Trabajo y Bienestar Social de Irán anuncia un aumento de 20% de salarios en el próximo año.
El mundo permanece pasmado tras el asesinato del embajador ruso; los cancilleres presentes en Moscú conmemoraron a Karlov.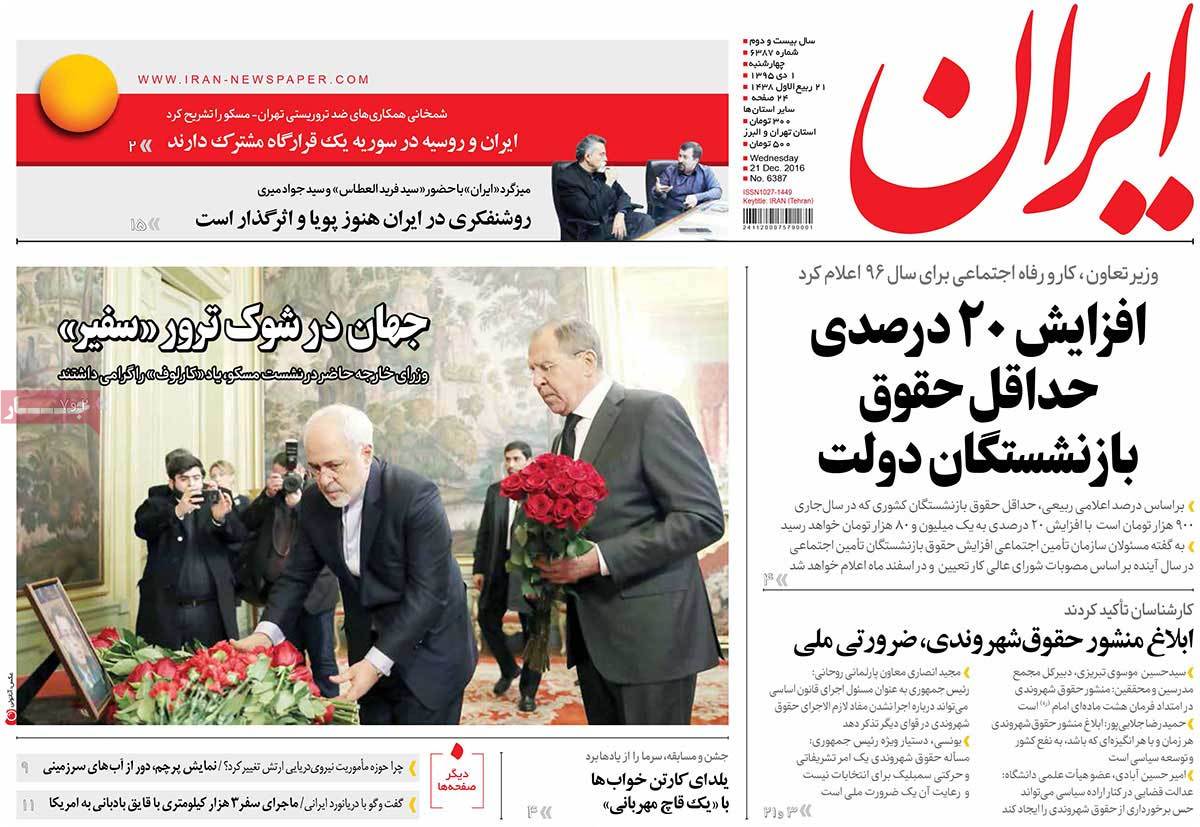 ---
Yaam_e_Yam:
Riad, patrocinado por Londres, comete genocidio en Yemen; el ministro de Defensa de Gran Bretaña informa la venta de bombas de racimo a Arabia Saudí.
---
Yomhuri Eslami:
Irán, Rusia y Turquía enfatizan en una tregua nacional en Siria.
Reacciones mundiales al asesinato del embajador ruso en Ankara; ¿Mossad está implicada en el ataque?
La AI acusa a Myanmar a cometer crímenes de lesa humanidad.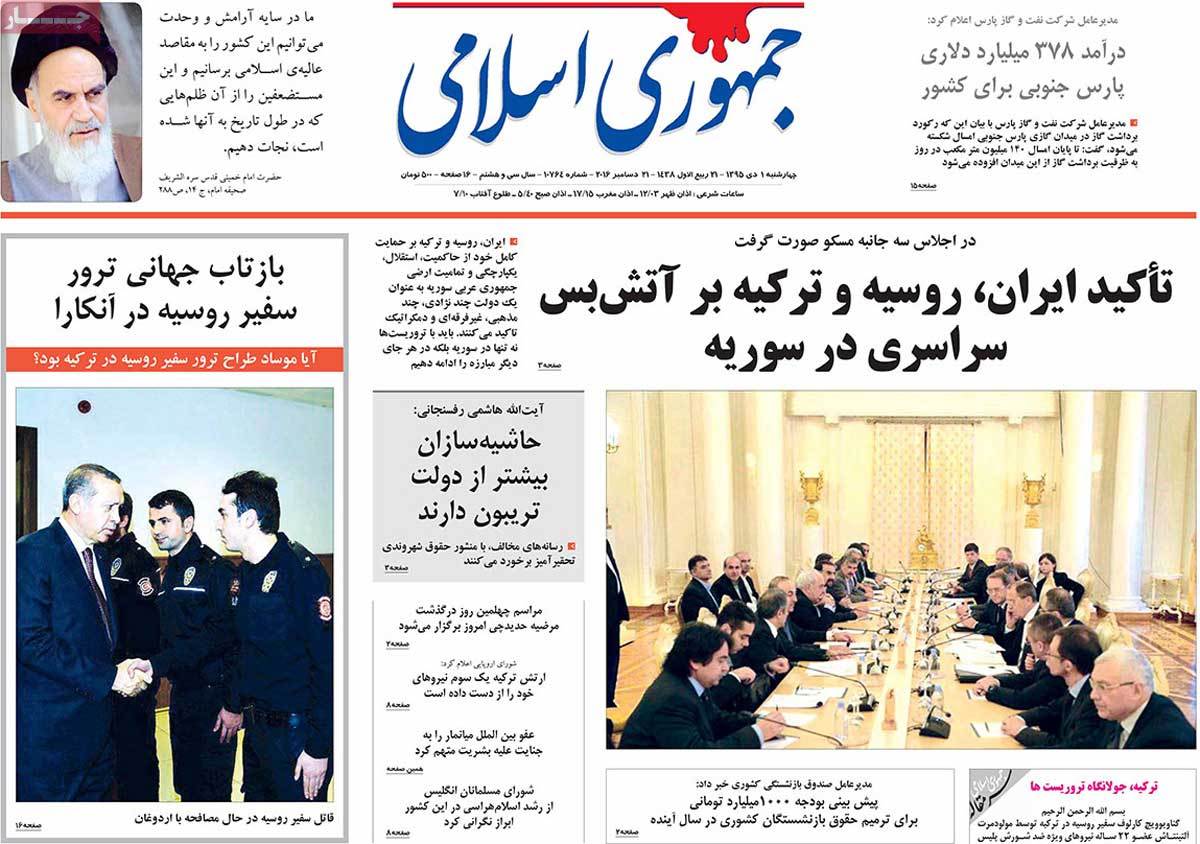 ---
Yavan:
Acto terrorista saudí, realizado por un agente policial de Erdogan; los saudíes muestran su satisfacción tras el ataque al embajador ruso en Turquía; Putin a Erdogan: "Se debe determinar quién ordenó el asesinato del embajador de Rusia en Ankara."
El vicepresidente parlamentario de Rohani, en una entrevista con Yavan: "El gobierno no tiene formaciones informales y clandestinas."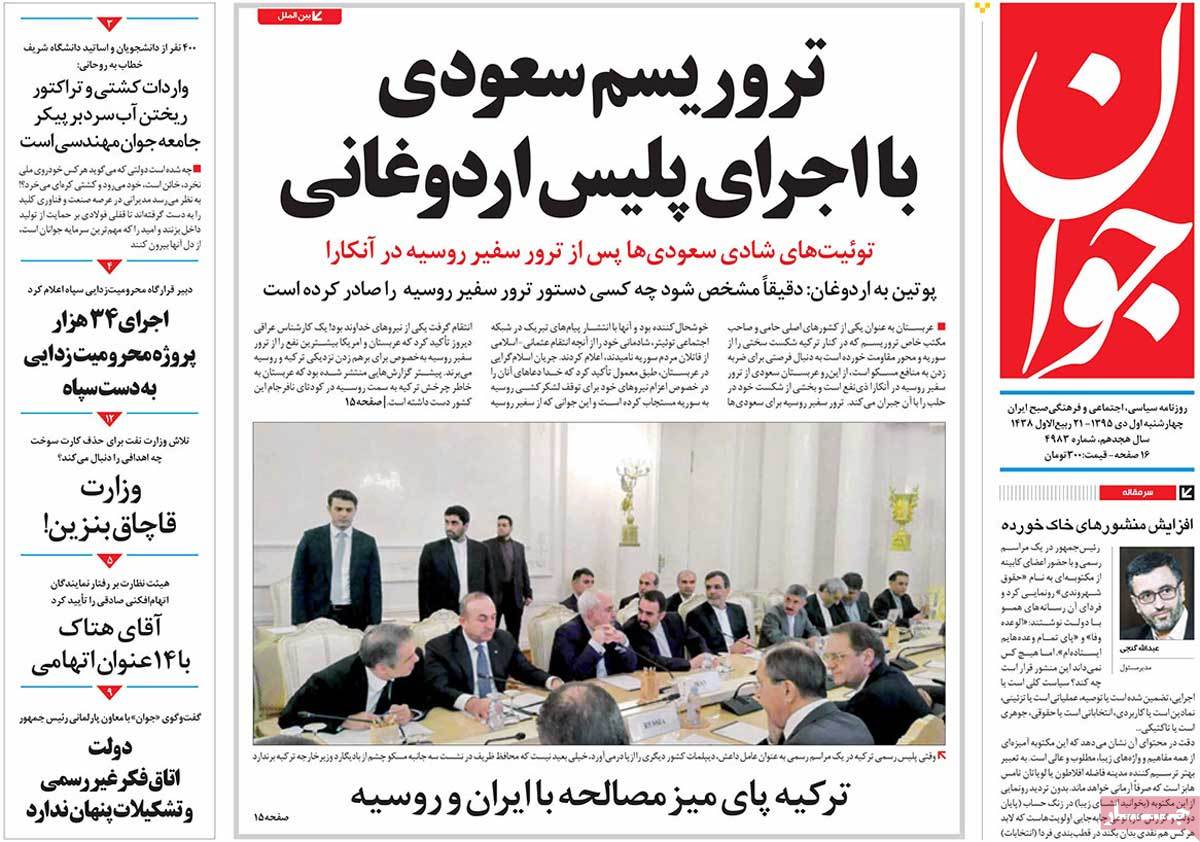 ---
Kayhan:
Planificación en Washington y la ejecución en Ankara; Kayhan reporta sobre el asesinato del embajador ruso en Turquía.
El exvicepresidente de la CIA: "Maten a los rusos e iraníes."
Oficiales de inteligencia de Israel, Arabia Saudita, Catar y Jordania intentan escapar de Alepo.
---
Jorasán:
Hashemi Rafsanyani: "Los medios de comunicación opositores al gobierno tratan de menospreciar a la Carta de Derechos Civiles."
El ministro iraní de Salud: "Todos los iraníes cuentan con registro electrónico de Salud."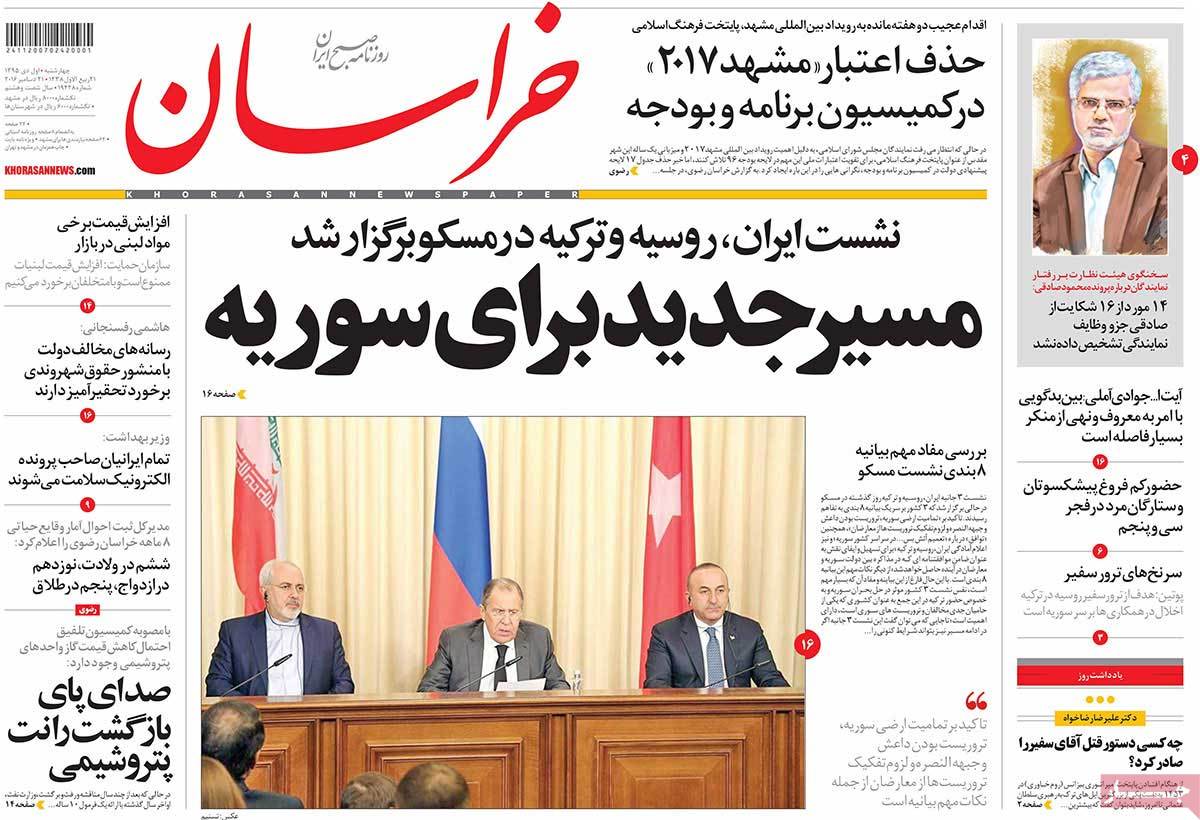 ---
Paiam_e_Zaman:
La declaración conjunta de Irán, Rusia y Turquía: "El conflicto de Siria no tiene soluciones militares."
Nuevo récord en el mayor campo gasífero del mundo: ingresos del campo gasífero Pars del Sur alcanzan los 378 mil millones de dólares.
---
Rahe Mardom:
El ministro de Cooperativas, Trabajo y Bienestar Social de Irán: "La exitosa diplomacia de este gobierno condujo a la duplicación de la exportación del crudo."
El gobierno no confía en los fabricantes nacionales; Reporte de Rahe Mardom de las secuelas de contratos con las empresas extranjeras sobre la producción nacional.
La alarmante descenso de la población joven del país; ¿Por qué es importante el aumento de la población en Irán?
---
Resalat:
El portavoz de la OEAI: "Irán será capaz de reactivar sus instalaciones nucleares en corto plazo."
Un parlamentario advierte sobre la corrupción e insiste en la transparencia financiera (como solución)
Un alto clérigo iraní pide a las autoridades "no hacer público los problemas del país."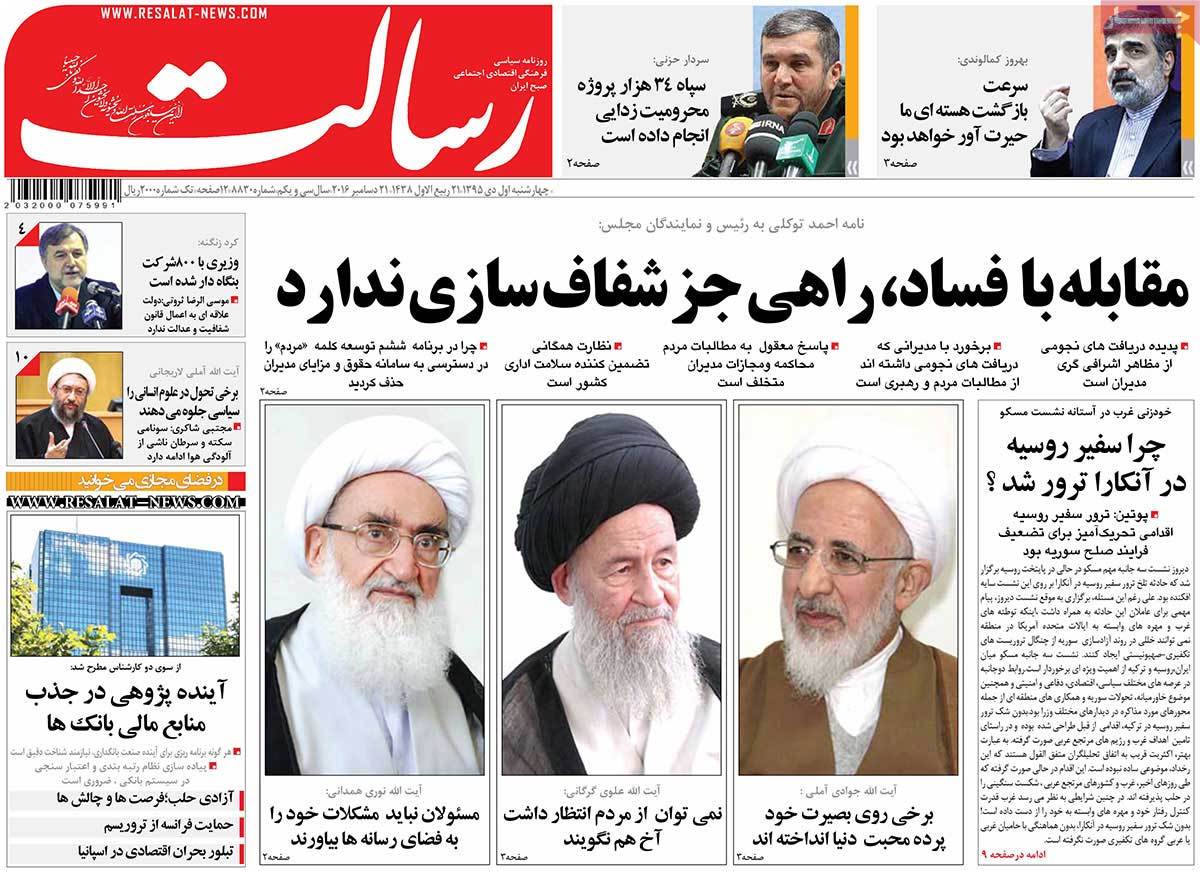 ---
Saheb Ghalam:
Irán vende diariamente 700 mil barriles de petróleo a 15 empresas europeas.
El Secretario del Consejo de Seguridad Nacional: "El gobierno de Siria debe estar siempre una parte de la solución política."
---
Shargh:
La reunión tripartita de Moscú propone "la mediación" como una salida a la crisis siria; Rusia envía un equipo a Turquía para investigar el asesinato de su embajador.
Rohani: "Cumpliré con mis compromisos sobre los jóvenes."
El portavoz de la OEAI: "Los que carecen de suficiente información sobre el PIAC sería mejor que guarden silencio."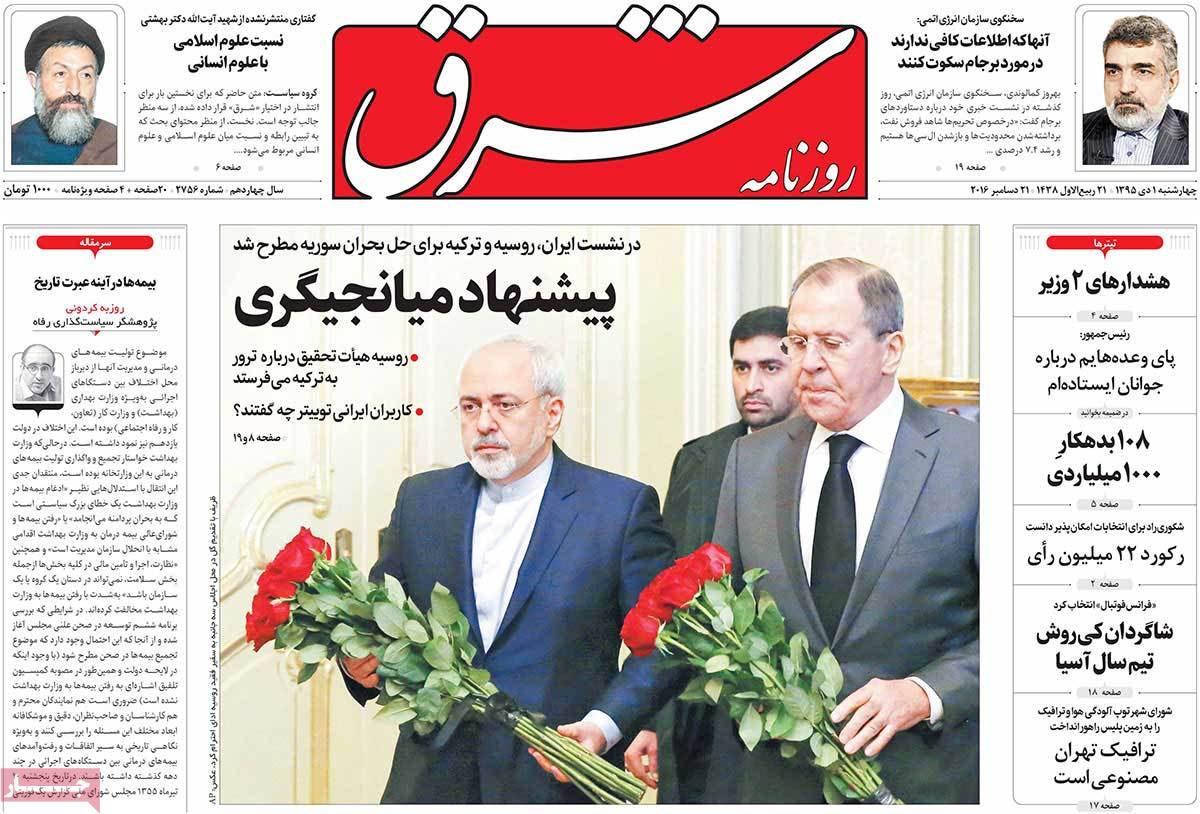 ---
Vaghaye Etefaghie:
Crisis sexual en las escuelas de Irán y los desafíos cibernéticos de los estudiantes.
Mutismo ante la desaparición paulatina de la fauna; 6 guepardos mueren en una carretera de 12 kilómetros en Irán
Se forma un nuevo frente para apoyar a Al-Asad; Turquía también se une a Irán y Rusia.