IFP has taken a look at the front pages of Iranian newspapers on Wednesday and picked headlines from 22 of them. IFP has simply translated the headlines and does not vouch for their accuracy.[:es]IFP ha echado una mirada a las portadas de periódicos iraníes, publicados el miércoles, 23 de noviembre de 2016, y ha recogido titulares de 22 de ellos. IFP ha traducido simplemente los titulares y no es responsable de su veracidad.
The majority of newspapers today covered the ongoing visit of Slovenian President Borut Pahor to Iran and his meetings with the Leader of the Islamic Revolution Ayatollah Seyyed Ali Khamenei and President Hassan Rouhani.
They also continued covering the reactions to the cancellation of Parliament Vice-Speaker Ali Motahari's speech in Mashhad.
The US President-elect Donald Trump's opposition to the nuclear deal with Iran also remained a top story, with several articles and developments covered about it today.
The above issues, as well as many more, are highlighted in the following headlines:
Abrar:
1- President Says Slovenian Embassy in Tehran Will Be Reopened
2- Rouhani: Iran Is Resolved to Expand Its Ties with Friendly Countries, Particularly in EU
3- US State Department: We Don't Know Who Buys Iran's Heavy Water; Iran's Nuclear Chief: Oman Buys Heavy Water from Iran
4- Persian Gulf International Relations Council Raises Accusations against Iran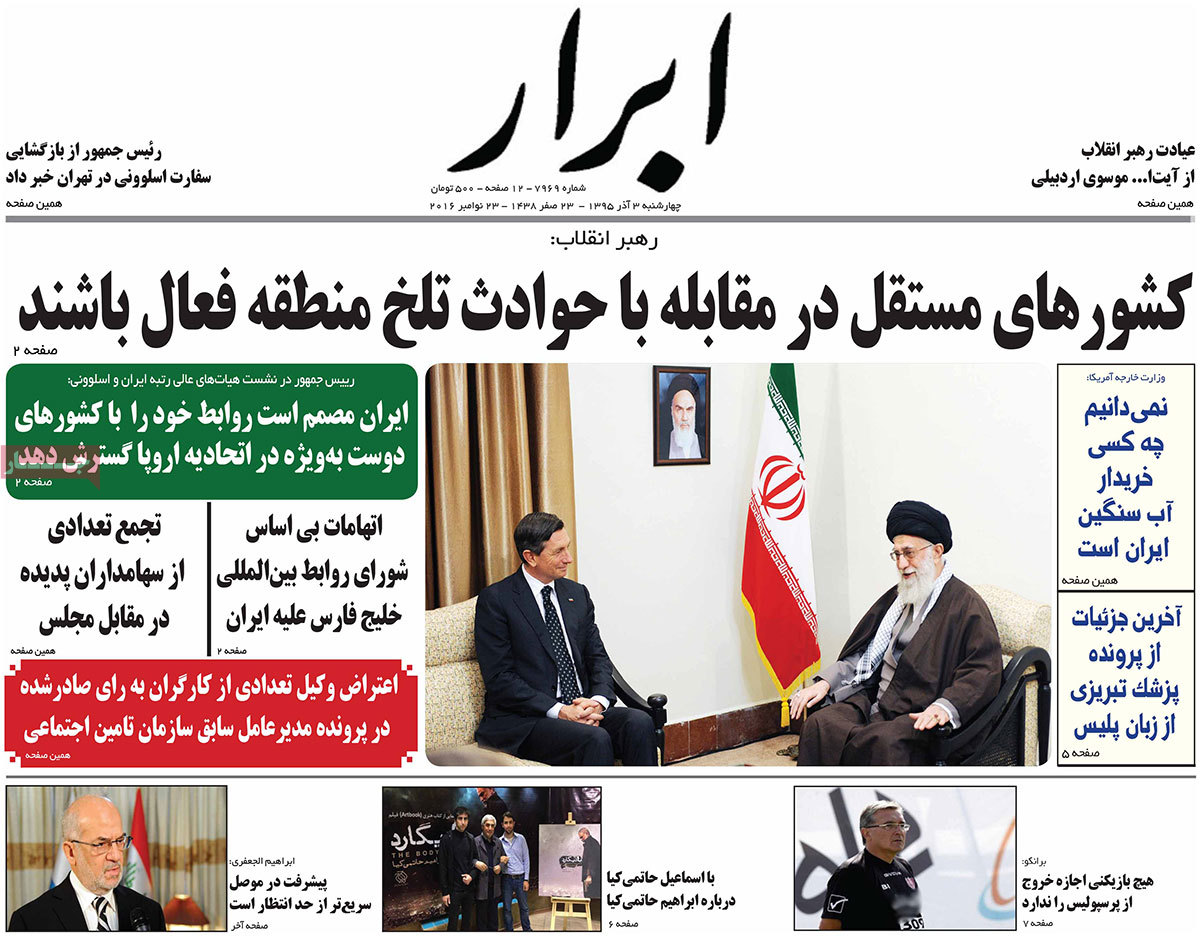 ---
Abrar-e Eqtesadi:
1- Funding of Iran's Purchase of 77 Airbus Planes Finalized
2- Britain's Oil Giant Forms Committee for Entering Iran's Market
3- Parliament OK's Iran's Economic Cooperation with Hungary, Slovakia, and Lithuania
4- Industrial Investment in Iran Has Been Doubled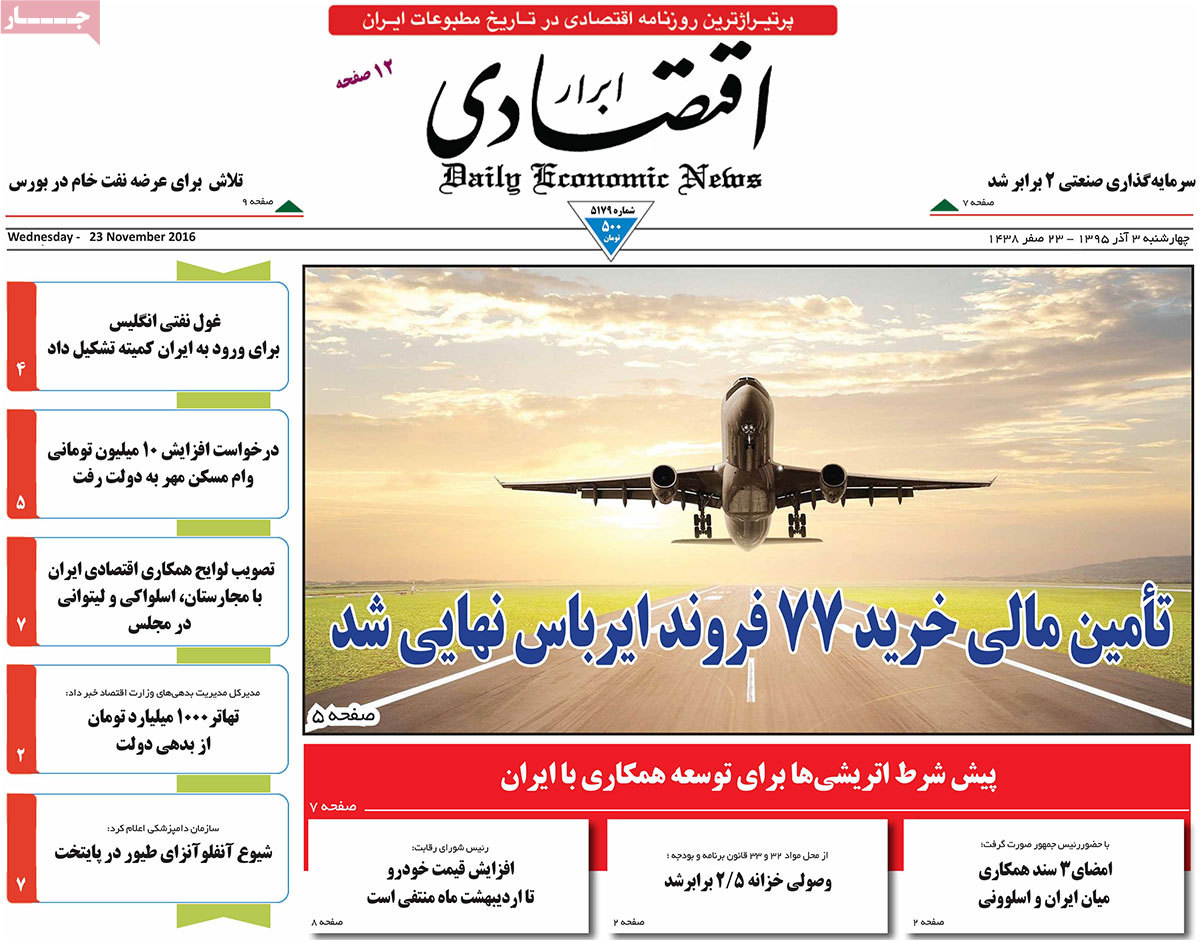 ---
Afkar:
1- Iran's Nuclear Chief: Letter Was Received from Other Side for Purchase of Iran's Heavy Water; Iran Has Exported 11 Tons of Heavy Water to Oman
2- Intelligence Ministry Smashes a Terrorist Cell in Eastern Iran
---
Aftab-e Yazd:
1- Day of Motahari [outspoken vice-speaker] in Iran's Parliament: Parliament Speaker Larijani Says What Happened in Mashhad [cancellation of Motahari's speech] Was Regrettable
---
Arman-e Emrooz:
1- Leader: US Has No Plan for Eradication of ISIS
2- 28 MPs to Ask Question from Justice Minister
3- Trump Announces Plan for First 100 Days: No Talks of Cancelling or Revising JCPOA
---
Asrar:
1- Deal for Purchase of 112 Airbus Planes Is Finalized
2- US Navy Helps Three Iranian Sailors in Persian Gulf
3- Interior Minister Warns against Increasing Use of Harsh Rhetoric in Iran's Politics
---
Besharat-e Now:
1- Sociologist Explains Why Government Has Become Inefficient: We Have Three Governments in Iran at the Same Time; Government Only Has 30% of the Country's economy in Its Hands, It Cannot Reform It
2- Women Still Record-Holder in Life Expectancy Rate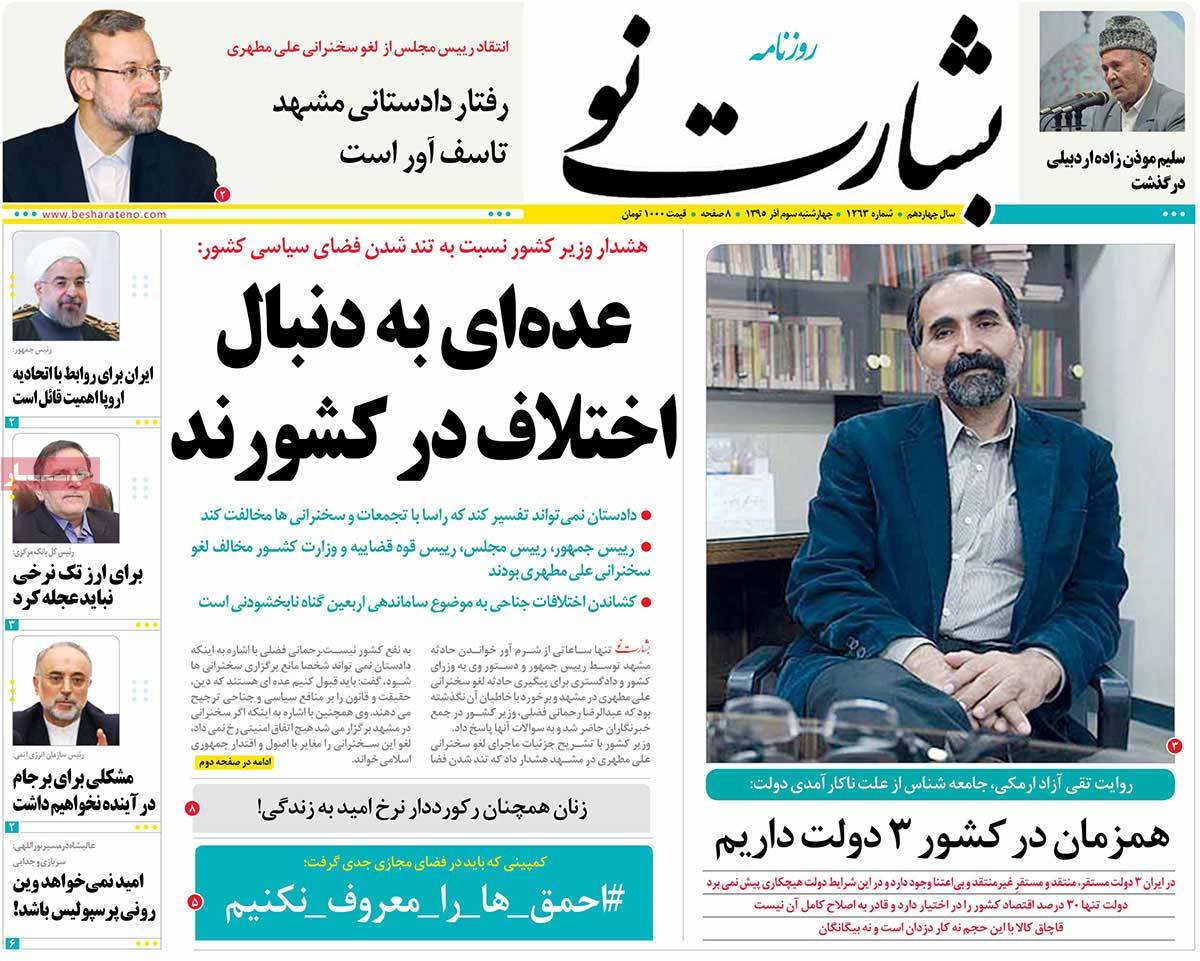 ---
Ebtekar:
1- Renovation of OPEC in High-Ranking Committee
2- Economy Trapped in Swamp of Political Inhomogeneity
3- Spinoza Was a Philosopher Focused on Ethics: Birthday Anniversary of First Liberal Democracy Thinker
---
Etemad:
1- Economy Minister: No Imminent Economic Revolution in Iran
2- Iran's Economy Needs Kemal Derviş and Mahathir Mohamad: MPs
3- Parliament Supports Its Vice-Speaker [Motahari]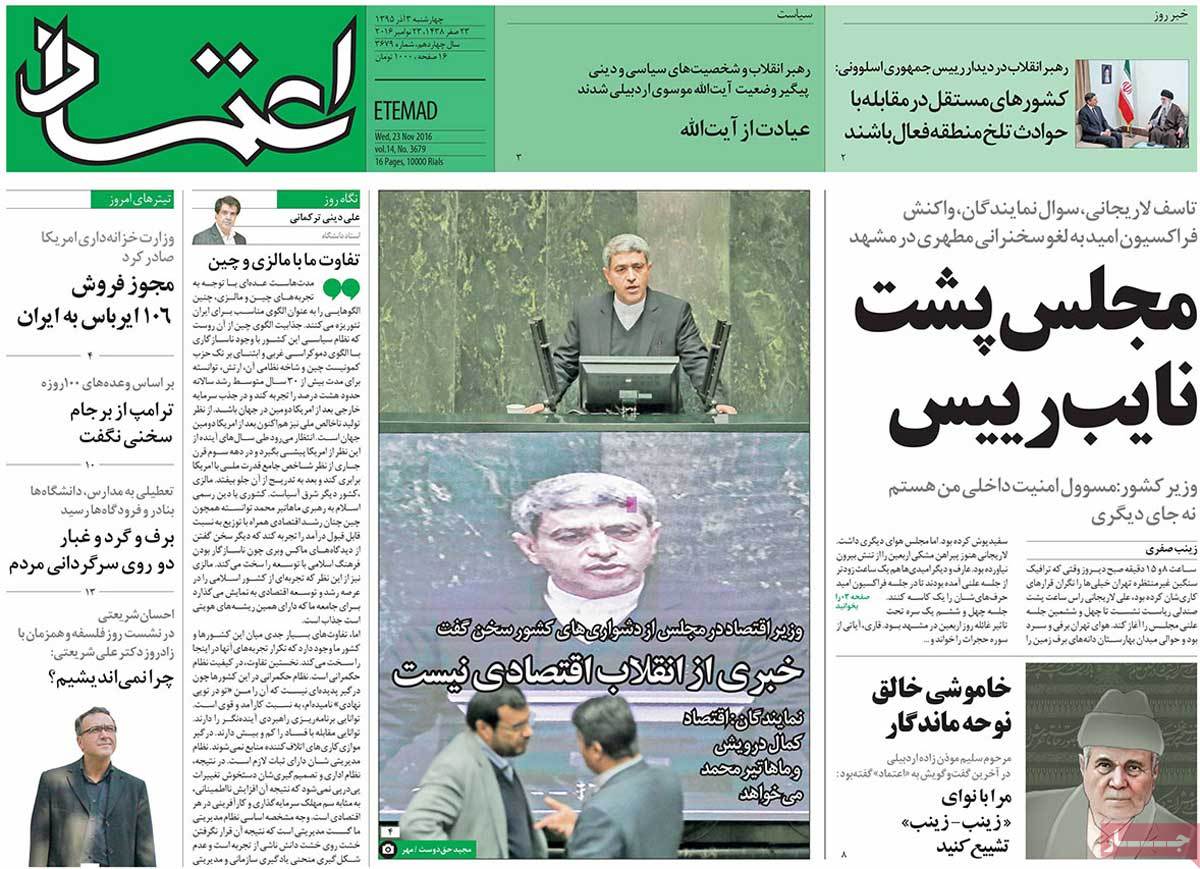 ---
Ettela'at:
1- UN's Vote of Majority that Gives Palestinian Nation the Right to Choose Their Destiny
2- Iran and Slovenia Sign Three Documents and Three MoUs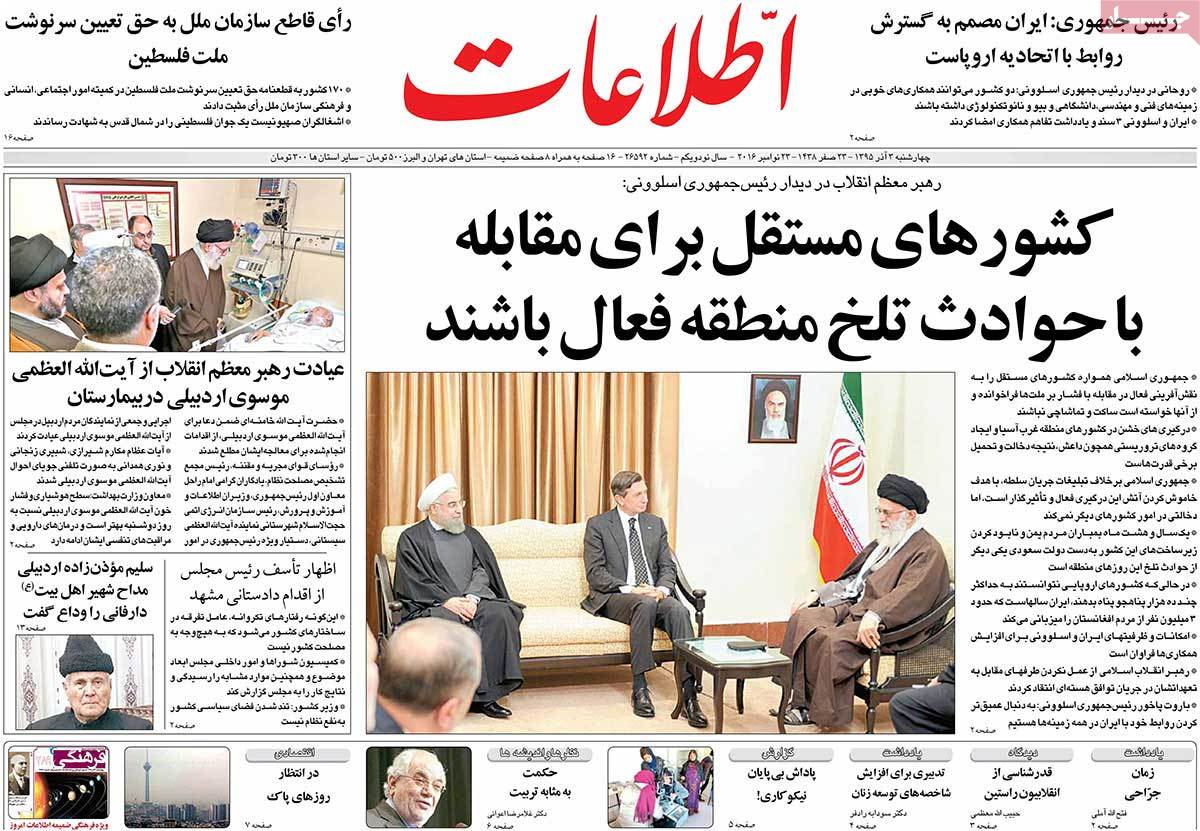 ---
Haft-e Sobh:
1- These Two Wealthy Men: General Soleimani and Zarif Still Enjoy Highest Rates of Public Trust
2- Instagram Hits the Last Nail on TV's Coffin: Most Popular Social Network Introduces Its Live Video Feature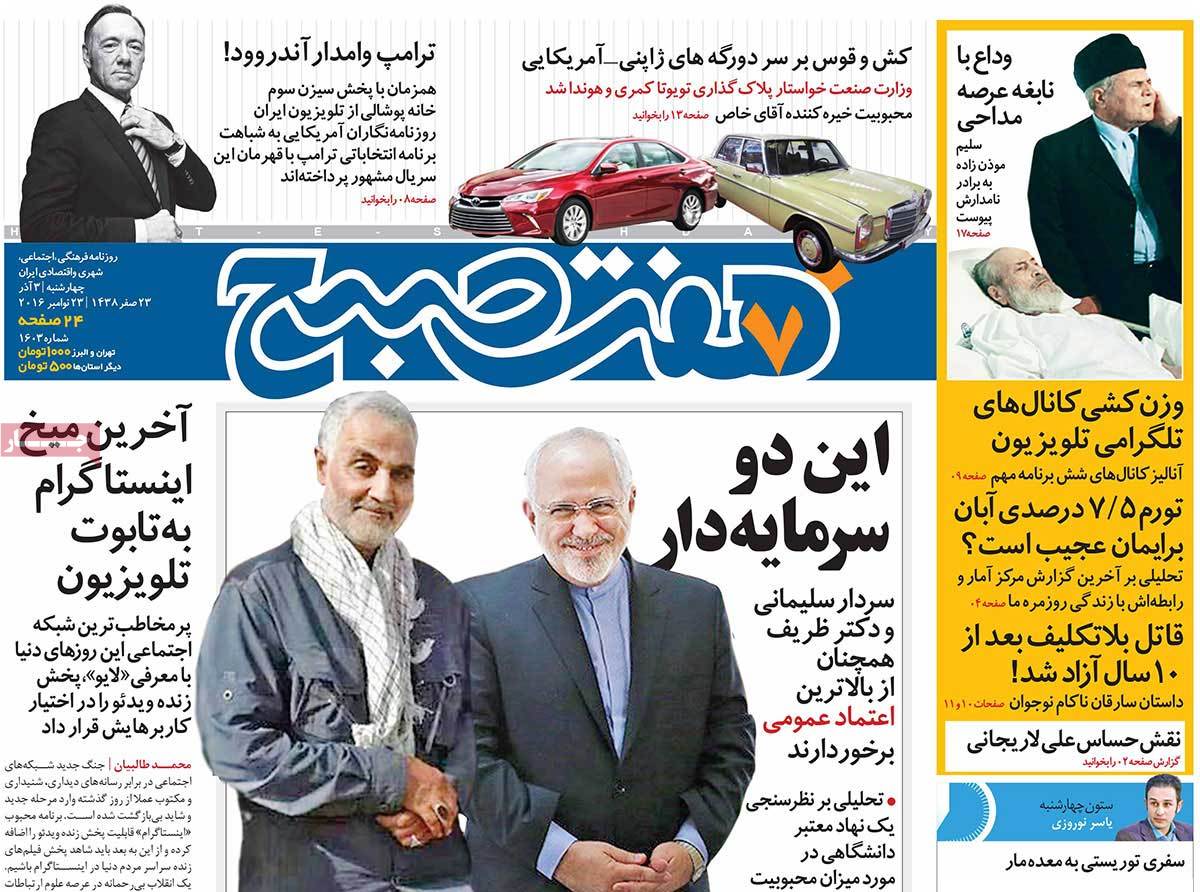 ---
Hemayat:
1- Leader Harshly Criticizes Other Side's Failure to Fulfil Its Nuclear Commitments
2- 220 MPs Call for Government's Action against US Extension of Anti-Iran Sanctions
3- Syrian Army Continues Progress in Eastern Aleppo
4- ISIS' Counterattack for Re-Occupation of Tal Afar Airport Is Defused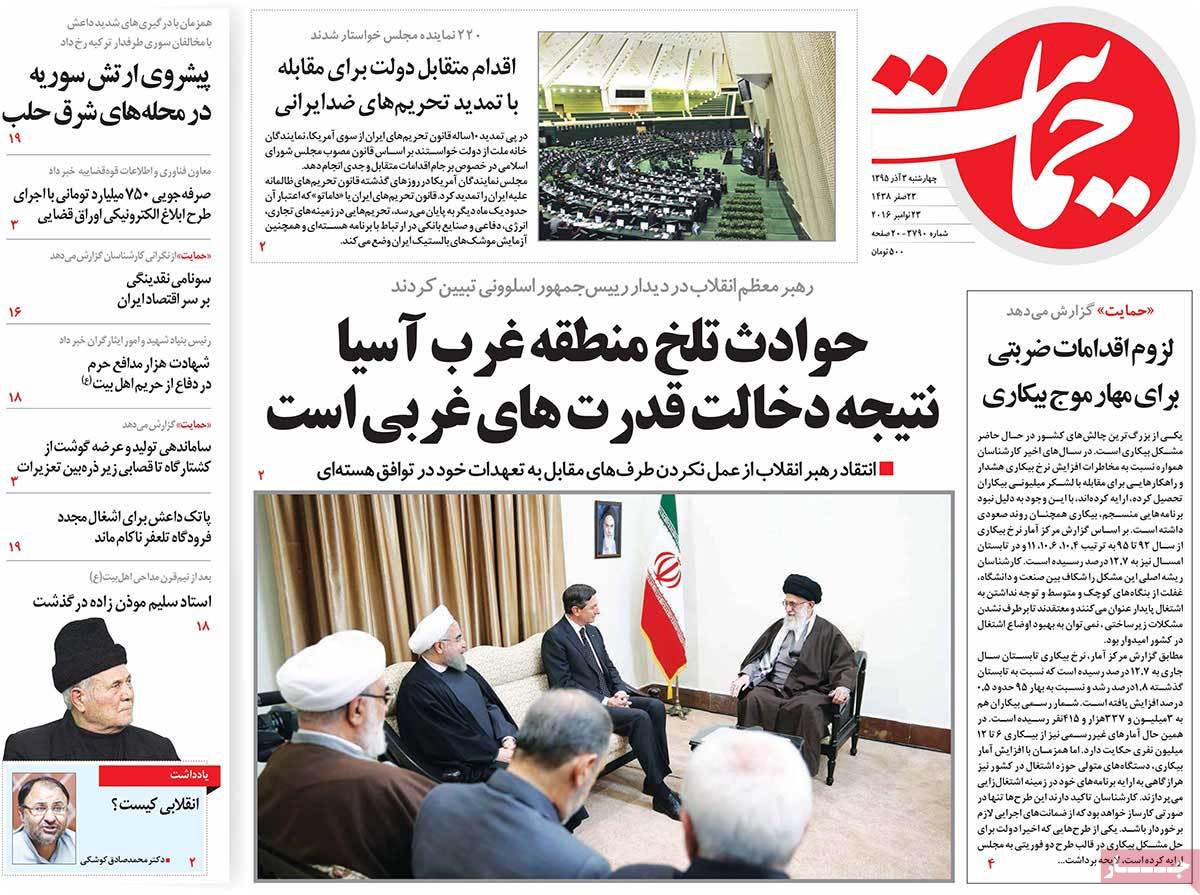 ---
Iran:
1- Rouhani and Slovenian Counterpart: Iran and Europe Seek to Use Post-JCPOA Opportunities
2- Sub-Zero Temperature in 20 Iranian Provinces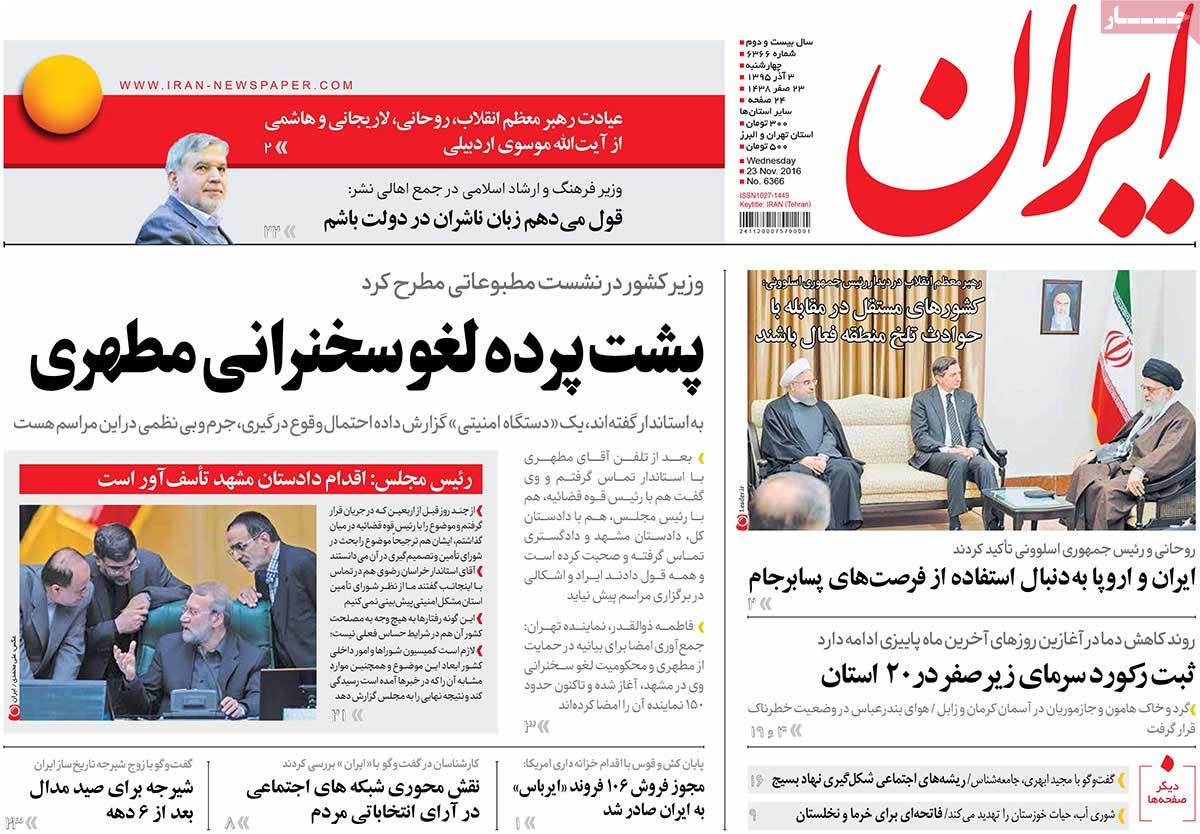 ---
Jame Jam:
1- Iran's Leader Urges Independent Countries to Be Active against Bitter Regional Developments
2- Global Concern for Trump's First 100 Days
---
Javan:
1- 50 Plans in US for Countering Nuclear Deal; Iran's Parliament Speaker: Leader Repeatedly Warned that We Can't Rely on Them and Their Promises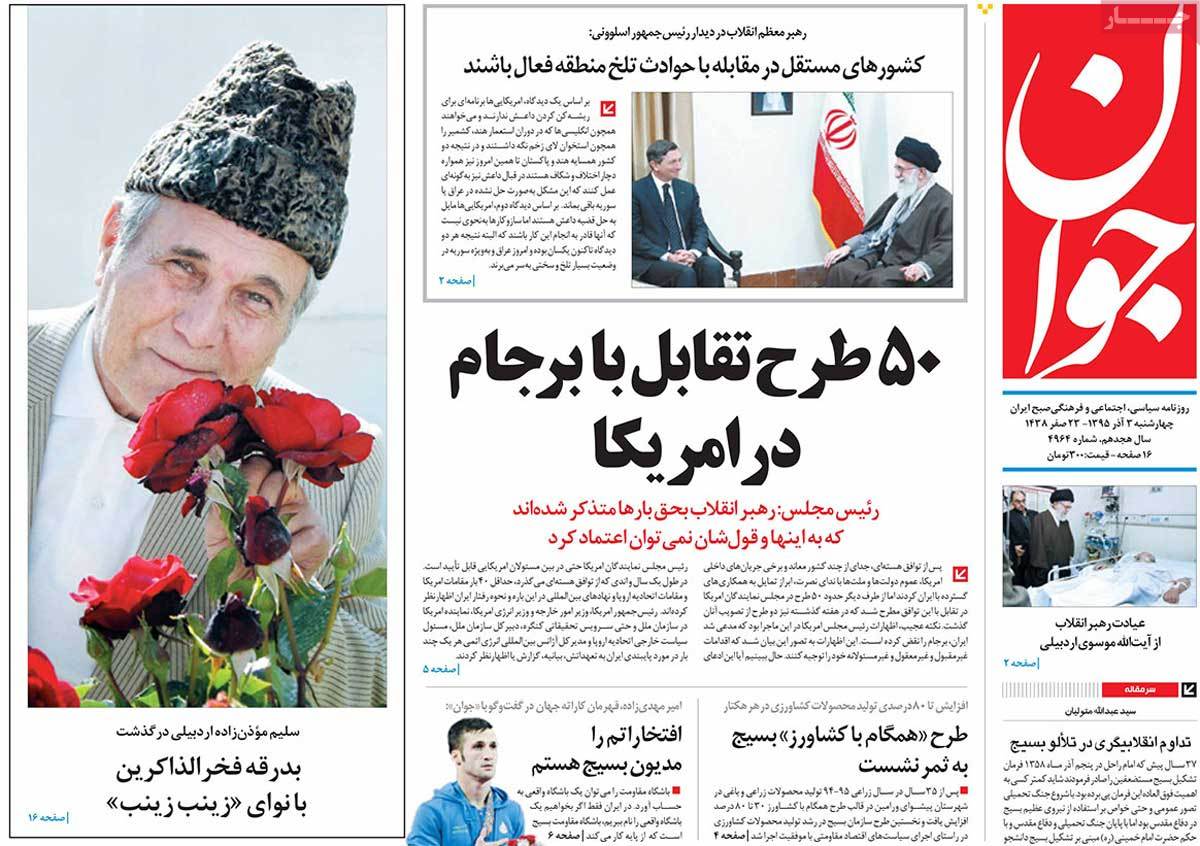 ---
Jomhouri Eslami:
1- Leader: Violent Conflicts in Western Asia and Emergence of Such Terrorist Groups as ISIS Are Results of Interference and Imposition of the Will by Certain Powers
2- Former Italian FM Reveals West's Role in Equipment of Terrorists in Syria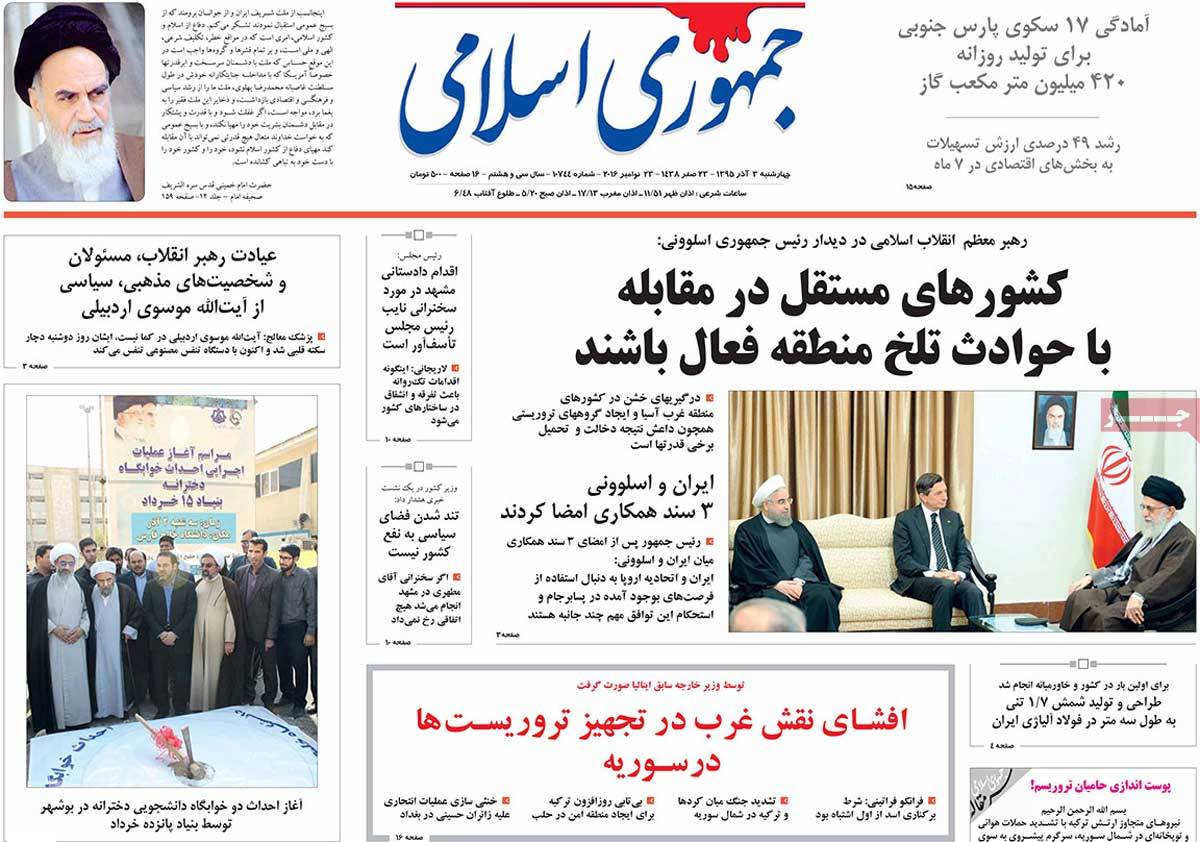 ---
Kayhan:
1- Leader: US Either Doesn't Want to Fight ISIS or It Can't Do So
2- Which One's Embarrassing: Cancellation of Speech or the Fact that Rouhani's Government Has Done Nothing?
3- People's Cooperation with Armed Forces, the Secret behind Army's Amazing Progress in Mosul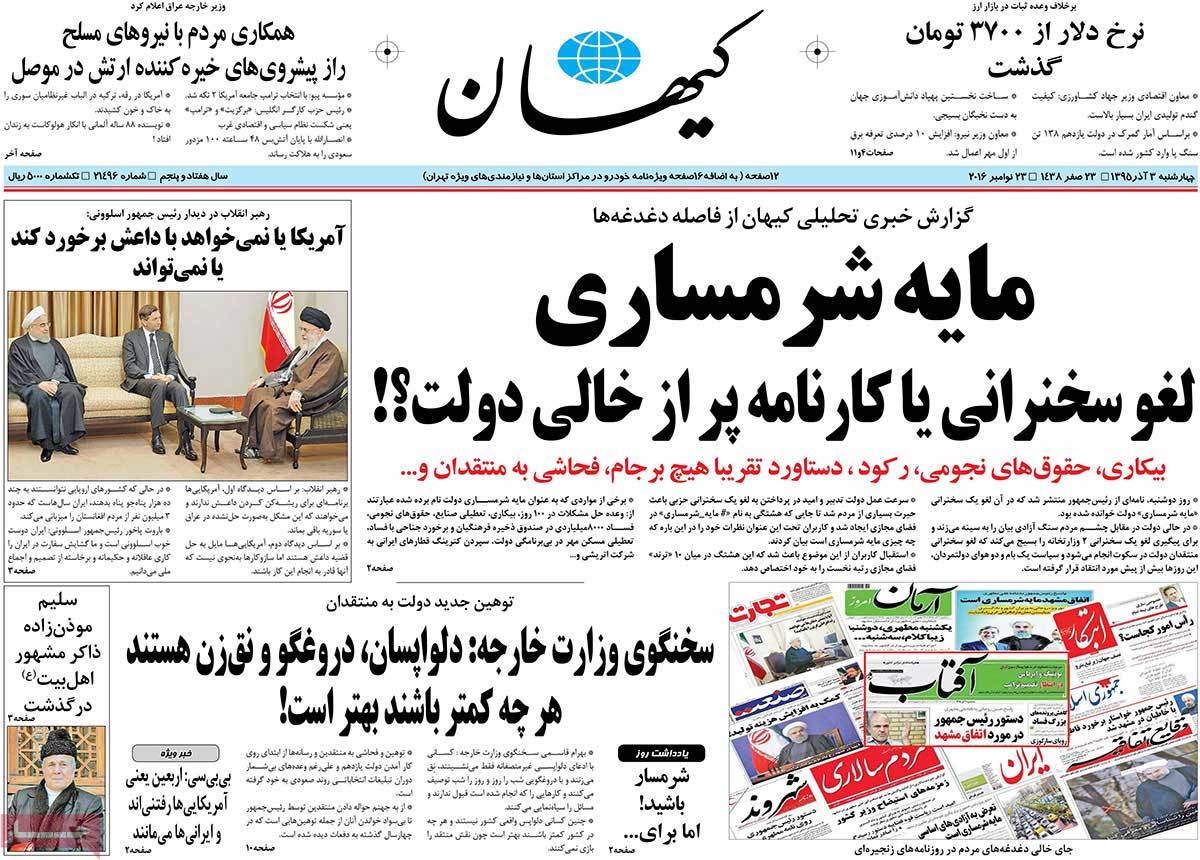 ---
Resalat:
1- Leader: US Wants to Keep ISIS like an Open Woundl European Countries Failed to Give Asylum to Thousands of Refugees, But Iran Is Now Hosting 3 Million Asylum-Seekers
2- US Starts Breaking Its Promises in Int'l Accords: Trump Says US Will Exit Trans-Pacific Partnership; Japanese PM Says TPP Is Meaningless without US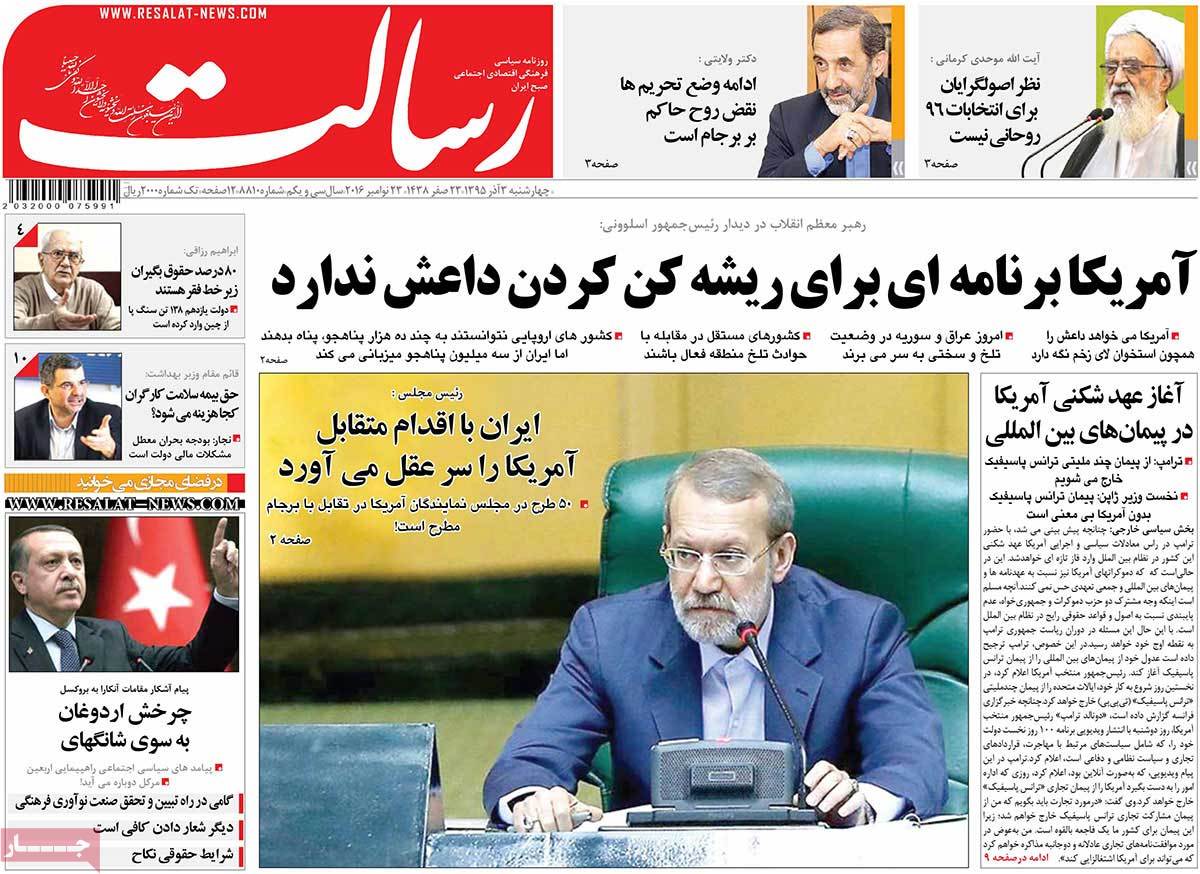 ---
Shahrvand:
1- Renovation of Ties in a Snowy Day: Iran's President Meets His Slovenian Counterpart; Ljubljana's Embassy in Tehran to Be Reopened after 4 Years
2- Airbus' Trade Delegation Is in Tehran
---
Shargh:
1- Hamas' Problem Is Not Money: Senior Official Talks about Palestinian Group's Ties with Iran
---
Sobh-e Now:
1- Trump to American Media: You're Liars! US President-Elect to CNN Chief: I Hate You! You're All Liars! Shame on You!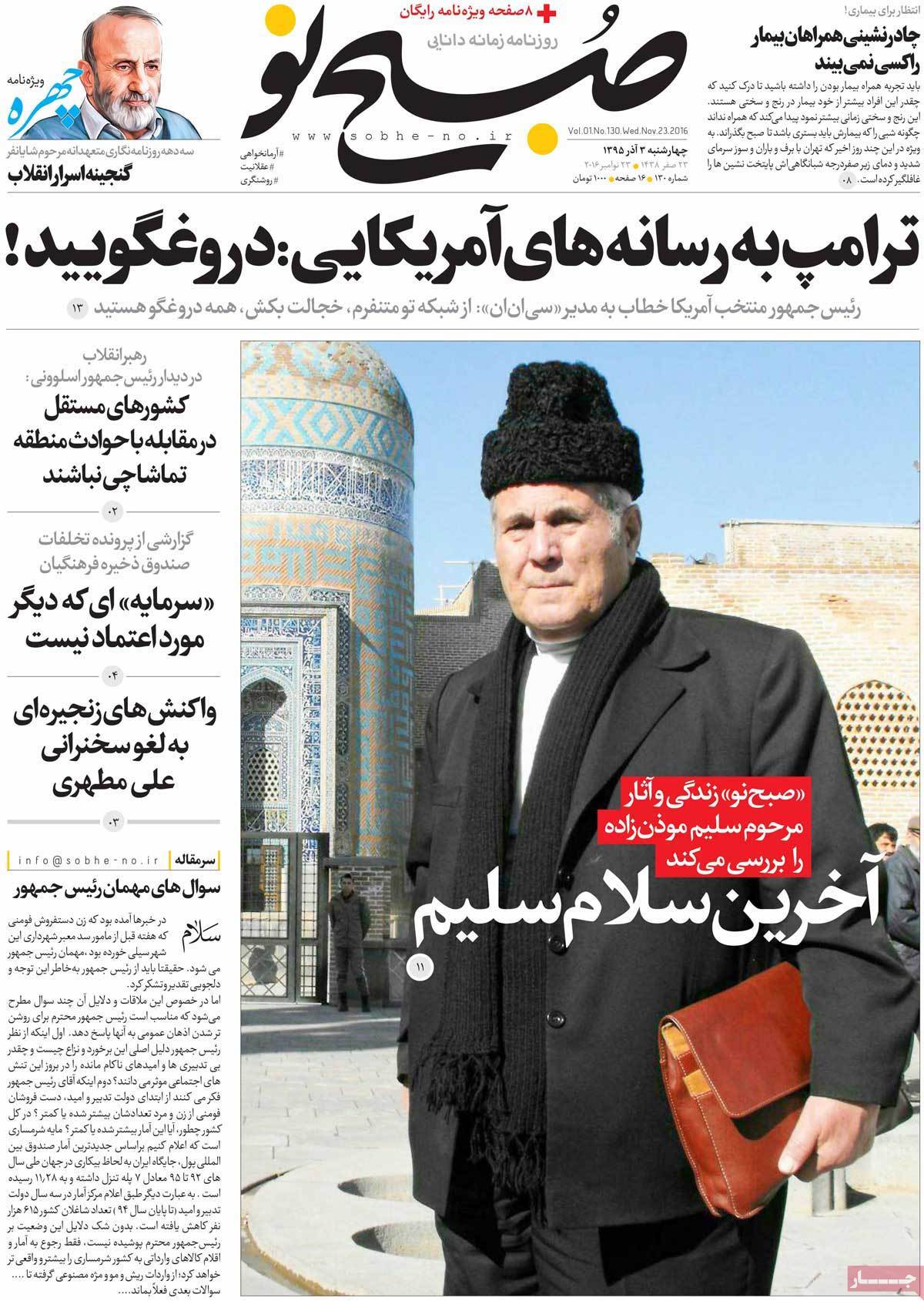 ---
Vaghaye Ettefaghieh:
1- Shooting the Nature: A Look at the Impact of War on Dust Crisis on International Day of "Environment in War"
2- Environment Chief: ISIS' Attack on a Big Sulphur Warehouse near Mosul Caused a Sulphur Blooming that Could Lead to Acid Rain in Iran
3- Iran's Nuclear Chief: There's a Relationship between War and Environment
[:es]
La prensa iraní de hoy ha cubierto la visita del estadista esloveno, Borut Pahor, a Irán, donde ha mantenido encuentros por separado, con su homólogo, Hasan Rohani, y con el Líder de la Revolución Islámica, el Ayatolá Seyed Ali Jamenei.
Además, los diarios prestaron una especial atención a dicha reunión, donde el Guía de Irán ha mencionado observaciones de suma importancia en cuanto a los avatares regionales, la intervención de las potencias mundiales y la cuestión de refugiados que escapaban de guerra en Asia Occidental.
La agenda de los primeros cien días del mandato de Donald Trump, como presidente de Estados Unidos de América, y la autorización de Washington para la venta de aviones Airbus a Irán, también recibieron una buena cobertura.
Los temas antes mencionados, así como varias otras cuestiones se destacan en los siguientes títulos:
Abrar:
EL presidente Rohani anuncia la inminente reapertura de la embajada de Eslovenia en Irán.
Rohani, en la reunión con las autoridades eslovenas: "Irán está decidido a fomentar sus vínculos con los países amigos, en particular, en la Unión Europea."
La Secretaría Estado de EEUU: "No sabemos quién compra el agua pesada de Irán."; El director de la Agencia de Energía Atómica de Irán: "Omán comprará agua pesada de Irán."
Acusaciones del Consejo de Relaciones Internacionales del Golfo Pérsico contra Irán.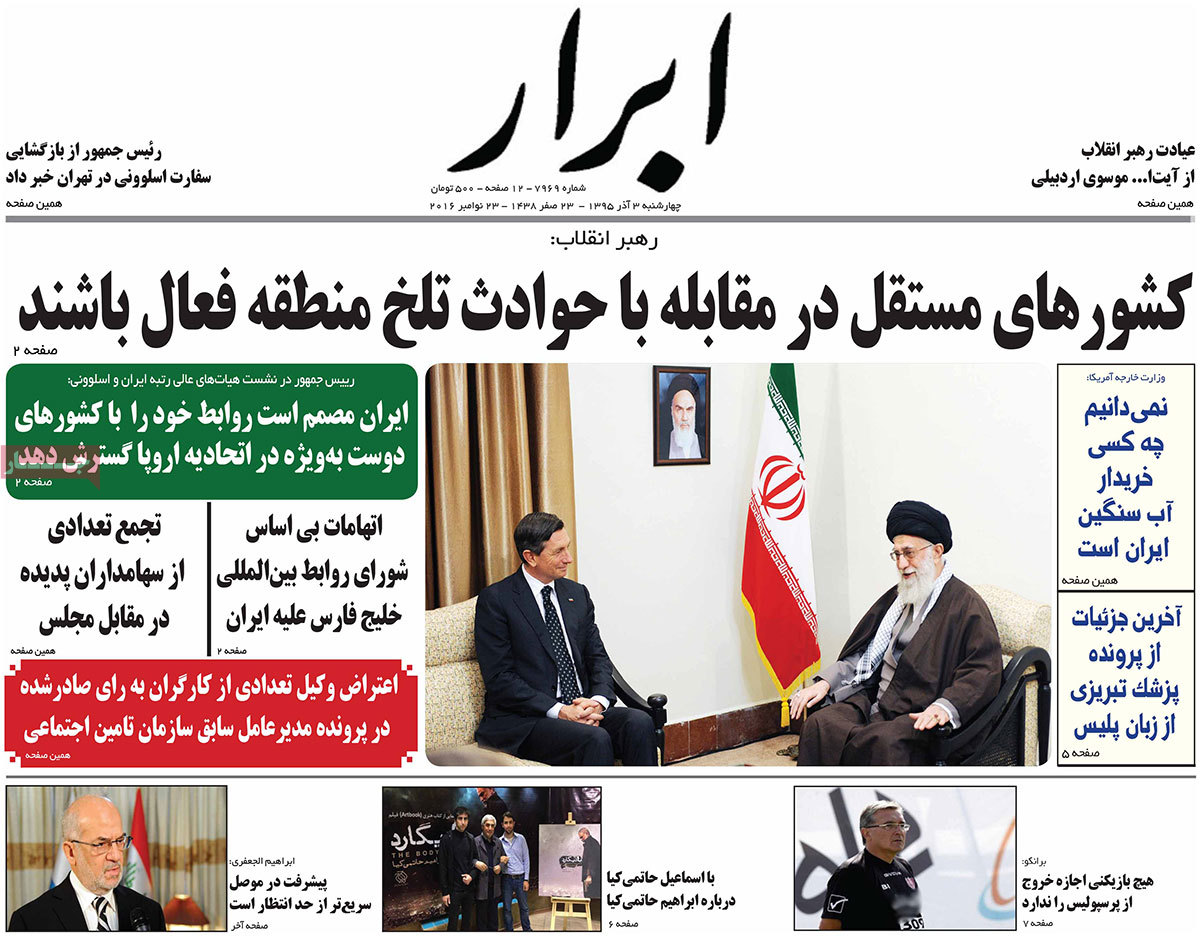 ---
Abrar Eqtesadi:
Culmina el financiamiento de la compra de 77 aviones por Irán.
Gigante petrolero británico forma un comité para negociar con Irán.
El parlamento iraní autoriza la cooperación económica del país con Hungría, Eslovaquia y Lituania
Duplica la tasa de inversión industrial en Irán.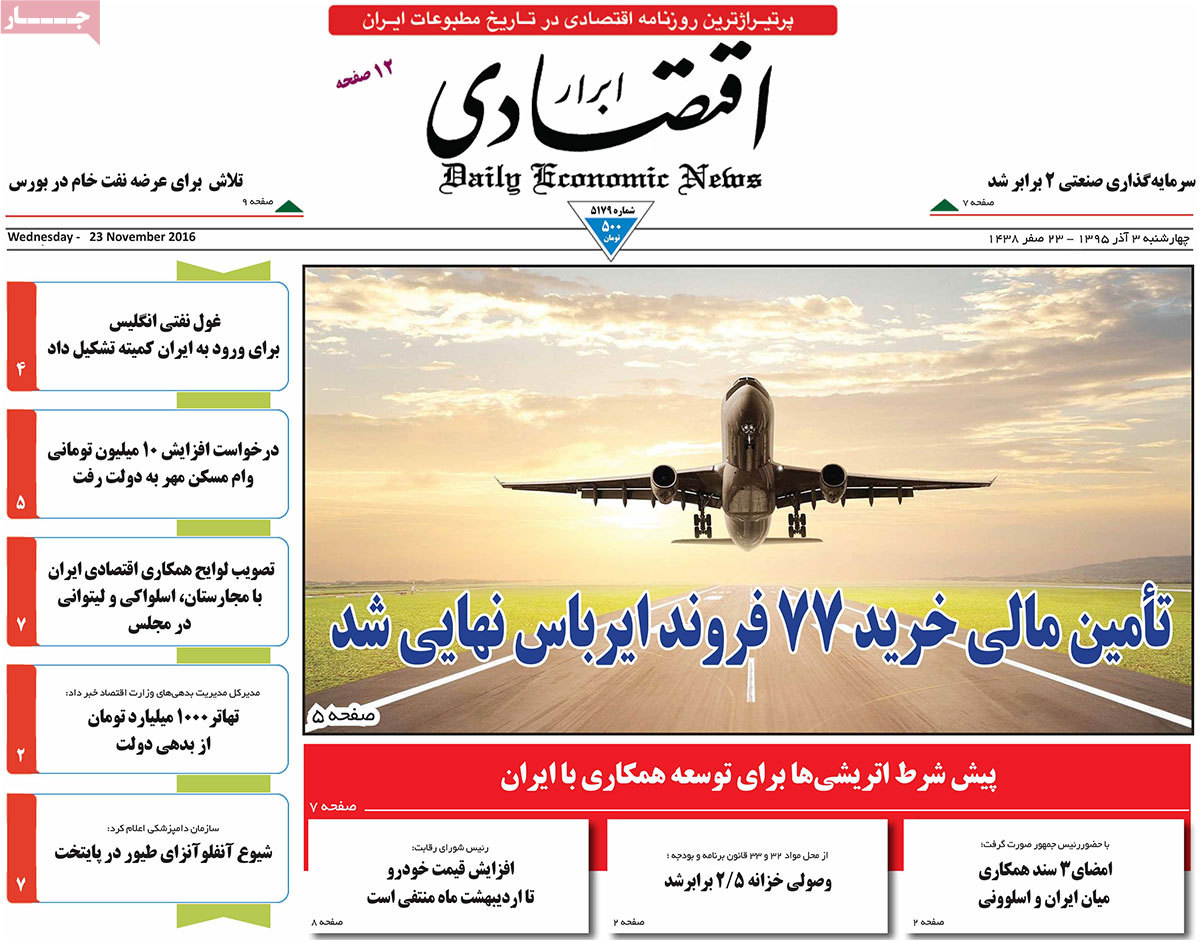 ---
Afkar:
El director de la Agencia de Energía Atómica de Irán: "Irán venderá 11 toneladas de agua pesada a Omán."
El ministro de Inteligencia de Irán desmonta una célula terrorista en el este del país.
---
Aftab Yazd:
Día de Motahari (vicepresidente de la Asamblea Consultiva Islámica) en el parlamento; Incluso el Presidente del Parlamento consideró "deplorable" lo ocurrido en Mashhad (abolición de la conferencia del Ali Motahari).
---
Armane Emruz:
El líder de Irán: "EEUU no tiene planes para erradicar a Daesh."
El parlamento entra en el campo de batalla; 28 diputados interrogan al ministro de Justicia; Motahari marcha a la ciudad de Kerman para dar conferencia.
Anuncian la agenda de los primeros 100 días de Trump; queda excluido el acuerdo nuclear.
---
Asrar:
Airbus venderá 112 aviones a Irán.
La Armada estadounidense ayuda a 3 marineros iraníes en el Golfo Pérsico; Una fuente noticiera del país norteamericano ha informado sobre la ayuda de la Marina de EEUU a tres marinero iraníes tras volcar su barco en Golfo Pérsico.
---
Besharat_e_No:
Un sociólogo iraní estudia la ineficacia del gobierno de Rohani: "Contamos con 3 gobiernos simultáneos."; "En Irán, al mismo tiempo, tenemos 3 gobiernos: crítico, no crítico y neutral; así que en tales condiciones no salimos adelante."; "El gobierno sólo tiene acceso a 30% de la economía y por eso no es capaz de modificarla."
Las mujeres mantienen su récord en Esperanza de Vida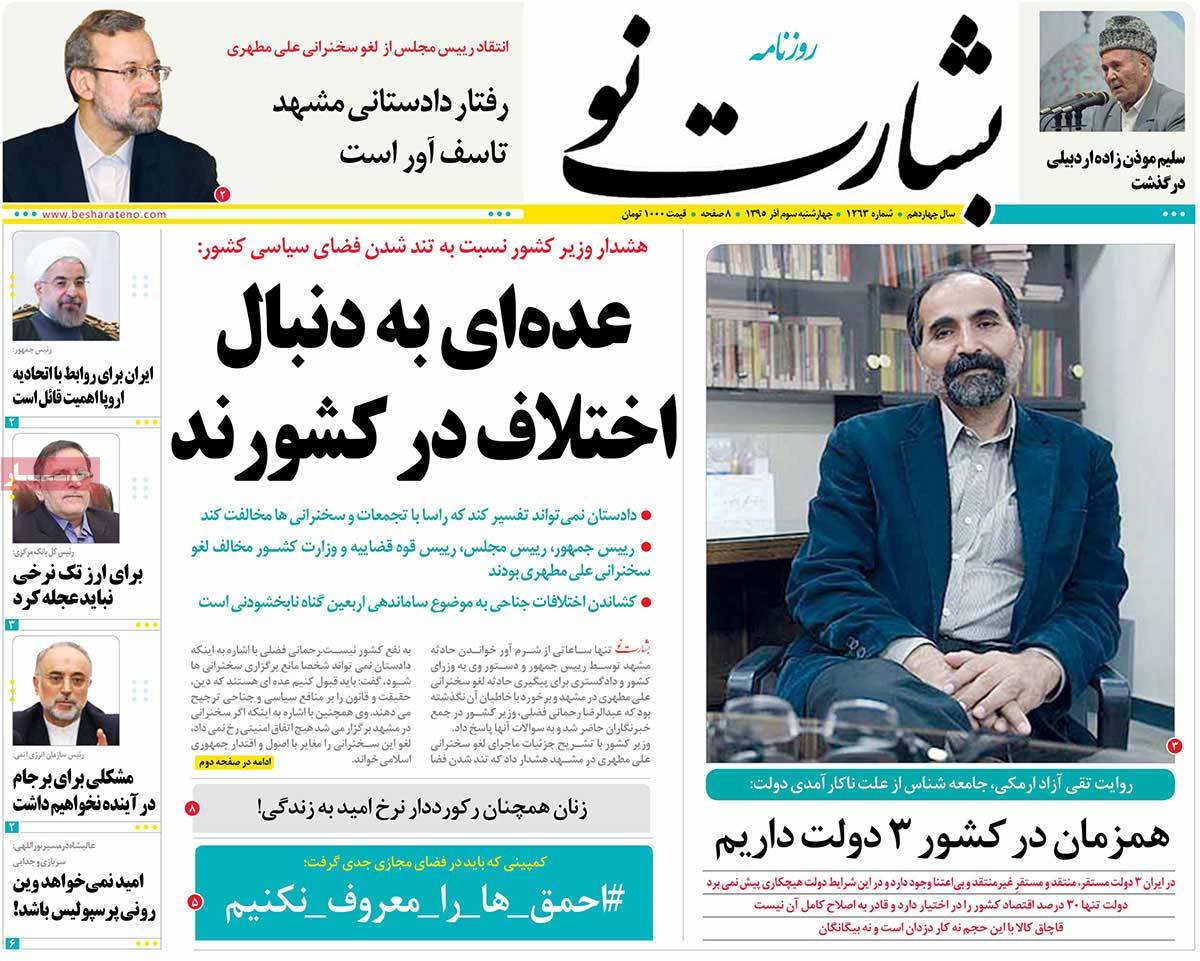 ---
Ebtekar:
Un comité de alto rango trata la reconstrucción de la OPEP
La economía se encuentra en una laguna de heterogeneidad política.
Espinoza, un filósofo moralista; con motivo del aniversario de nacimiento de adalid de Liberal Democracia
---
Etemad:
El ministro de Economía iraní habla en el parlamento de las dificultades del país: Se olvida la Revolución Económica; Los diputados: "La economía necesita a Kamal Darwish y Mahathir Mohamad".
El parlamento apoya a su vicepresidente.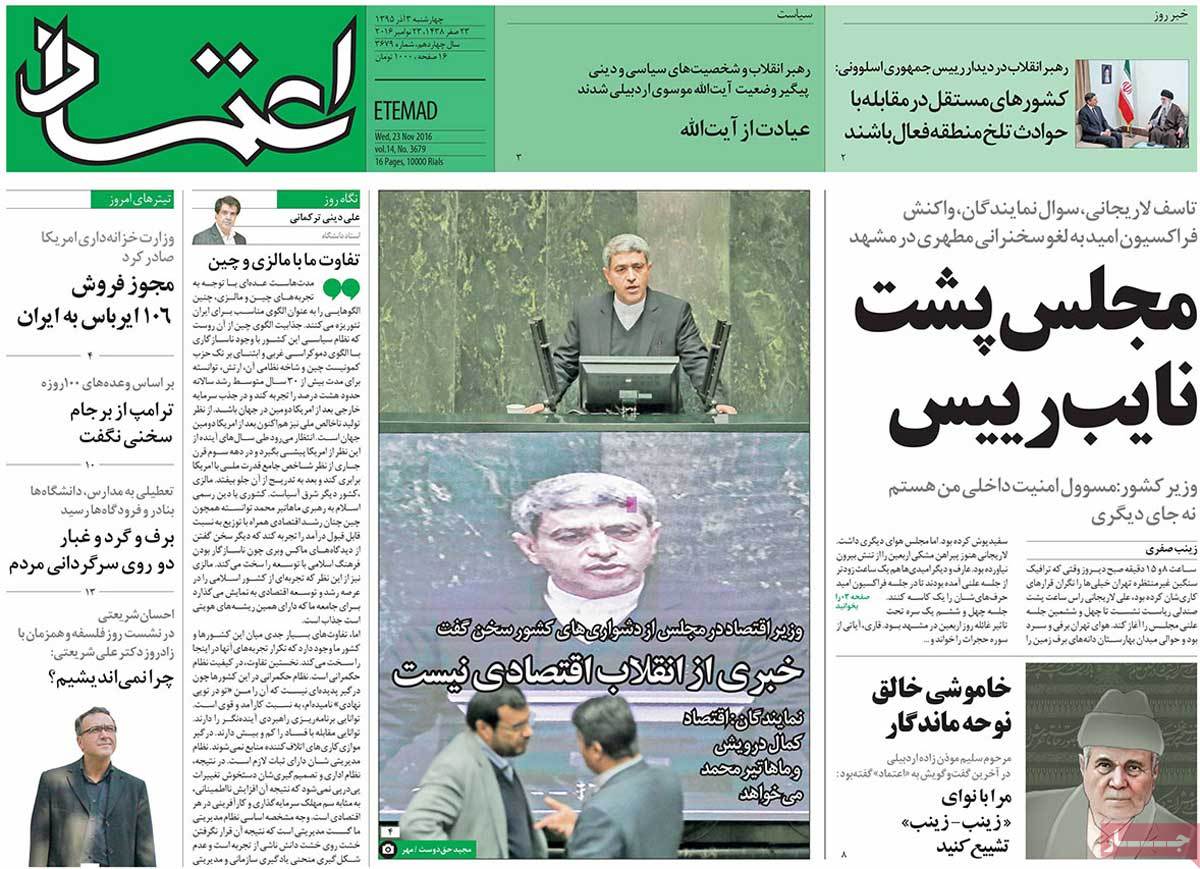 ---
Etelaat:
El voto unánime de la ONU al derecho de soberanía del pueblo palestino.
Irán y Eslovenia firman 3 documentos y memorandos de entendimiento y cooperación.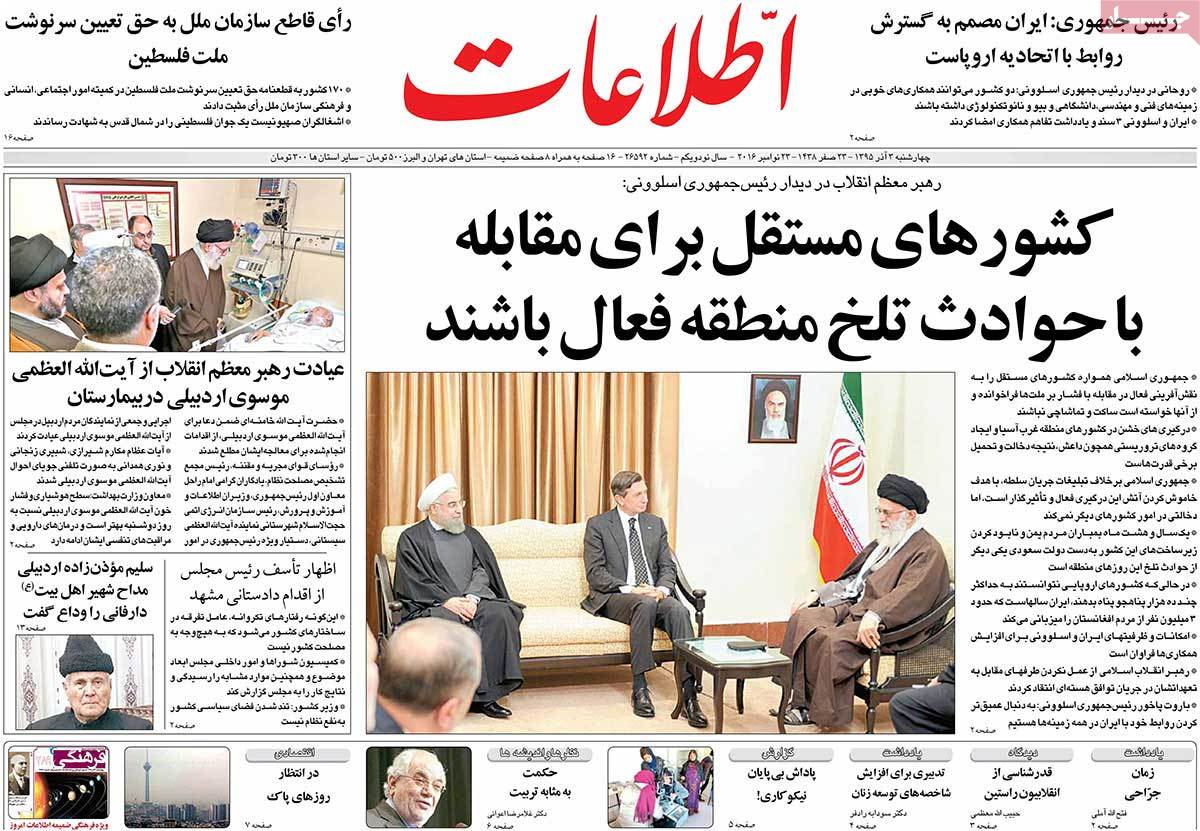 ---
Haft_e_Sobh:
Estos dos capitalistas; El General Soleimani y Zarif siguen gozando de mayor confianza popular de los iraníes.
Instagram lanza actualización y ahora permite compartir videos en directo.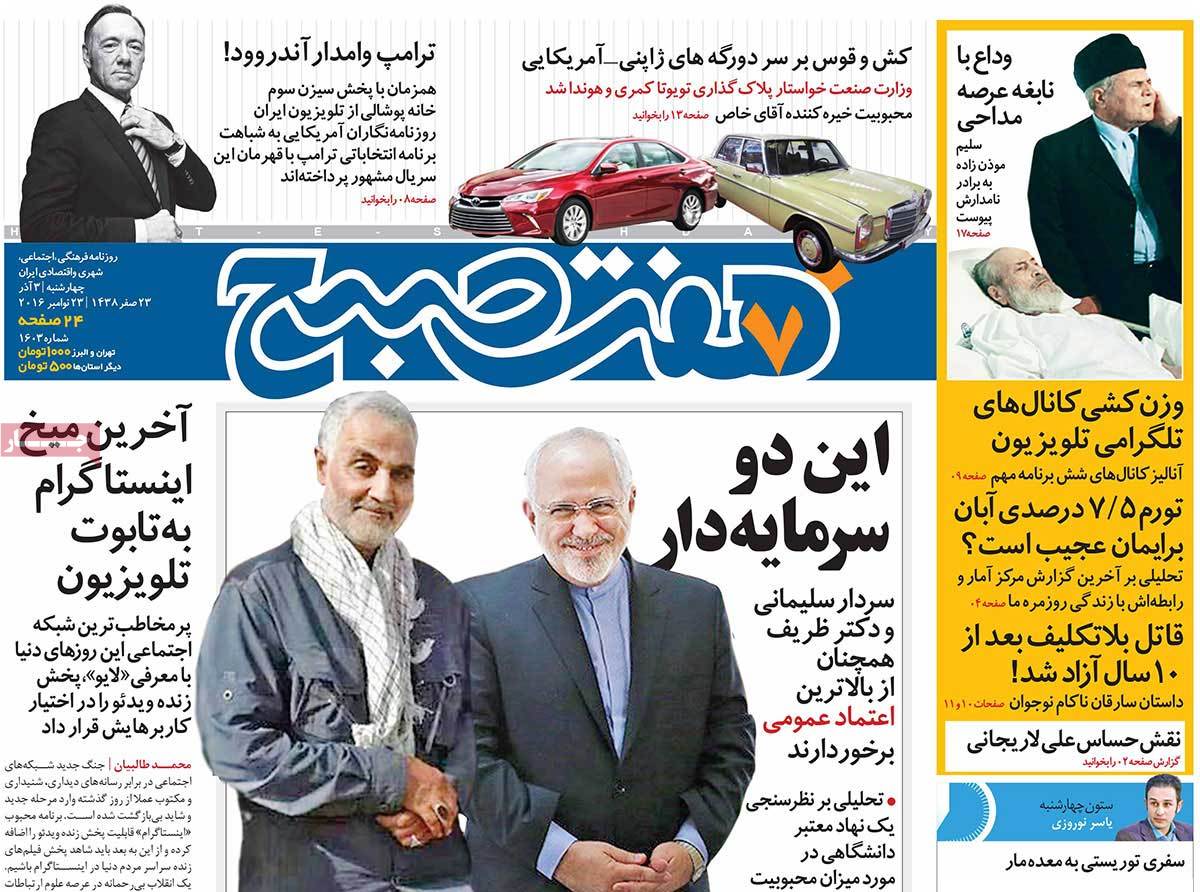 ---
Hemaiat:
El Líder de Irán critica el incumplimiento de promesas sobre el acuerdo nuclear por las potencias del G5+1
220 diputados del parlamento exhortan una reacción contundente ante las extensión de sanciones contra Irán por los EEUU
El ejército sirio avanza en el este de Alepo
Fallan los ataques de EIIL para recuperar el aeropuerto de Talafar.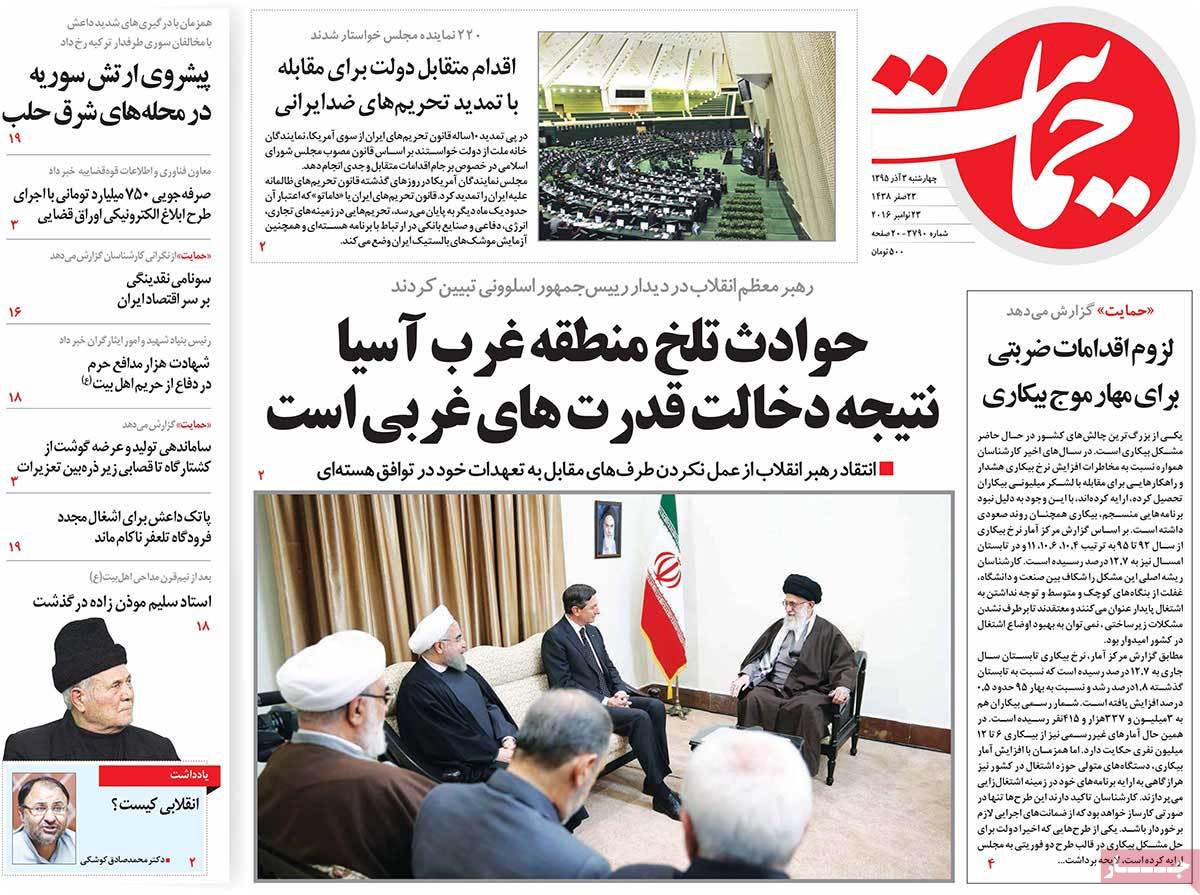 ---
Irán:
Los estadistas de Irán y Eslovenia abogan por aprovechar las oportunidades generadas en el periodo post acuerdo nuclear.
20 provincias del país registran temperaturas de menos cero.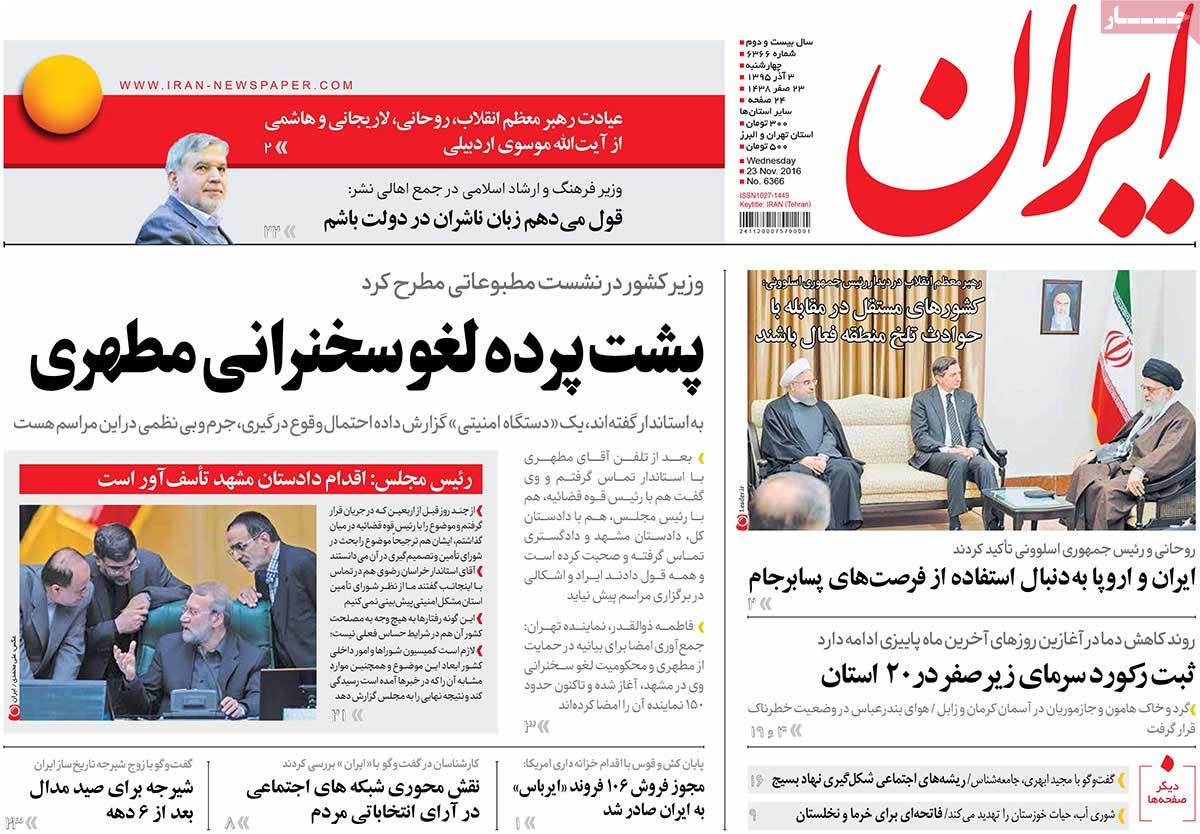 ---
Yaam_e_Yam:
El Líder de Irán durante un encuentro con el mandatario esloveno: "Los países soberanos deben reaccionar ante los avatares trágicos de la región."
La preocupación mundial por los primeros 100 días del mandato de Trump.
---
Yavan:
50 proyectos para neutralizar al PIAC en EEUU; El Presidente del Parlamento: "El Líder de Irán advirtió en repetidas ocasiones que ellos (estadounidenses) no cumplirán sus promesas."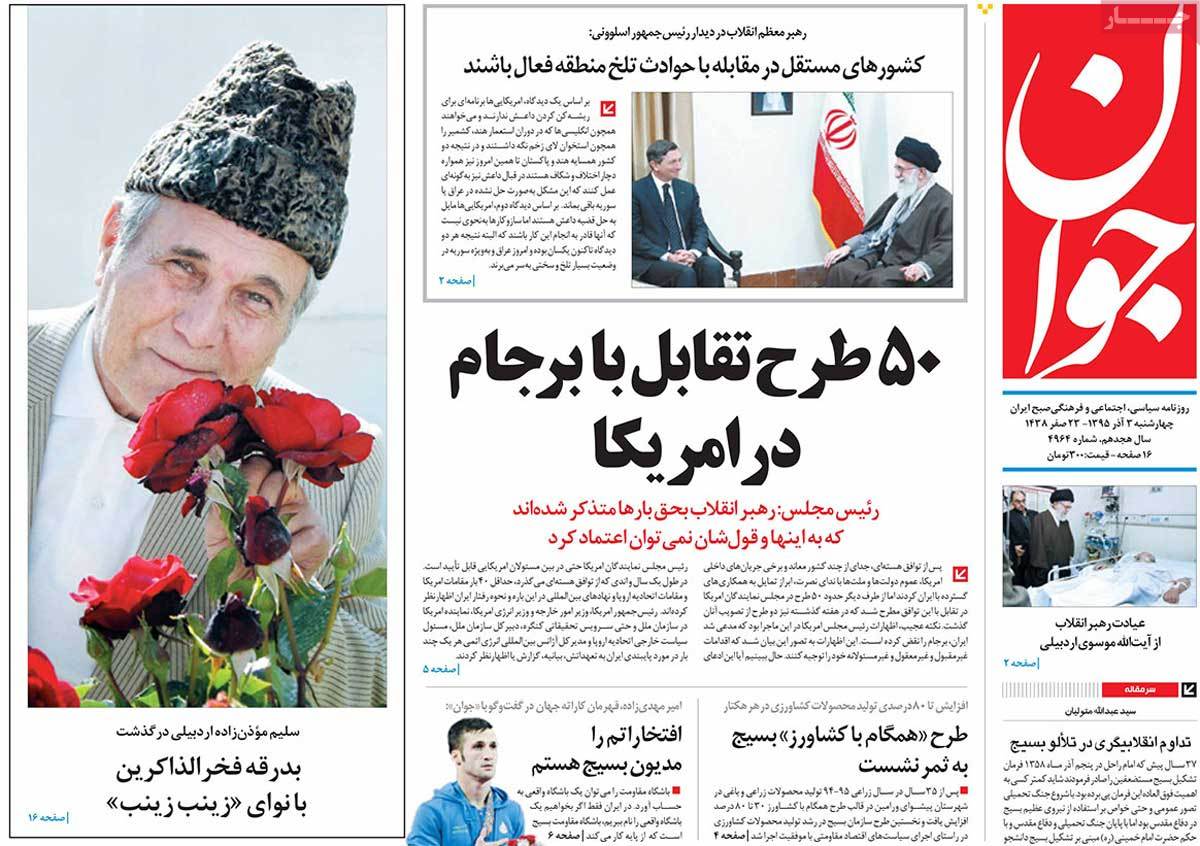 ---
Yomhuri Eslami:
EL Líder de Irán: "Los conflictos armados en la región de Asia Occidental son saldos de la intervención e imposición de algunas potencias mundiales."
El ex canciller italiano revela el papel del Occidente en armar a los terroristas en Siria.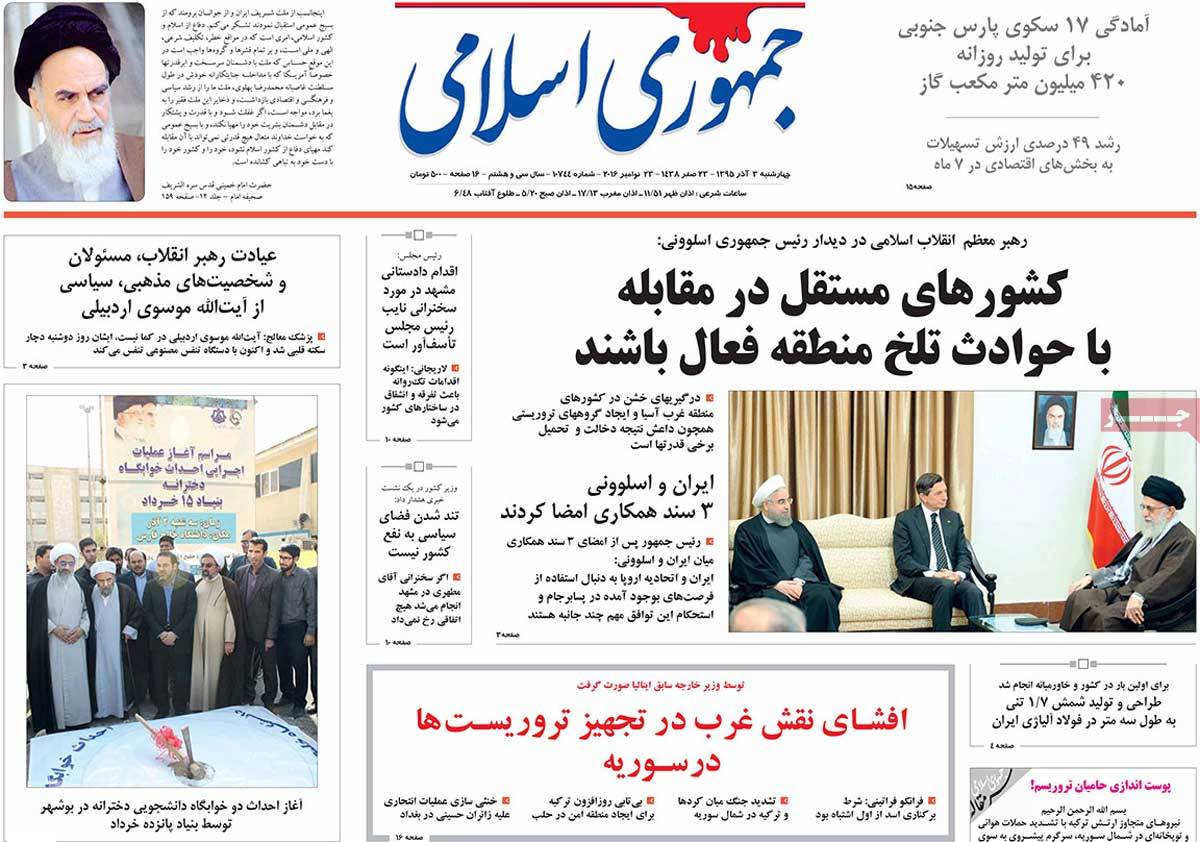 ---
Kayhan:
El Líder: "EEUU, o no busca o no puede erradicar a Daesh."
¿Cuál es una vergüenza? ¿Cancelar una conferencia o las políticas ineficaces del gobierno?
La colaboración del pueblo, secreto del avance rápido de fuerzas armadas iraquíes en Mosul.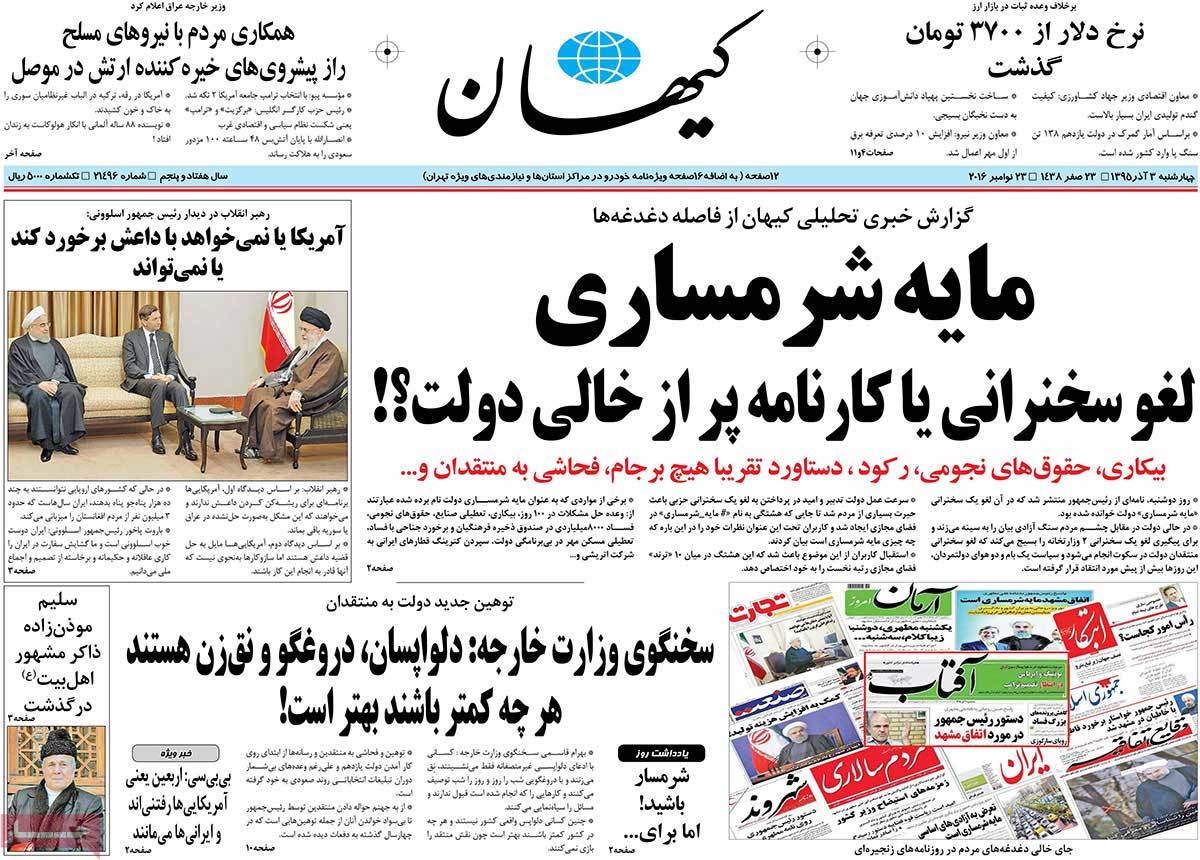 ---
Resalat:
El Líder de Irán durante un encuentro con el mandatario esloveno: "EEUU busca conservar a EIIL; Los países europeos no consiguieron dar asilo a una decenas mil de refugiados, mientras Irán acoge a 3 millones de refugiados afganos."
Inicia nueva ronda de incumplimiento de promesas por parte de EEUU en los convenios internacionales; Trump anuncia su prioridad como presidente va a ser retirar a ese país de la Asociación Transpacífica (TPP, según sus siglas en inglés); El premier de Japón: El acuerdo transpacífico sin Estados Unidos carece de valor.
El presidente del Parlamento: "Irán se pondrá en razón a EEUU mediante una reacción correcta."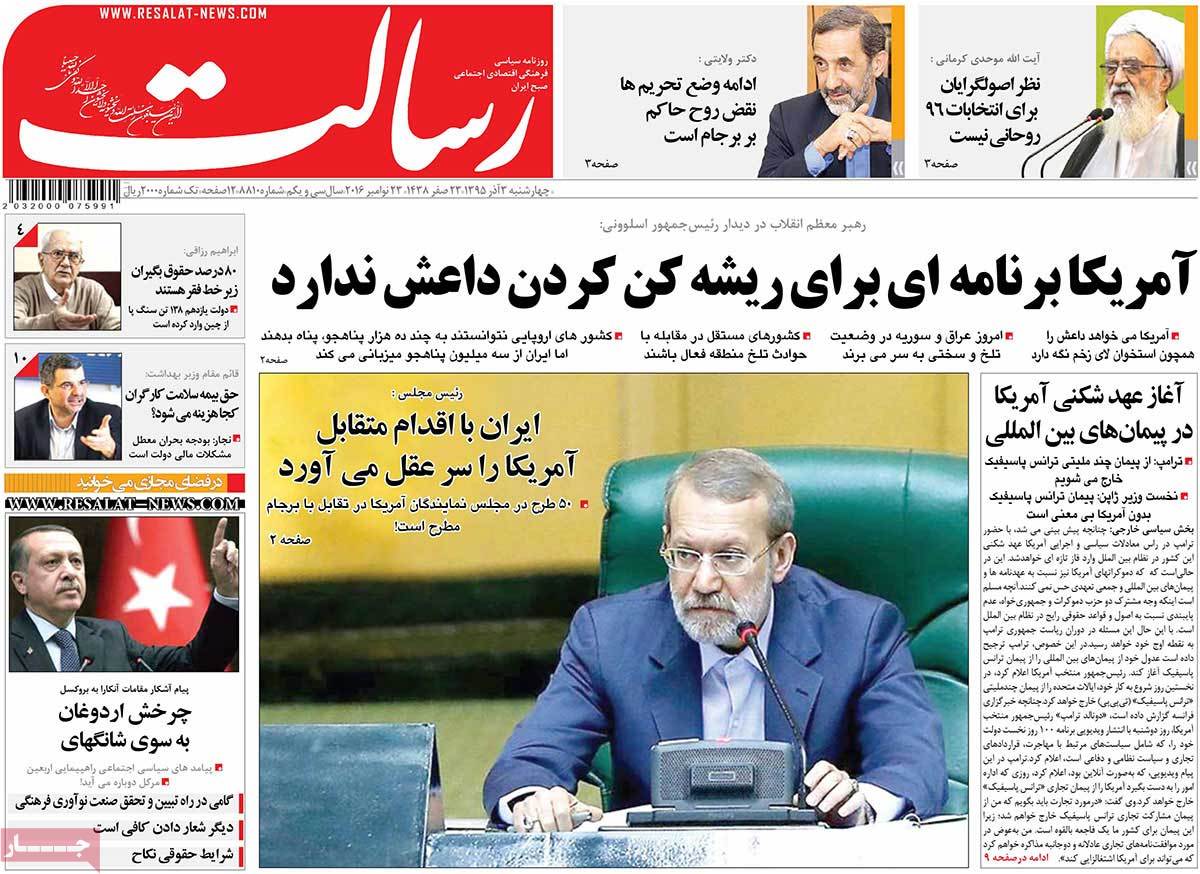 ---
Shahrvand:
Irán y Eslovenia reestablecen las relaciones en un día nevado; Rohani se entrevista con su par esloveno; Reabre la embajada del país europeo en Irán.
Una delegación comercial de Airbus se encuentra en Irán.
---
Shargh:
Representante del Movimiento de Resistencia Islámica de Palestina en Irán: "EL problema de HAMAS no consiste en dinero."
---
Sobh_e_No:
Trump, dirigiéndose a los medios de comunicación de EEUU: "Son mentirosos"; "odio el canal de CNN, ¡Qué Vergüenza! ¡Todos sois mentirosos! "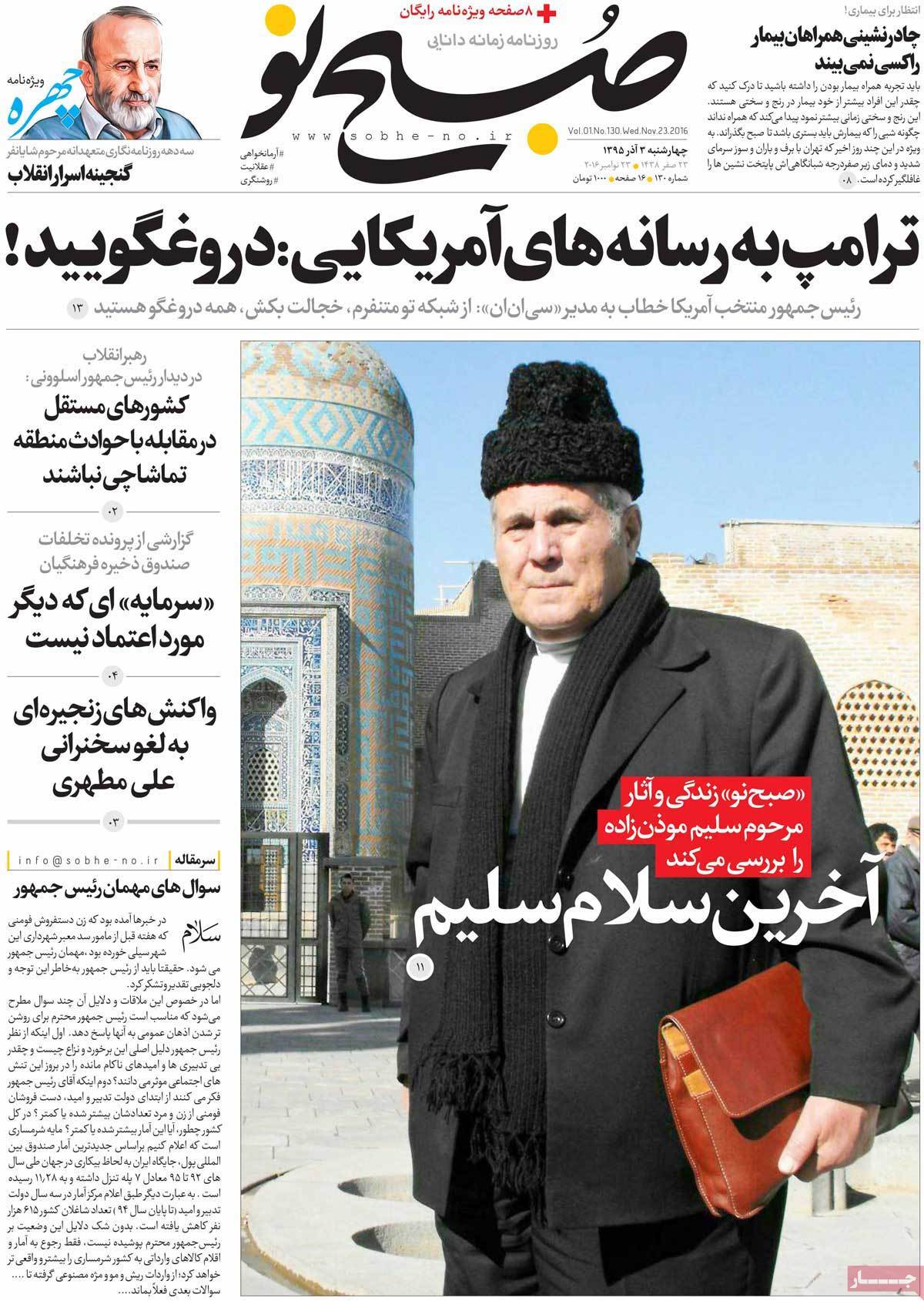 ---
Vaghaye Etefaghie:
Disparo contra la naturaleza: Una mirada al impacto de conflictos armados en la región en la contaminación climática, en el día internacional "Medio Ambiente en la Guerra."
La presidenta de la organización del Medio Ambiente de Irán: "Daesh provocó una nube sulfúrica que dio lugar a la lluvia ácida."
El director de la Agencia de Energía Atómica de Irán: "La guerra y el medio ambiente está relacionados."