IFP has taken a look at the front pages of Iranian newspapers on Thursday and picked headlines from 18 of them. IFP has simply translated the headlines and does not vouch for their accuracy.[:es]IFP ha echado una mirada a las portadas de periódicos iraníes, publicados el jueves, 17 de noviembre de 2016, y ha recogido titulares de 18 de ellos. IFP ha traducido simplemente los titulares y no es responsable de su veracidad.
Newspapers today covered the remarks made by the Leader of the Islamic Revolution Ayatollah Seyyed Ali Khamenei in a meeting with a group of people from Isfahan. They mainly pointed to Ayatollah Khamenei's comments about the US elections and the election of Donald Trump as the new president.
Another top story today was the Arbaeen processions, where millions of Shiite pilgrims are heading to the Iraqi holy city of Karbala to mark the fortieth day after the martyrdom of Imam Hussein.
The US House of Representatives' move to extend the anti-Iran sanctions for 10 years and the consensus between Democrats and Republicans in this regard also received great coverage.
The above issues, as well as many more, are highlighted in the following headlines:
Abrar:
1- One-Third of Eastern Mosul under Iraqi Army's Control
2- UN Condemns Russia's Occupation of Crimea
3- Saudi FM to Visit US
4- Hollande: Trump Won't Tear Apart Nuclear Deal with Iran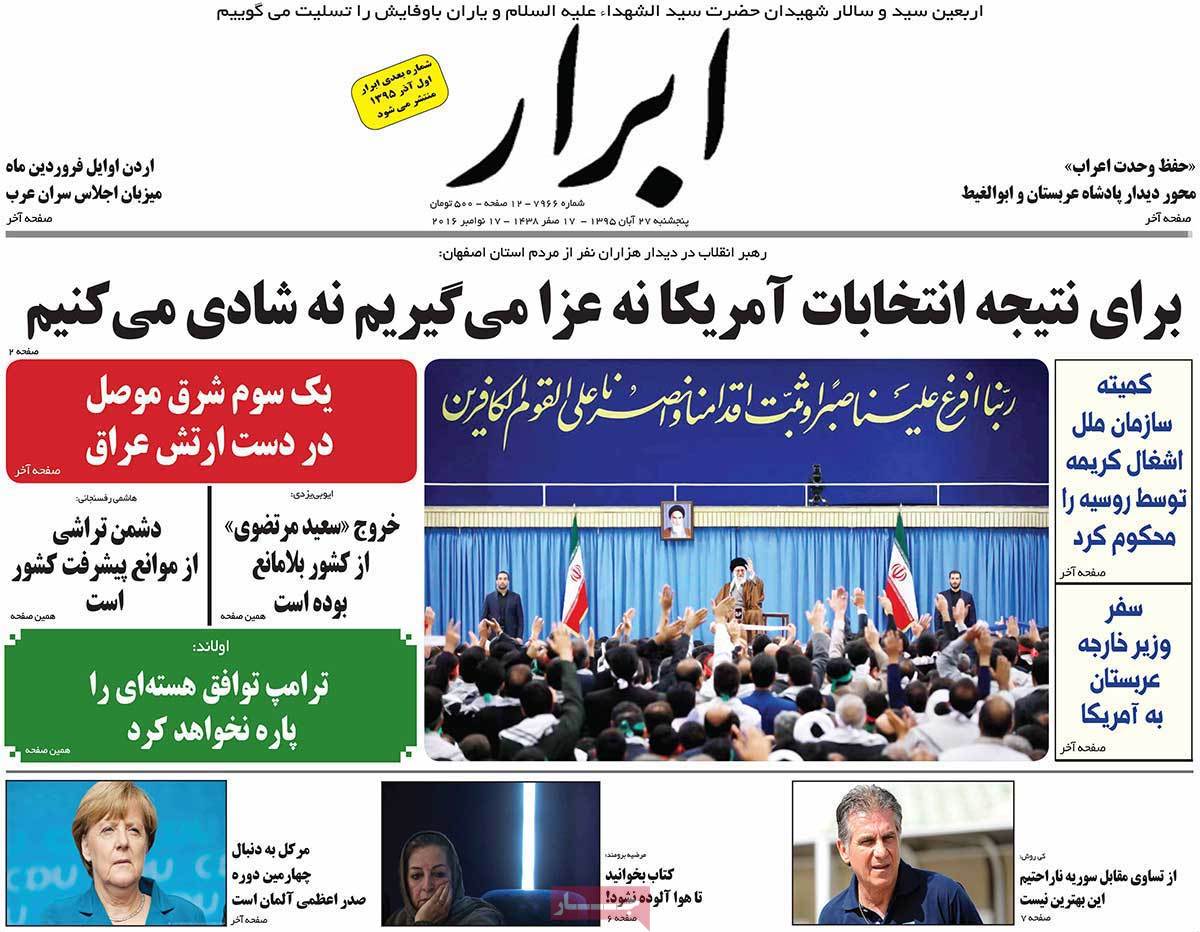 ---
Aftab-e Yazd:
1- Assad Cautiously Welcomes Trump's Election; Syrian President Says Trump Can Be Damascus' Natural Ally
2- Trump's First Wife Tells about Life of Mr. T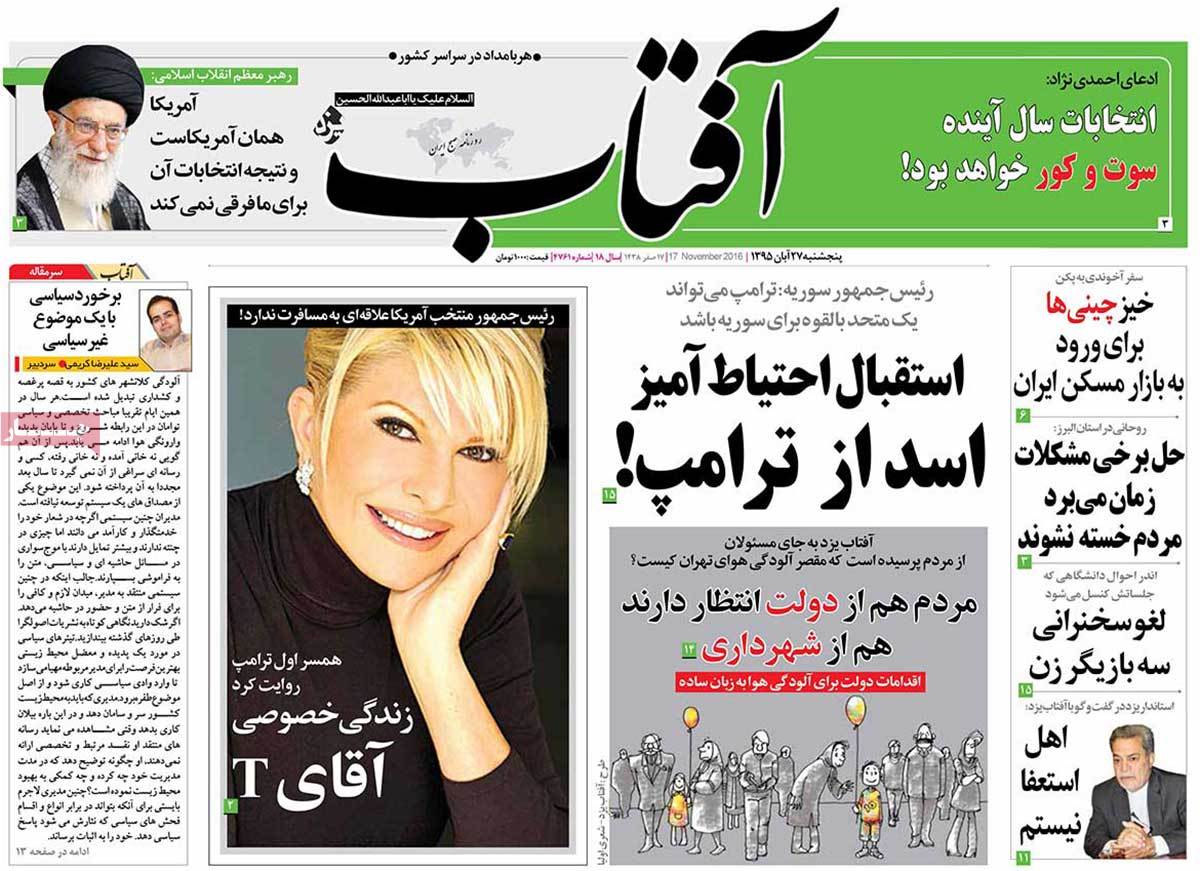 ---
Amin:
1- Millions of People in Arbaeen Pilgrimage: Symbol of Shiites' Power
---
Arman-e Emrooz:
1- We neither Bemoan nor Celebrate US Election Results: Leader
2- Rouhani: No One Can Scrap Iran Deal
3- Multinational Bank in Iran to Be Established by Iran, Venezuela, China, and Turkey
4- Rafsanjani Calls for an End to Censorship and Blockage of Information
---
Asr-e Azadi:
1- Iran's First Charity Organization Becomes 100 Years Old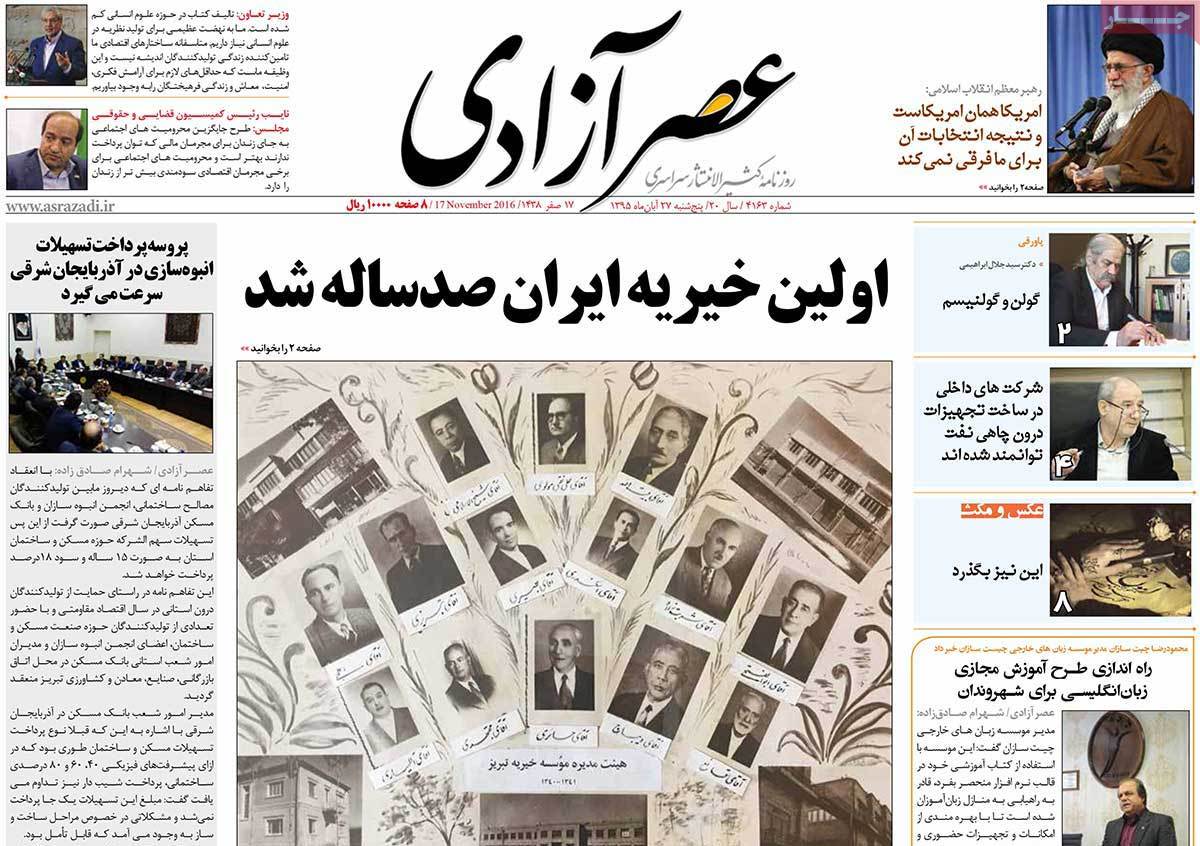 ---
Ebtekar:
1- National Resolve to Decrease Air Pollution: President
2- Air Pollution Incurs $22bn Damage on Iran: MP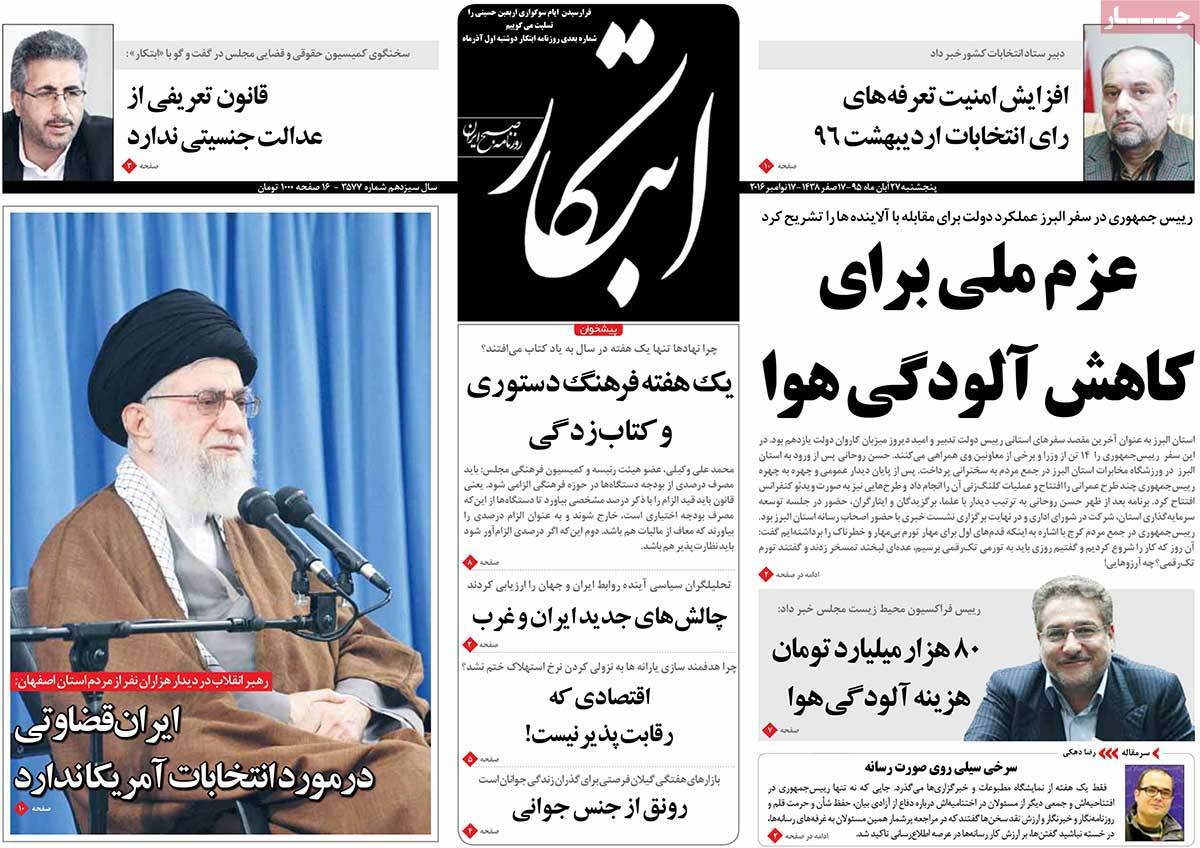 ---
Emtiaz:
1- Increase in Number of Respiratory Patients in Tehran
2- Arbaeen Pilgrimage Shows Unity of Muslim Society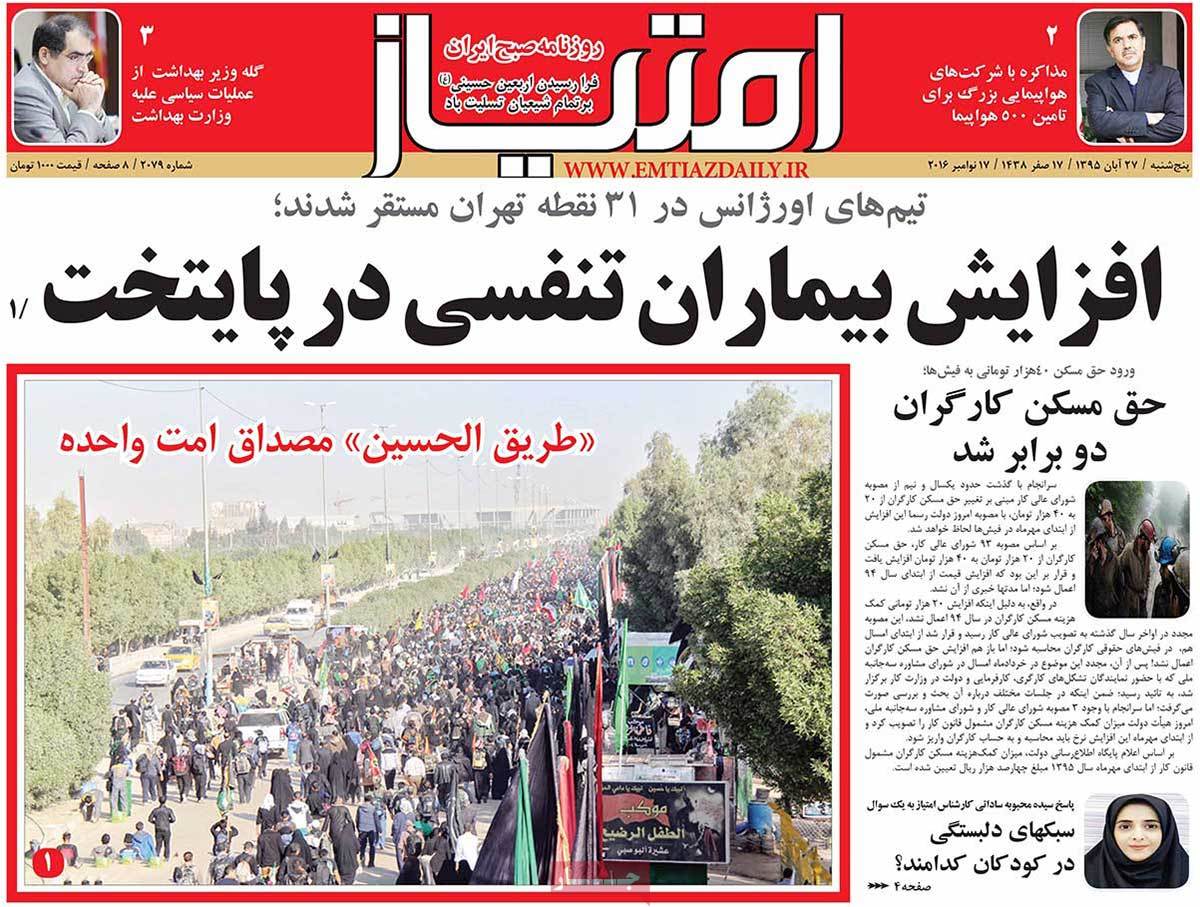 ---
Ettela'at:
1- Leader: Maintaining Internal Solidarity Is Only Way to Resolve Problems
2- US Democrat Party Proposes Bill to Cancel Electoral System in US Presidential Elections
3- Assad Urges Iraq's Popular Mobilisation Forces to Counter Syrian Terrorists
4- Rouhani: Iran Will Strongly Move towards Development
---
Hemayat:
1- People Should Feel Effect of Resistance Economy: Leader
2- US House of Representatives Extends Anti-Iran Sanctions in Post-JCPOA Era!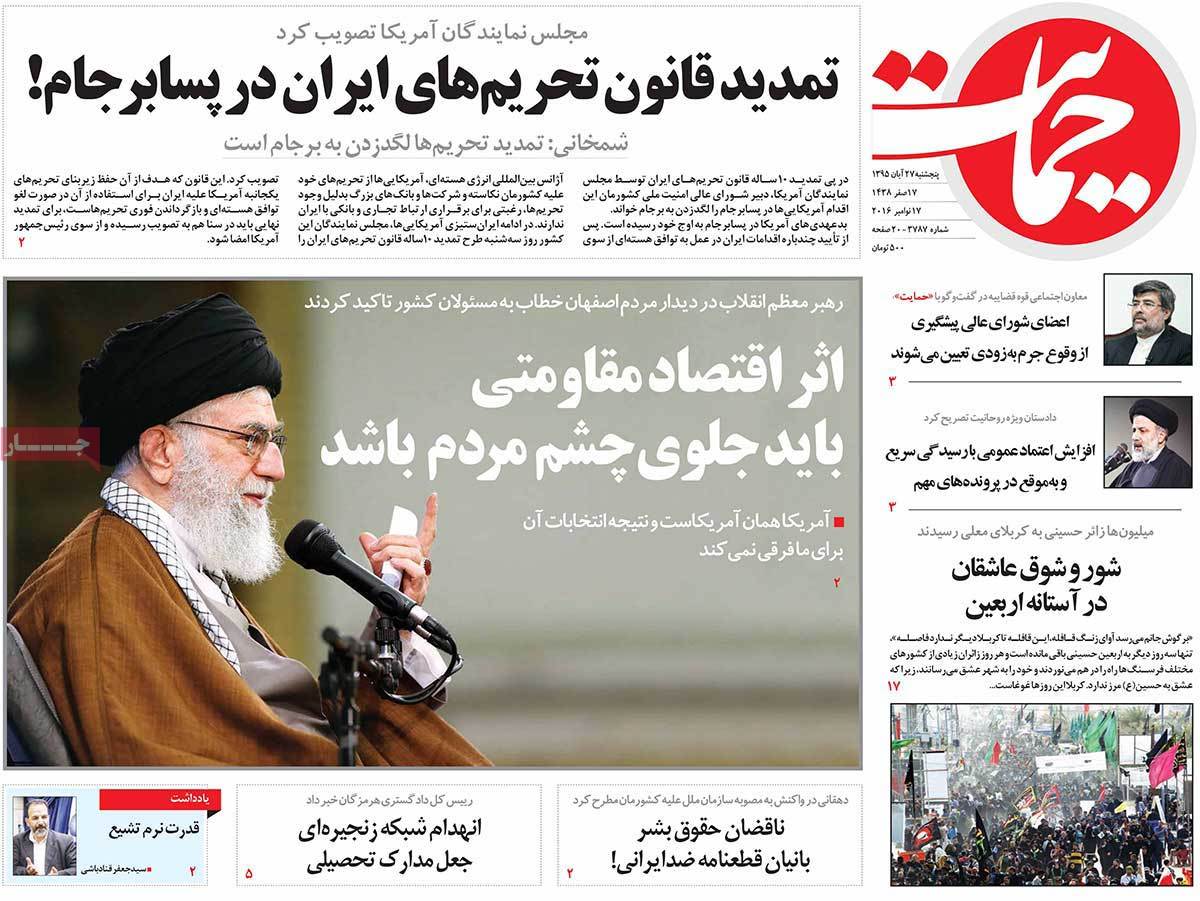 ---
Iran:
1- President: We'll Overcome Air Pollution
2- 1.5 Million Iranian Pilgrims Arrive in Iraq
3- Major Share of Women and Civil Institutions in Book Reading Campaign
4- We Should Take Earthquake in Iran Seriously: 550 Quakes Registered in Past 7 Months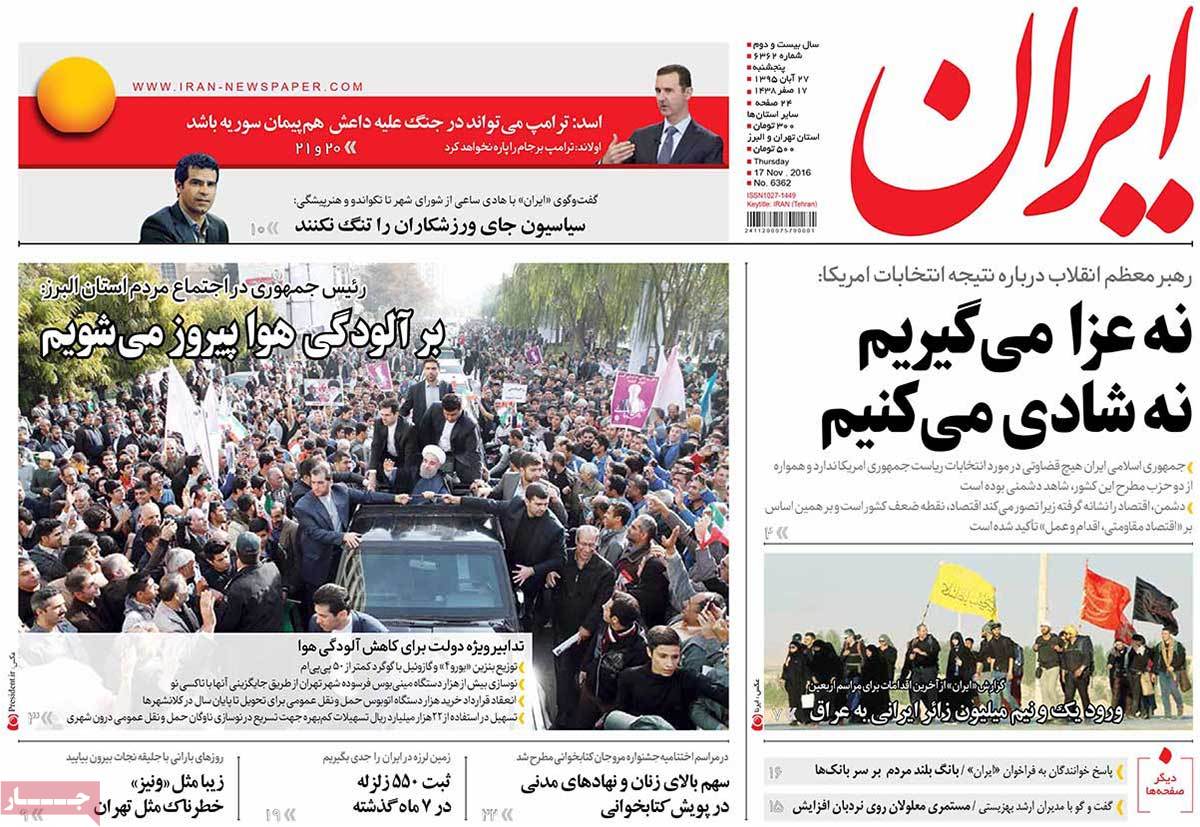 ---
Jame Jam:
1- Leader: US Is the Same Country, We Have No Judgement about US Elections
2- Walking towards Love [Arbaeen pilgrimage]
3- All Anti-Iran Measures from New York to Washington: Human Rights Resolution Passed against Iran and D'Amato Sanctions Extended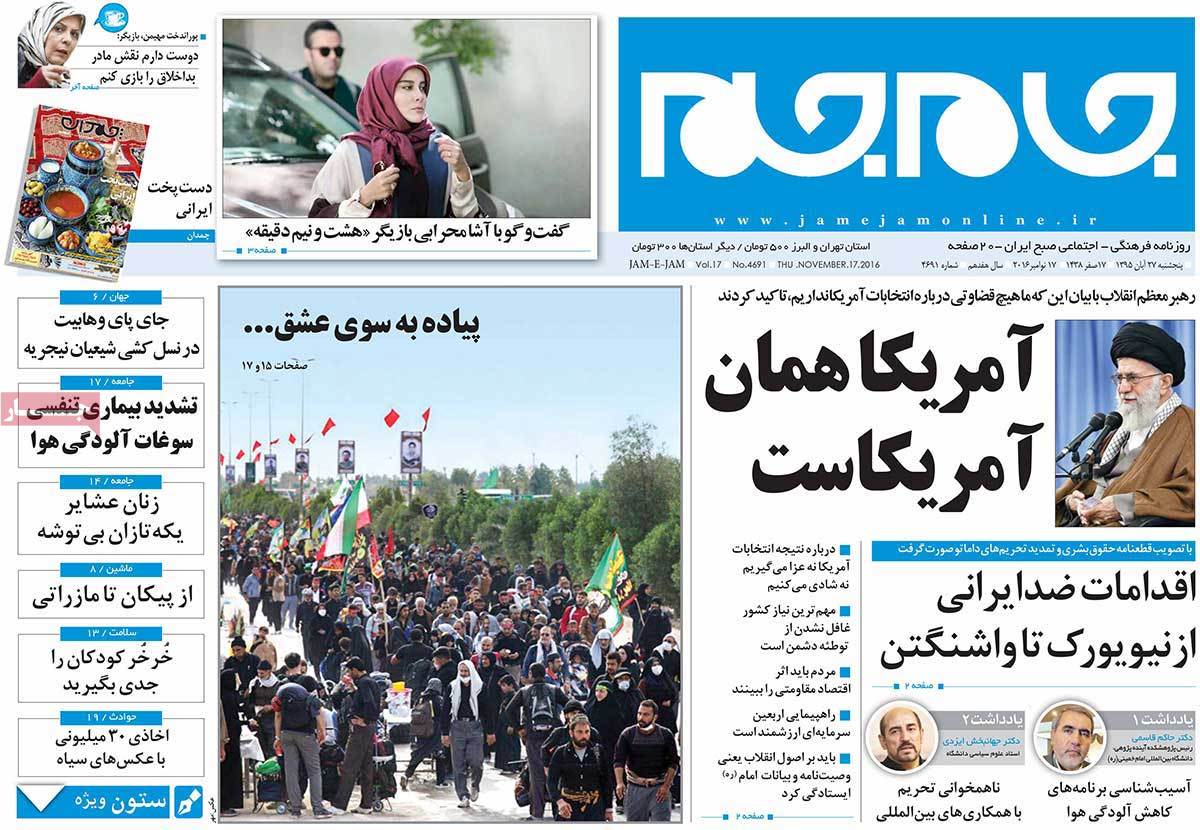 ---
Javan:
1- Leader: We Are Ready to Deal with Any Development
2- Beginning of World's Biggest Pilgrimage
3- USA's Suspicious Violation of JCPOA: US Hostility towards Iran Extended for 10 Years
4- Iran Will Show Reaction to US Violation of JCPOA: Shamkhani
5- Friend of MKO Terrorists May Become US State Secretary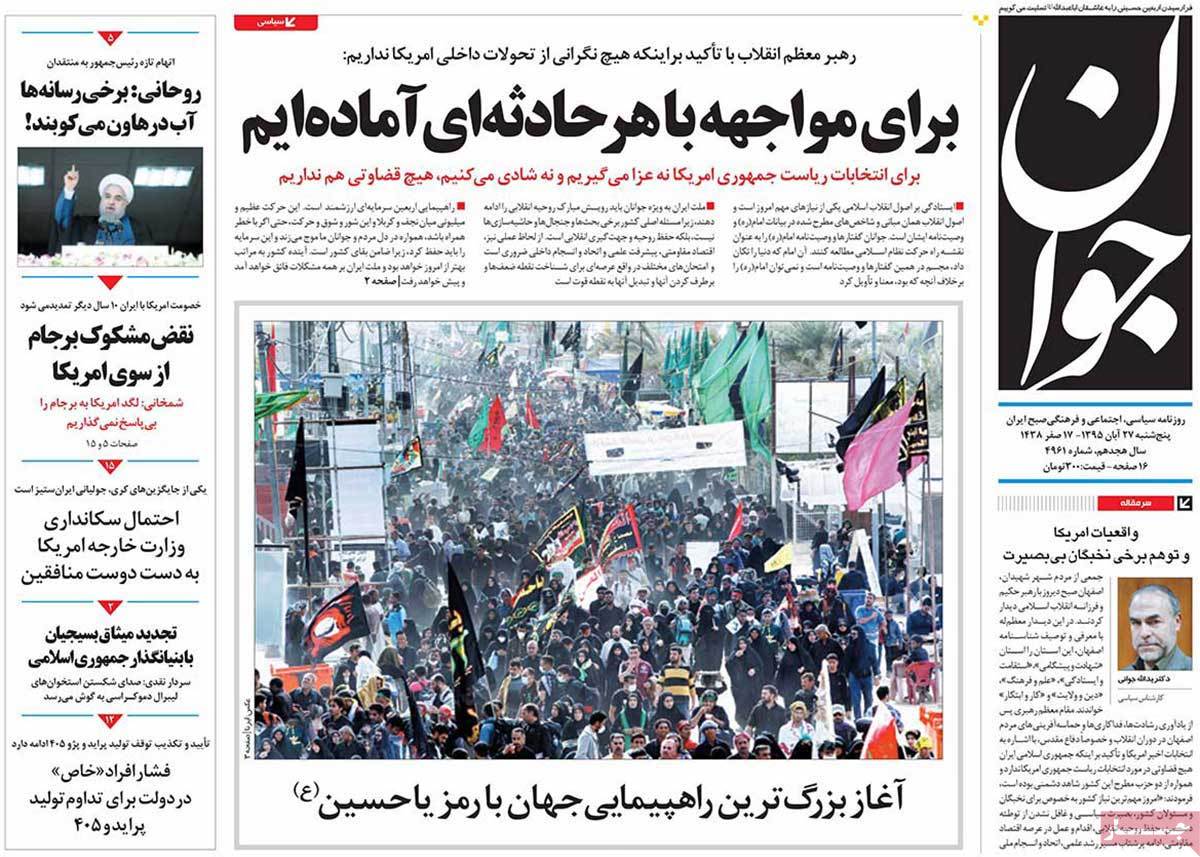 ---
Ka'enat:
1- Leader Refers to Arbaeen Processions as Valuable Capital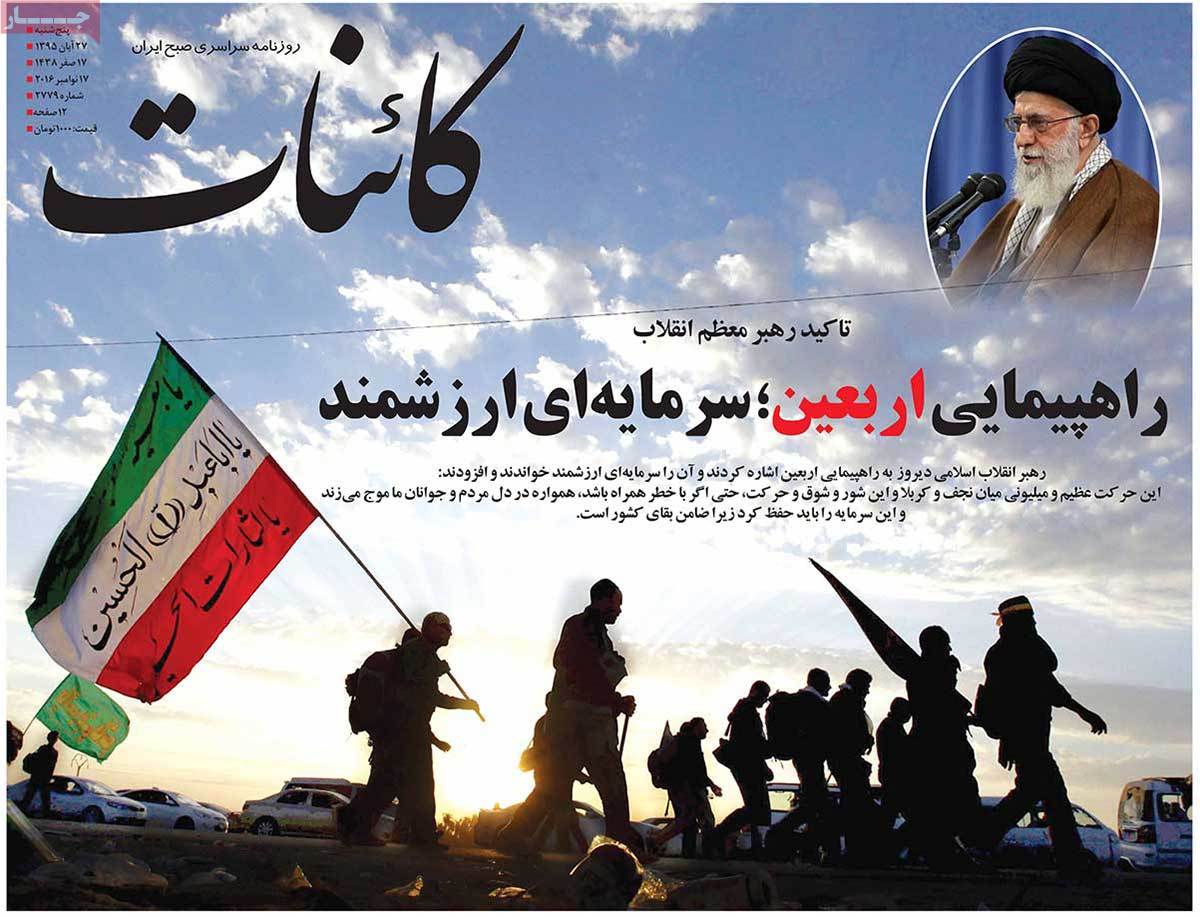 ---
Kayhan:
1- Leader Highlights Hostility of Both American Parties towards Iran
2- Athens' Integrated Rising against Obama
3- Rouhani: We're Not a Government of Slogans
4- Bad Organisation Chief: Iraqi Popular Forces Will Head to Syria to Fight Takfiris after Liberating Mosul
5- Democrat and Republicans Agree on 10-Year Extension of Anti-Iran Sanctions
6- 20 Million Shiites in Arbaeen Processions: Islamic Unity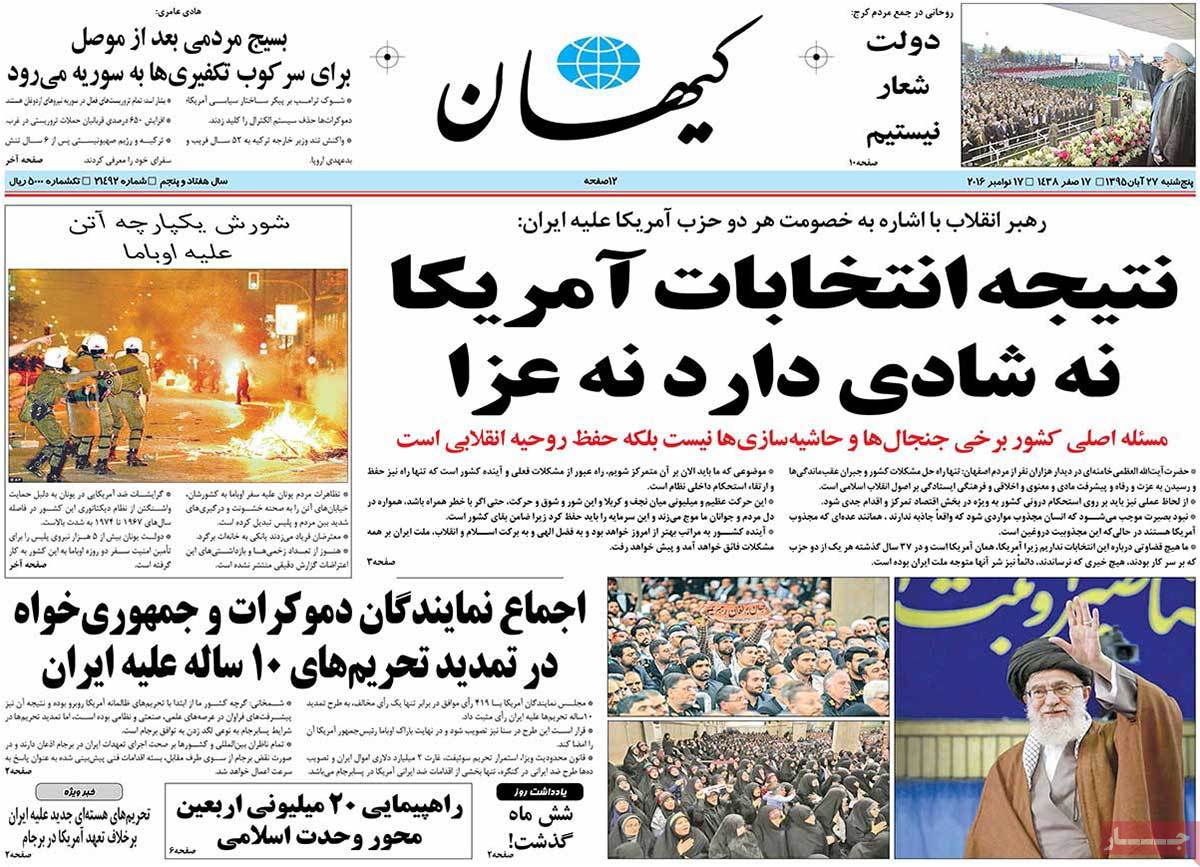 ---
Quds:
1- Arbaeen Processions Guarantee Iran's Survival: Leader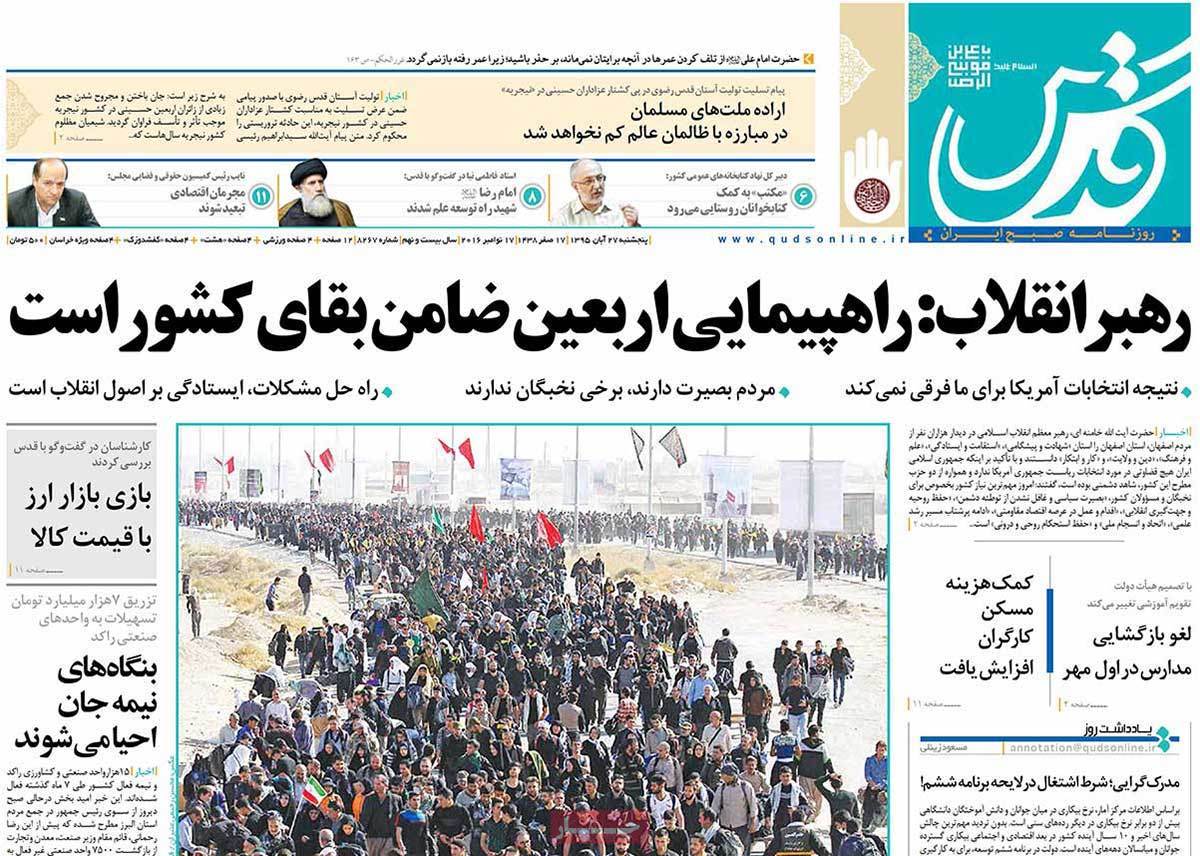 ---
Resalat:
1- President: We Appreciate People's Passion in Arbaeen
2- Democrats and Republicans Insist on Extending Iran Sanctions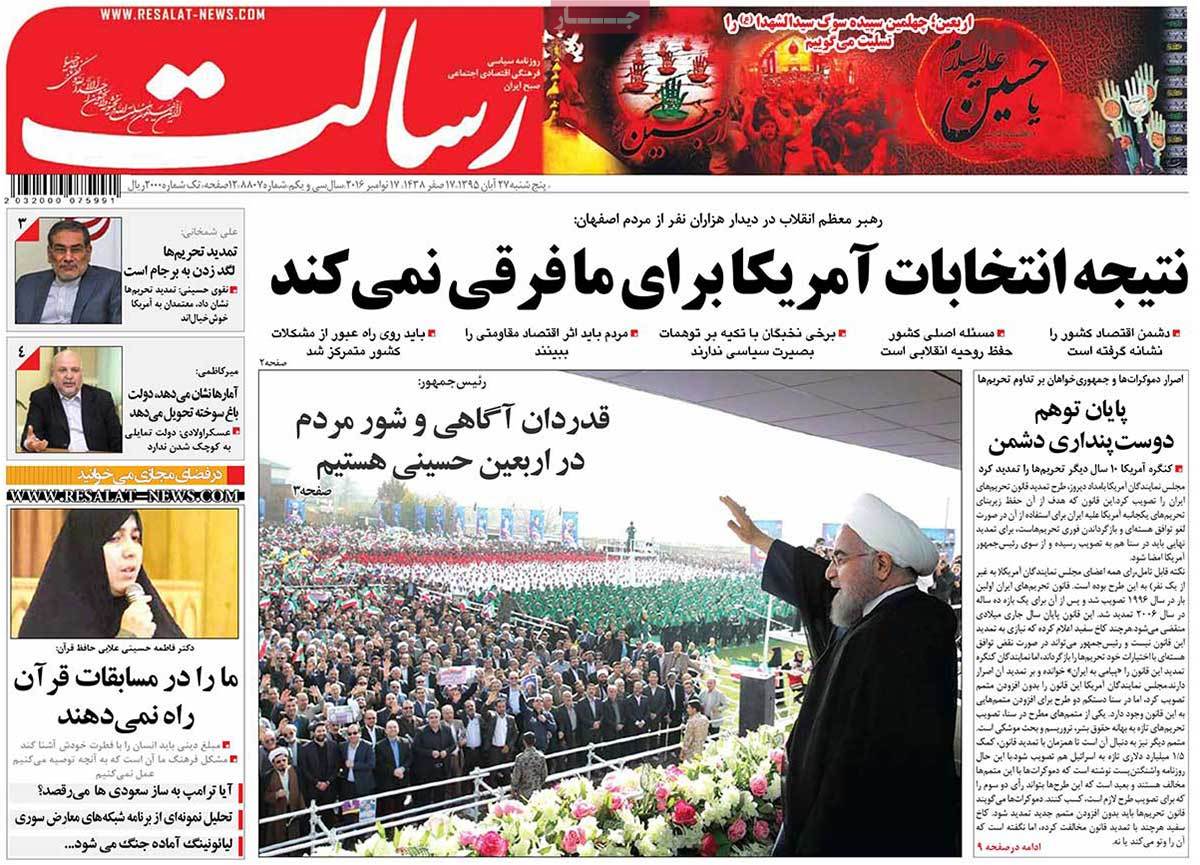 ---
Sayeh:
1- Air Pollution Threatening Entire World as Terrorism Does: Rouhani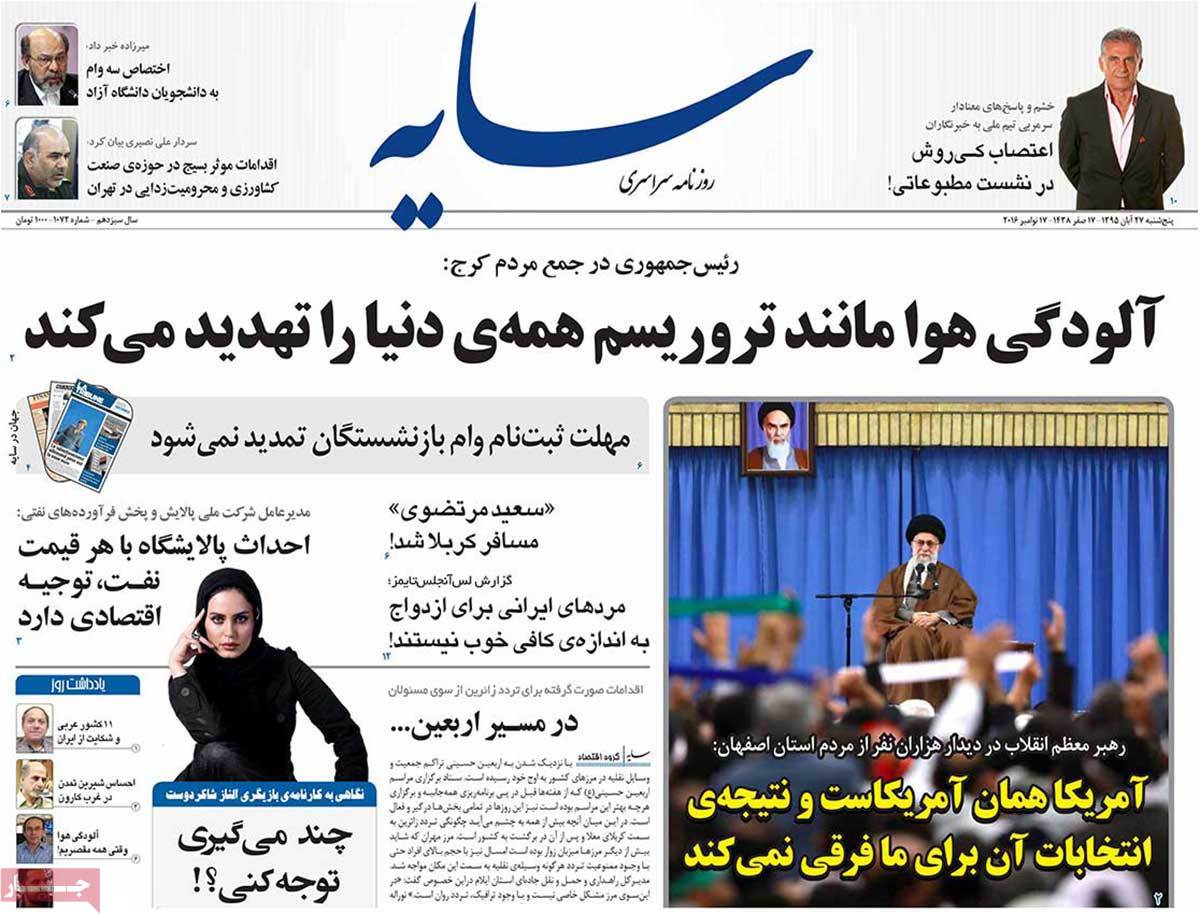 ---
Vatan-e Emrooz:
1- Leader: Both US Parties Are 'Evil'
2- Sunni Clerics of Iran's Golestan Head to Karbala on Arbaeen Pilgrimage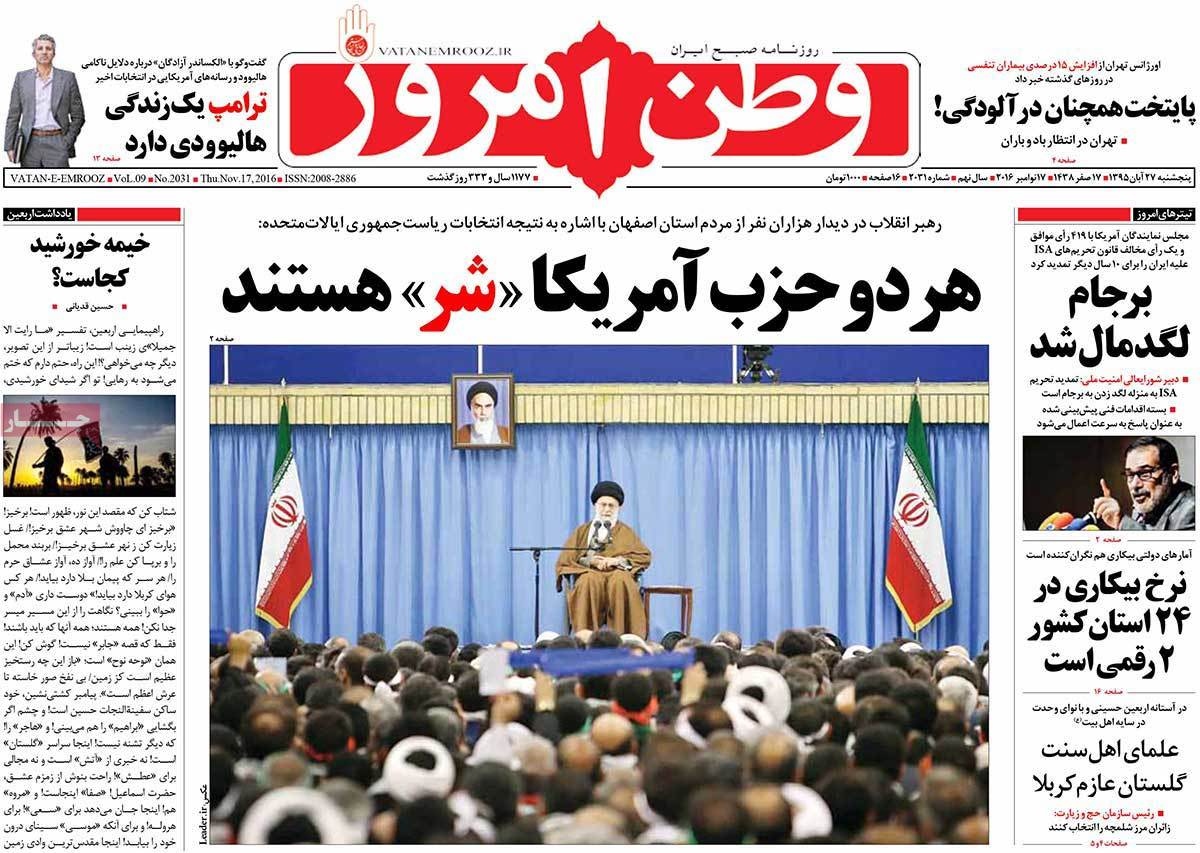 [:es]
Los periódicos cubrieron hoy las declaraciones del líder de la Revolución Islámica, Ayatolah Seyed Ali Jamenei, ante los ciudadanos de Isfahan, relacionadas principalmente con el statu quo del orbe tras las elecciones presidenciales de EEUU.
Otra importante cuestión de hoy fue la gran Marcha de Arbain, a la cual asisten millones de peregrinos chiitas, dirigiéndose hacia la ciudad santa de Kerbalá a fin de conmemorar el cuadragésimo día después del martirio del Imam Hussein.
La decisión de la Cámara de Representantes de Estados Unidos de extender las sanciones contra Irán por 10 años más y el consenso entre los demócratas y los republicanos en este sentido también recibió buena acogida por la prensa.
Los temas antes mencionados, así como varias otras cuestiones se destacan en los siguientes títulos:
Abrar:
1- La operación de Mosul cumple un mes
2- La ONU condena la ocupación de Crimea en Rusia
3- Canciller saudita visitará EEUU
4- Hollande: Trump no derribará el acuerdo nuclear con Irán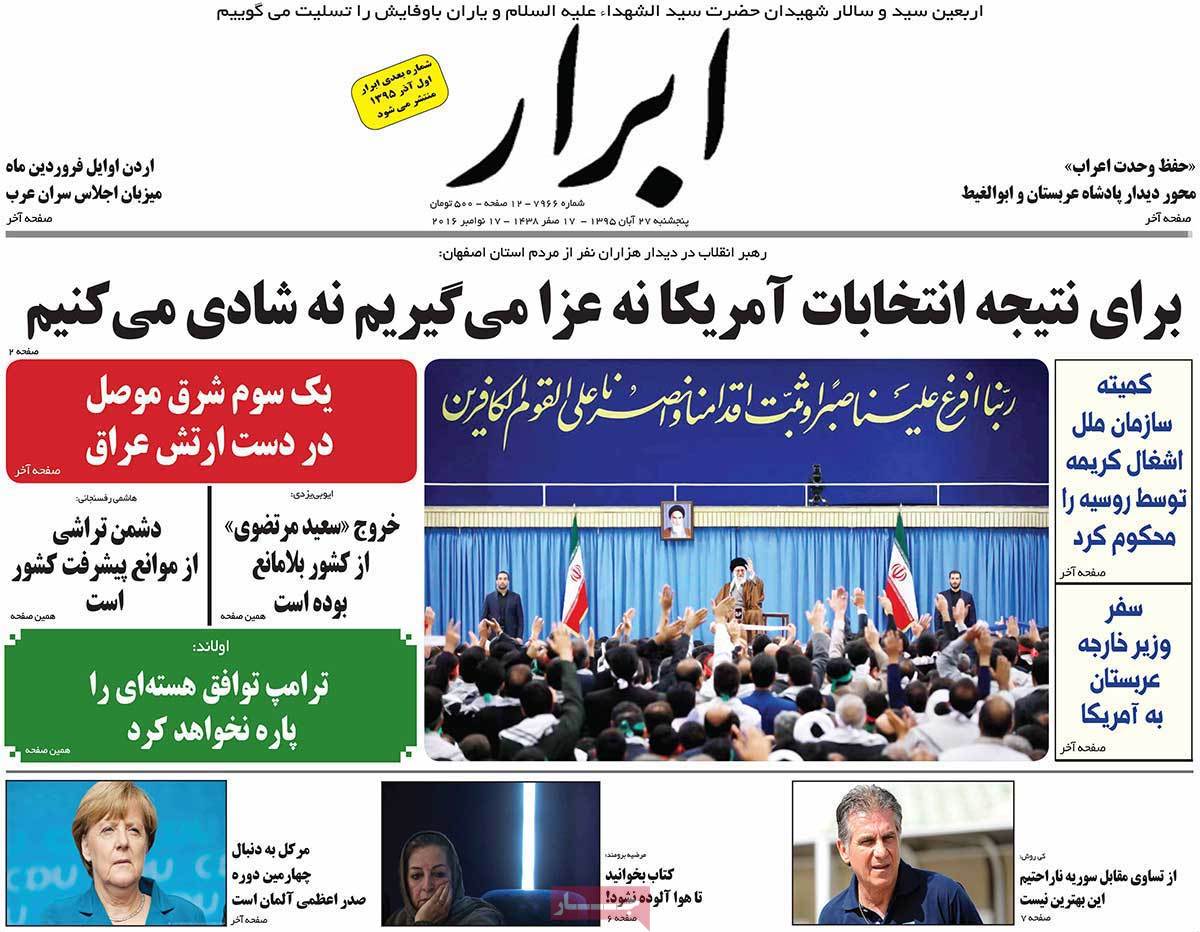 Aftab-e Yazd:
1- Assad acoge con cautela las elecciones de Trump; El presidente sirio dice que Trump puede ser el aliado natural de Damasco
2- La primera esposa de Trump habla sobre la vida del Sr. T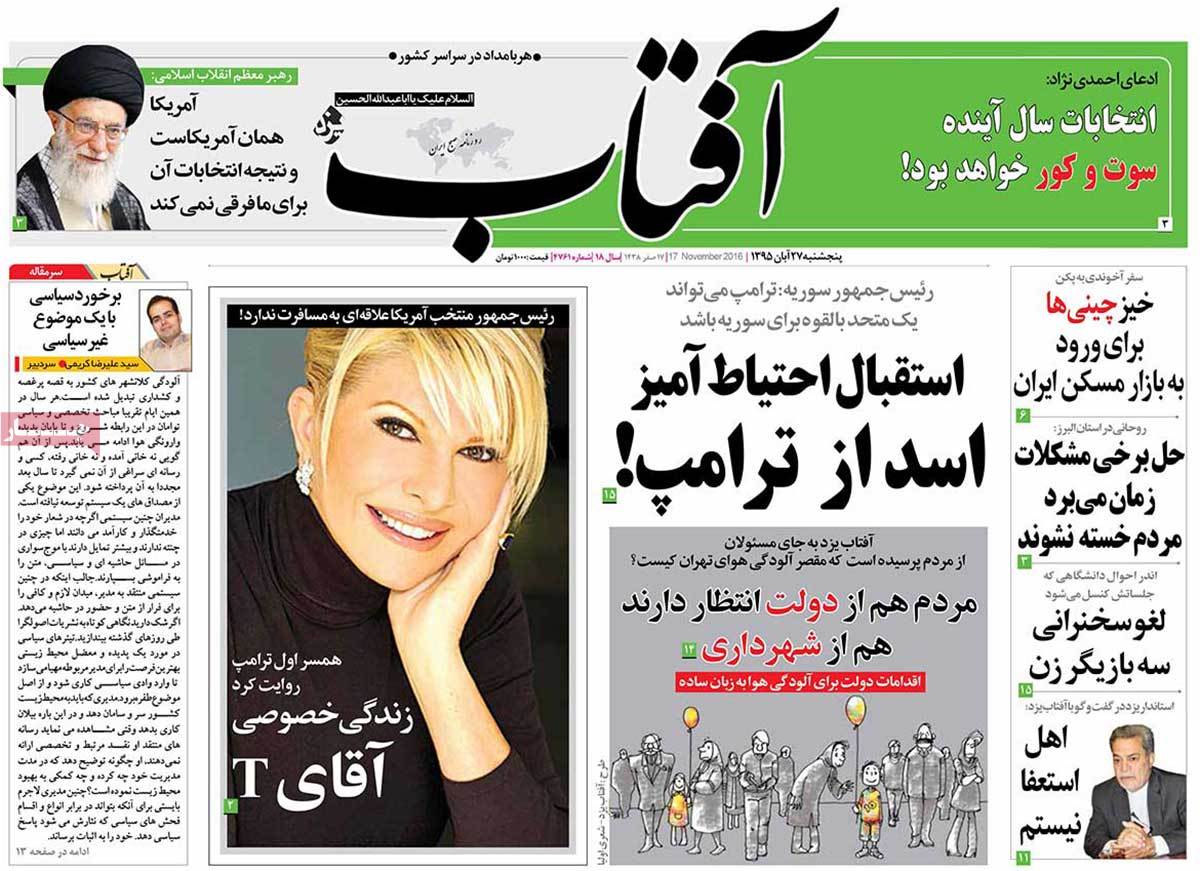 Amin:
1- Millones de personas en la peregrinación de Arbaeen: símbolo del poder de los chiitas
Arman-e Emruz:
1- El Líder: Irán es indiferente ante los resultados de las elecciones en EEUU
2- Rohani: Nadie puede abolir el acuerdo nuclear
3- El Banco Multinacional de Irán será establecido por Irán, Venezuela, China y Turquía
4- Rafsanjani pide que se ponga fin a la censura y al bloqueo de la información
Asr-e Azadi:
1- La primera organización caritativa de Irán cumple 100 años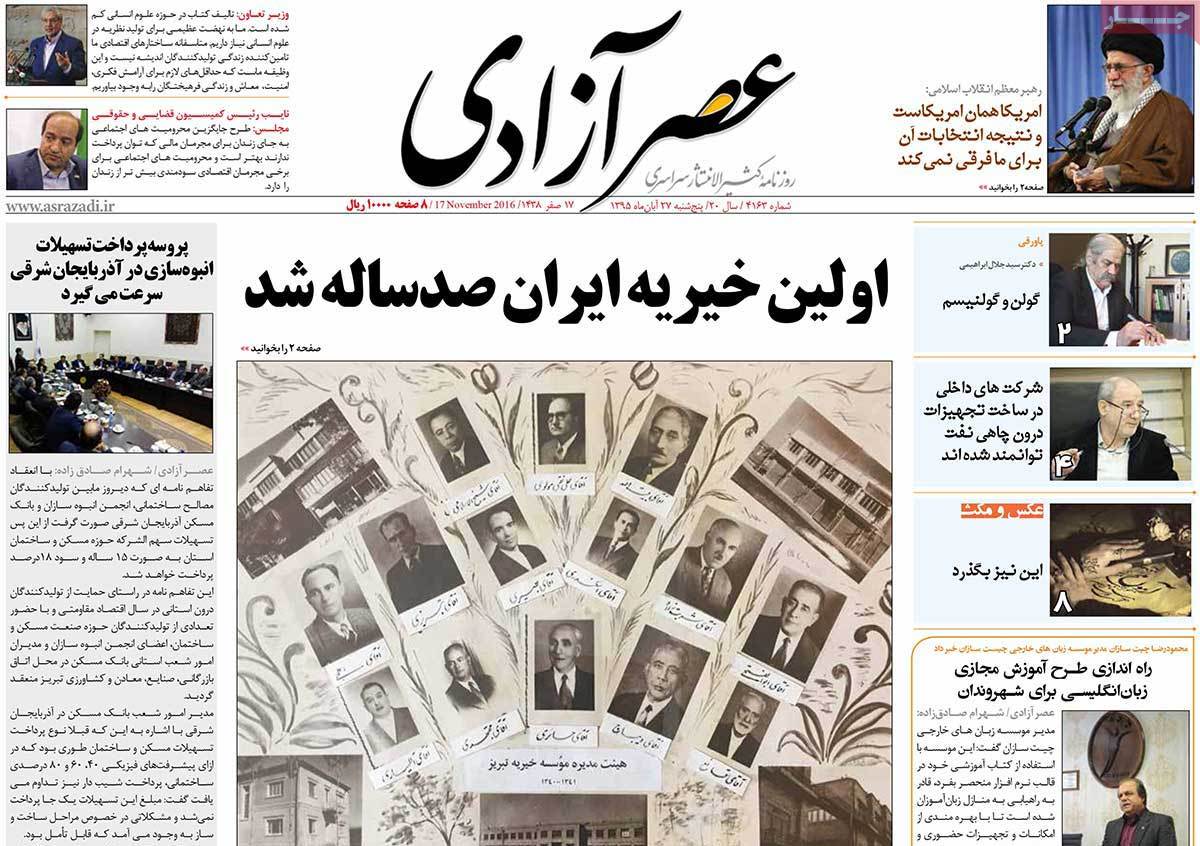 Ebtekar:
1- Resolución Nacional para Disminuir la Contaminación del Aire: Presidente
2- Parlamentario iraní: La contaminación del aire incurre en daños de 22.000 millones de dólares en Irán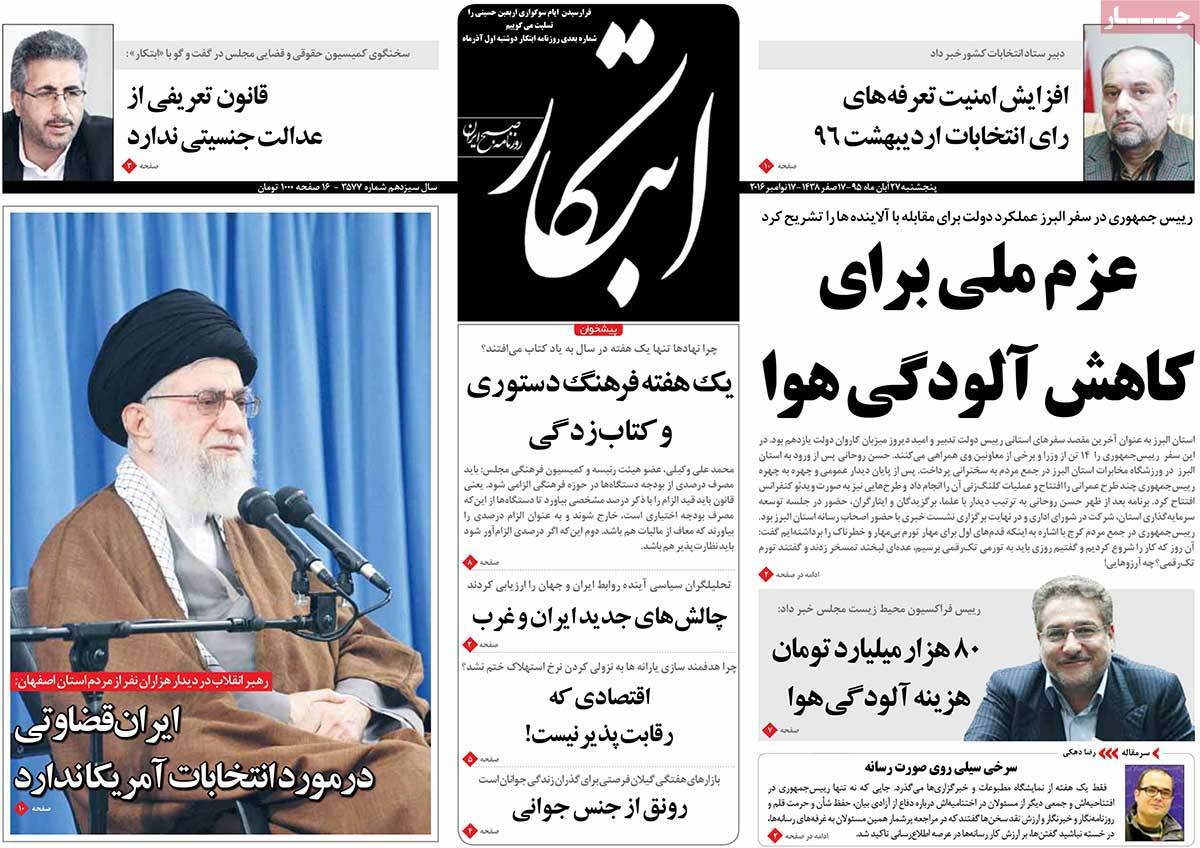 Emtiaz:
1- Aumento del número de pacientes respiratorios en Teherán
2- La gran Marcha de Arbain muestra la unidad de la comunidad musulmana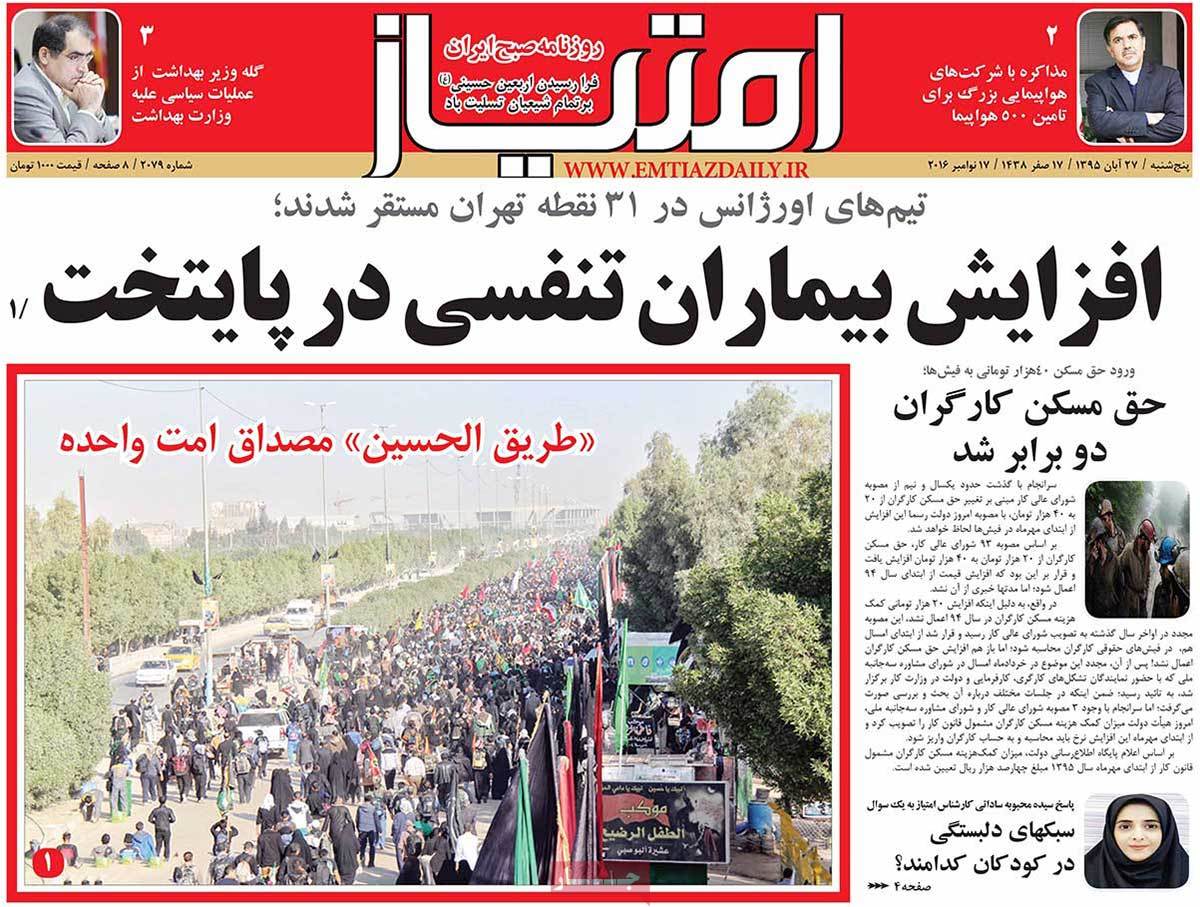 Ettela'at:
1- Líder: Mantener la solidaridad interna es la única manera de resolver los problemas
2- El Partido Demócrata de Estados Unidos propone un proyecto de ley para cancelar el sistema electoral en las elecciones presidenciales de Estados Unidos
3- Assad insta a las fuerzas de movilización popular de Irak a combatir a los terroristas sirios
4- Rohani: Irán avanzará hacia el desarrollo
Hemayat:
1- La gente debería sentir el efecto de la resistencia Economía: Líder
2- La Cámara de Representantes de los Estados Unidos extiende las sanciones contra Irán en la era posterior al PIAC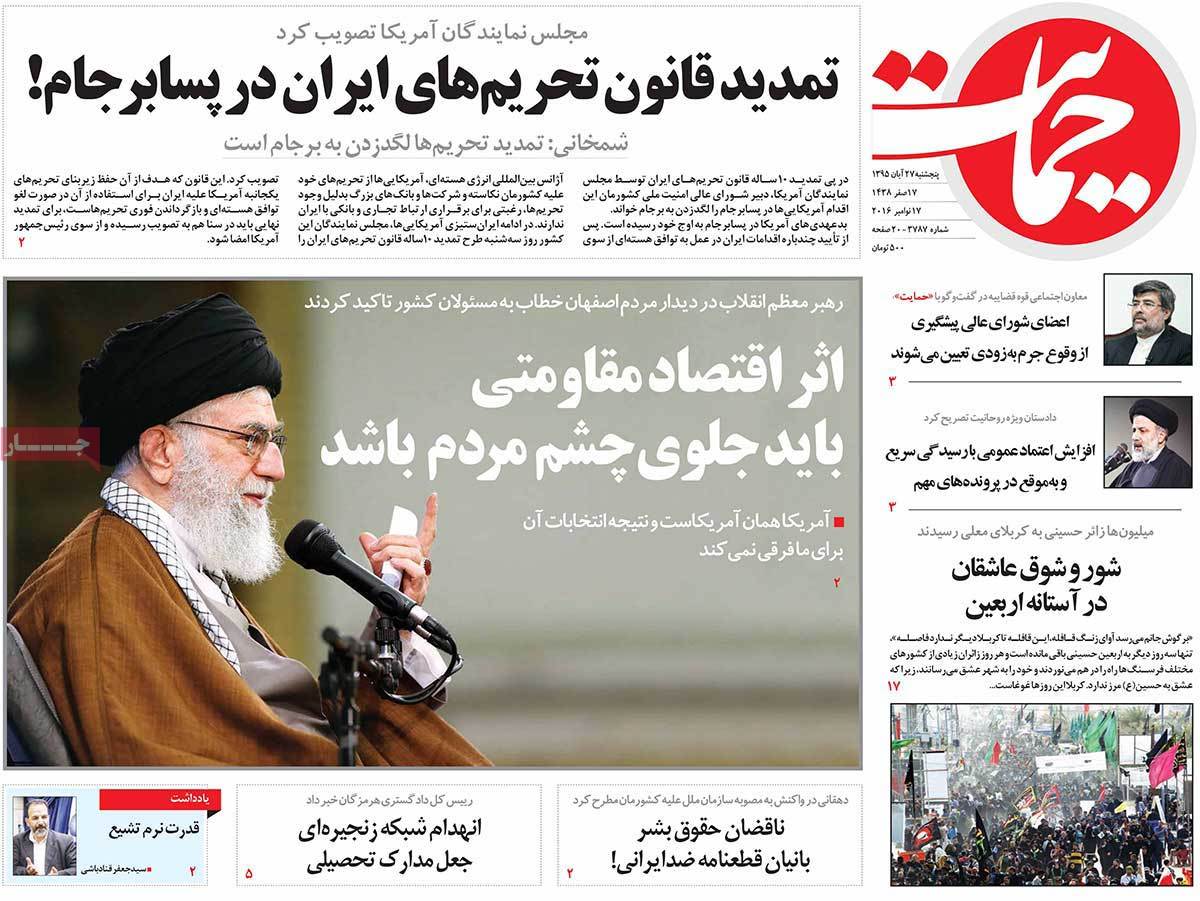 Irán:
1- Presidente: Superaremos la contaminación del aire
2- 1,5 millones de peregrinos iraníes llegan a Irak
3- Mayor participación de mujeres e instituciones civiles en la campaña de lectura del libro
4- Debemos tomar el terremoto en Irán en serio: 550 terremotos registrados en los últimos 7 meses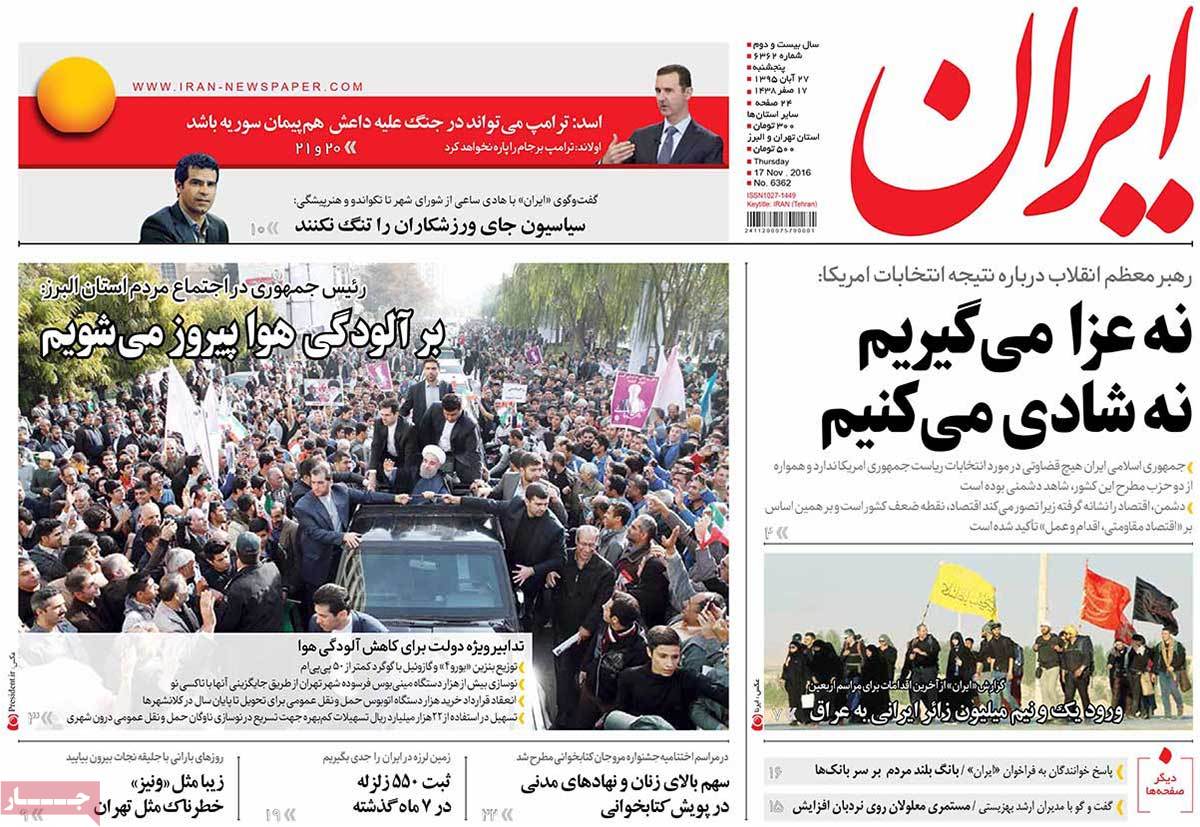 Yaam_e_Yam:
1- Líder: Estados Unidos es el mismo país, no tenemos juicio sobre las elecciones en Estados Unidos
2- Caminar hacia el amor [Marcha de Arbain]
3- Todas las medidas anti-Irán de Nueva York a Washington: Resolución de derechos humanos aprobada contra Irán y D'Amato Sanciones ampliadas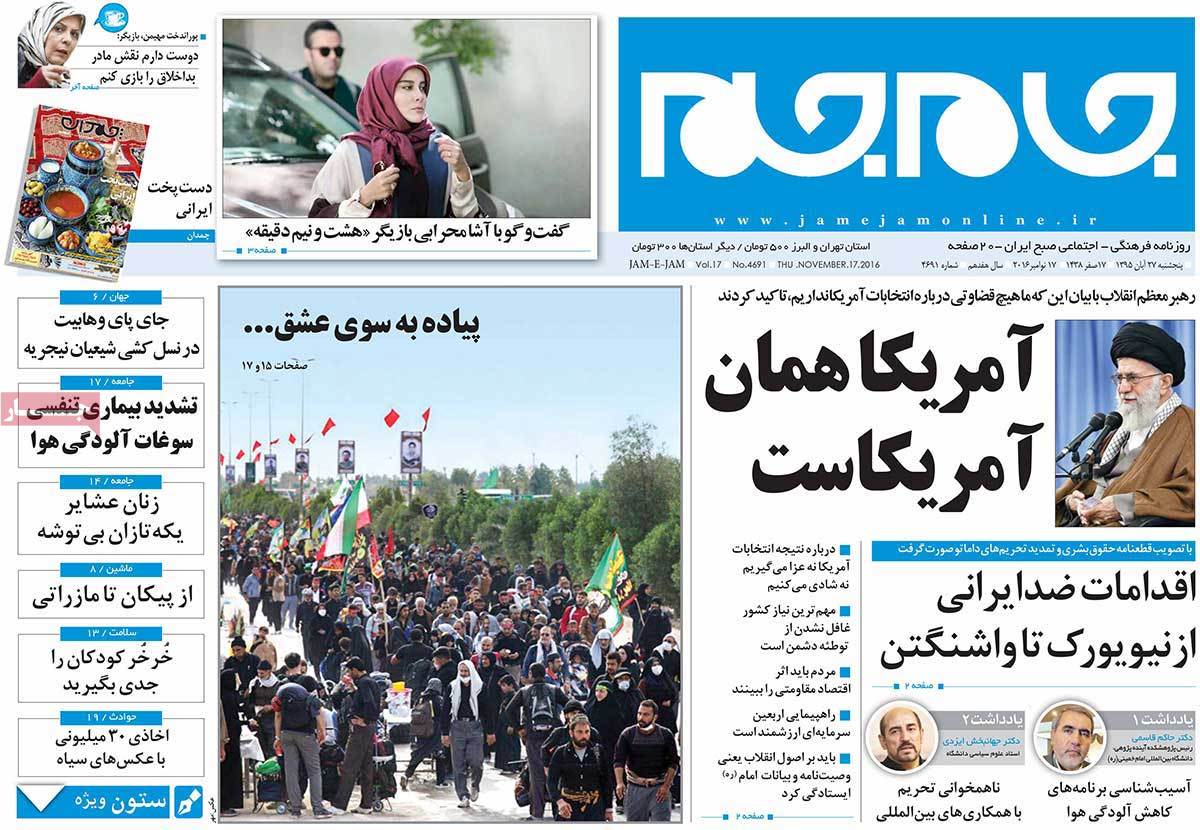 Yavan:
1- Líder: Estamos listos para lidiar con cualquier desarrollo
2- Comienzo de la peregrinación más grande del mundo
3- Violación sospechosa de EE.UU. de JCPOA: la hostilidad de EE.UU. hacia Irán se extiende por 10 años
4- Shamjani: Irán reaccionará ante la violación de PIAC
5- Amigo de MKO podría convertirse en un Secretario de Estado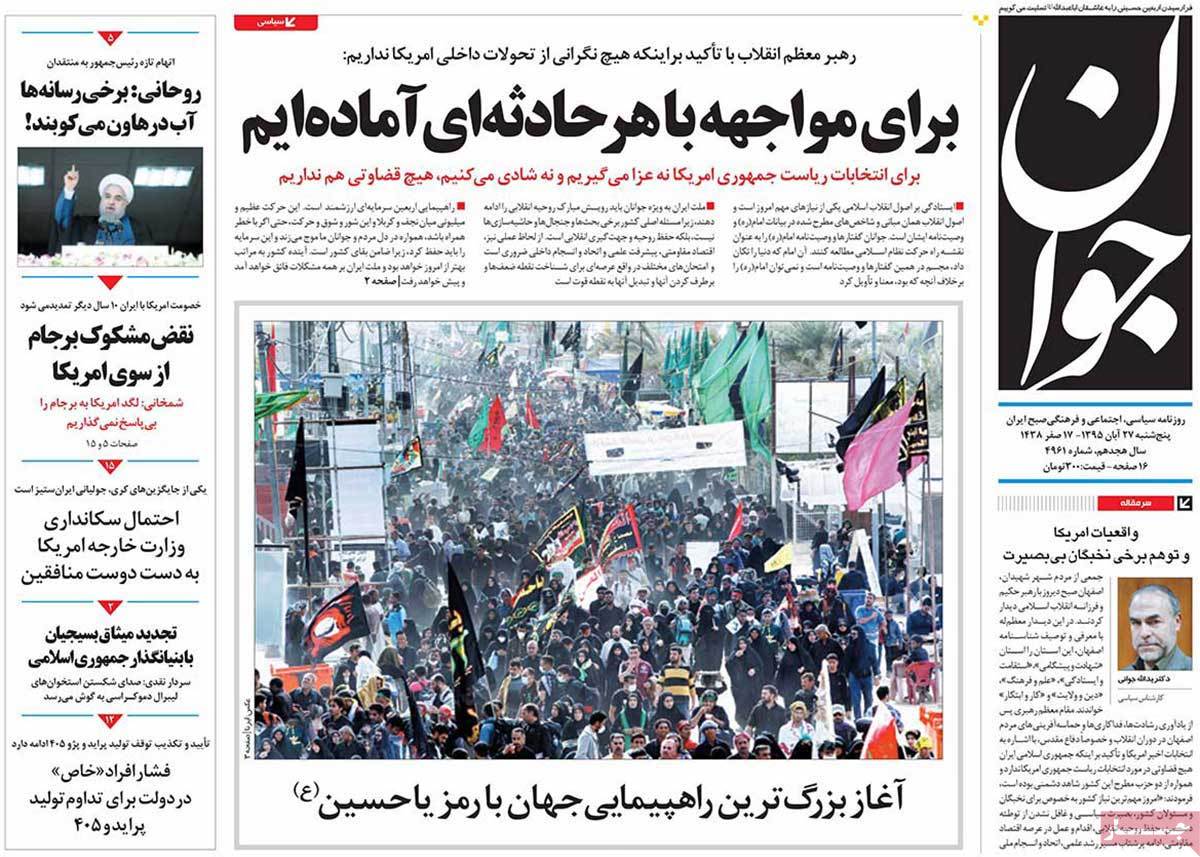 Ka'enat:
1- Líder califica a la Marcha de Arbain como un gran valor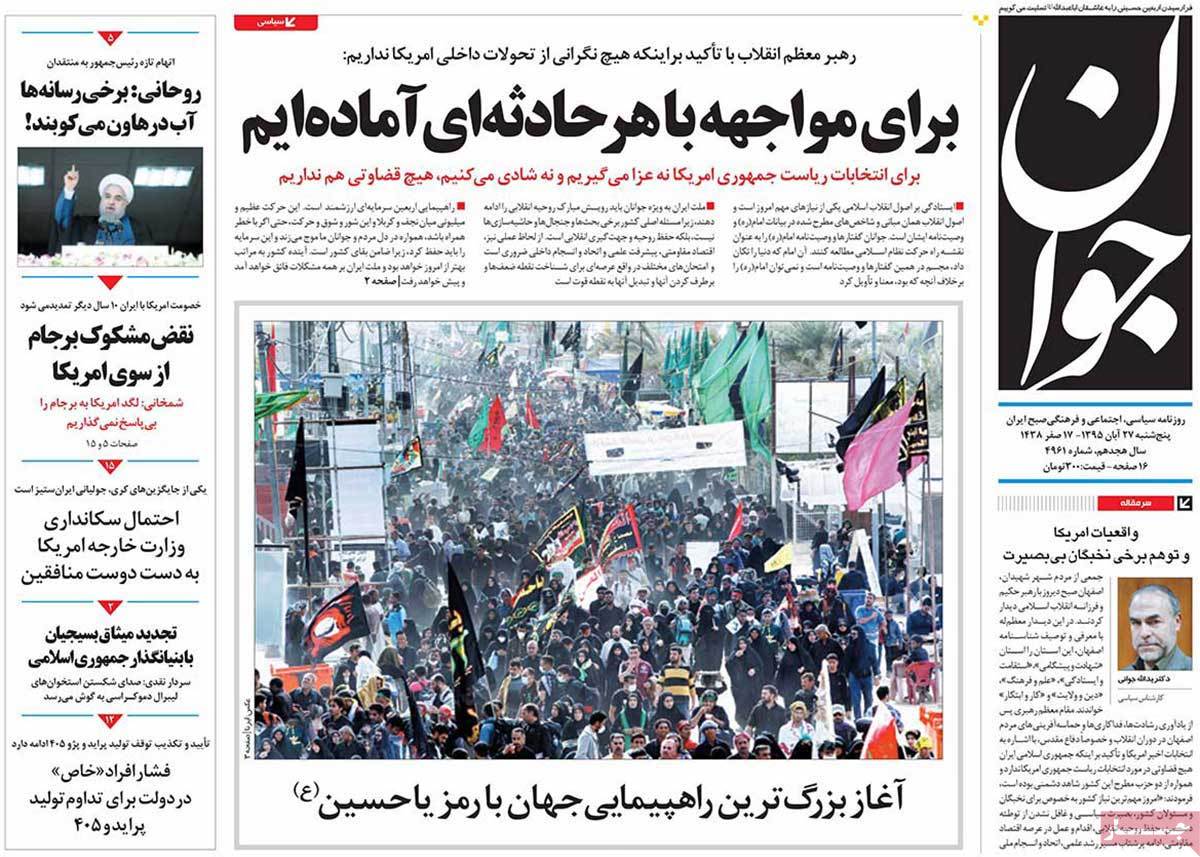 Kayhan:
1- El líder destaca la hostilidad de ambos partidos americanos hacia Irán
2- El aumento integrado de Atenas contra Obama
3- Rouhani: No somos un gobierno de eslóganes
4- Comandante iraquí: Fuerzas Populares Iraquíes se dirigirán a Siria para combatir a los Takfiris después de Liberar Mosul
5- Demócrata y republicanos acuerdan prórroga de 10 años de las sanciones contra Irán
6- 20 millones de chiítas en las procesiones Arbaeen: Unidad Islámica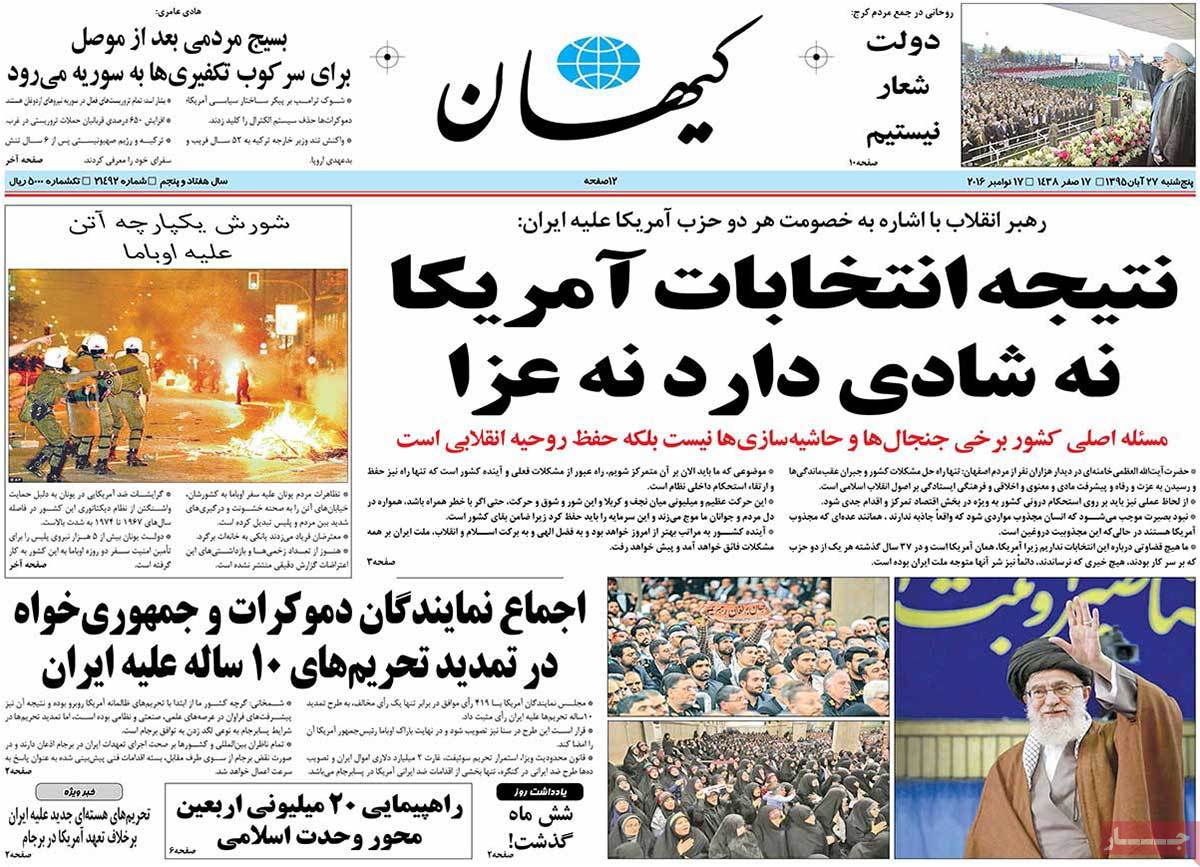 Quds:
1- El Líder de Irán: La Gran Marcha de Arbain garantiza la supervivencia de Irán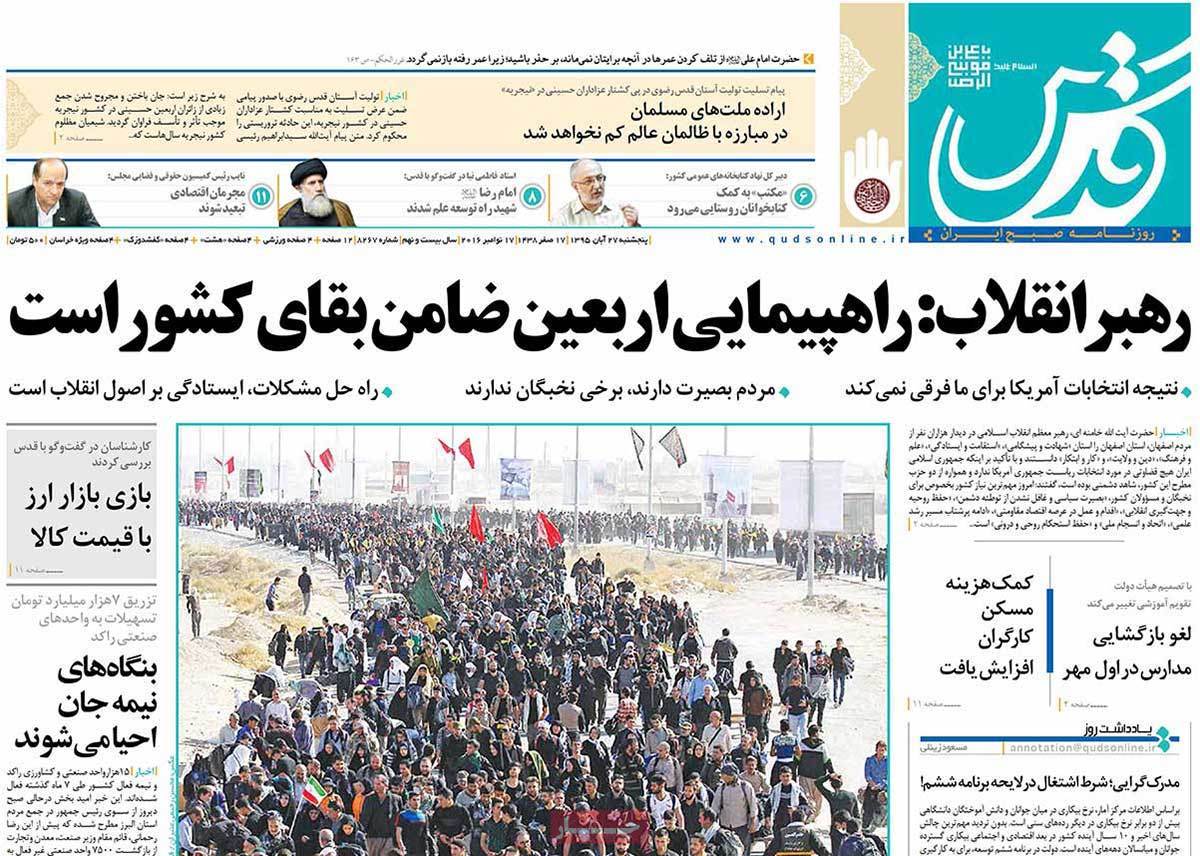 Resalat:
1- Presidente: Apreciamos la pasión de la gente en Arbaeen
2- Demócratas y republicanos insistieron en extender las sanciones a Irán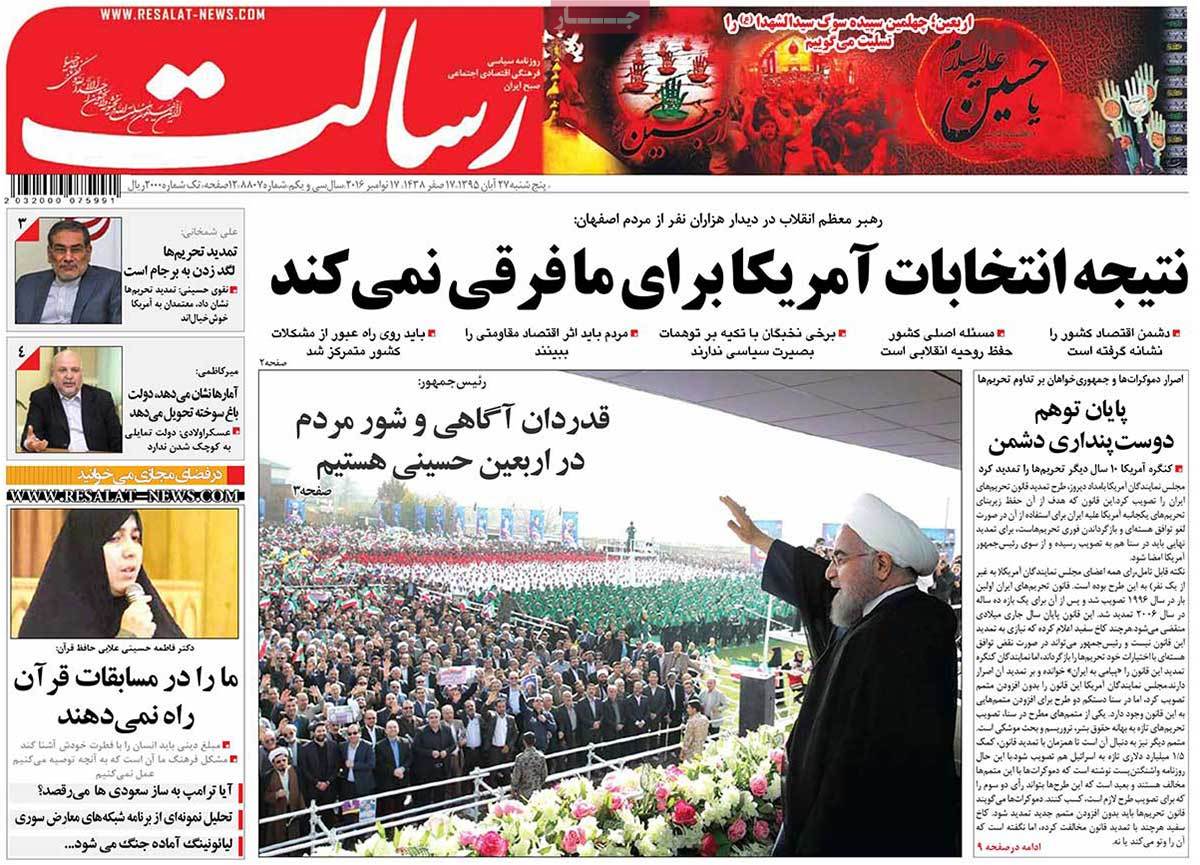 Sayeh:
1- Rohani: La contaminación atmosférica amenaza al mundo entero con el terrorismo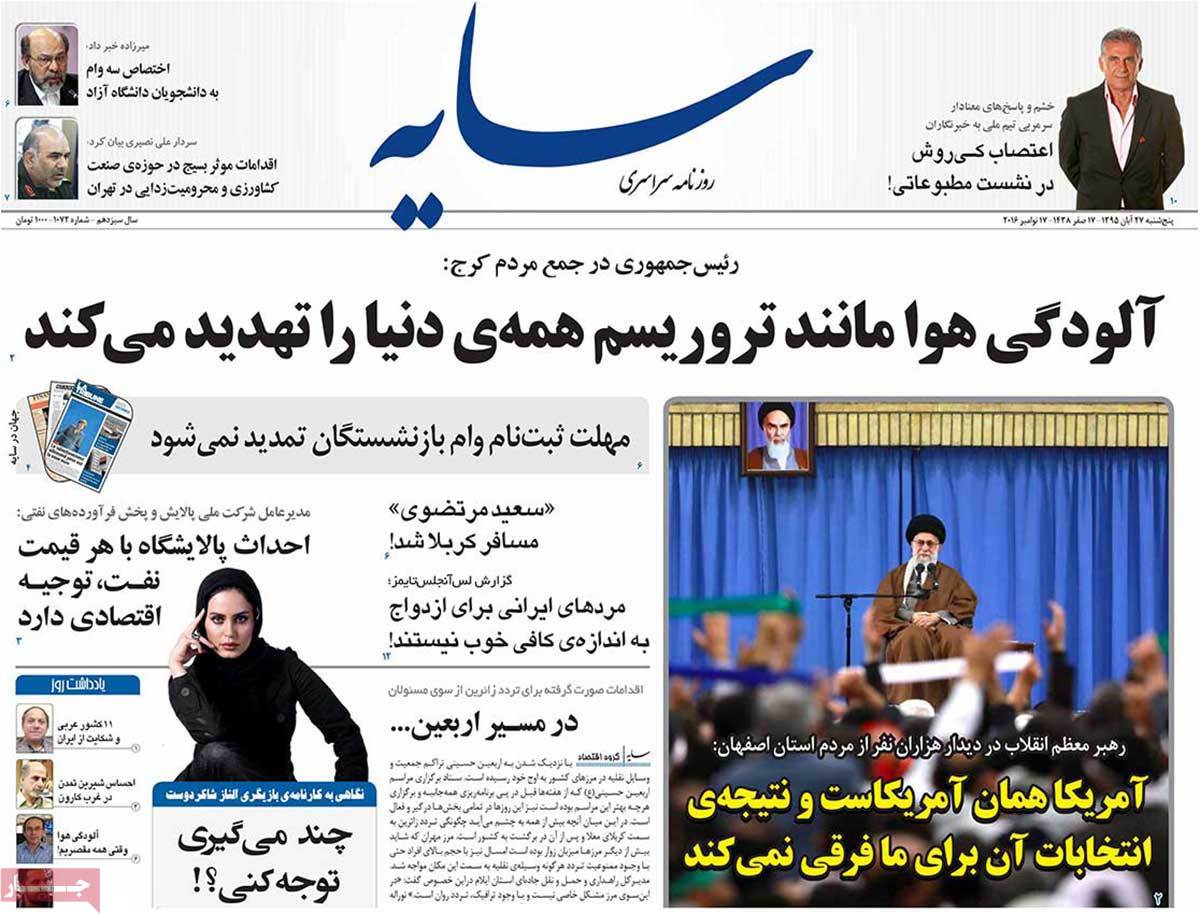 Vatan-e Emruz:
1- Líder: Ambos Estados Unidos son "malvados"
2- Los clérigos sunníes de la cabeza del Golestán de Irán a Karbala en la Marcha de Arbain