IFP has taken a look at the front pages of Iranian newspapers on Tuesday and picked headlines from 29 of them. IFP has simply translated the headlines and does not vouch for their accuracy.[:es]IFP ha echado una mirada a las portadas de periódicos iraníes, publicados el martes, 15 de noviembre de 2016, y ha recogido titulares de 29 de ellos. IFP ha traducido simplemente los titulares y no es responsable de su veracidad.
Newspapers today covered the ongoing air pollution in Tehran and other Iranian megacities, mainly focusing on the criticisms of President Hassan Rouhani's government over the critical situation.
They also continued to highlight the comments and reactions to the election of Donald Trump as the US president, particularly the recent statement by the European Union about Iran nuclear deal.
The ongoing pilgrimage of Shiites to the Iraqi city of Karbala to mark Arbaeen, the 40th day after Imam Hussein's martyrdom, also received great coverage.
The above issues, as well as many more, are highlighted in the following headlines:
Abrar:
1- Mogherini Wholeheartedly Defends JCPOA
2- MP: 70% of Iran's Workforce Suffering from Underemployment
3- Emirati Minister of State for Foreign Affairs: We Won't Reject the Offer for Talks with Iran
4- EU Underlines Its Stances towards Nuclear Deal
5- UN's Ban Condemns Pakistan Blast
---
Abrar-e Eqtesadi:
1- Oil Price of $40 Predicted for Next Year's Budget
2- Iran to Buy Train from Germany by Instalments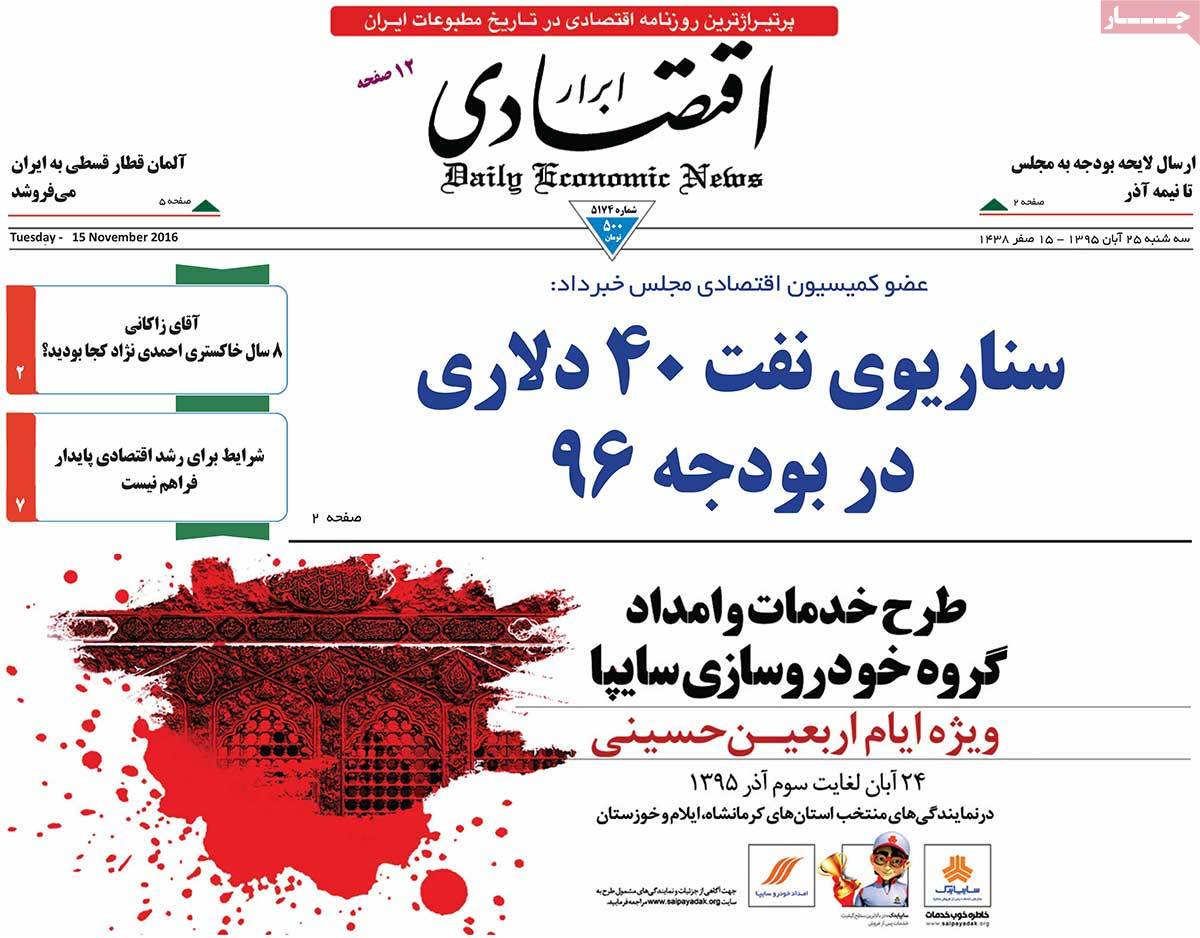 ---
Afkar:
1- Terrorist Blast in Karbala
2- Trump Has to See the Realities
3- Iran Ready to Hold Joint Military Drill with China
4- Blood Sugar Is More than 100 in 25% of Iranians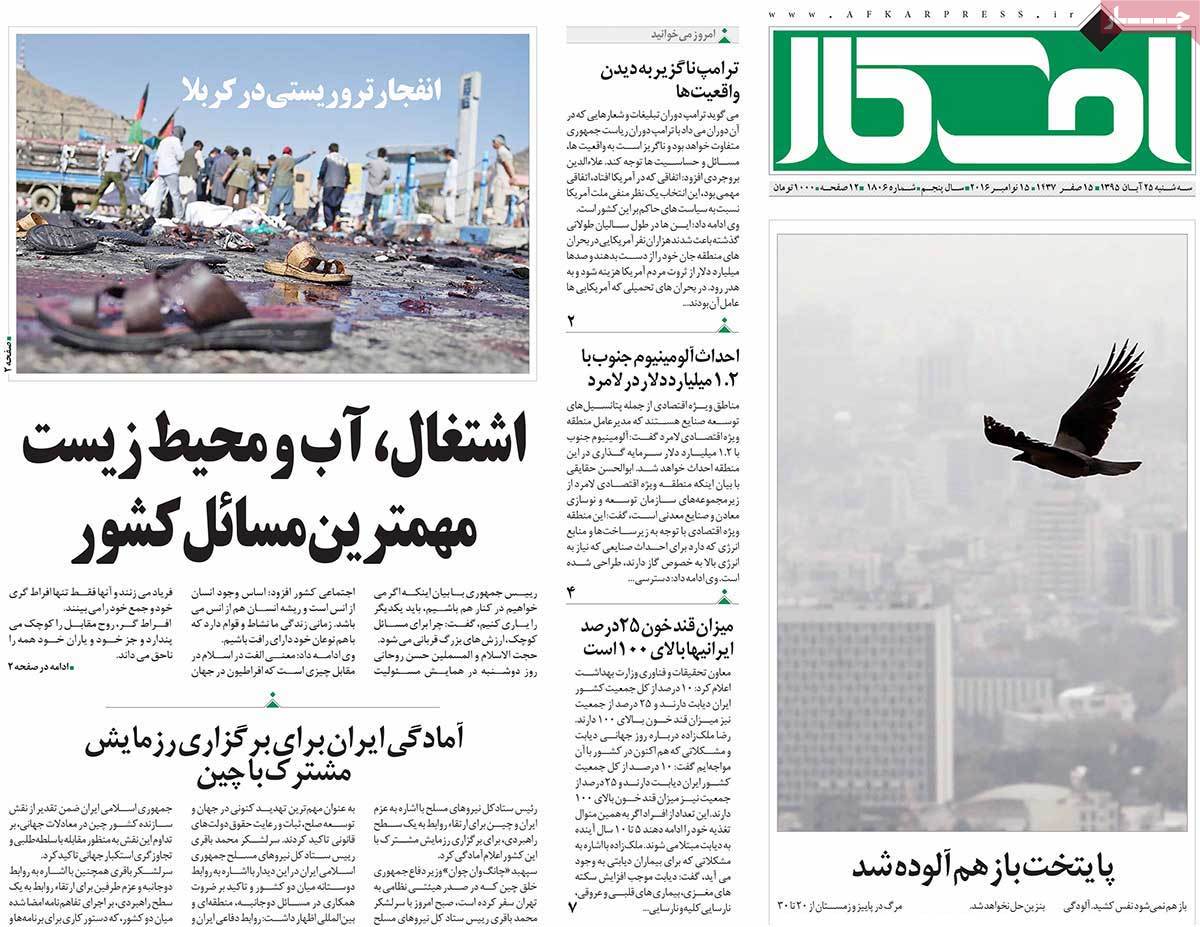 Aftab-e Yazd:
1- Tehran in Talks with Moscow for $10bn Purchase of Weapons and Military Equipment
2- Rouhani: If the Entire West Was Corrupt, They Couldn't Achieve This Much Scientific and Economic Growth
3- Trump: Don't Be Afraid of Me! President-Elect Starts Backing Off
4- Hillary Clinton to Get Divorced from Bill: Christian Newspaper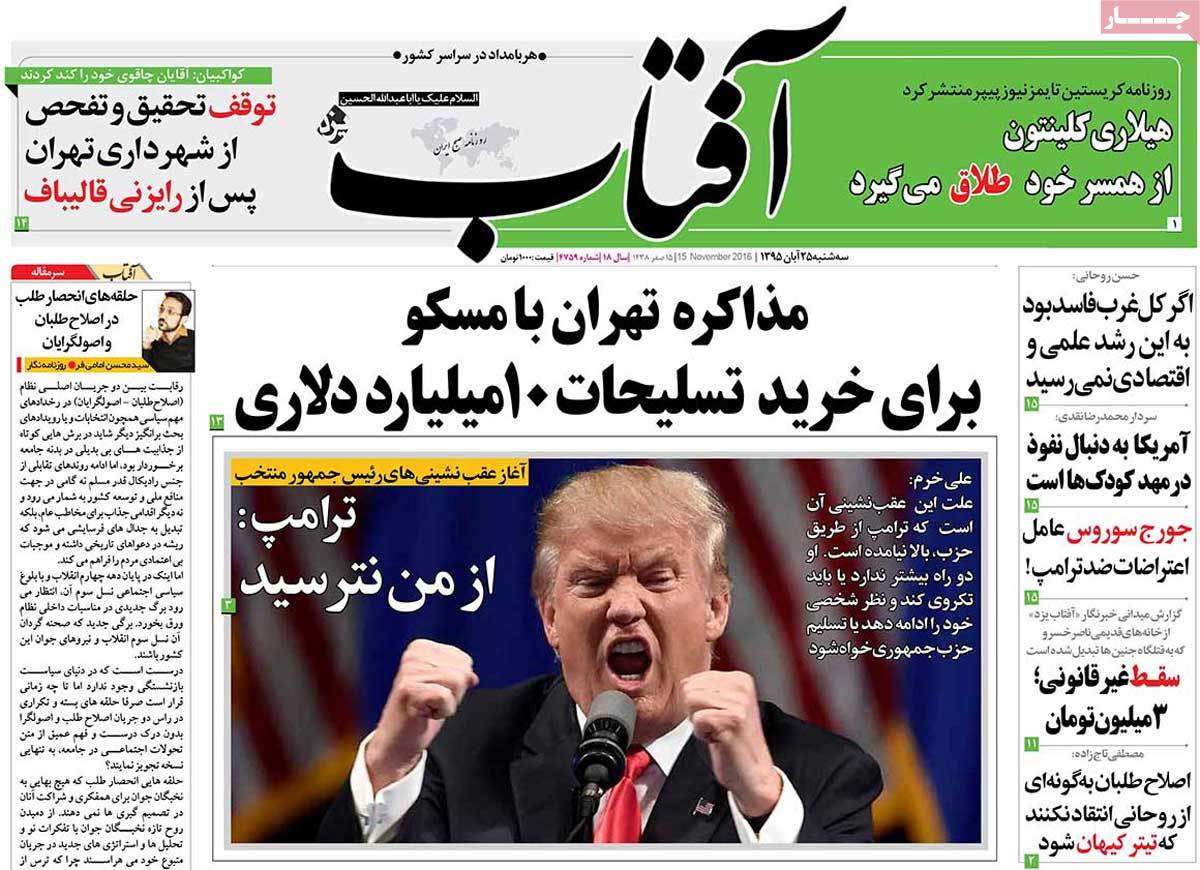 ---
Amin:
1- If JCPOA Was Not There and Trump Became US President [Editorial]
2- President Rouhani: Radicals Think that Everyone, Except Them, Is Wrong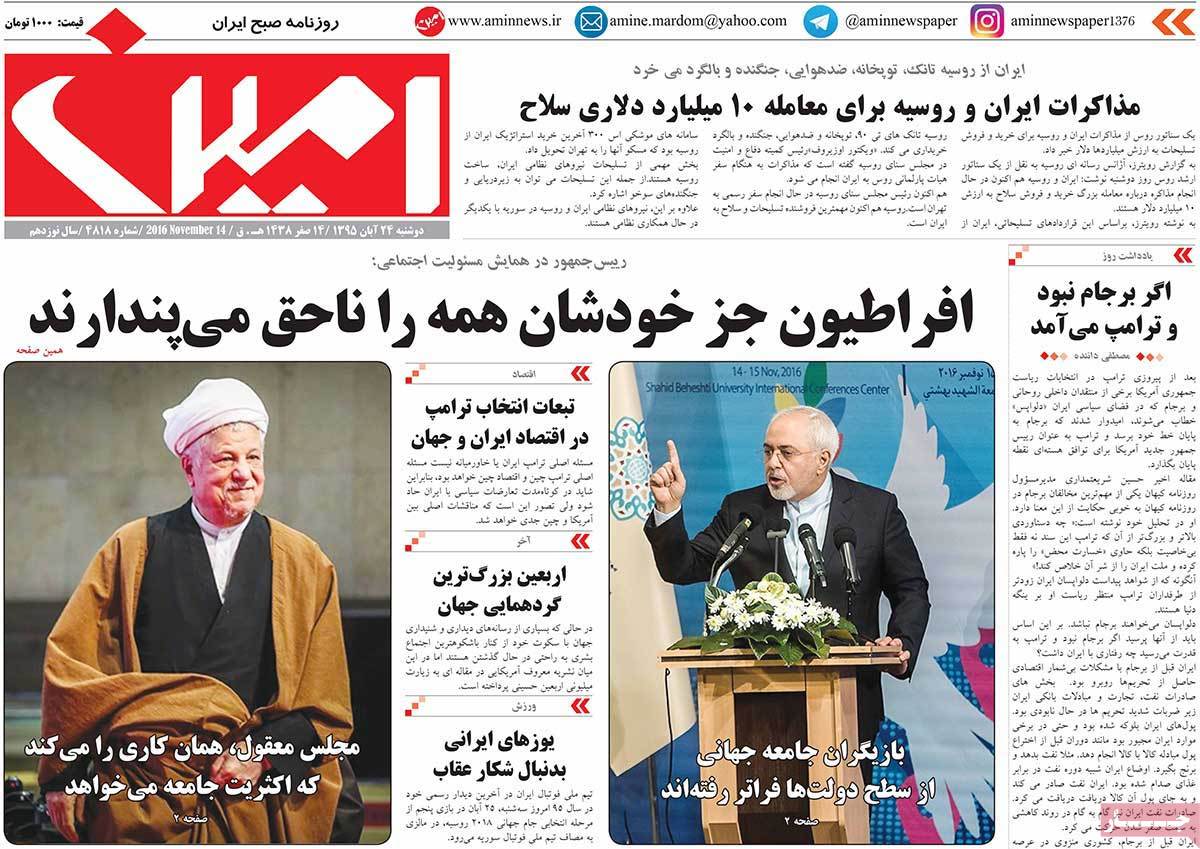 ---
Arman-e Emrooz:
1- First VP's Reaction to Claims about Scrapping JCPOA: They Just Want to Scare People
2- Dinner of Fear in Brussels: EU Holds Extraordinary Meeting after Trump's Victory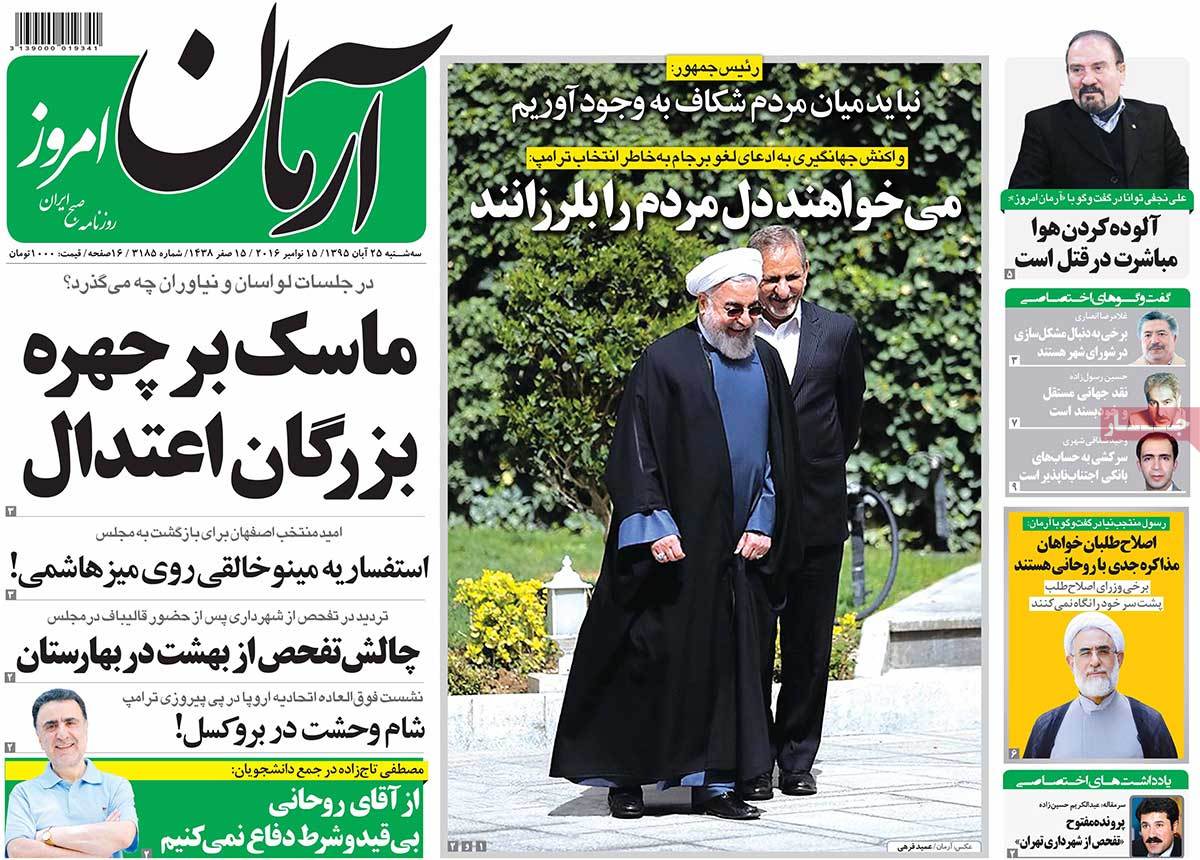 ---
Asrar:
1- Employment, Water, and Environment Are Most Important Problems of Iran: Rouhani
2- Trump: People Are Afraid, Because They Don't Know Me!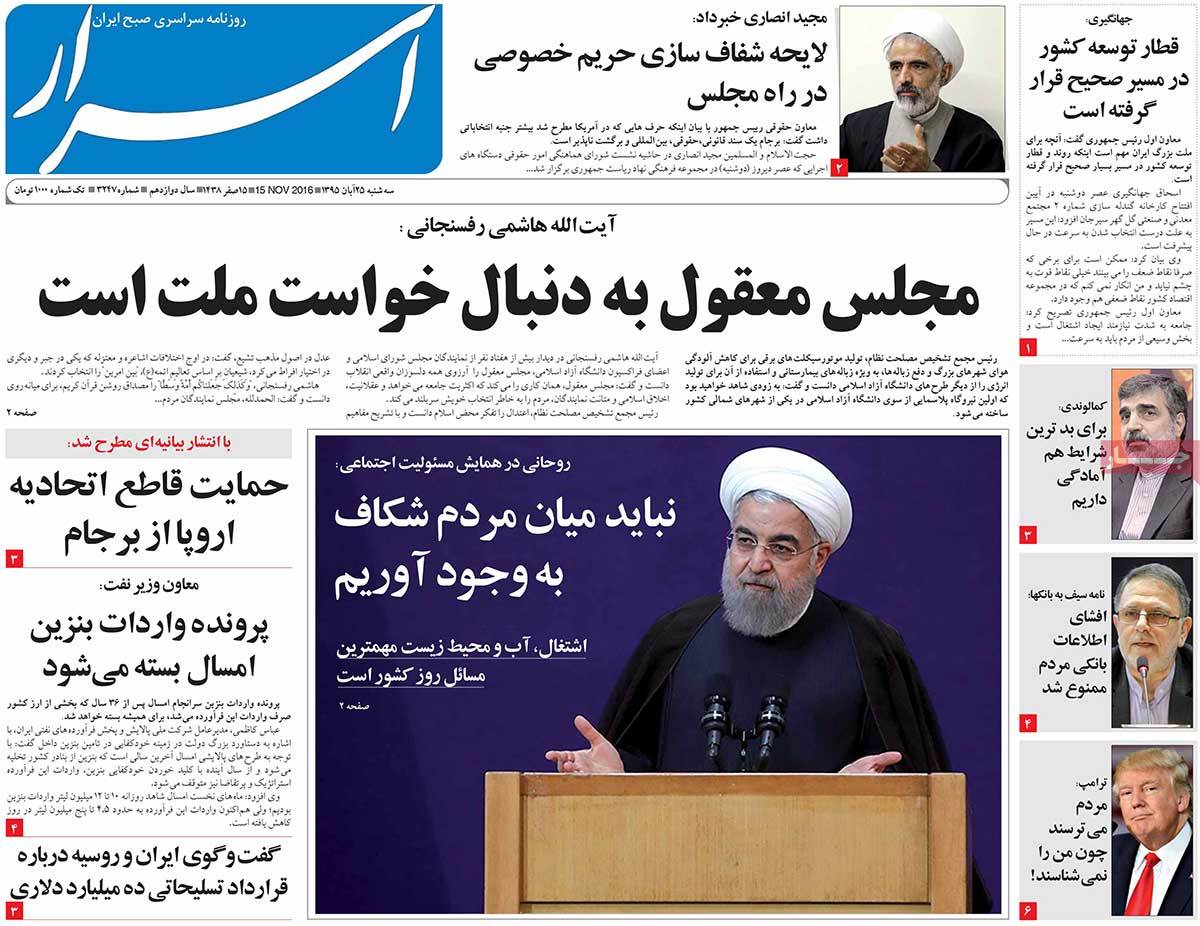 ---
Besharat-e Now:
1- It Is in Everyone's Favour that JCPOA Is Fully Implemented: Mogherini
2- Senior Reformist: Reformism Discourse Is Favoured throughout Iran
---
Ebtekar:
1- My City Is Lost: Why Iranians Don't Pay Attention to Air Pollution?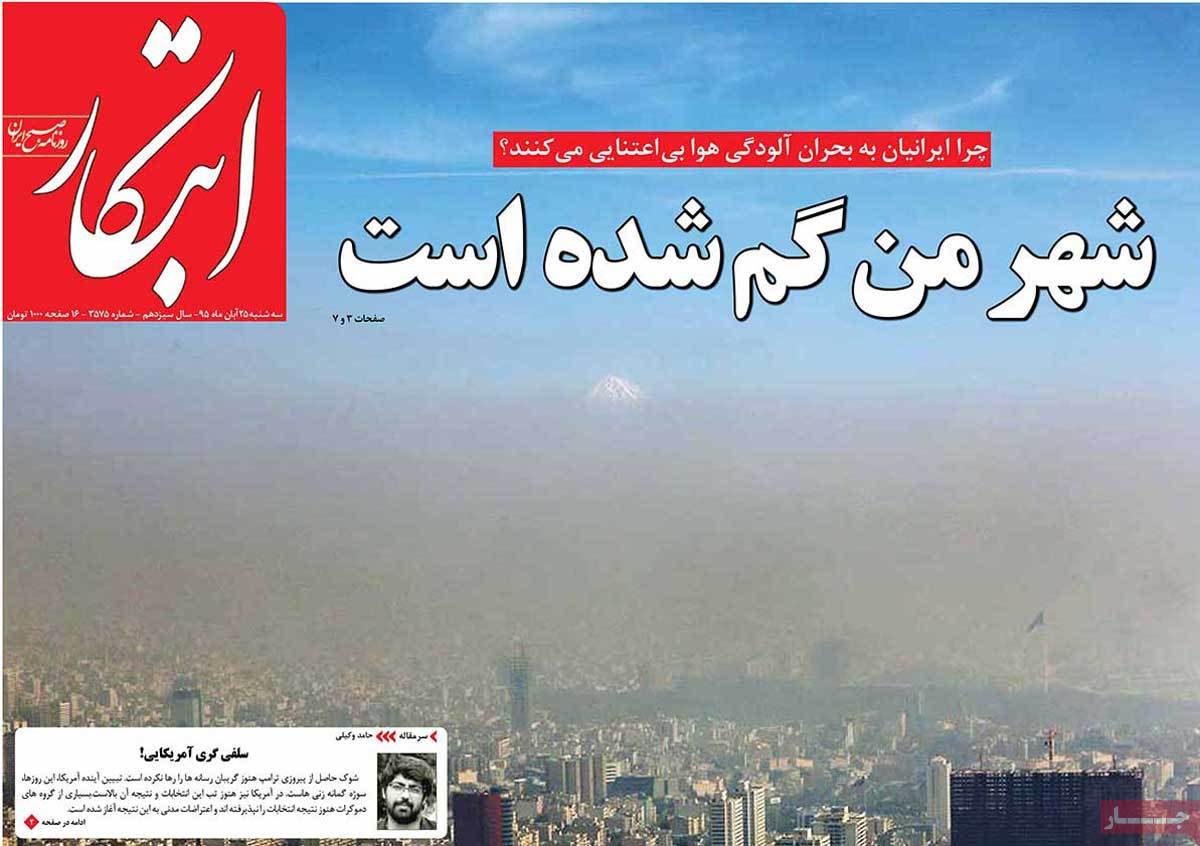 ---
Etemad:
1- Mr Diplomat's Water Warnings: Deputy FM Araqchi Says Iran Will Be Declared as a Country with Shortage of Water by 2025
2- Air Pollution, a Pretext for Attacking Government [Editorial]
3- Forgive Us for the Repetitive Headline: Air Is Polluted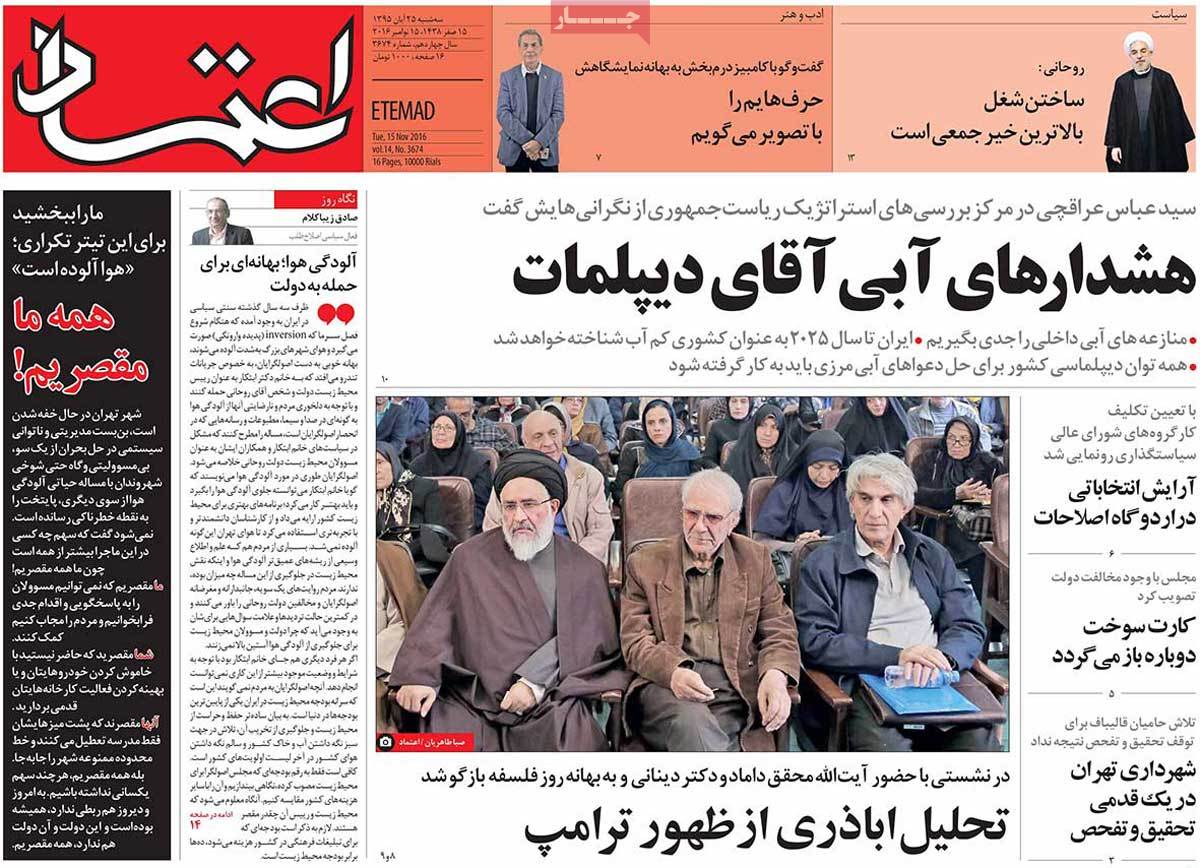 ---
Ettela'at:
1- Rouhani: We Should Prevent Creation of Gap among People through National Solidarity
2- Iran and China Sign Military MoU
3- Trump: I'll Deport 3 Million Illegal Immigrants
---
Haft-e Sobh:
1- Pretending to Be Moving towards the West, but Turning to the East: Talks for Unprecedented Weapons Deal with Russia, and Signing Military MoU with China
2- Searching for the Missing Woman: Unclear Fate of a Woman Seven Days after Falling into Street Canal
3- No Iranian Woman Will Be Allowed to Attend Body Building Competitions
---
Hemayat:
1- Judiciary Chief: US Political Establishment Has Reached a Deadlock
2- Europeans' Human Rights Excuses in Post-JCPOA Era: EU Releases Latest Statement
3- Iran's Atomic Energy Organisation: Major Western Banks Not Cooperating with Iran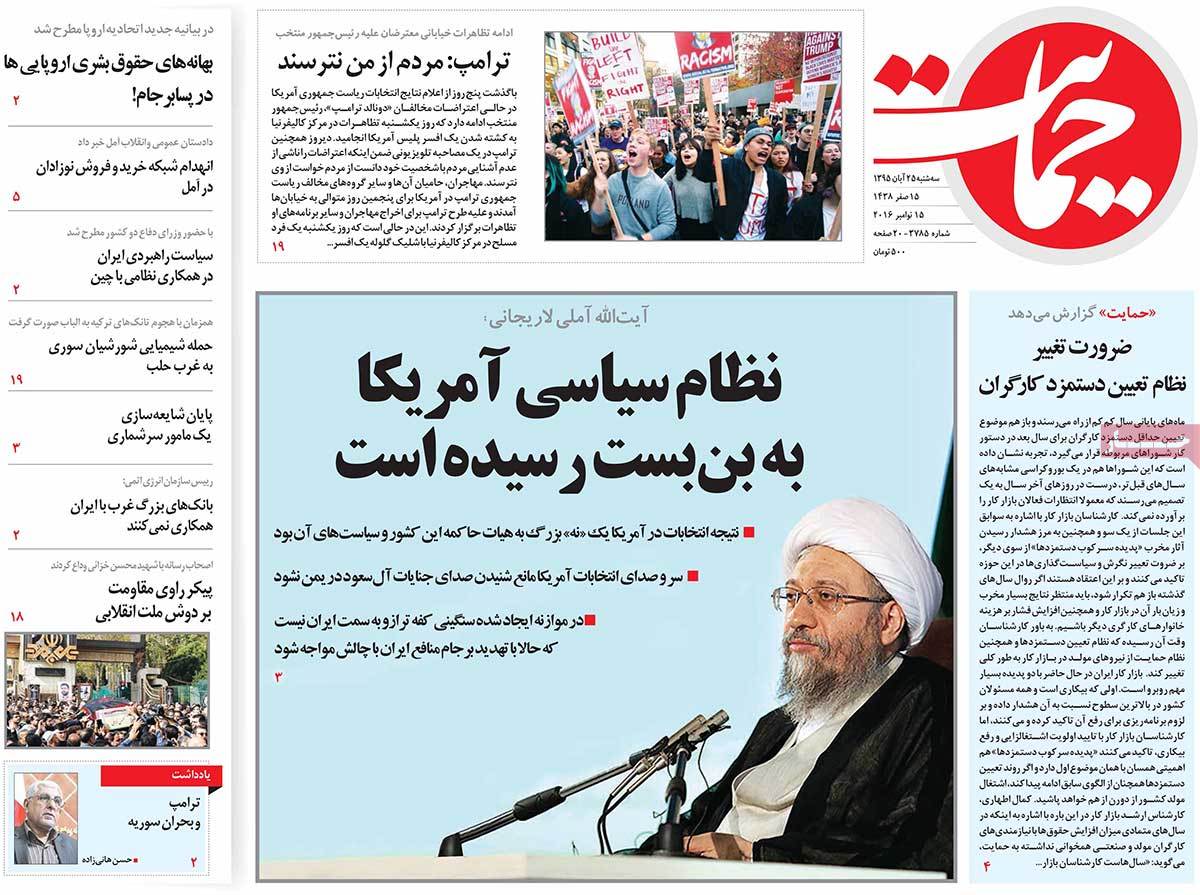 ---
Iran:
1- Europe against Trump: EU Releases Statement in Support of JCPOA
2- Different Faces of Trump as a Candidate and Trump as a President
---
Jame Jam:
1- 10,000 Killed in 600 Days of Saudi Madness in Yemen
2- Repeated Prescriptions for Chronic Air Pollution
---
Javan:
1- Early Gap between Europe and US over JCPOA
2- Six Months to Iran Presidential Election, and 3.5 Years after Rouhani Took Office: Employment Will Be the Government's Main Concern in Next 6 Months!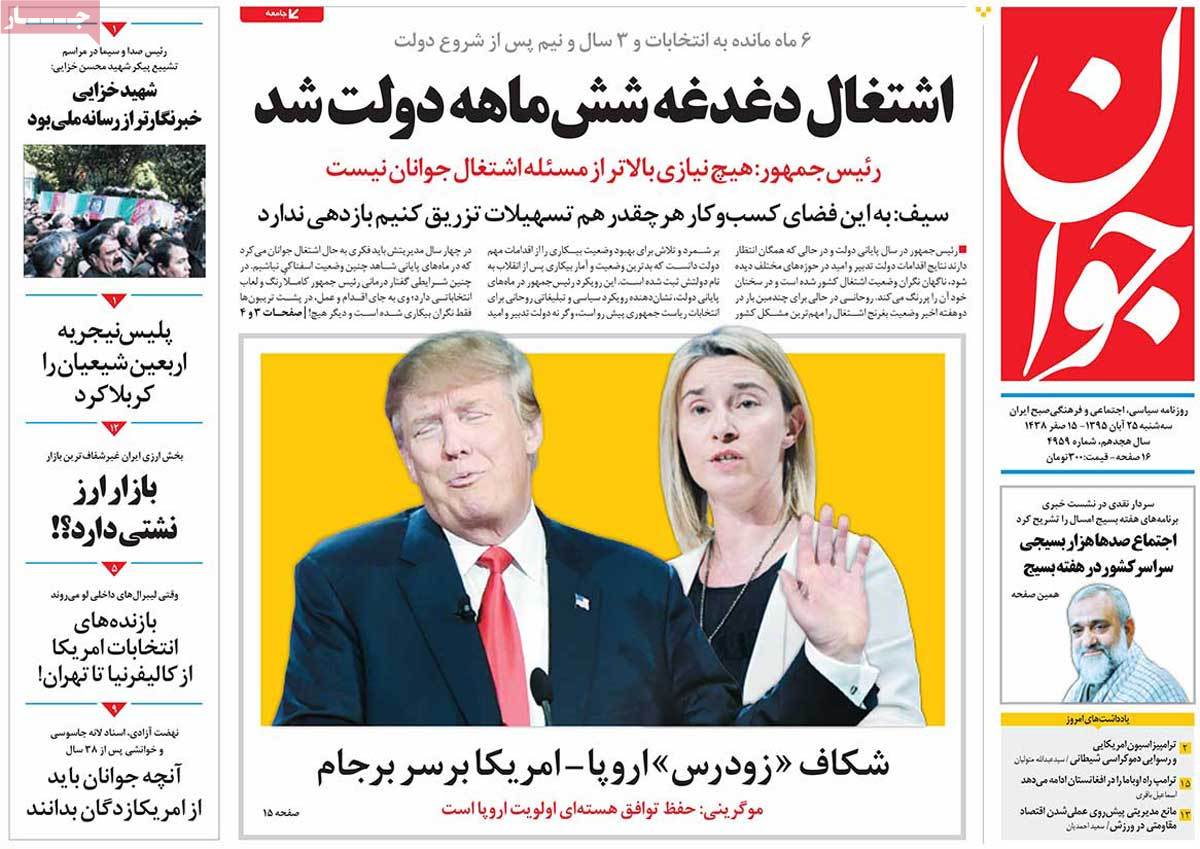 ---
Jomhouri Eslami:
1- Iran Welcomes EU's Statement about Commitment to JCPOA
2- Zarif: Hezbollah Is a Factor that Creates Security in the World
3- US Is Still in Chaos
4- Turkey's All-Out Attacks on Syrian Kurds in al-Bab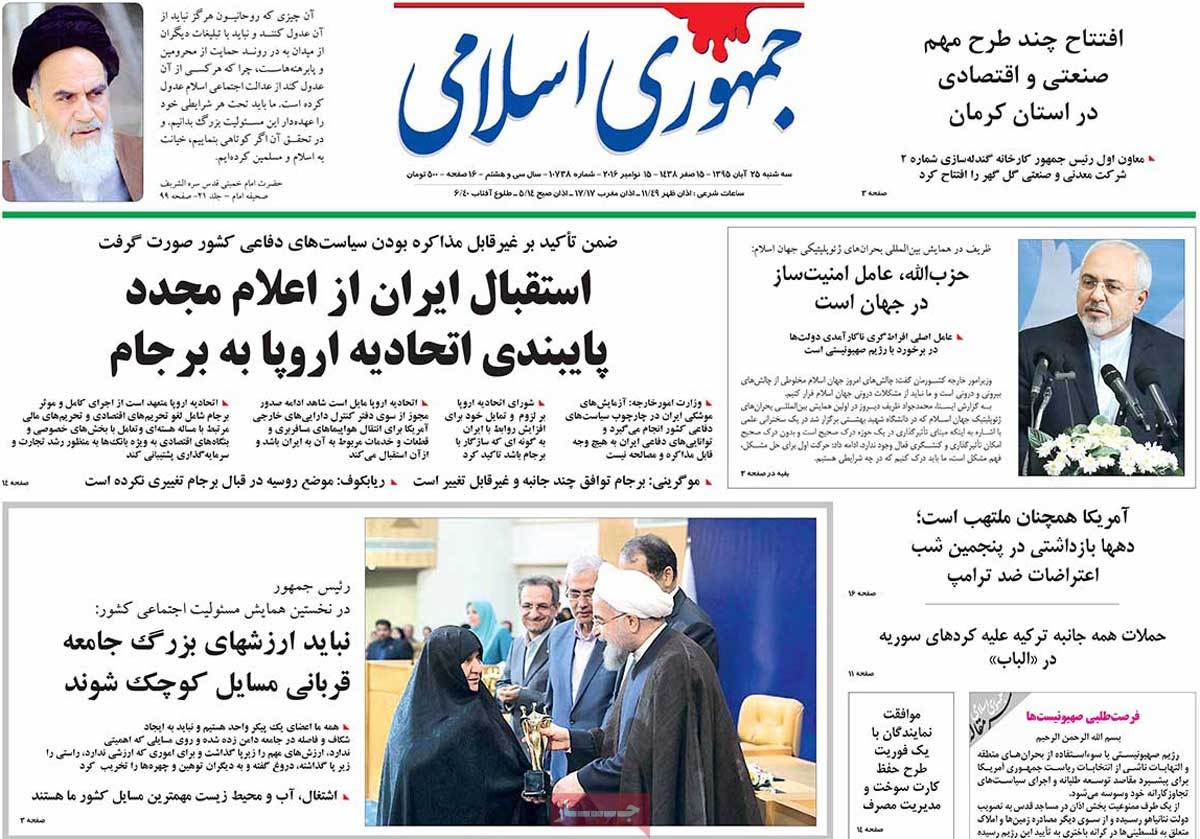 ---
Kayhan:
1- Reformist Economist: Rouhani Should Better Do Something about Economy instead of Partisan Orientations
2- Hezbollah's Parade of Might in Syria Surprises West and Zionists
3- Trump's We Could Rebuild the US with the Money Spent on Our Wars in Middle East
4- Famous American Philosopher: American Empire Faced with Deep Crisis; Trump and Clinton Both Are the Same
---
Khorasan:
1- Biggest Moon in Past 70 Years Observed Last Night
2- Tens of People Killed in Nigerian Army's Attack on Arbaeen Pilgrims
---
Payam-e Zaman:
1- EU Welcomes JCPOA Implementation: Iran's Defence Capabilities Not Negotiable at All!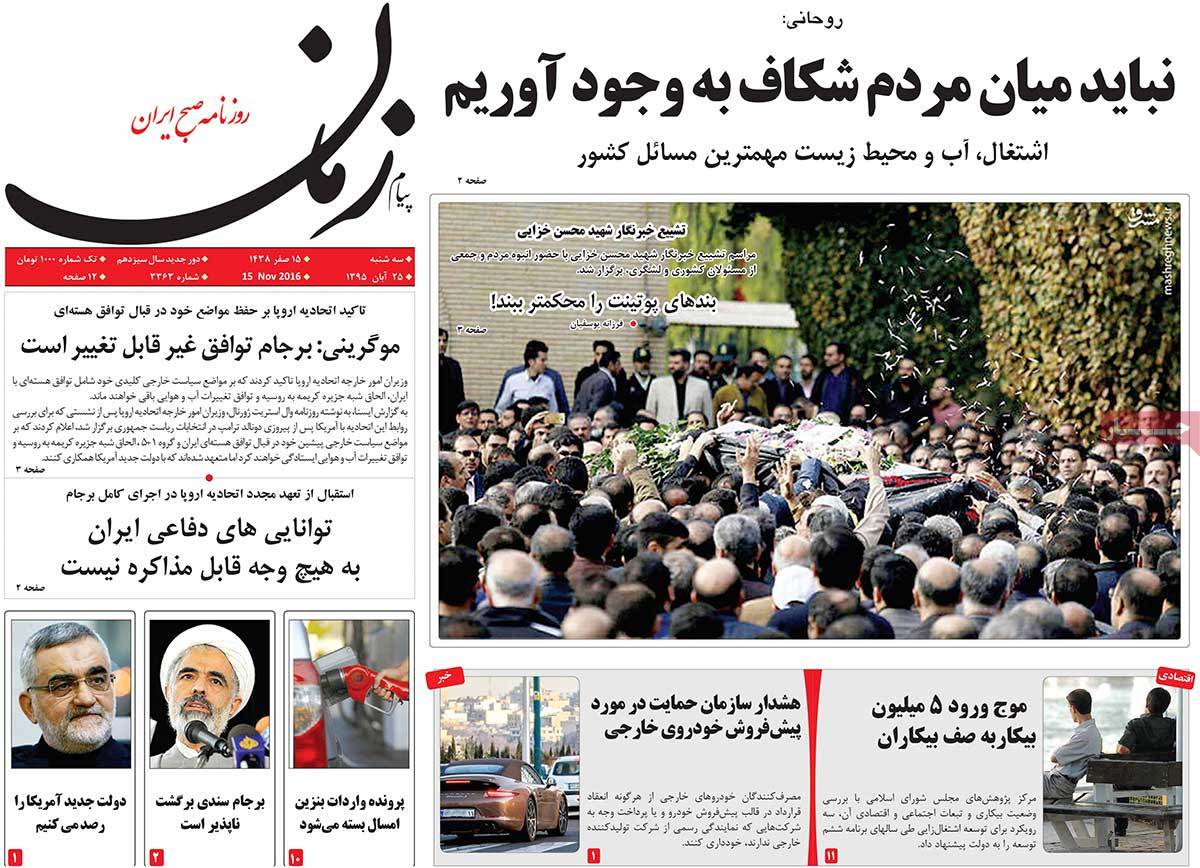 ---
Resalat:
1- Senior Conservative Haddad Adel: Conservatives Are Resolved to Compete in Presidential Elections
2- Parliament Speaker: If a Nation Fights, It Won't Be Humiliated
3- Judiciary Chief: Arbaeen Processions Manifestation of Shiites' Might in World
---
Roozan:
1- Social Media Users Sharing a Message that Says Air Pollution in Tehran Has Become Worse than What Chernobyl Experienced 12 Years after the Accident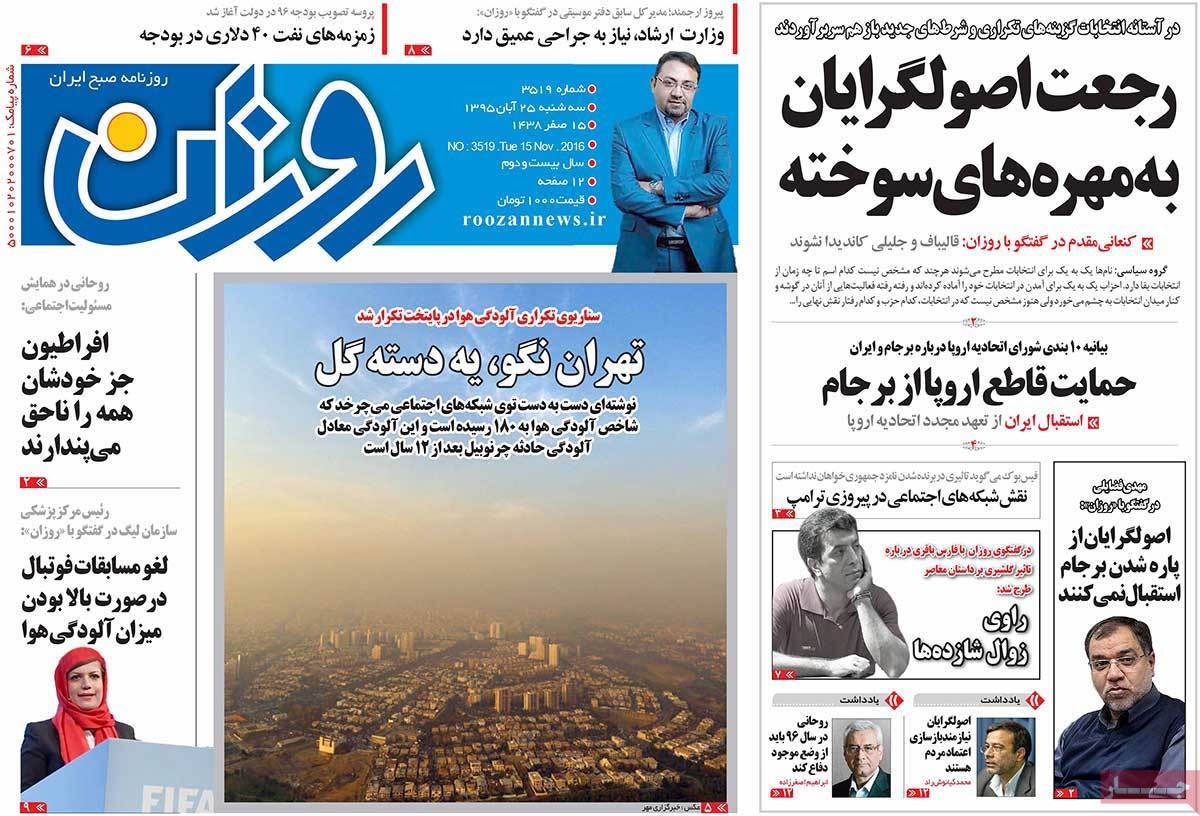 ---
Rooyesh-e Mellat:
1- Expansion of Iran-China Cooperation in Transport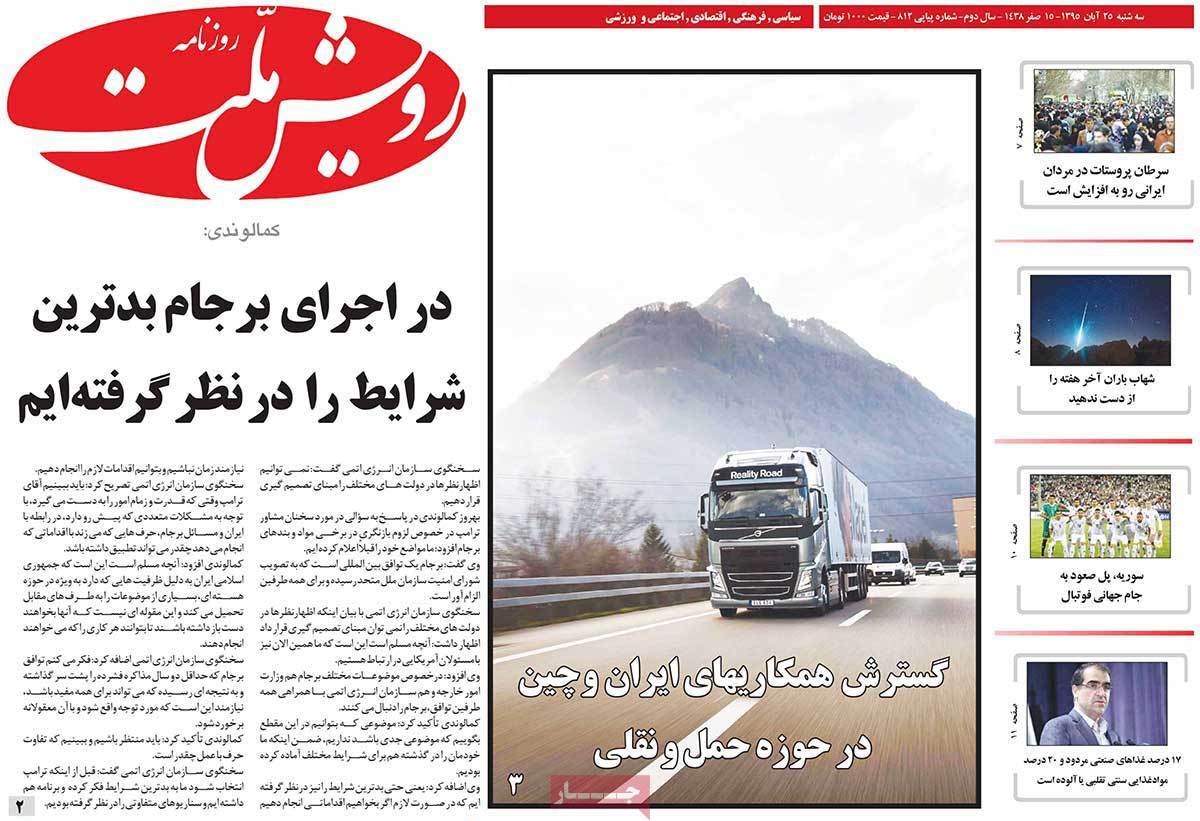 ---
Shahrvand:
1- Infants Sold for $4,000 to $11,000: Members of a Baby Trade Gang Arrested in Iran's Amol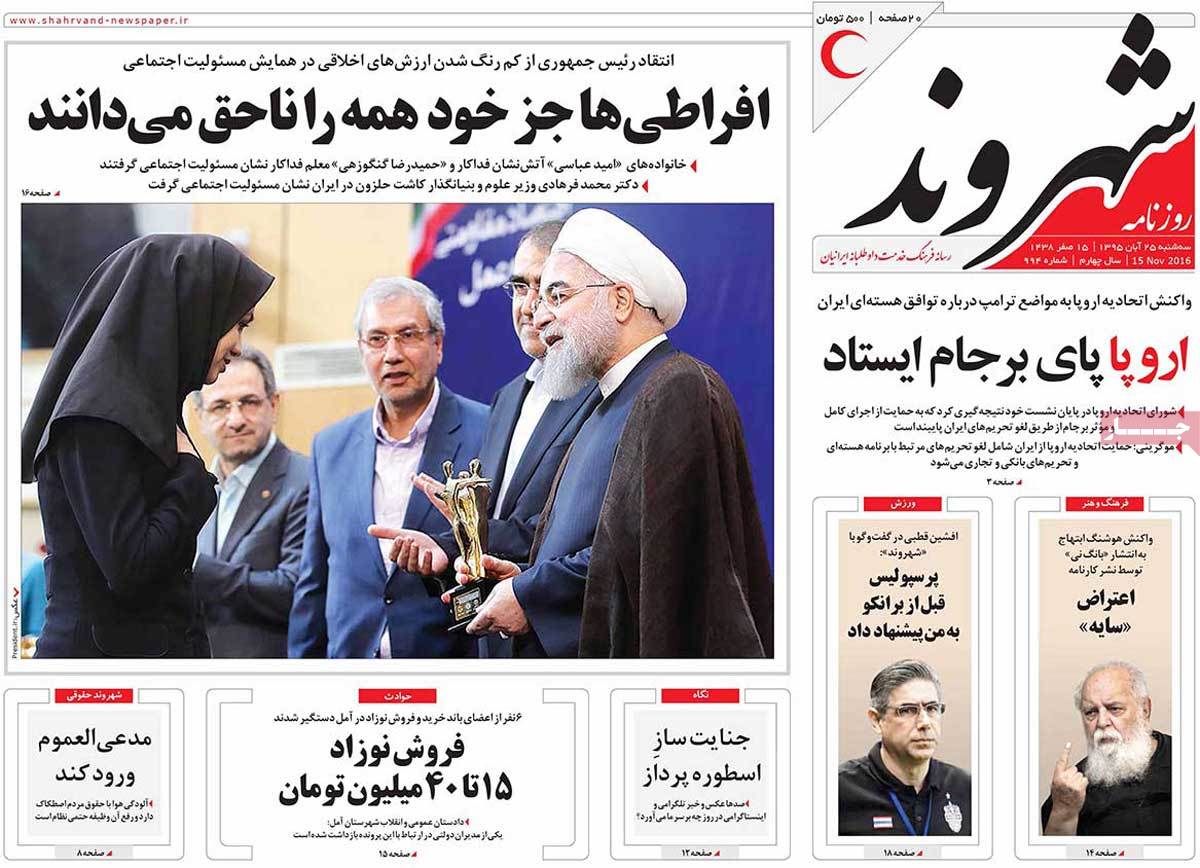 ---
Shargh:
1- Trump's Anti-Iran Stances Not in US Favour
2- Senior Conservative Haddad Adel: We Have Not Sworn to Oppose Rouhani's Government
3- Politics: This Damn Choice between 'Bad and Worse' [Editorial]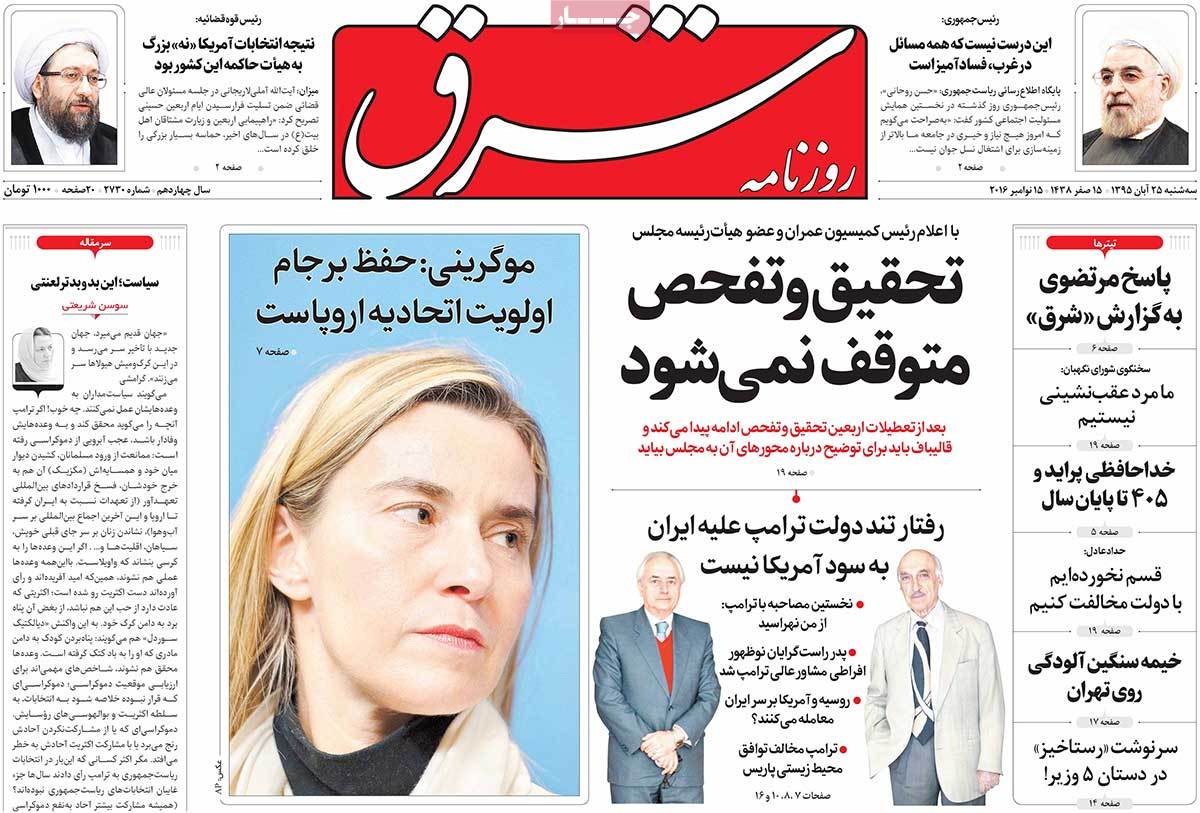 ---
Siasat-e Rooz:
1- 600-Day Holocaust: Saudi-American Coalition Continues Its Atrocities in Yemen
2- We Shouldn't Waste Our Time on Issues that Are Not Important for Iranian Society: Rouhani
---
Tejarat:
1- CBI Governor: People's Financial and Bank Accounts' Data Should Not Be Disclosed
2- Illegal Travel to Iraq Will Be Punished by 6 Years in Prison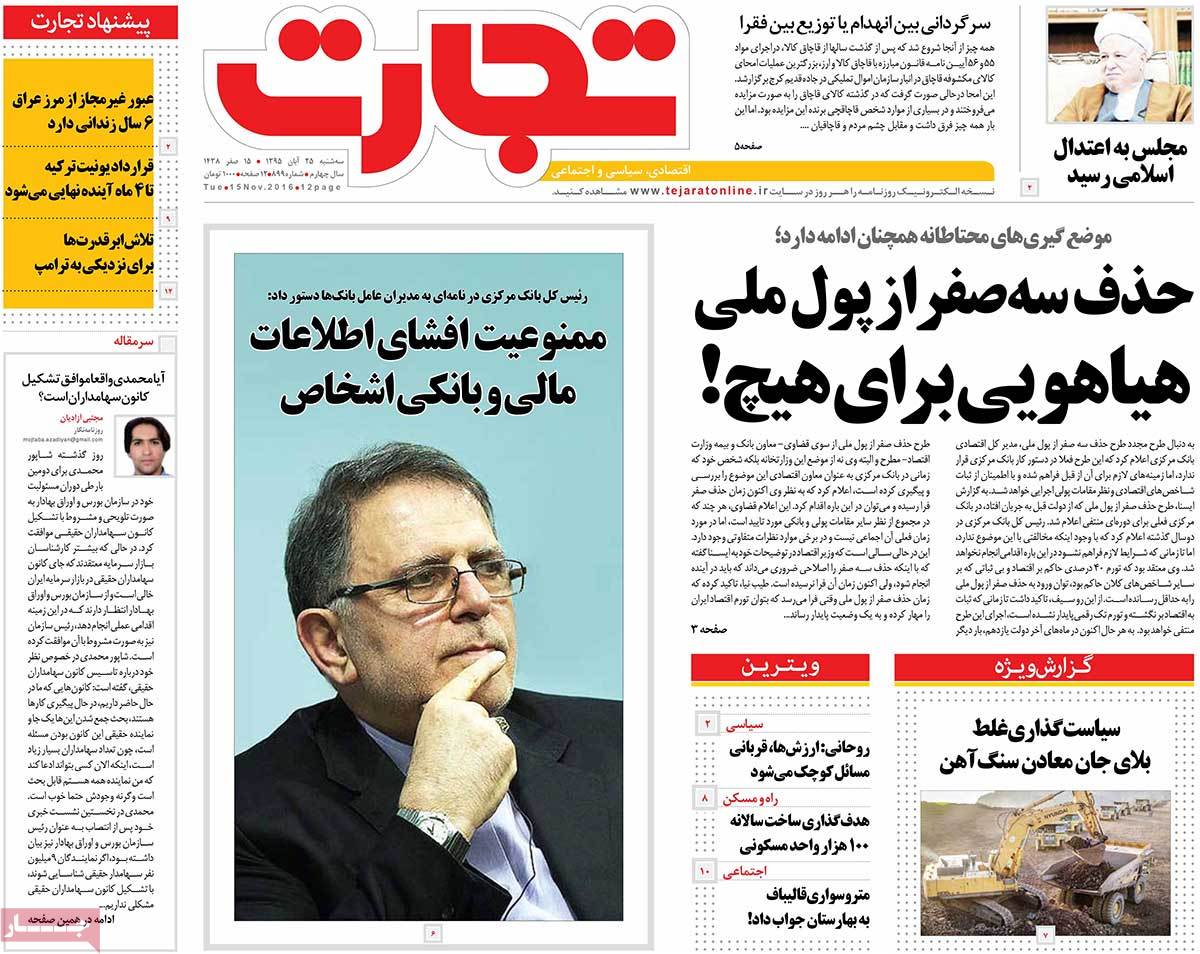 ---
Vaghaye Ettefaghieh:
1- Former Iranian Diplomat: Iran Won't Accept Any Change to Nuclear Deal
2- Trump's Earthquake Activates Gaps between US and Europe
3- We Are Not Seen: When Pollutants Celebrate!
---
Vatan-e Emrooz:
1- You Don't Think about a Solution, You Just Shut Down [schools]: Continued Emergency Situation in Iranian Megacities, and Parliament's Warning against Government's Inattention to People's Health
2- Trump: War Is Enough!
[:es]
Con la continuación de la inestabilidad climática en las grandes ciudades de Irán así como la intensa contaminación del aire, los diarios de Irán abordaron el tema conjuntamente, criticando al gobierno por no tomar medidas necesarias con respecto.
Asimismo, los periódicos de hoy han hecho hincapié en las declaraciones del próximo mandatario estadounidense, Donald Trump, quien aclaró que la gente le tiene medio porque no lo conoce en un intento de calmar la situación tensa que vive el mundo tras su victoria electoral.
Por otra parte, la decisión de la Unión Europea de brindar su apoyo al pacto nuclear iraní, las declaraciones del Presidente Rohani acerca de principales preocupaciones de su gobierno, recibieron una gran cubertura por los diarios.
Los temas antes mencionados, así como varias otras cuestiones se destacan en los siguientes títulos:
Abrar:
Mogherini brinda su pleno apoyo a PIAC (acuerdo nuclear)
Un diputado del parlamento: "70% de las fuerzas laborales sufren el subempleo."
El ministro emiratí de Estado de Asuntos Exteriores, Anwar Qarqash: "No rechazamos la propuesta de diálogo con Irán."
La UE insiste en sus posturas con respecto al acuerdo nuclear.
Ban Ki moon condena el atentado de Pakistán
---
Abrar Eqtesadi:
El presupuesto del próximo año ajusta el precio de crudo a 40 dólares
Almania vende trenes a Irán a plazos
Zakani ¿dónde estaba usted durante 8 años del mandato de Ahmadineyad?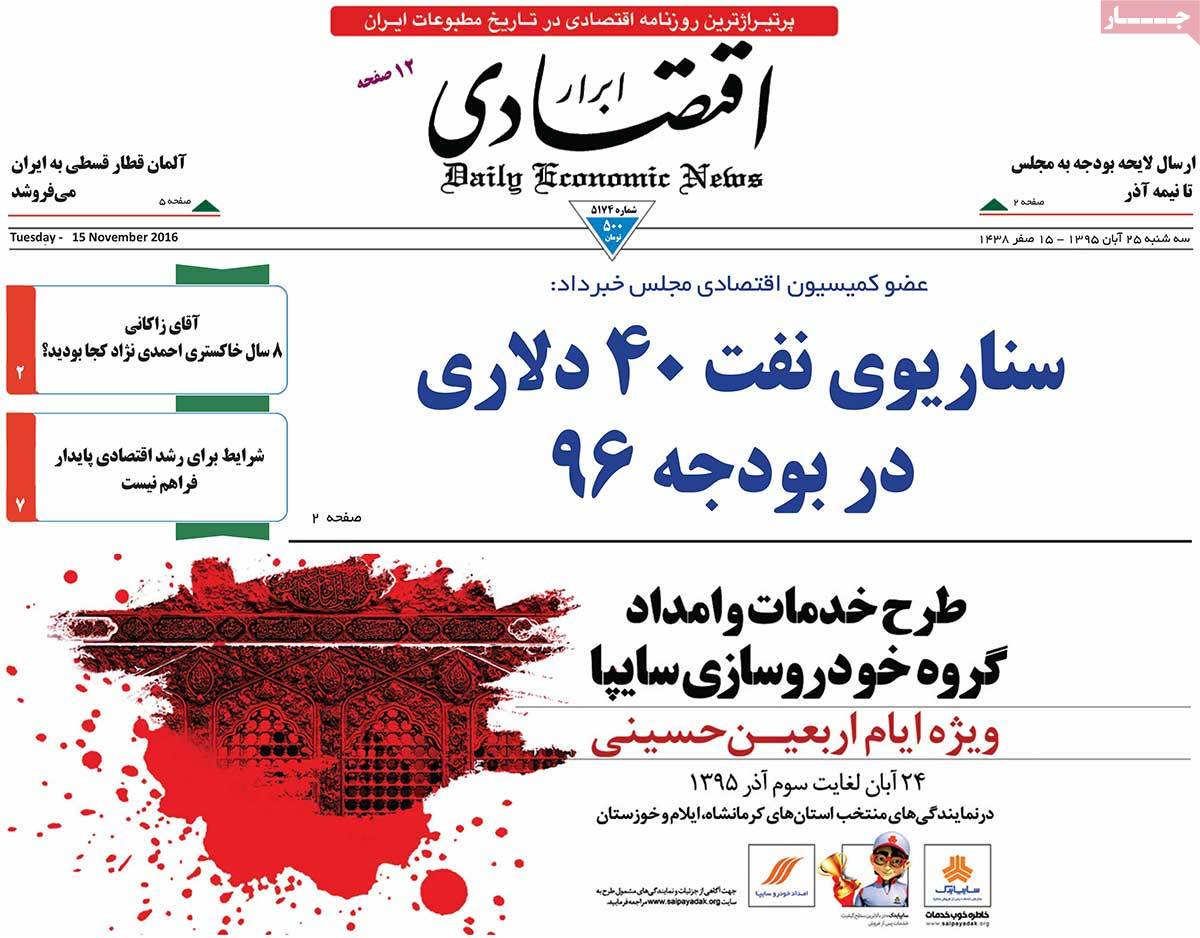 ---
Afkar:
Atentado terrorista en Kerbala, Irak
Trump está obligado a observas las realidades
Unos 25% de los iraníes tienen el nivel de glicemia más alta de 100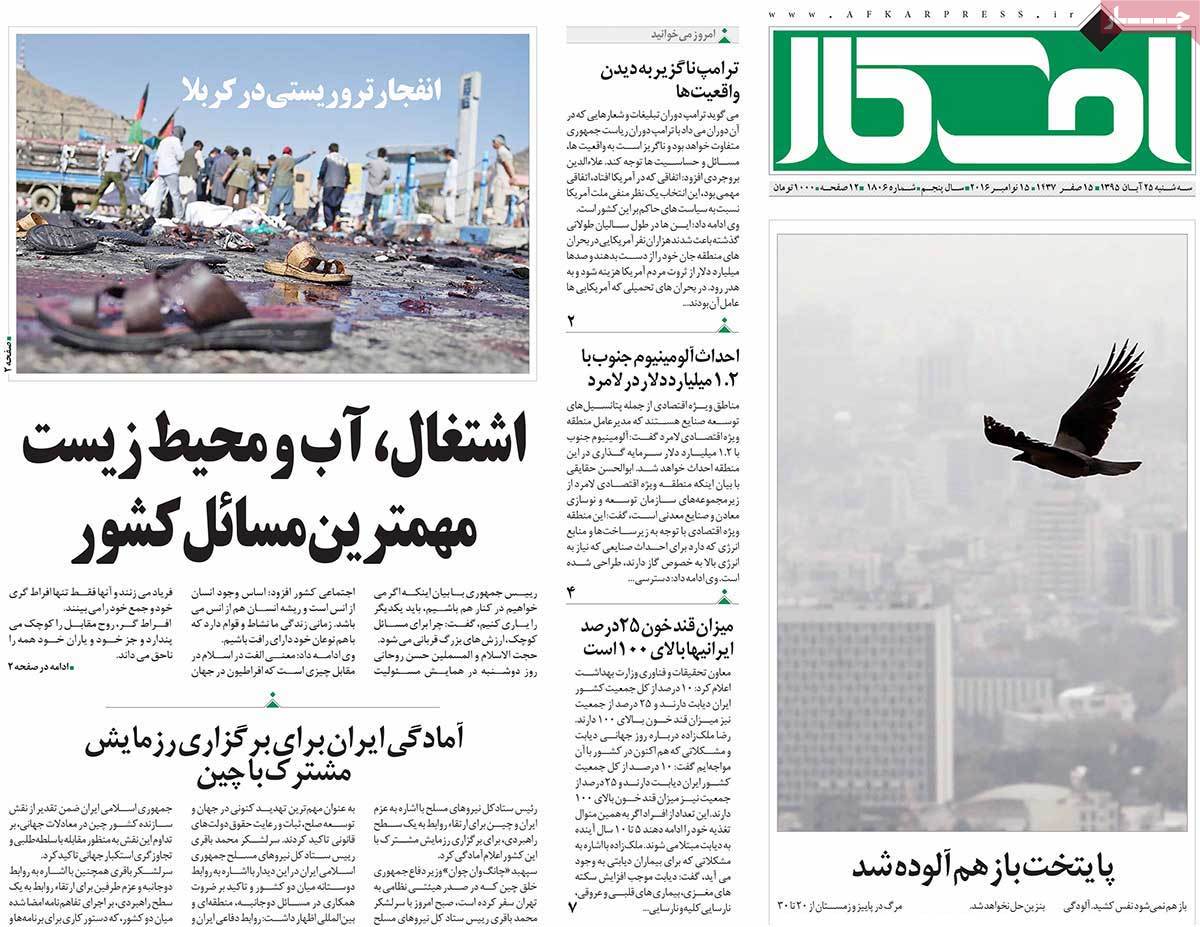 ---
Aftab Yazd:
Irán negocia con Moscú para adquirir armamentos a valor de 10 mil millones de dólares
Rohani: "Si el Occidente era plenamente corrupto no lograba este avance científico y económico."
Trump: "No me tengan miedo."; El presidente electo empieza a retroceder
Christian Newspaper: "Hilary Clinton opta por separarse de su esposo."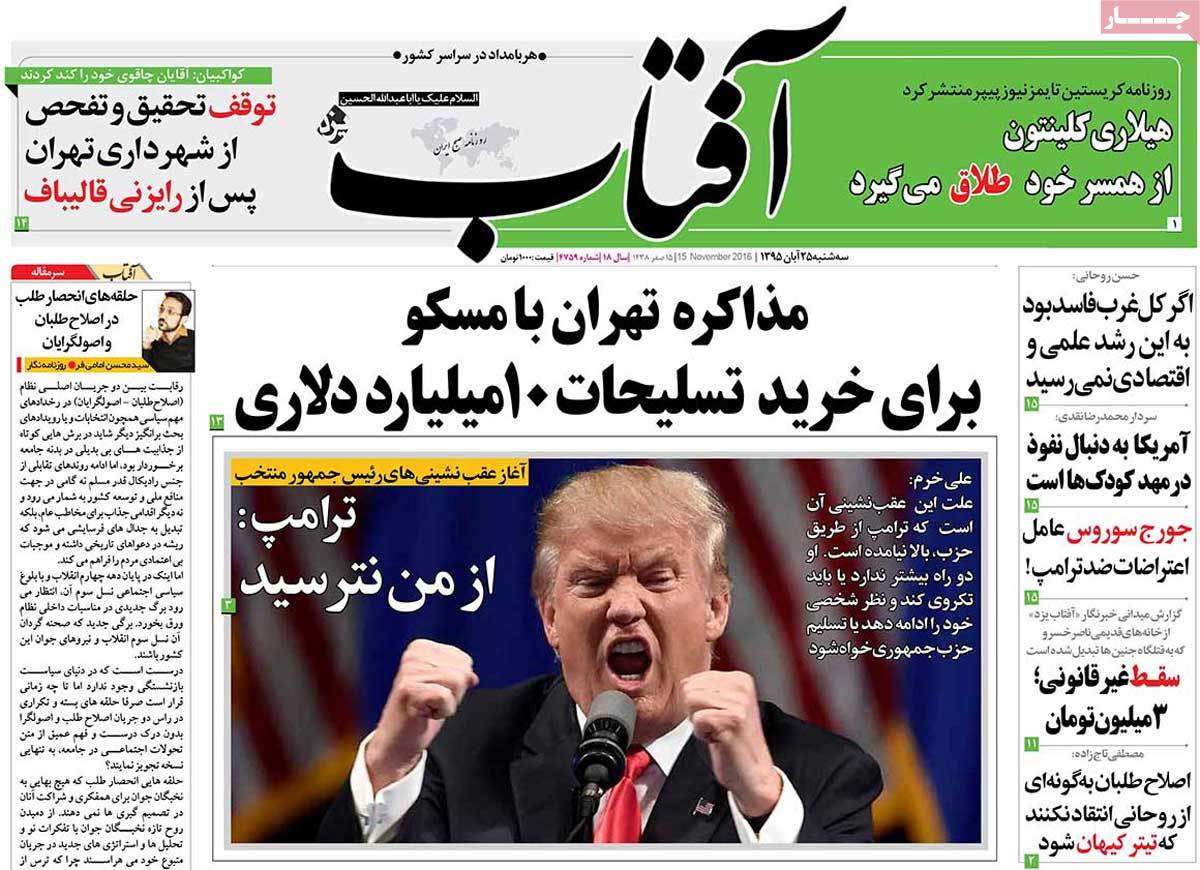 ---
Amin:
¡Si no hubiera el acuerdo nuclear y llegaría Trump! (nota del día)
El Presidente de Irán: "Los extremistas consideran a todos desviados, salvo sí mismos."
Zarif: "Los actores de la comunidad internacional han superado el nivel de los gobiernos."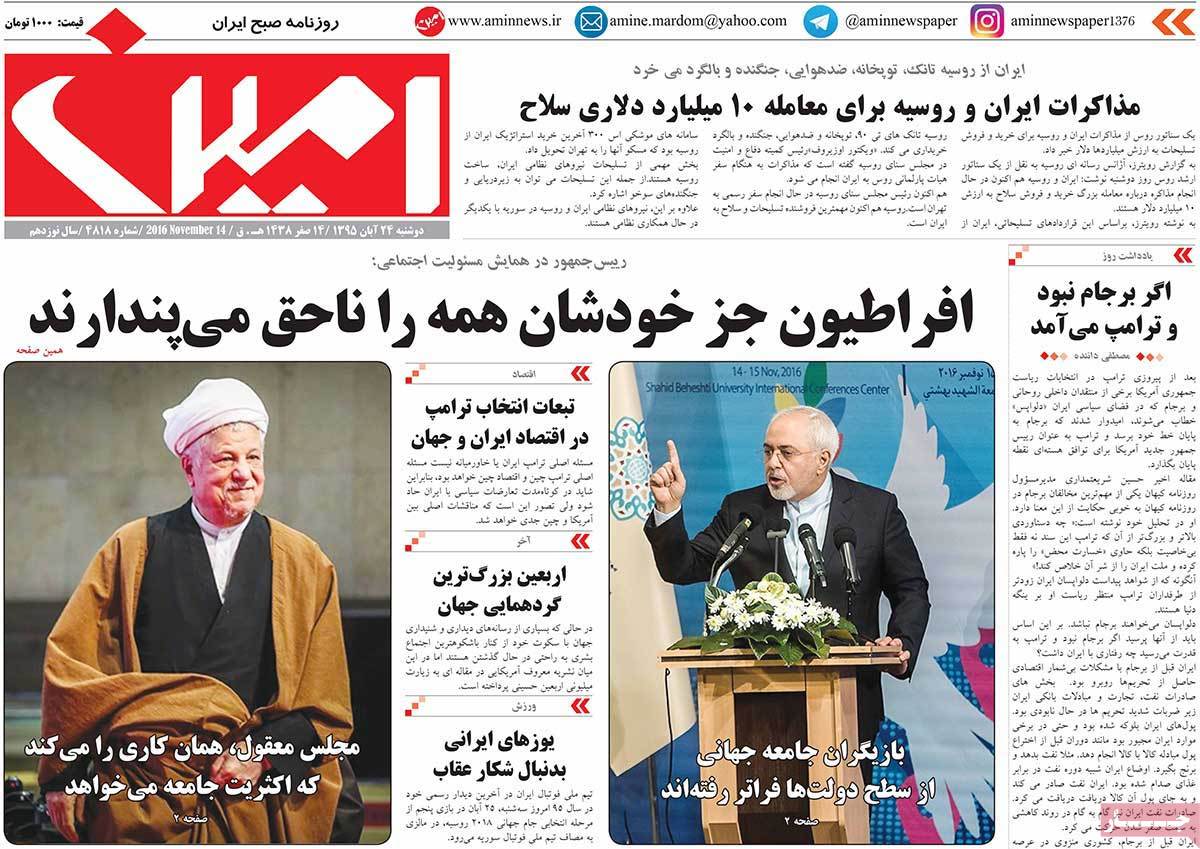 ---
Arman Emruz:
El Primer vicepresidente de Irán reacciona ante la alegada abolición del PIAC: "Quieren desanimar a la gente."
Cena de horror en Bruselas; La UE celebra una reunión de emergencia tras la victoria de Trump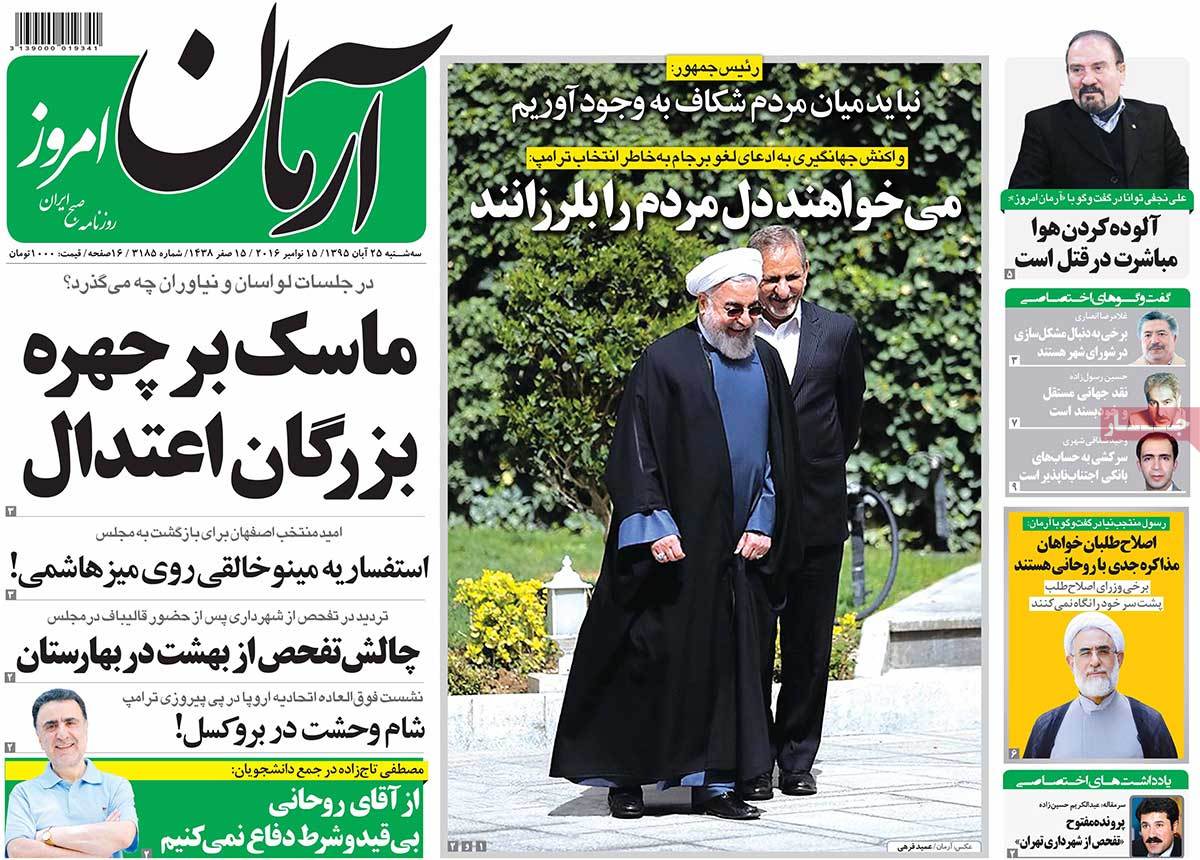 ---
Asrar:
Rohani: "El empleo, el agua y el medio ambiente son los actuales asuntos claves en Irán."
Trump: "La gente me tiene miedo porque no me conoce."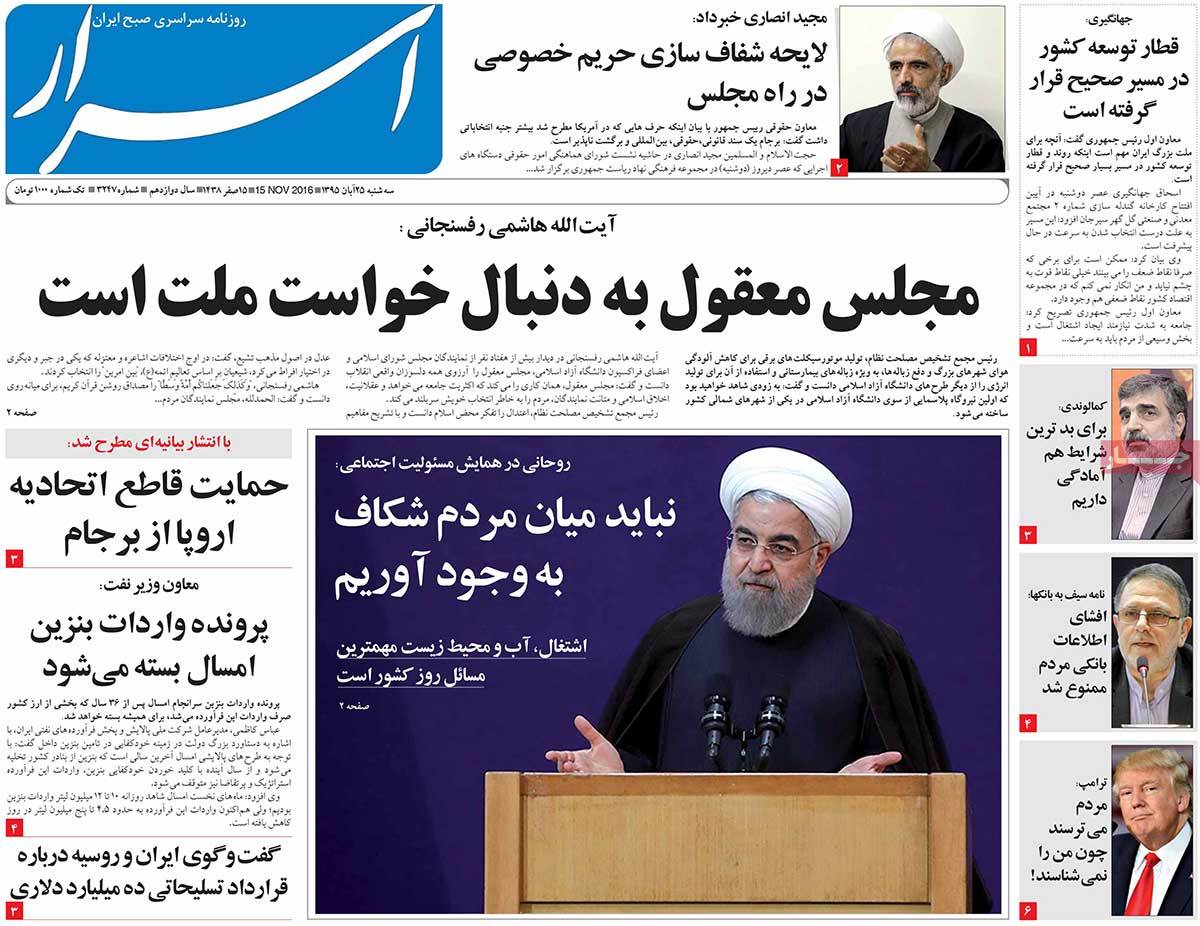 ---
Behsarat No:
Mogherini: "La aplicación complete del PIAC favorecerá a todos."
Político reformista: "El reformismo es il diálogo integral del país."
---
Ebtekar:
¡Mi ciudad está perdida!; (¿Por qué los iraníes hacen caso omiso a la contaminación del aire?)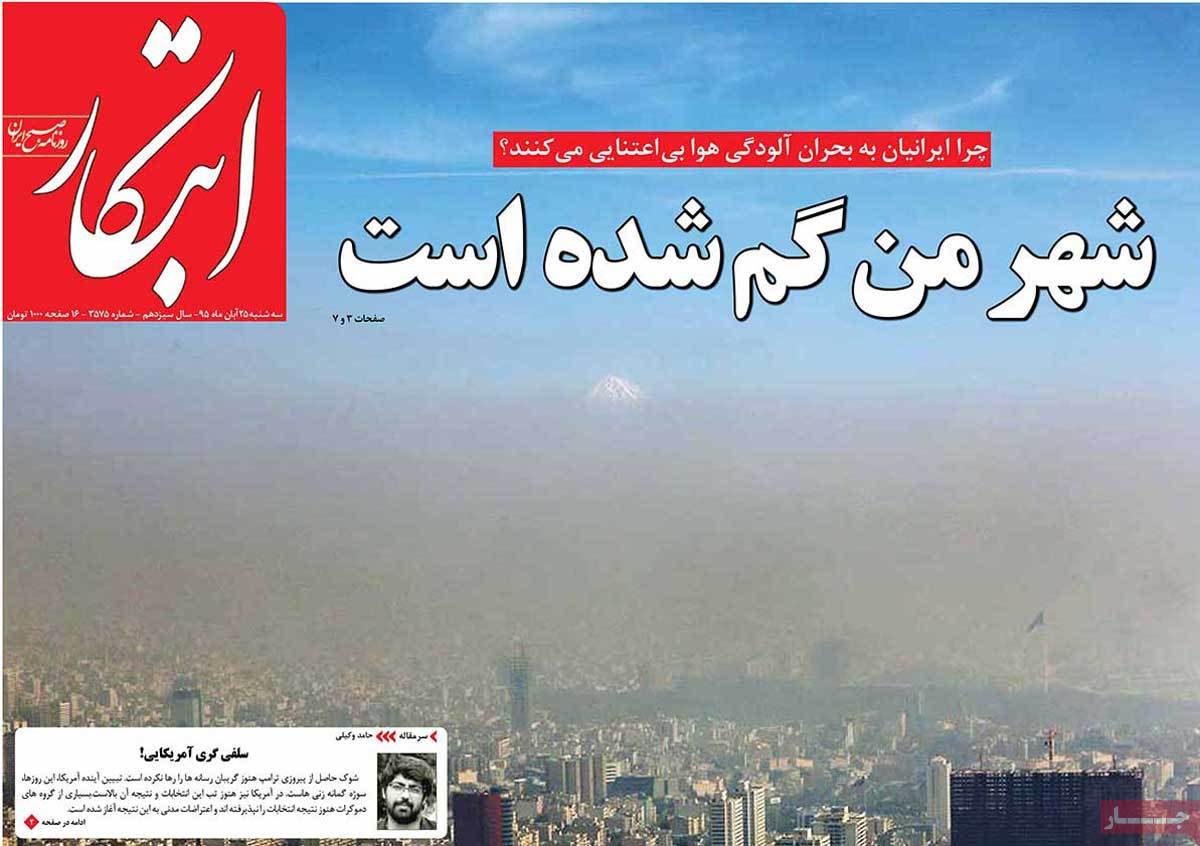 ---
Etemad:
Advertencia acuática del vicecanciller (Araghchi: "Irán estará considerado un país con escasez de agua hasta 2025.")
Contaminación del aire, un pretexto para atacar al gobierno
Pedimos disculpas por este título repetitivo: "El aire está contaminado."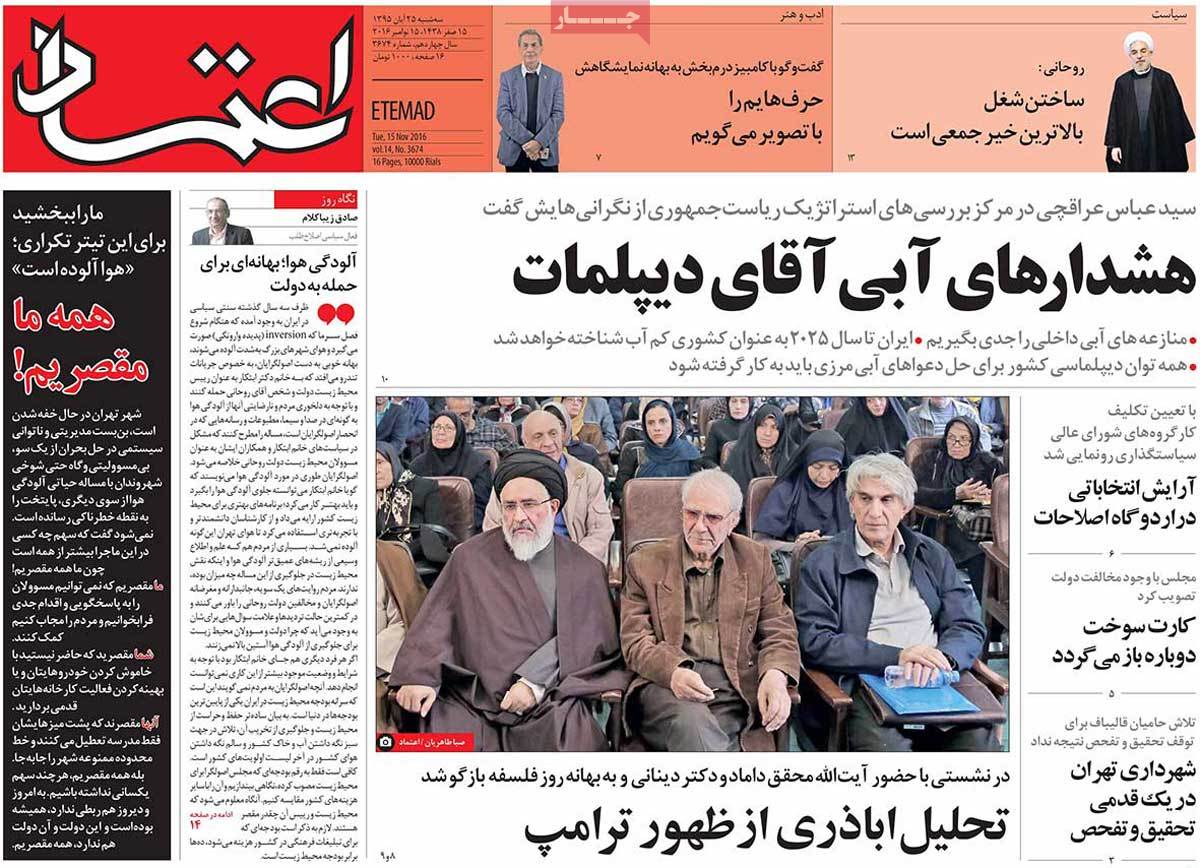 ---
Etelaat:
Rohani: "Debemos evitar la brecha social impulsando la solidaridad nacional."
Irán y China sellan acuerdos de cooperación militar.
Trump: "Expulsaré a 3 millones de migrantes de EEUU."
---
Haft_e_Sobh:
Direccional al occidente y girar al oriente; Irán negocia para sellar un acuerdo militar sin antecedentes con China y Rusia
En búsqueda de la mujer perdida; ¿qué pasó con una mujer tras 7 días de su caída al conducto del agua en la calle?
Se cierra el caso de mujeres culturistas.; ninguna mujer iraní estará permitida para participar en las competiciones del culturismo.
---
Hemiat:
El Presidente del Poder Judicial: "El Sistema político de EEUU ha llegado a un callejón sin salida."
Las excusas europeas sobre la situación de DDHH en Irán, después del acuerdo nuclear. (nueva declaración de la Unión Europea.)
La Organización de Energía Atómica: "Los grandes bancos occidentales no colaboran con Irán."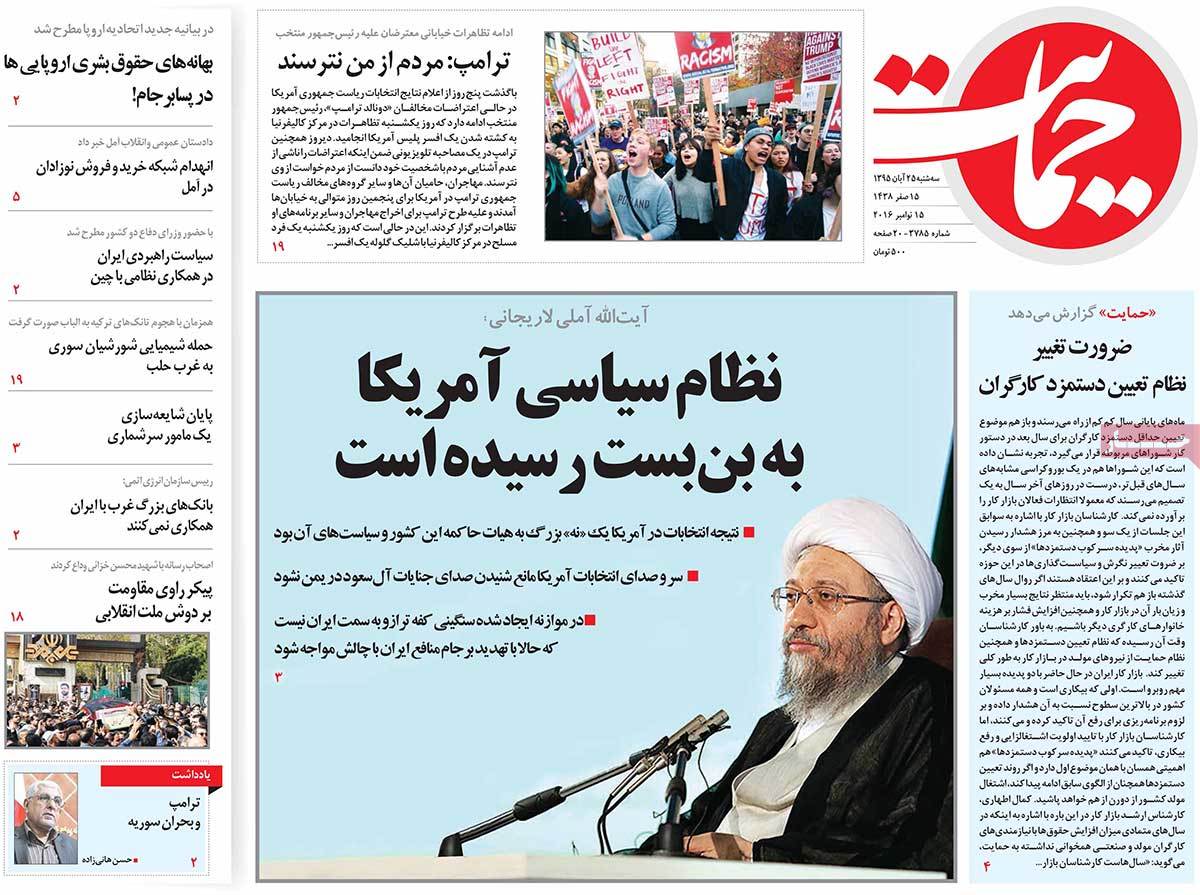 ---
Irán:
Europa en contra de Trump; la UE emite una declaración en apoyo del acuerdo nuclear.
Diferentes vistas de Trump, como Candidato y como Presidente.
---
Yaam_e_Yam:
Indemnización de los yemeníes, un asunto olvidado en las cumbres internacionales; 10 mil muertos, saldo de 600 día de locura saudita
Prescripciones repetitivas para una grave contaminación
---
Yavan:
Brecha precoz entre Europa y Estados Unidos sobre el acuerdo nuclear iraní.
Quedan 6 meses hasta las próximas elecciones y pasan 3 años y medio del mandato de Rohani: "el desempleo, una preocupación del gobierno para 6 meses."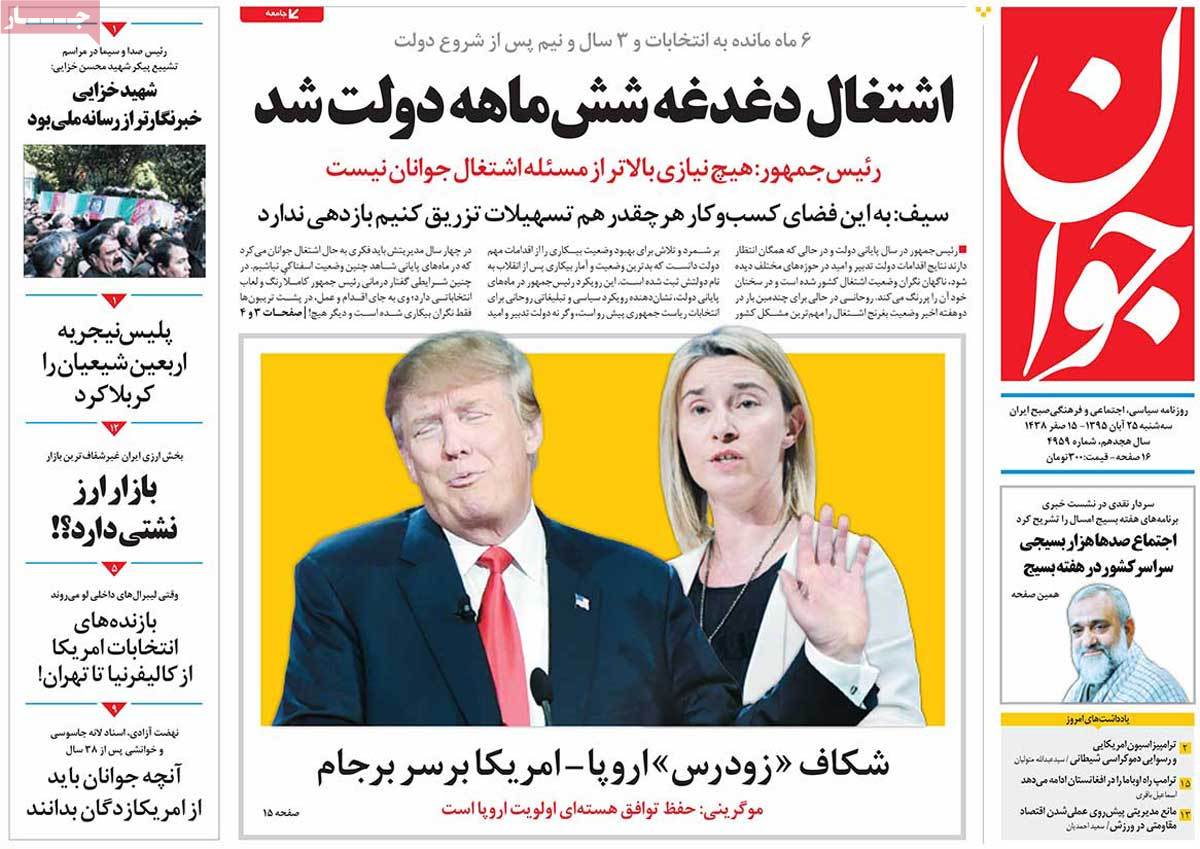 ---
Yamhuri Eslami:
Irán da la bienvenida a la decision de la UE de apoyar el acuerdo nuclear.
Zarif: "El movimiento de Hezbolá, es un factor garante de seguridad en el mundo."
EEUU siguen tensos
El ejército turco lanza ataques sucesivos contra los kurdos de Siria en Al-Bab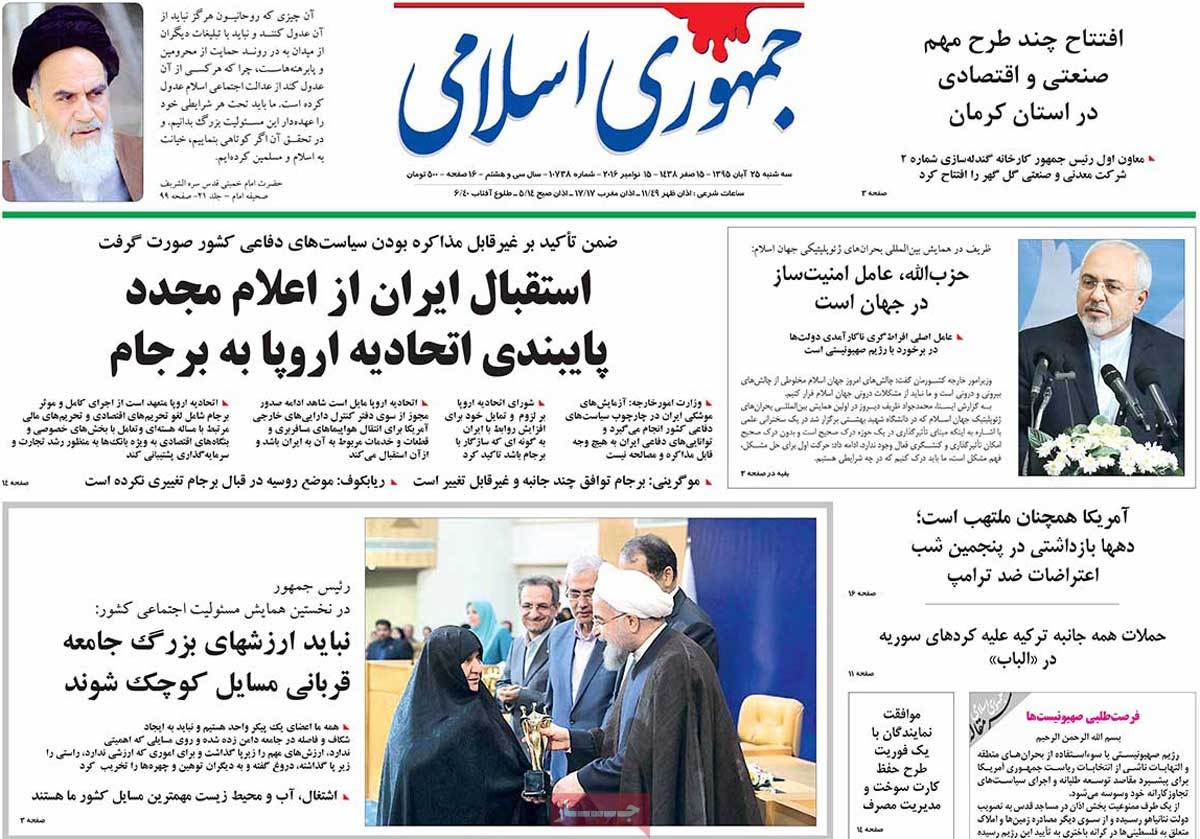 ---
Kayhan:
Un economista reformista: "Sr. Rohani dejan de lado sus posturas partidistas y busquen una salida a la crisis económica del país."
La maniobra de soberanía del movimiento de Hezbolá en Al-ghasir de Siria asombra al Occidente y los sionistas
Trump: "con el dinero que gastamos en guerra en Oriente Medio podríamos reconstruir dos veces nuestro país."
Un famoso filosofo estadounidense: "El imperio estadounidense está al borde de una profunda crisis."
---
 Jorasán:
Una vista de la luna más grande de hace 70 años
EL ataque del ejército nigeriano a los participantes de la Marcha de Arbain deja decenas de muertos.
---
Paiam_e_Zaman:
La UE apoya el PIAC: "las capacidades militares de Irán no son negociables de ninguna manera."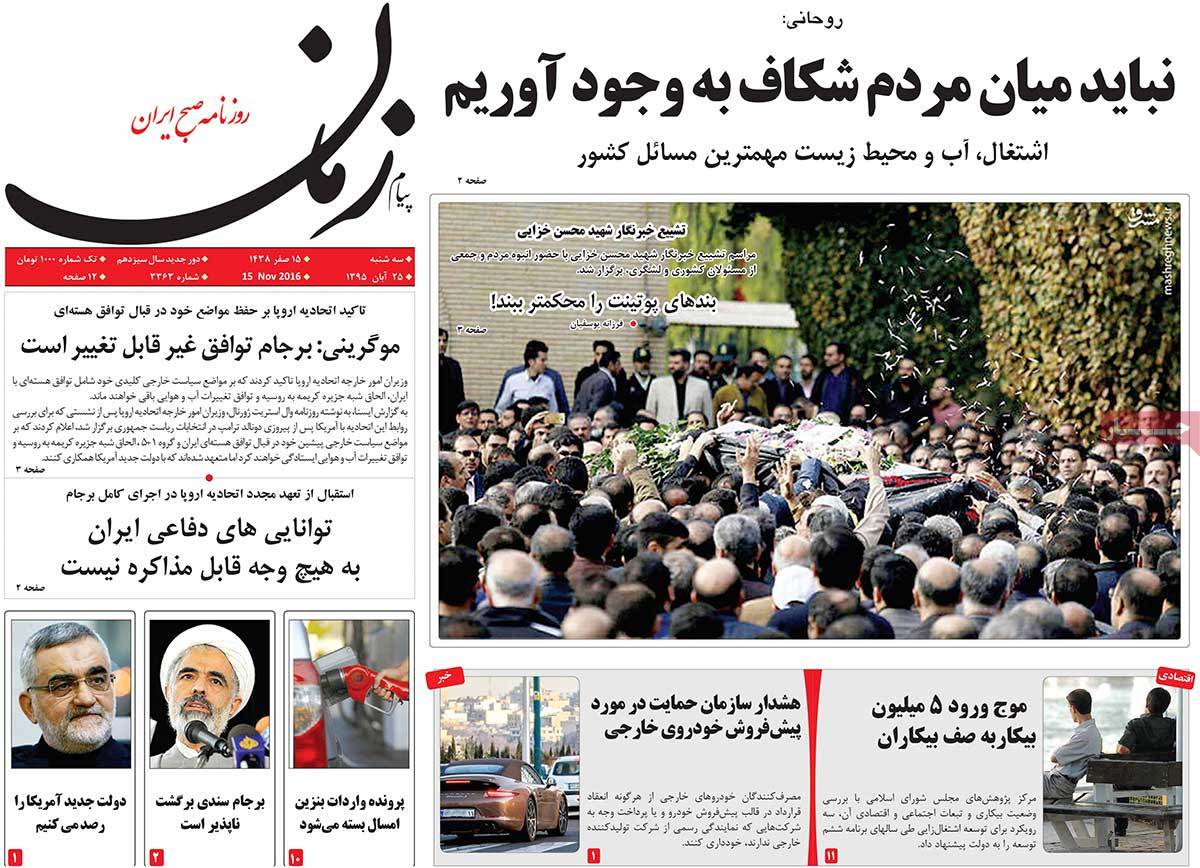 ---
Resalat:
El ex parlamentario fundamentalista: "Los fundamentalistas están decididos para competir en las próximas elecciones."
EL Presidente del Parlamento: "Un pueblo que se atrevió a luchar por sus derechos nunca será humillado"
El Presidente del Poder Judicial: "La marcha de Arbain, es un ejemplo de soberanía de los chiitas."
---
Ruzan:
Teherán, ¡¿una rama de flores?! ; El nivel de la contaminación del aire de Teherán eleva a 180, es decir, igual que la contaminación causada por el accidente de Chernobyl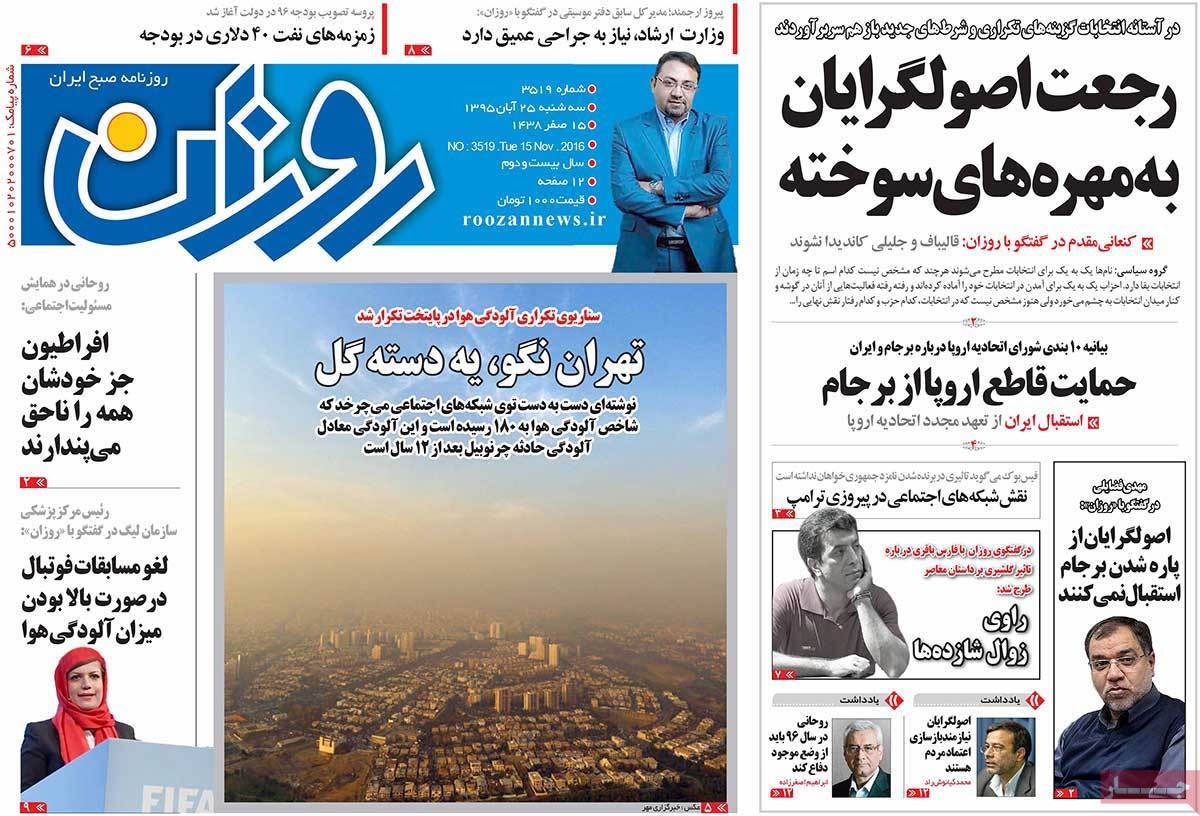 ---
Ruiesh_e_Melat:
Irán y China amplían sus cooperaciones en el sector ferroviario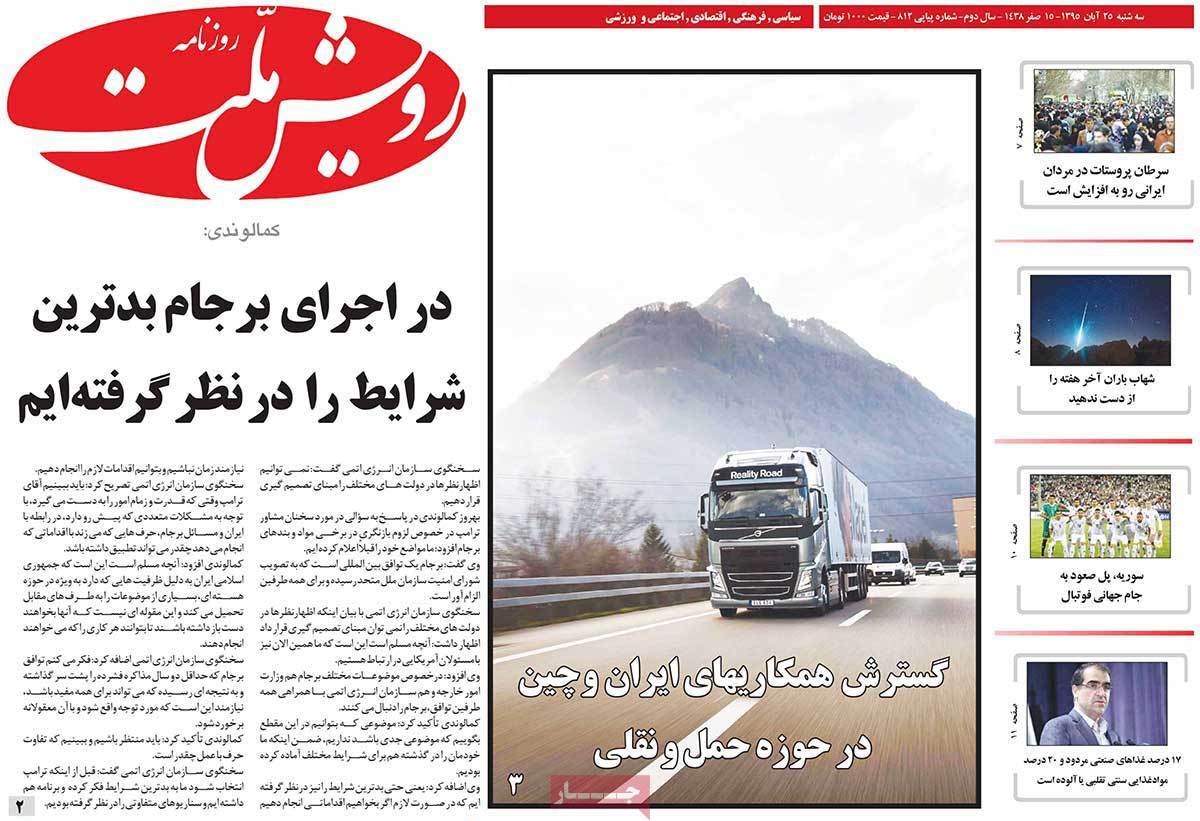 ---
Shahrvand:
Venta de bebés a un precio de 150 a 400 millones de riales.; detienen a una banda de venta de bebés en la ciudad norteña de Amol.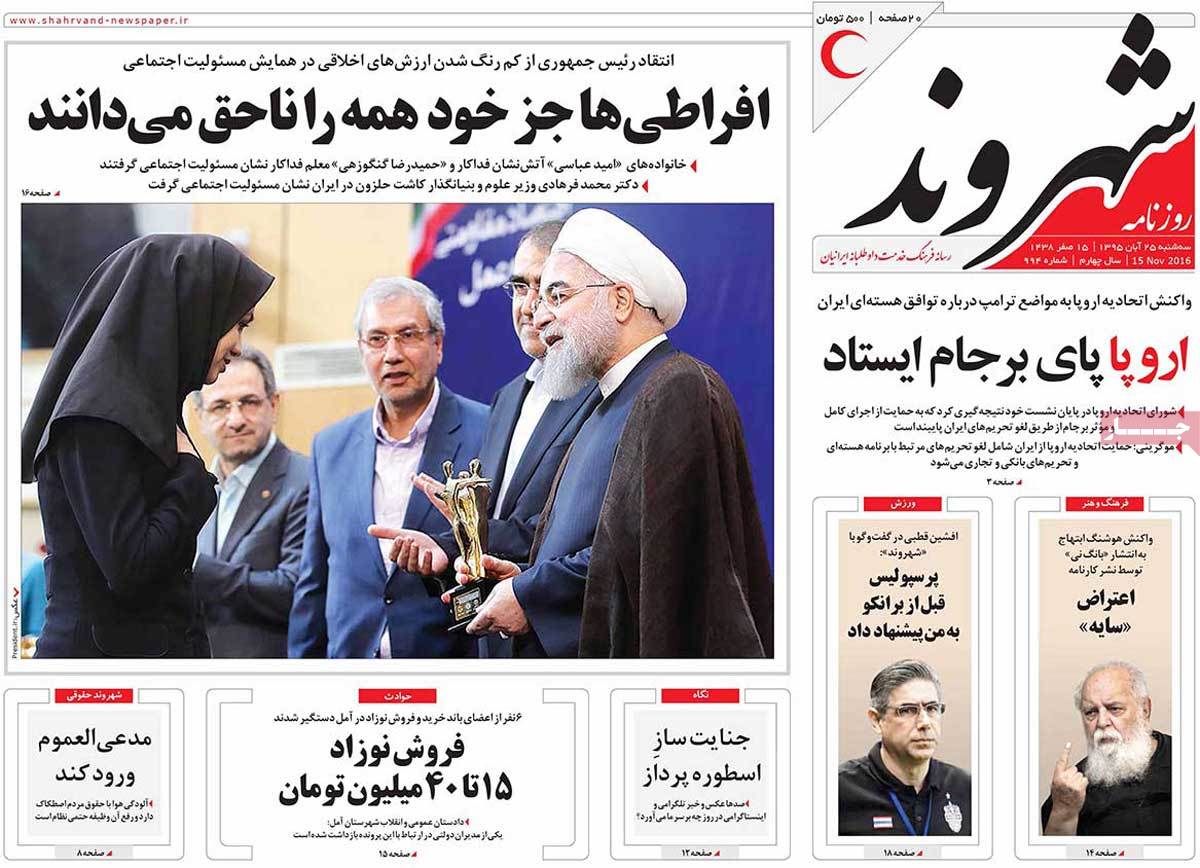 ---
Shargh:
La dura conducta del gobierno de Trump contra Irán no favorecerá a EEUU
El ex parlamentario fundamentalista: "No hemos jurado por oponer al gobierno."
La política; este maldito Mal y Peor (columna)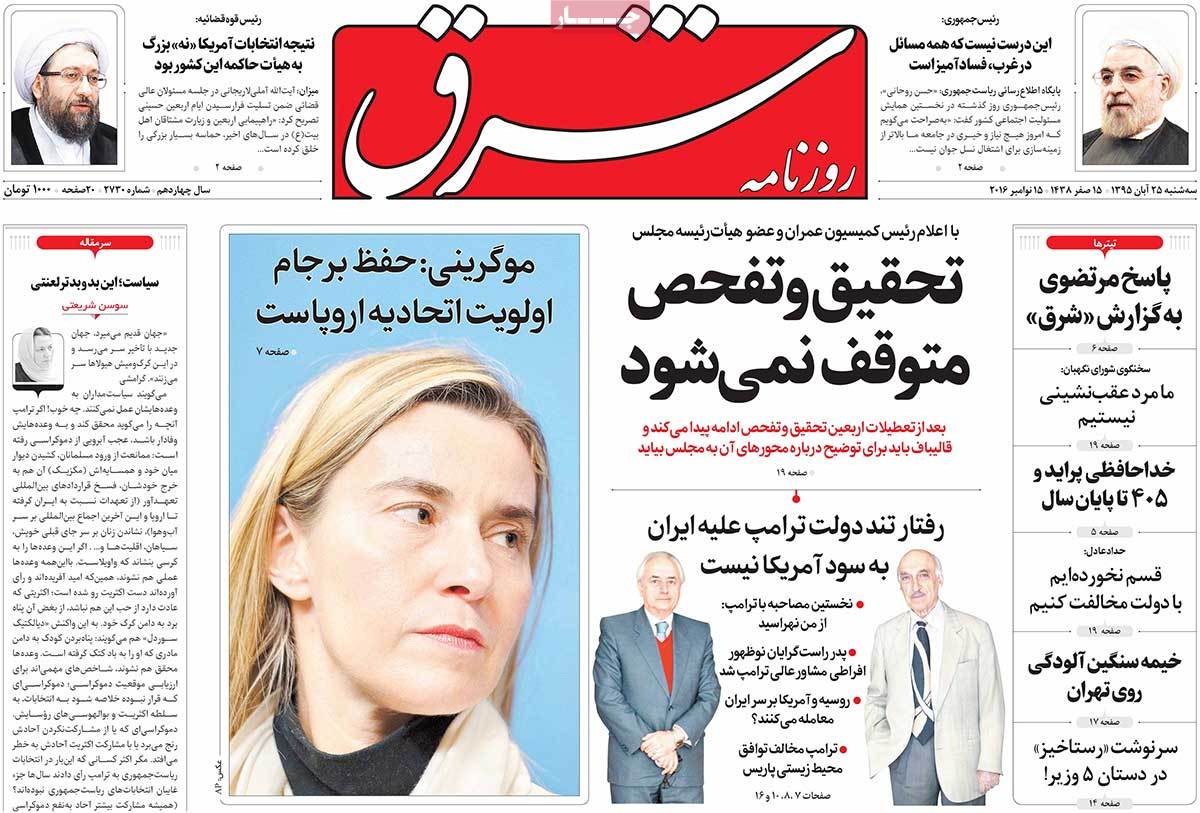 ---
Siasat_e_Ruz:
Holocausto de 600 días; La coalición Saudí-estadounidense sigue con su agresión contra Yemen
Rohani: "No debemos perder tiempo en asuntos insignificantes para la sociedad."
Arabia Saudita; ¿Por qué se le llaman Árbol Maldito? (Artículo)
---
Teyarat:
EL director del Banco Central: "Está prohibido revelar los datos financieros y bancarios de individuos."
Cruzar ilegalmente la frontera de Irak tiene como condena 6 años de cárcel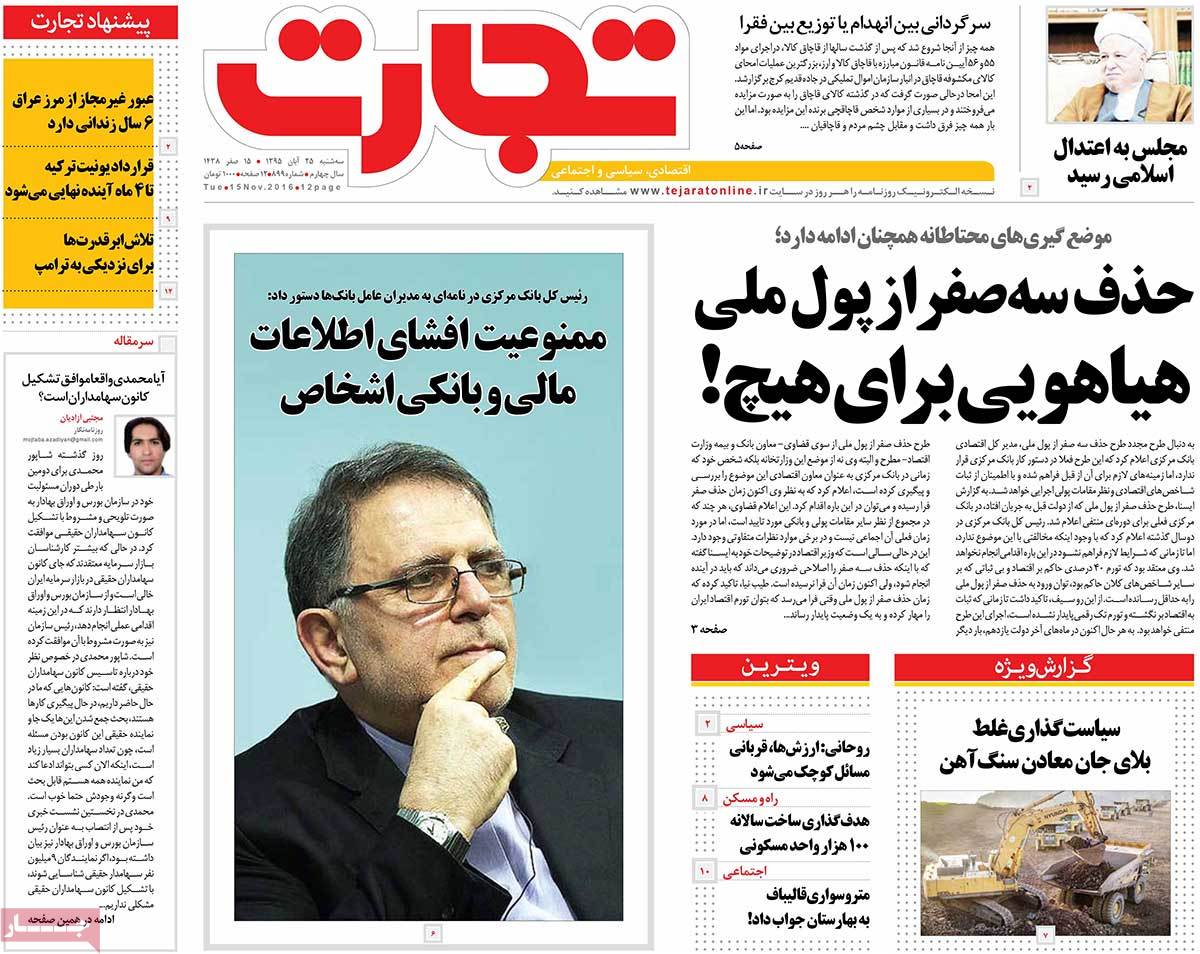 ---
Vatan_e_Emruz:
¡No piensan, y suspenden! (Sigue la contaminación del aire y el parlamento advierte al gobierno por su imprudencia sobre la salud de los ciudadanos)
Trump: "¡Ya basta la guerra!"
---
Vaghaye Etefaghie:
El experto político reformista: "Irán no acepta ningún cambio en su pacto nuclear."
El terremoto de Trump abre la falla de discordias entre Europa y EEUU
Somos invisibles: dicen las partículas contaminantes bailando en el aire.