IFP has taken a look at the front pages of Iranian newspapers on Saturday, February 3, and picked headlines from 11 of them. IFP has simply translated the headlines and does not vouch for their accuracy.
Iranian papers today covered the visit of President Hassan Rouhani to quake-hit areas of Kerman province in southeastern Iran and his meetings with the people affected by the recent earthquakes there. The president promised his government will immediately reconstruct the quake-hit areas.
The remarks by Seyyed Ali Khomeini, a grandson of the late founder of the Islamic Republic, in praise of the incumbent leader Ayatollah Seyyed Ali Khamenei, also received great coverage.
The above issues, as well as many more, are highlighted in the following headlines and top stories:
Abrar:
1- Rouhani: We Cannot Progress without People's Vote, Opinion
2- Qatar FM: After Qatar Blockade, Iran Was Only Channel for Supply of Food, Drugs
3- Senior MEP: Maintaining JCPOA the Message Europe Must Send to Trump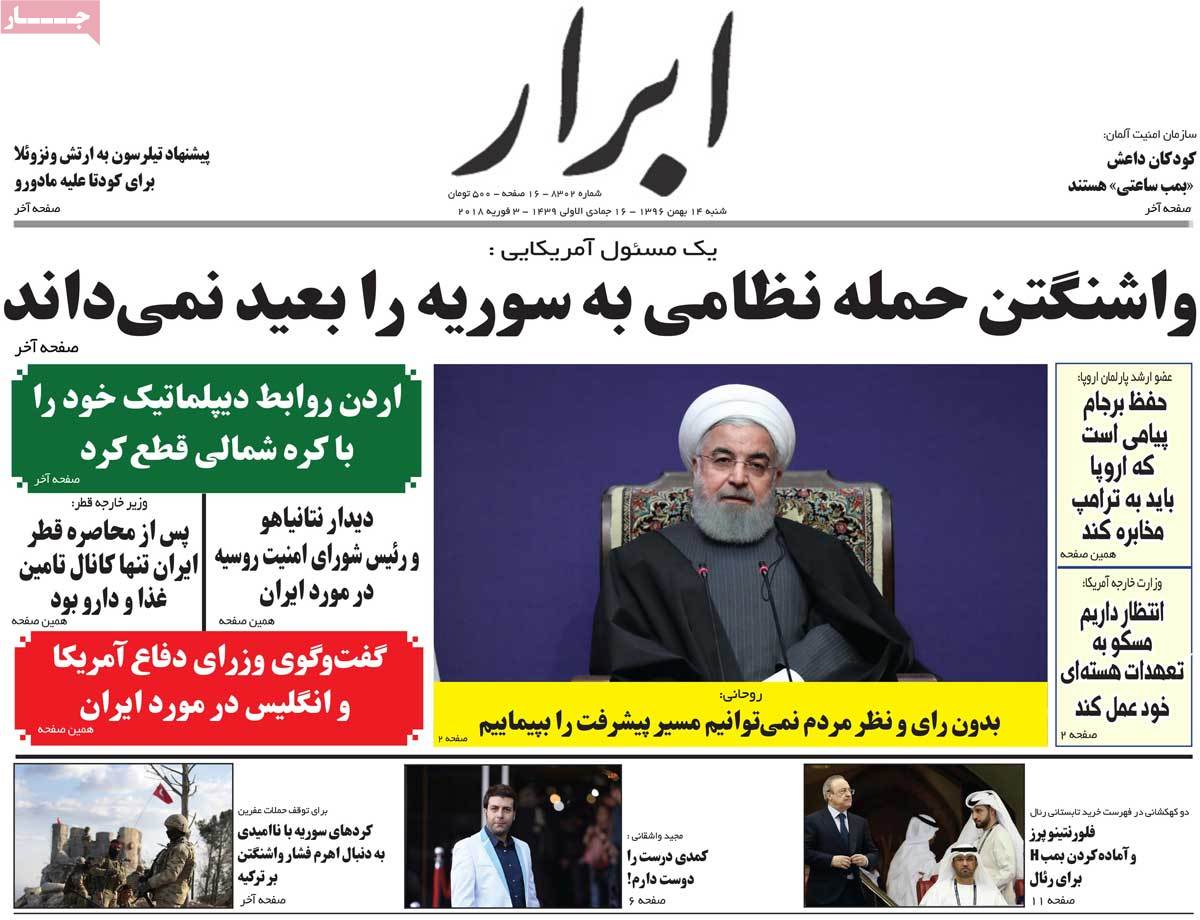 ---
Afarinesh:
1- Rouhani: Gov't to Strongly Continue Path of Iran's Progress, Prosperity
2- Araqchi: US Failed to Take Iran to UN Security Council Once Again
---
Aftab-e Yazd:
1- Rouhani Visits Quake-Hit People in Person: President's Change of Approach Welcomed
2- Education Minister: Sharp Decrease in Students' Passion for School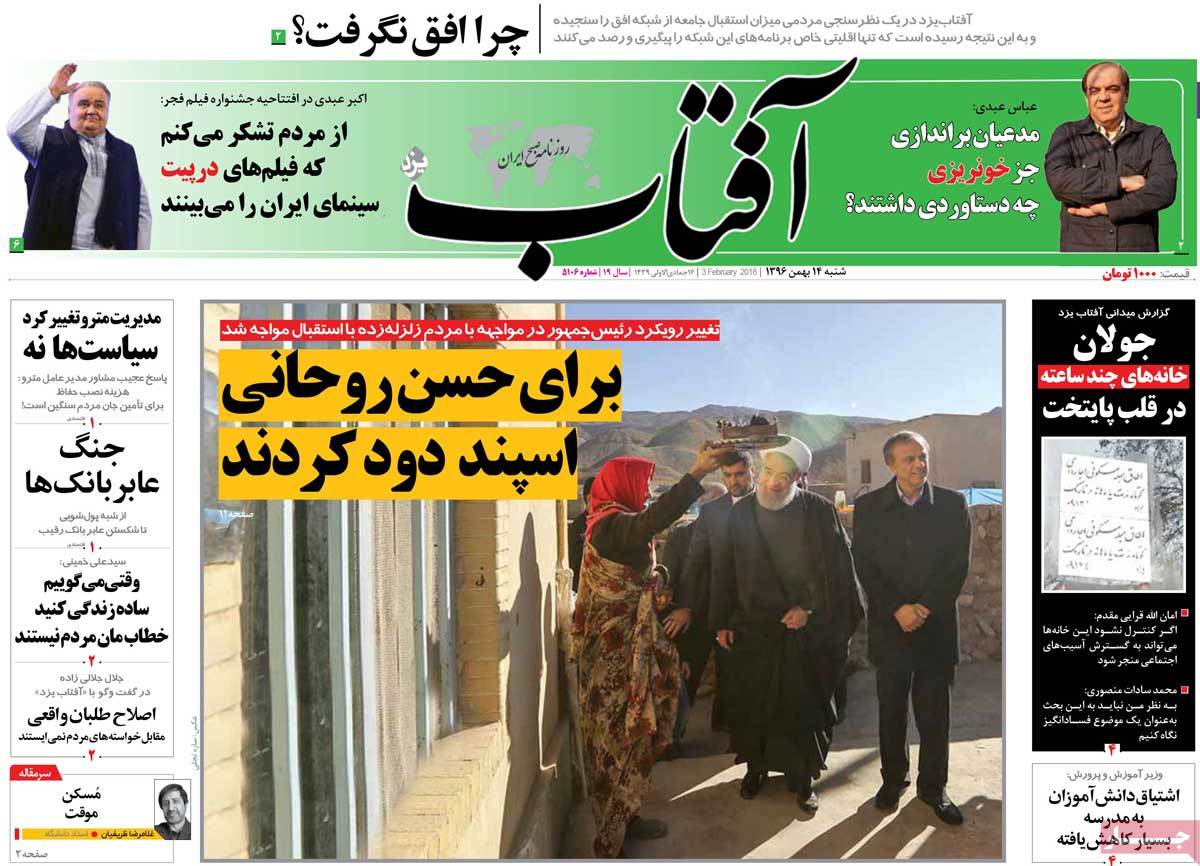 ---
Arman-e Emrooz:
1- Rouhani Praises Ayatollah Rafsanjani in Kerman
I Commemorate the Ayatollah Whenever I Open New Project
2- French Loan for Iranian Buyers: New Round of Europe's Support for JCPOA against Trump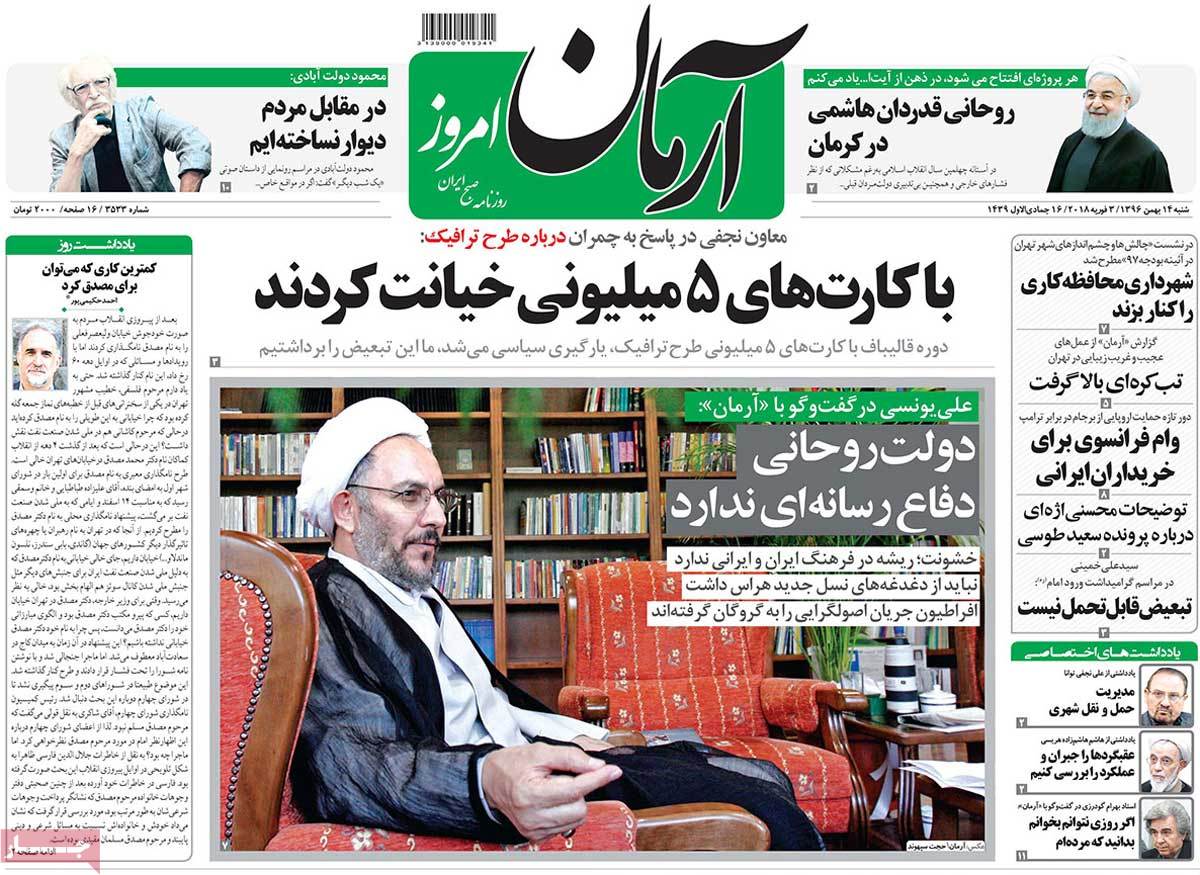 ---
Ettela'at:
1- Rouhani: Gov't to Pilot Test Transfer of State Authorities to Provinces in Kerman
2- Iran Will Flourish in Future under Leadership of Ayatollah Khamenei: Roads Minister
3- Russia Warns about Organized Relocation of ISIS to Afghanistan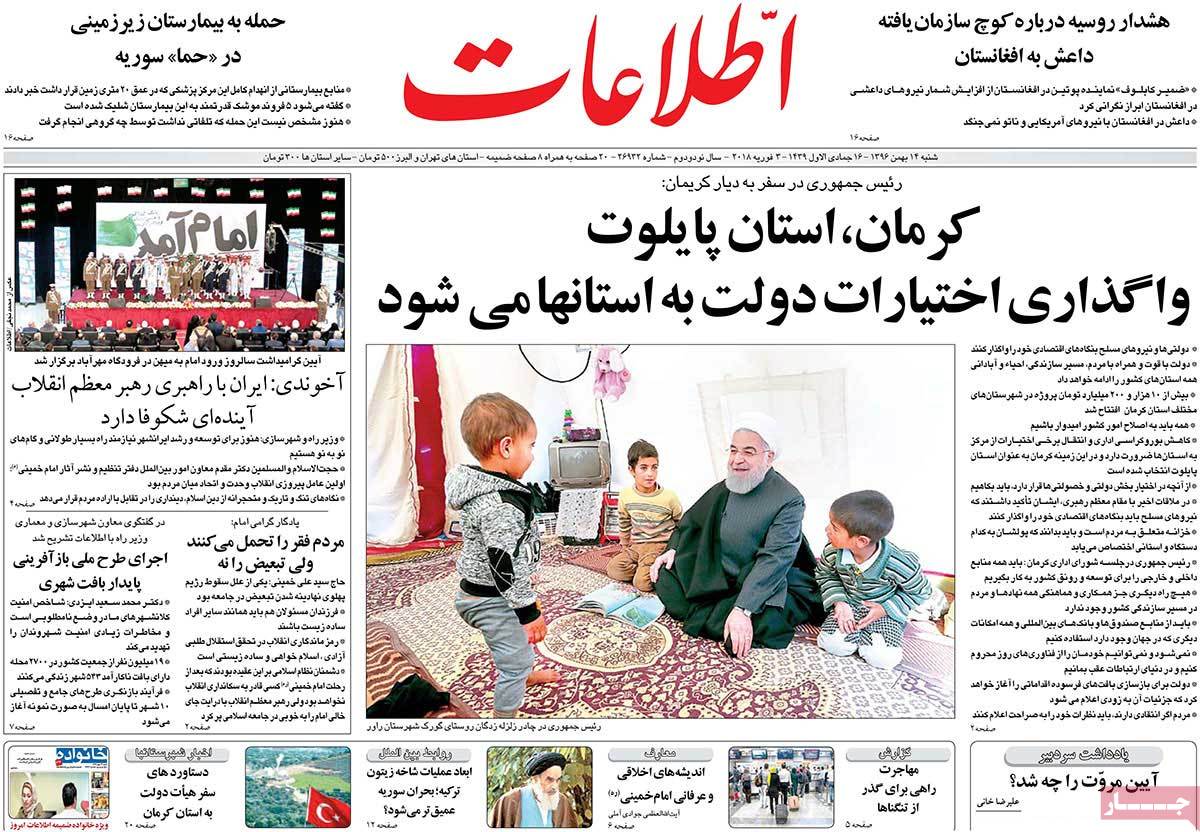 ---
Iran:
1- Rouhani: Quake-Hit People to Receive Permanent Accommodation in 6 Months
2- Dozens of Projects with Billions of Dollars in Investment Opened by Gov't across Iran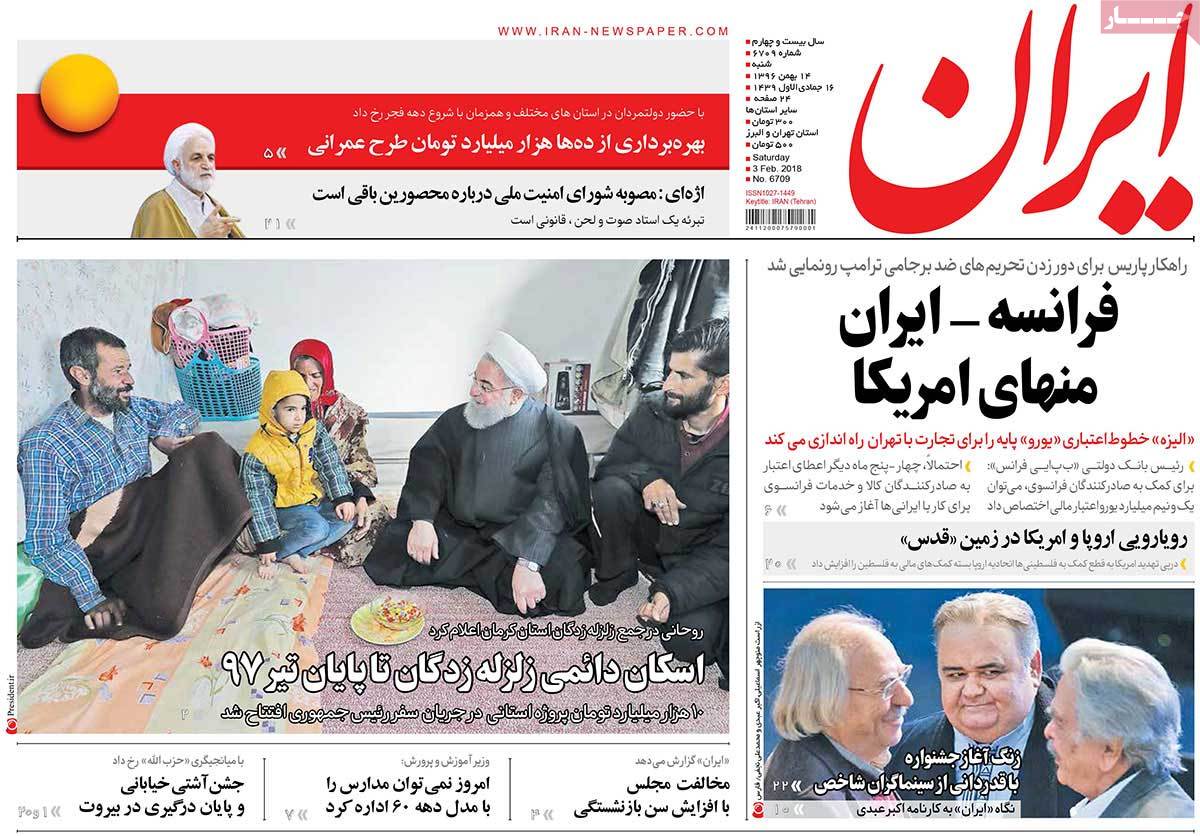 ---
Javan:
1- Imam Khomeini's Grandson Ali: Officials Must Refrain from Living Luxurious Lives
---
Jomhouri Eslami:
1- Rouhani Opens Four Major Industrial Units in Sirjan, Kerman
2- 70% Increase in Investments in Iran during Past 11 Months
3- British Investors Keen to Make Investment in Various Iranian Economic Sectors
4- Continued Implementation of JCPOA Very Important for Asian States: Official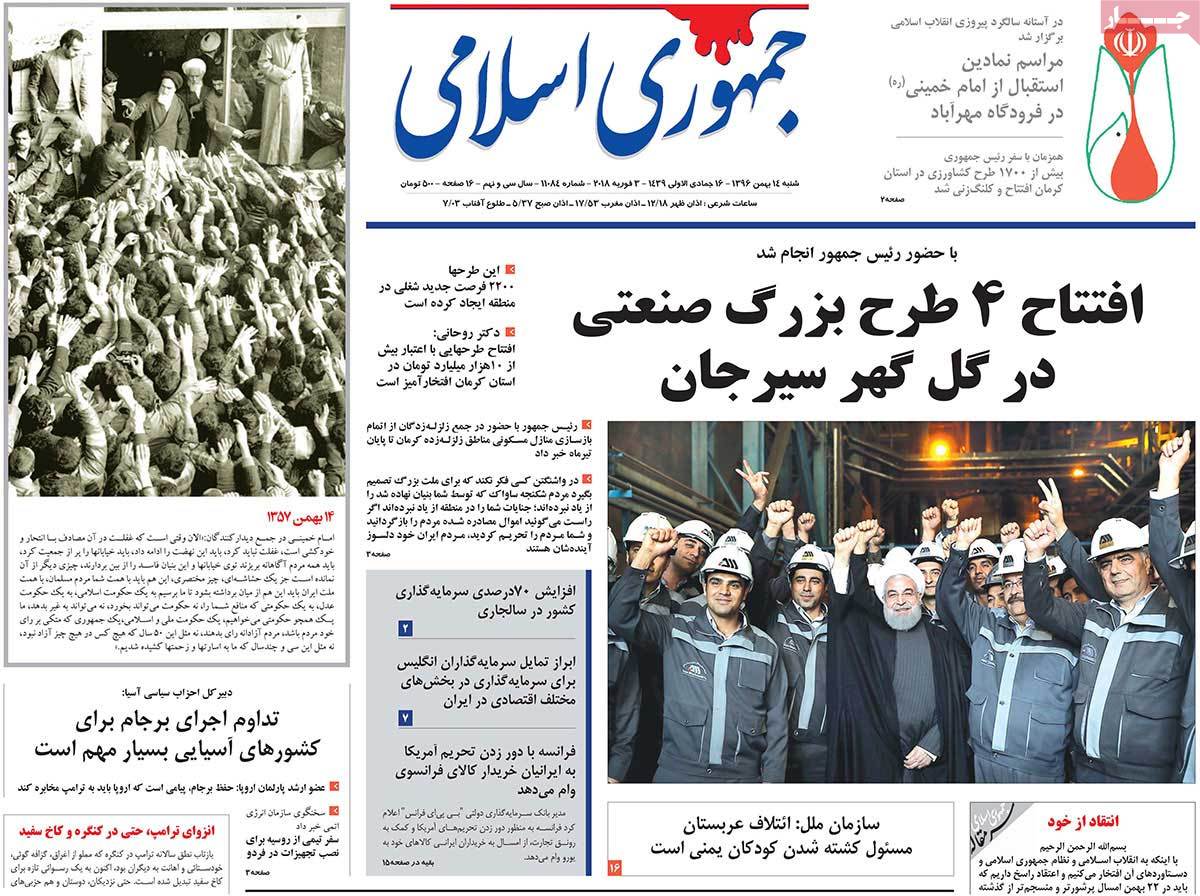 ---
Kayhan:
1- Iran Picked Fruit of US Attack on Middle East: Chomsky to Kayhan
2- Imam Khomeini's Grandson Ali: No One but Ayatollah Khamenei Has Managed to Fill Imam's Gap
---
Resalat:
1- Rouhani: Washington Cannot Make Decision for Iranian Nation
2- Ayatollah Khatami: We Won't Let Any State Poke Its Nose into Our Missiles
3- US Wants to Receive Ransom Money from Iran by Taking JCPOA Hostage: Diplomat
---
Shargh:
1- After Visiting Tehran's Evin Prison, Iranian MPs Will Visit Prisons in Other Cities