IFP has taken a look at the front pages of Iranian newspapers on Tuesday, October 16, 2018, and picked headlines from 15 of them. IFP has simply translated the headlines and does not vouch for their accuracy.
The top story in all papers today was the alleged murder of Jamal Khashoggi, a Saudi journalist who has been reportedly killed in the Arab kingdom's consulate in Istanbul, Turkey.
Also a top story was a meeting between Iranian President Hassan Rouhani and a group of economic experts, during which the two sides exchanged views on ways to resolve the country's economic woes.
The above issues, as well as many more, are highlighted in the following headlines and top stories:
Aftab-e Yazd:
1- FATF Official: You Won't Be Removed from Blacklist for Now
2- Rouhani to Economists: Situation Not Critical, but Not Normal Either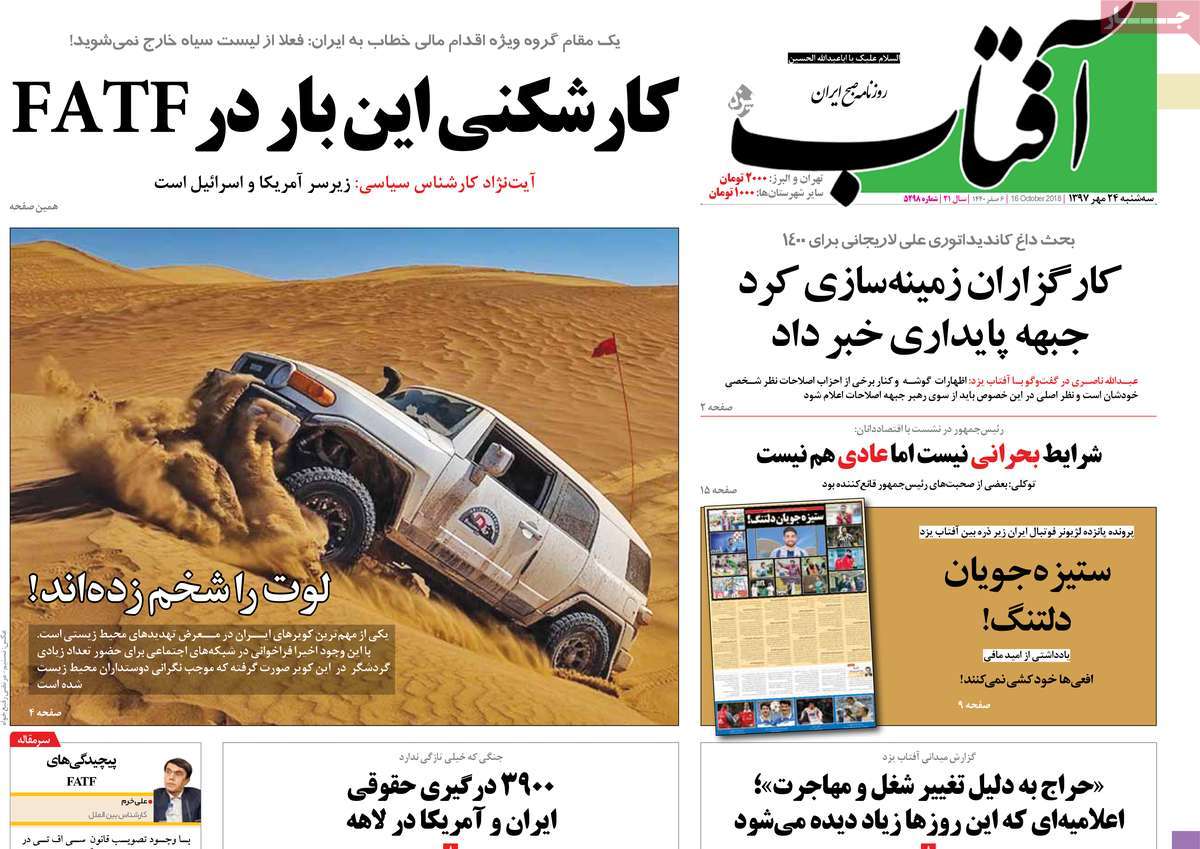 ---
Arman-e Emrooz:
1- Rouhani's Three-Hour Meeting with Economic Experts
We Have No Problem with Supplying Basic Goods
2- Stock Exchange Market Once Again Thrives; Ambiguity in Gold Market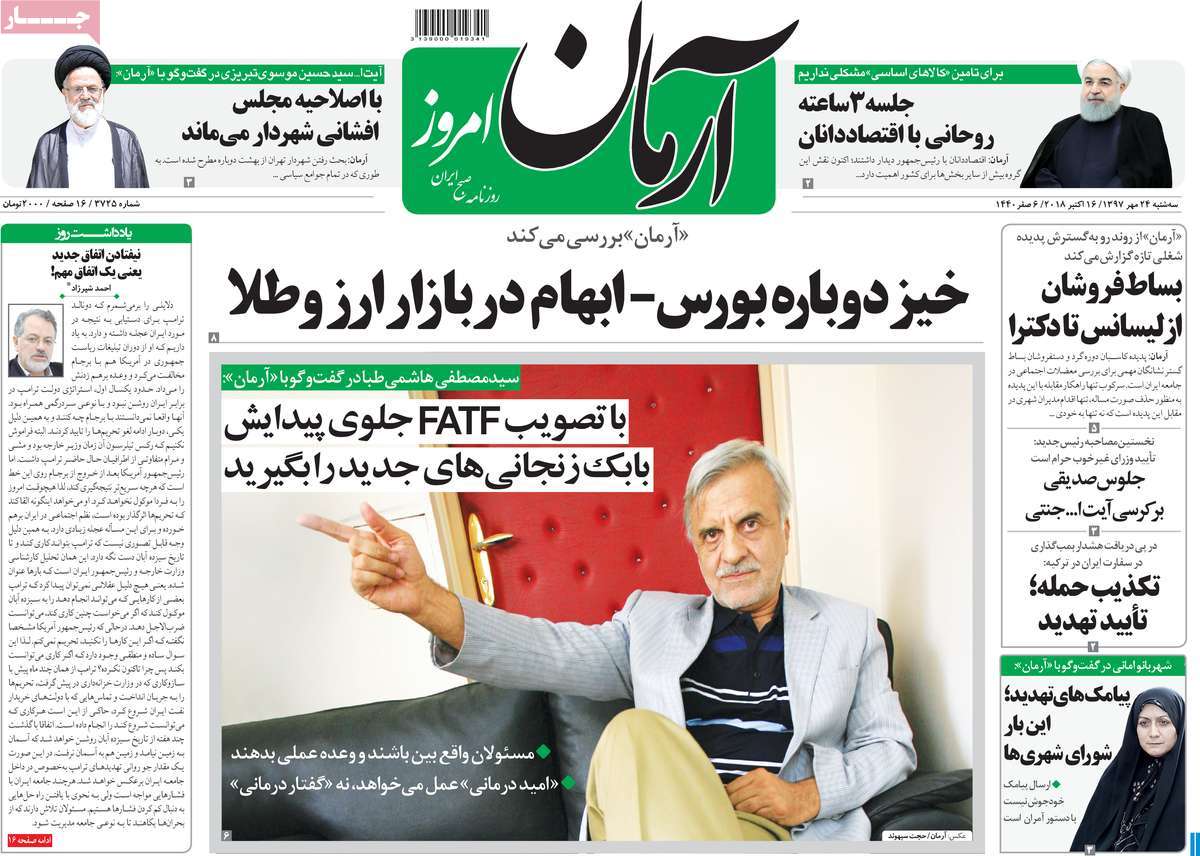 ---
Ebtekar:
1- Rumours in Ankara, Concern in Tehran
2- Economy Waiting for November 4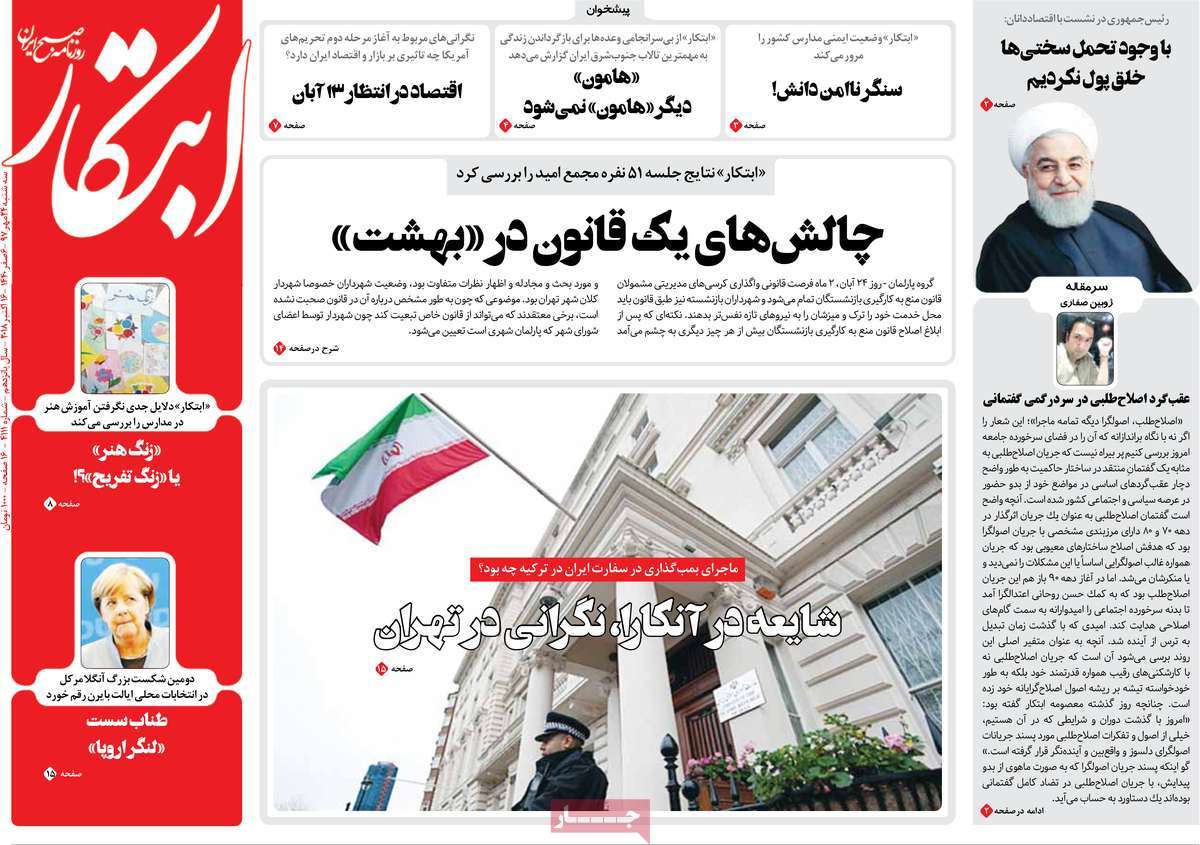 ---
Etemad:
1- Fall of Saudis' Assets: World's Financial Markets Worried about Khashoggi
2- US in a Hurry to Clean Traces of Terror: Pompeo to Visit Saudi King to Ease Tension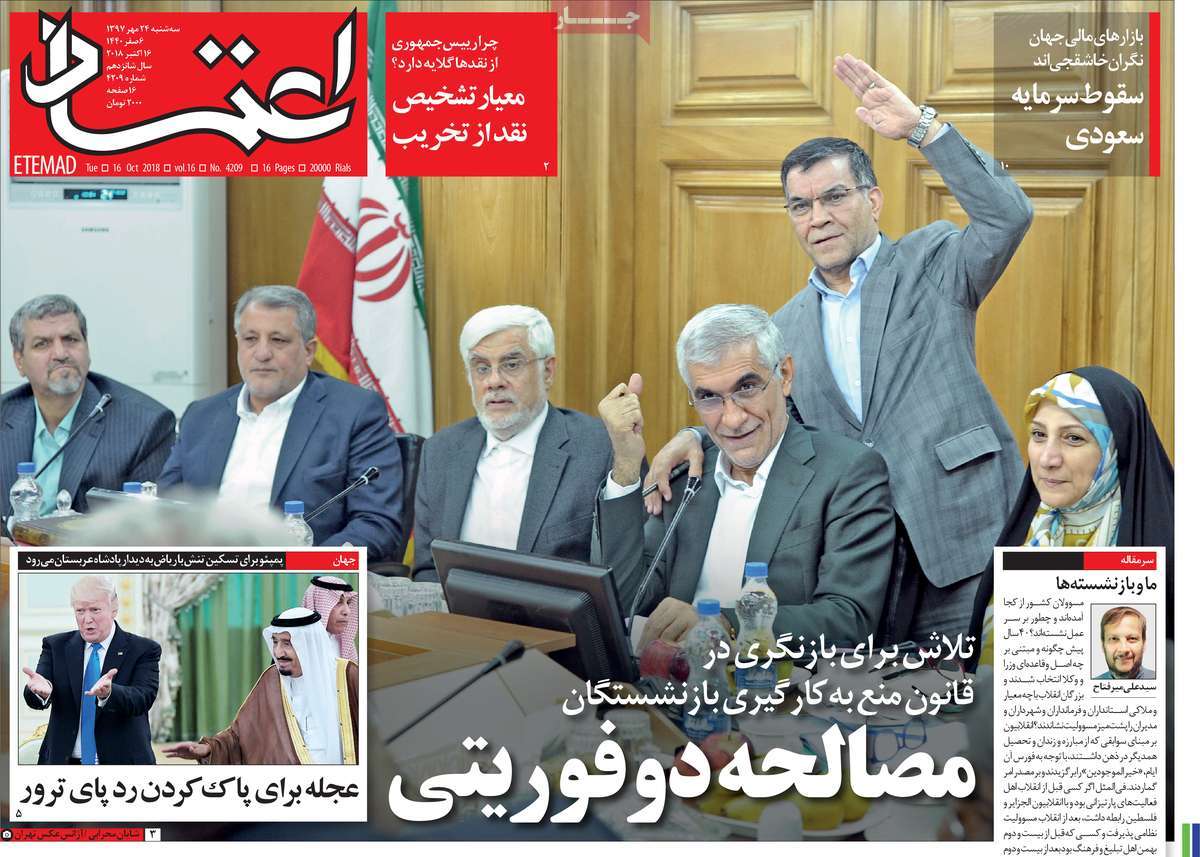 ---
Ettela'at:
1- Rouhani: Government Has Extensive Plans to Counter Economic Invasion
2- FATF to Guarantee Iran Safe Place for Investment: Official
3- US Congress to Punish Saudi Arabia over Khashoggi Case
4- Persian Language's Global Ranking Improves by 15 Positions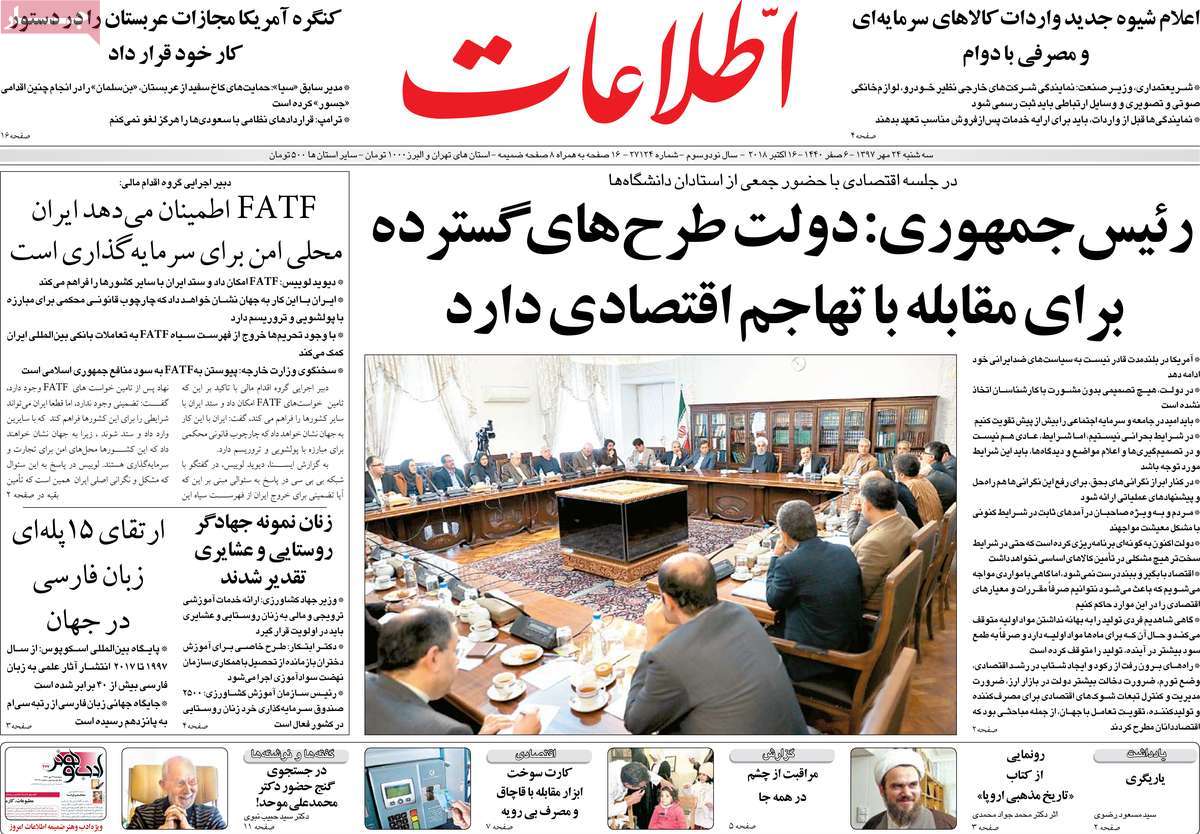 ---
Haft-e Sobh:
1- Rouhani Holds Strategic Meeting with Economic Experts
Most Important Radical, Liberal Figures Absent from Meeting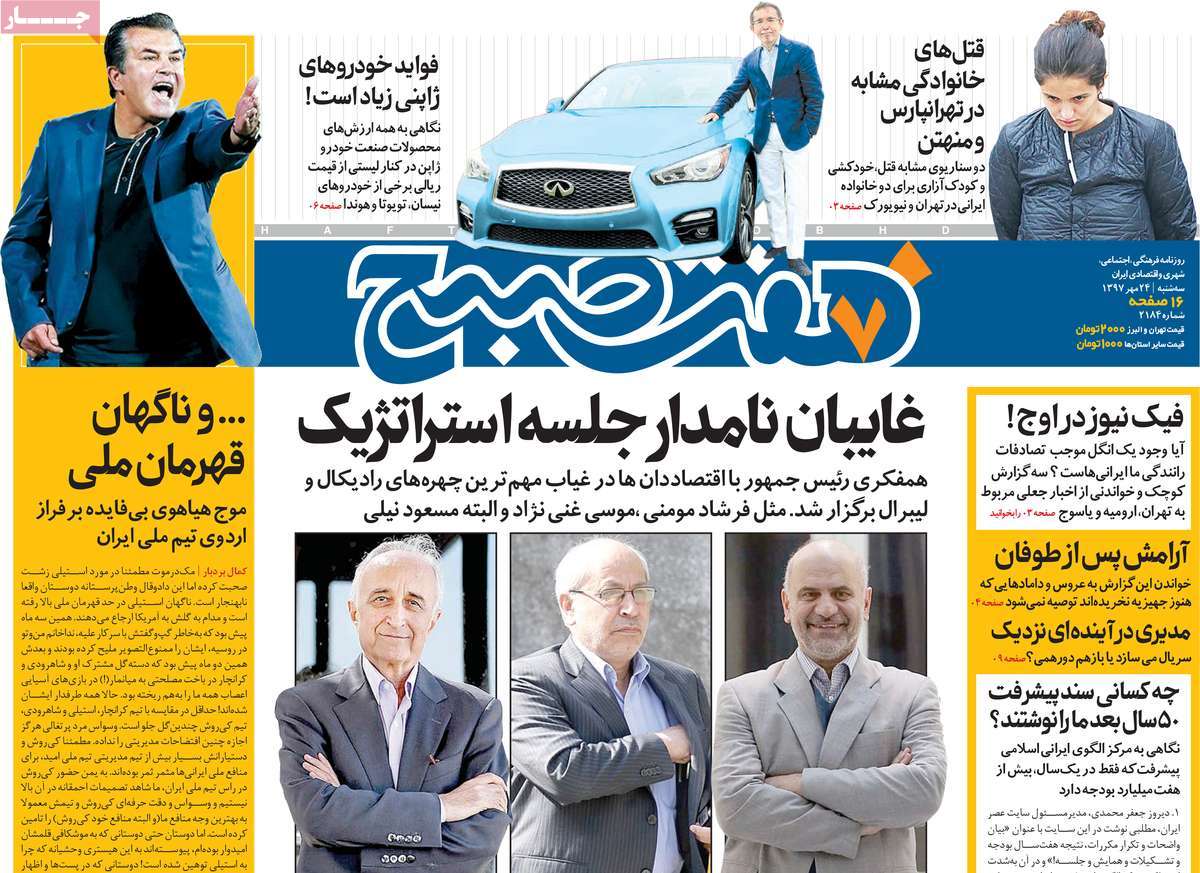 ---
Jame Jam:
1- Painting Hung in Trump's Office Makes Headlines
---
Javan:
1- US Whitewashing Saudi Role in Kashoggi Case
King Salman Holds Talks with US, Turkish Presidents, Calls for Joint Probe
2- Iran Gets Rid of "American Amity"
Tehran Receives Memorandum on US' Withdrawal from Treaty of Amity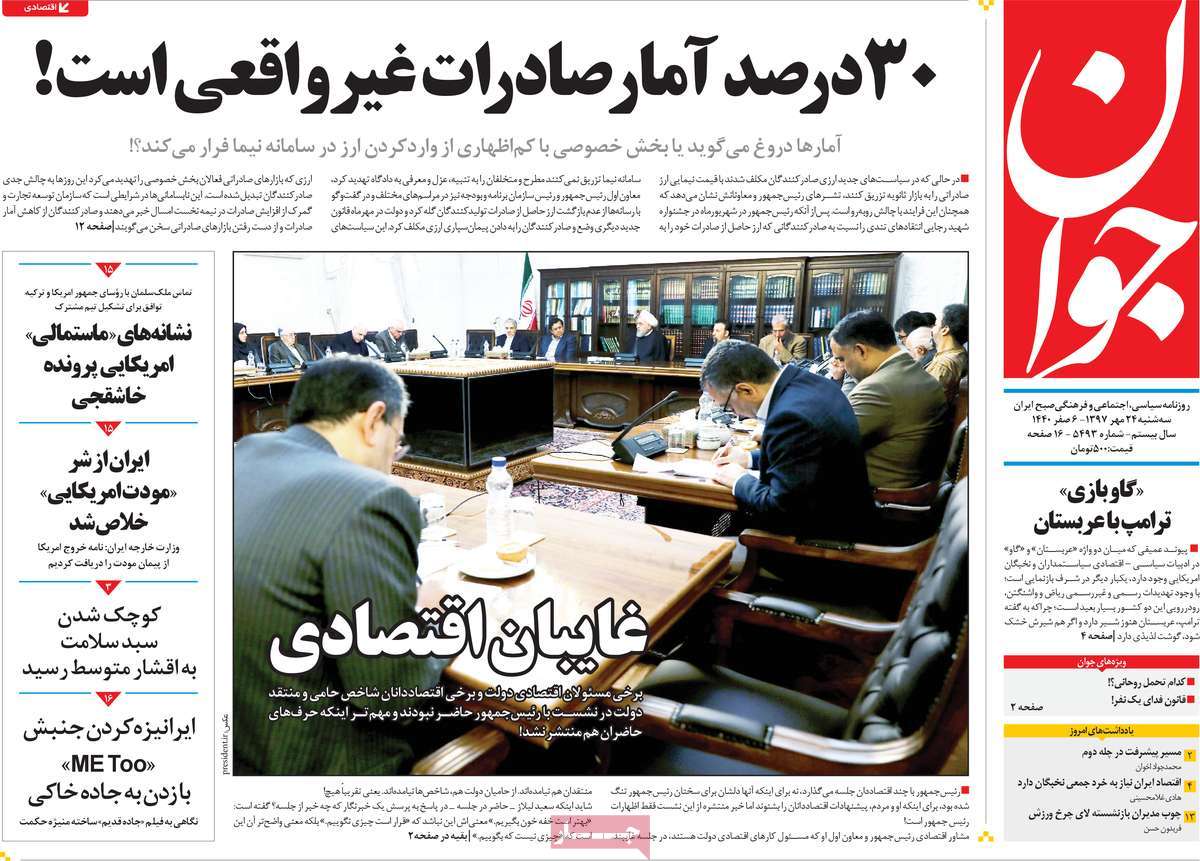 ---
Jomhouri Eslami:
1- UN: 13 Million Yemenis on Bring of Hunger, Death
2- Oil Prices Go Up after Saudi Arabia's Threat to Retaliate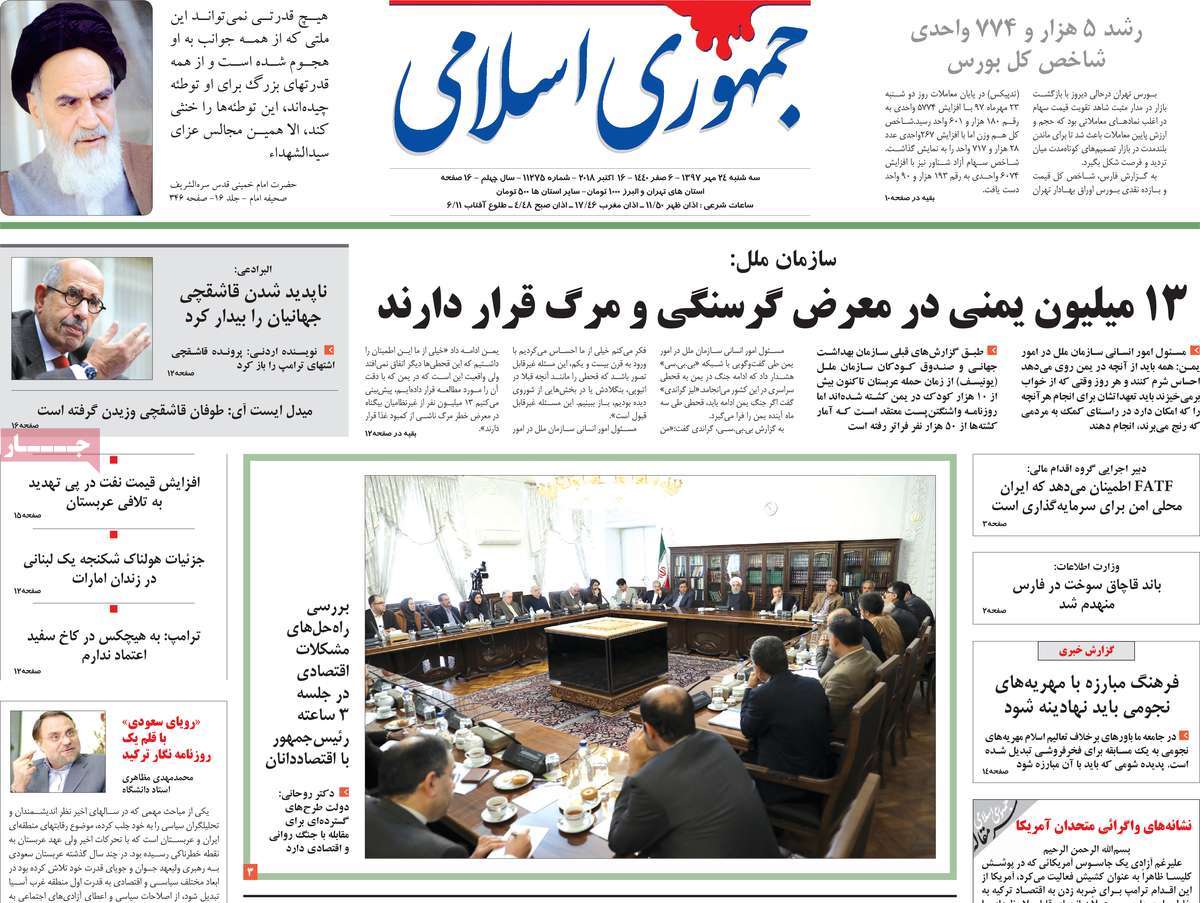 ---
Kayhan:
1- Jerusalem Post: US Spies on Iran's Financial Transactions with SWIFT
2- Trump: Politics in US Means Lie, Corruption: US as Described by US President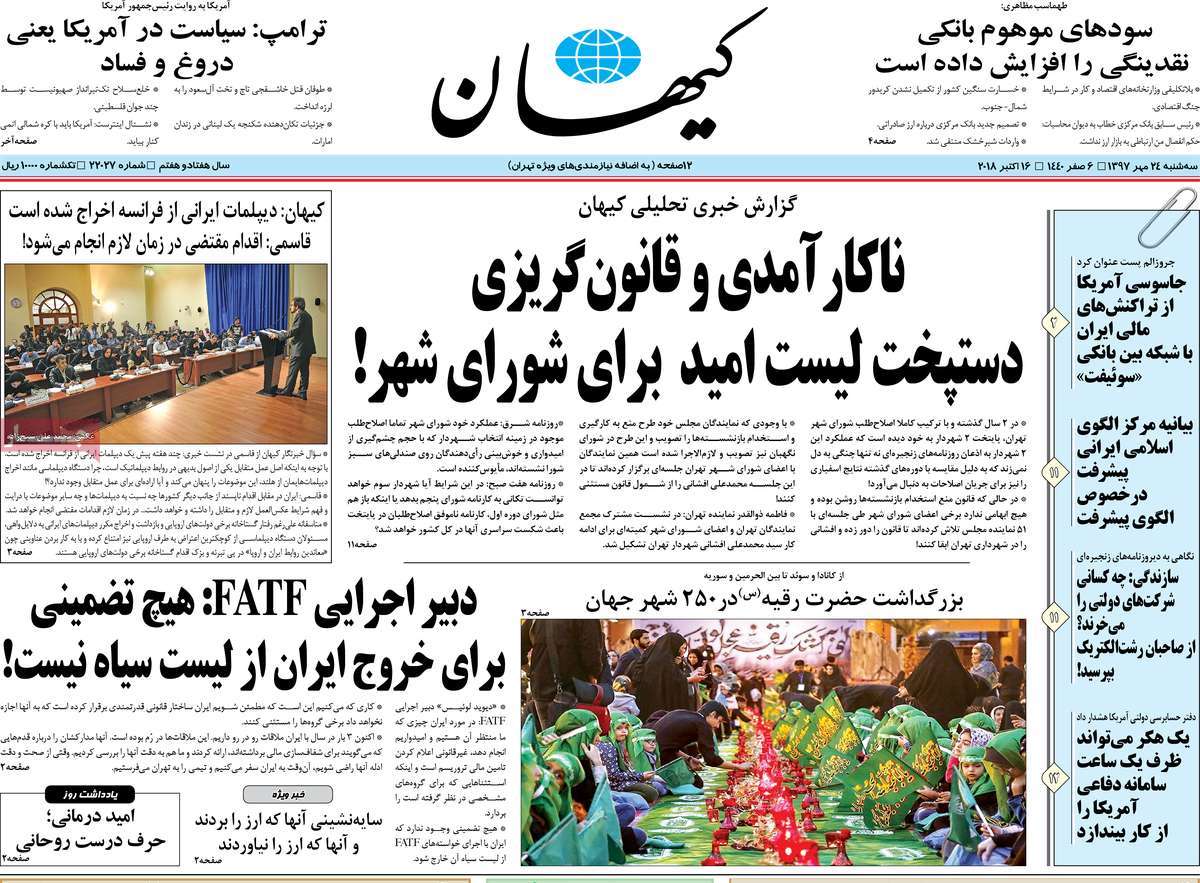 ---
Sazandegi:
1- Conflict over Leadership of Sunnis: Roots of Turkey-Saudi Row
---
Shahrvand:
1- Hot Market of Luxury SIM Cards: A Review of SIM Card Market
Some Round Numbers Priced as Much as an Apartment
---
Shargh:
1- It's a Shame We Didn't Move Forward after JCPOA: Ashton
2- Judiciary Chief, President, Speaker Make Final Decision on FATF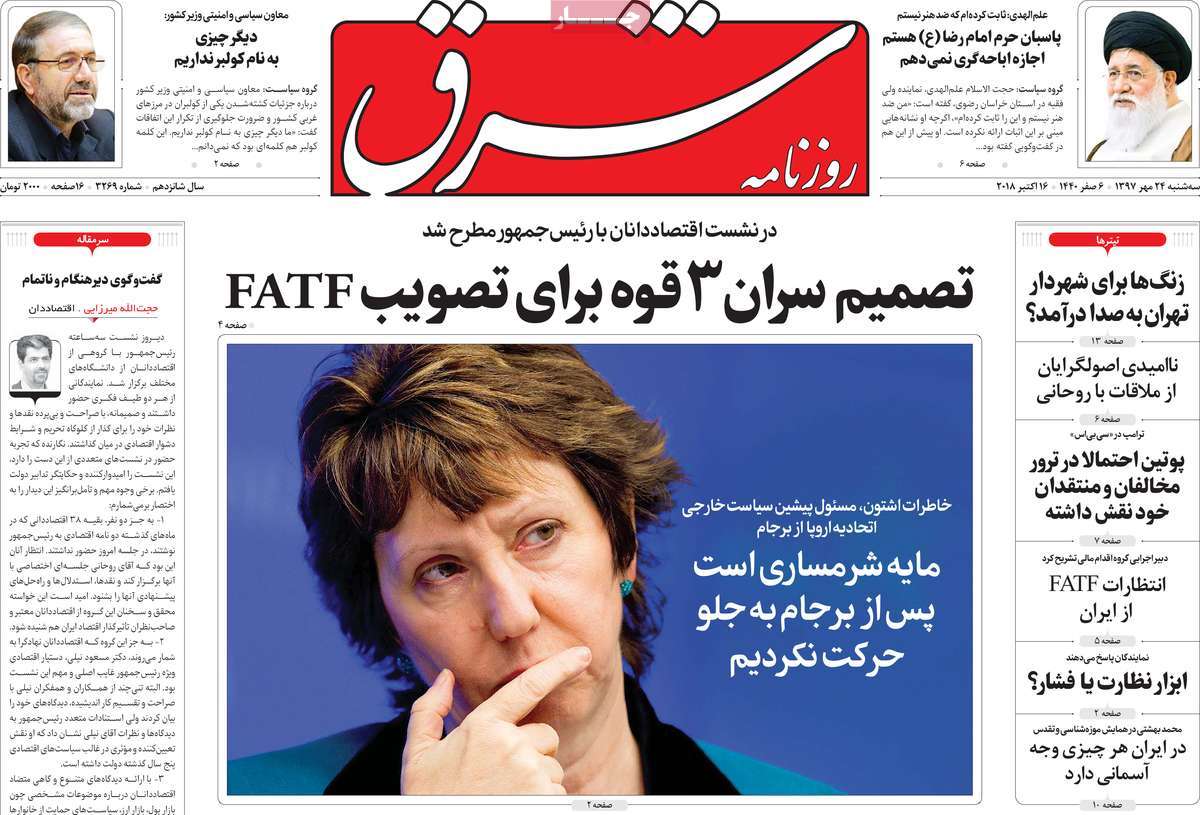 ---
Sobh-e Now:
1- Disgusting Stink of Saudi Arabia: Riyadh Expedites Efforts to Cover Up Its Crime
2- Fake News Created to Distract Attentions from Saudi to Iran: Former Al Mayadeen Bureau Chief
---
Vatan-e Emrooz:
1- From Roknabadi [Iranian diplomat killed in Mina tragedy] to Khashoggi
Roknabadi's Brother: Khashoggi's Murder Shows Saudis Killed My Brother