The top story in all papers today was the remarks made by the Leader of Iran's Islamic Revolution Ayatollah Seyyed Ali Khamenei in a meeting with top Iranian officials. The Leader's comments about the Iran nuclear deal, the lessons Iran must learn from its past experiences, and the conditions Europe must meet to keep Iran in the JCPOA were among the most important parts highlighted by newspapers today.
Several papers also covered the remarks made by Major General Mohammad Baqeri, the chief of staff of the Iranian Armed Forces, about the development of Iran's defence capabilities regardless of other countries' stance.
Comments by former US Undersecretary of State Wendy Sherman about the fate of the Iran nuclear deal after the US withdrawal also received good coverage.
The above issues, as well as many more, are highlighted in the following headlines and top stories:
Abrar:
1- Iran Top General: Armed Forces Not to Wait for Anyone's Permission on Missile Capabilities
2- GOP Senator: US to Attack North Korea If They Renege on Their Promises
3- Six German Banks Trying to Counter Trump's Anti-Iran Sanctions
4- Hariri: Sanctions against Hezbollah May Accelerate Formation of Government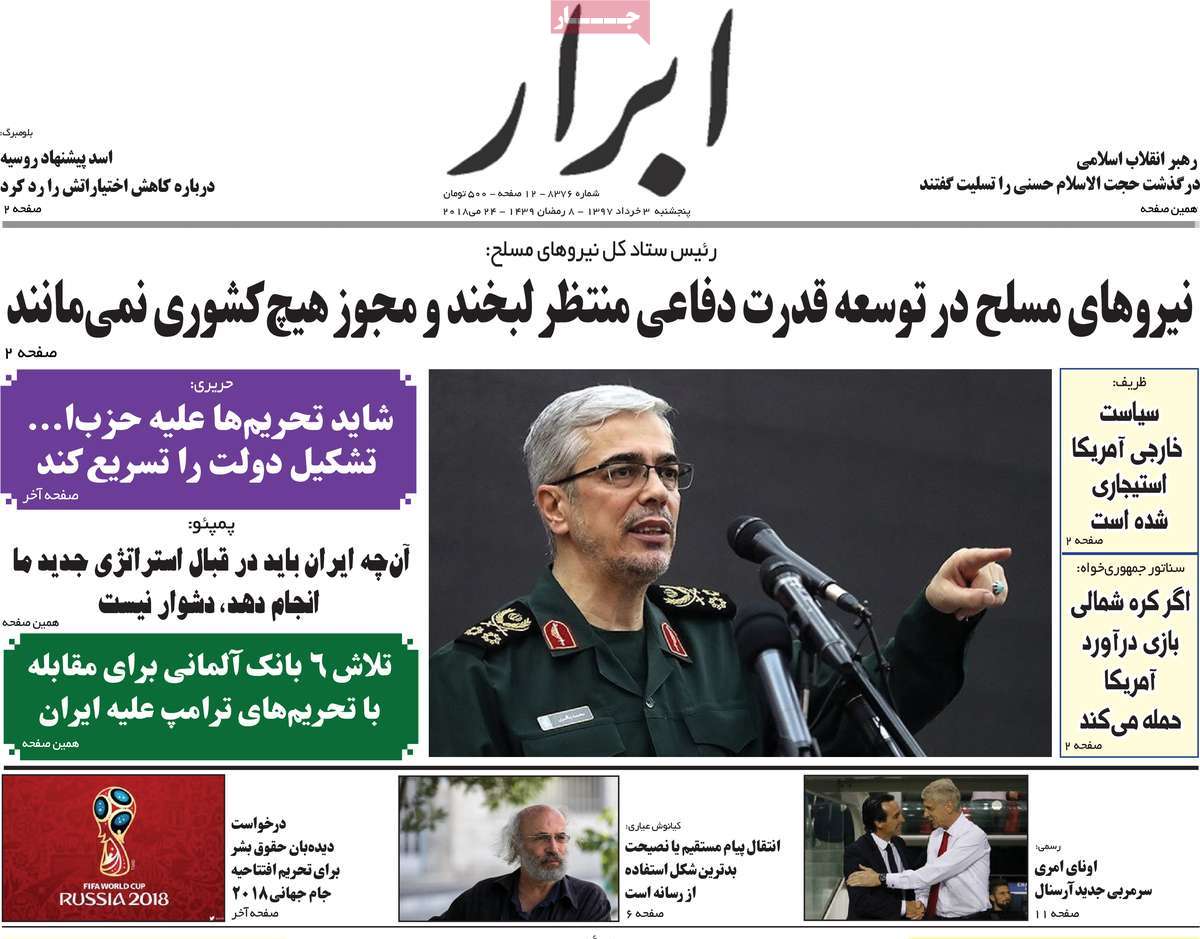 ---
Afkar:
1- Shamkhani: Washington Doesn't Have Guts to Attack Iran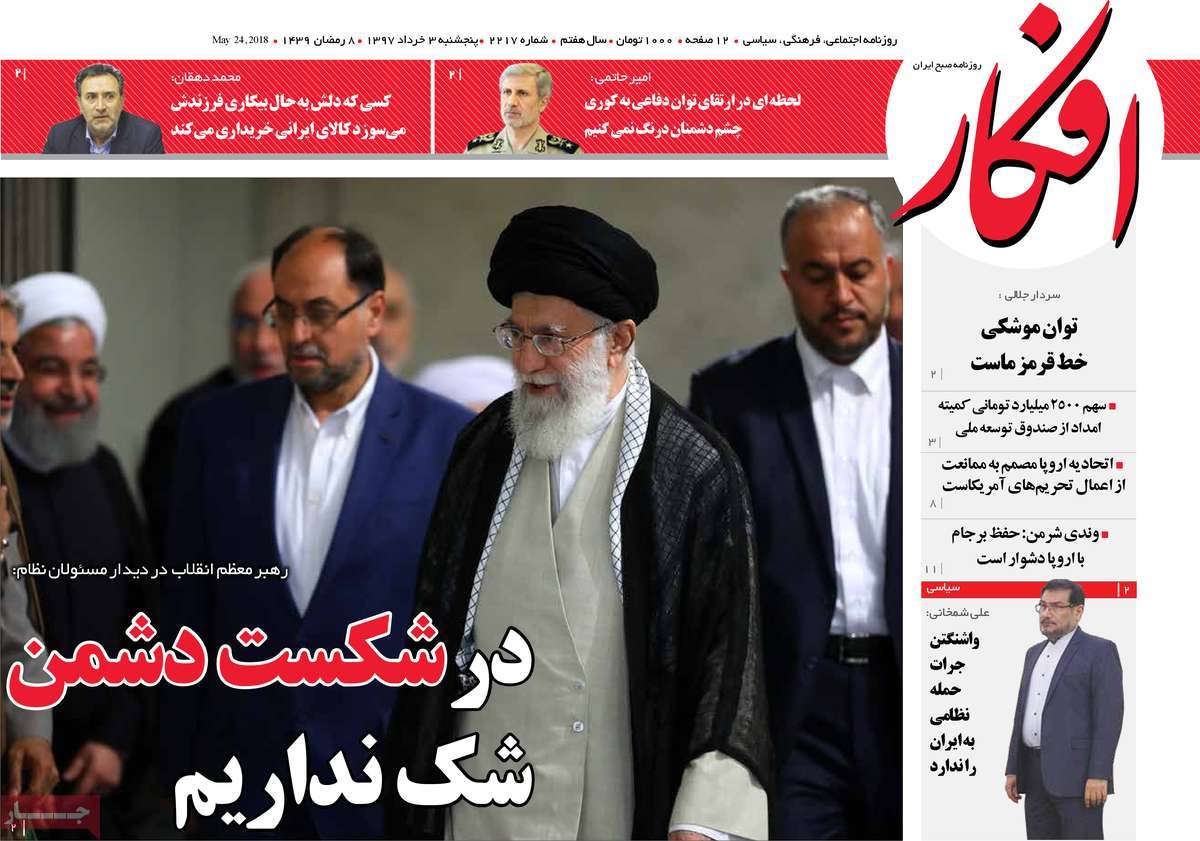 ---
Aftab-e Yazd:
1- Iran Leader: US Will Once Again Fail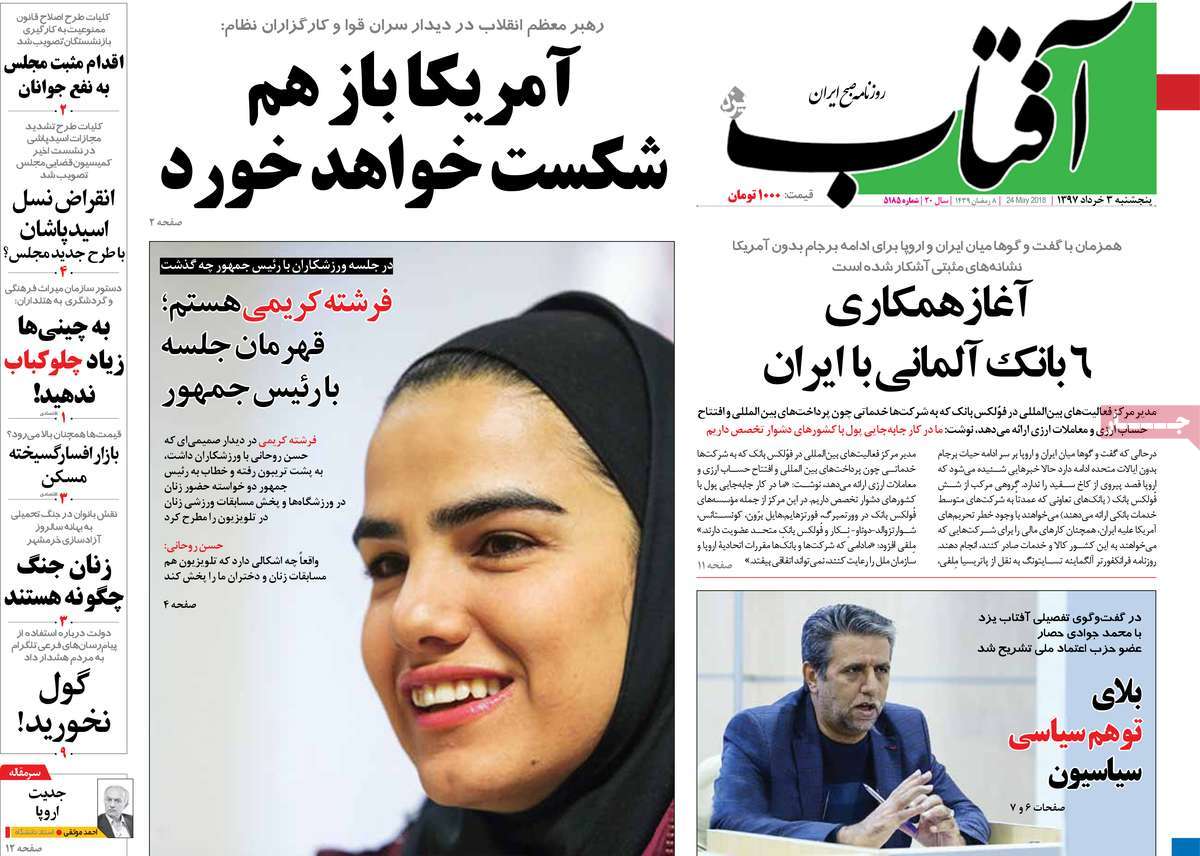 ---
Arman-e Emrooz:
1- Iran Leader: We Must Learn from Six Experiences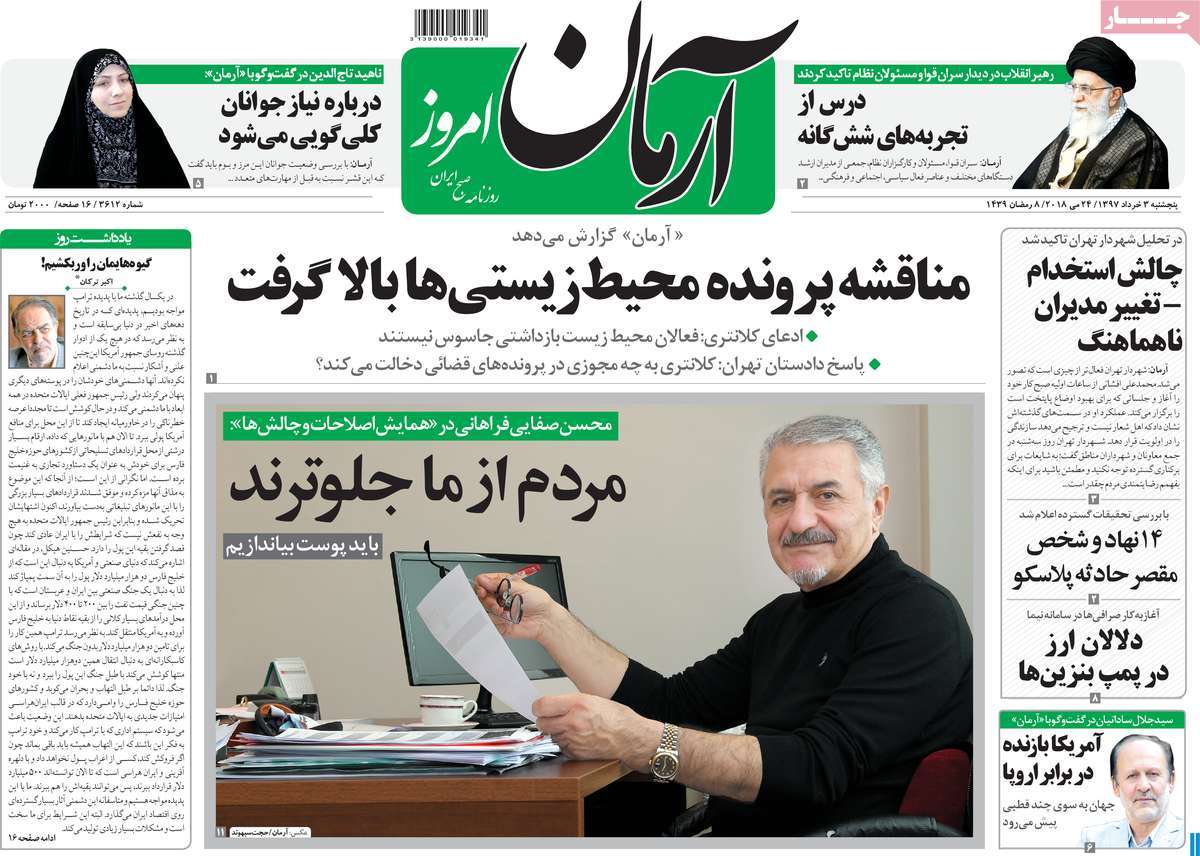 ---
Arman-e Melli:
1- Illusions of a Secretary: What Are Washington's 12 Demands on Iran?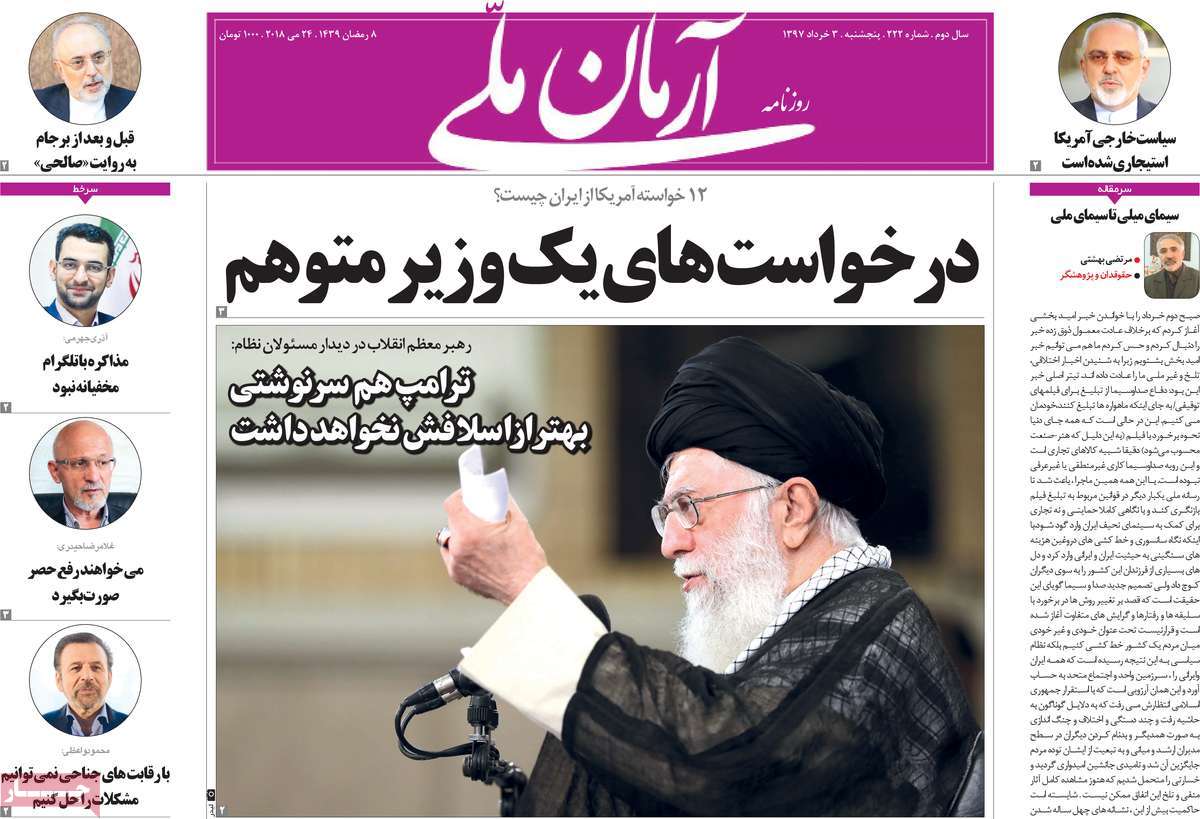 ---
Ebtekar:
1- Iran Leader: We Have No Doubt Enemy Will Be Defeated
2- Zarif: It's Wishful to Think Iran Will Once Again Sit at Negotiating Table
---
Etemad:
1- A Report on Election of Parliament's Presiding Board
Aref, Pezeshkian Urged to Run for the Post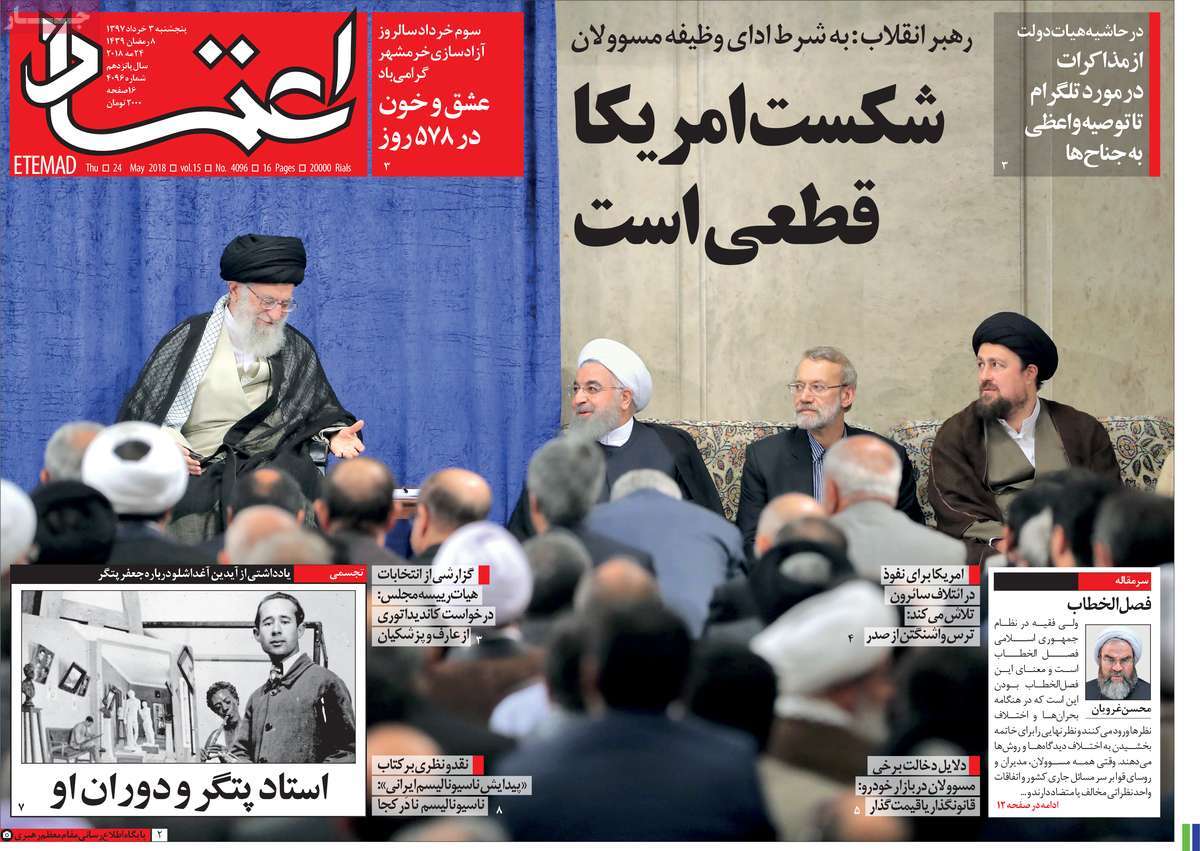 ---
Emtiaz:
1- 15% Decrease in Health Costs
Minister Unveils His Health Plan in Geneva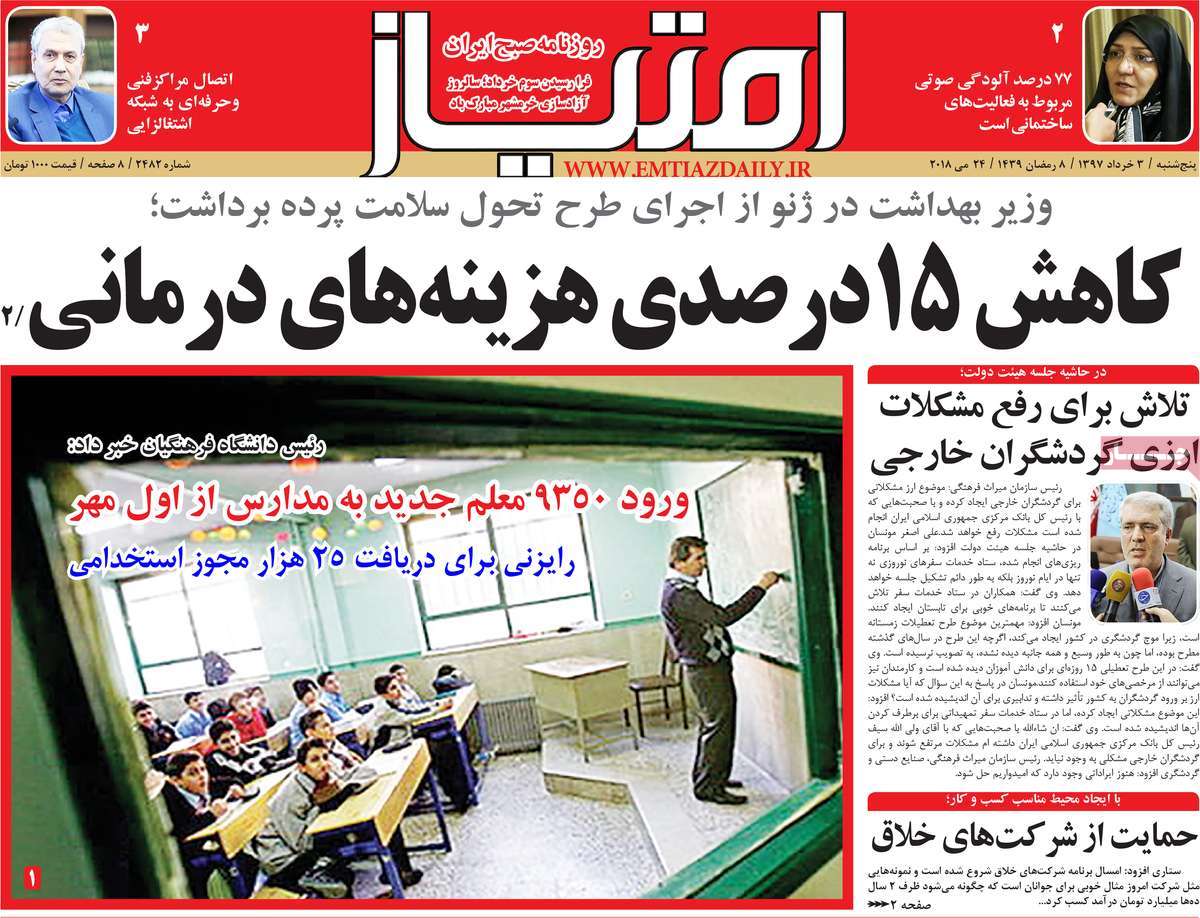 ---
Ettela'at:
1- Iran Leader: No One Allowed to Create Dichotomy over JCPOA, Disrupt National Unity
2- Sadr Movement: We Won't Accept US Dictates on Iran
---
Ghanoon:
1- Truck Drivers Go on Strike in Iran to Have Their Voices Heard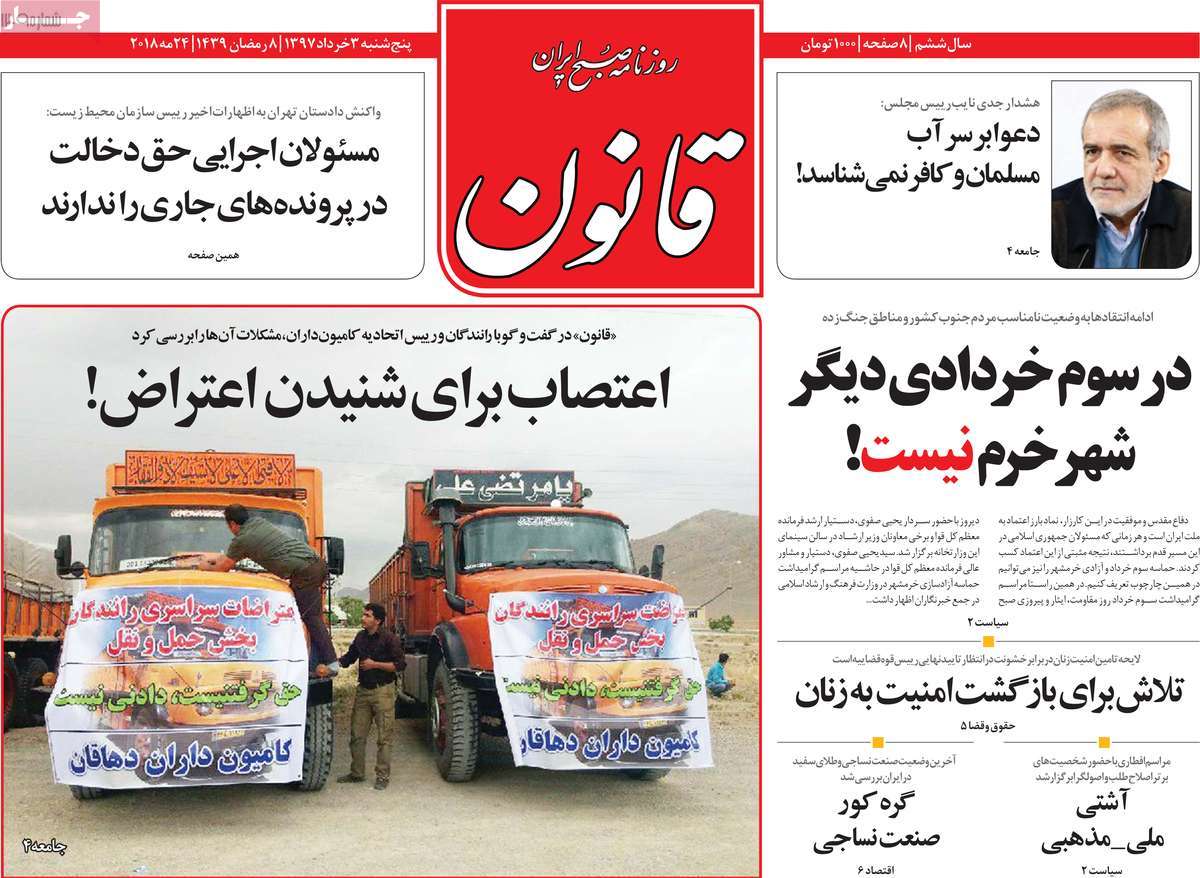 ---
Hemayat:
1- Iran Leader: Economy Cannot Be Developed with European JCPOA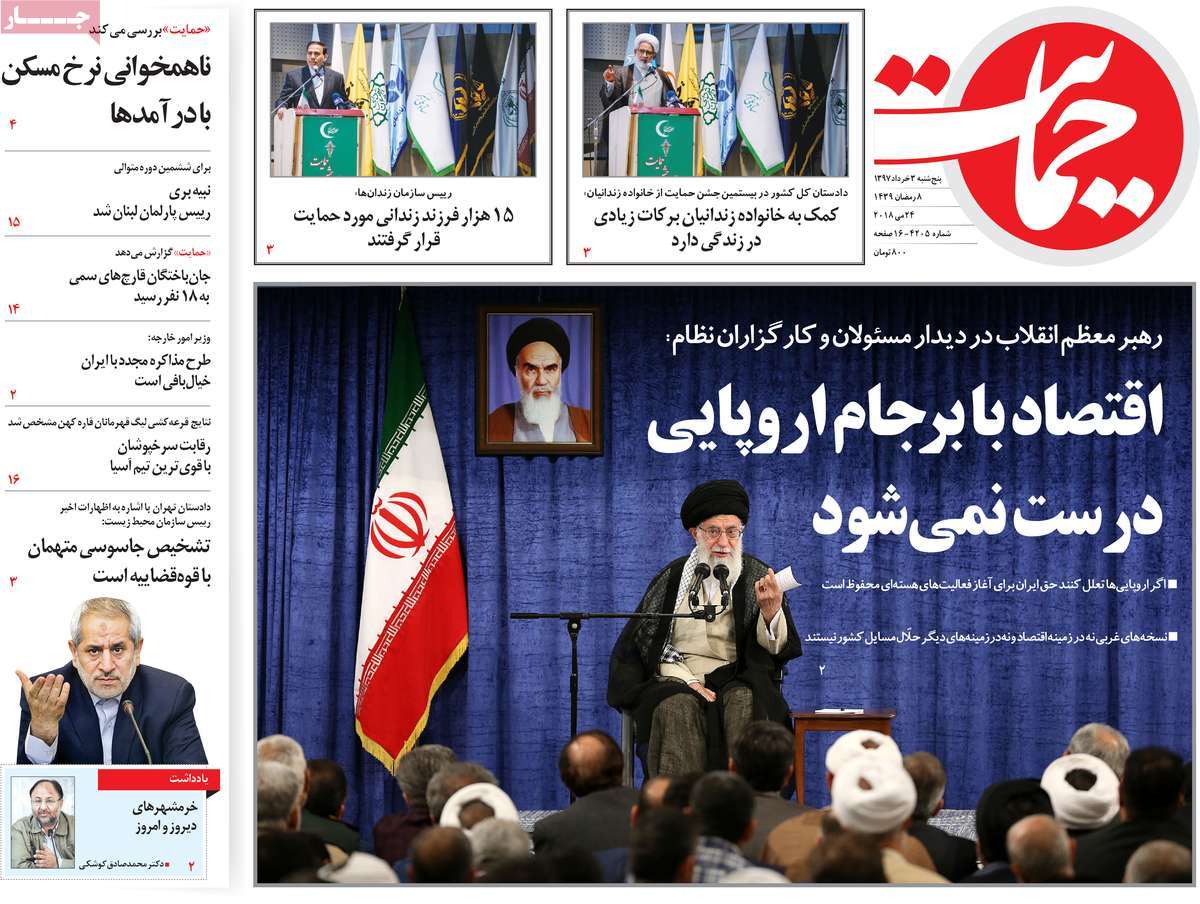 ---
Iran:
1- Zarif: Palermo Has Nothing to Do with Iran Nuclear Deal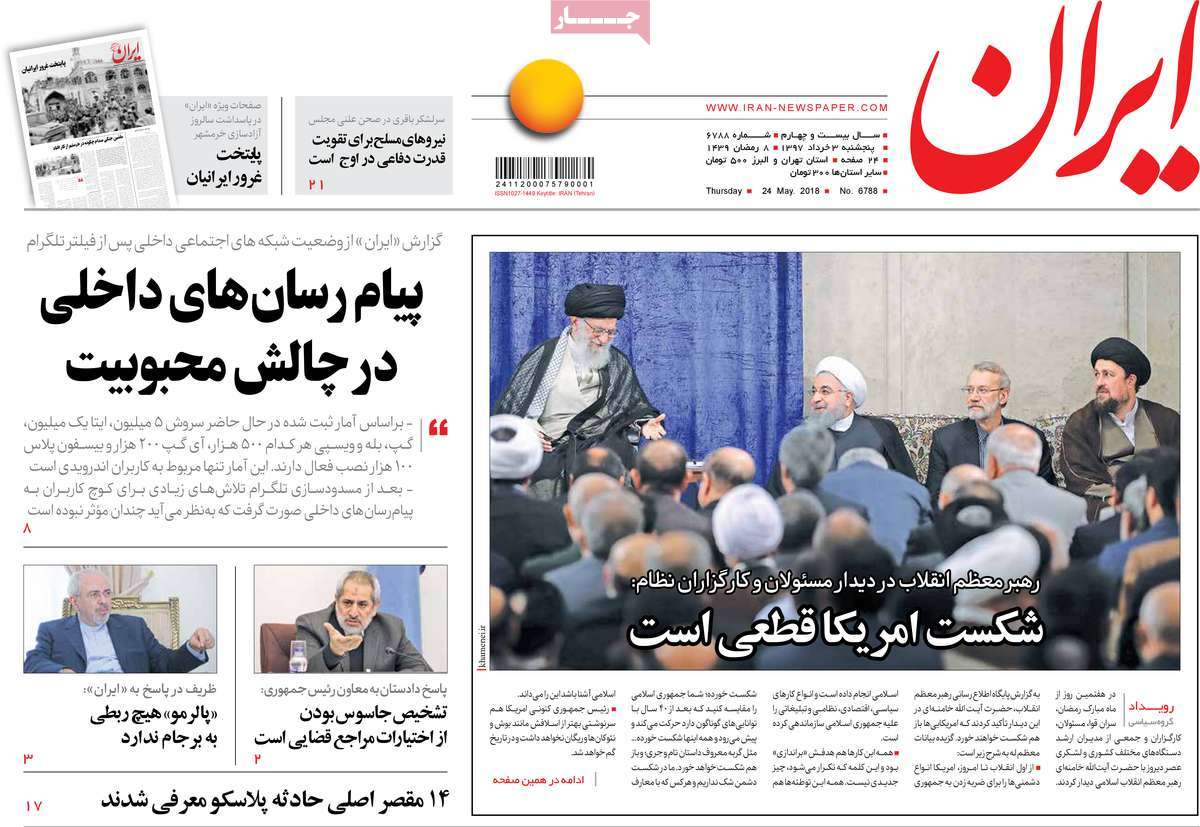 ---
Javan:
1- Damascus: Iran's Presence in Syria Not Negotiable
2- Over 20% of All Scientific Citations in Muslim World Belong to Iran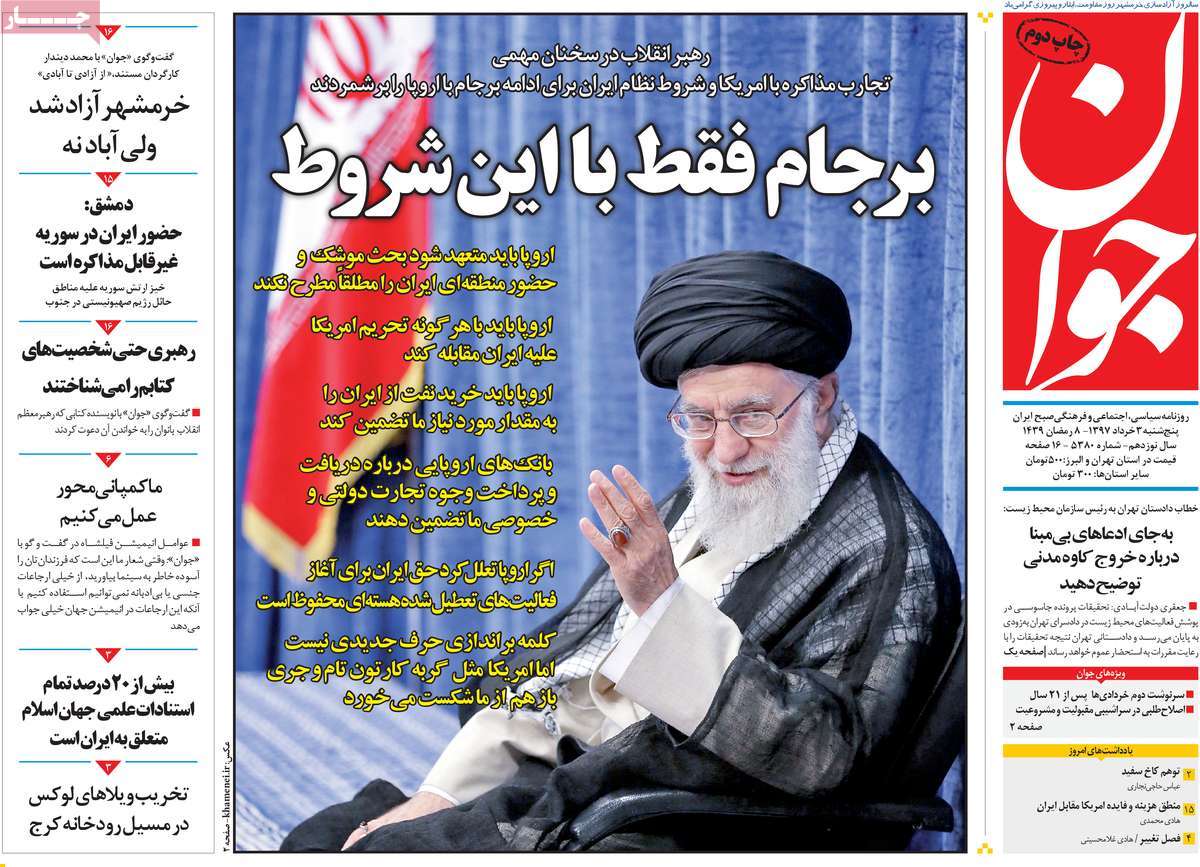 ---
Kayhan:
1- Iran Leader: We're Not in Fight against Europe, We Distrust Them
We Shouldn't Tie Resolution of Our Problems to Iran Nuclear Deal
2- Demonstrations against Austerity Policies in 140 French Cities
Anti-Riot Police Cracks Down on Protesters
3- Wendy Sherman: We Had Told Iranians We Wouldn't Give Any Guarantee to Remain in JCPOA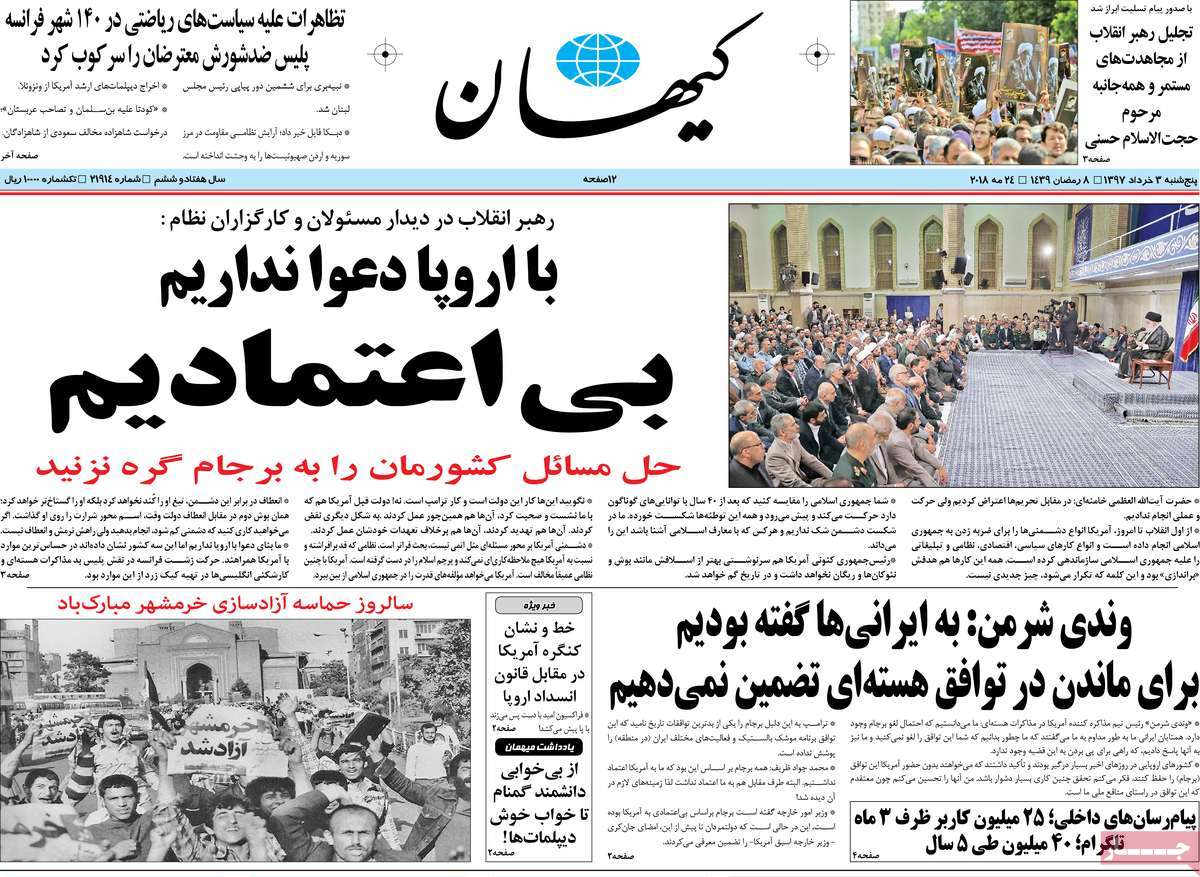 ---
Khorasan:
1- JCPOA Experiences: Six Conditions for Europe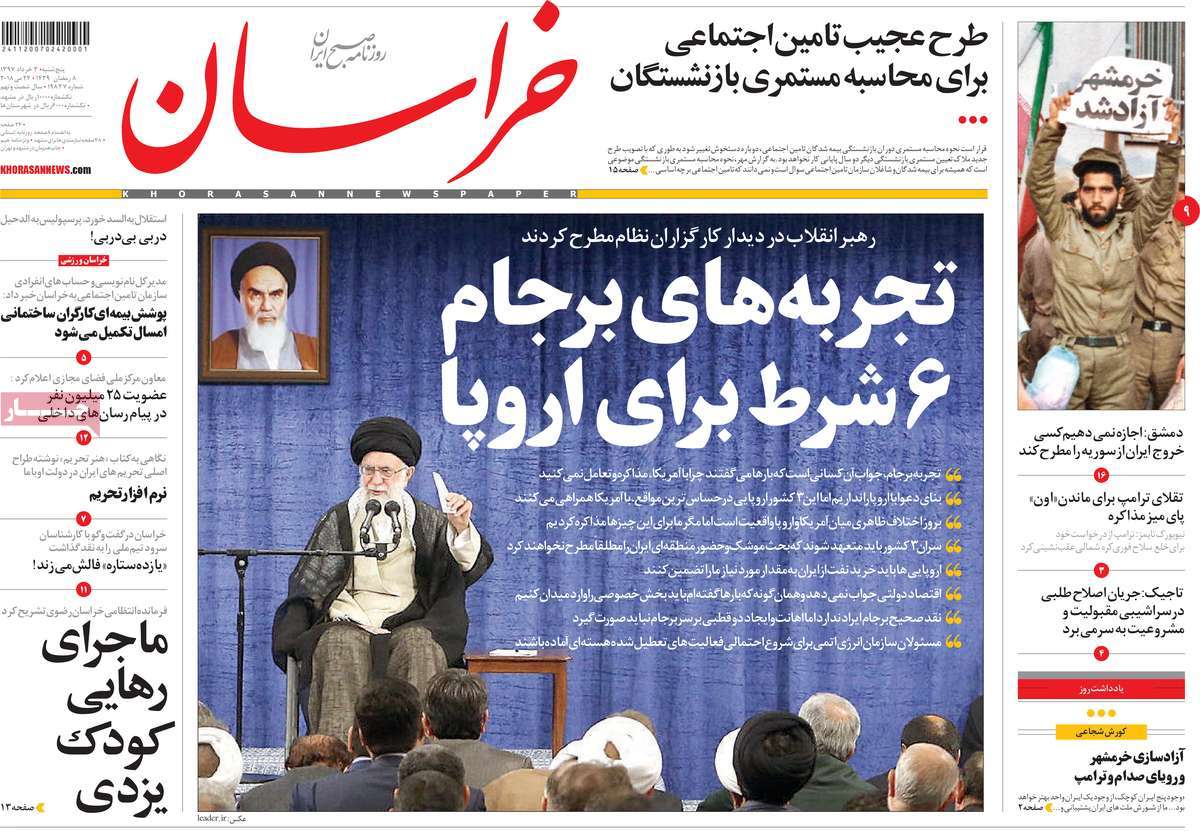 ---
Mardom Salari:
1- Iran Leader: US President to Go Away like His Predecessors
---
Resalat:
1- Parliament Speaker: Liberation of Khorramshahr Most Important Victory in Iran-Iraq War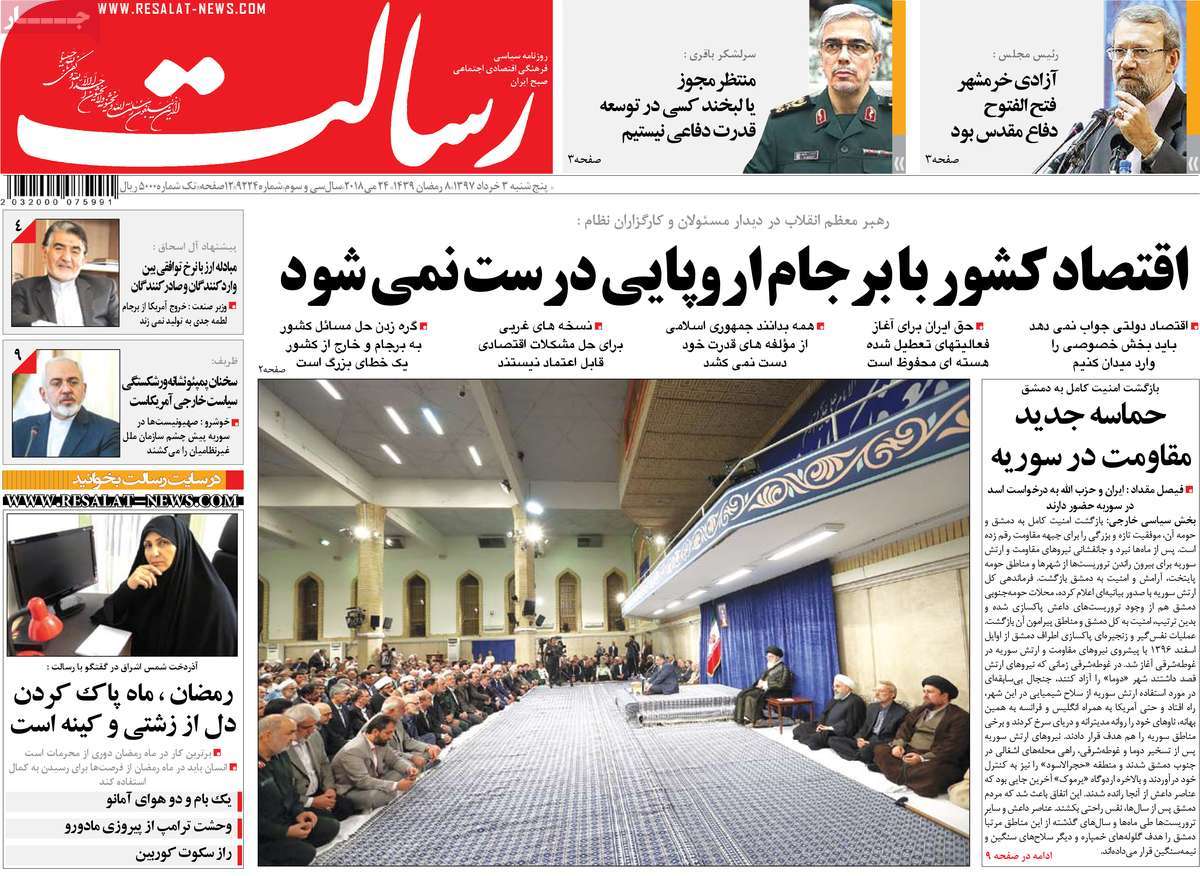 ---
Rooydad-e Emrooz:
1- FM: Iranian People to Make Bullies Regret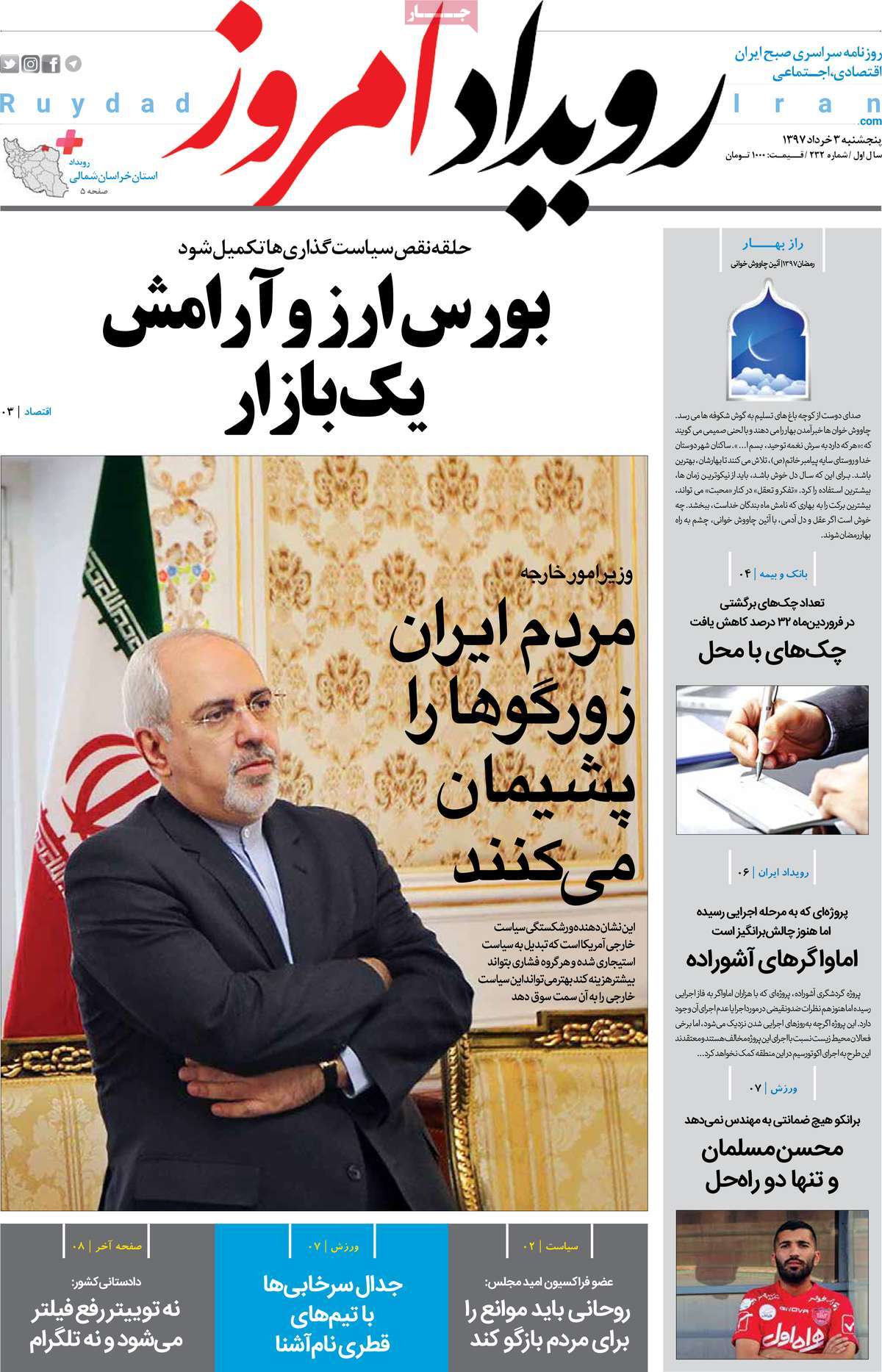 ---
Rooyesh-e Mellat:
1- Iran's Top Officer: We're Not after Engaging in War with Any Country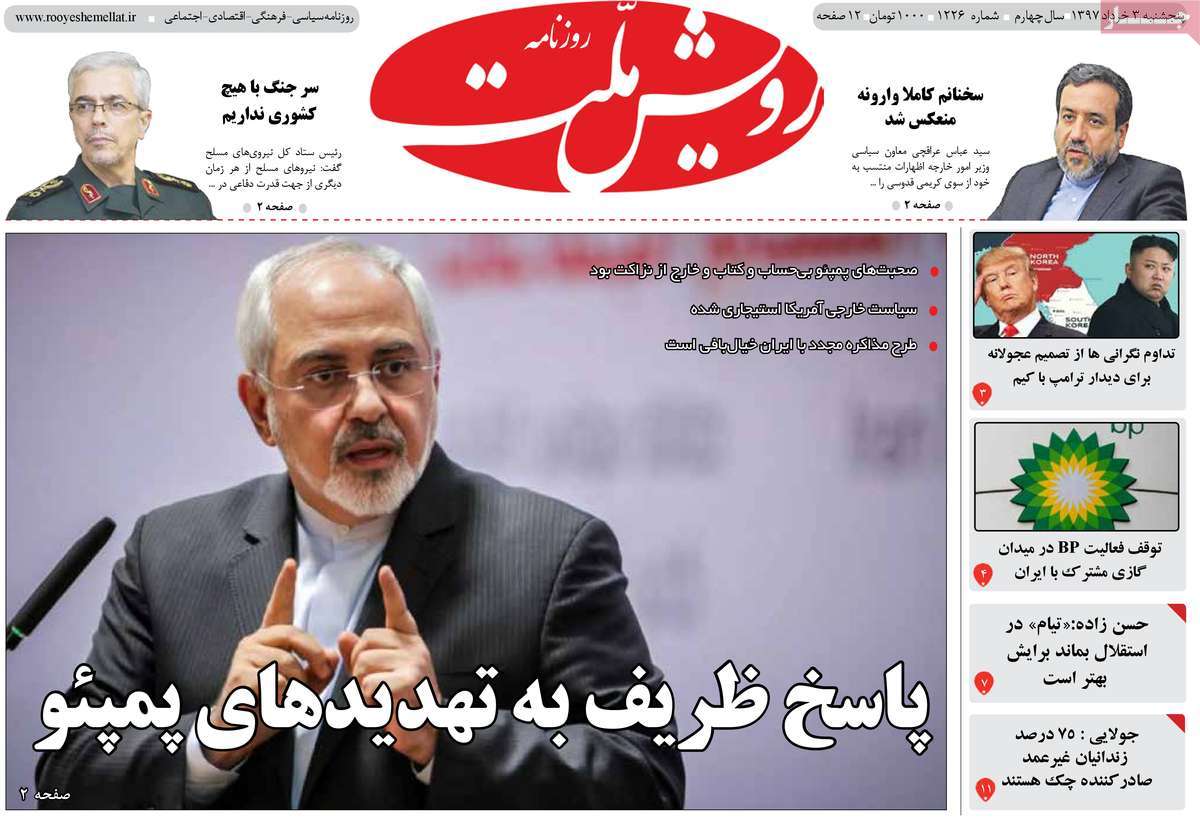 ---
Sayeh:
1- Zarif: US Policy Bankrupted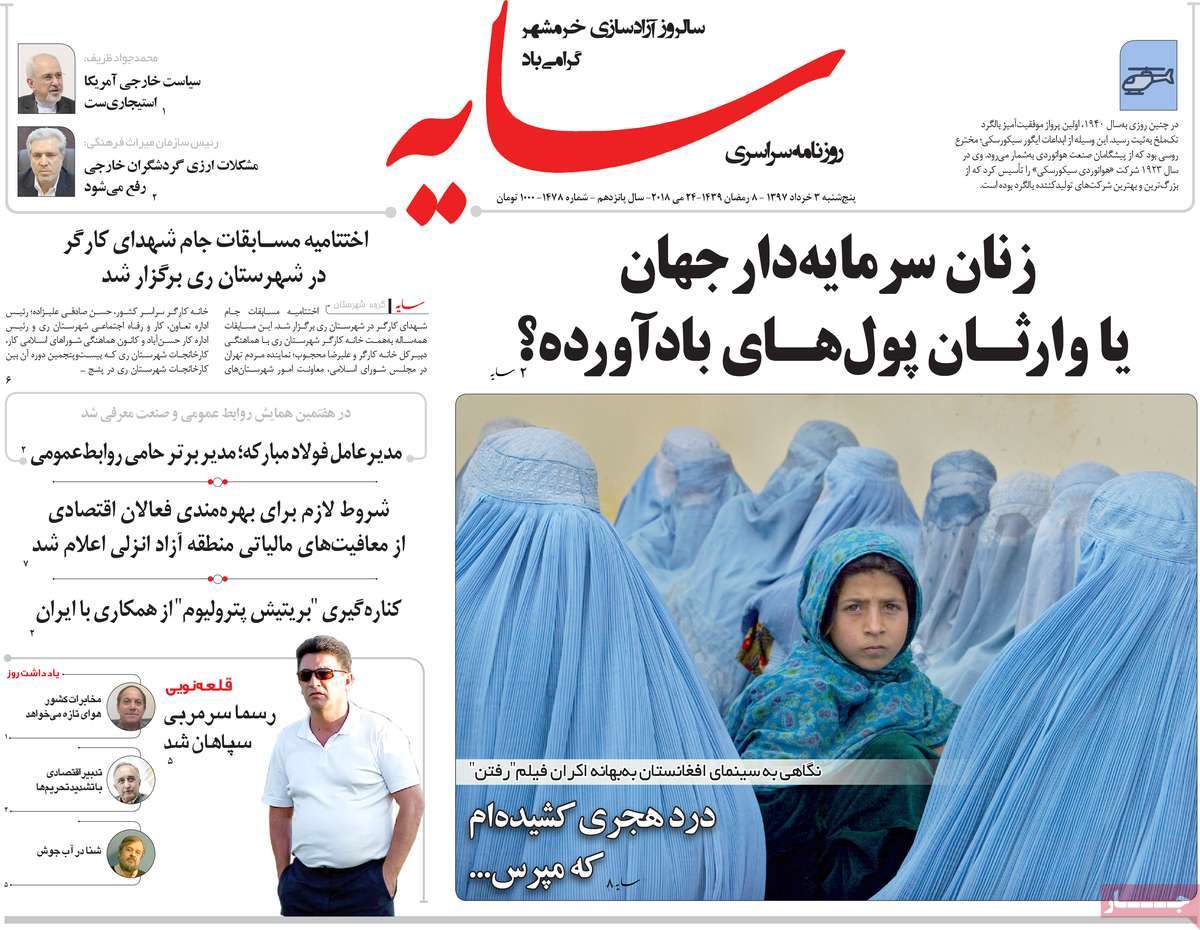 ---
Siasat-e Rooz:
1- Iran Leader: We Didn't Negotiate to Disgrace US, We Did It to Have Sanctions Lifted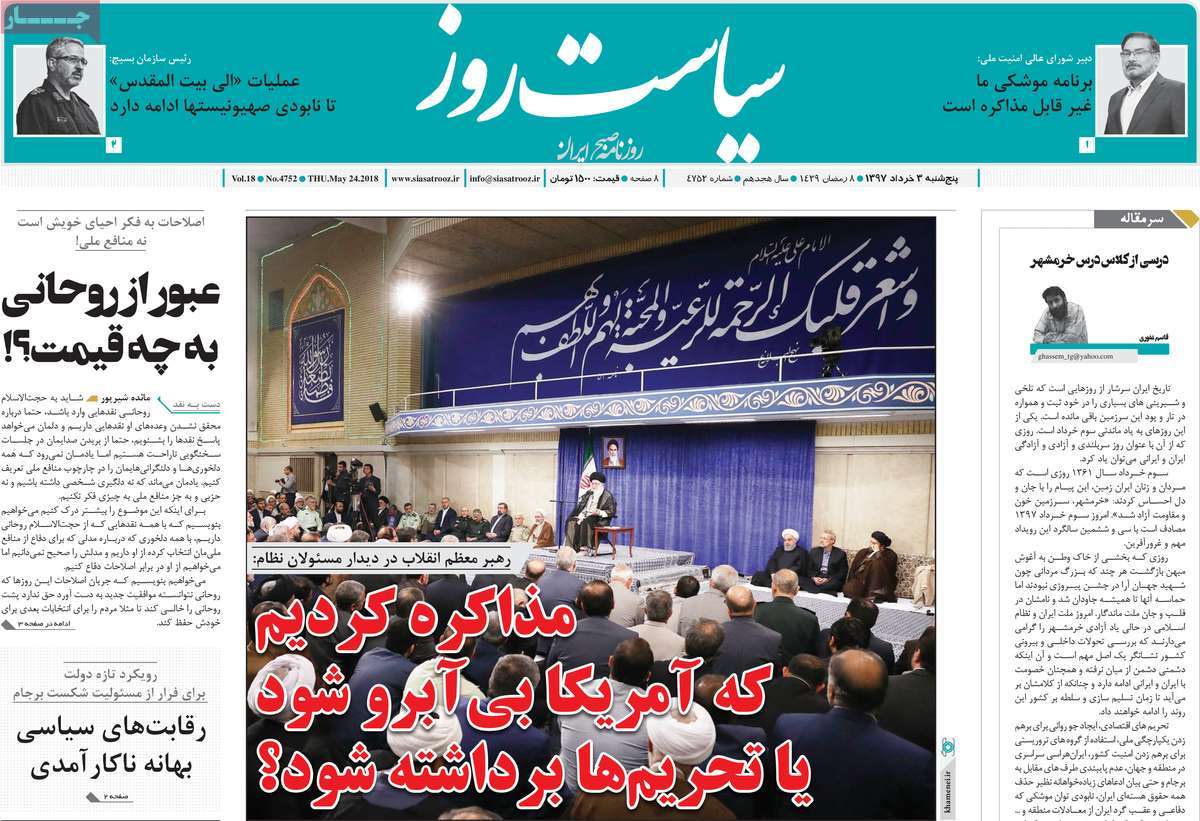 ---
Shargh:
1- End of Banks' Monopoly in Exchanging Foreign Currencies
Forex Offices Now Exchanging People's Foreign Currencies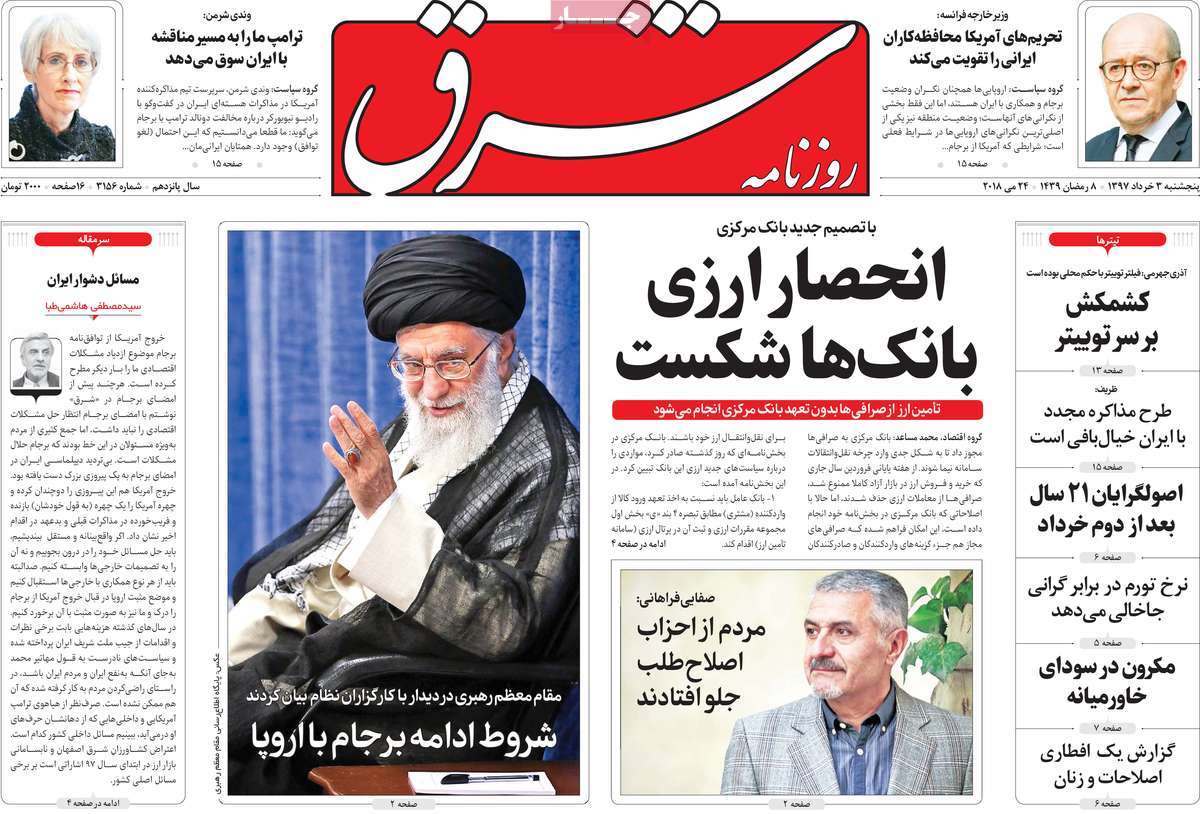 ---
Vatan-e Emrooz:
1- It's Difficult to Continue JCPOA Implementation without US: Sherman
---