IFP has taken a look at the front pages of Iranian newspapers on Saturday and picked headlines from 26 of them. IFP has simply translated the headlines and does not vouch for their accuracy.[:es]IFP ha echado una mirada a las portadas de periódicos iraníes, publicados el sábado, 26 de noviembre de 2016, y ha recogido titulares de 26 de ellos. IFP ha traducido simplemente los titulares y no es responsable de su veracidad.
The top story in today's newspapers was the train collision in Iran's Semnan province and the ISIS' terrorist attack on Shiite pilgrims in Iraq's Hilla.
Newspapers also criticized the mismanagement of executives that has led to serious problems for Iranian people following the heavy snowfall across the country.
The conflict between Turkish President Recep Tayyip Erdogan and Europe also received great coverage today.
The above issues, as well as many more, are highlighted in the following headlines:
Abrar:
1- Iran and Japan Considering Organization of Joint Nuclear Training Courses
2- Increasing Tendency to Drug Use among Teenagers Aged from 15 to 18
3- US Administration Condemns Terrorist Attack on Iraq
---
Abrar-e Eqtesadi:
1- Once Again Weak Management in Transport Ministry
2- Fierce Competition between Iranian Businessmen in Russia's Modern Market
3- Return of Danish Oil Giant to Iran
4- Fresh Round of Tehran-Geneva Trade Ties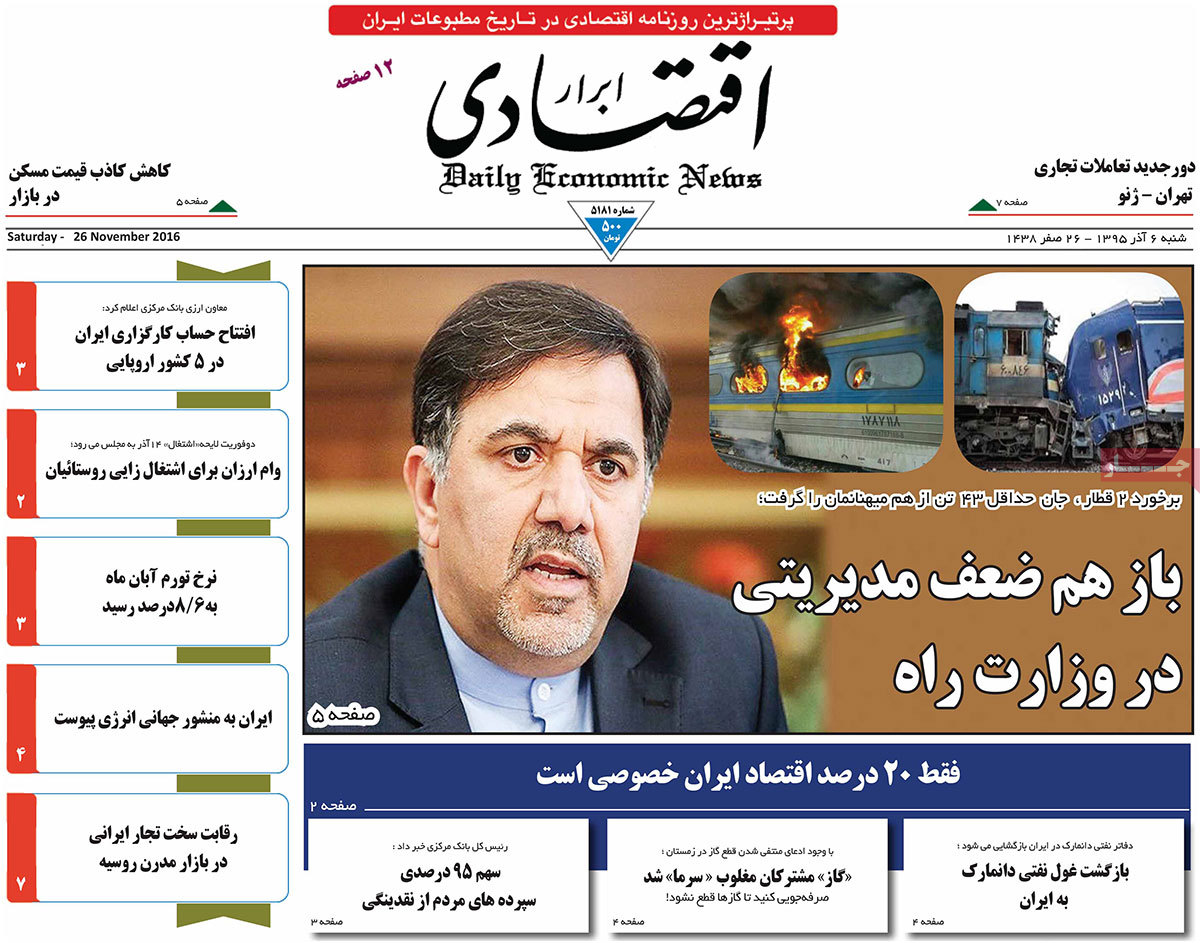 ---
Afkar:
1- How Iran Became Host of ICAAP Summit?
2- South Korean President Breaks Record of Popularity Decrease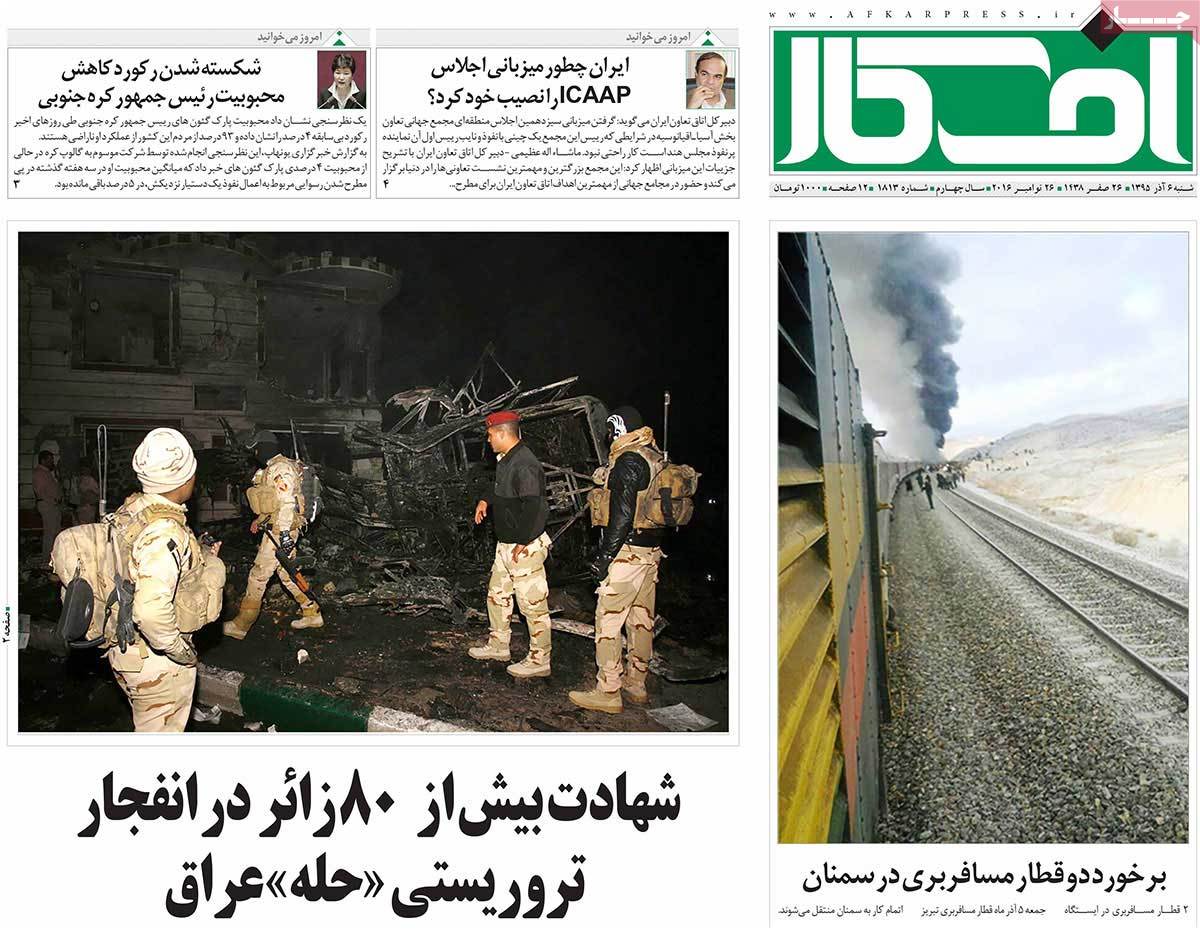 ---
Aftab-e Yazd:
1- Iran in Grief over Train Crash in Semnan and ISIS Attack on Pilgrims in Iraq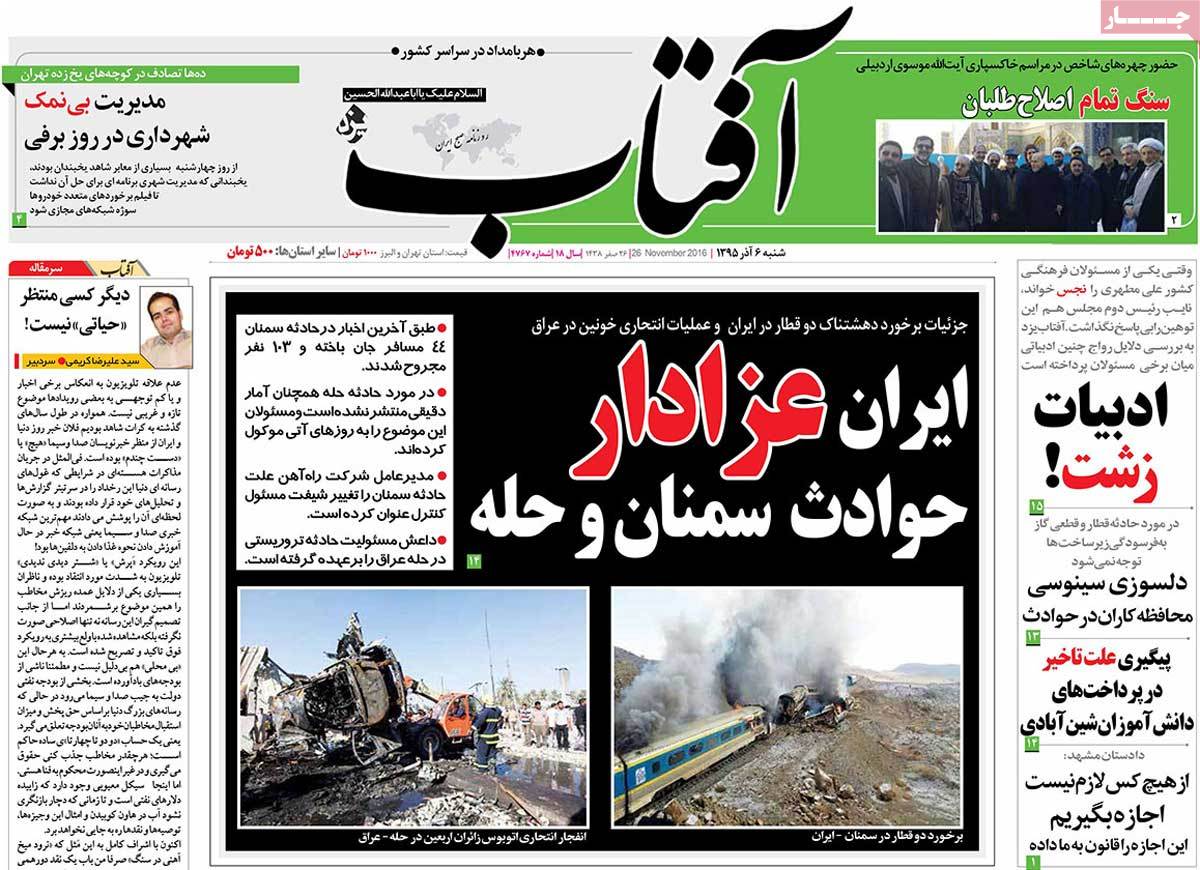 ---
Arman-e Emrooz:
1- Airbus Plane Ordered by Iran Flown in France's Sky: Time for Delivery of Airbus Planes Still Unclear
2- Iranian Parliament Vice-Speaker Motahari's Reaction to the Cleric Who Called Him 'Dirty': Rest Assured, I Won't Hug You!
3- Senior Reformist Aref's Efforts to Negotiate with Conservatives for Upcoming Presidential Votes
---
Asrar:
1- President Rouhani Highlights Iran's Resolve for All-Out Fight against Terrorists and Extremists
2- Foreign Ministry Spokesman: We've Had No Talks on Revision of JCPOA
3- Iran Joins Int'l Energy Charter
4- Cold Weather Inflicts Millions of Damage to Gardeners
---
Besharat-e Now:
1- Iranian Month of Azar [November-December] Starts Sadly with Lots of Accidents: Deadly Train Crash, ISIS Attack on Pilgrims, Snow and Blizzard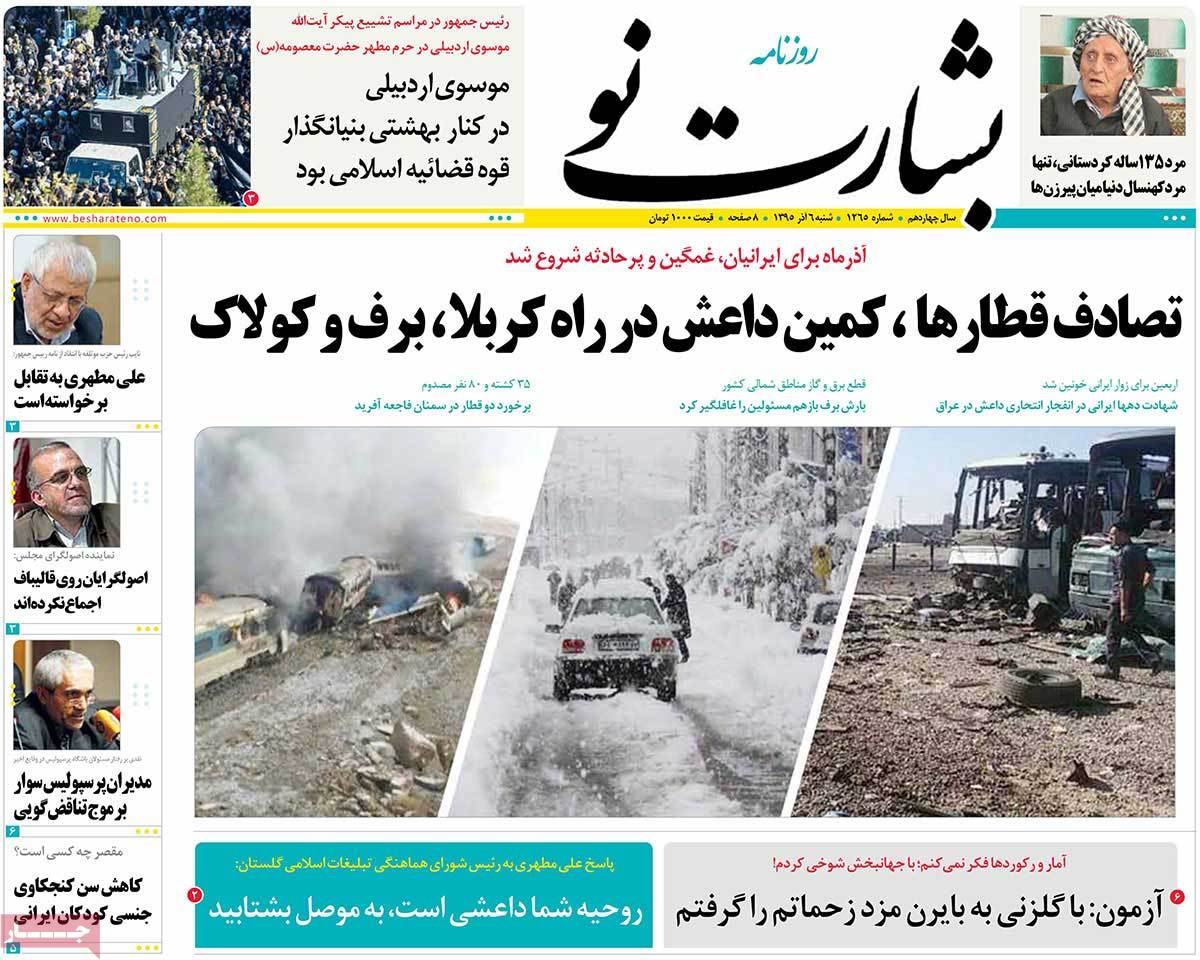 ---
Ebtekar:
1- Days of Fire and Smoke: Explosion in Iraq, Train Collision in Semnan
---
Etemad:
1- ISIS' Crime
2- Train of Death
3- Erdogan's Threatening Response to European Parliament's Resolution: I'll Tear Apart the Deal and Let the Flood of Refugees Overwhelm Europe
4- Rouhani Calls for Identification of Culprits behind Deadly Train Crash in Semnan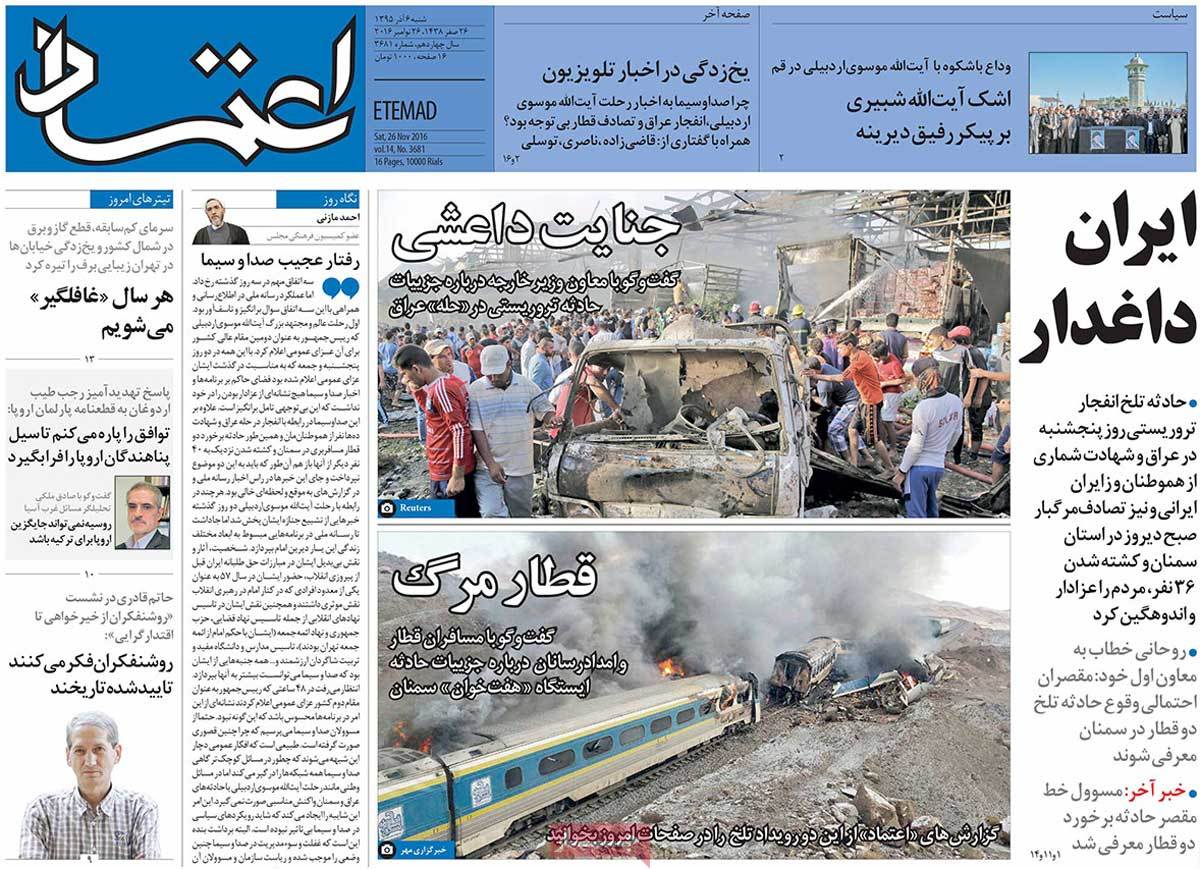 ---
Ettela'at:
1- In a Glorious Ceremony, People Bid Farewell to Senior Cleric Ayatollah Mousavi Ardabili
2- Iran's Ambassador to Germany: Iran Is Middle East's Top Talent for Investment
3- Russian Officers in Aleppo Meet Lebanese Hezbollah Commanders
---
Haft-e Sobh:
1- We Don't Want Metro and Airbus, We Want Managers: 36 Killed in Tragic Train Crash, 72 Hours of Power and Gas Cut in Mazandaran Province, Repetition of Horrific Traffic Jam in Recent Snowfall
---
Hemayat:
1- OPEC Replaces Previous Freeze Plans with Oil Output Cut after Russia's Request
2- Iran-Bas 150 Platform: New Iranian Satellite with Airbus' Technology
3- Emergency Evacuation of 90,000 Zionists after Haifa Fire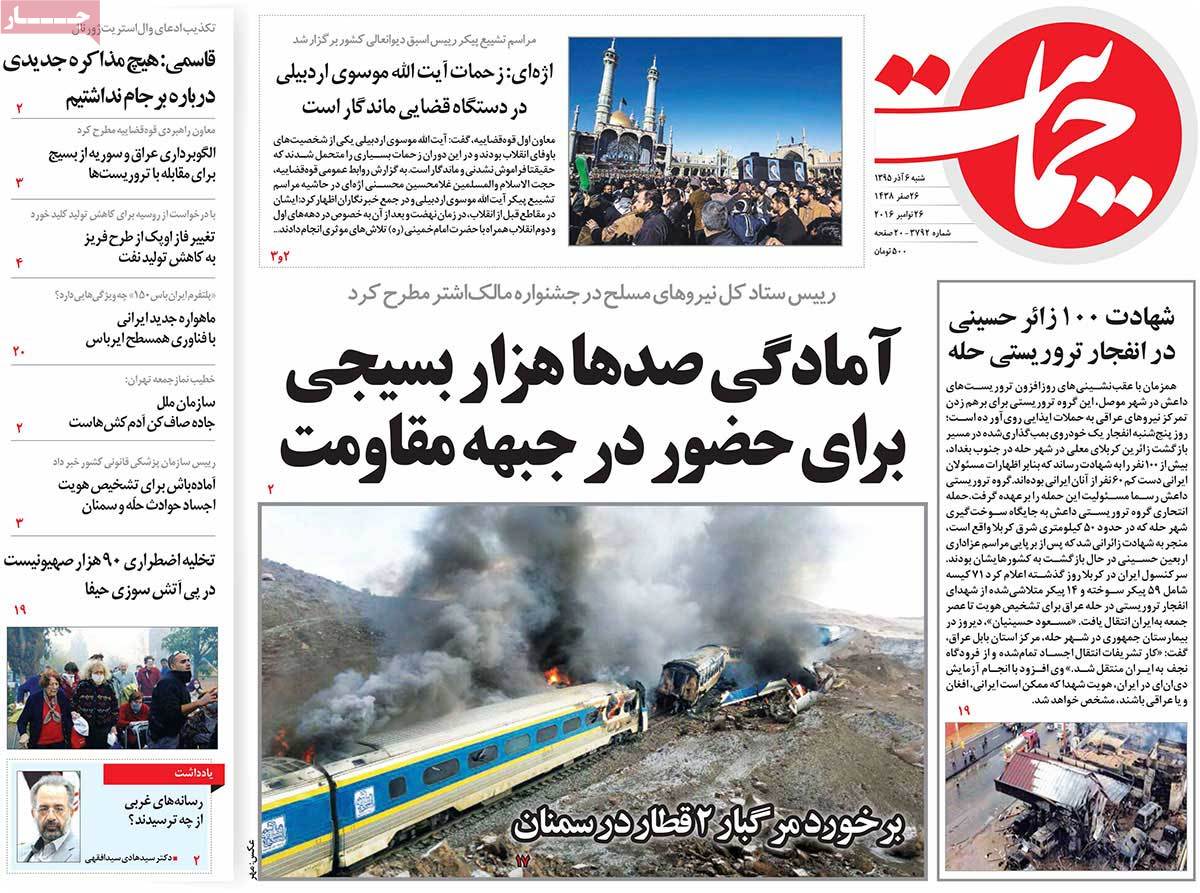 ---
Iran:
1- Commander: IRGC Will Act Based on Opinion of Leader, Government, and Parliament
2- Bloody Morning: Two Trains Collide in Semnan-Damghan Route; Public Mourning Declared in East Azarbaijan Province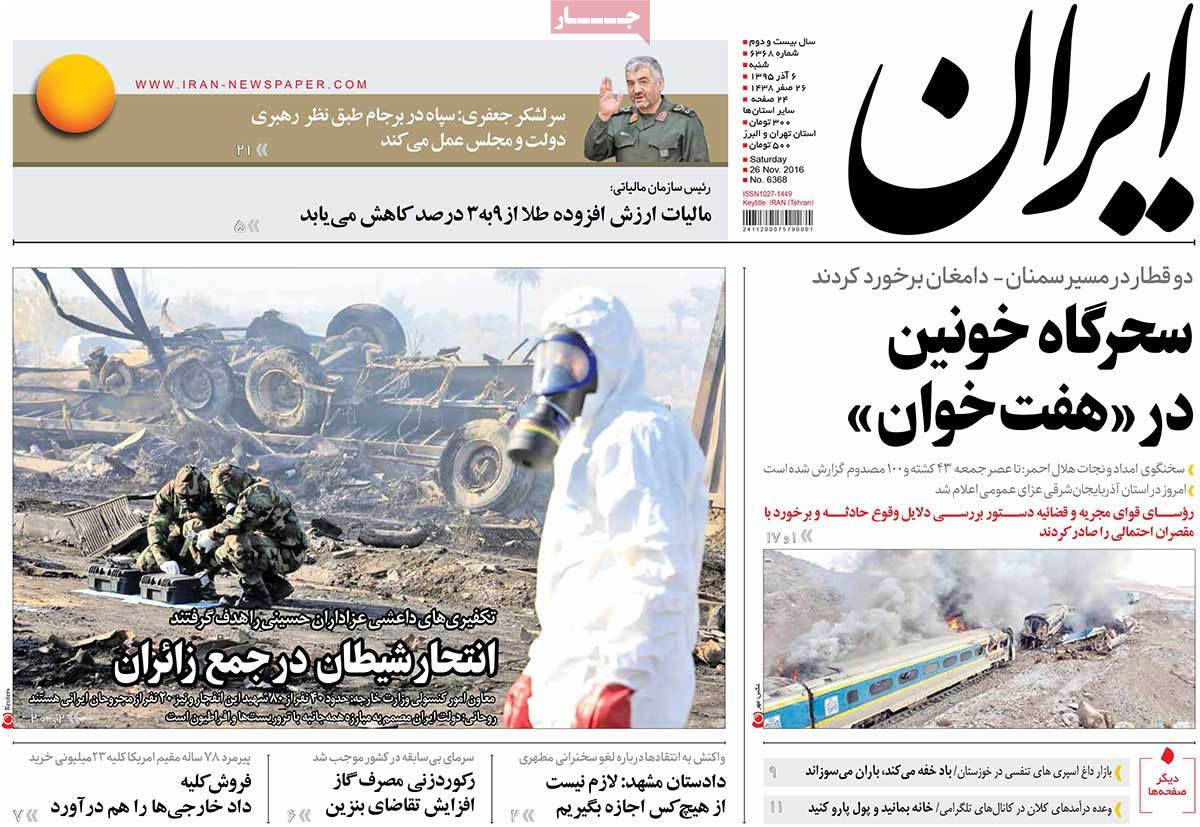 ---
Jame Jam:
1- Terrorists Take Revenge: ISIS' Attack in Hilla Shows Their Frustration after Consecutive Defeats
2- Iranian Filmmaker Majid Majidi Slams Al Saud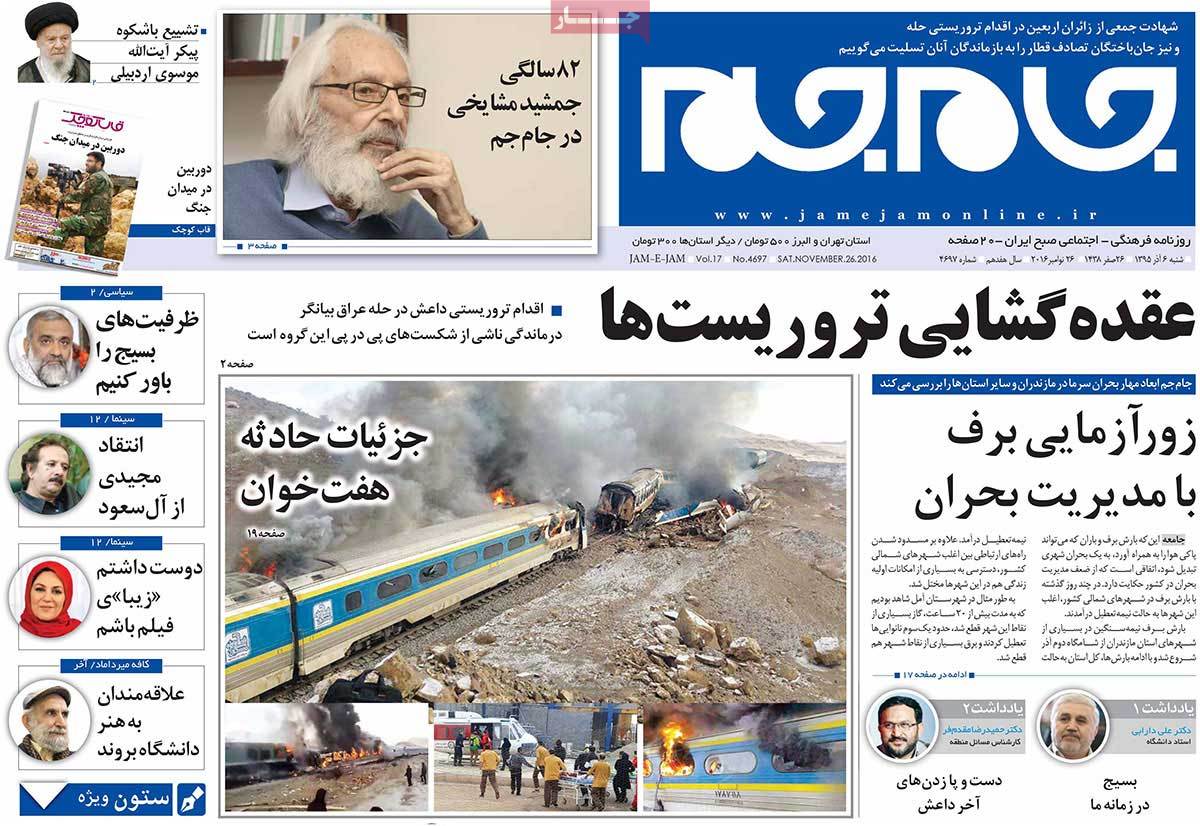 ---
Javan:
1- ISIS' Suicide Attack in Response to Arbaeen's Glory
2- World's Top Universities Studying Arbaeen Processions: MIT Uses the Pilgrimage as a University Lesson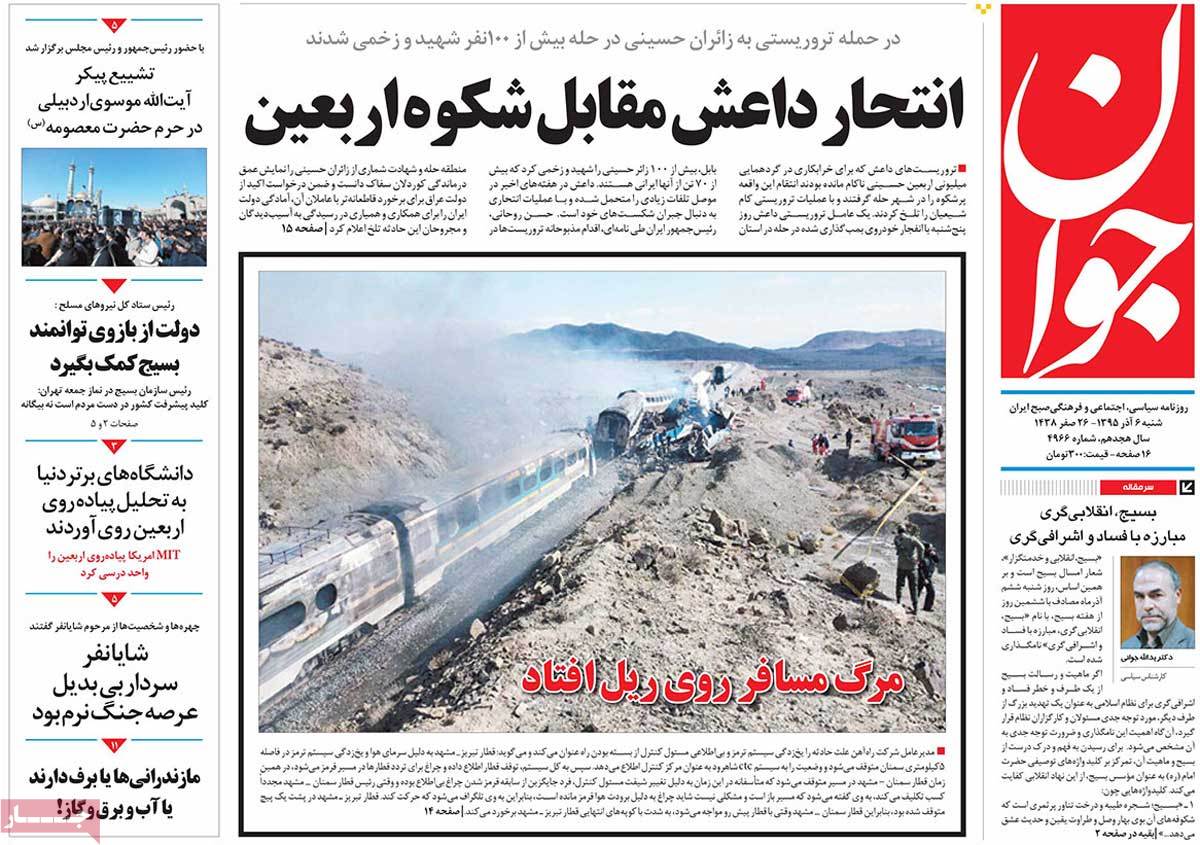 ---
Jomhouri Eslami:
1- Contradictory Reports about Egyptian Army's Joining Syria War against Terrorists; President Sisi: Cairo Doesn't Follow Saudi Arabia
2- Iran Has Opened Brokerage Accounts in 5 European Countries: Central Bank Official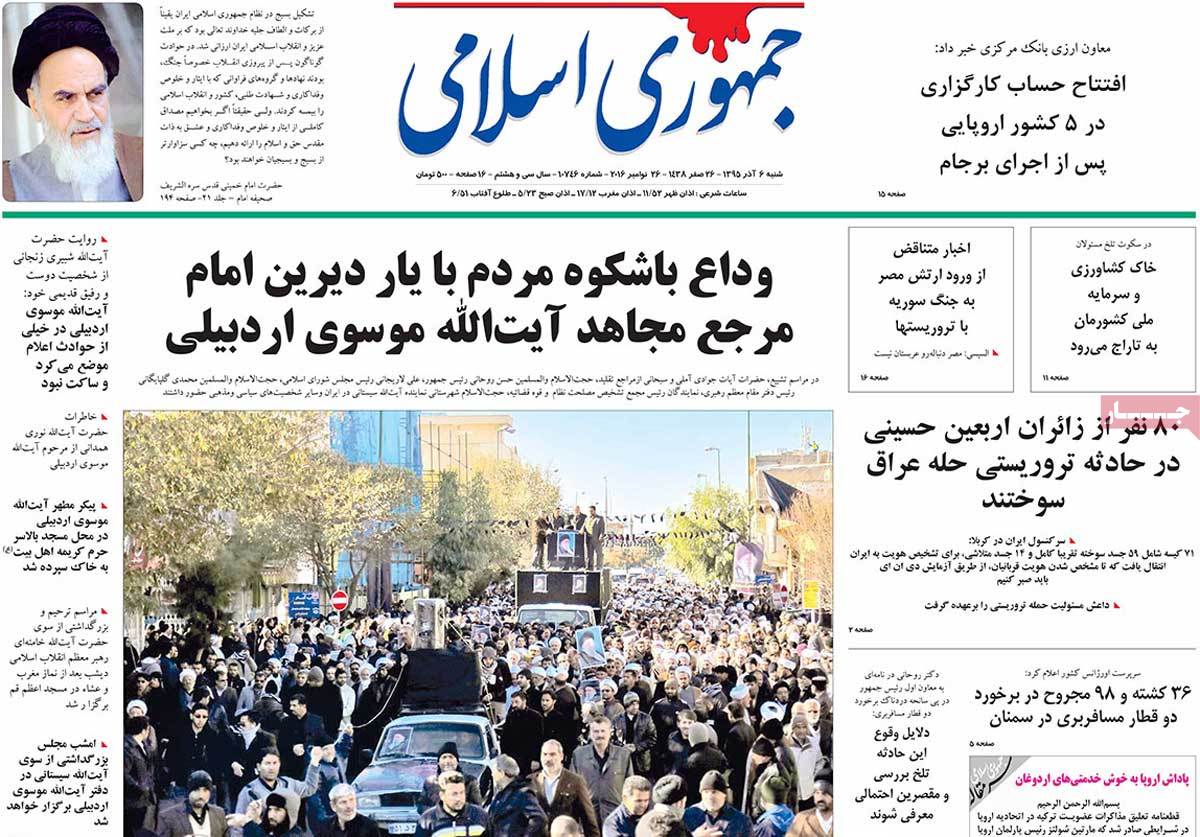 ---
Ka'enat:
1- Black Thursday, Unfortunate Friday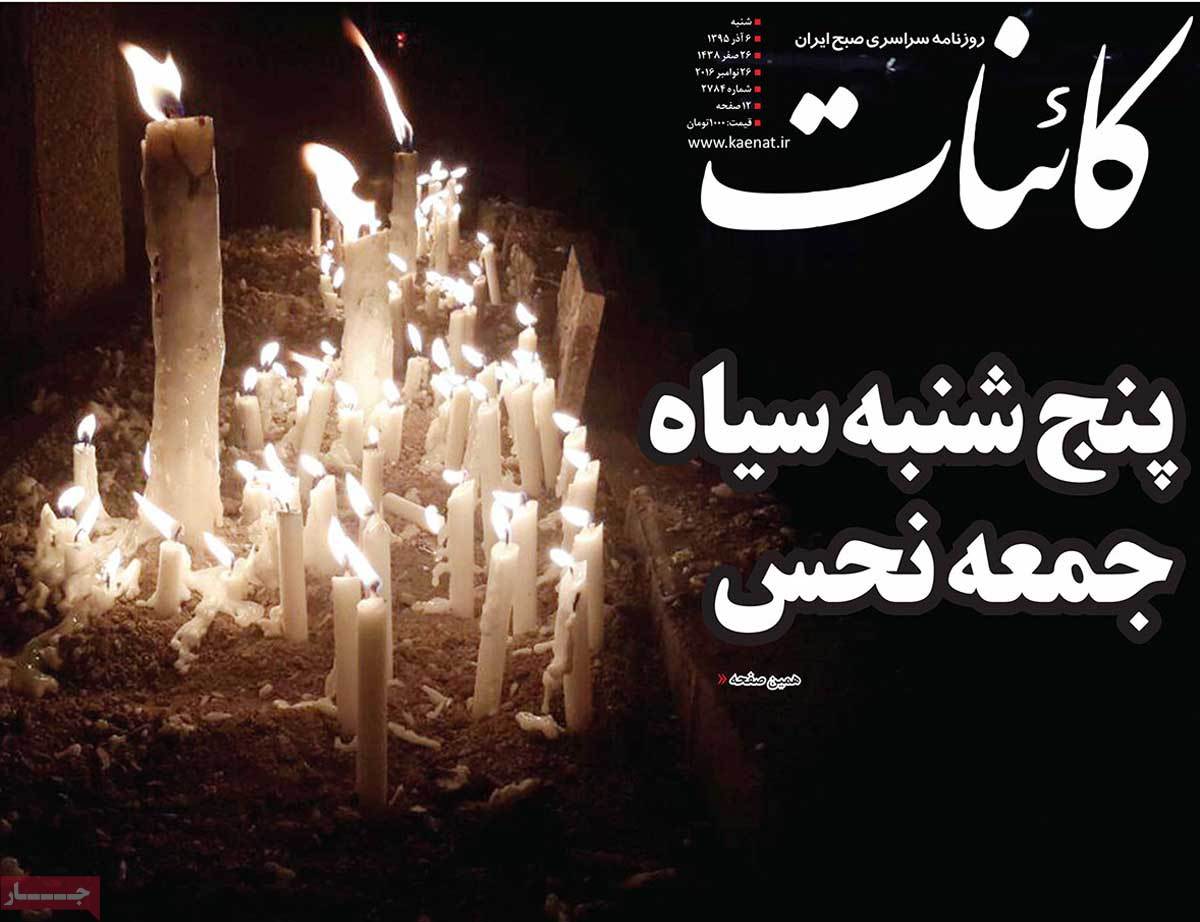 ---
Kayhan:
1- Iran in Grief: Blast in Hilla and Train Crash in Semnan
2- Friday Prayers Imam: We Can Hear the Sound of Liberal Democracy's Bones Getting Broken
3- Syrian Jet Fighters Pound Turkish Army's Positions in Al-Bab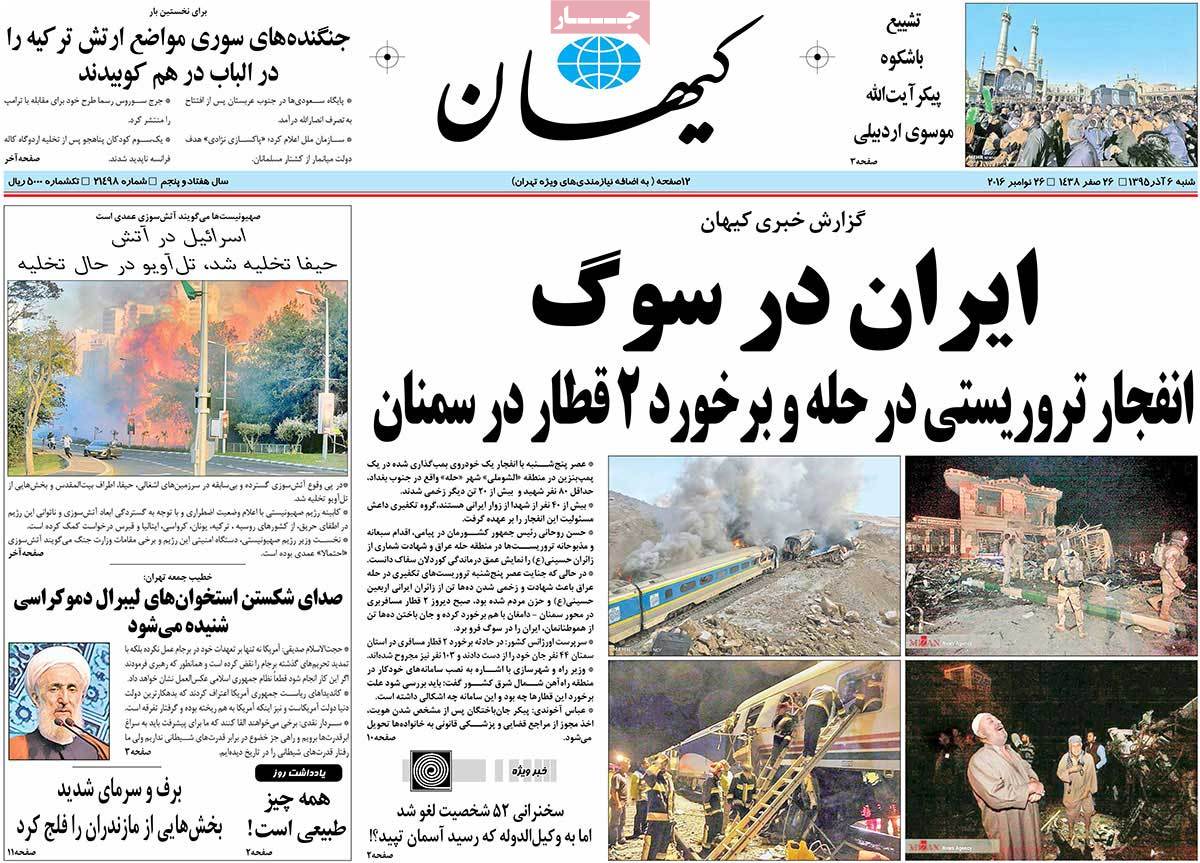 ---
Mardom Salari:
1- Iranian Ambassador to Russia: Corridor that Connects Persian Gulf to Caspian Sea Will Become Operational
2- Pilgrims Burn in Iraq's Hilla
3- Americans Are Looking for Someone like Trump in Tehran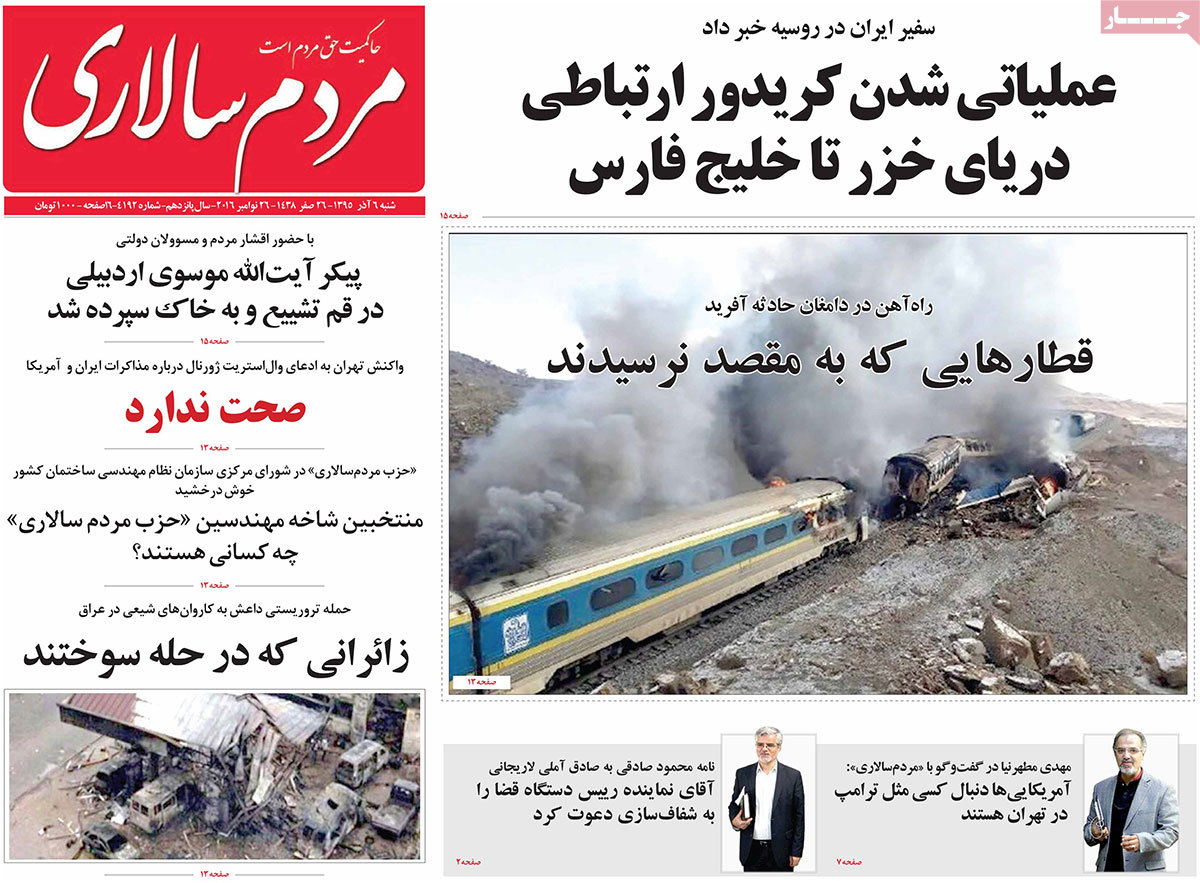 ---
Rah-e Mardom:
1- Will Hotel Owners Go Bankrupt? A Report on Hoteling Industry in Iran
2- Russian Defence Ministry to US: Don't Disturb Us in Syria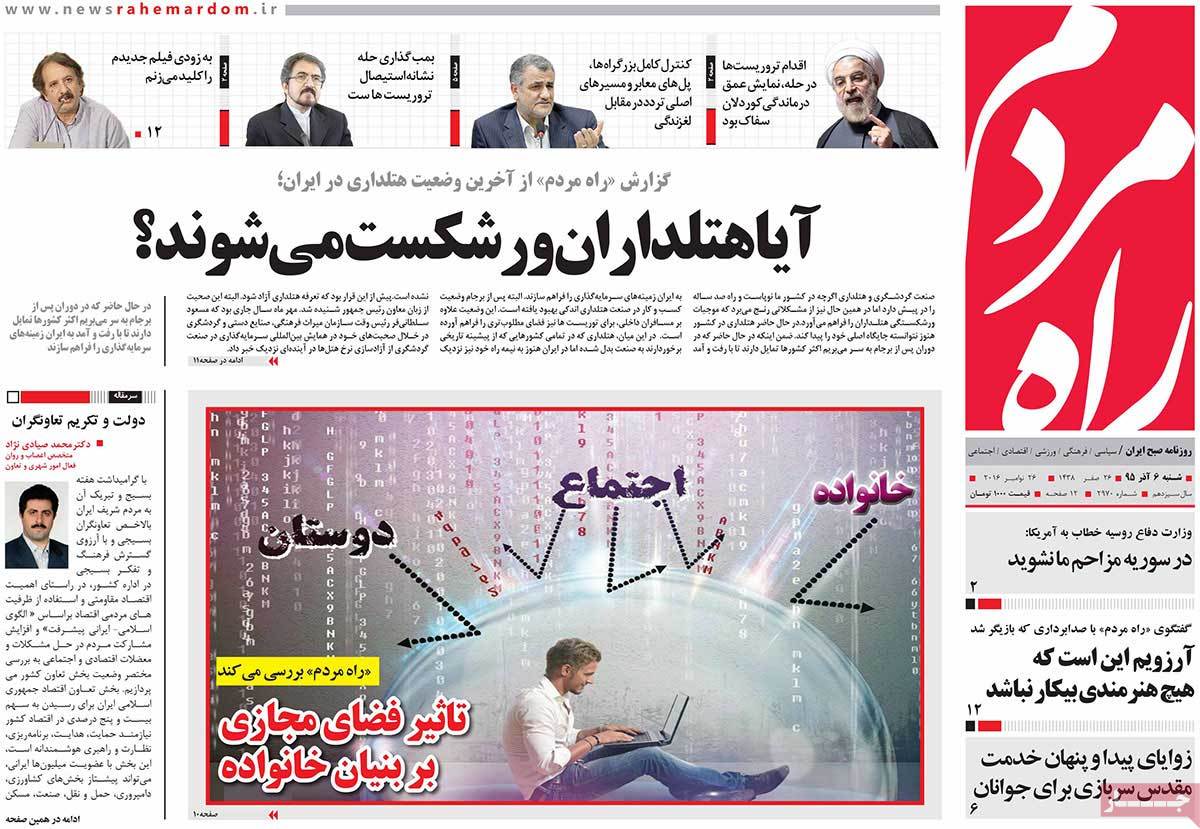 ---
Rooyesh-e Mellat:
1- Terrorists' Use of Mustard Gas in Aleppo Is Confirmed
---
Setareh Sobh:
1- Former British PMs against Brexit
2- Turkey's EU Membership Is Suspended; EP President: We Won't Back Off on Democracy and Human Rights
3- Erdogan: I'll Open Europe's Borders to Refugees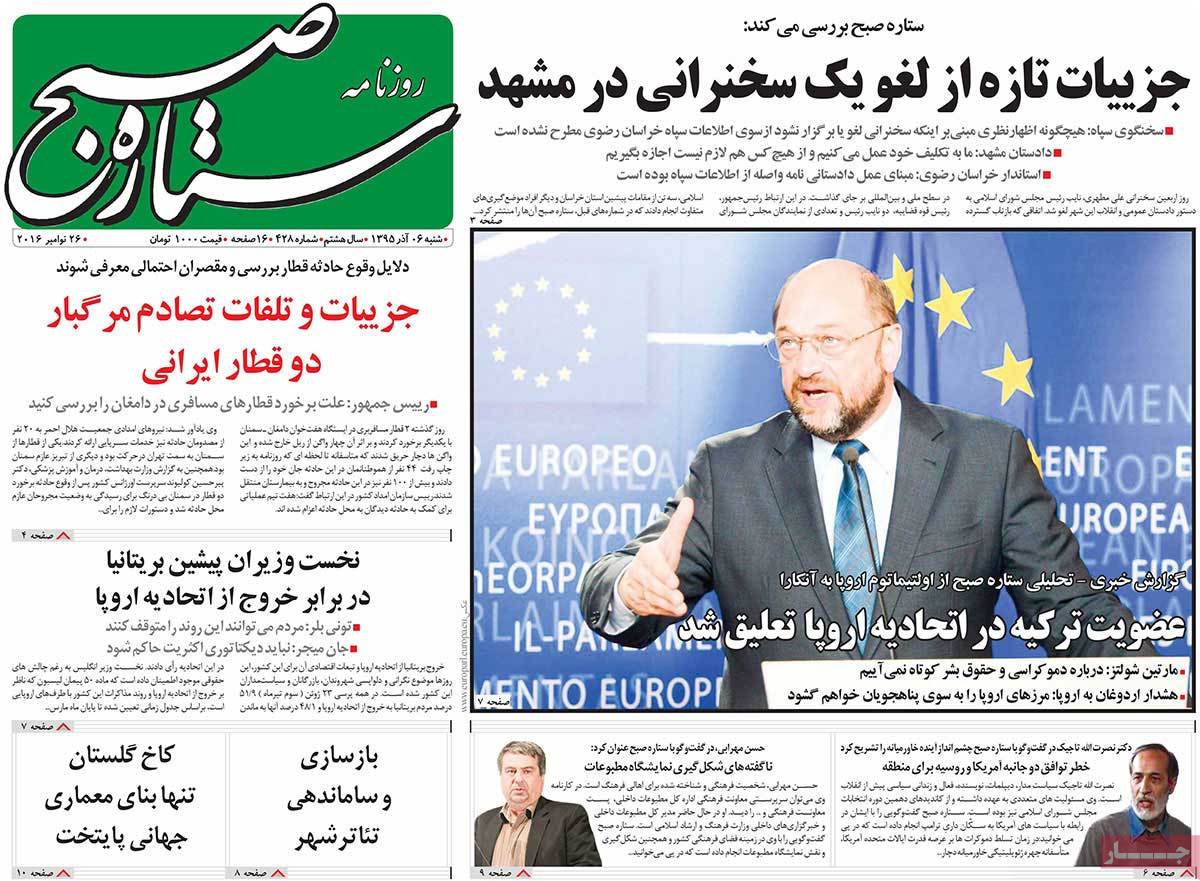 ---
Shargh:
1- Snow Came in, Gas and Power Went Out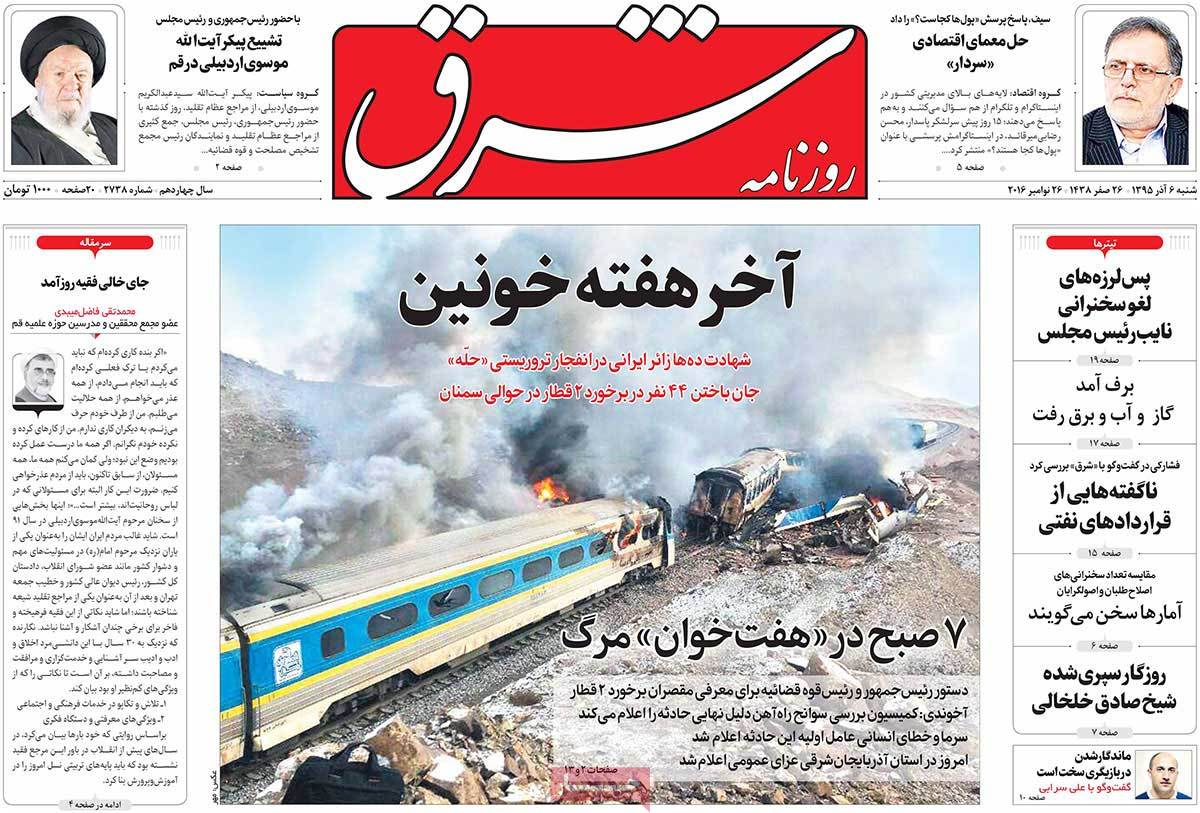 ---
Sobh-e Now:
1- Train of Embarrassment: Passengers of 7:47 [the time of collision] Fall Victim to Purchasers of 747 [planes that Iranian government wants to buy]
---
Vaghaye Ettefaghieh:
1- Mourning after Mourning
2- World Condemns Brutality: Martyrdom of Tens of Arbaeen Pilgrims in Hilla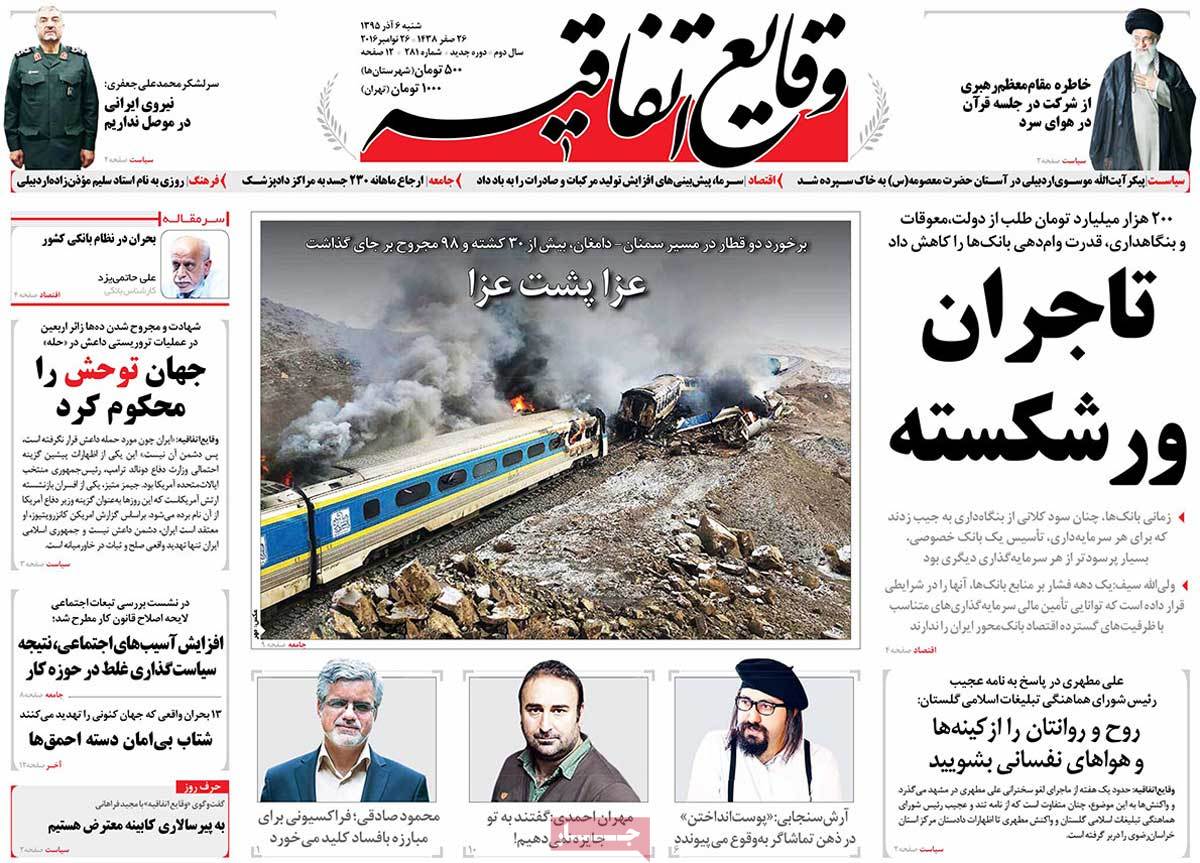 ---
Vatan-e Emrooz:
1- Egypt's Military Support for Syria
[:es]
La nación iraní está de luto y llora la muerte de decenas de sus compatriotas en dos catástrofes recién acaecidos, primera en la localidad de Hilla en Irak, cuando un terrorista lazó un ataque suicida contra el autobús de peregrinos iraníes y segunda, el choque de dos trenes en la provincia de Semnan, lo cual causó la pérdida de vida de más de 40 personas en las llamas de fuego. Los periódicos iraníes de hoy, subrayaron unánimemente ambas tragedias mencionadas.
La prensa también cubrió la orden del presidente Rohani para tomar medidas de urgencia sobre el accidente de trenes y la determinación de los supuestos culpables, aunque no hizo caso omiso a los avatares regionales, como la intervención de Egipto en Siria.
Los temas antes mencionados, así como varias otras cuestiones se destacan en los siguientes títulos:
Abrar:
Encargado de Relaciones Exteriores de Agencia de Energía Atómica de Irán y el embajador japonés en Teherán estudian la celebración de talleres nucleares conjuntos entre ambos países.
Aumenta la pasión por el uso de drogas en los jóvenes de entre 15 y 18 años.
El gobierno de EEUU condena el ataque terrorista a Irak.
---
Abrar Eqtesadi:
Otra vez, la mala gestión del ministerio de Carreteras genera catástrofe.
Los comerciantes iraníes se compiten en el mercado moderno de Rusia
Retorno del gigante petrolero de Dinamarca a Irán.
Nueva ronda de relaciones comerciales Teherán-Ginebra.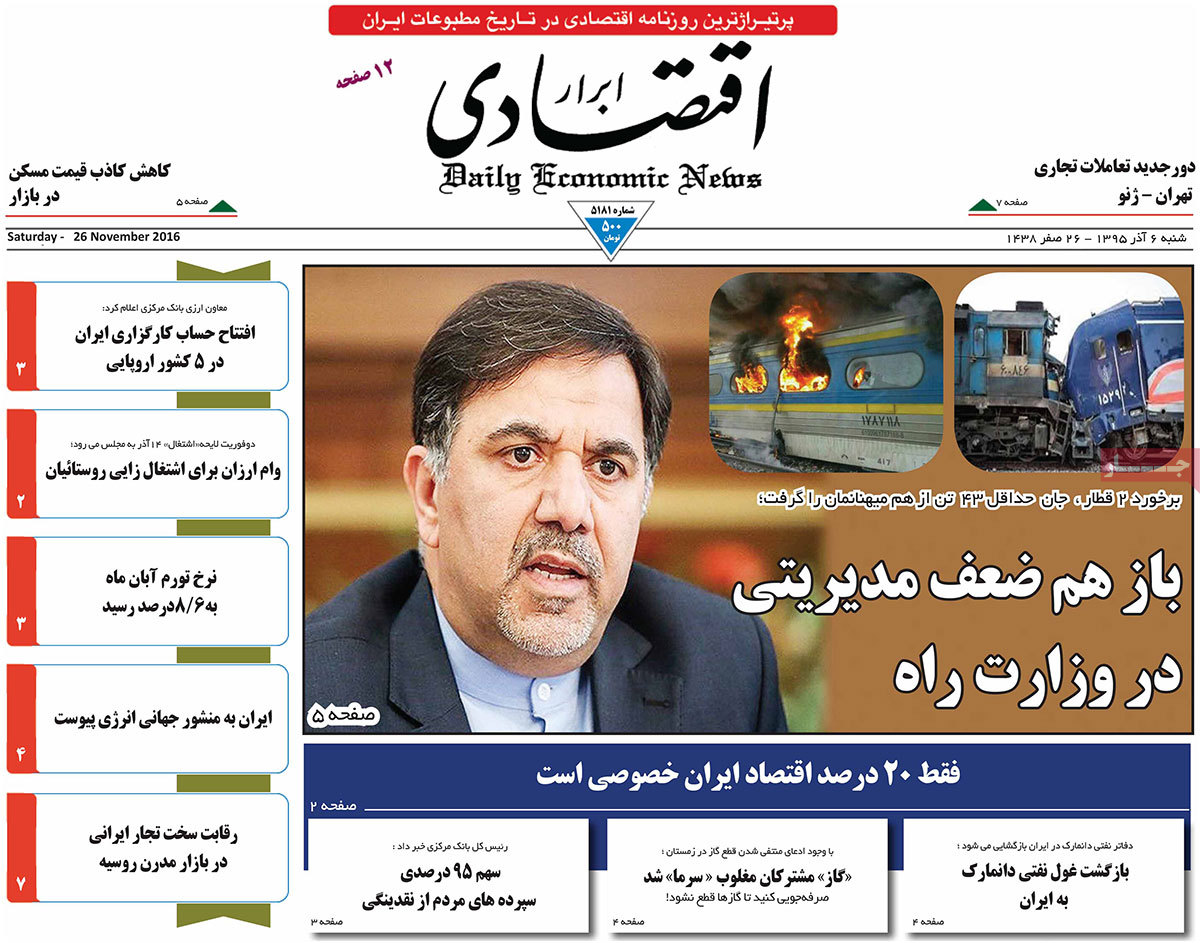 ---
Afkar:
¿Cómo Irán se hizo el anfitrión de la Conferencia Internacional de Partidos Políticos Asiáticos (ICAPP, por sus siglas en inglés)?
La impopularidad de la presidenta surcoreana llega a su mínimo nivel.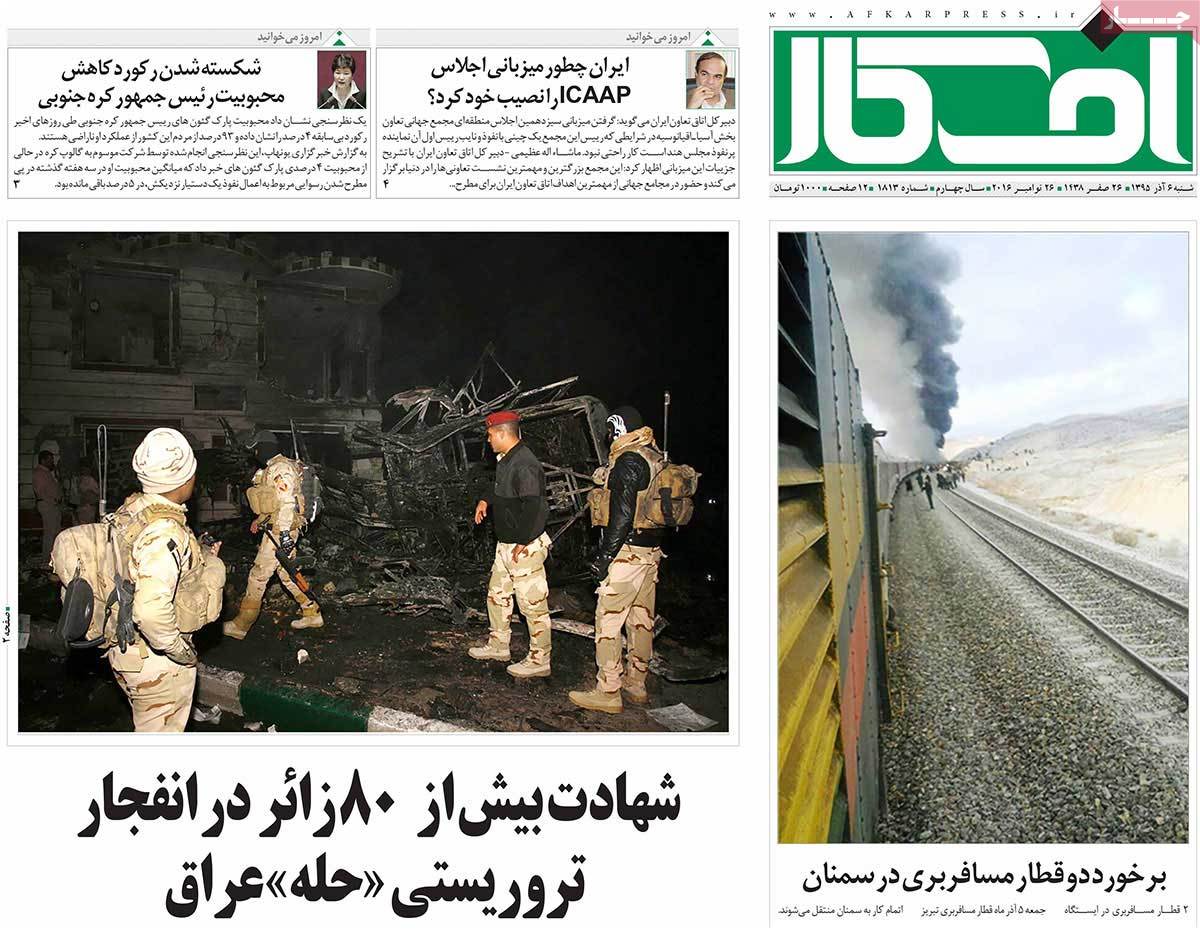 ---
Aftab Yazd:
Irán llora la muerte de compatriotas en el choque de trenes en Semnan y el atentado de Hella en Irak. (detalles de dos catástrofes, choque de trenes en Irán y el atentado sangriento en Irak contra el autobús de pasajeros iraníes)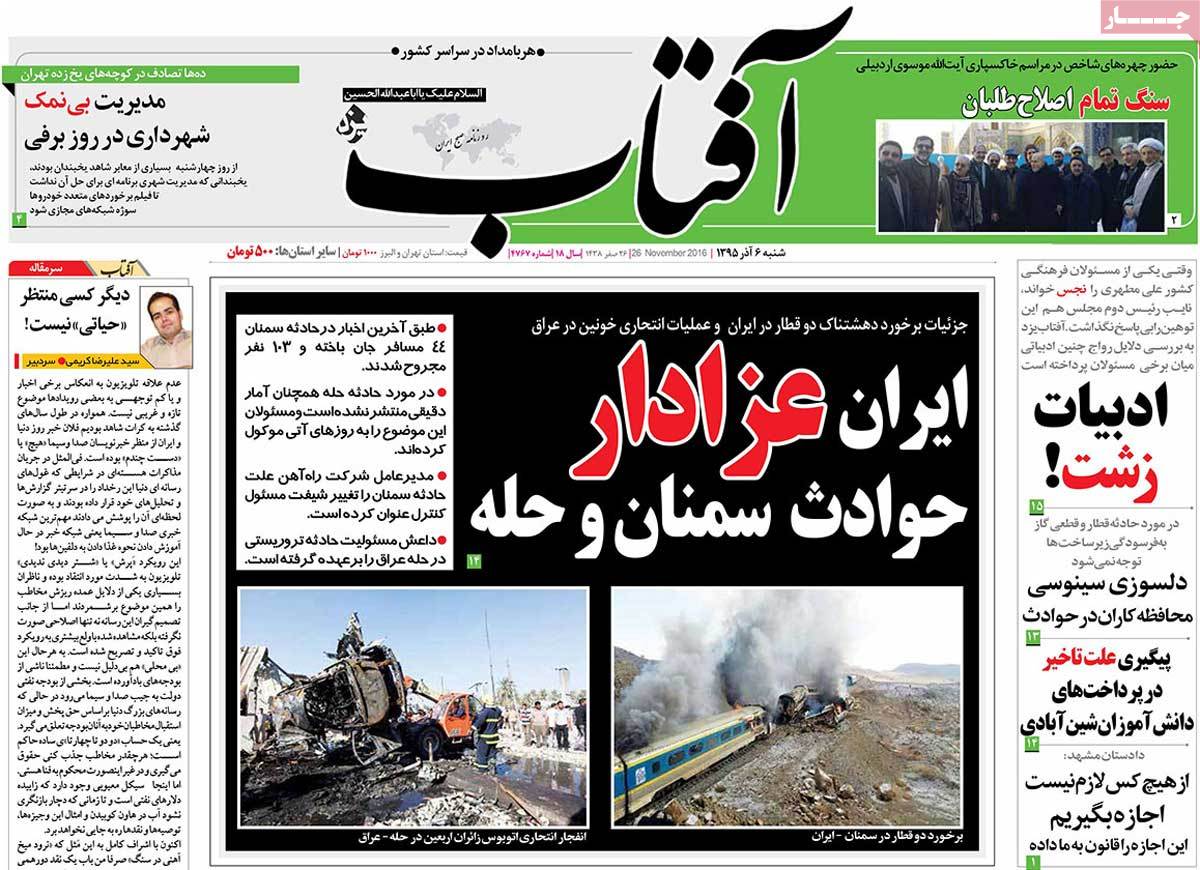 ---
Arman Emruz:
Vuela el avión modelo Airbus comprador por Irán en Francia; queda indeterminada la fecha de entrega
Ali Motahari responde a un clérigo, quien lo tachó de "impuro": "No se preocupe, no voy a saludar con usted."
El parlamentario reformista se dedica a negociar con los fundamentalistas.
---
Asrar:
El presidente de Irán: "Estamos decididos a luchar de cualquier forma con los terroristas y extremistas."
El portavoz de la cancillería iraní descarta negociaciones para modificar el pacto nuclear.
Irán se adhiere a la Carta Mundial de Energía.
El frío causa daños de millones de dólares a los agricultores.
---
Besharat_e_No:
Azar (novena mes del calendario solar), se convierte en el mes de duelo para los iraníes (Accidente de trenes, acecho de EIIL en Kerbala, ventisca y nevada)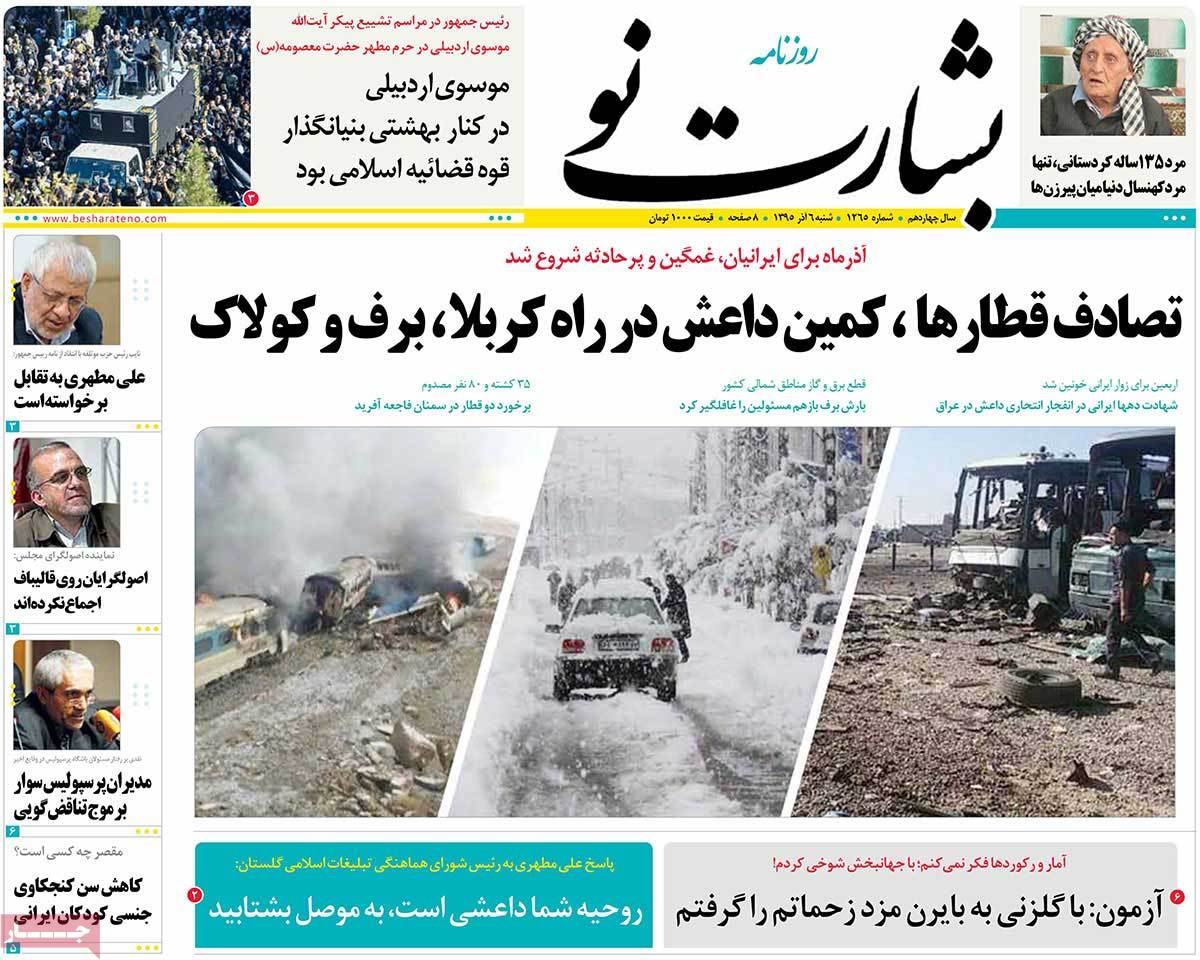 ---
Ebtekar:
Días de humo y fuego; atentado en Irak, choque de trenes en la provincia de Semnan
---
Etemad:
Crimen de Daesh.
El Tren de la Muerte
Respuesta amenazadora de Erdogan a la UE: "Desgarro el convenio hasta que los refugiados invadan a Europa."
Rohani: "Los culpables del accidente de trenes deben ser revelados."; Agente de control de líneas fue anunciado como culpable.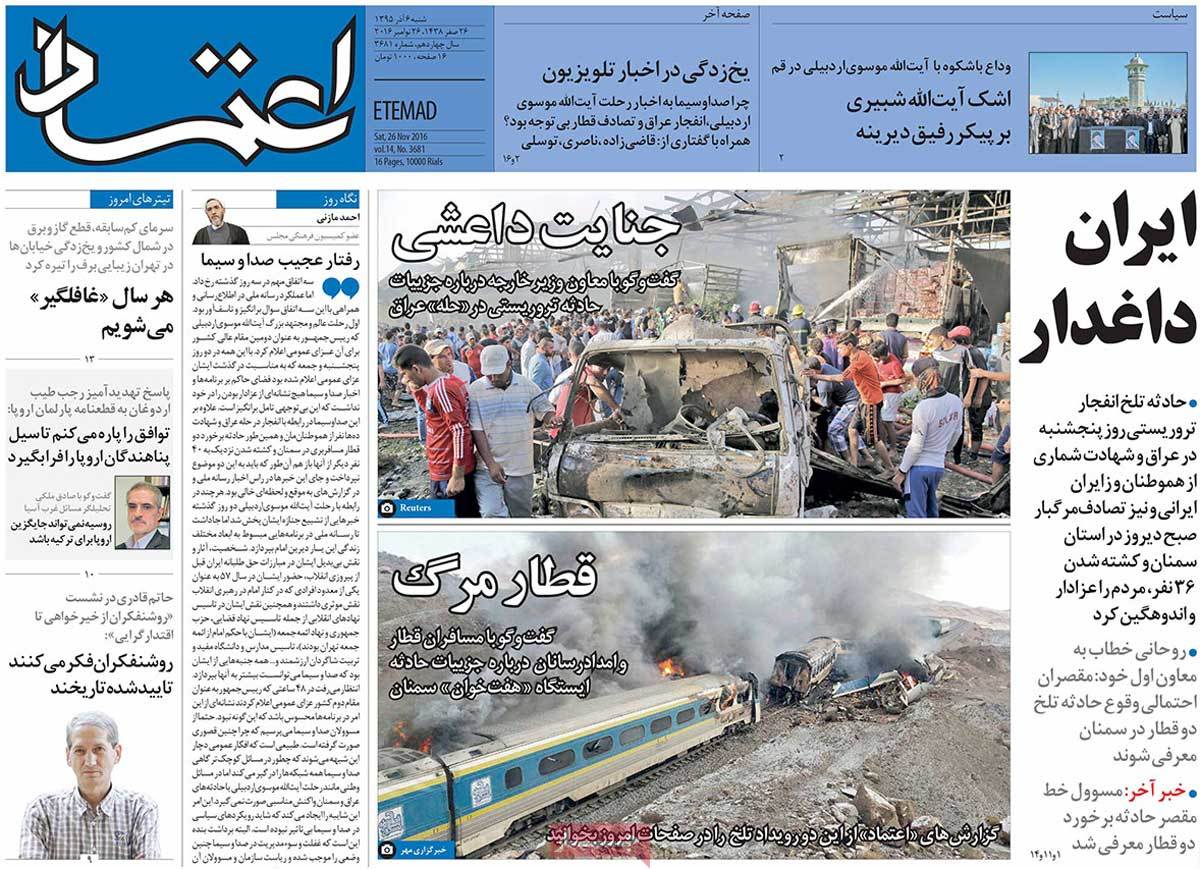 ---
Etelaat:
Miles de personas participan en el funerario del alto clérigo iraní, el Ayatolá Musavi Ardabili.
El embajador de Irán en Alemania: "Irán es el primer país de privilegio para realizar inversión en Oriente Medio."
Los oficiales militares rusos se entrevistaron con los comandantes del Movimiento de Resistencia del Líbano, Hezbolá, en Alepo, Siria
---
Hafte Sobh:
No necesitamos Metro ni Airbus, sino Buenos Directores: 36 muertos en un catastrófico choque de trenes; 72 horas de corte de luz y gas en la provincia de Mazandaran por la nieve; Nuevo atasco en Teherán por las precipitaciones del fin de semana.
---
Hemaiat:
La OPEP ordena reducir la producción de petróleo por la petición de Rusia
Irán lanzará nuevo satélite con una tecnología a nivel de Airbus.
Más de 90 mil evacuados en Israel por los incendios forestales en Haifa, Israel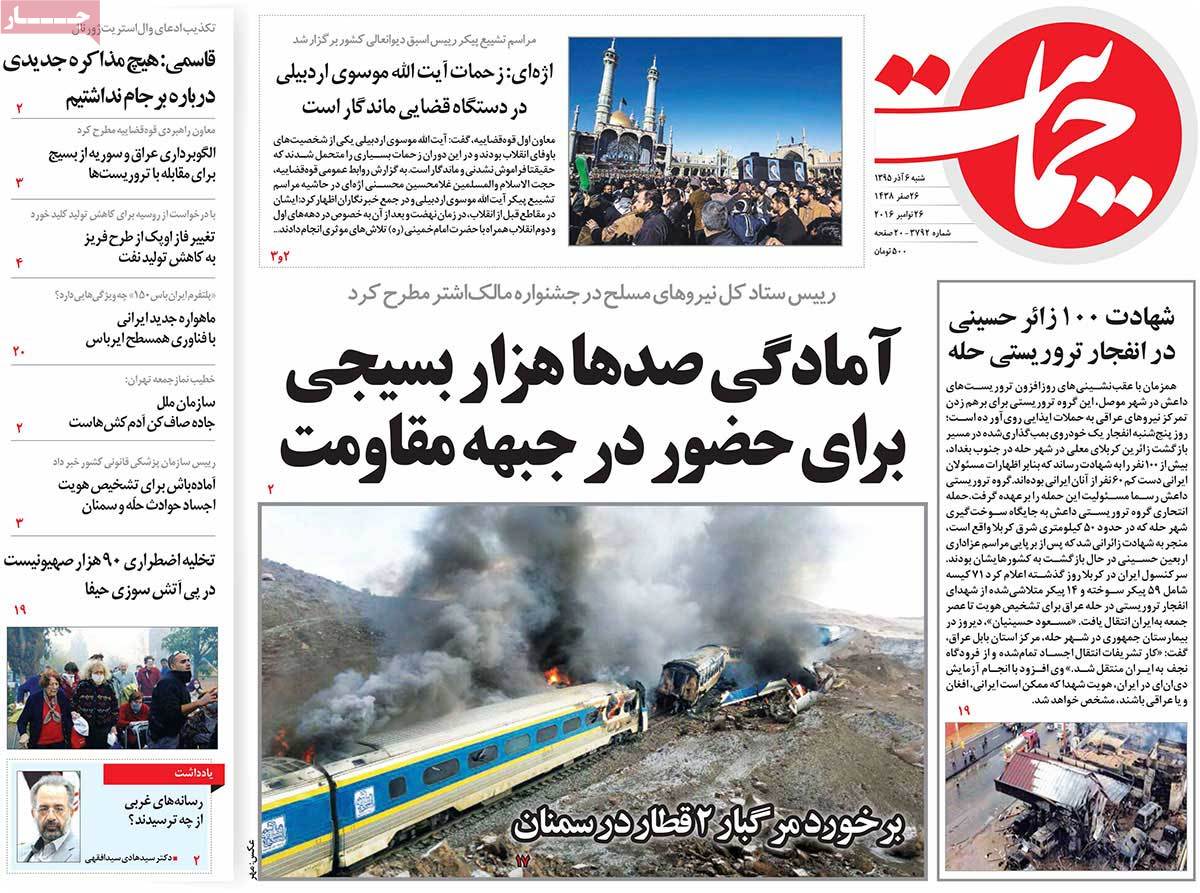 ---
Irán:
El comandante de CGRI: "El Cuerpo de Guardianes tratará el acuerdo nuclear, según la opinión del Líder de la Revolución, el gobierno y el parlamento."
Un amanecer sangriento en Semnan (choque de dos trenes entre Semnan y Damghan), deja varias víctimas.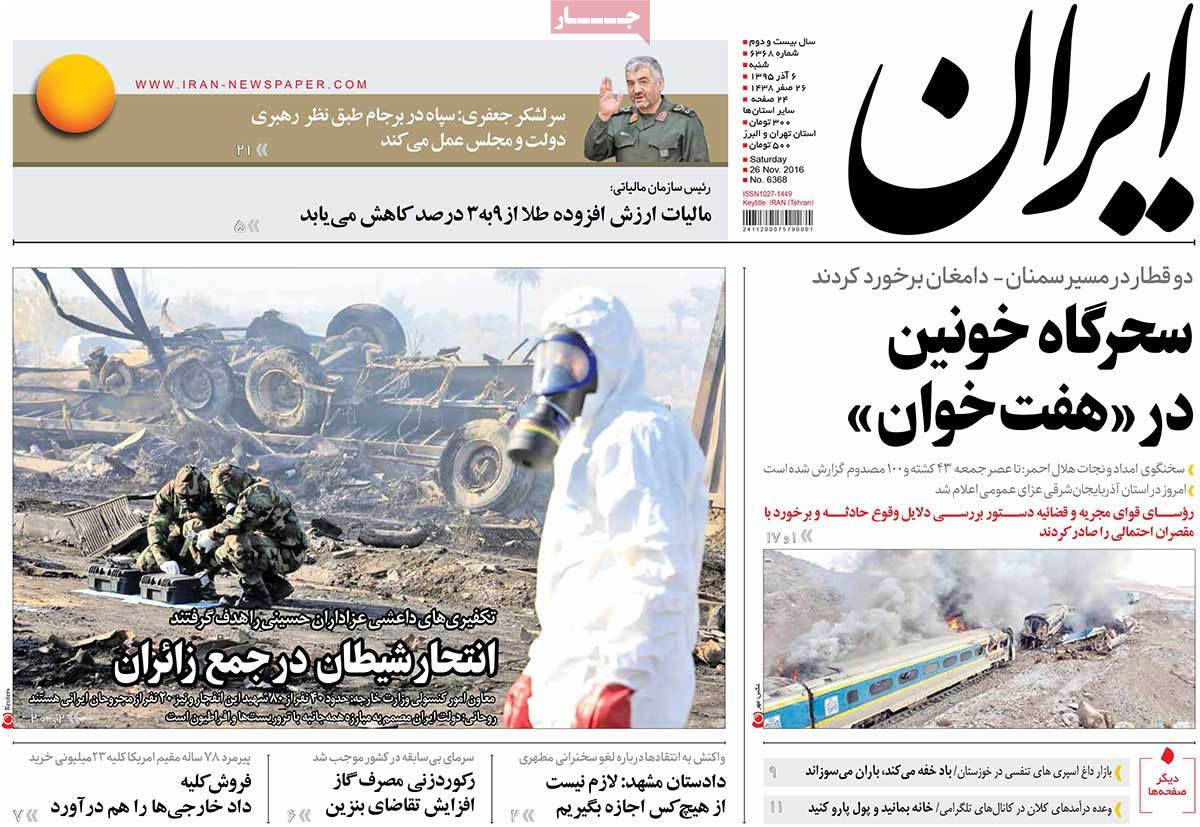 ---
Yaam_e_Yam:
Venganza de los terroristas, es una señal de sus consecutivas derrotas.
El director de la película Mohamad, el Profeta, critica al gobierno saudí.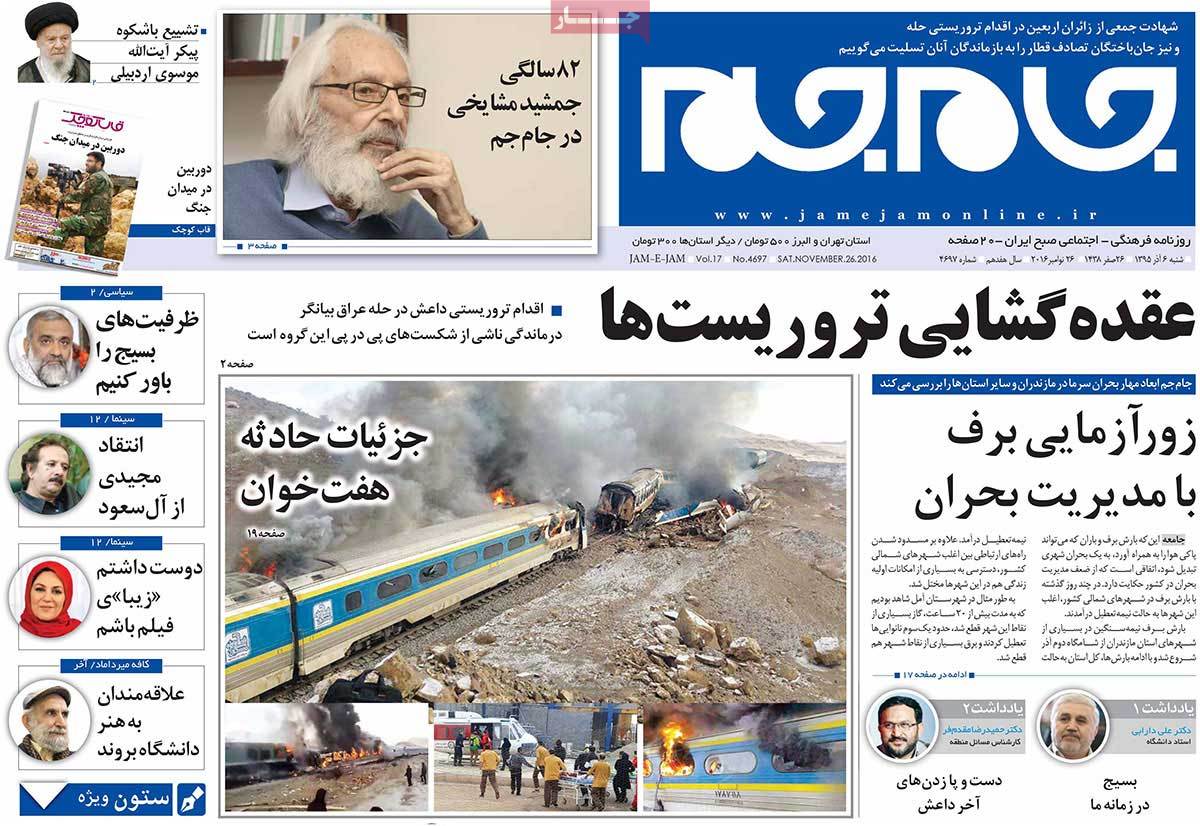 ---
Yavan:
Atentado de EIIL ante la solemnidad de la Marcha de Arbain.
Las universidades de primer grado mundiales estudian la gran Marcha de Arbain; MIT la convirtió en una disciplina.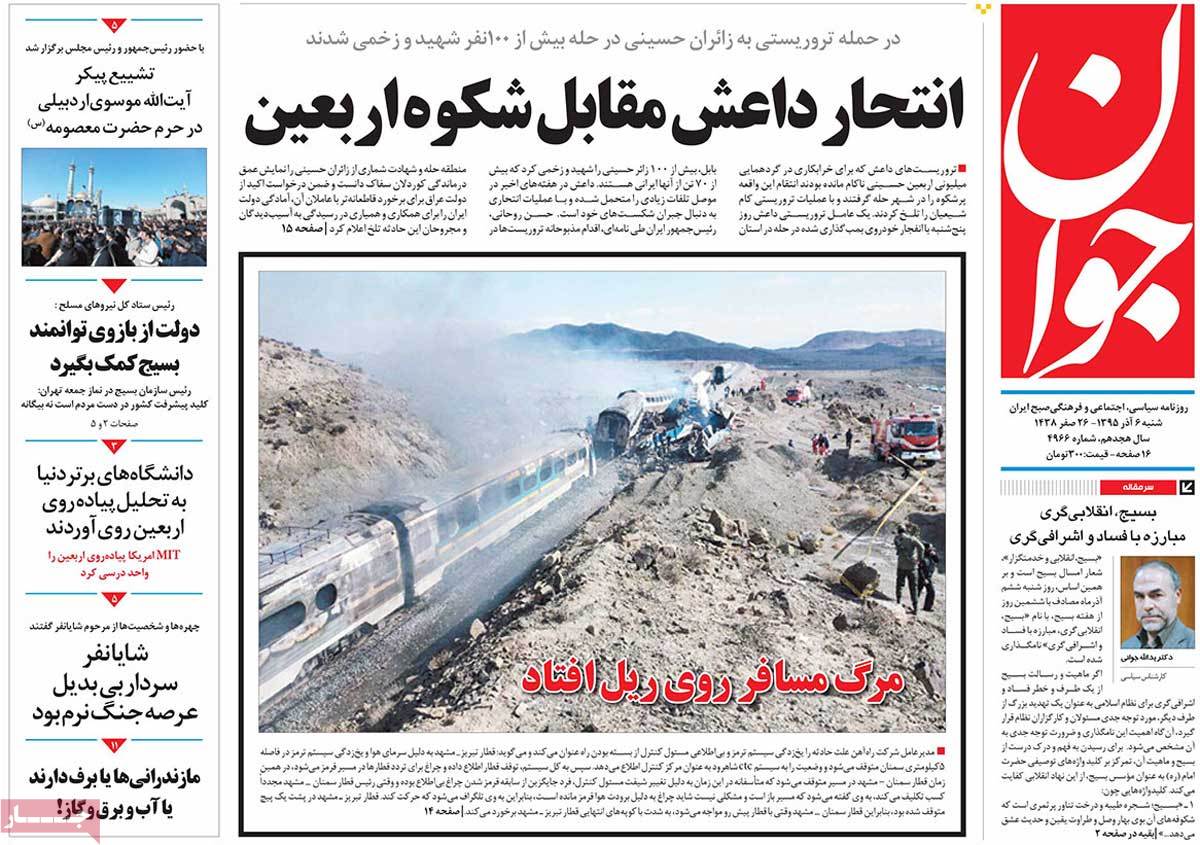 ---
Yomhuri Eslami:
Noticias contradictorias de la intervención del ejército egipcio en la lucha contra terroristas en Siria; Al-Sisi: "El Egipto no acata a Arabia Saudita."
El vicedirector de Acciones del Banco Central: "Irán abre cuentas de corretaje en 5 países europeos tras el acuerdo nuclear."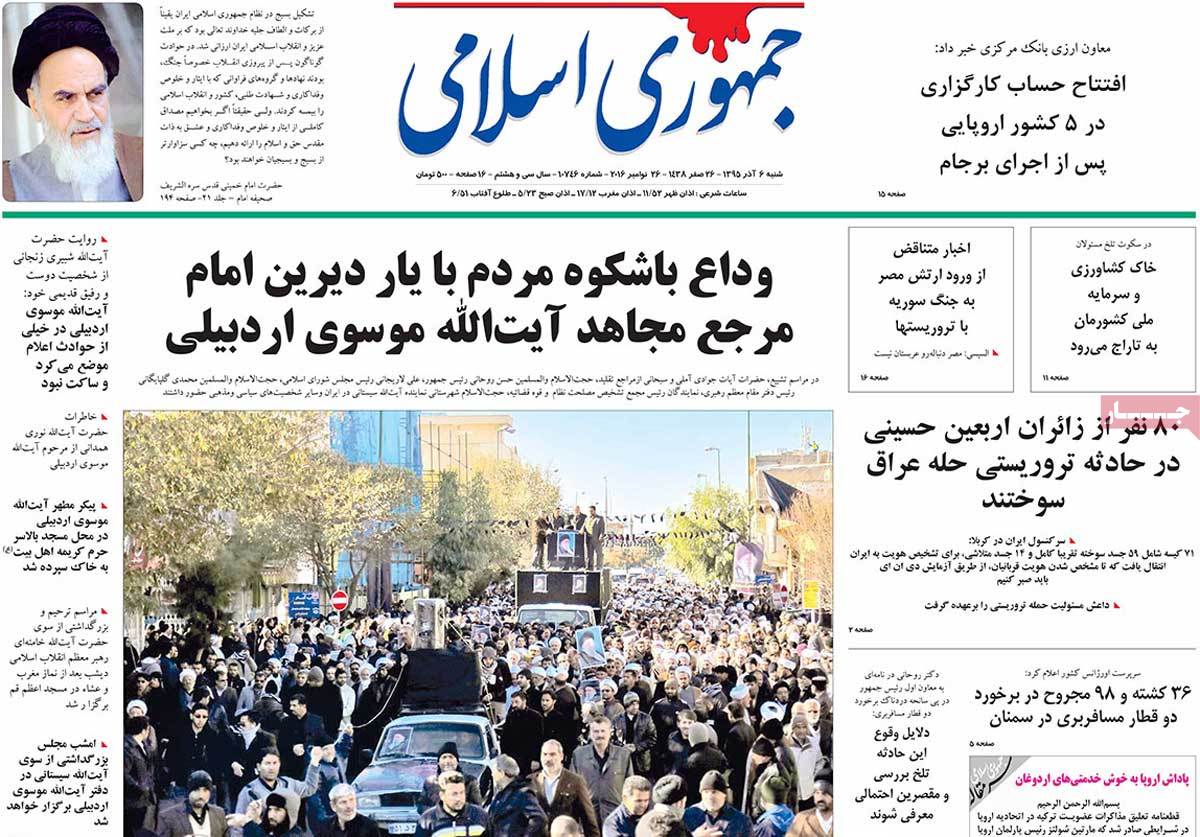 ---
Kaenat:
Un Jueves Negro; Vienes desafortunado.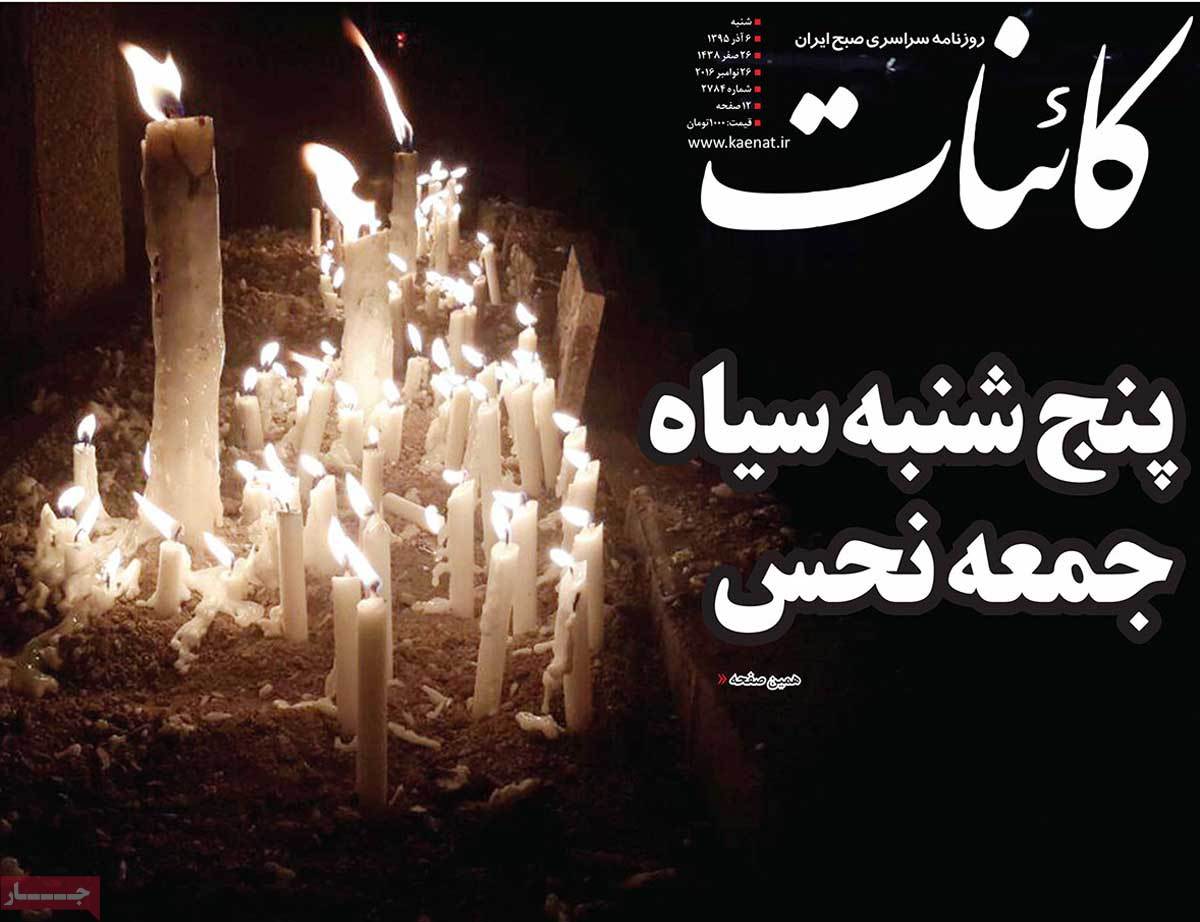 ---
Kayhan:
Irán, de luto por dos desastres: atentado en Irak contra el autobús de peregrinos iraníes y el choque de trenes en la provincia de Semnan.
El orador del rezo colectivo del viernes de Teherán: "Se escucha la voz de ruptura de huesos de Liberal Democracia."
Las cazas sirias bombardearon posiciones del ejército turco en Al-Bab.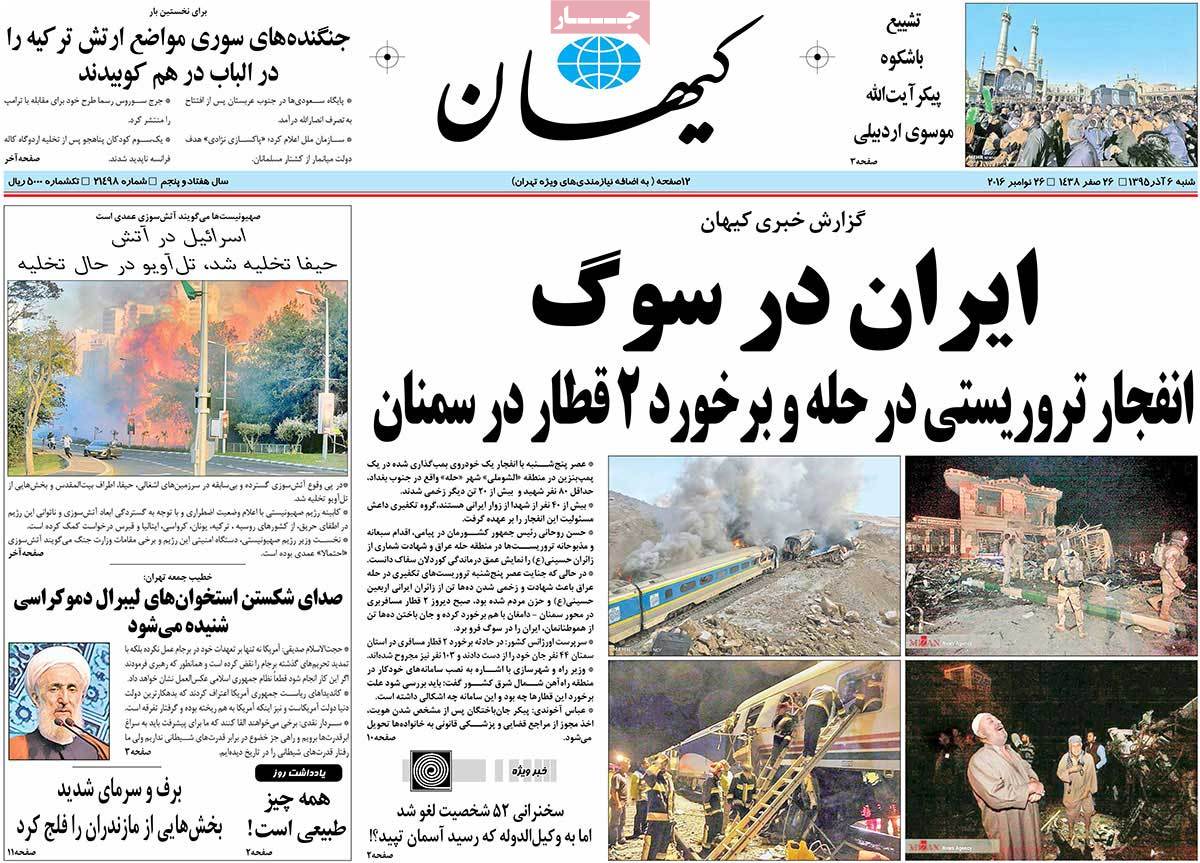 ---
Mardom Salari:
El embajador iraní en Rusia anuncia sobre la aplicación del proyecto del Vía Marítima que se une el Mar Caspio al Golfo Pérsico.
Los peregrinos iraníes mueren en fuego por el atentado de Hilla, en Irak.
Experto de Asuntos Internacionales: "Los estadounidenses buscan una persona como Trump en Teherán."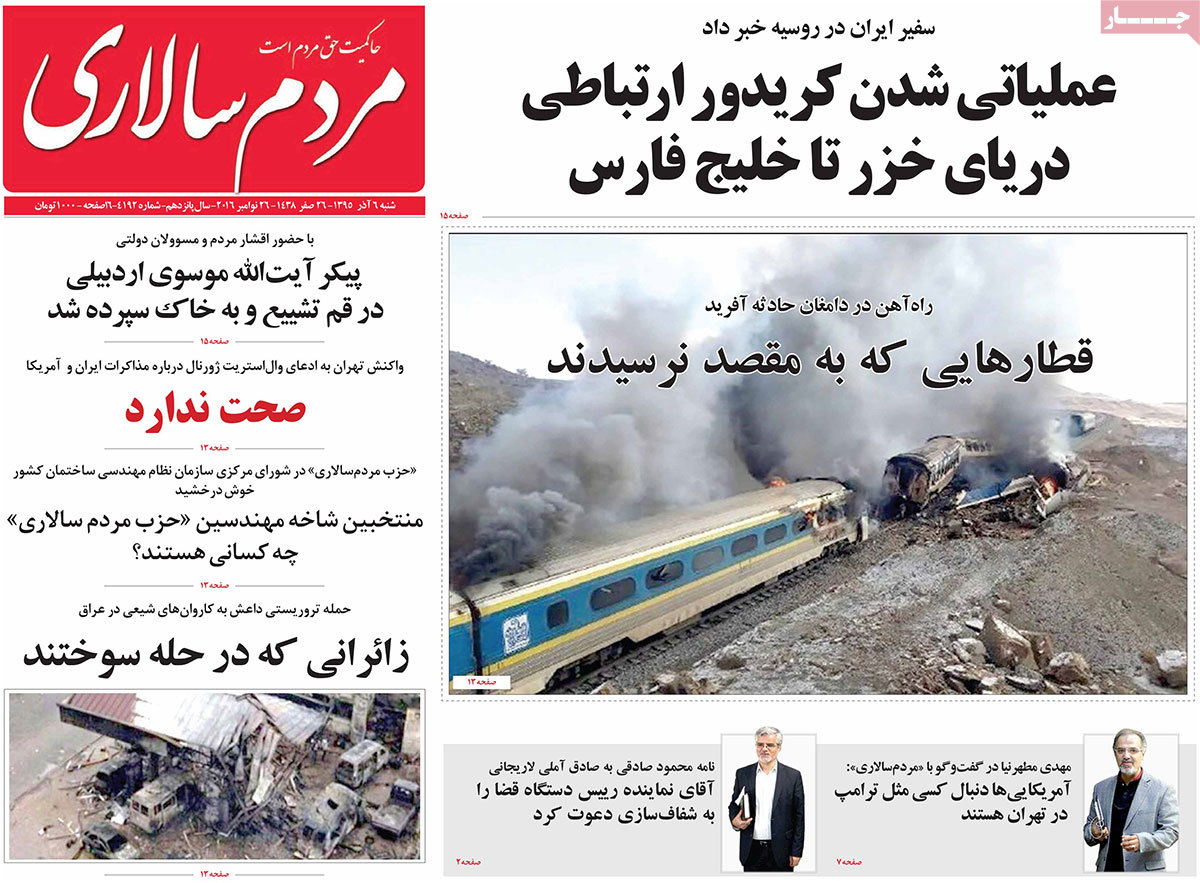 ---
Rah_e_Mardom:
¿Se enfrentarán a una bancarrota los hoteleros?; un reporte sobre la situación de hotelería en Irán.
El Departamento de Defensa rusa dirigiéndose a EEUU: "No nos molesten en Siria."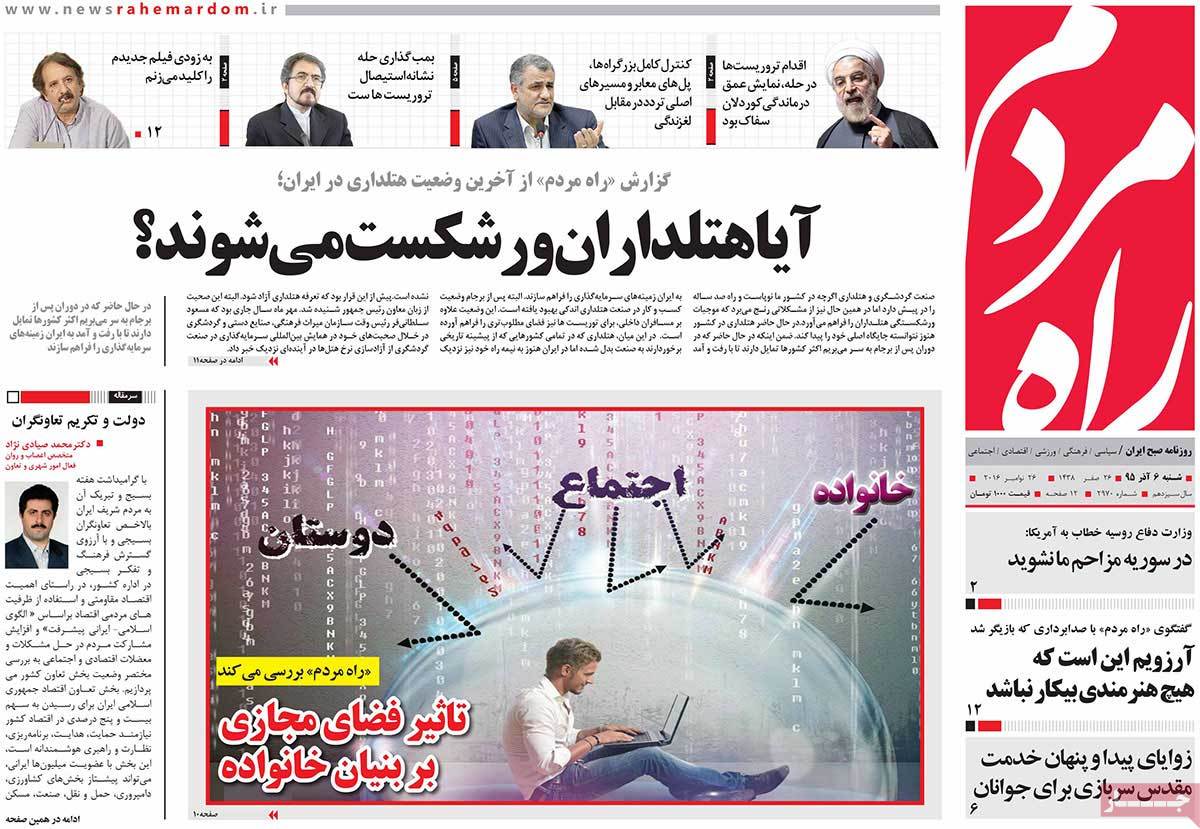 ---
Ruyesh_e_Melat:
Prueban uso de Gas Mostaza por los terroristas en Alepo.
---
Setarei_e_Sobh:
Los ex premieres británicos se oponen a Brexit.
Abolida la adhesion de Truquía a la UE; Martin Schulz: "No hacemos caso omiso a la democracia y los derechos humanos."
Erdogan: "Abriré las fronteras europeas ante los refugiados."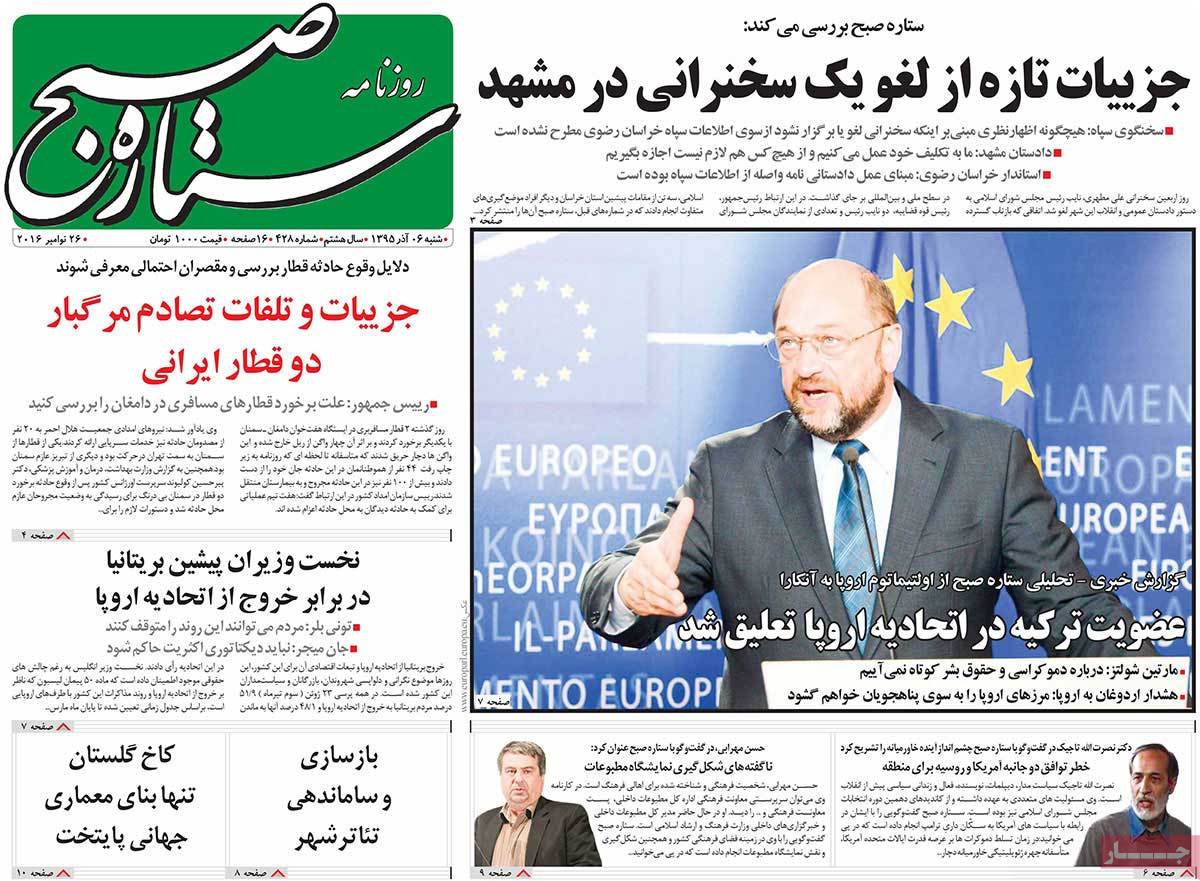 ---
Shargh:
Llega una oleada de nevadas y se va la luz y causa corte de gas.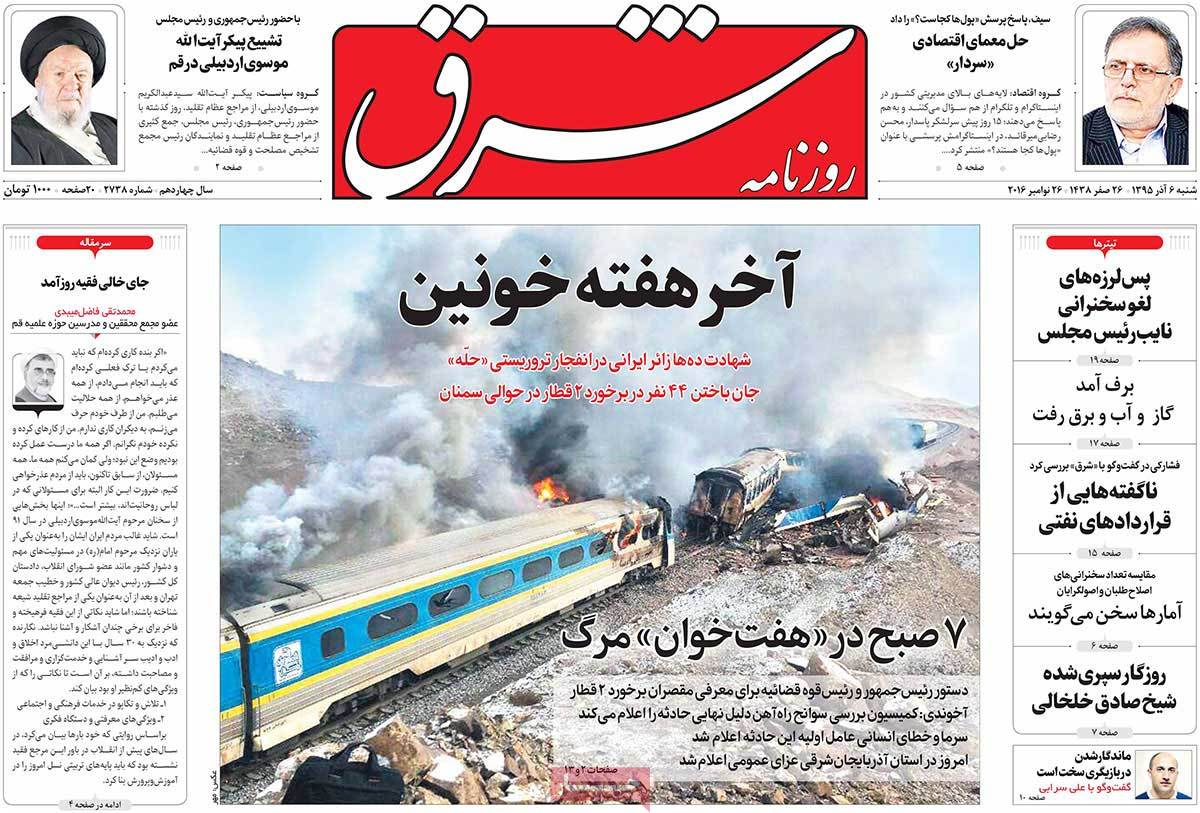 ---
Sobhe No:
Tren de vergüenza; Los pasajeros de 7:47, víctimas de compradores de 747
---
Vaghaye Etefagie:
Duelo sobre duelo.
El mundo condena la barbaridad; mueren decenas de peregrinos en un atentado en Hilla, Irak, contra el autobús de los iraníes.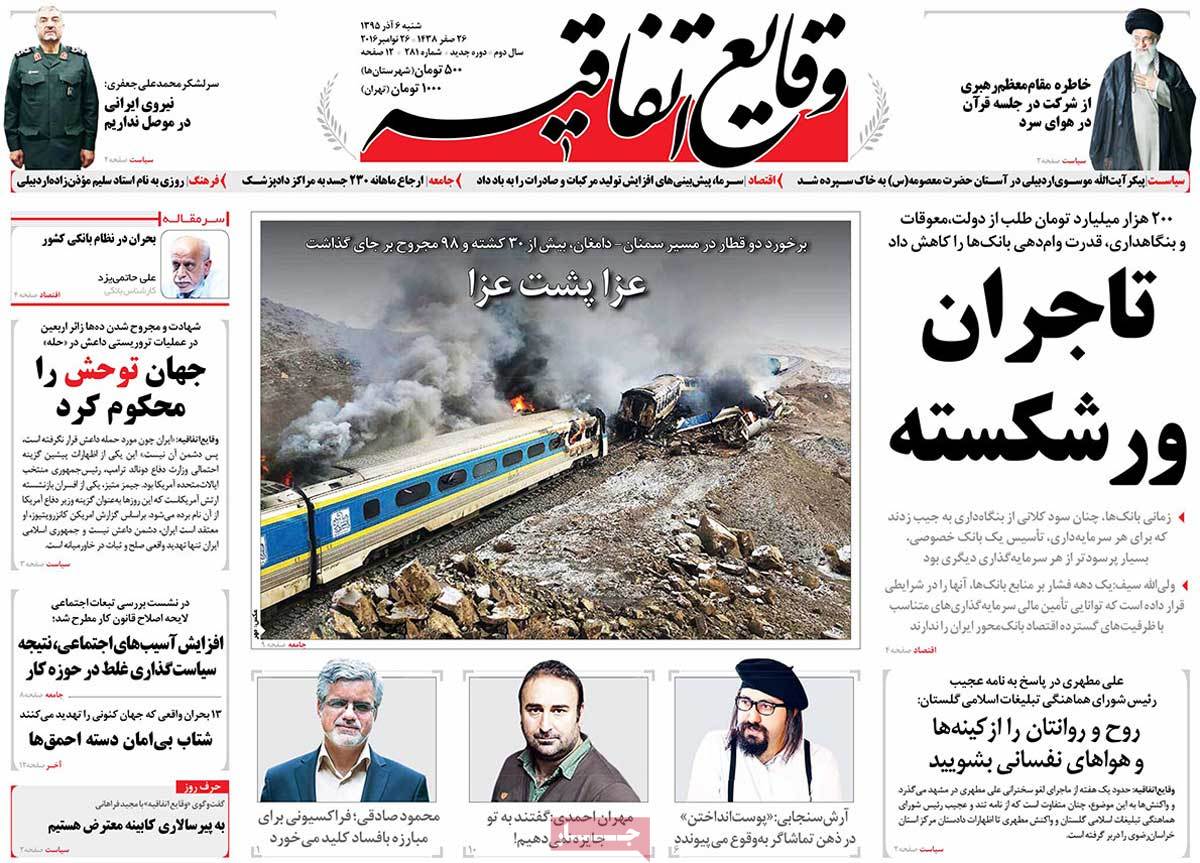 ---
Vatan_e_Emruz:
Egipto brinda su apoyo militar a Siria.