IFP has taken a look at the front pages of Iranian newspapers on Monday and picked headlines from 21 them. IFP has simply translated the headlines and does not vouch for their accuracy.[:es]IFP ha echado una mirada a las portadas de periódicos iraníes, publicados el lunes, 19 de diciembre de 2016, y ha recogido titulares de 22 de ellos. IFP ha traducido simplemente los titulares y no es responsable de su veracidad.
Almost all newspapers covered the visit of Yukiya Amano, the Director General of the International Atomic Energy Agency, to Tehran, and his meetings with President Hassan Rouhani, Foreign Minister Mohammad Javad Zarif, and nuclear chief Ali Akbar Salehi.
They also covered the upcoming meeting between Iran, Turkey, and Russia, which is due to be held on Tuesday in Moscow, on the ongoing crisis in Syria, and the latest developments in Aleppo.
Nomination of Mohammad Reza Bahonar, a former MP and a senior conservative, as the presidential candidate of a leading conservative party, was also a top story today.
The above issues, as well as many more, are highlighted in the following headlines:
19 Dey:
1- Rouhani: IAEA Should Remain Neutral
2- Guardian: Iran Was the Real Winner of Aleppo War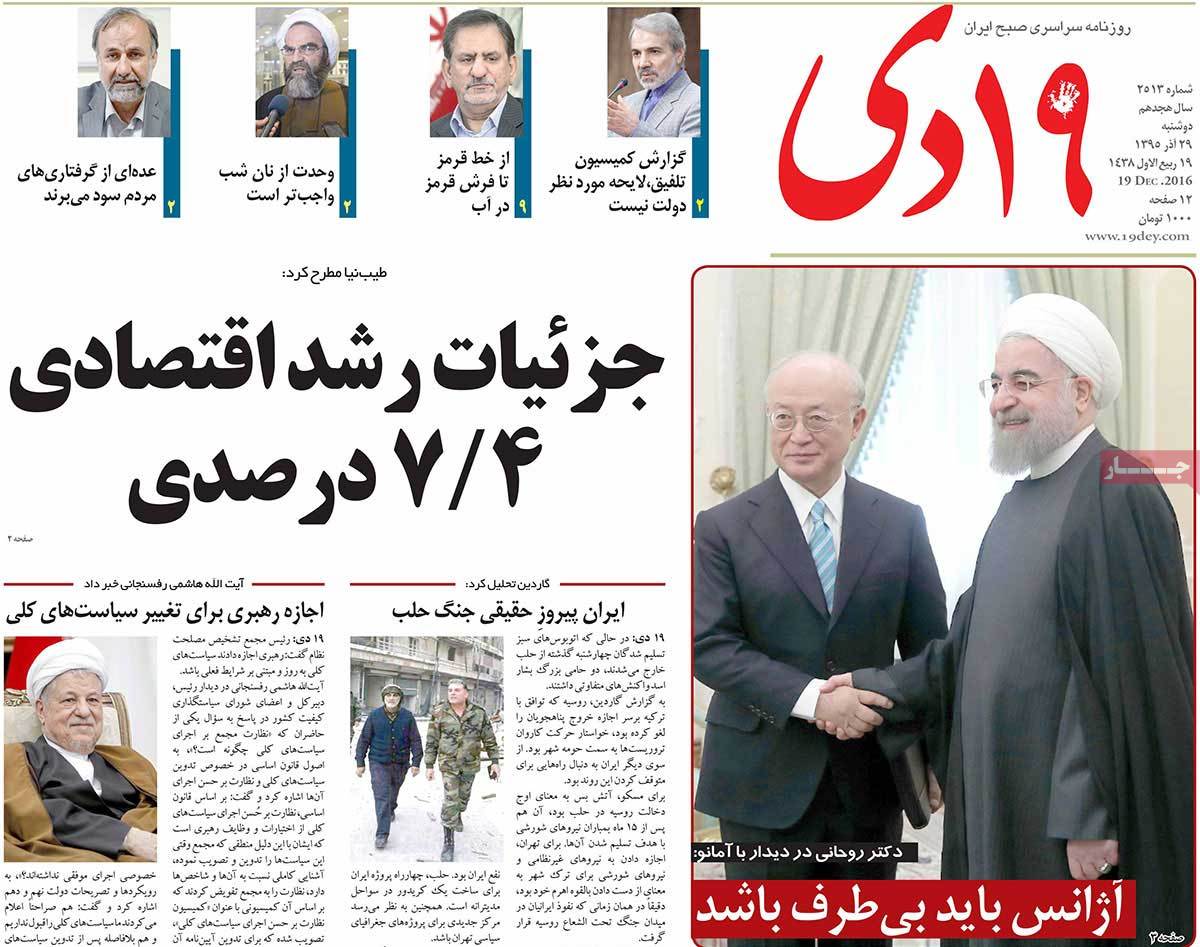 ---
Abrar:
1- Last Efforts to Prevent Trump from Getting into the White House
2- Rouhani to Visit Russia
3- ISIS Places $1 Million Bounty for Iranian Girl
4- Persian Gulf Cooperation Council Repeats Its Baseless Claims against Iran
5- Rouhani to Amano: We Won't Be the One Who Starts Violating JCPOA
---
Abrar-e Eqtesadi:
1- Iran Leads the World's Biggest Oil Market
2- Babak Zanjani, Iranian Billionaire, Owes $3.5 Billion to Iran Oil Ministry
3- Iran's Oil Price Exceeds $50
4- Russia Reveals Sale of Su-100 Planes to Iran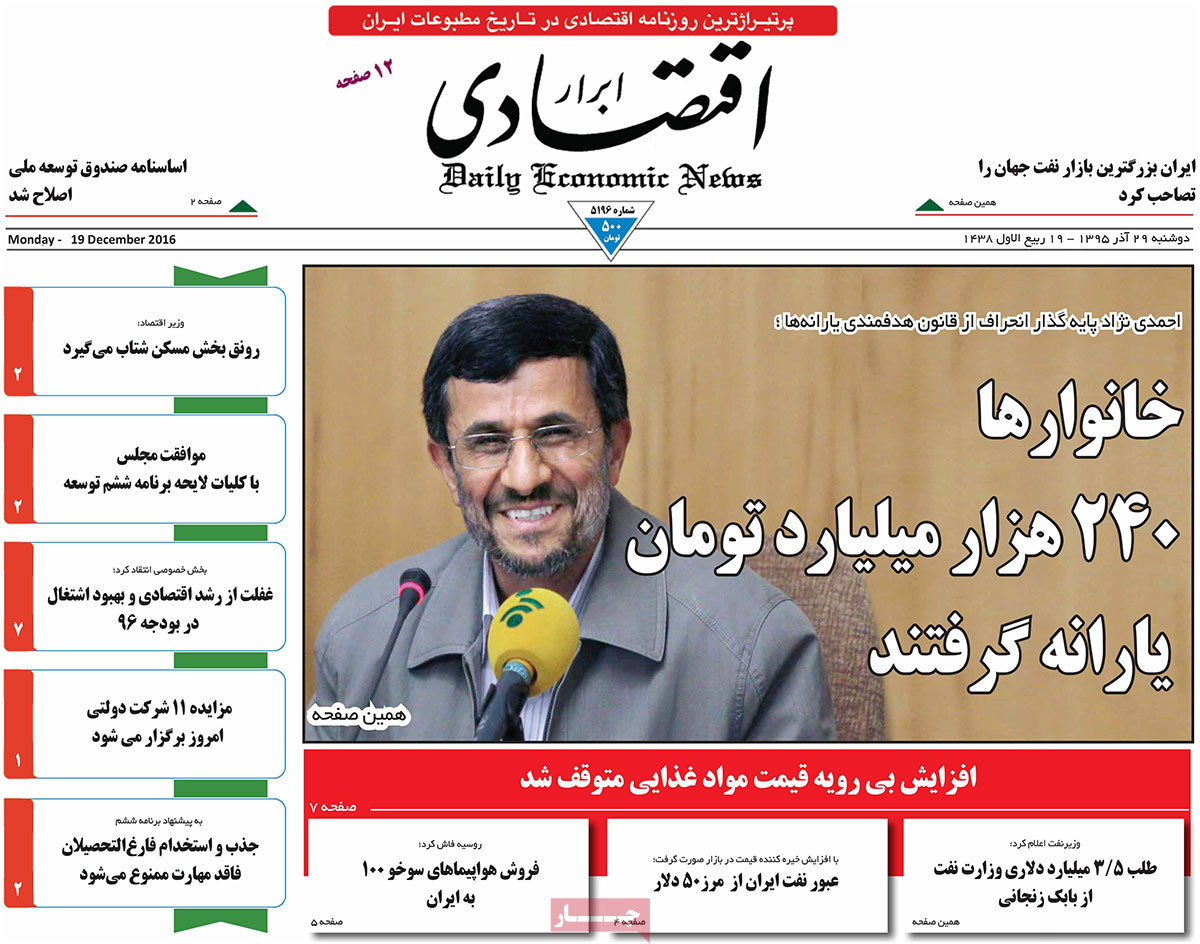 ---
Afkar:
1- Iran's Oil Record Is Broken
2- Iran Won't Violate Nuclear Deal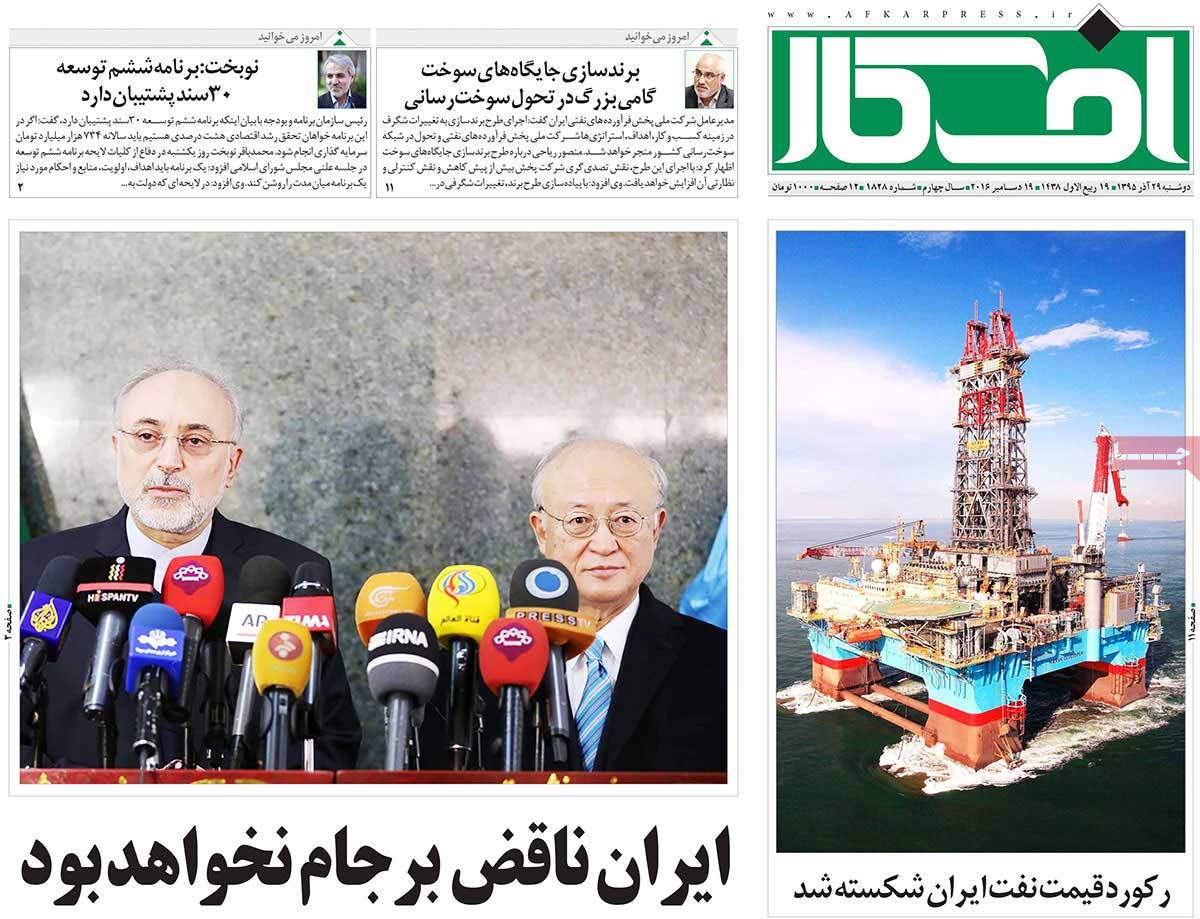 ---
Aftab-e Yazd:
1- Iran Preparing to Reconsider Minimum Age for Marriage of Girls
2- Finalization of Deal to Purchase 100 Airbus Planes
3- Conservative Politician Bahonar Wants to Direct, He Won't Run for Presidency: Analyst
4- How IRIB's Tribune Is Divided between Conservatives and Reformists? Inclination towards Right-Wingers
---
Arman-e Emrooz:
1- Amano: We're Satisfied with JCPOA Implementation Process
2- Academic: Rouhani Should Form Headquarters for Showing Reaction to Trump's Measures
3- Iran and Russia's Benefits in Battle of Syria [Editorial]
4- Putin's Representative Once Again Hold Talks with Iranian Officials
---
Asrar:
1- Economy Minister: Iran Has Middle East's Highest Economic Growth Rate
2- Tehran Governor: Action Will Be Taken against Any Illegal Gathering in Front of British Embassy
3- In Unprecedented Move, Australian PM Calls for His Country's Independence from Britain
---
Ebtekar:
1- Consultation with Amano in Tehran for Future of JCPOA: IAEA Chief Hold Talks with Rouhani, Zarif, and Salehi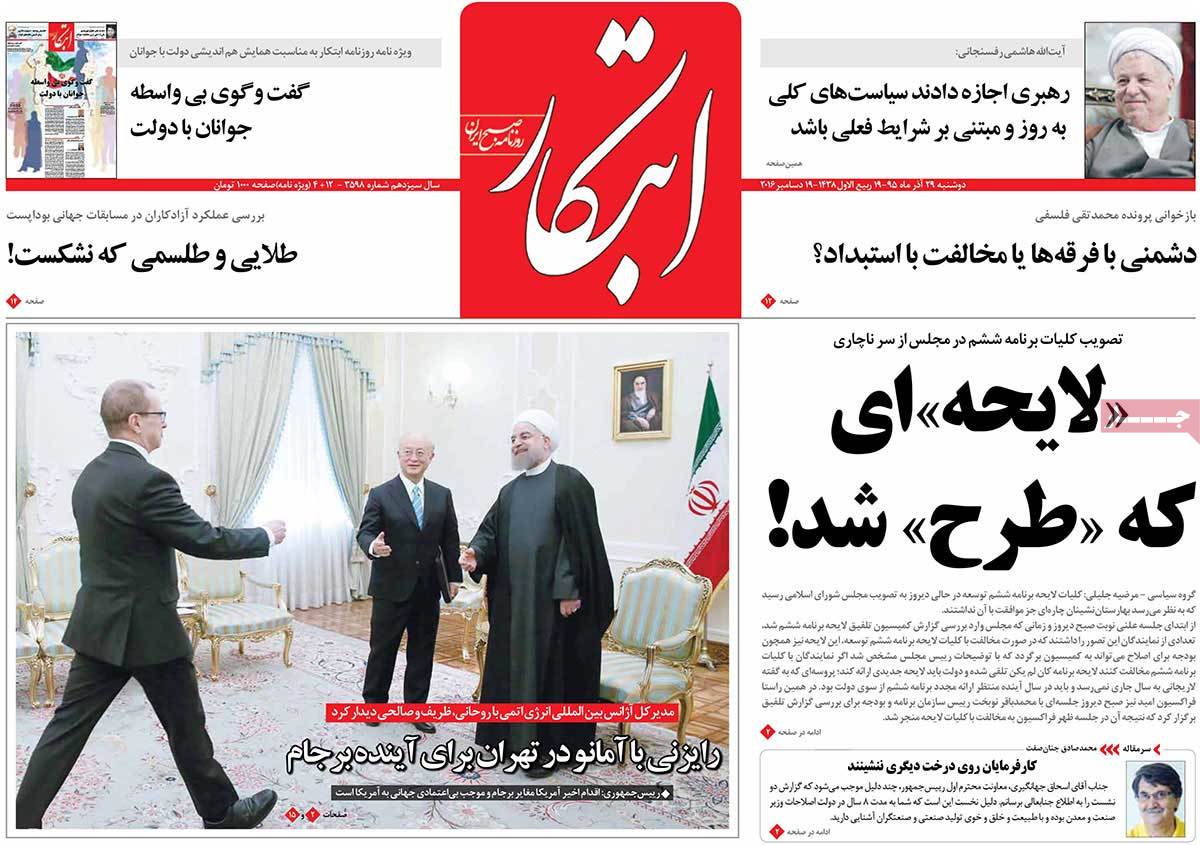 ---
Etemad:
1- Rouhani Urges IAEA to Cooperate with Iran in Nuclear Propulsion Project
2- Death and Starvation in Yemen, Negotiation in Saudi Arabia: Kerry and Johnson Talk about Peace in Riyadh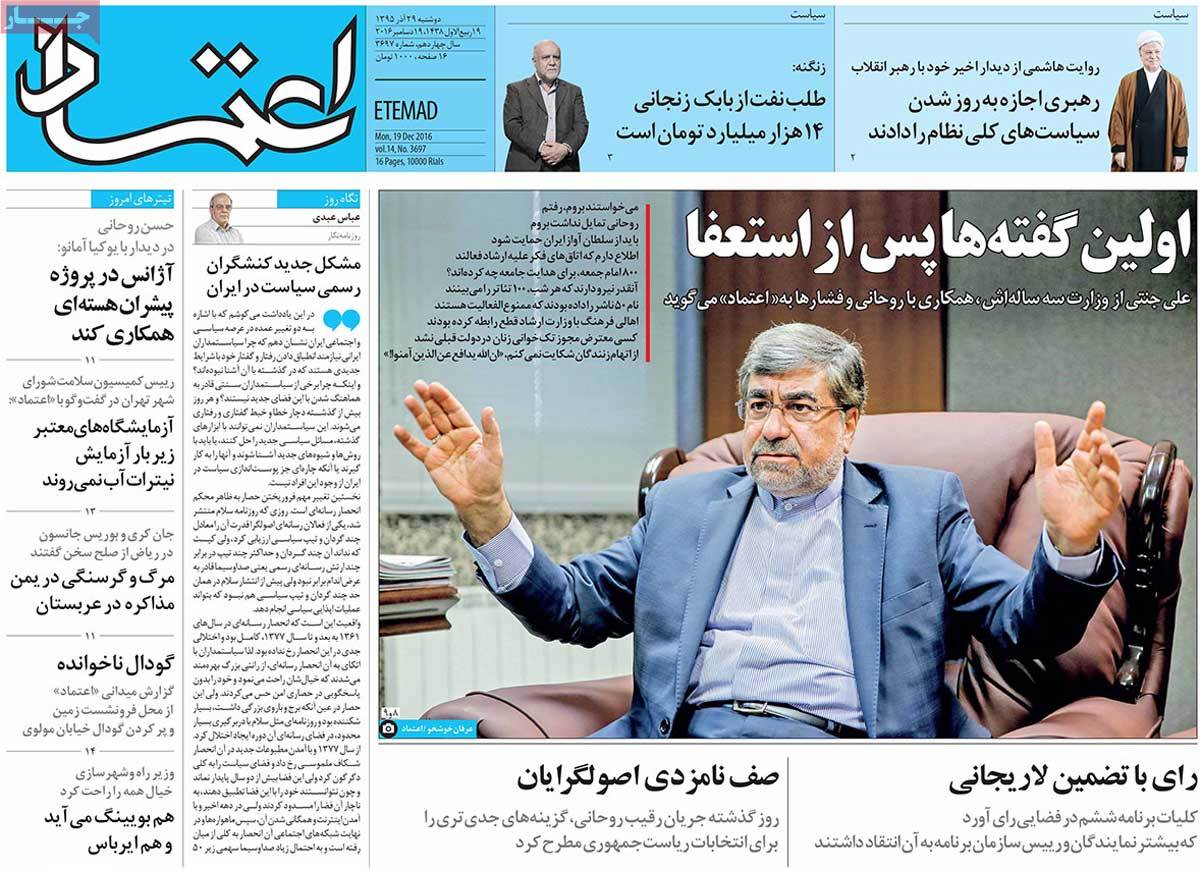 ---
Ettela'at:
1- President: We'll Continue Our Cooperation with IAEA; JCPOA Sustainability Depends on All Sides' Commitment to Their Obligations
2- Iran, Russia, and Turkey to Hold Trilateral Meeting on Syria Tomorrow
3- Airbus Deal to Be Signed This Week
4- 45 ISIS Elements Killed in Heavy Counterattack by Iraqi Popular Forces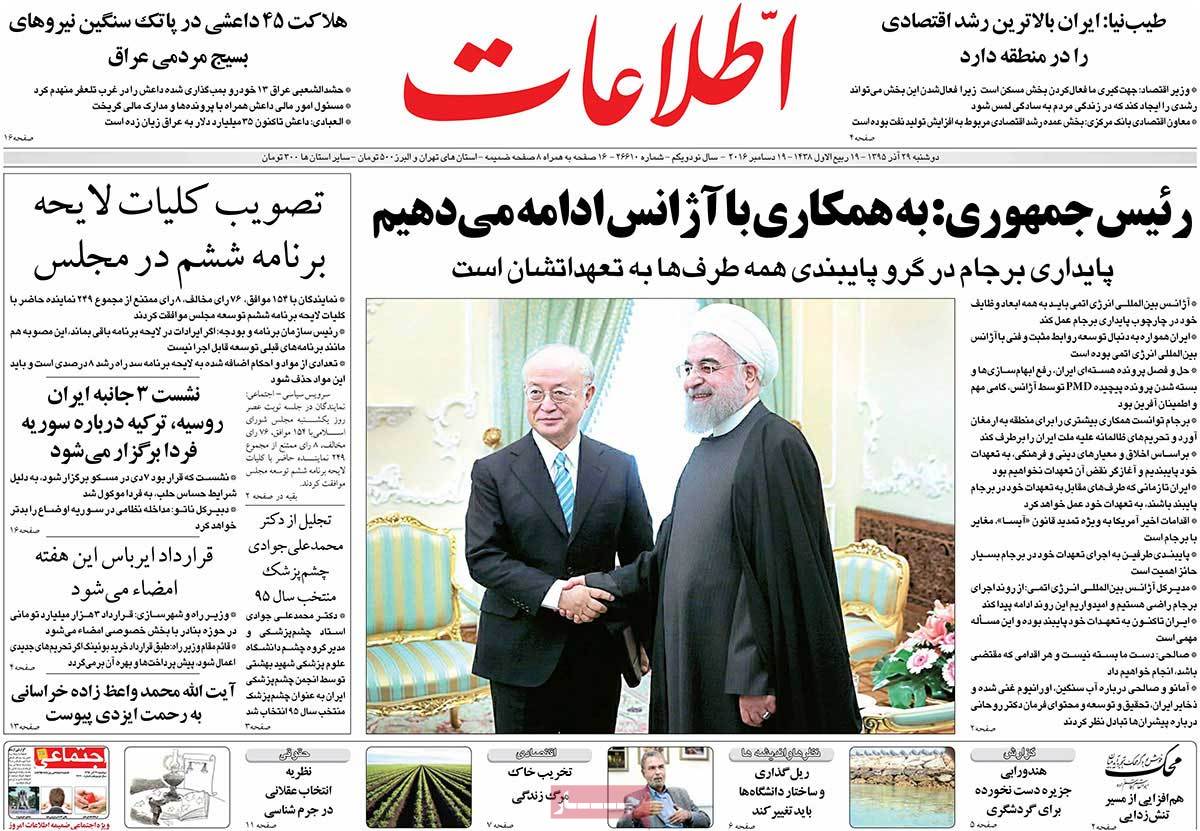 ---
Ghanoon:
1- Wetlands Are Shrinking: Founder of Ramsar Convention in Red List
2- Developments of Middle East These Days: Aleppo Becomes Gold, Yemen Becomes Important!
3- Erdogan Deviating from Right Path: Impact of Civil Wars and Foreign Conflicts on Fate of Turkey's Ruling Party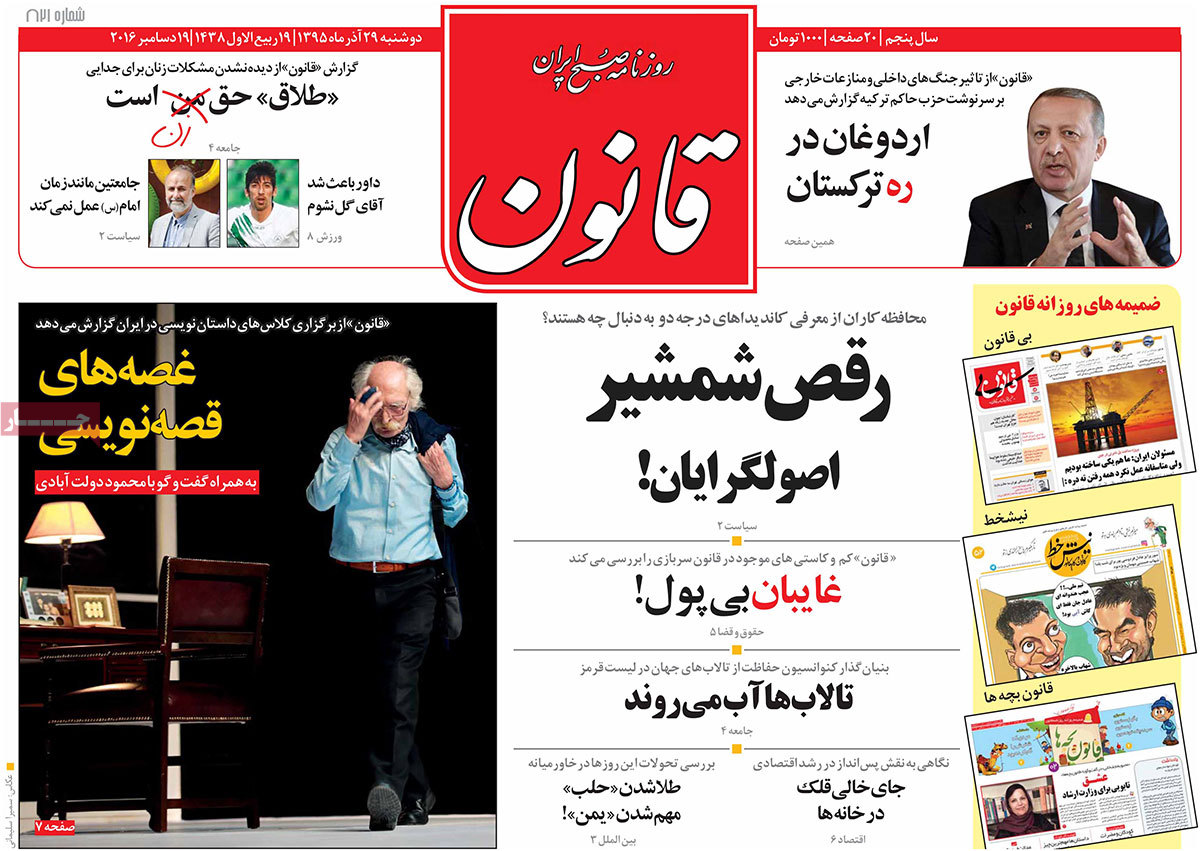 ---
Hemayat:
1- Prosecutor General in Meeting with Italian Delegation: Silence over Crimes of Takfiris [Extremists] Is a Sign of Paradox in Western Human Rights
2- IRGC Aerospace Commander: Iran to Continue Reinforcement of Its Missile Capabilities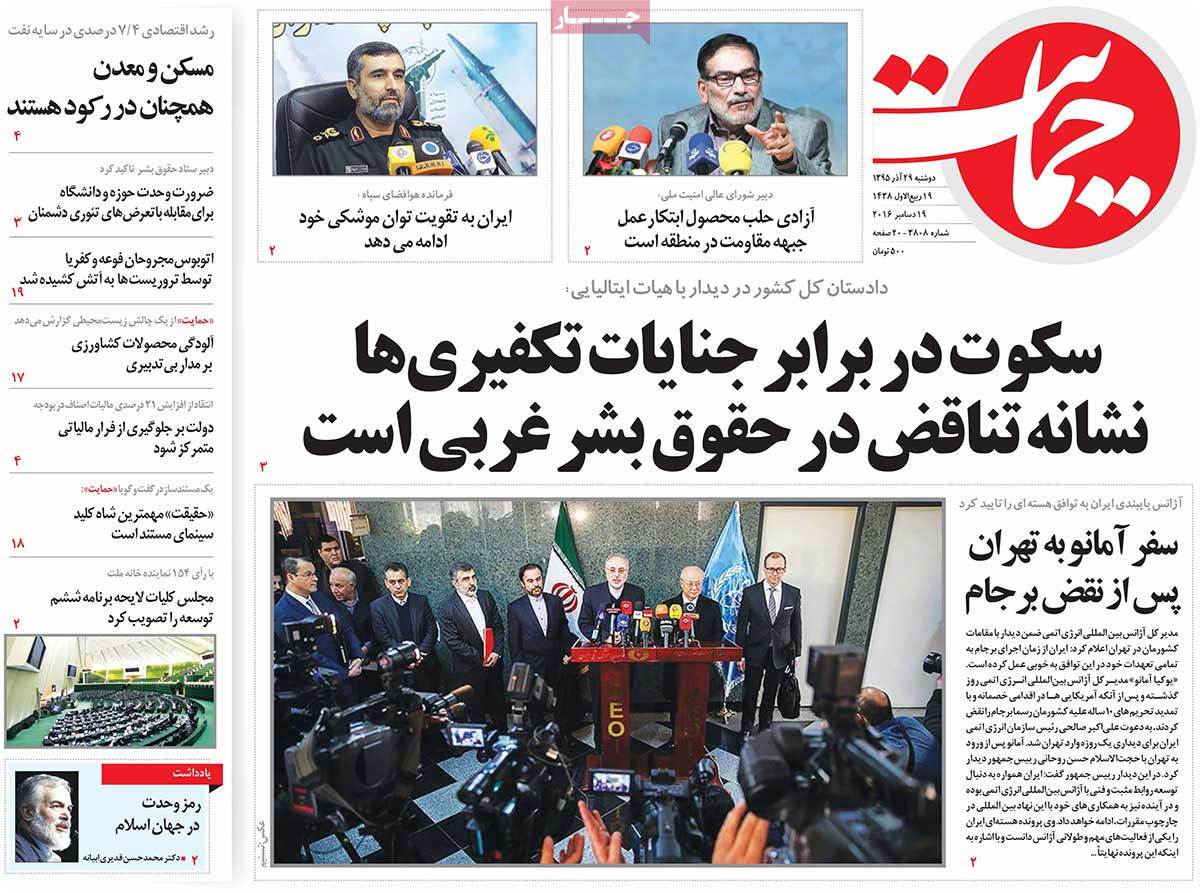 ---
Iran:
1- Amano's Busy Day in Tehran
2- Putin's Special Representative Hold Talks with Shamkhani and Velayati
Shamkhani (SNSC Secretary): Required Guarantees Should Be Taken for Continued Ceasefire in Aleppo
Velayati (Leader's Advisor): Current Ties between Iran and Russia Are Unprecedented in History of the Two Countries
---
Jame Jam:
1- West's Effort to Whitewash Al Saud's Scandal
2- Complaints about Nuclear Deal Raised in Meetings with Amano
---
Javan:
1- Iran's Nuclear Chief: Rouhani's Order Requires 90% Enrichment of Uranium; We're Ready to Do Whatever Decision Is Made by Iranian Authorities; Other Party Has Noticed Our Message and Knows It Is Serious
2- Media Outlets Supporting Terrorists Show Realities of Aleppo in the Opposite Way: Arab and Western Media Have Started a Big Media War to Blame Syrian Army, rather than Terrorists, for Aleppo Devastation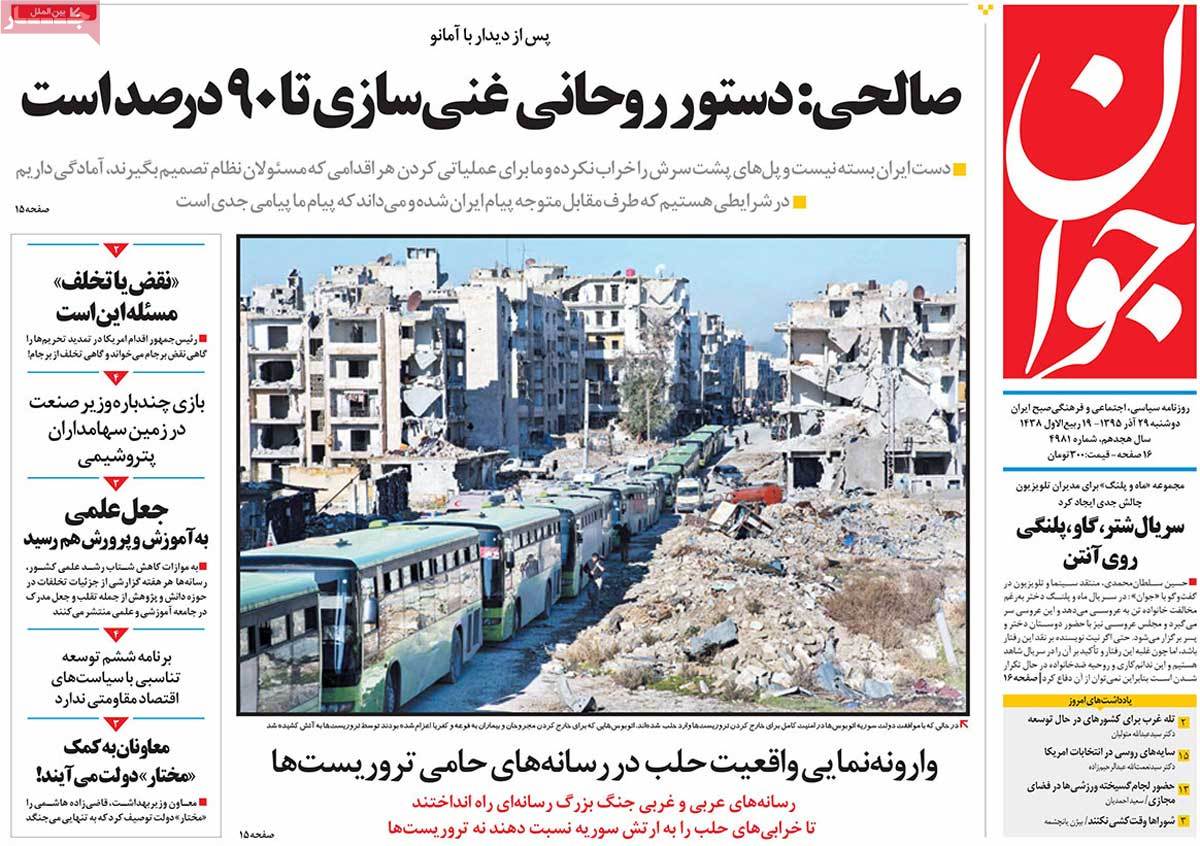 ---
Jomhouri Eslami:
1- Oil Minister: We've Not Promised Total to Give Them Azadegan Oilfield
2- Terrorists Prevent Transfer of Wounded People in Shiite-Majority Towns of Foua and Kefraya
3- Member of US Congress: US Armed Al-Qaeda to Topple Assad
4- UN: Yemen Has Become Paralyzed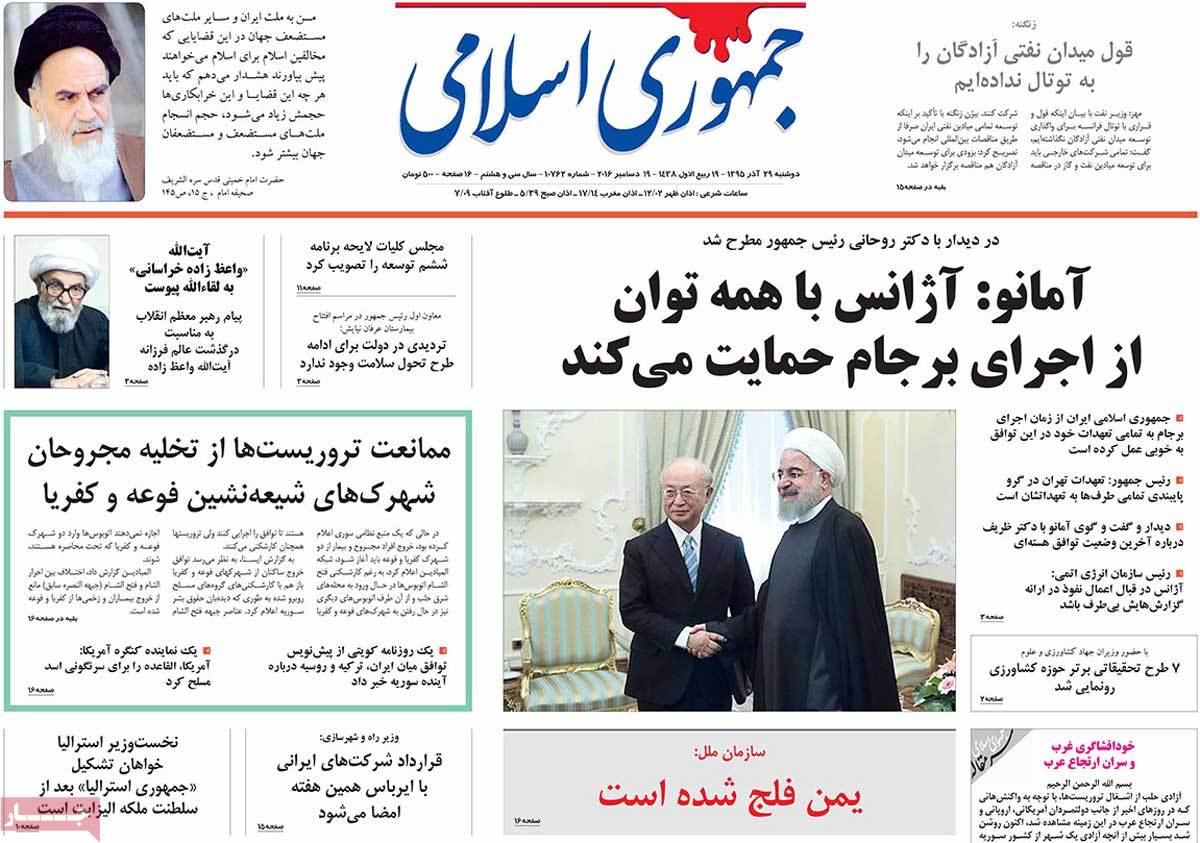 ---
Kayhan:
1- Hezbollah: Lebanon's New Government to Be Formed in Coming Days
2- Takfiris [Extremists] Set Fire on Buses Dispatched to Transfer Children and Wounded People
3- Sheikh Isa Qassim's Representative: Al Khalifa Regime's Crimes in Bahrain Committed with Britain's Plots and US Green Light
---
Payam-e Zaman:
1- Rouhani: US Moves Are against Nuclear Deal
2- Iran's Nuclear Chief: Iran Can Take Reciprocal Measures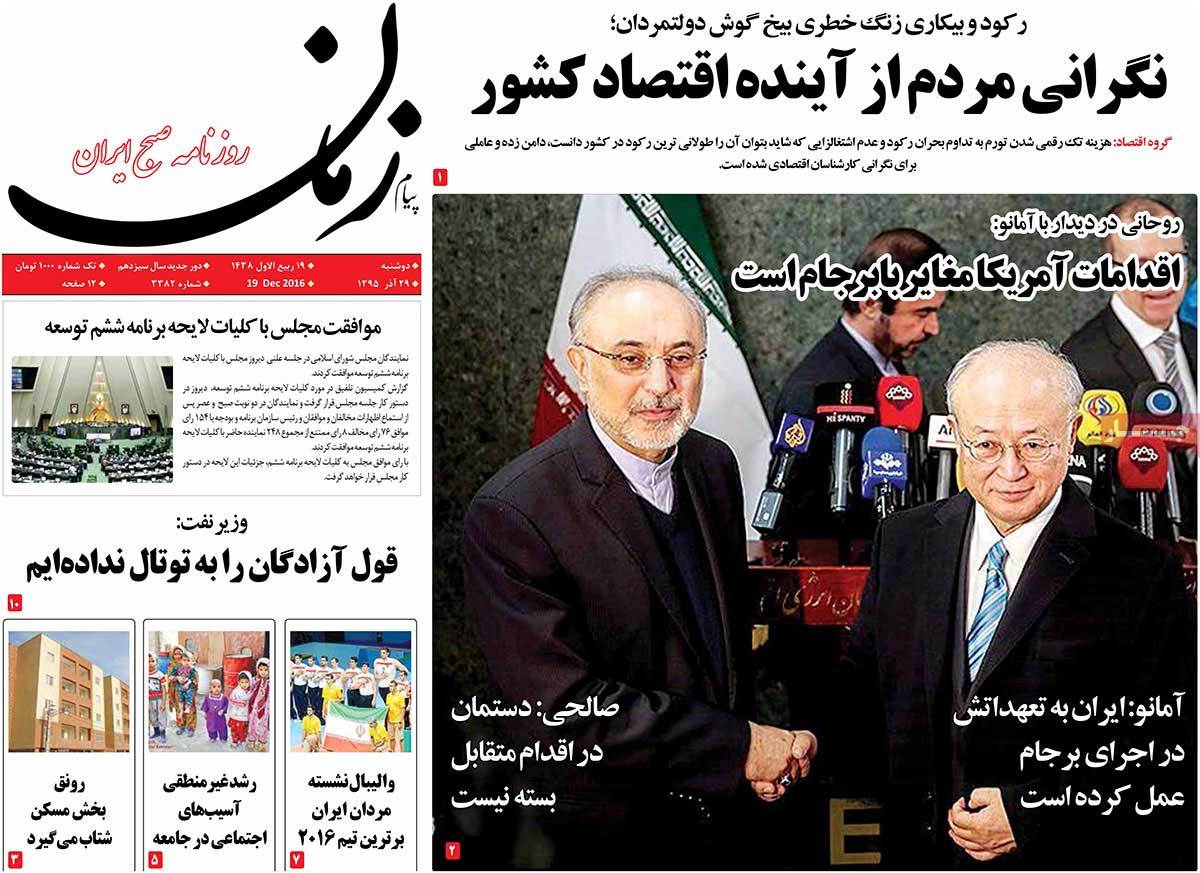 ---
Saheb Qalam:
1- IRGC General: US Plot to Disintegrate Syria Totally Failed with Aleppo Defeat
2- Ordinary Businesspeople Can Now Export Petrol
---
Shahrvand:
1- Black Market of Visa: Some Foreign Embassies Don't Treat Iranians Respectfully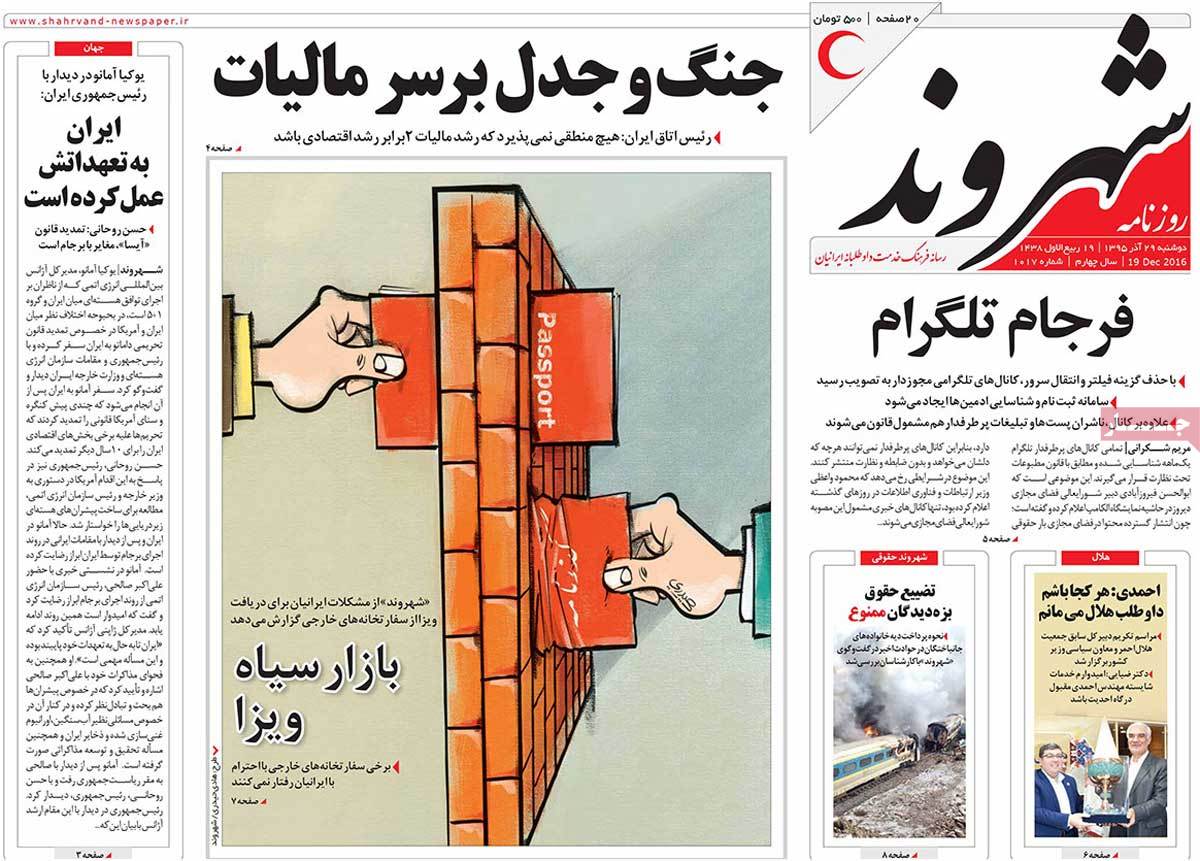 ---
Shargh:
1- Iran Gives Nuclear Warning to IAEA
2- It's Now Bahonar's Turn: New Names in Camp of Conservatives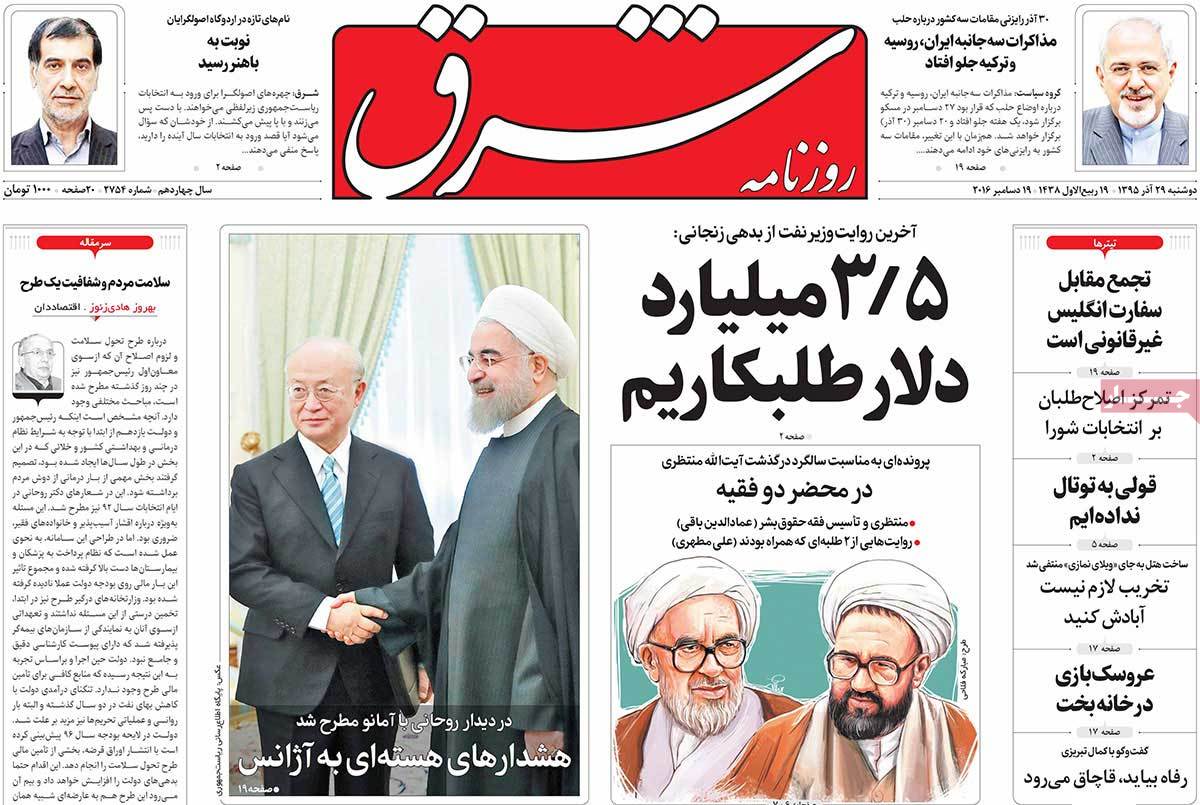 ---
Vatan-e Emrooz:
1- Amano: I'm Satisfied; Rouhani: ISA Extension Violates Nuclear Deal, World's Trust in US Decreaes
2- Nuclear Chief Salehi's Account of Talks with Amano in Tehran: The Other Side Got the Message!
3- What Are US Security Strategies in Western Asia? Middle East Divided into 1,000 Pieces
[:es]
Los diarios iraníes de hoy, el lunes, han cubierto una retahíla de temas de actualidad política del país, entre los cuales se destacan siguientes:
La visita del Director General de la Agencia Internacional de Energía Atómica a Irán, así como sus reuniones con las autoridades de Teherán.
Los últimos acontecimientos en la ciudad siria de Alepo, tras la liberación total del dominio terrorista
El encuentro tripartito entre Irán, Rusia y Turquía sobre la situación de Siria, a celebrarse mañana en Moscú.
La subida del precio del crudo iraní tras meses de establecimiento
Los temas antes mencionados, así como varias otras cuestiones se destacan en los siguientes títulos:
19 dey:
Rohani, en un encuentro con Amano: "La AIEA debe ser imparcial con respecto al caso nuclear iraní."
The Guardian: "Irán, ganador verdadero de la guerra en Alepo."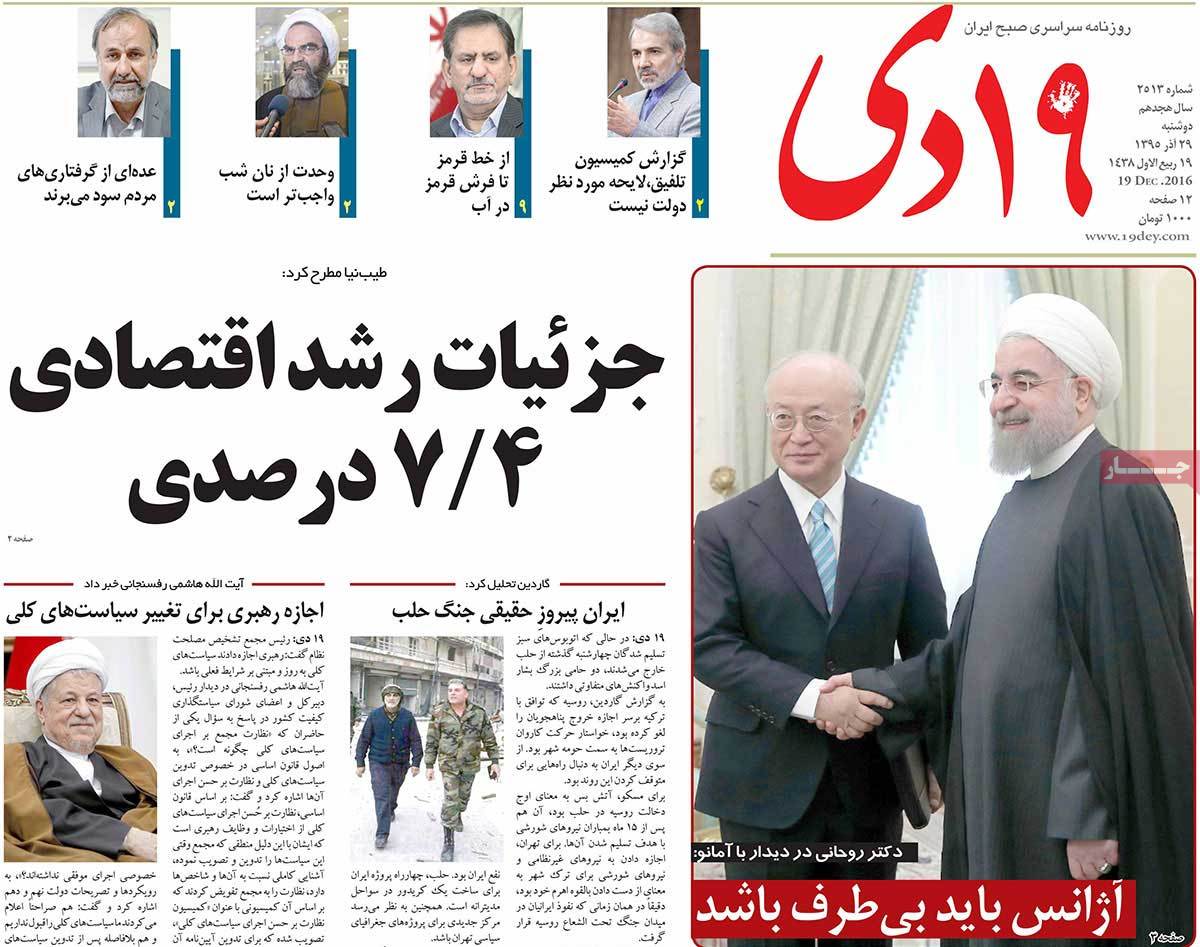 ---
Abrar:
Últimos esfuerzos para evitar la llegada de Trump al poder
Rohani viajará a Rusia
EIIL ofrece 1 millón de dólares por la cabeza de una muchacha iraní
Consejo de Cooperación del Golfo Pérsico vuelve a reiterar afirmaciones falsas contra Irán
Rohani a Amano: "No seremos primero en violar el acuerdo nuclear."
---
Abrar Eqtesadi:
Irán se apodera del mayor mercado petrolero del mundo
El empresario iraní, Babak Zanjani, tiene una deuda de 3.5 mil millones de dólares con el ministerio de Petróleo
El precio del crudo iraní supera de 50$
Revela Rusia: "La venta de Sukhoi Superjet 100 a Irán"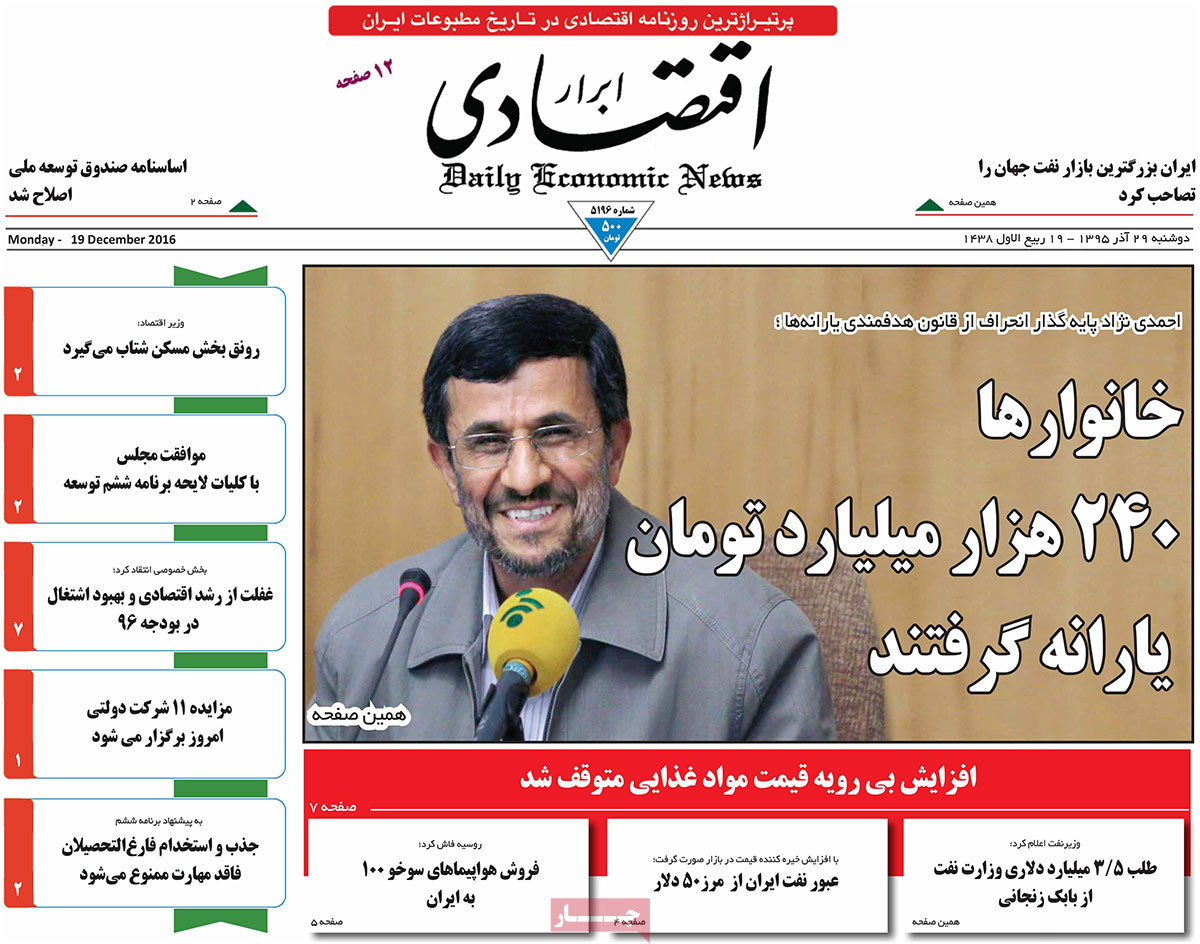 ---
Afkar:
El crudo iraní bate record.
Irán no será violador del pacto nuclear.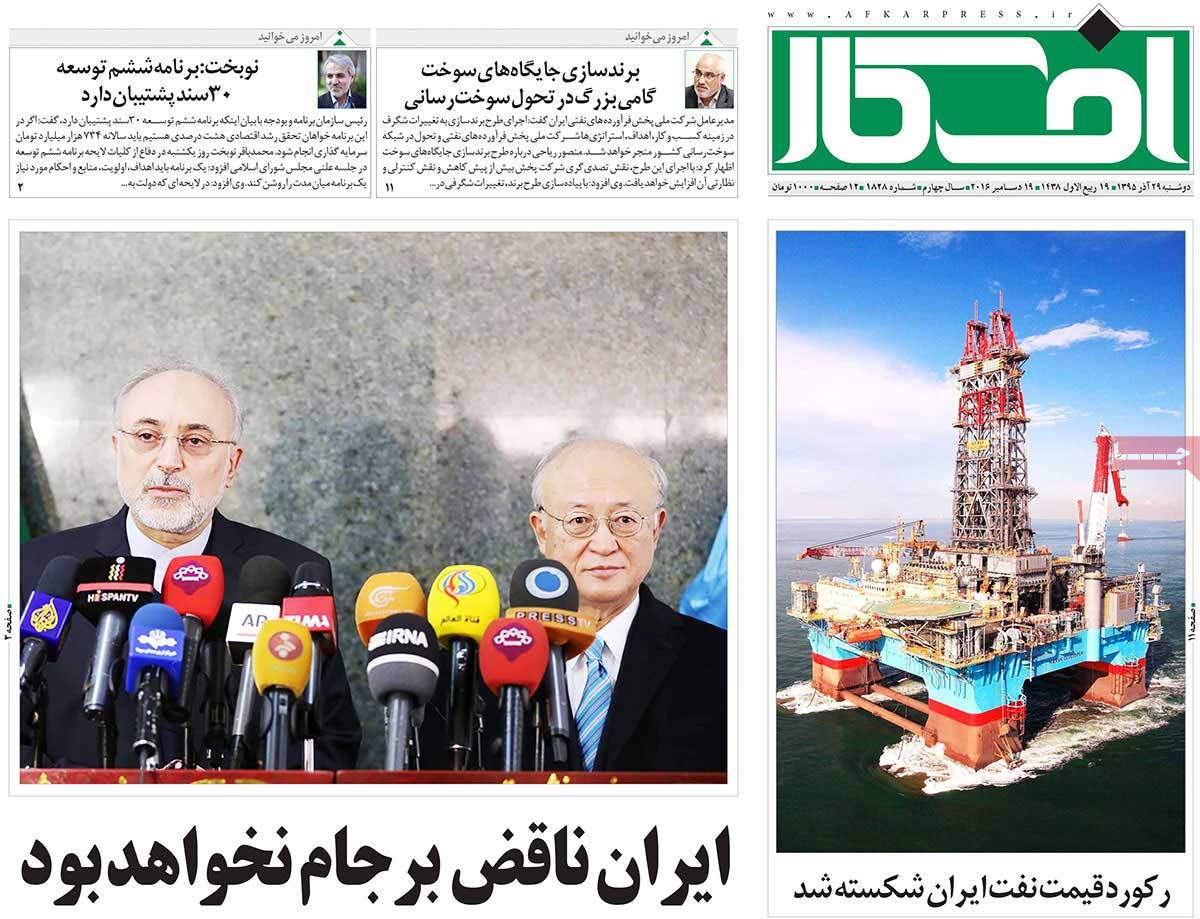 ---
Aftab Yazd:
Organizan un plan de reforma de la edad de matrimonio de las muchachas
Político fundamentalista: "A Sr.Bahonar le gusta dedicarse a la dirección de asuntos públicos, así que no se presenta para las próximas elecciones."
¿Cómo será impartida la tribuna de la Radio y Televisión iraní entre dos partidos fundamentalista y reformista?
---
Arman Emruz:
Amano: "Estamos satisfechos con el proceso de implantación del acuerdo nuclear."
Un profesor de Economía: "Rohani debe formar una comisión para contrarrestar las medidas de Trump."
Los beneficios de Irán y Rusia en la batalla de Siria. (editorial)
Negociaciones del enviado especial de Putin en Irán
---
Asrar:
El ministro de Economía iraní: "Irán goza de la mayor cifra de crecimiento económico en la región."
El gobernador de Teherán: "Impediremos cualquier manifestación ilegal frente a la embajada británica."
El premier australiano pide la independencia de su país de Gran Bretaña.
---
Ebtekar:
Amano conversa con las autoridades de Teherán sobre el futuro de PIAC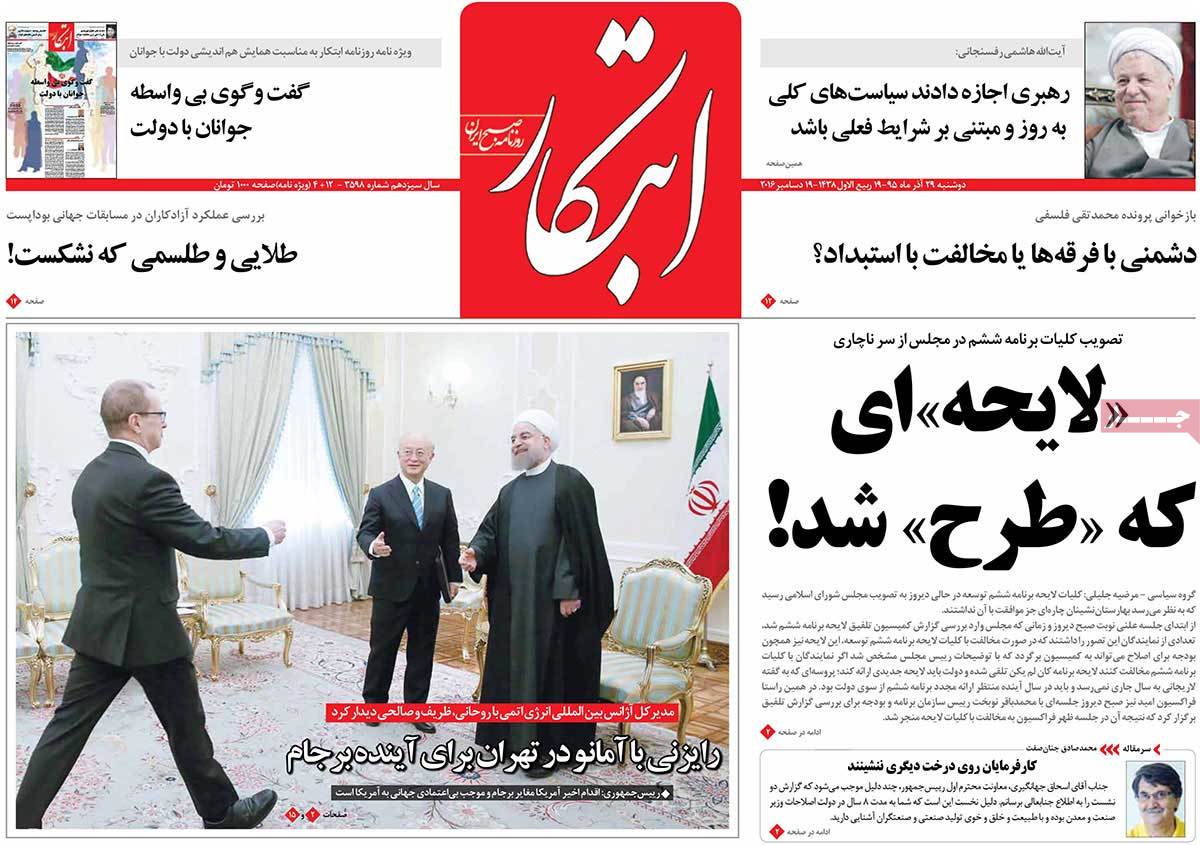 ---
Etemad:
Rohani, en un encuentro con Amano, pide la colaboración de la AIEA en el proyecto de Propulsión nuclear de Irán.
La muerte y hambruna en Yemen; negociaciones en Arabia Saudita; John Kerry y Boris Johnson velan por la paz en Riad.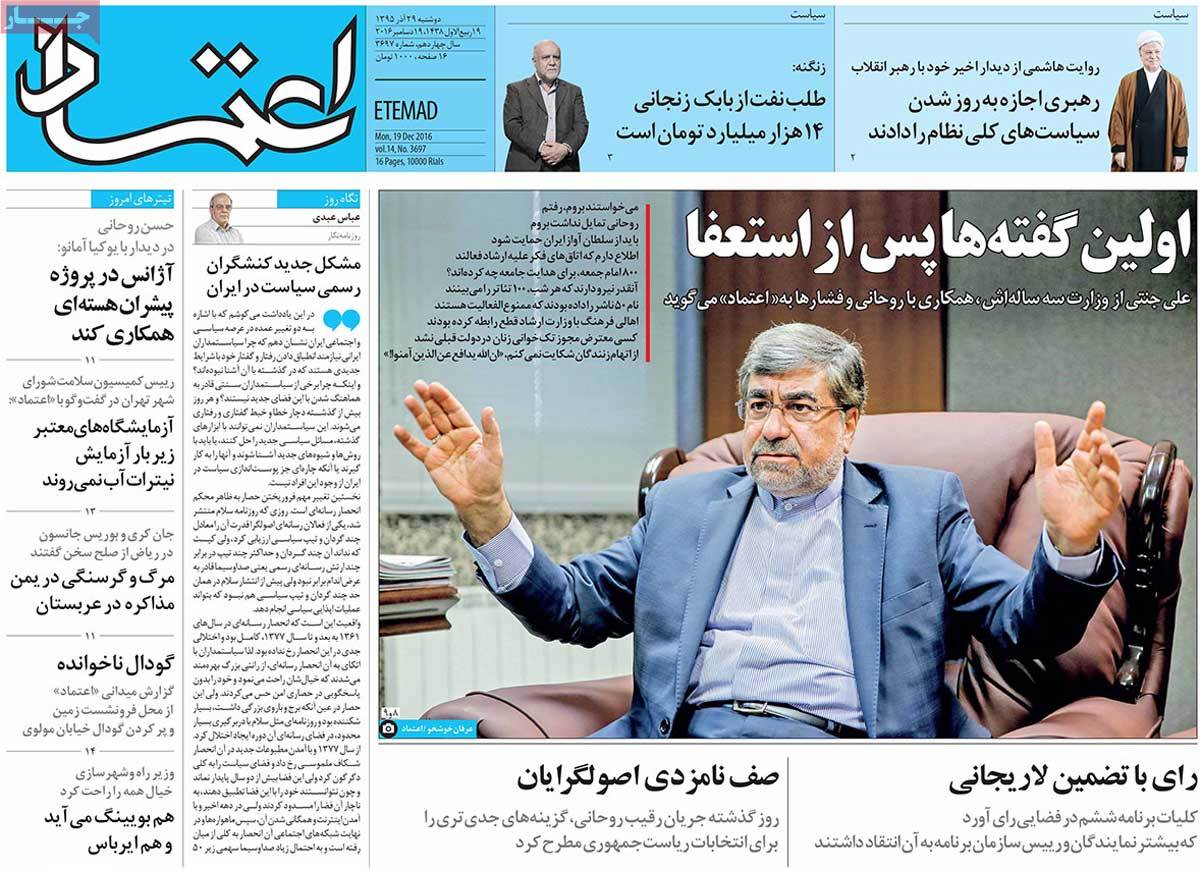 ---
Etelaat:
Presidente Rohani: "Seguimos cooperando con la Agencia Internacional de Energía Atómica."; "El compromiso de Irán con el PIAC depende de la adhesión de otras partes."
Irán, Rusia y Turquía mañana mantendrán una reunión en Moscú sobre Siria.
Irán firmará un contrato con la empresa francesa Airbus.
Mueren 45 terroristas de EIIL por un ataque de las fuerzas populares de Irak.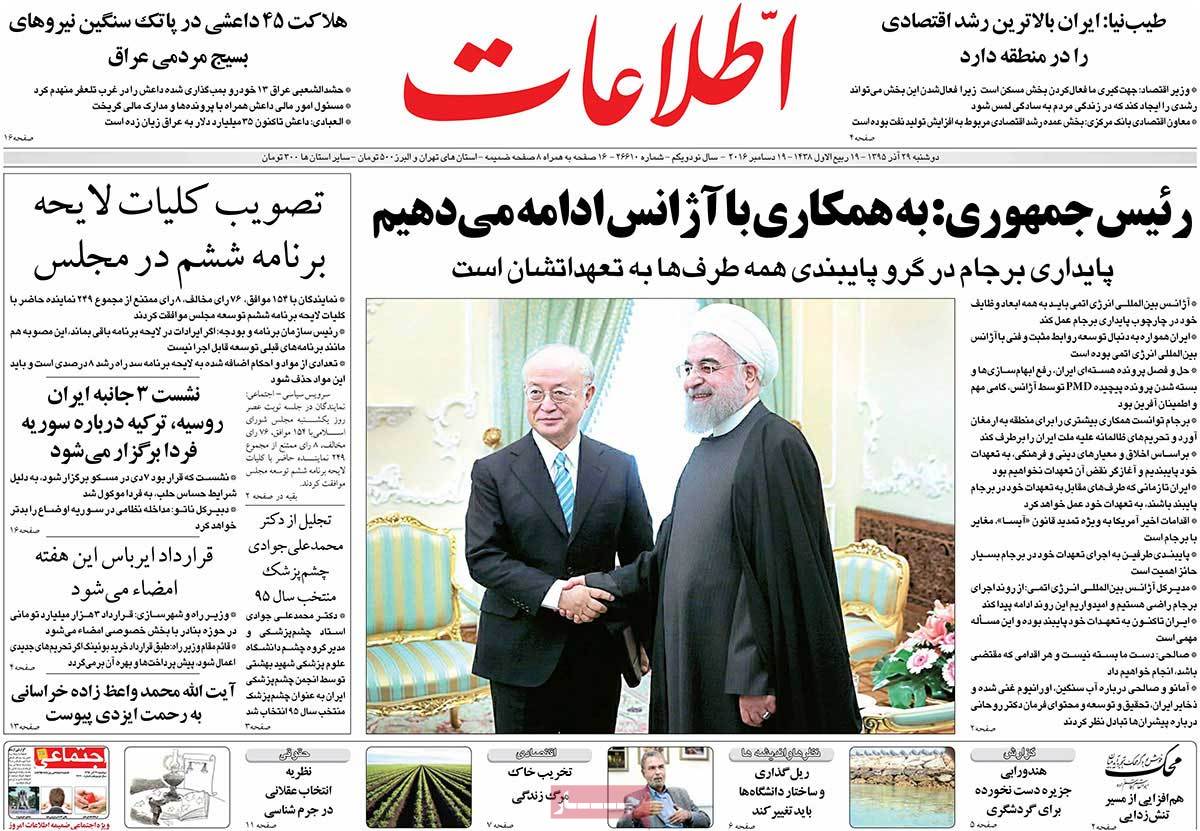 ---
Hemaiat:
El fiscal general del país, en un encuentro con la delegación italiana: "El mutismo ante los crímenes de los terroristas takfiríes significa la contradicción del concepto de DDHH en el Occidente."
El comandante de la Aviación del CGRI: "Irán seguirá con su programa de Desarrollo de Misiles."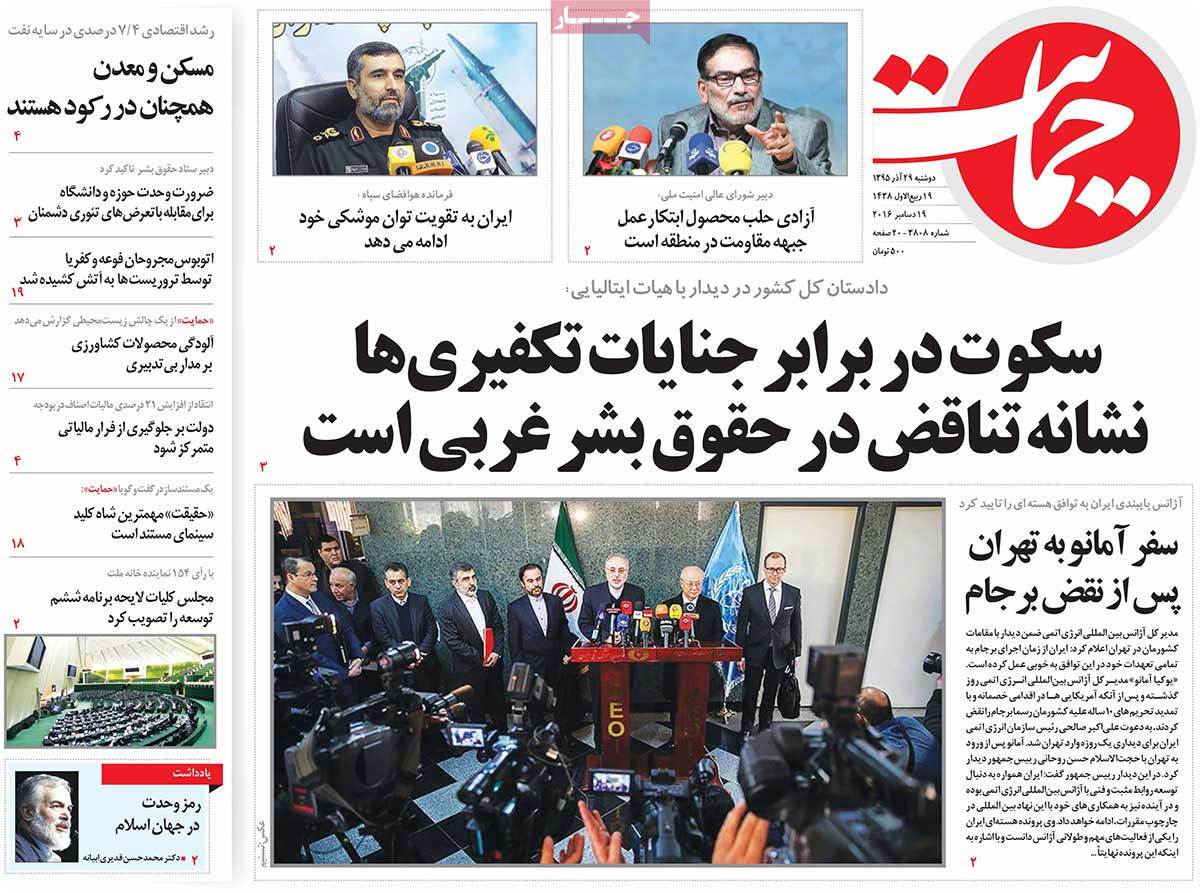 ---
Irán:
Agenda apretada de Amano en Teherán.
El enviado especial de Putin se reúne con las autoridades de seguridad de Irán; El secretario del Consejo de Seguridad Nacional: "Se debe garantizar la tregua en Alepo."; Ali Akbar Velayati: "Actualmente, Irán y Rusia disfrutan de relaciones bilaterales sin procedentes."
---
Yaam_e_Yam:
El Occidente intenta encubrir el escándalo de la dinastía Saudí.
Críticas a Amano sobre el acuerdo nuclear.
---
Yavan:
El director de la OEAI, tras un encuentro con Amano: "El Presidente Rohani ha mandado elevar el enriquecimiento hasta 90%.", "Irán dispone de múltiples alternativas operativas para el futuro (en el caso de anulación de JCPOA)", "Estamos frente a una situación en la que otra parte ha recibido el mensaje de Irán y está al tanto de su seriedad."
Los medios de comunicación apoyadores del terrorismo tratan de revertir la realidad en Alepo; Los medios árabes y occidentales intentan atribuir las catástrofes de Alepo al ejército sirio.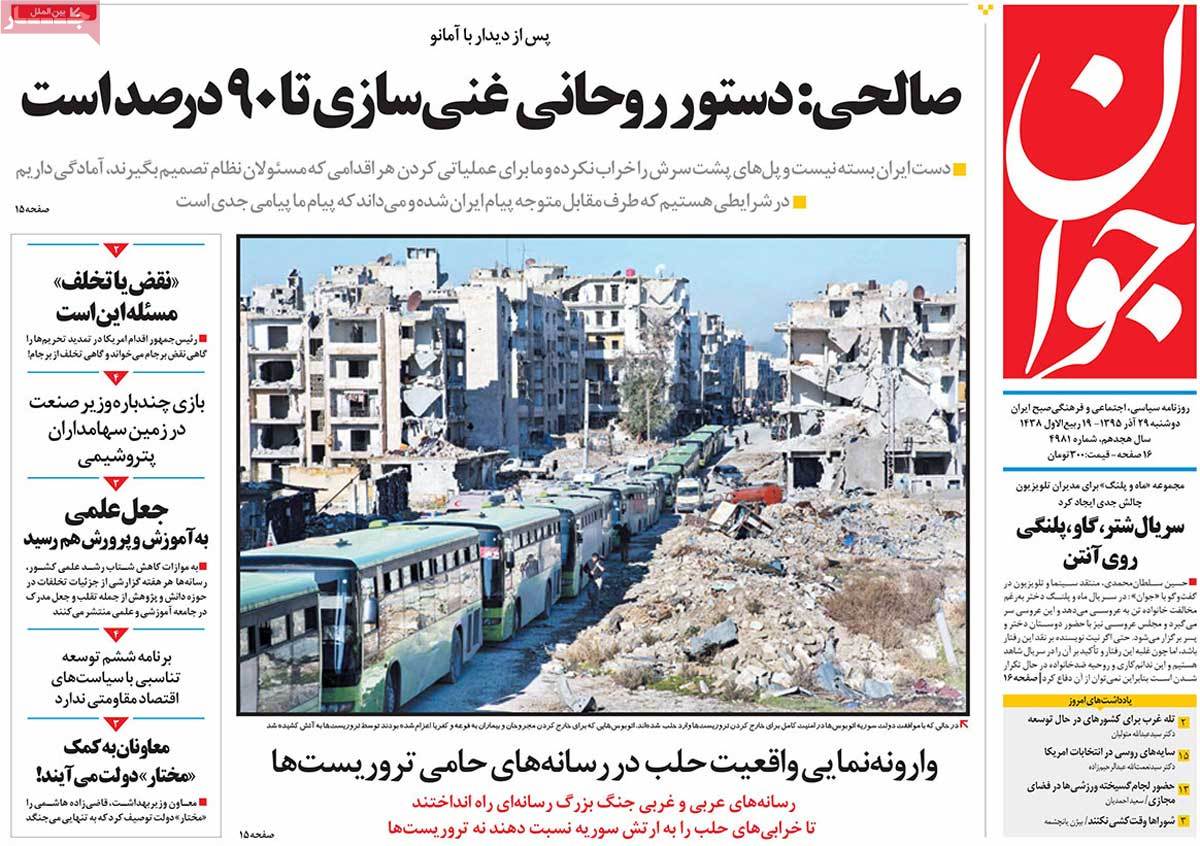 ---
Yomhuri Eslami:
El ministro de Petróleo: "No hemos autorizado la colaboración de la empresa Total en el campo petrolífero de Azadegan."
Los terroristas frenan la evacuación de localidad restantes de Alepo.
Un diputado del congreso estadounidense: "EEUU armó a Alqaeda a fin de derrocar al Al-Asad."
La ONU: "Yemen ha quedado paralizado."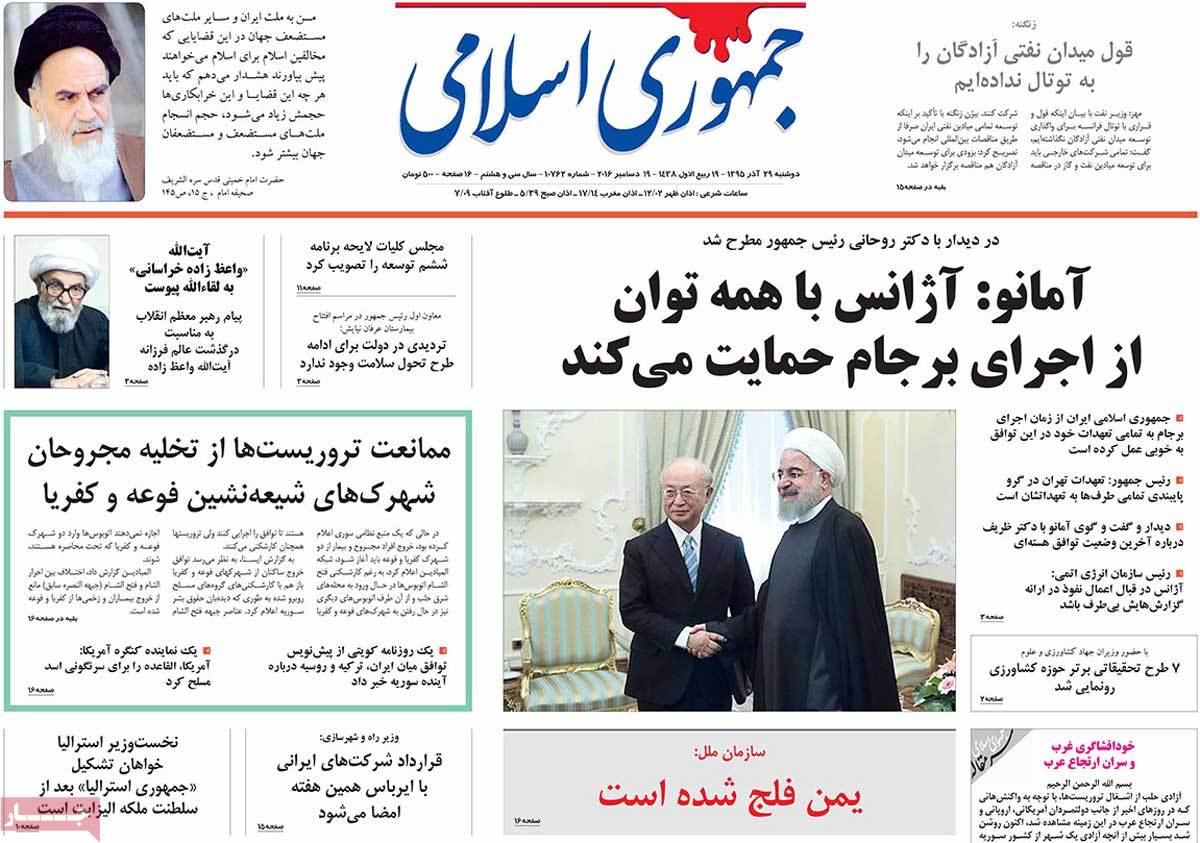 ---
Kayhan:
Hezbolá del Líbano anuncia la inminente formación del gobierno de Beirut.
Los terroristas prenden fuego a los autobuses dedicados al traslado de niños y heridos. (evacuación de la ciudad)
El representante del alto clérigo chií de Bahréin, en una entrevista con Kayhan: "Los crímenes cometidos en Bahréin se perpetran mediante la conspiración de Gran Bretaña y la luz verde de Estados Unidos."
---
Paiam_e_Zaman:
Rohani, en un encuentro con Amano: "Las medidas adoptadas por Casa Blanca contradice el pacto nuclear."
El director de la OEAI: "Disponemos de múltiples alternativas en el caso de violar el pacto nuclear."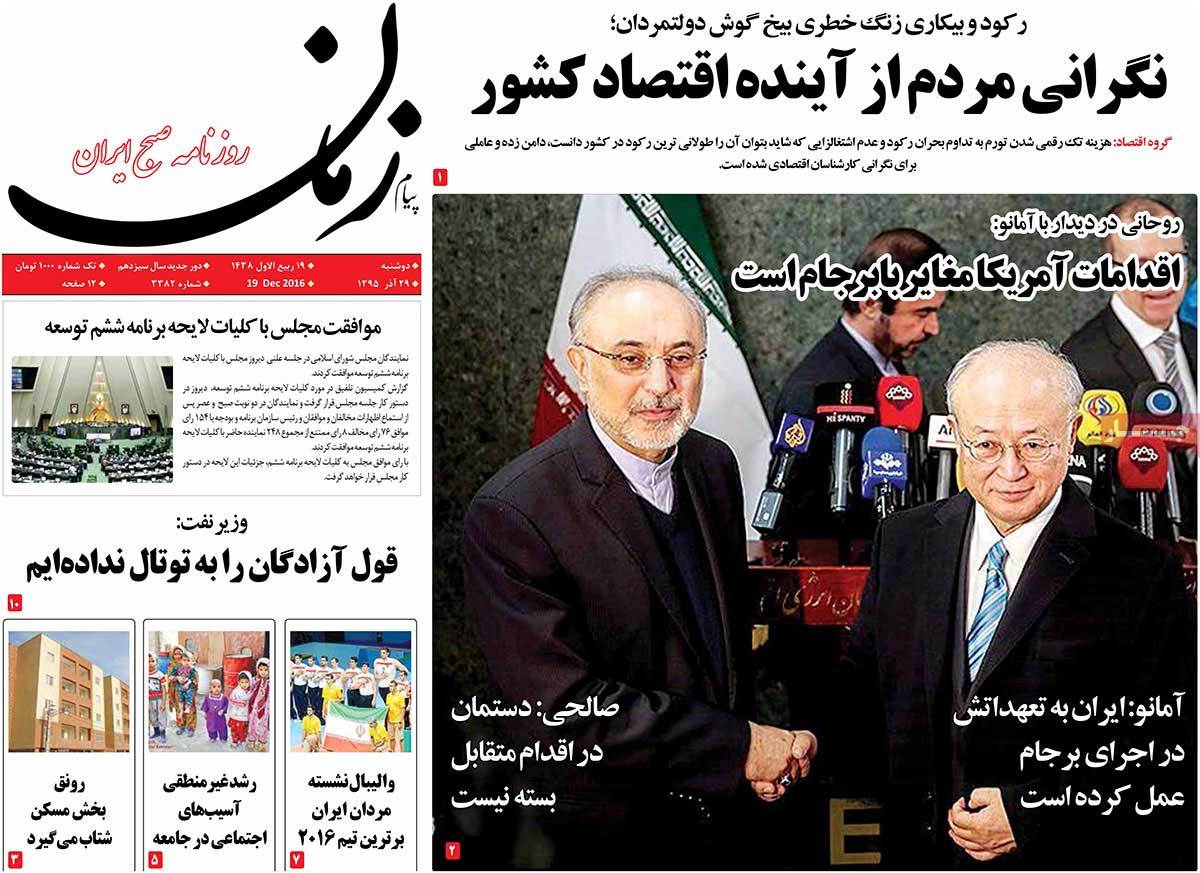 ---
Ghanun:
Se secan los humedales; el país fundador de la Convención sobre la Protección de Humedales se suma a la lista roja.
Un repaso de los recientes avatares en Oriente Medio; Alepo se dora y Yemen cobra importancia.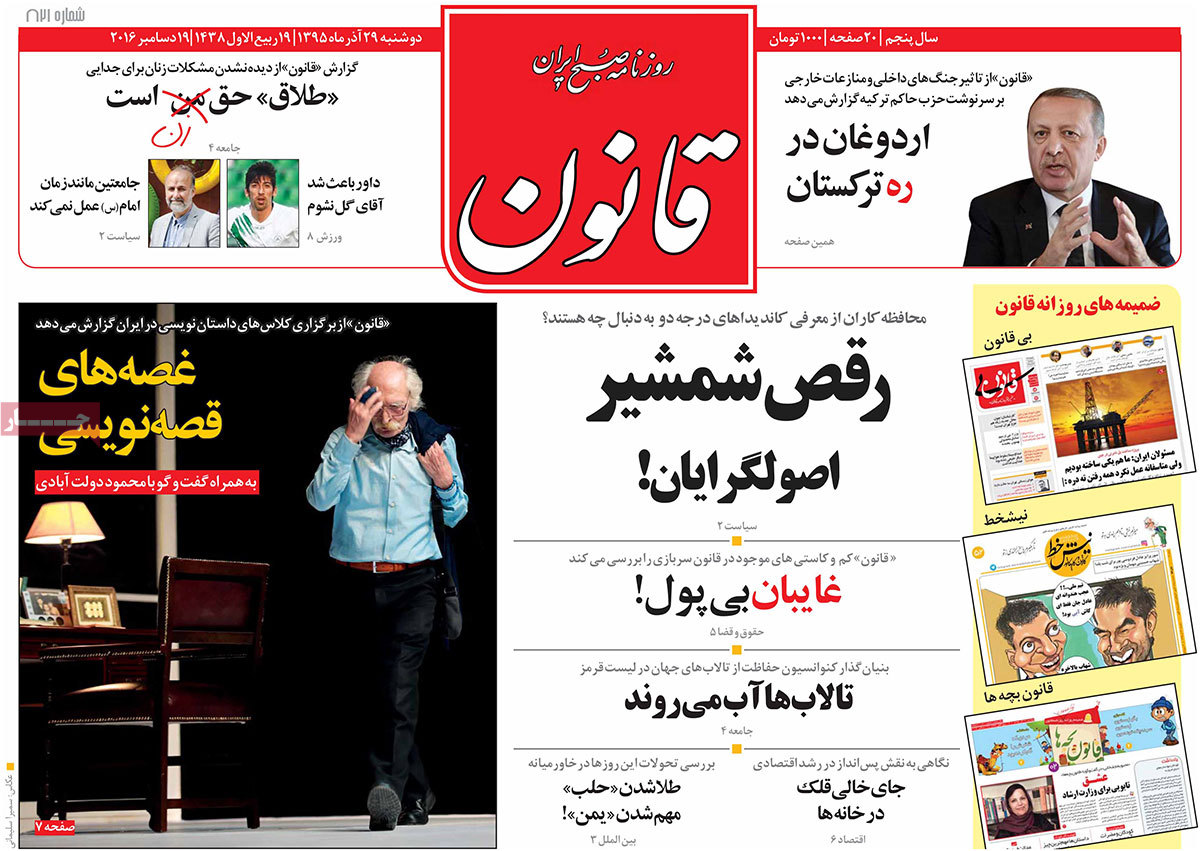 ---
Saheb Ghalam:
Un alto comandante iraní: "La liberación de Alepo frustra el contubernio de EEUU para la desintegración de Siria."
Las personas físicas en Irán ya son capaces de exportar gasolina.
---
Shahrvand:
El Mercado negro del Visado; algunas embajadas en Teherán no respetan a los ciudadanos iraníes.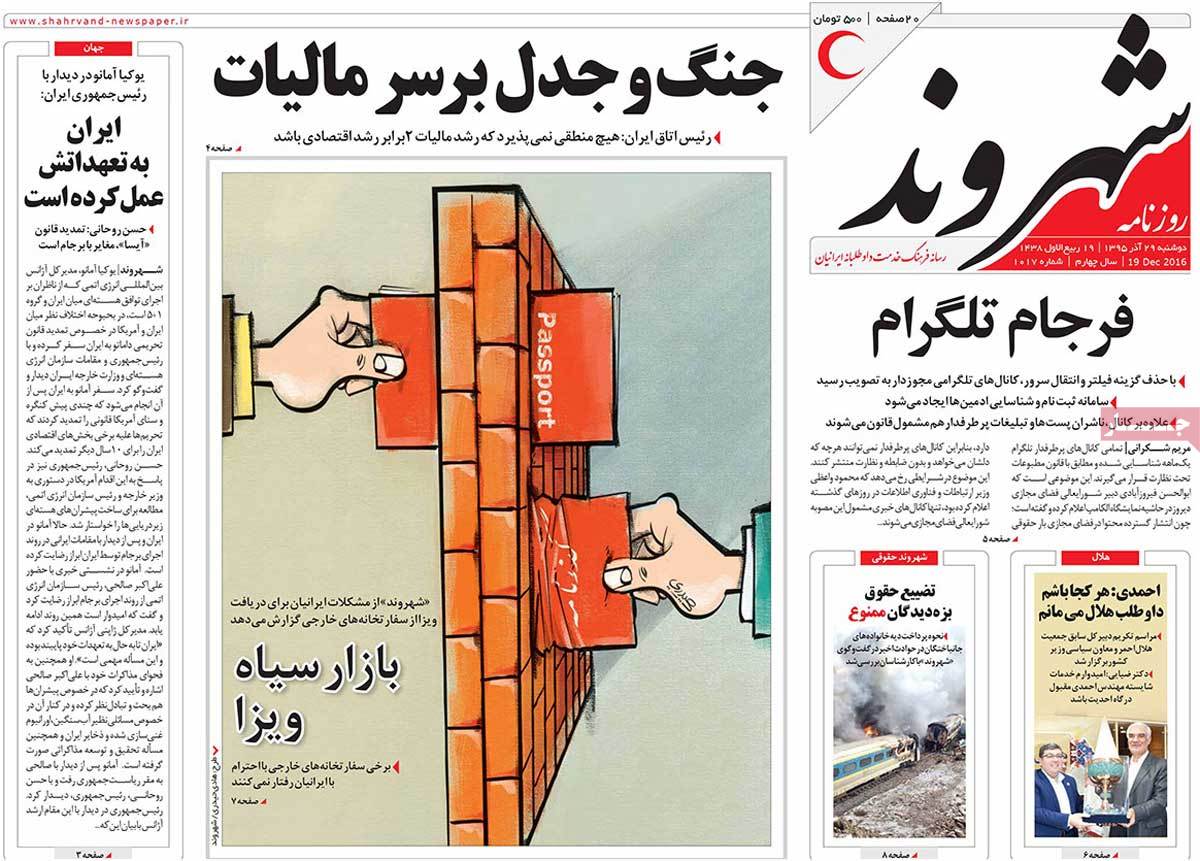 ---
Shargh:
Rohani advierte a Amano sobre el acuerdo nuclear.
Nuevos nombres en la lista electoral del partido fundamentalista; Mohammad Reza Bahonar.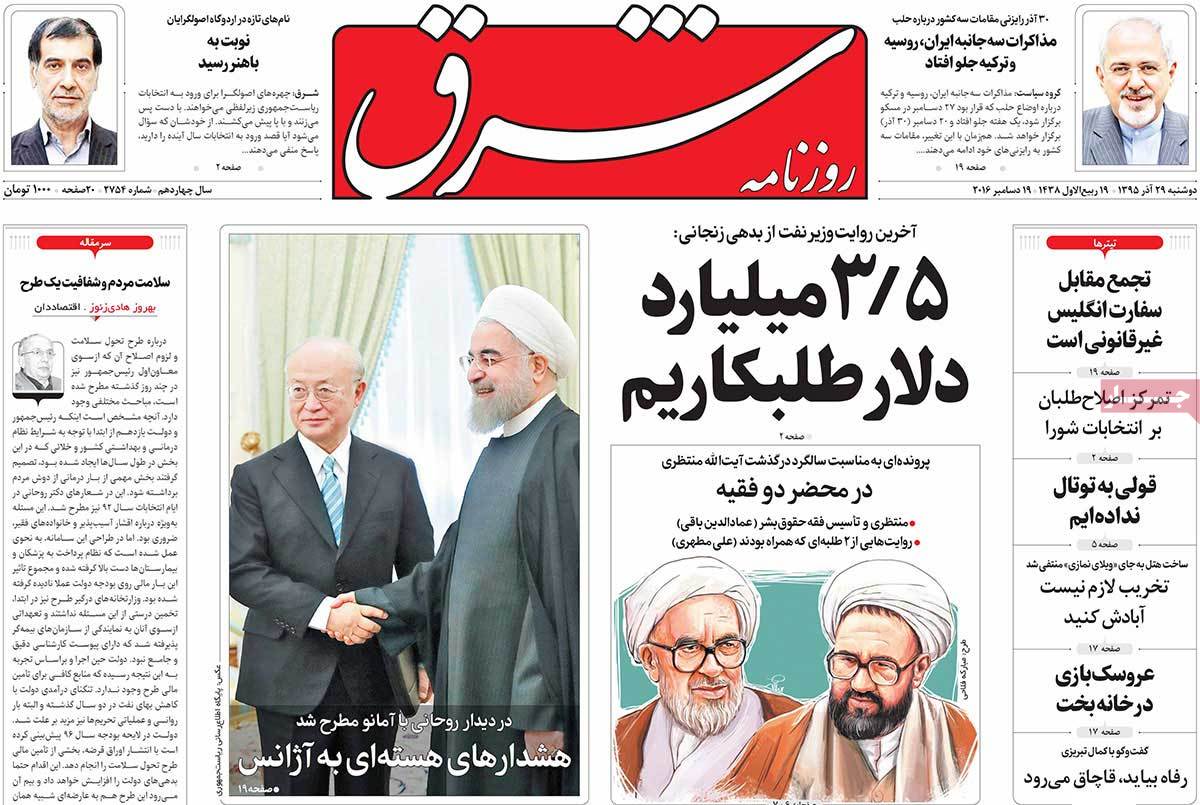 ---
Vatan_e_Emruz:
Amano: "Estoy satisfecho"; Rohani: "La renovación de la ley ISA rectifica el acuerdo nuclear y da lugar a una desconfianza mundial a EEUU."
Ali Akbar Salehi explica sobre el contenido de los diálogos de Amano en Teherán: "El adversario recibió el mensaje."
¿Cuáles son las estrategias de seguridad de EEUU en Asia Occidental?; Un Oriente Medio de mil pedazos.