IFP has taken a look at the front pages of Iranian newspapers on Sunday and picked headlines from 21 of them. IFP has simply translated the headlines and does not vouch for their accuracy.

[:es]IFP ha echado una mirada a las portadas de periódicos iraníes, publicados el domingo, 6 de noviembre de 2016, y ha recogido titulares de 22 de ellos. IFP ha traducido simplemente los titulares y no es responsable de su veracidad.
Almost all newspapers on Sunday covered the remarks made by President Hassan Rouhani in the opening ceremony of the 22nd Press Exhibition, which is underway in Tehran.
They also covered the US presidential elections and the ongoing competition between Donald Trump and Hillary Clinton, whose difference has decreased to lowest levels.
The ongoing efforts by the anti-ISIS forces in Iraq and Syria, and the terrorist group's escape from its last strongholds also received great coverage.
The above issues, as well as many more, are highlighted in the following headlines:
Abrar:
1- Press Exhibition Opened by President Rouhani
2- IRGC General: We Don't Say the Americans Have Created Takfiris [Extremists]
3- Saudi Arabia Sentences Friday Prayer Imam to Prison Because of Referring to an Actor as an Infidel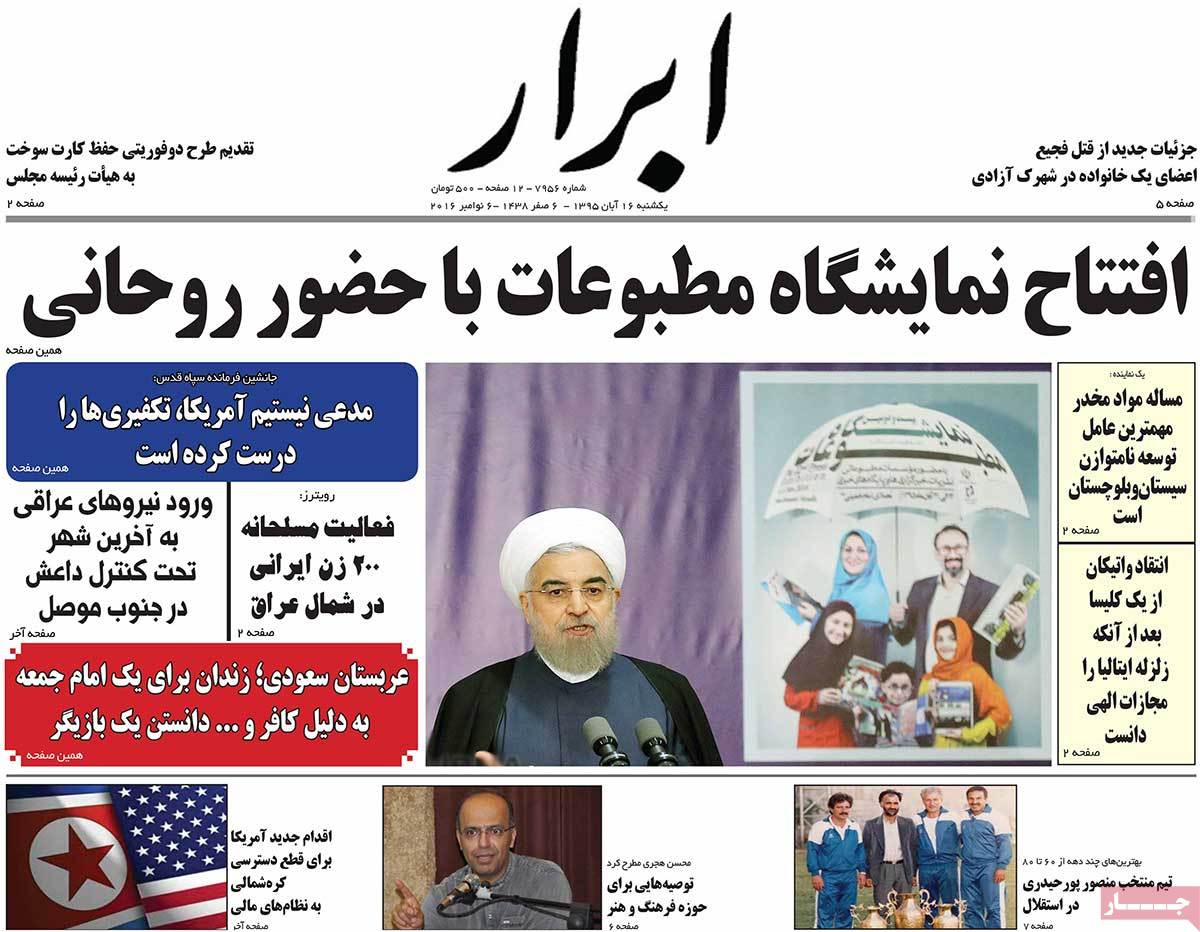 ---
Abrar-e Eqtesadi:
1- Government's Expenses in Past 6 Months Were $5.2bn More than Its Income
2- Iran's Exports to US Stands at $62m
3- Tehran-Caracas Petchem Partnership Cancelled: Iran Buys Venezuelan Side's Shares
4- Oil Agreement between Iran and Poland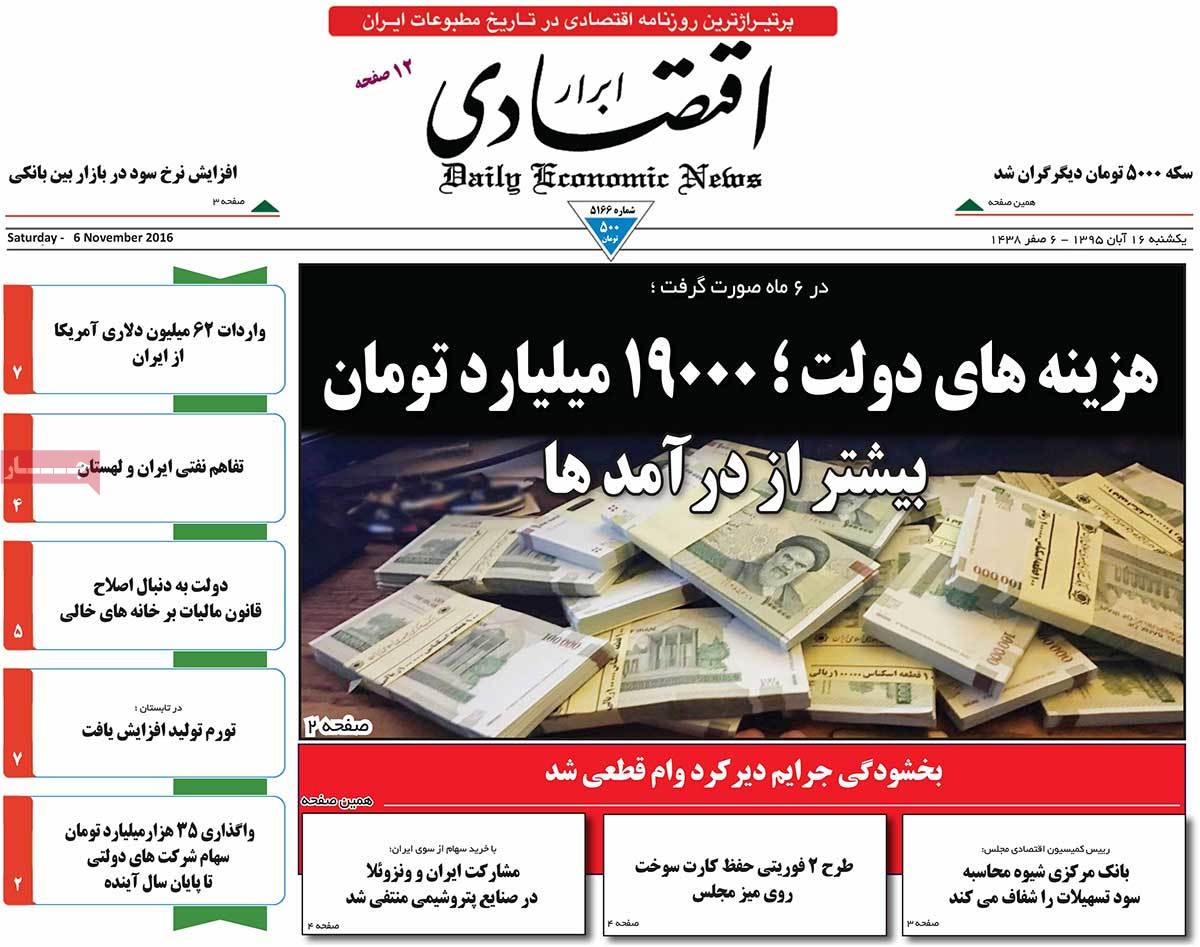 ---
Afkar:
1- Rouhani: Power of Culture Is Much More than that of Gun and Diplomacy
2- Artists Urge President to Pay Serious Attention to Air Pollution
3- Iran and ITER Sign First Document of Cooperation
---
Aftab-e Yazd:
1- Zahra Ahmadipour Elected by President Rouhani as Head of Cultural Heritage and Tourism Organization: Another Woman in Rouhani's Cabinet
2- Tehran Prosecutor-General: Underground Singer Sentenced to 10 Years in Prison
---
Asrar:
1- Rouhani: Extremism Should Not Have Any Audience in Iran
2- Military Advisor to Leader: ISIS Was Hit by Iran 40km Away from Our Borders
3- Zarif May Meet Lebanese PM Hariri in Beirut
4- North Korean Leader: We'll Turn US to Ashes
---
Amin:
1- Rouhani: Iran's Security Dependent on Security of Culture and Media Professionals
2- Iran to Officially Join ITER by End of 2016: Salehi
3- 11 Turkish MPs Arrested at Night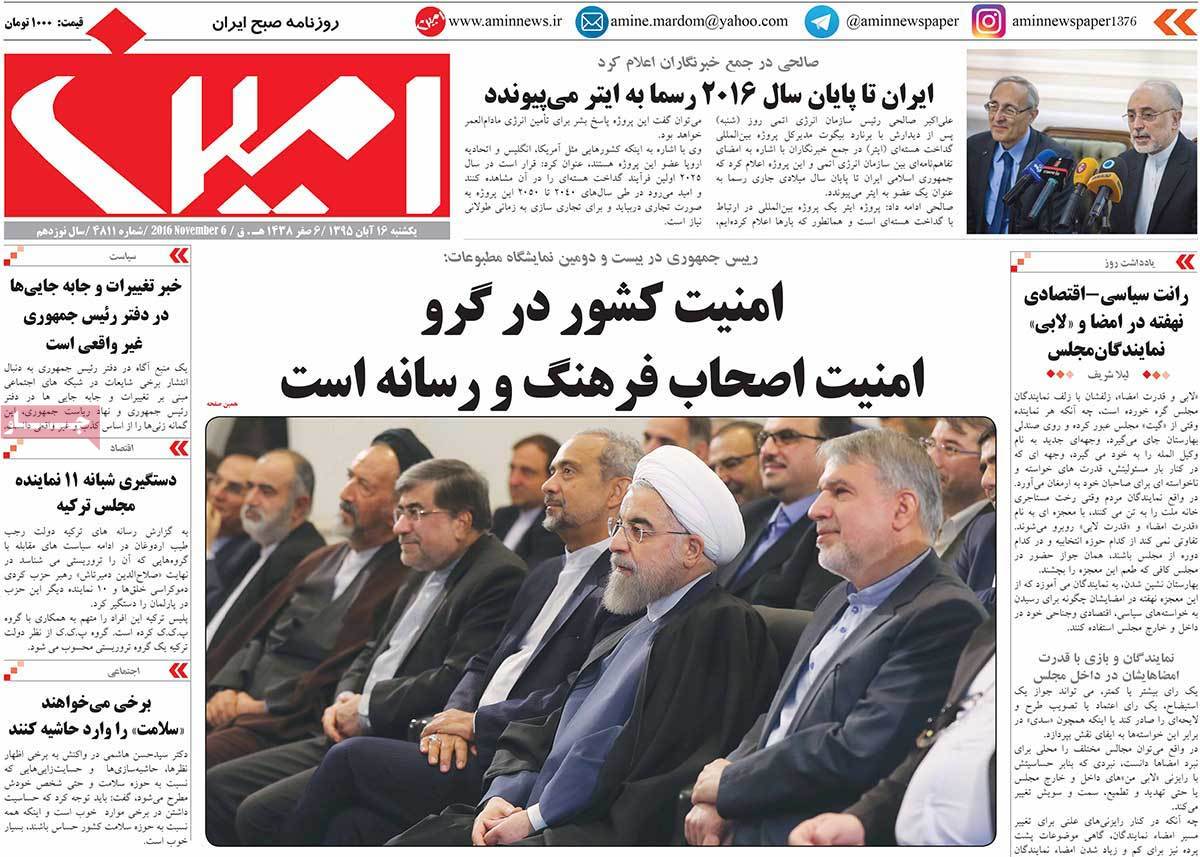 ---
Asr-e Rasaneh:
1- Iran's Petchem Exports to Europe Doubled
2- Nationwide Distribution of Euro IV Gasoline in Iran
3- Negotiations for Delivery of Purchased Planes Will Soon Yield Results: Transport Minister
---
Etemad:
1- Clinton or Trump: Which One Is Better for Iran? Experts Discuss the Issue
2- Mousavian, Int'l Relations Expert, Urges JCPOA Opponents Not to Raise Accusations against Iran's Establishment
---
Ettela'at:
1- Media Can Increase Hope and Satisfaction in Society: Rouhani
2- Intelligence Minister: Intelligence System's Connection with People Is a Necessity
3- VP for Women Affairs: Early Marriage and Poverty Are Barriers to Girls' Education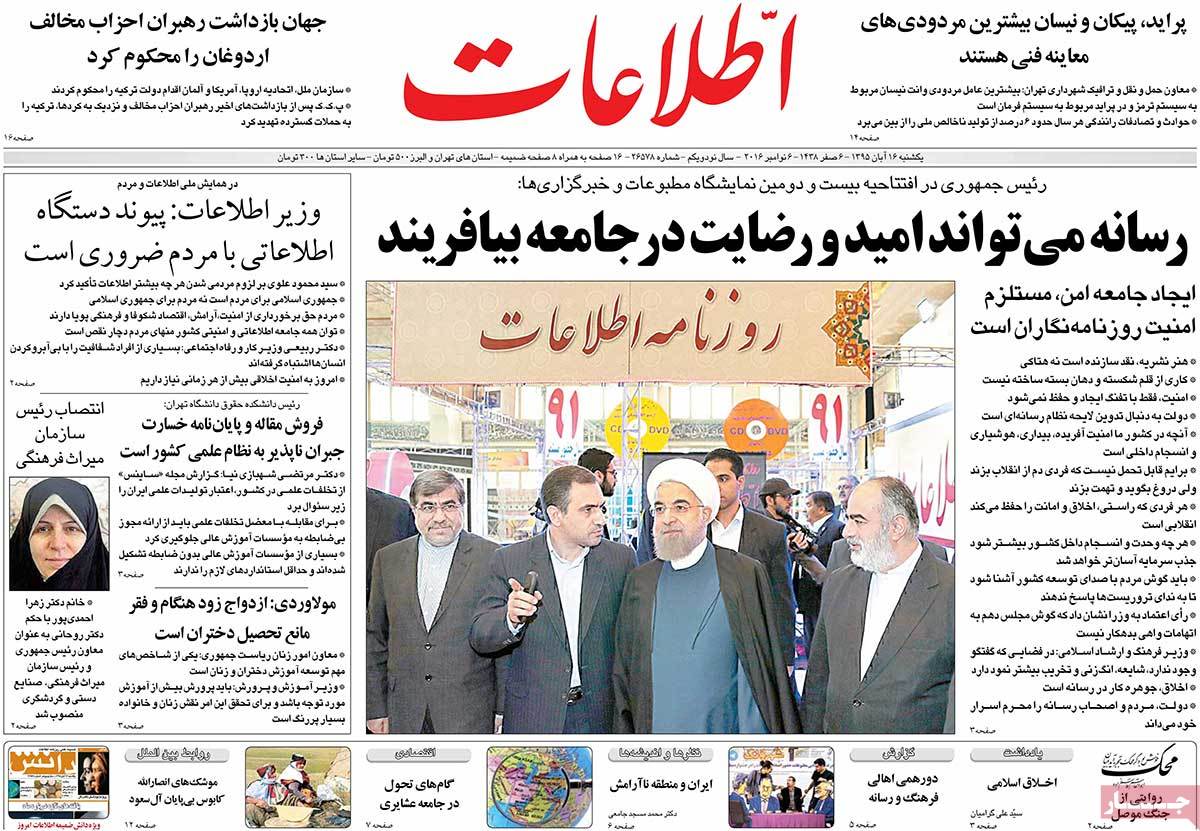 ---
Hemayat:
1- Iraqi Flag Raised over Government Buildings of Hammam al-Alil Town: Last ISIS Base in South of Mosul Is Retaken
2- Judiciary Chief: Judicial Talks between Iran and Iraq Were Constructive
3- Deputy Commander of IRGC Quds Force: Syria's Fate Will Be Determined This Year
---
Iran:
1- Iran's Might Stems from People's Power: Intelligence Minister
2- We Won't Accept False Remarks about Iran's Territorial Integrity: First VP Warns in Meeting with Turkey's Economy Minister
---
Javan:
1- Doctors Making Profit by Hiding Patients' Cancer: 90% of Cancers Can Be Prevented and Cured
2- 'Muhammad, the Messenger of God' Becomes Turkey's Third Best-Selling Film
3- Rouhani: Let's Run in the Fresh Air of JCPOA; Constructive Criticism Is an Art, Criticize Us and Shows the Right Path If We're Wrong
4- ISIS Gives Up Ambitions of Caliphate: In His New Strategy, al-Baghdadi Calls for Network Actions after Fall of Mosul and Aleppo
---
Jomhouri Eslami:
1- Iran's First VP Strongly Criticizes Turkey's Collaboration with Persian Gulf Cooperation Council against Iran
2- European Banks Are Resuming Ties with Iranian Banks
3- New Scandal for Clinton: She Has Received $30m Aid from Saudi Arabia and Qatar
---
Kayhan:
1- 8,500 University Professors Write Open Letter to Heads of 3 Branches of Iran's Establishment: Why Was Iran's Nuclear Industry Shut Down, But Sanctions Were Not Removed?
---
Khorasan:
1- Second Phase of RouhaniCare Started Yesterday: Free Health Services Provided in Six Metropolises
2- Monkey Predicts Trump Will Become US President; Famous Singers Join Clinton's Campaign
---
Payam-e Zaman:
1- IRGC General: Pen Is Our Most Powerful Weapon
2- Iraqi PM: We'll Cut Off ISIS' Head
3- Some Are Upset by Removal of Anti-Iran Sanctions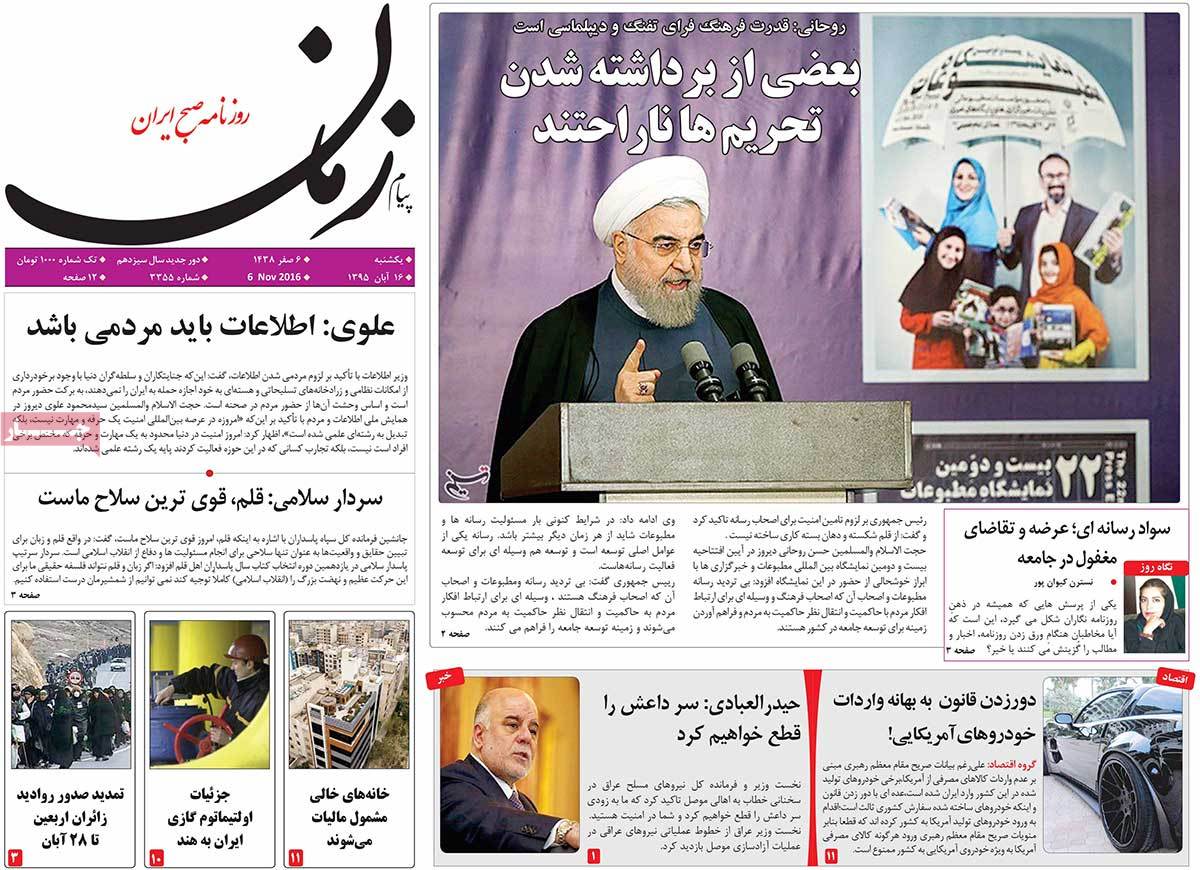 ---
Resalat:
1- President: Hundreds of Sanctions Are Removed, a Few of Them Have Remain in Place
2- New York Times: 80% of US Voters Believe Presidential Candidates Are Cheaters
Majority of Voters Hate US Government and Politics
40% of Trump Voters Said They Won't Accept the Results of Elections If He's Not Elected
---
Roozan:
1- Opium a Major Cause of Cancer among Iranians: Some People Use Opium More than Cigarette
2- Iranian Girl Wins Gold Medal in World Wushu Championship
---
Saheb Qalam:
1- Rouhani: Iran's Security Not Ensured by Missile and Tank
2- Details of Iran's Ultimatum to India over Gas Trade
3- Isfahan's Naghsh-e Jahan Stadium Inaugurated by First VP after 22 Years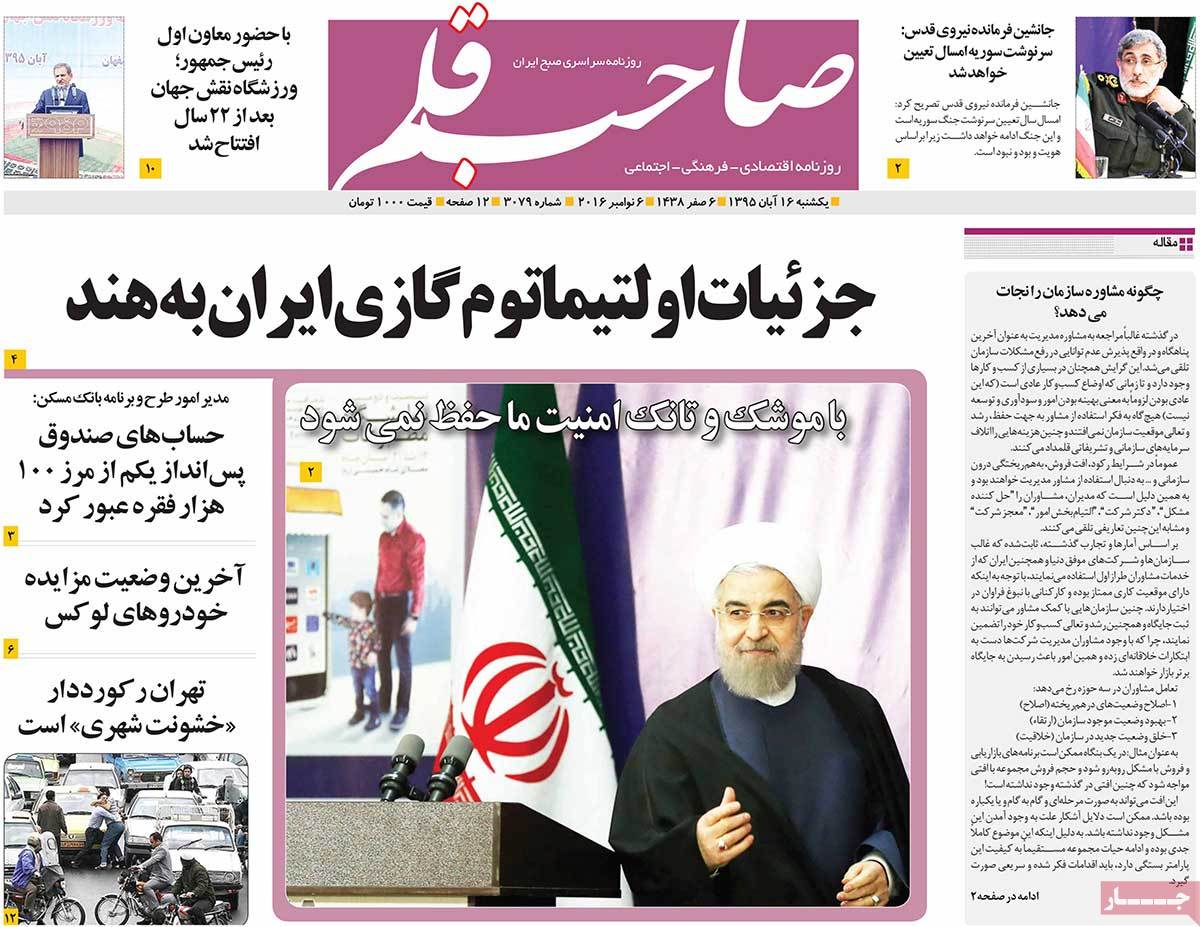 ---
Shargh:
1- Iran's Economy Gripped by Issue of Exporting Materials in Raw State: Giving Away the Market to Foreigners
---
Vatan-e Emrooz:
1- King Kong: US Mainstream Media Terrified and Confused by Trump; His Fans Are More Important than Him
[:es]
Los diarios de hoy cubrieron por unanimidad las declaraciones del Presidente del gobierno, Hasan Rohani, en el acto inaugural de la 22ª Exposición Internacional de Prensa y Agencias de Noticias, celebrada en la ciudad capitalina de Teherán.
Otras cuestiones, la crítica del Primer Vicepresidente de Irán, Eshagh Yahanguiri, al gobierno turco, por su colaboración con el Consejo de Cooperación para los Estados Árabes del Golfo, y los debates sobre el próximo presidente de EEUU se encuentran entre temas predilectos de los periódicos de este domingo.
Los temas antes mencionados, así como varias otras cuestiones se destacan en los siguientes títulos:
Abrar:
Abre la Exposición de Prensa con la presencia del Presidente Rohani
Un alto comandante militar iraní: "No alegamos que EEUU ha creados a los terroristas takfiríes."
Arabia Saudí condena a un imam del rezo colectivo del viernes por considera "ateo" a un actor.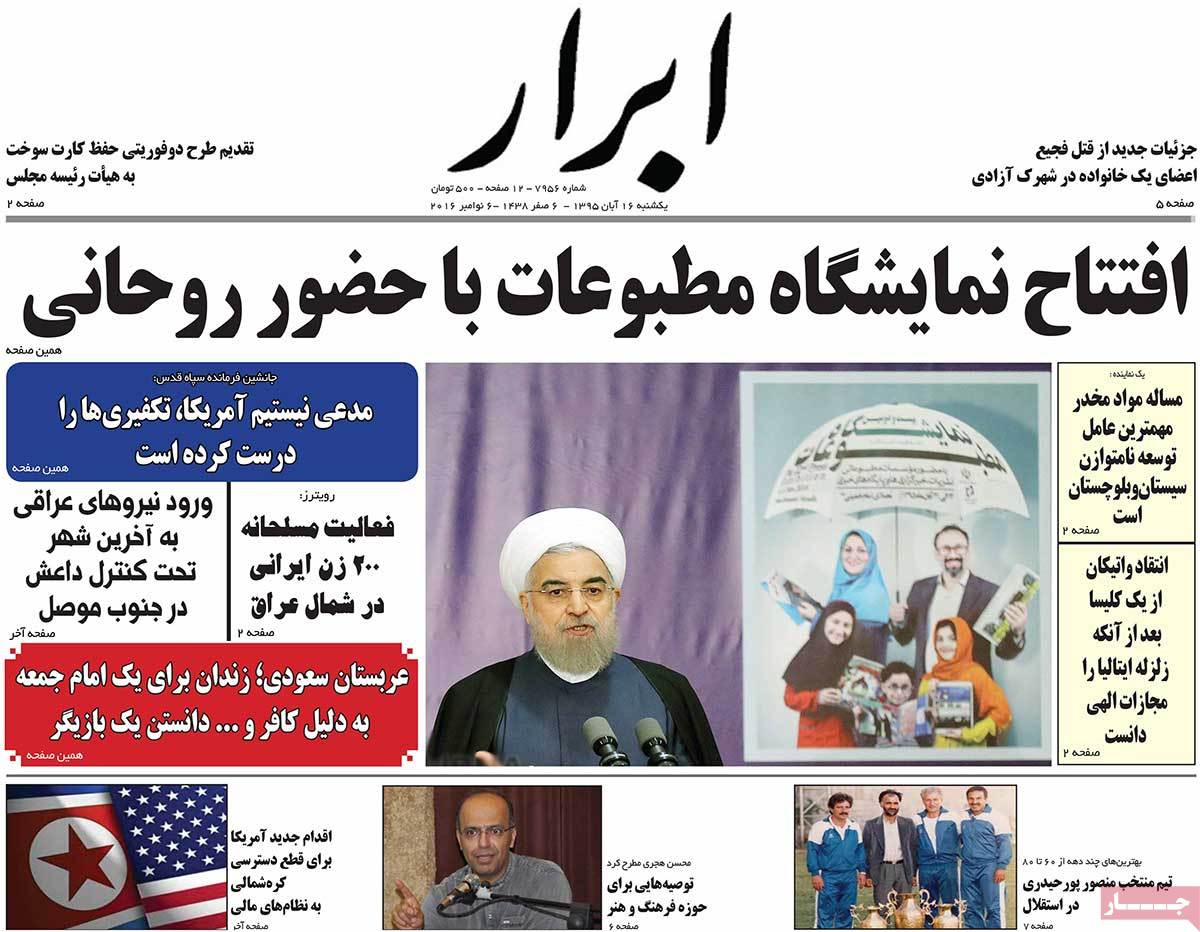 ---
Abrar Eghtesadi:
El gobierno gasta 190 mil millones de riales más que sus ingresos en los últimos 6 meses
EEUU importa productos a valor de 62 millones de dólares de Irán
Irán adquiere las acciones de la industria petroquímica en lugar de Venezuela y da por anulado una participación conjunta en el proyecto
Irán y Polonia firman un acuerdo petrolero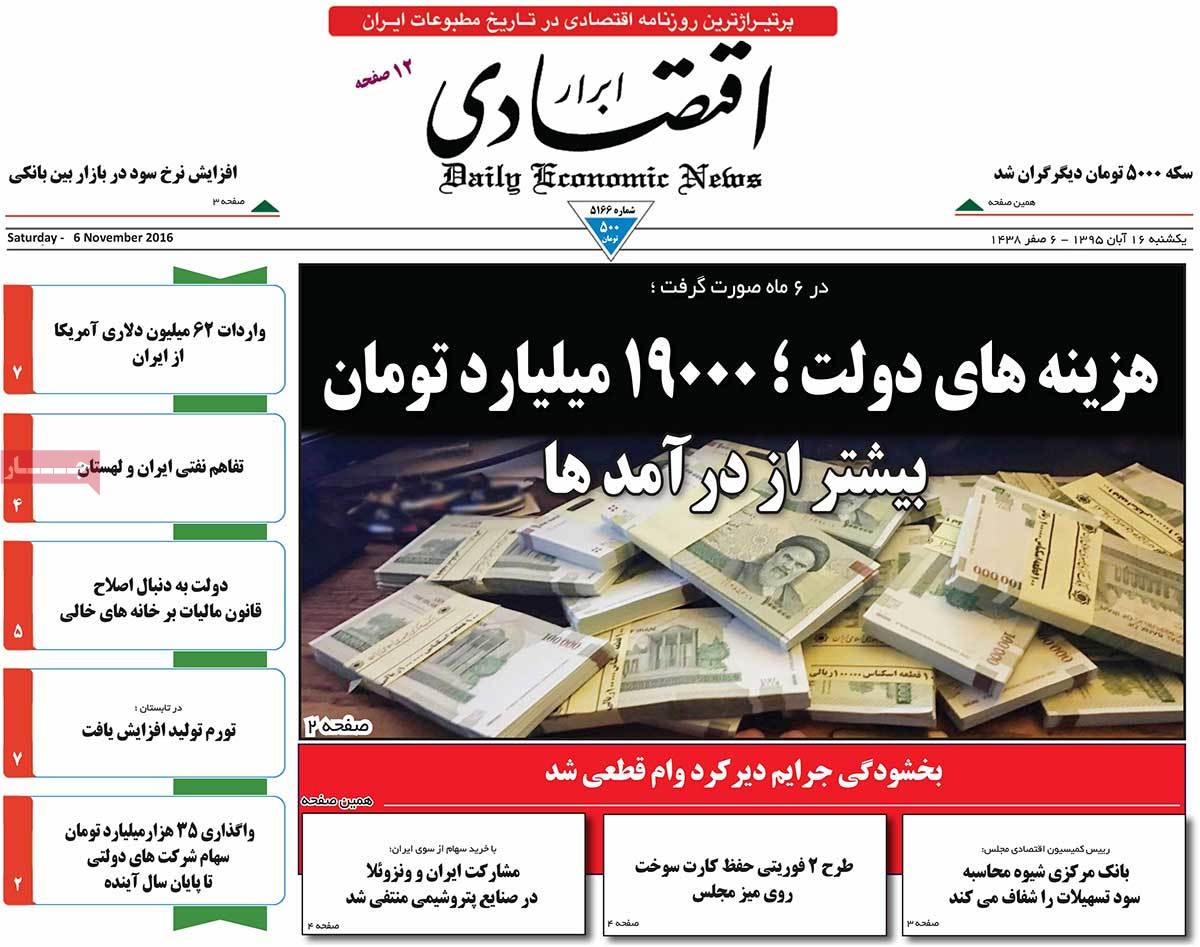 ---
Aftab_e_Yazd:
Zahra Ahmadipur, Nuevo miembro femenino del gabinete de Rohani y la jefa de la Organización del Patrimonio Cultural
El fiscal general de Teherán anuncia sobre la sentencia de un cantante ilegal: condenado a 10 años de cárcel
---
Afkar:
Rohani: "El poder de la cultura es más supera el de las armas y la diplomacia."
Los artistas del país instan al Presidente a prestar una atención especial a la contaminación del aire
Irán firma su primer documento de cooperación con ITER (International Thermonuclear Experimental Reactor, en español Reactor Termonuclear Experimental Internacional)
---
Arman_e_Emruz:
El Presidente Rohani, en el acto inaugural de la Exposición de Prensa: "Renta informativa es un gran desastre para el país."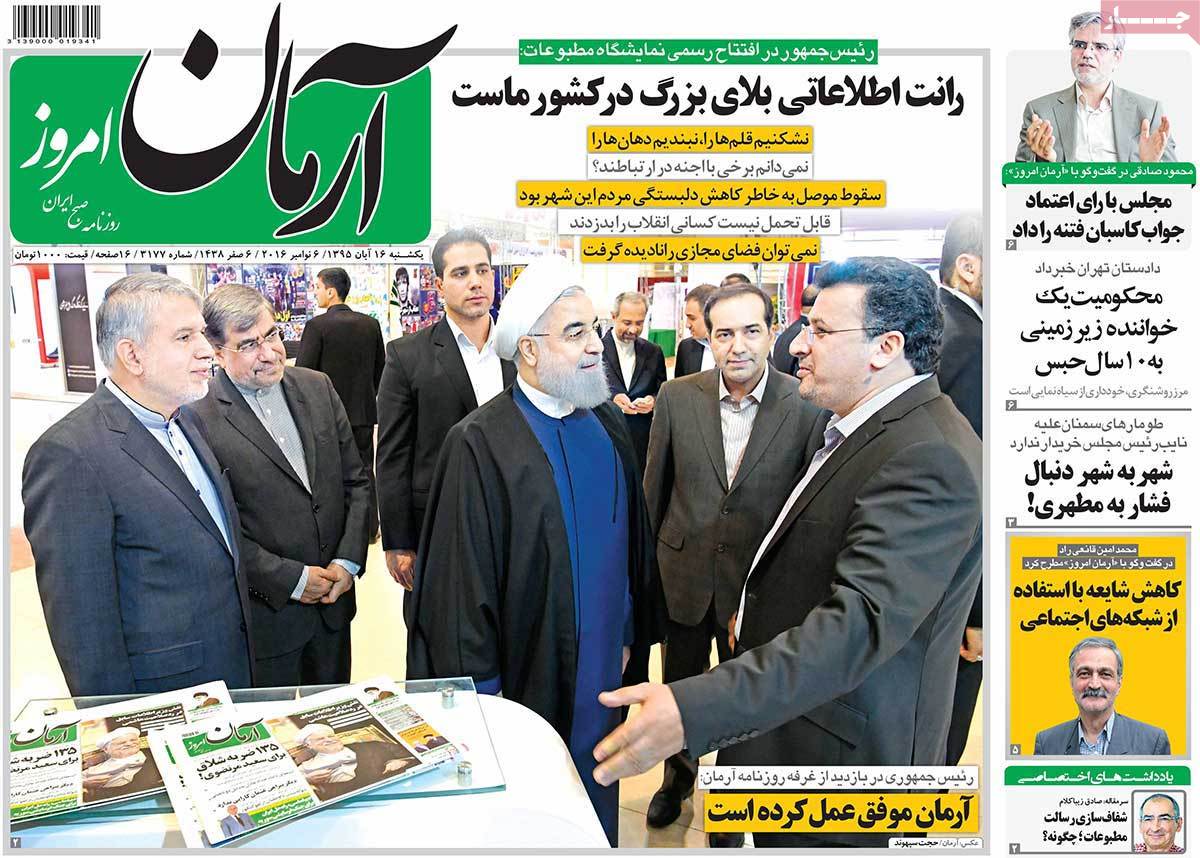 ---
Asrar:
Rohani, en la Exposición de Prensa: "El extremismo en el país no debe ser seguido."
Un alto comandante militar: "Abatimos a Daesh a 40 km de Irán."
Posible reunión entre Zarif y Saad al-Hariri en EL Líbano
El Líder de Corea del Norte: "Reducimos a cenizas a EEUU."
---
Asre Rasane:
Se duplican las exportaciones petroquímicas de Irán a Europa
Gasóleo distribuido en el país adquirirá el estándar euro 4
El ministro de Carreteras informa sobre la pronta conclusión de las negociaciones sobre la entrega de aviones a Irán.
---
Amin:
Rohani, en la 22a edición de la Exposición de Prensa: "La seguridad del país está en deuda con la seguridad de los que realizan actividades culturales y periodísticas."
El director de la Organización de Energía Nuclear de Irán: "Irán se adherirá oficialmente a ITER, hasta el fin de 2016."
Detienen de noche a 11 parlamentarios turcos.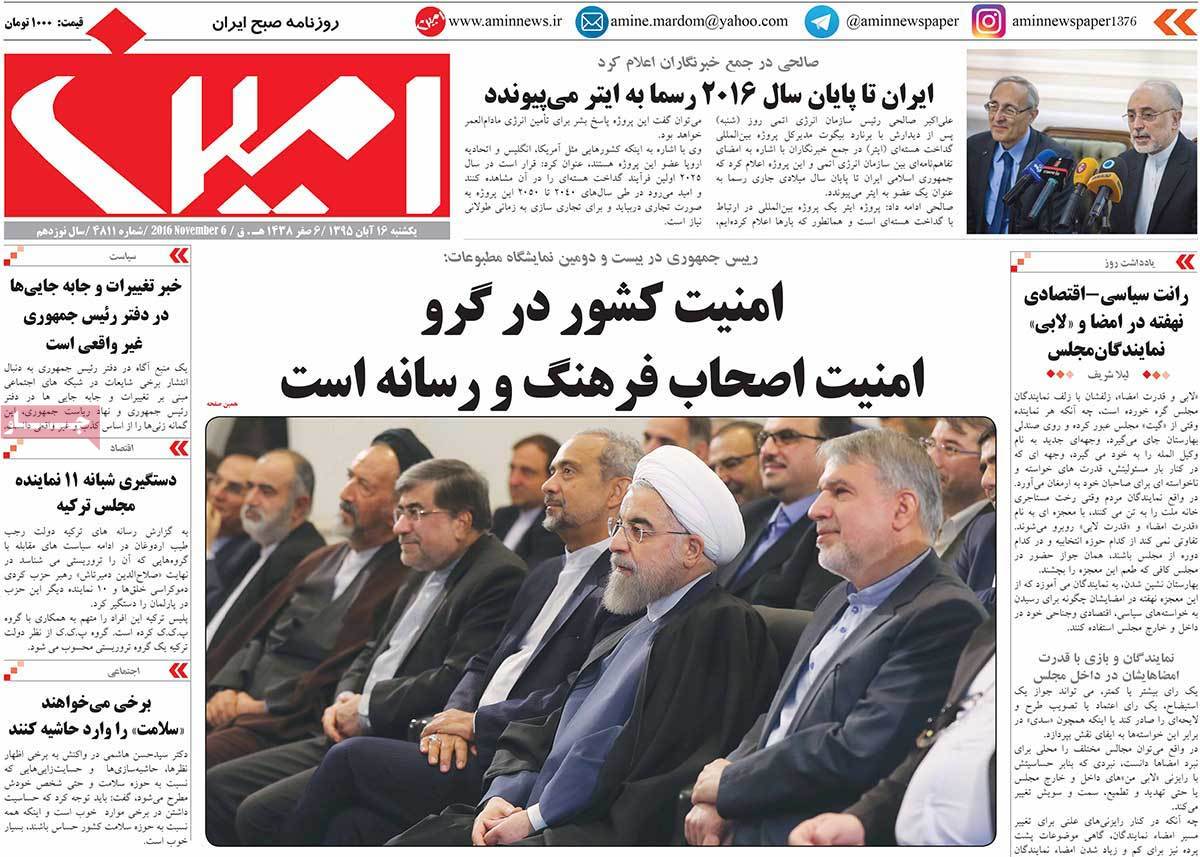 ---
Etemad:
¿Clinton o Trump?, ¿Cuál beneficiará más a Irán?; Etemad ha realizado una encuesta a los expertos políticos.
El ex diplomático iraní: "Los opositores del PIAC no deben atribuir peores cargos contra el Estado."
---
Etelaat:
Rohani, en la Exposición de Prensa: "Los medios de comunicación pueden impulsar la esperanza y la satisfacción popular en la sociedad."
El ministro de Inteligencia urge a mantener el vínculo entre el pueblo y el sector de inteligencia.
La asesora del Presidente Rohani para los Asuntos Femeninos: "El matrimonio precoz y la pobreza impiden la educación de las jóvenes."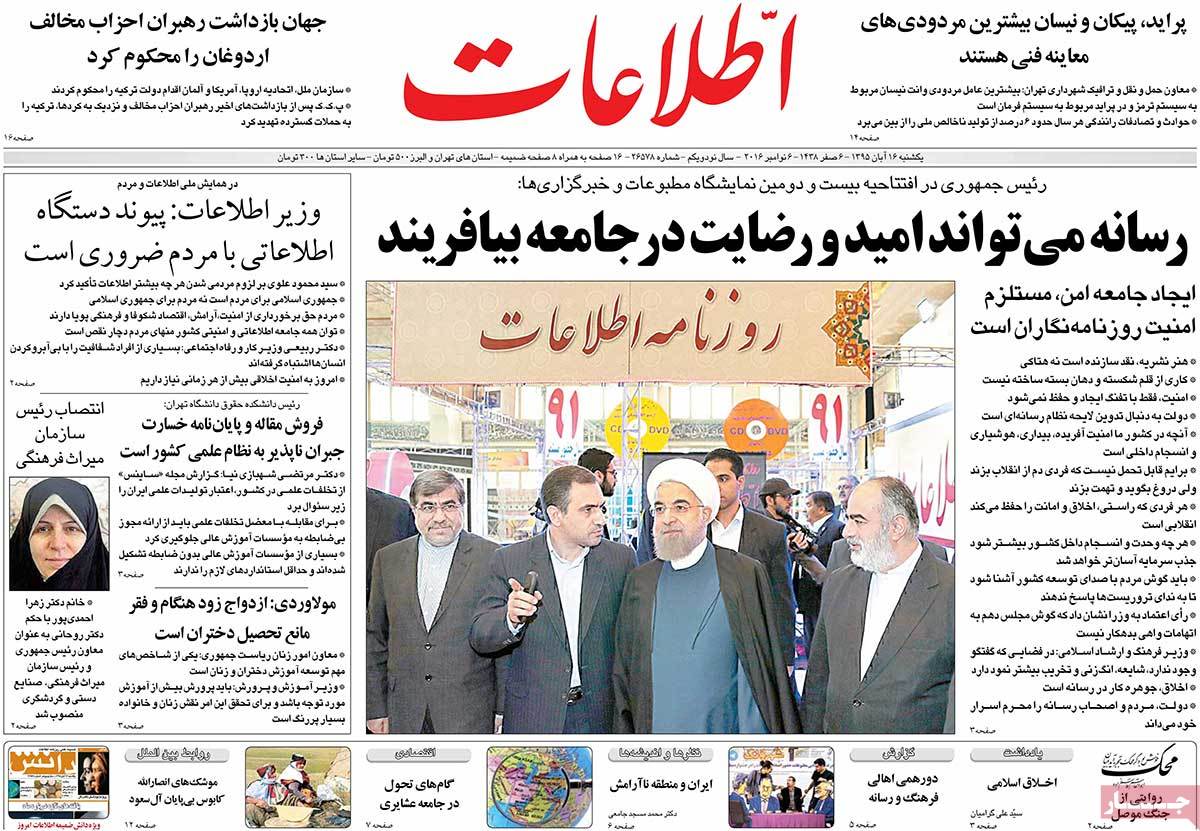 ---
Hemaiat:
Bandera de Irak se eleven por encima de apartamentos estatales del sur de Mosul; Cae la última base de Daesh en el sur de Mosul
El Presidente del Poder Judicial calificó de "constructivas" las conversaciones judiciales entre Irán e Irak.
Un comandante de alto rango: "Este año se determina el destino de Siria."
---
Irán:
El ministro de Inteligencia: "El poderío de Irán emana del pueblo."
El Primer Vicepresidente de Irán, en un encuentro con el ministro turco de Economía: "No admitimos de nadie calumnias contra la integridad territorial de Irán."
---
Yavan:
Abuso de los médicos de la clandestinidad del cáncer; 90 por ciento de los canceres son evitables o curables.
"Mohamad (P), el Profeta", la tercera película más vendida de Turquía
Rohani pide a la población a ofrecer sus críticas y opiniones al gobierno para hallar el camino correcto
Retroceso de EIIL del califato; Al Bagdadi propone formar una red para seguir con las actividades del grupo terrorista
---
Yomhuri Eslami:
EL primer vicepresidente de Irán critica rotundamente la colaboración de Turquía con el Consejo de Cooperación para los Estados Árabes del Golfo
Se reavivan las relaciones bancarias Irán-Europa
Nuevo escándalo de Clinton: Arabia Saudita y Catar regalaron 30 millones de dólares a la candidata demócrata a la presidencia de EEUU
---
Keihan:
Keihan reporta sobre las deudas monetarias de algunas empresas, supuestamente fundadas por algunos gerentes bancarios.
Carta abierta de 8500 profesores universitarios a los presidentes de tres Poderes: "¿Porqué se canceló la industria nuclear y no se eliminaron las sanciones?"
---
Jorasán:
Inicia segunda fase del "Proyecto de Evaluación Sanitaria": Prestan servicios sanitarios gratuitos a los ciudadanos de 6 grandes ciudades.
Mono Adivino elige a Trump como ganador de elecciones presidenciales de EEUU
---
Paiam_e_Zaman:
Un alto comandante militar: "La pluma, es nuestra arma más poderosa."
Rohani: "A algunas personas no les conviene el levantamiento de sanciones."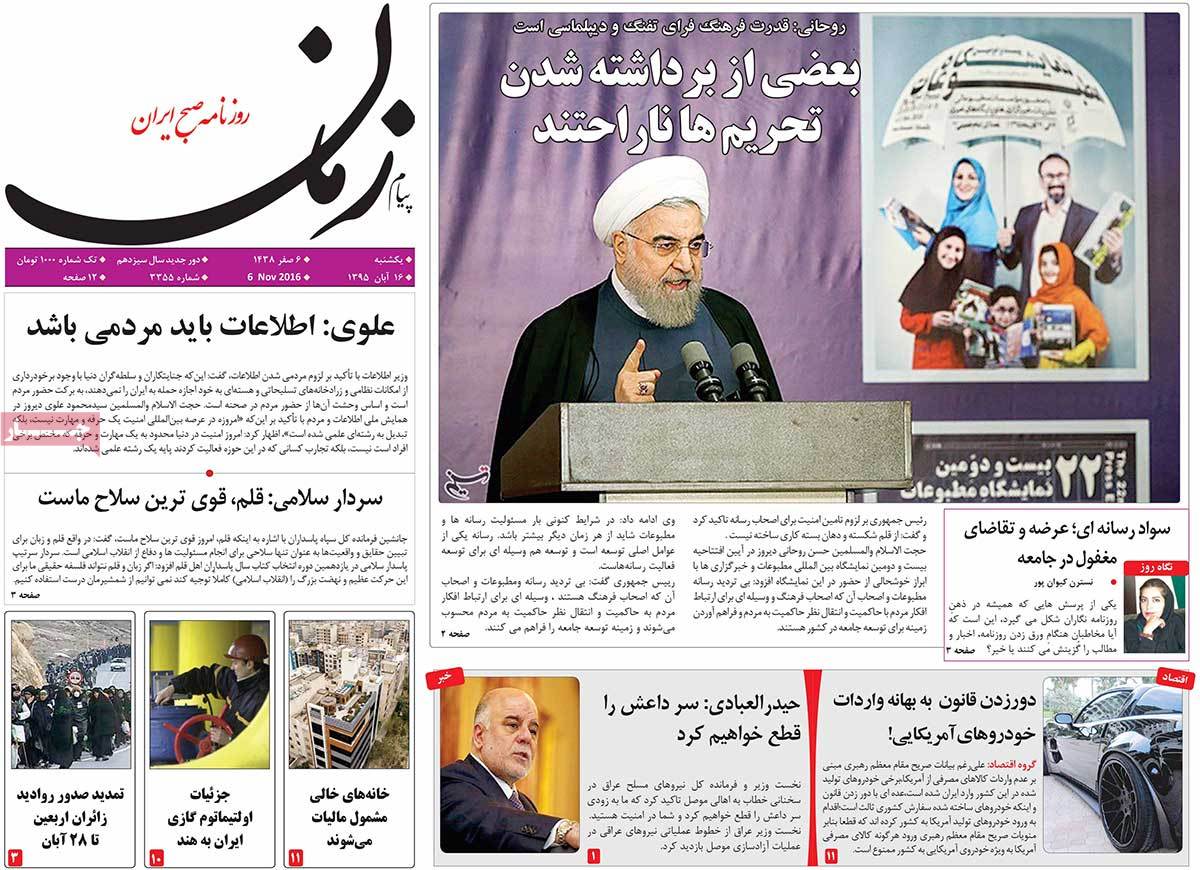 ---
Resalat:
El Presidente en la Exposición de Prensa: "Se levantaron cien sanciones y se quedan unas."
Newyork Times analiza la recién publicada encuesta de CBS: "80 por ciento de los votantes estadounidenses consideran a los dos candidatos como fraudulentos."; "la mayoría odian al gobiernos y a las políticas de Casa Blanca."; "40% de los seguidores de Trump afirmaron que no reconocerán el fracaso de su candidato."
---
Ruzan:
El opio, uno de los principales factores de cáncer en Irán; Algunas personas fuman más opio que cigarrillo.
Sedighe Dariai, alcanza la medalla de oro en el Campeonato Mundial de Wushu Femenino.
---
Saheb Ghalam:
Rohani: "La seguridad no se preserva mediante los misiles y tanques."
Detalles sobre el ultimátum gasífero de Irán a La India.
El Primer Vicepresidente inaugura un estadio en la ciudad de Isfahan, tras 22 años de construcción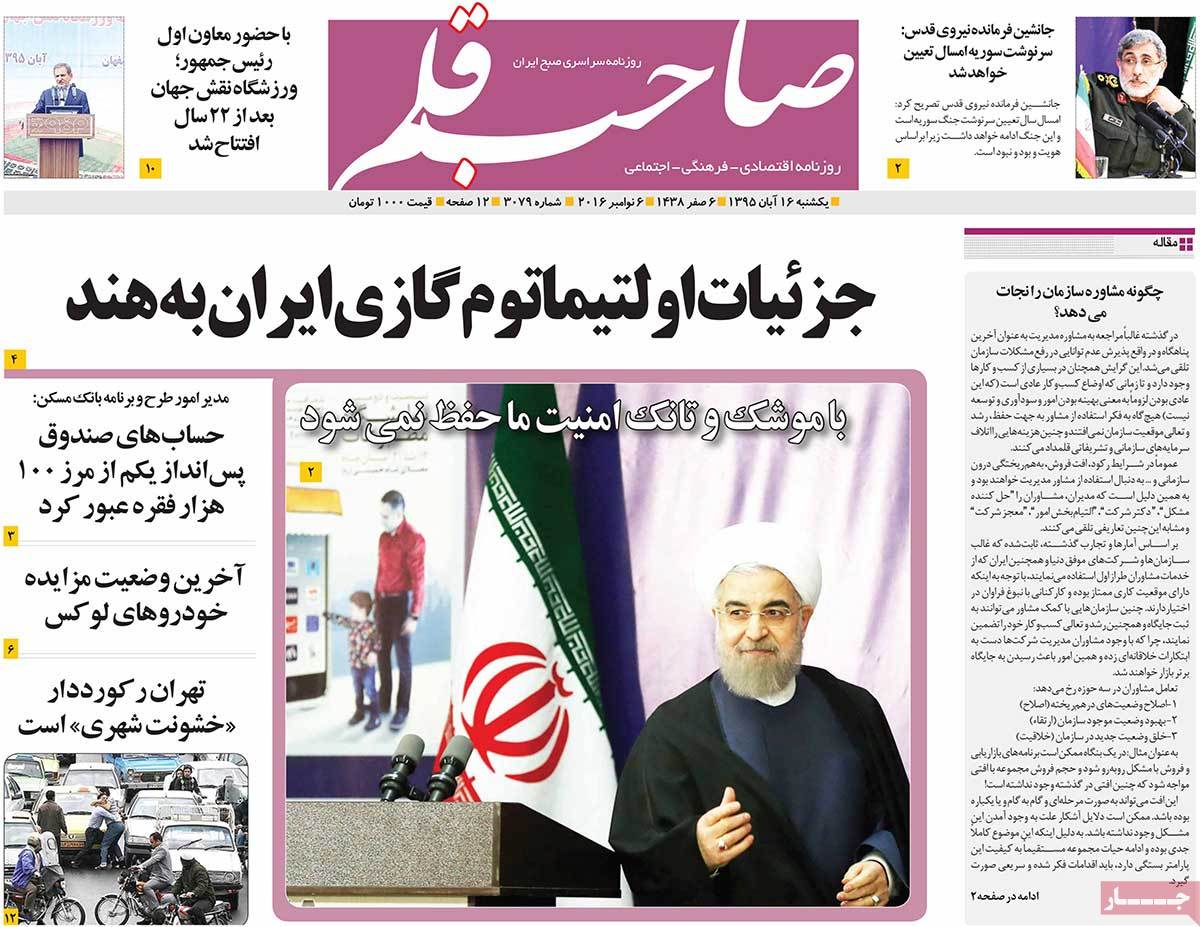 ---
Shargh:
Venta en bruto, principal desafío de la economía de Irán
Aumentan las críticas contra el proceso de investigar el caso de taladro de perforación perdido
---
Vatan_e_Emruz:
King Kong; confusion y asombro de las prensas debido a la campaña mediática de Trump; un cineasta iraní, en una entrevista con Vatan Emruz: "Los seguidores de Trump son más importante de él."