IFP has taken a look at the front pages of Iranian newspapers on Saturday and picked headlines from 19 of them. IFP has simply translated the headlines and does not vouch for their accuracy.[:es]IFP ha echado una mirada a las portadas de periódicos iraníes, publicados el sábado, 5 de noviembre de 2016, y ha recogido titulares de 20 de ellos. IFP ha traducido simplemente los titulares y no es responsable de su veracidad.
A top story today was the nationwide rallies held on Thursday across the country on the National Day of Fight against Global Arrogance and the 'death to America' slogans chanted in the demonstrations.
The beginning of 22nd edition of Press Exhibition in Tehran also received great coverage today. The exhibition was officially inaugurated on Saturday morning in a ceremony attended by President Hassan Rouhani.
Foreign Minister Mohammad Javad Zarif was also on newspaper front pages with his remarks about the restoration of Iran's strategic power in the region.
The above issues, as well as many more, are highlighted in the following headlines:
Abrar:
1- Hariri Officially Urged to Form New Cabinet
2- Toner: 'Death to America' Slogan Is No Barrier to Tehran-Washington Cooperation
3- Inquiry into Political Espionage in Iran Talks Hotel Halted
4- Government Spokesman: Iran's Development Hindered by a Lack of Long-Term View
---
Abrar-e Eqtesadi:
1- Deputy Oil Minister: European Companies' Offer to Develop Iran's Risky Oilfields
2- Iran's Imports from Turkey Doubled
3- Major European Companies Want to Make Investment in Iran's Insurance Industry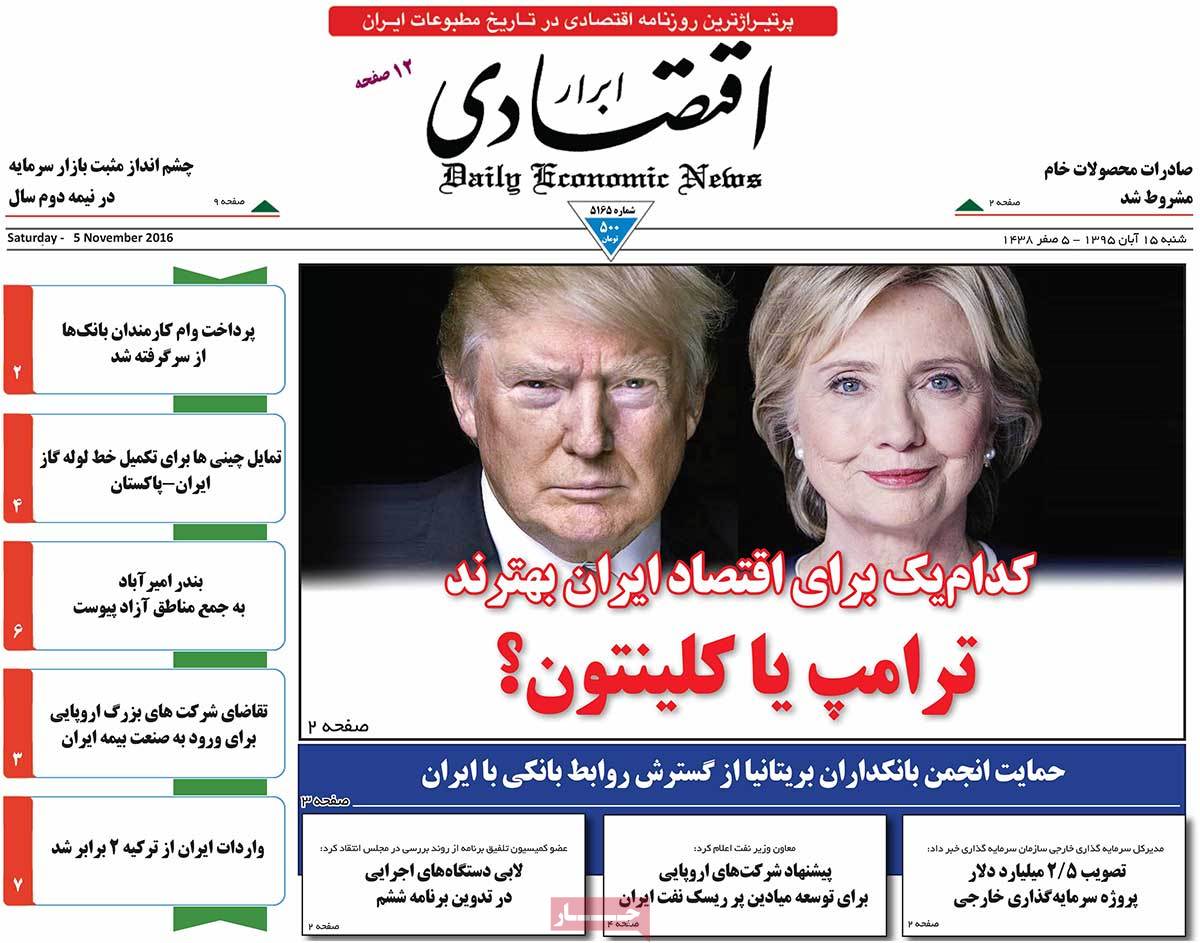 ---
Afkar:
1- Leader: Negotiation with the US Won't Resolve Iran's Problems
2- Deputy Health Minister: Nutrition Problems Is the Root Cause of 50% of Deaths in Iran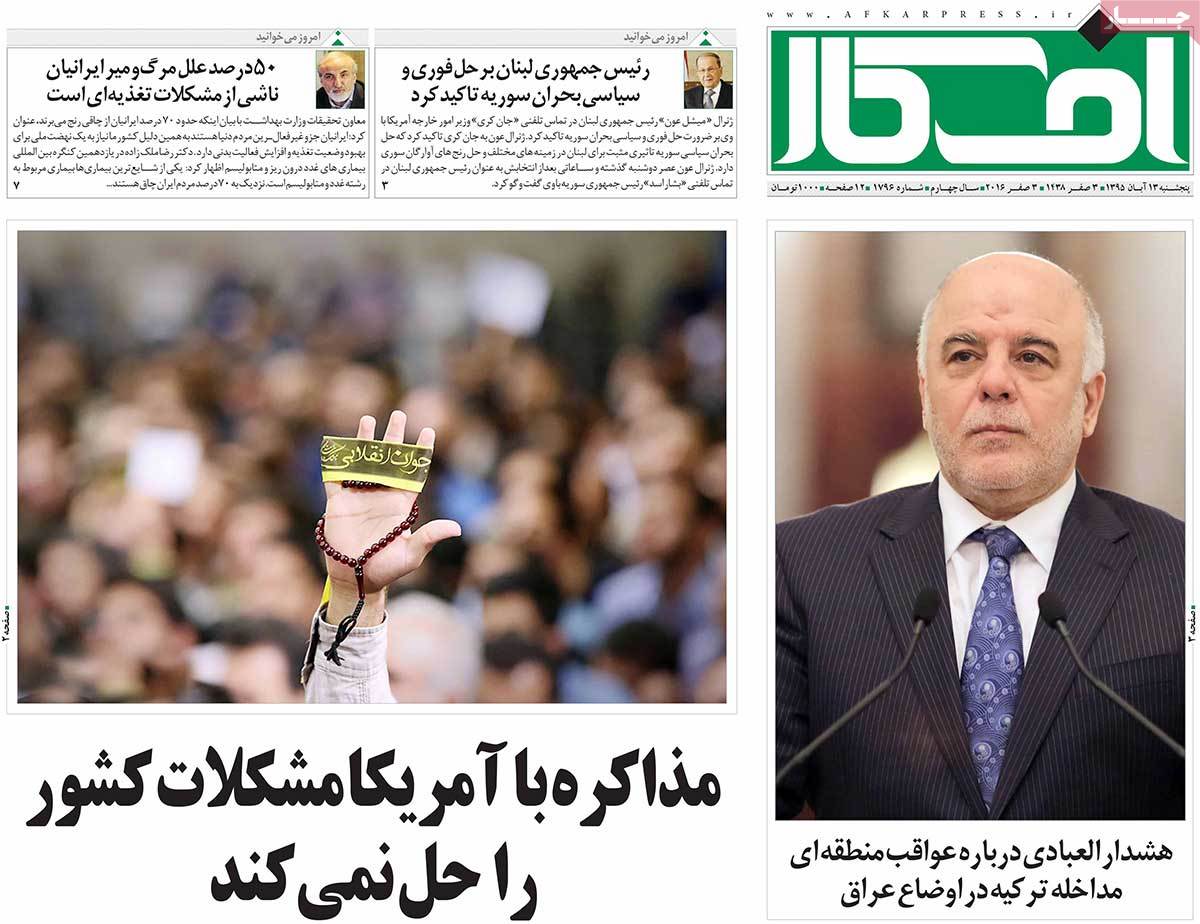 ---
Aftab-e Yazd:
1- Melania Trump Caught Plagiarising Again: This Time from One of Donald Trump's Ex-Wives
2- Public Pharmacies Making Huge Profits; Private Ones Going Bankrupt
---
Arman-e Emrooz:
1- Education Ministru: 136,000 Students Exposed to Drug Addiction
---
Asrar:
1- Zarif: We Should Keep Our Defence Capabilities at Highest Level
2- Britain Seeks to Create a Channel in Baking Ties with Iran
3- Environment Department Chief: Air Pollution Conditions Improving
4- Culture Minister: We Can't Ignore the Concept and Value of Music
---
Amin:
1- 22nd Press Exhibition Kicks Off in Tehran
2- Iran Ranks Second in World's Unhappiest Countries
3- Government Spokesman: We Never Rely on Americans' Promises
4- Culture Minister: We Shouldn't Talk to Culture Professionals Imperiously
---
Ebtekar:
1- IRGC Lieutenant Commander: If Americans Fail to Fulfil Their Commitments, We'll Send JCPOA to Museum
2- Stroke Is Second Cause of Death among Iranians
---
Emtiaz:
1- End of the Father: Mansour Pourheydari, Former Coach of Team Melli and Esteghlal FC, Dies
2- FIFA Extends Condolences over Death of 'Father of Esteghlal'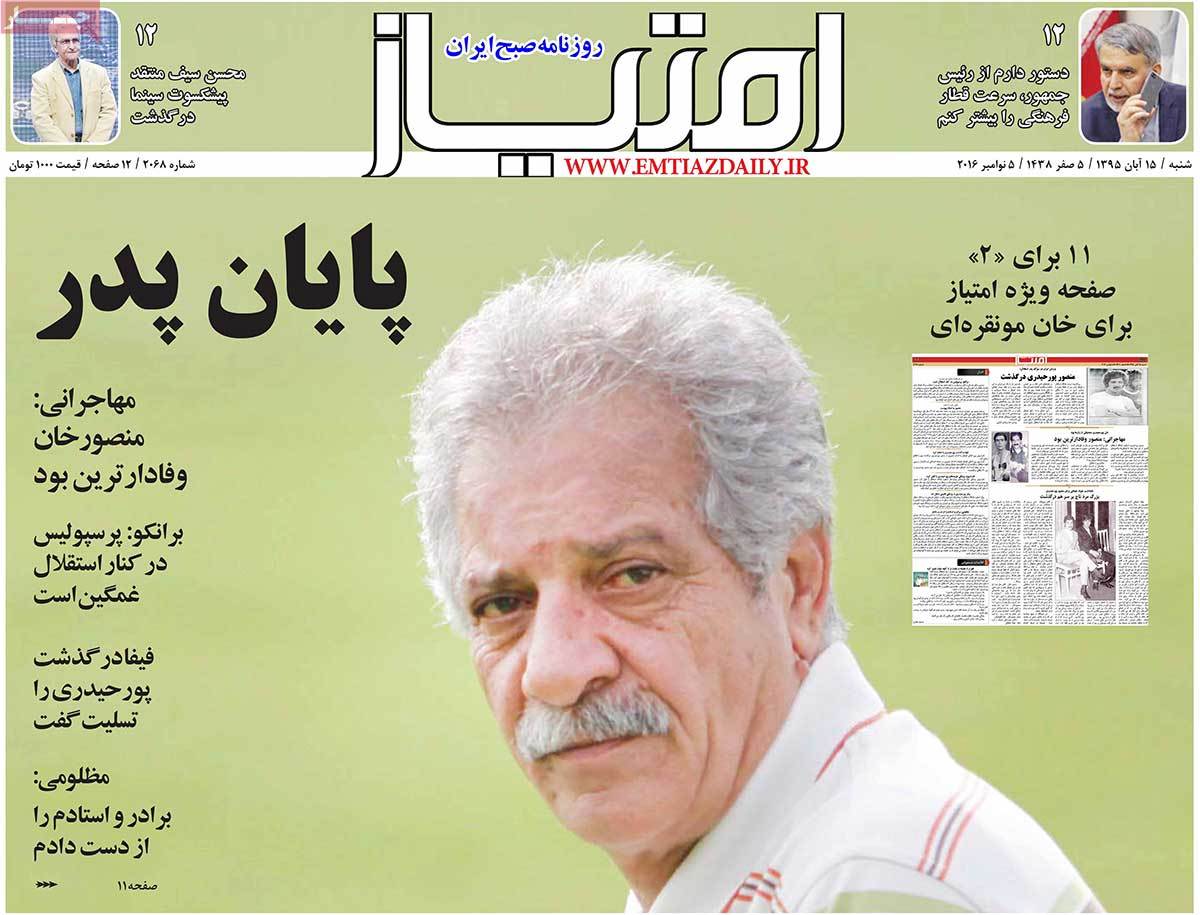 ---
Ettela'at:
1- Rouhani: Iran Is Moving towards Economic Prosperity
2- Nationwide Demonstrations against Global Arrogance Held across Iran
3- Iran to Join Petrol Exporting Countries
4- Zarif: Iran's Power Is Based on Not Believing US Strength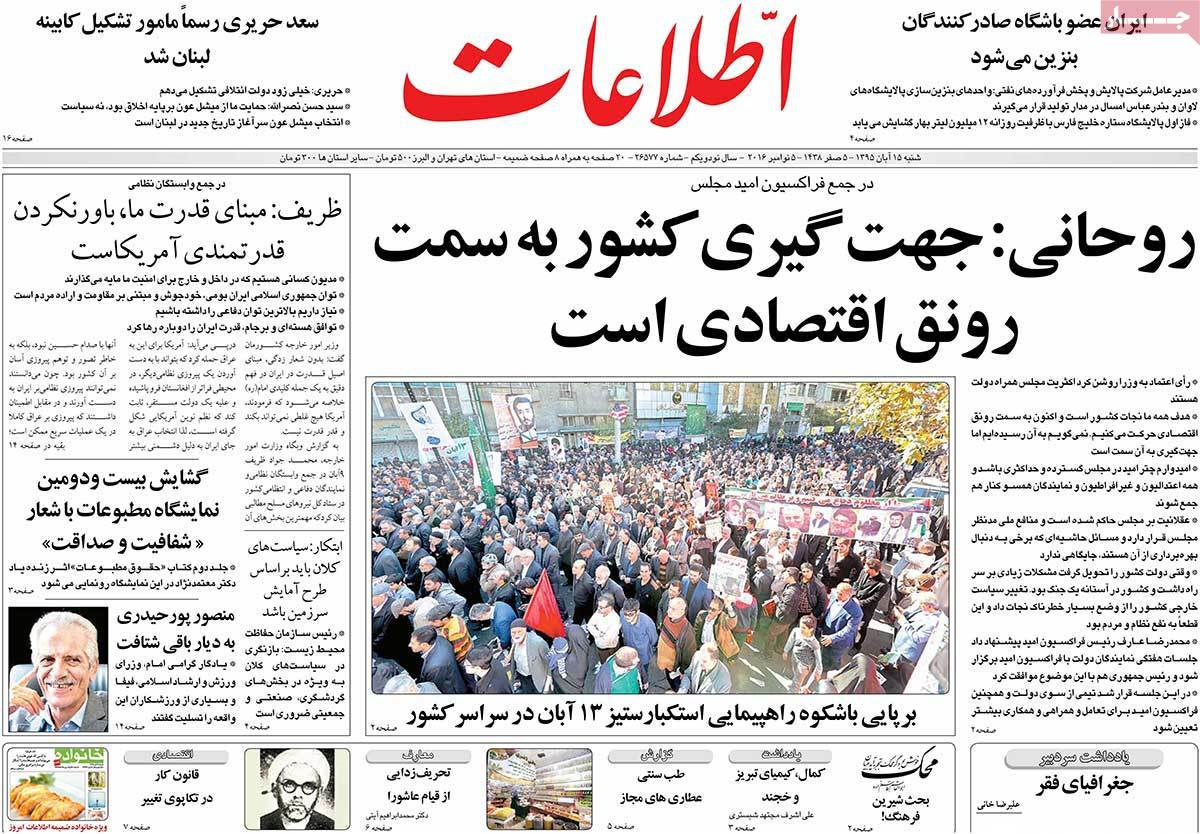 ---
Hemayat:
1- Judiciary Chief: US Has a Role Wherever There's a Fire in Muslim World
2- Iranian Nation Voices Its Hatred towards the Promise-Breaking US
3- Obama Extends National Emergency on Iran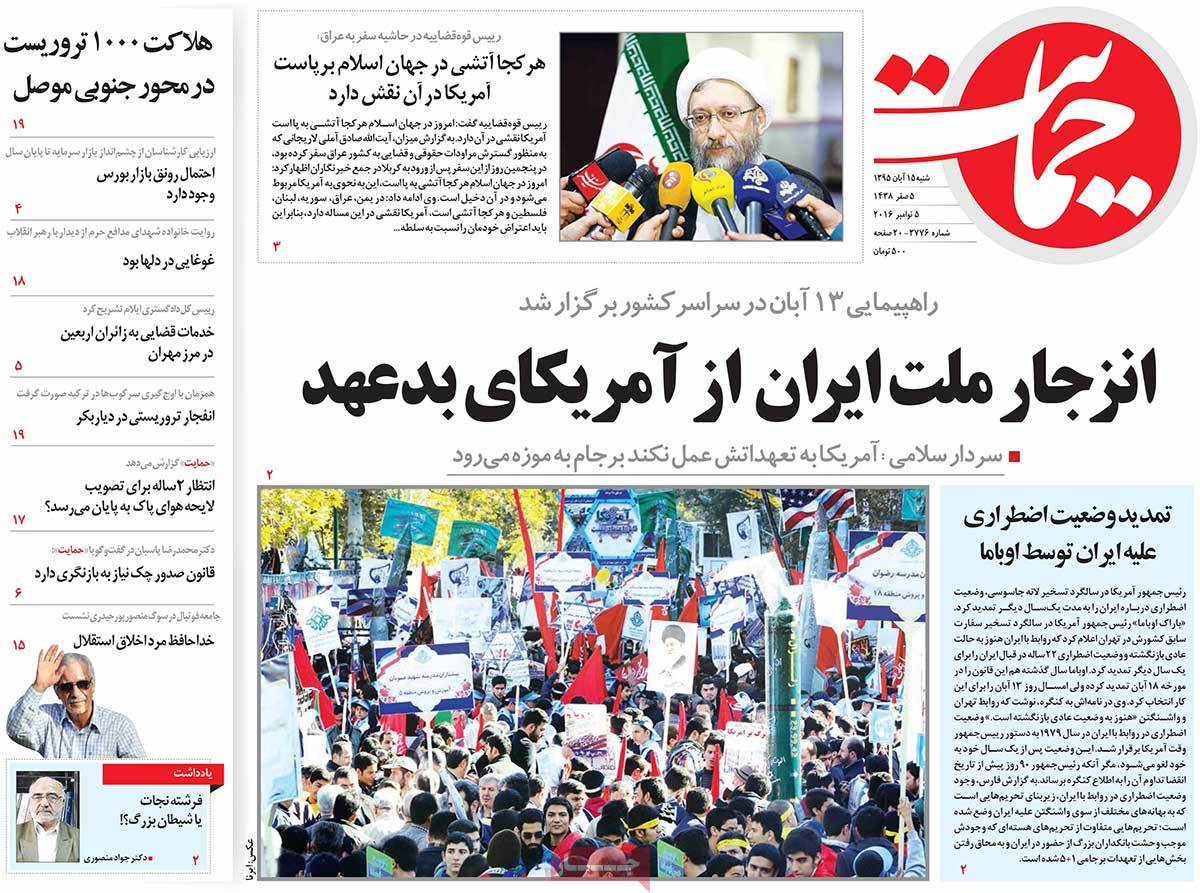 ---
Iran:
1- People Come to Visit Press Exhibition before Official Inauguration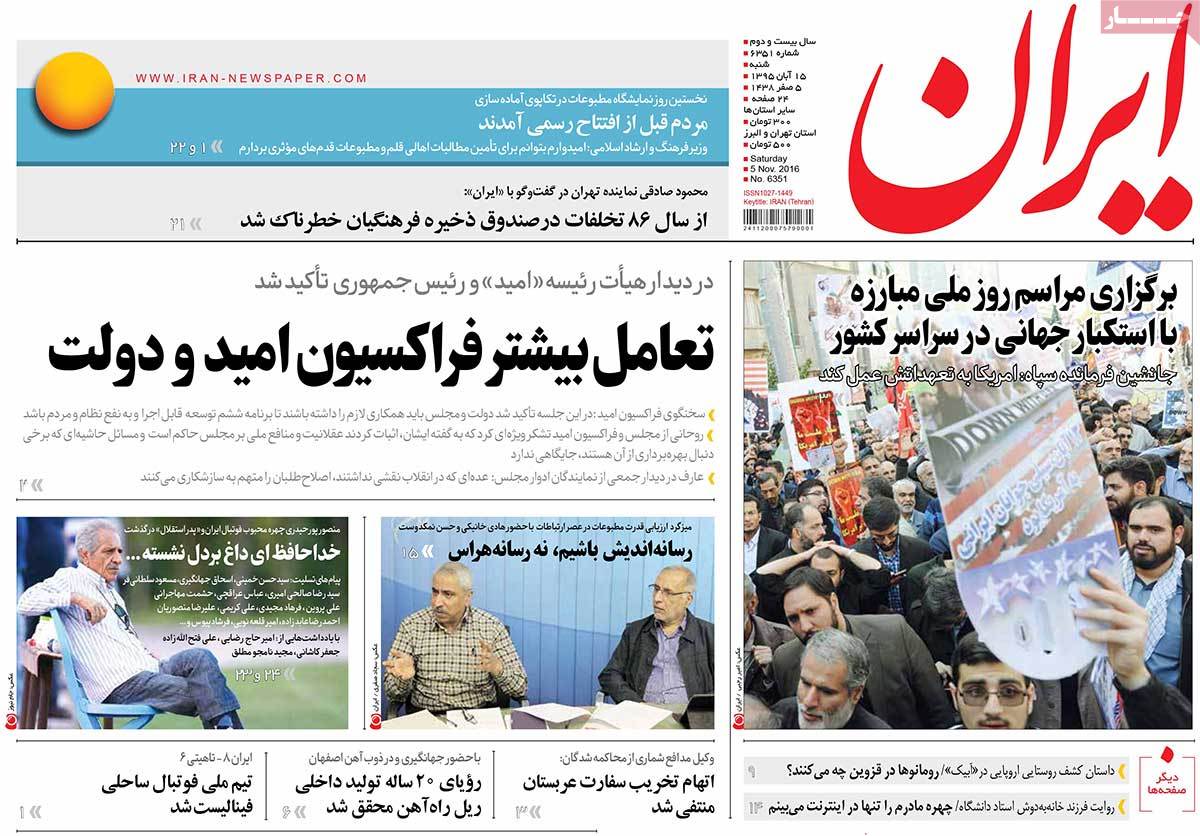 ---
Javan:
1- 'Death to America' Slogan Turns 37 Years Old
2- Friday Prayer Leader: Some Government Officials Are Inclined towards US, and This Should Be Resolved
---
Jomhouri Eslami:
1- Biggest Line of Railway Making in Middle East Opened in Iran's Isfahan
2- Tunisian Minister of Religious Affairs: Saudi Arabia Is Root Cause of Terrorism and Extremism
3- Mogherini: It Is European Citizens' Right to Boycott Israel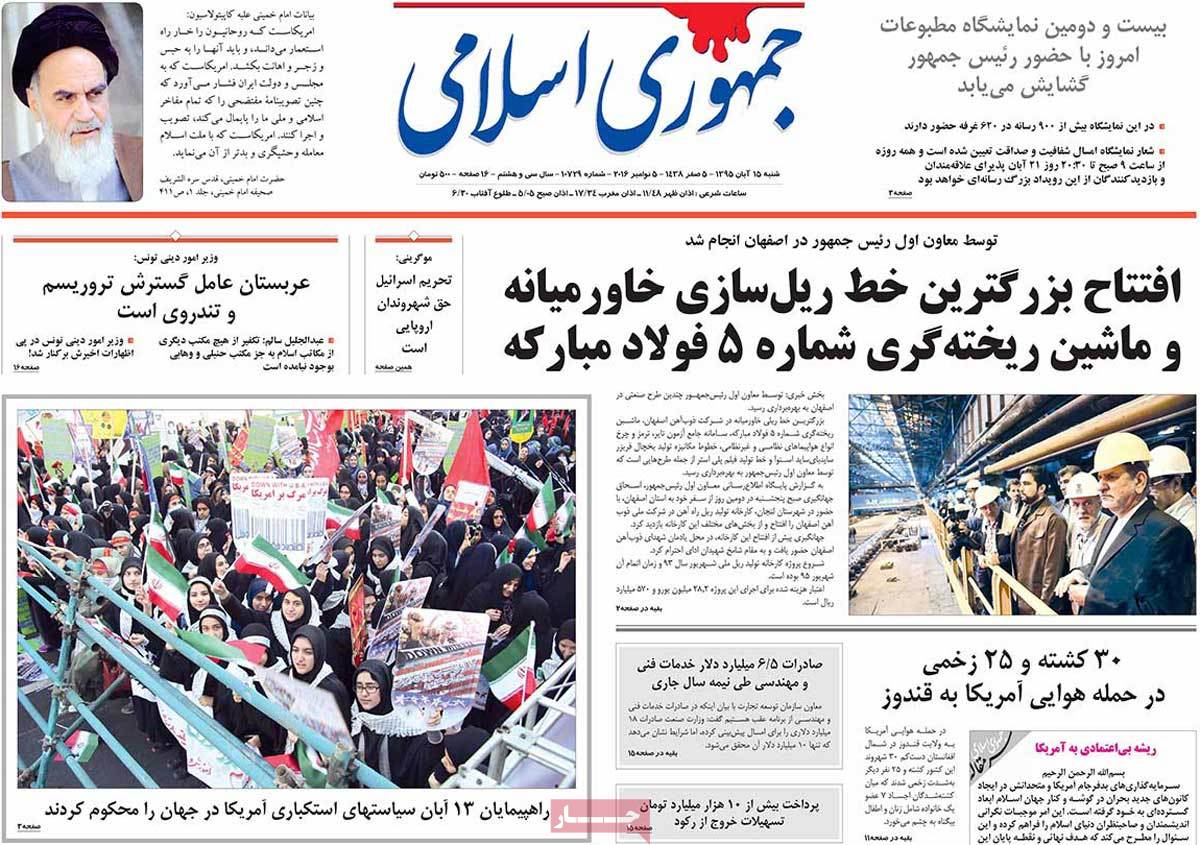 ---
Kayhan:
1- On National Day of Fight against Arrogance: People Shouted at the US
2- Two Preconditions Set by Iraqi Popular Forces for Helping Syrian People: Syrian President Assad Calls for It, Iraqi PM Abadi Allows Us to Go
---
Khorasan:
1- Iran's Strategic Power in Zarif's Words: I Don't Claim Nuclear Negotiations Created Power for Iran; Iran's Power Existed Long before the Talks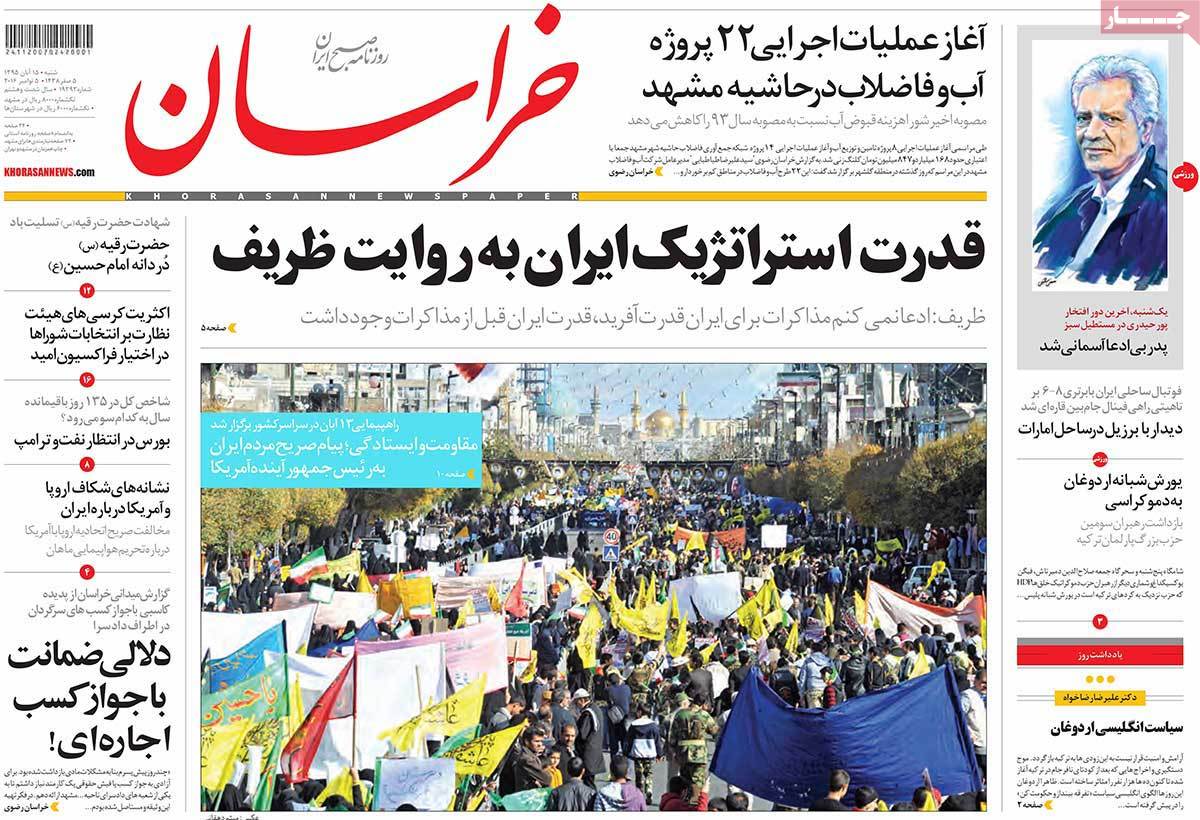 ---
Resalat:
1- Senior Cleric: We Should Beware of USA's Return to Iran
2- US Is Still Number One Enemy of Human Kind: Final Resolution Declared after Nationwide Anti-Arrogance Demonstrations
3- City Council Chief: Some Cars in Tehran Don't Even Have Euro II Standard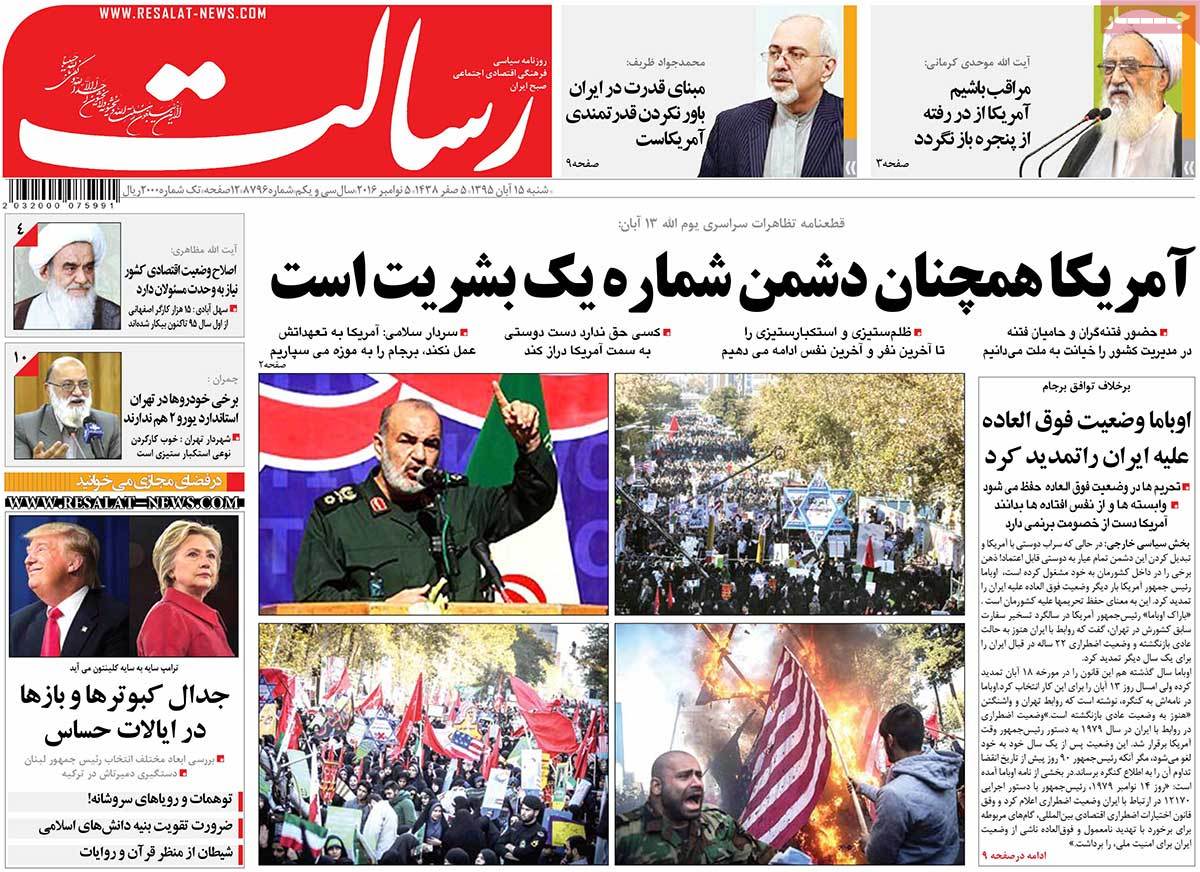 ---
Shargh:
1- Zarif: JCPOA Is the Result of a Political Give-and-Take
2- Assad in Interview with Iranian Journal: We Need Strategic Relations with Iran
---
Vaghaye Ettefaghieh:
1- Zarif in an Address to Military Attachés and Defence Envoys: JCPOA Brought Back Iran's Strategic Power
2- Egyptian Strategist Highlights Iran's Exceptional Success: Region's Map Will Be Changed by 2020
[:es]
La prensa de hoy ha prestado una especial atención a la gran manifestación a nivel nacional, con motivo del Día Nacional de Lucha Anti Arrogancia que marca el aniversario de la toma de embajada de EEUU en Irán, conocido anteriormente como "Nido de Espionaje".
Otras cuestiones, como las declaraciones del ministro de Asuntos Exteriores de Irán, Mohammad Yavad Zarif, durante una reunión con los funcionarios iraníes del sector de seguridad, los comentarios del flamante ministro de Cultura sobre diferentes aspectos culturales, el fallecimiento del ex entrenador de la selección nacional del futbol de Irán, Mansur Purheidari,  recibieron una buena cobertura por los periódicos de hoy.
Los temas antes mencionados, así como varias otras cuestiones se destacan en los siguientes títulos:
Abrar:
Saad Hariri, responsable oficial de formar gabinete en El Líbano
El portavoz del Secretario de Estado de EEUU: "El lema de Muerte a EEUU no impide la colaboración entre Washington y Teherán."
Cesan las inspecciones por actos de espionaje en el hotel anfitrión de diálogos nucleares.
El portavoz del gobierno: "Carencia de una visión alta y coherente complica el proceso de desarrollo de Irán."
---
Abrar Eghtesadi:
El viceministro de Petróleo anuncia sobre la propuesta de empresas extranjeras para contribuir a la expansión de yacimientos petrolíferos de alto riesgo en Irán
Se duplican las importaciones de Turquía
Las empresas europeas exigen cooperar en la industria de Seguro de Irán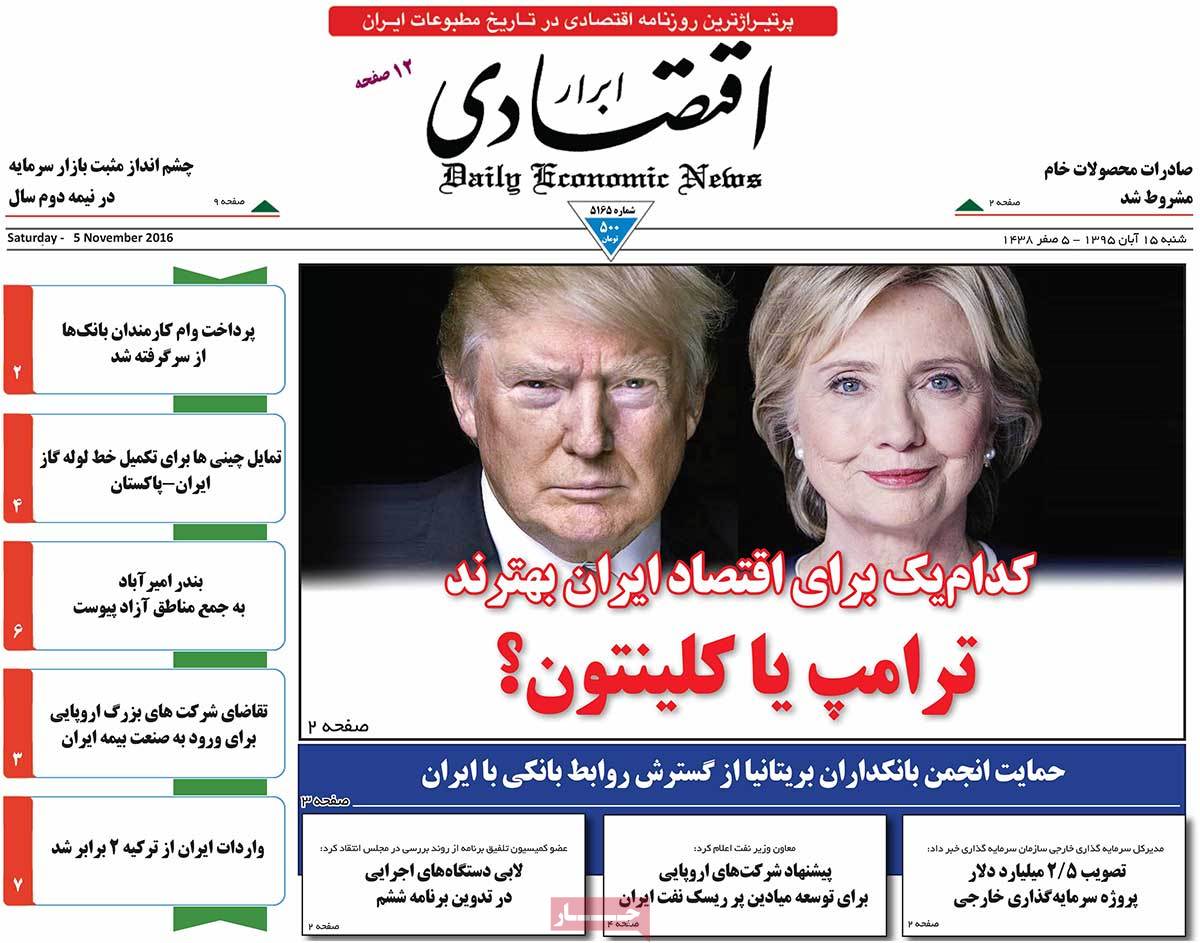 ---
Aftab Yazd:
Melania Trump esta vez plagia el discurso de la ex cónyuge de su esposo
Impresionante beneficio de farmacias estatales, frente a bancarrota de las privadas; Aftab Yazd estudia la pasividad de las empresas de Seguro
---
Arman_e_Emruz:
Ministerio de Educación informa: "136 mil estudiantes iraníes están expuestos a la adicción."
---
Asrar:
Zarif: "Debemos mantener a un alto nivel nuestra capacidad defensiva."
Gran Bretaña busca nuevo canal de relaciones bancarias con Irán
La jefa de la Organización del Medio Ambiente: "La contaminación del aire se está suavizando."
Nuevo ministro de Cultura: "No es posible negar la importancia de la música."
---
Amin:
Inaugurada la 22a Exposición Internacional de la Prensa iraní en Teherán, la capital.
Irán, segundo país triste del mundo
El portavoz del gobierno: "Nunca nos hemos apoyado en las promesas de EEUU."
El ministro de Cultura: "No se debe comportar de manera imperiosa con las personas que realizan actividades culturales."
---
Ebtekar:
El Comandante adjunto de CGRI: "Si los estadounidenses no cumplen con sus compromisos, llevaremos al Acuerdo Nuclear al museo."
Cada 5 minutos, un infarto cerebral; Ataque cerebrovascular, segunda causa principal de muerte de los iraníes
---
Etelaat:
Rohani: "EL país se orienta hacia el crecimiento económico."
Se celebra la gran manifestación anti Arrogancia (con motivo del aniversario de toma de la embajada de EEUU en Irán, (13 de Abán) 4 de noviembre) en todo el país.
Irán se convertirá en un miembro del Club de Exportadores de Gasolina.
Zarif: "La base de nuestro poderío es el desmentido de la potencia de EEUU."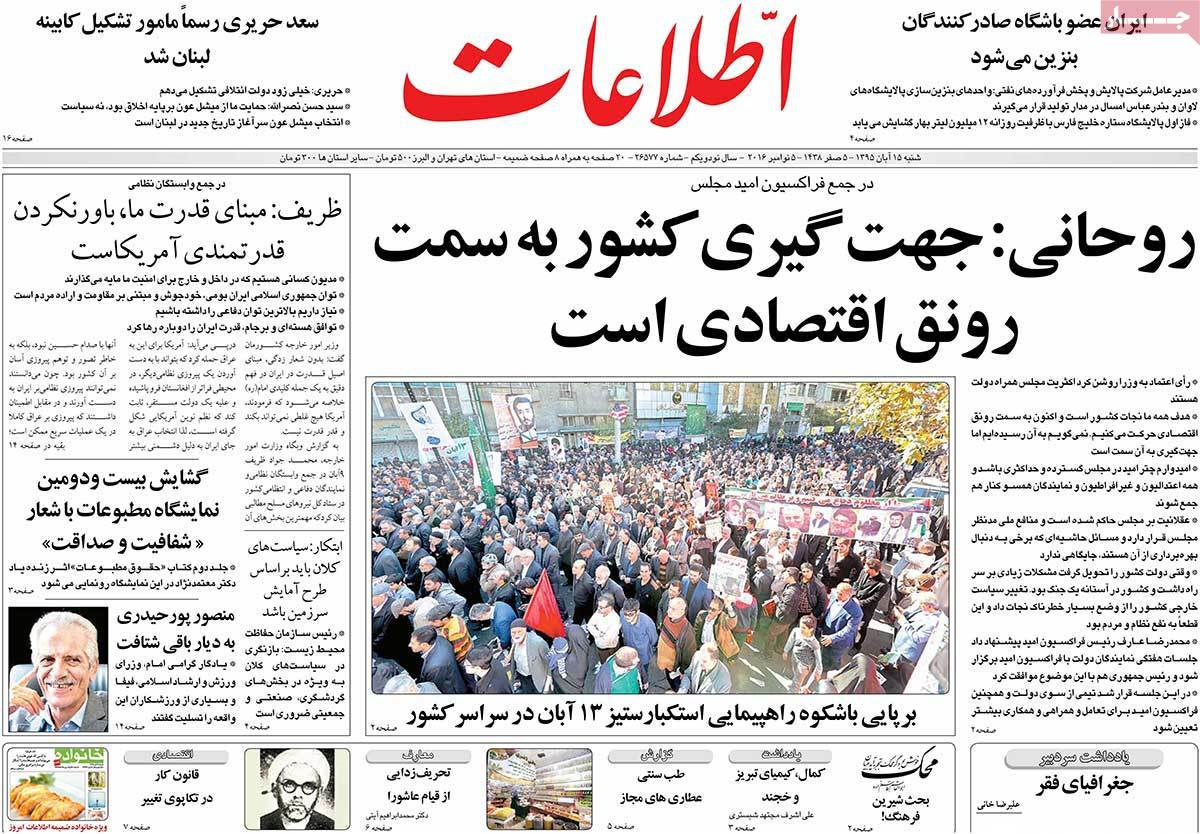 ---
Emtiaz:
El Final del Padre; Muere el ex entrenador de la Selección Nacional de Futbol Iraní, Mansur Purheidari; FIFA expresa sus condolencias a Irán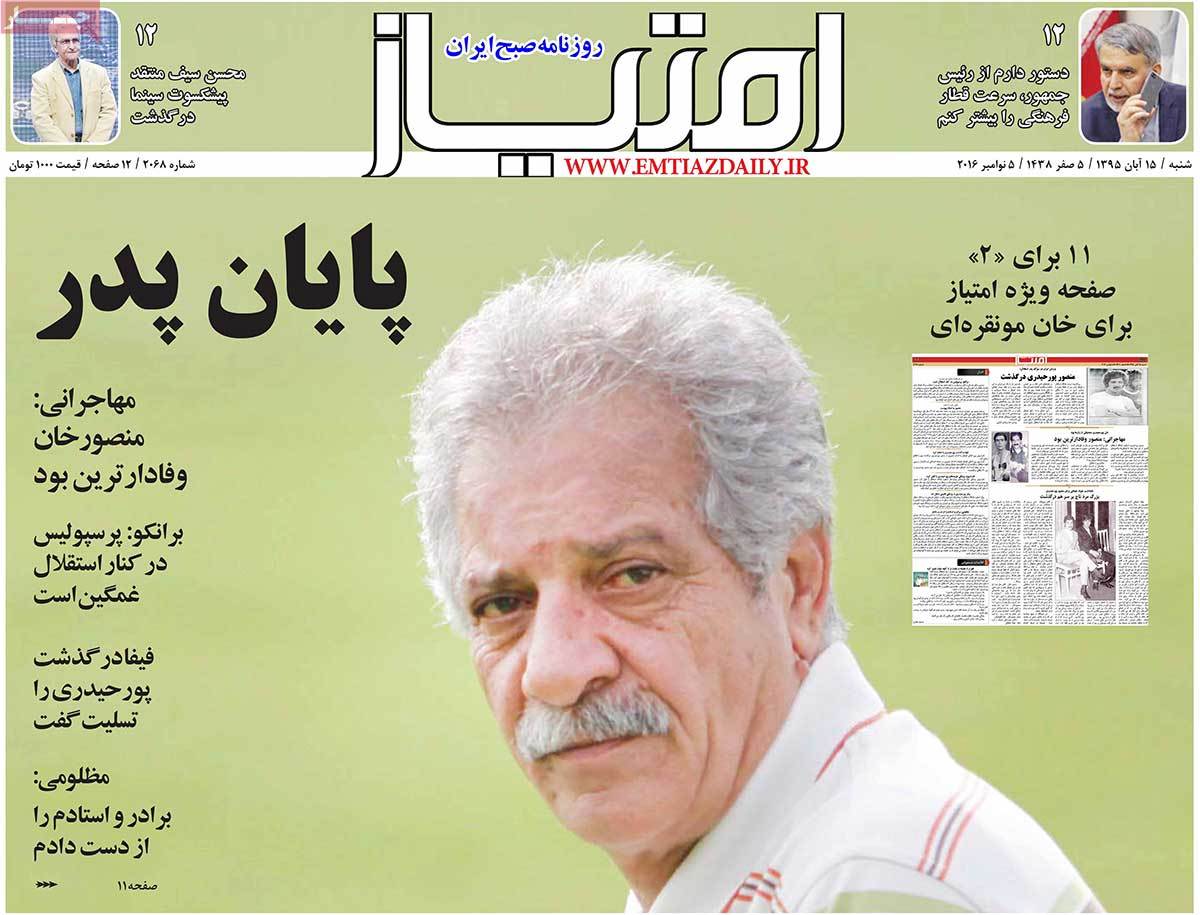 ---
Hemaiat:
El Presidente del Poder Judicial, al margen de su viaje a Irak: "EEUU está implicado en cualquier conflicto surgido en el mundo islámico."
El pueblo iraní revela su repudio del infiel EEUU; Se efectúan las grandes manifestaciones antiestadounidenses en Irán
Obama extiende el Estado de Emergencia contra Irán por un año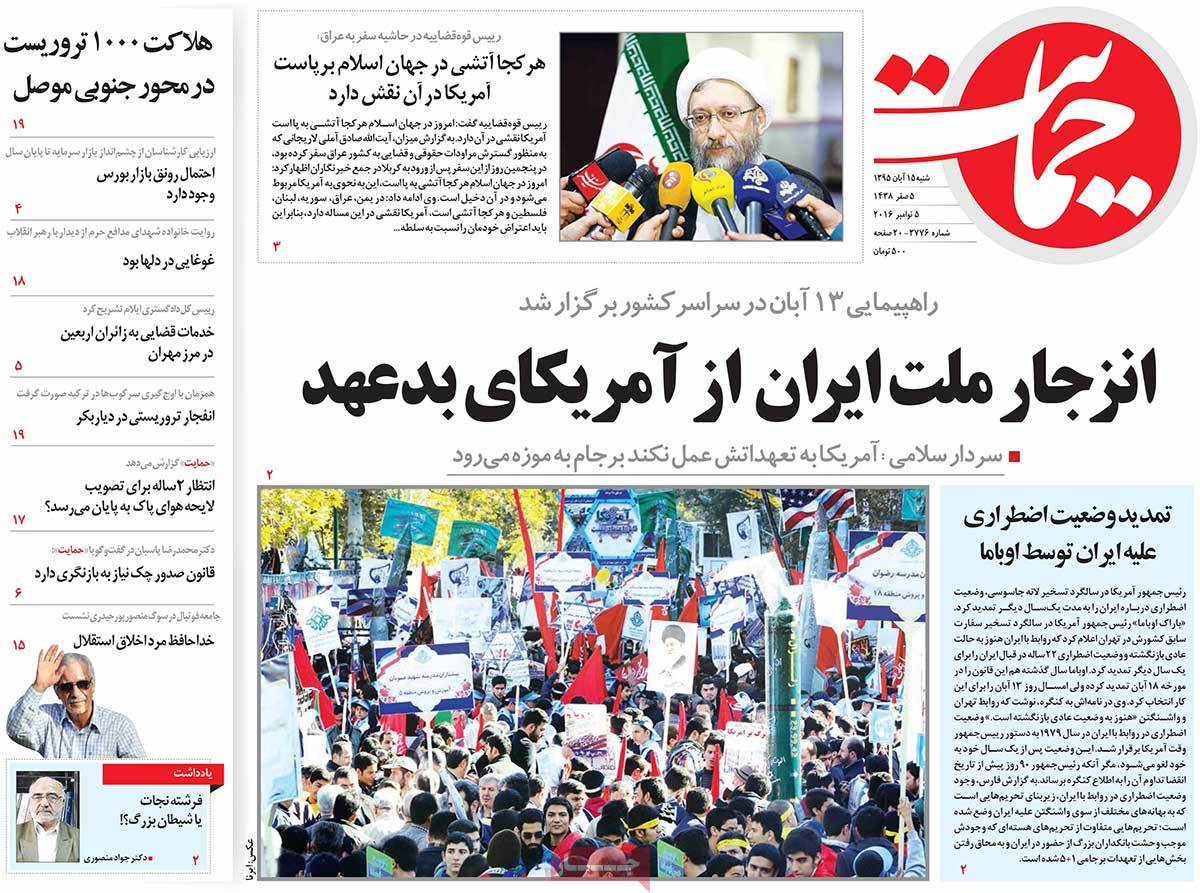 ---
Irán:
Primer día de Exposición Internacional de la Prensa en Teherán; El pueblo llegó antes de la apertura oficial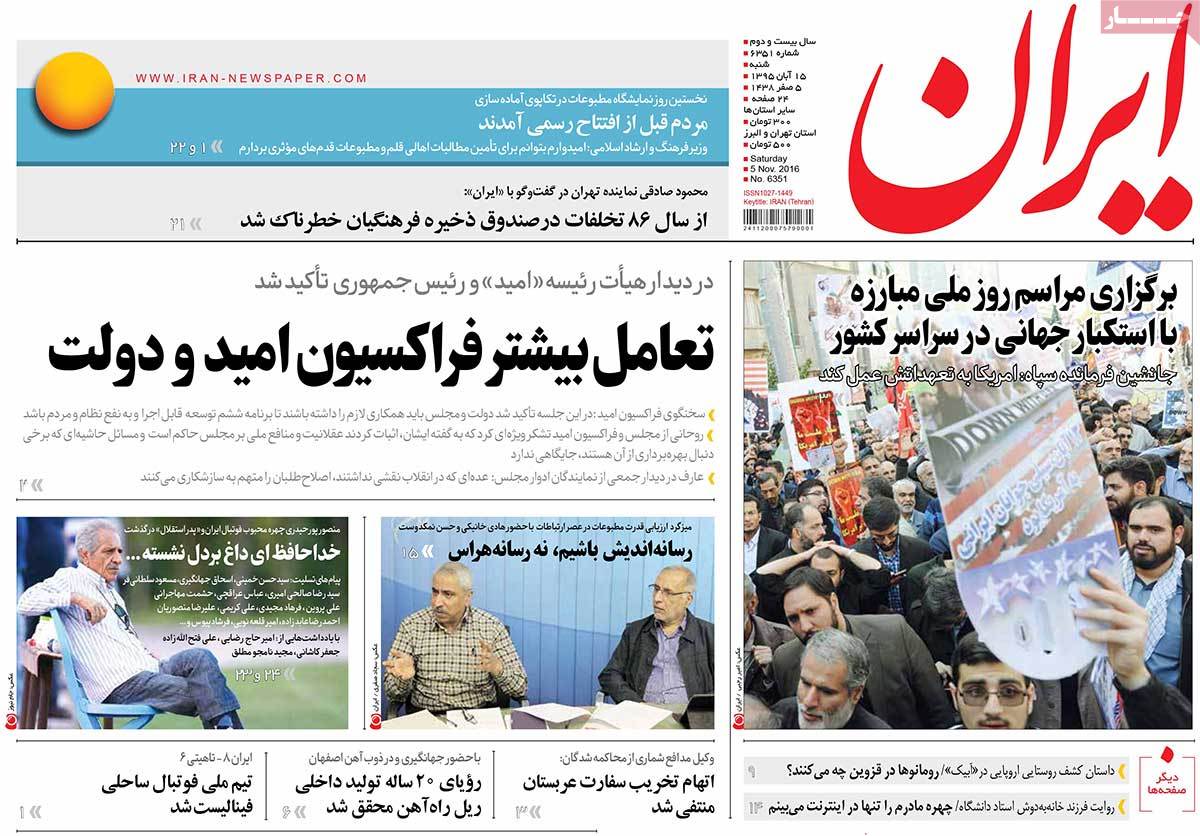 ---
Yavan:
El lema "Muerte a EEUU" cumple 37 años.
El orador del rezo colectivo del viernes de Teherán: "Se debe solucionar la tendencia de algunas autoridades hacia EEUU."
Yavan reporta sobre el indeterminado responsable de exportación de gas
---
Yomhuri Eslami:
El Vice Presidente de Irán inaugura, en la ciudad de Isfahan, la mayor línea de fábricas de líneas ferroviarias en oriente Medio
El ministro de Asuntos Religiosos de Tunes: "Arabia Saudí es el principal factor del terrorismo y extremismo."
Mogherini: "Los ciudadanos europeos conservan el derecho de boicotear a Israel."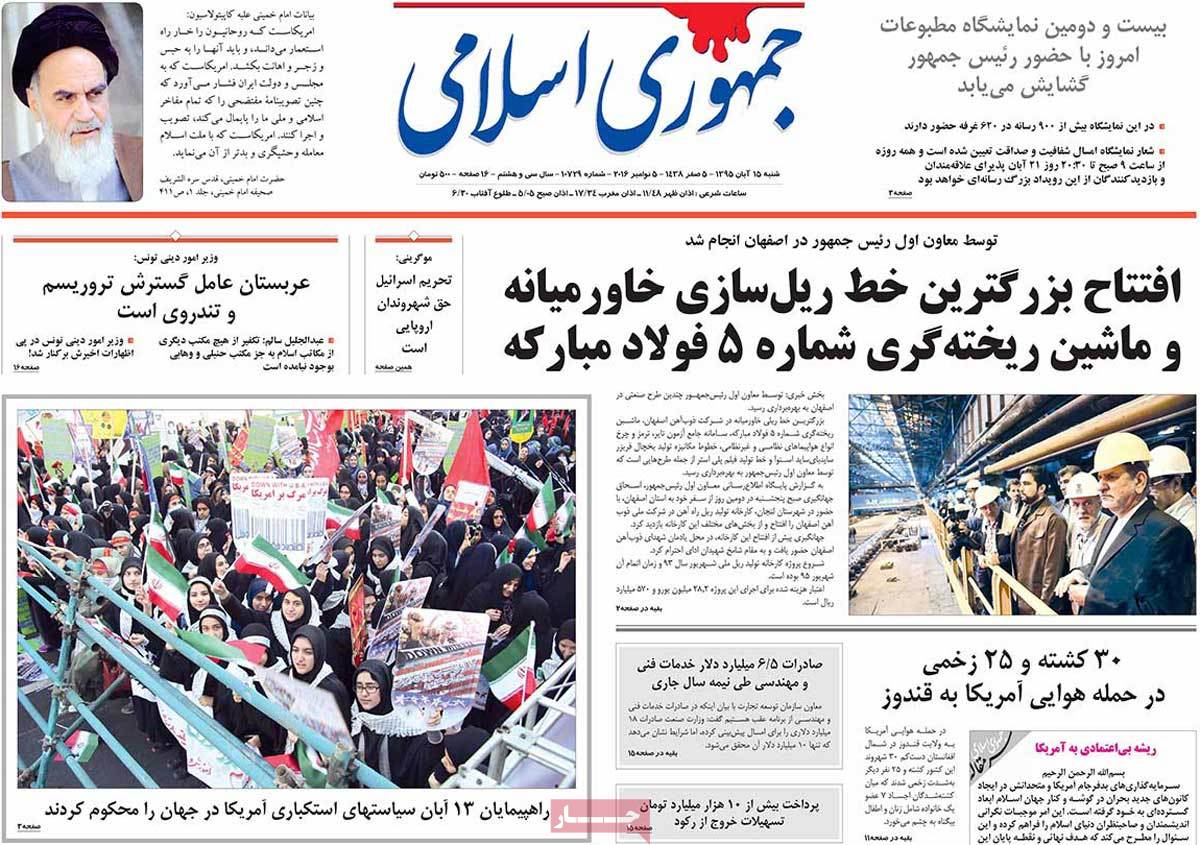 ---
Keihan:
En el Día Nacional de Lucha Contra la Arrogancia: El pueblo gritó con gran estruendo Muerte a EE.UU
Dos condiciones de las fuerzas nacionales iraquíes para ayudar al pueblo sirio: "La voluntad de Bashar Al-Assad, el permiso de Al-Ebadi."
---
Jorasán:
El poder estratégico de Irán, según Zarif: "No alego que las conversaciones nucleares otorgaron poderío a Irán; El poderío lo teníamos de antemano."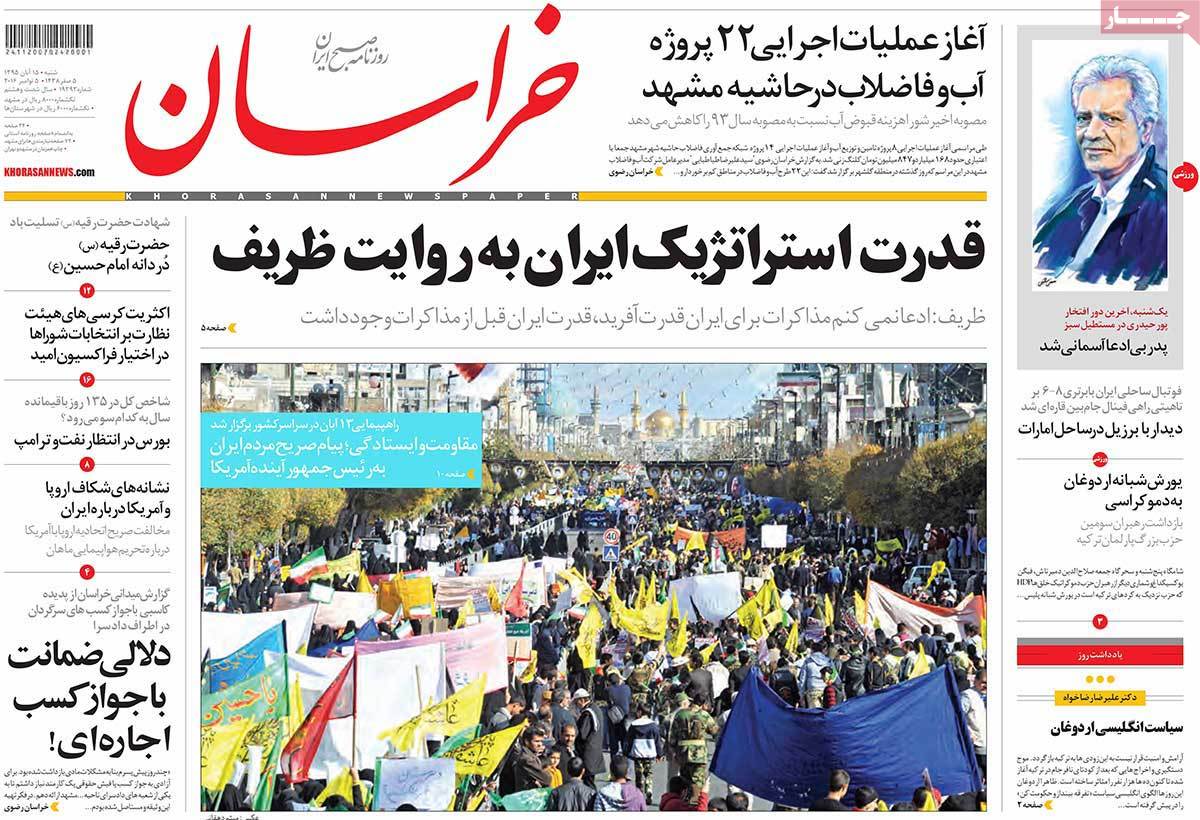 ---
Resalat:
El orador del rezo colectivo del Viernes de Teherán: "Debemos estar vigilantes ante los nuevos intentos de influencia por parte de EEUU."
La declaración de las manifestaciones por el Día Nacional de Lucha Anti Arrogancia: "EEUU sigue siendo el enemigo número uno de la humanidad."
Jefe del Consejo Islámico de la Ciudad de Teherán: "Algunos vehículos en Teherán no están adoptados con el estándar Euro 4."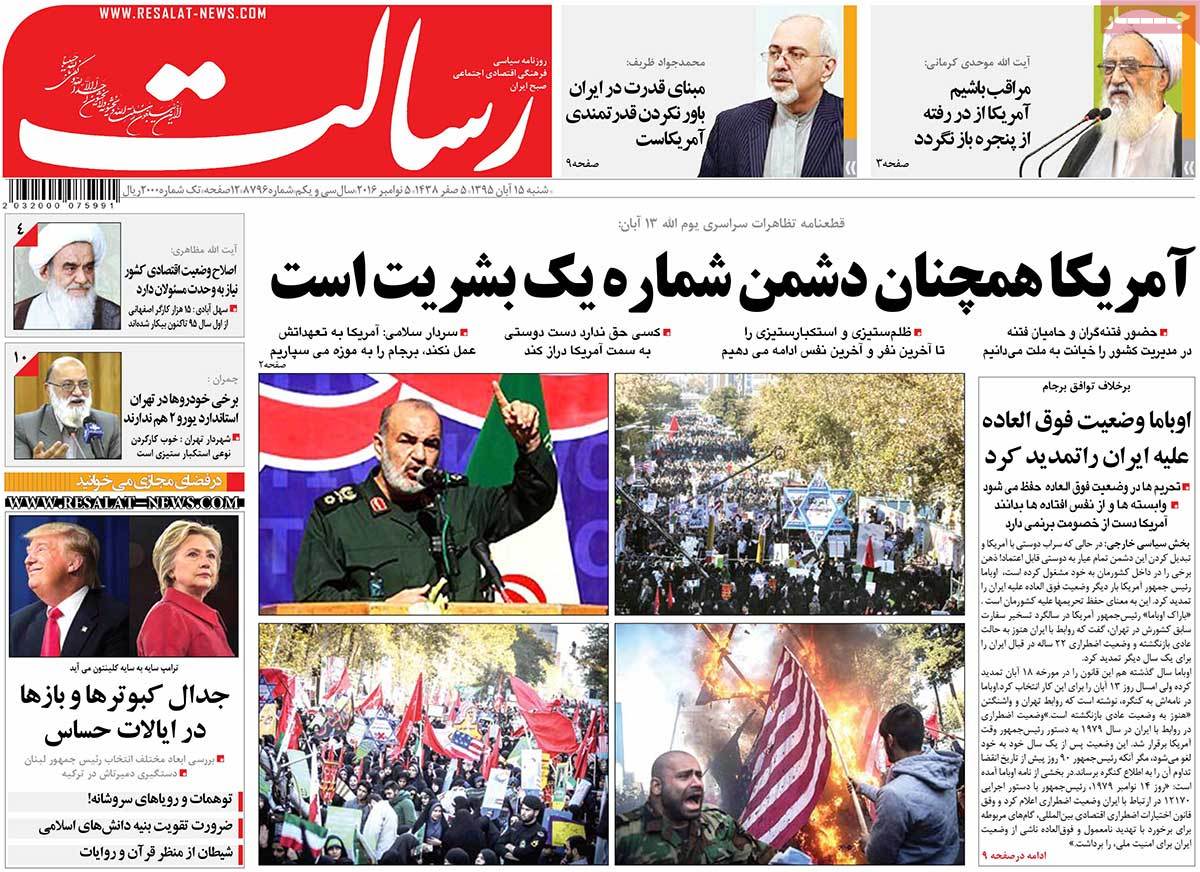 ---
Shargh:
Zarif: "El acuerdo PIAC es el resultado de un trueque político."
Bashar Al-Asad, en una entrevista con un semanal iraní: "Requerimos relaciones estratégicas con Irán."
---
Vaghaye Etefaghie:
Zarif, en una reunión con los funcionarios del ámbito de seguridad de Irán: "El PIAC restauró el poderío estratégico de Irán."
Experto político egipcio, Usam Abdushafi, en una entrevista con Vaghaye Etefaghie: "Circunstancias excepcionales de Irán; El mapa de la región cambiará hasta 2020."