IFP has taken a look at the front pages of Iranian newspapers on Wednesday and picked headlines from 26 of them. IFP has simply translated the headlines and does not vouch for their accuracy.[:es]IFP ha echado una mirada a las portadas de periódicos iraníes, publicados el miércoles, 26 de octubre de 2016, y ha recogido titulares de 26 de ellos. IFP ha traducido simplemente los titulares y no es responsable de su veracidad.
Newspapers on Wednesday highlighted the remarks made by the Leader of the Islamic Revolution Ayatollah Seyyed Ali Khamenei in a meeting with Chairman of the Presidency of Bosnia and Herzegovina Bakir Izetbegovic.
They also covered the remarks made by President Hassan Rouhani in his meeting with his Bosnian counterpart.
The European Union's decision to normalize its ties with Iran and Intelligence Minister Seyyed Mahmoud Alavi's address to the Parliament also received great attention in today's newspapers.
The above issues, as well as many more, are highlighted in the following headlines:
Abrar:
1- Senior Cleric: Rouhani Doesn't Have Good Chance for Presidency in Polls
2- Ar-Rutbah Town under Control of Iraqi Forces: ISIS Positions Attacked inside Mosul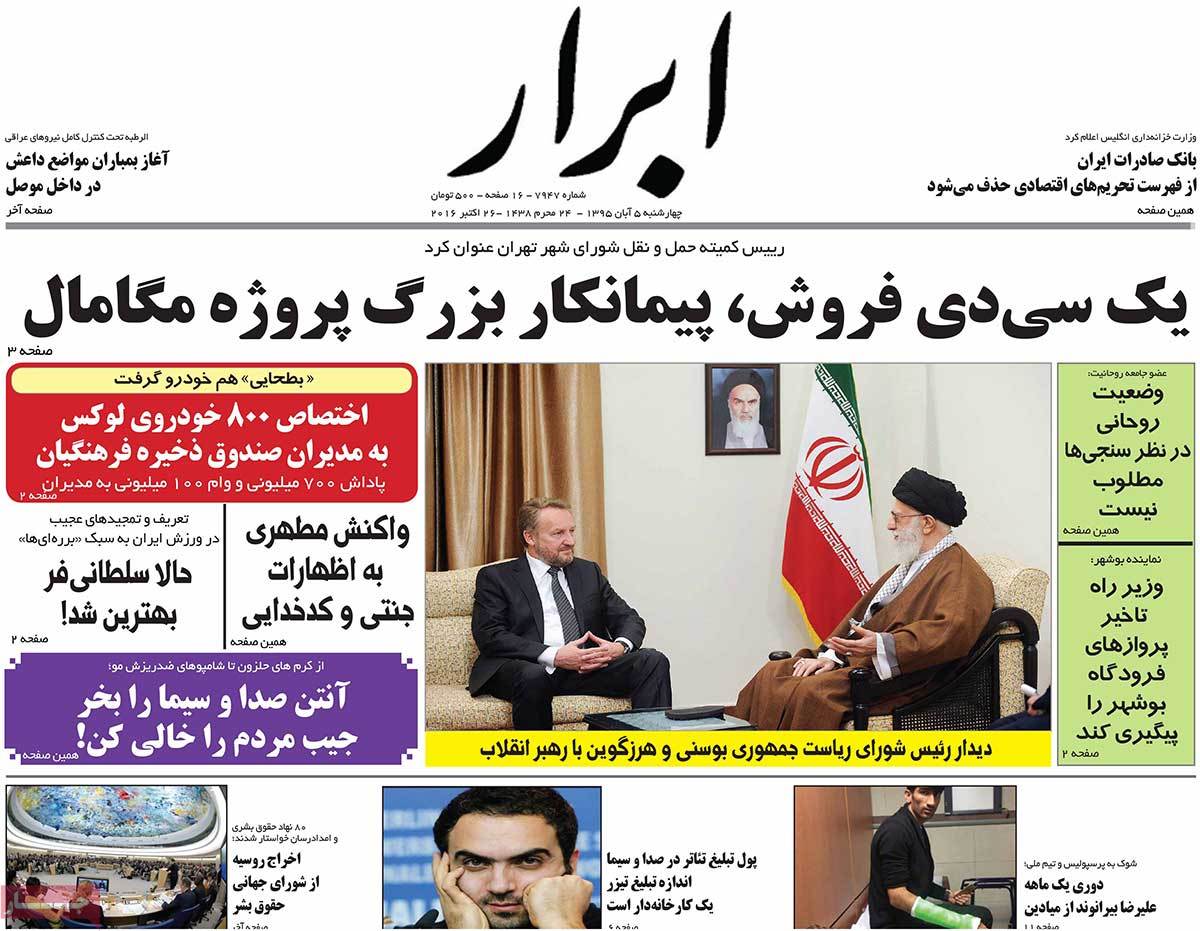 ---
Abrar-e Eqtesadi:
1- 17% Decrease in Iran's Imports from China
2- 35 Countries Making Investment to Compete with Iran's Caviar
3- Expansion of Iran-Singapore Banking Ties
4- Britain Releases Bank Saderat's Frozen Assets
---
Afarinesh:
1- Iran's Reaction to Chatham House Prize: Zarif Says the Prize Belongs to Iranian Nation
2- Import of Petrol Omitted from Next Year's Budget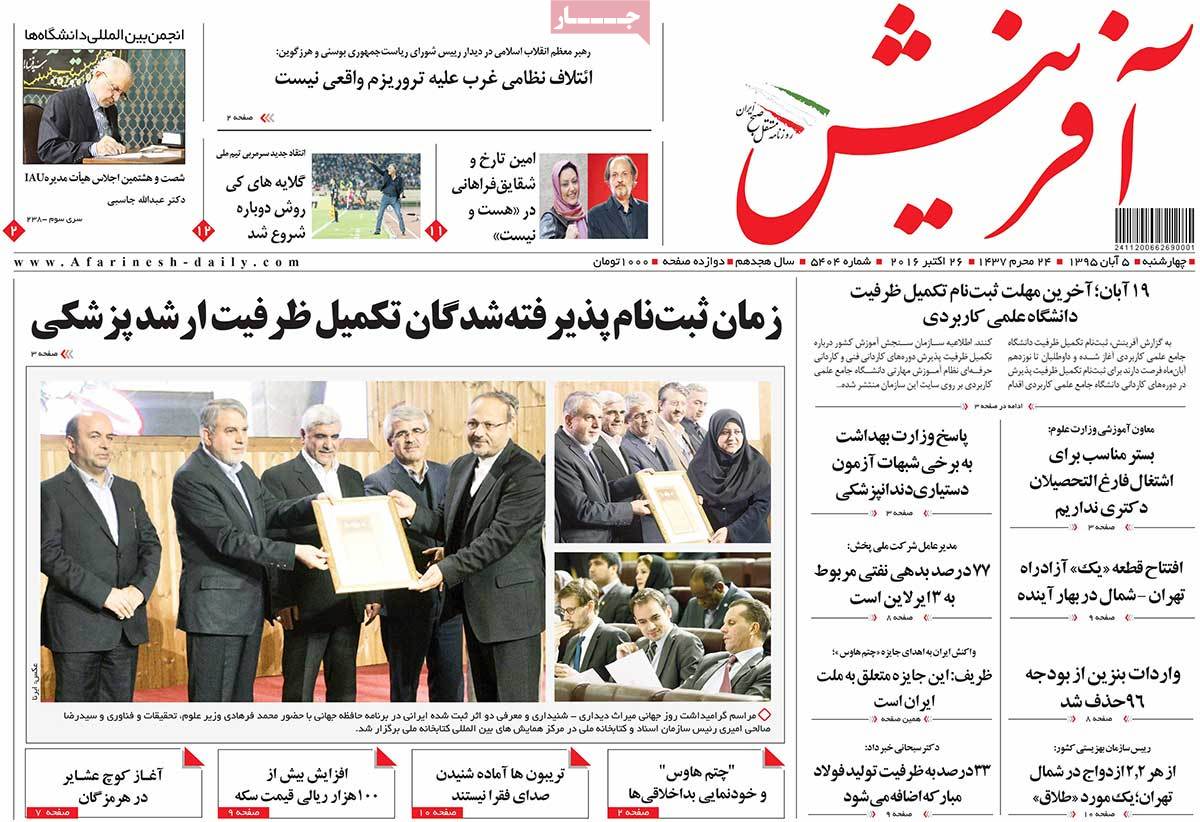 ---
Afkar:
1- Edible Nano Packaging Produced in Iran
2- First VP: Iran's Missile Power, a Major Component in Deterrence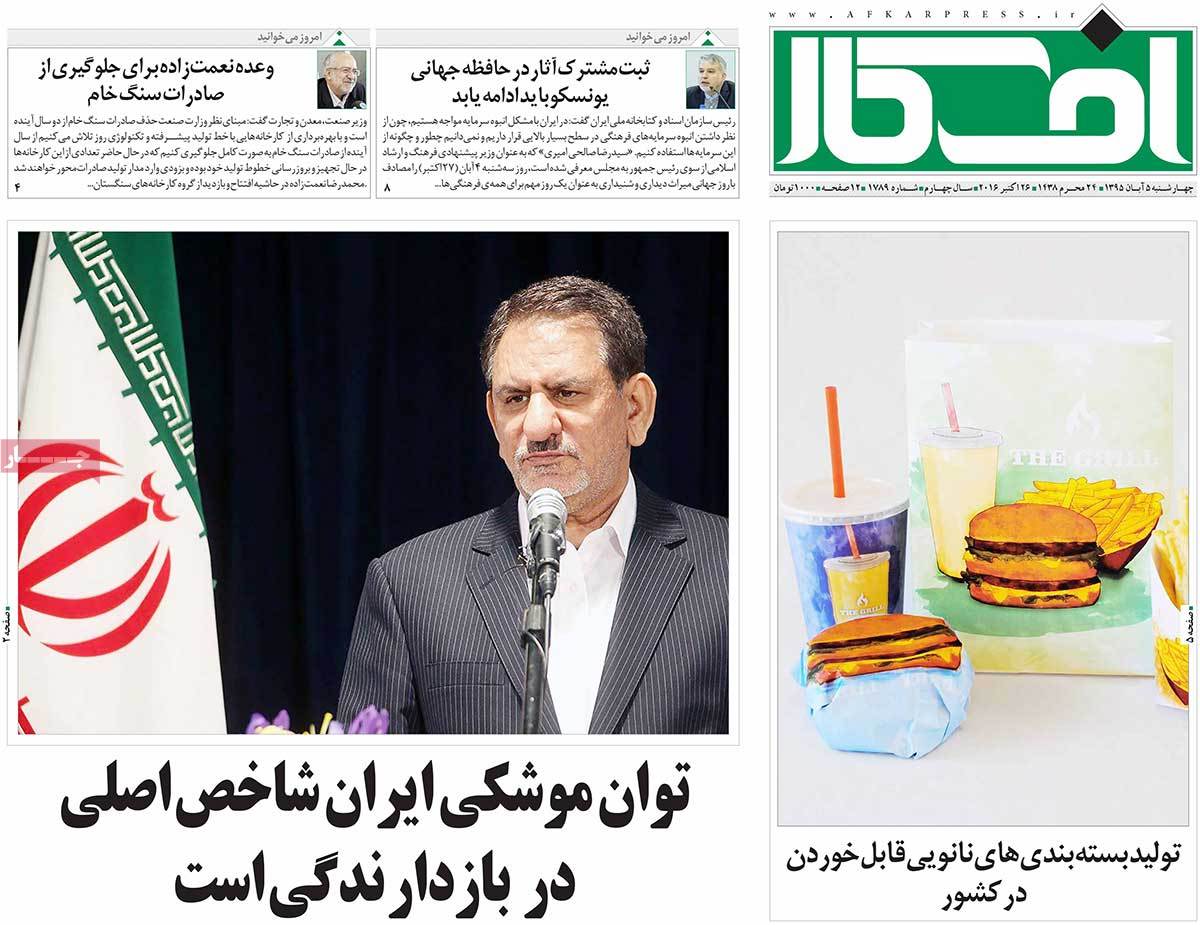 ---
Aftab-e Yazd:
1- Ties between Iran and Europe Normalized: Positive Outcomes of JCPOA Emerging amid Opponents' Harsh Criticism
2- Intelligence Minister's Sarcastic Remarks against Hard-Liners: US Senator Also Made a 15-Day Trip to Iran in 2010, Why the MPs Didn't Show Sensitivity at That Time?
---
Amin:
1- Iran's Relentless Fight against ISIS: Intelligence Ministry Has Repeatedly Foiled ISIS Plots in Iran This Year
---
Arman-e Emrooz:
1- Leader in Meeting with Bosnian President: Western Governments' Military Coalition against Terrorism Is Not Real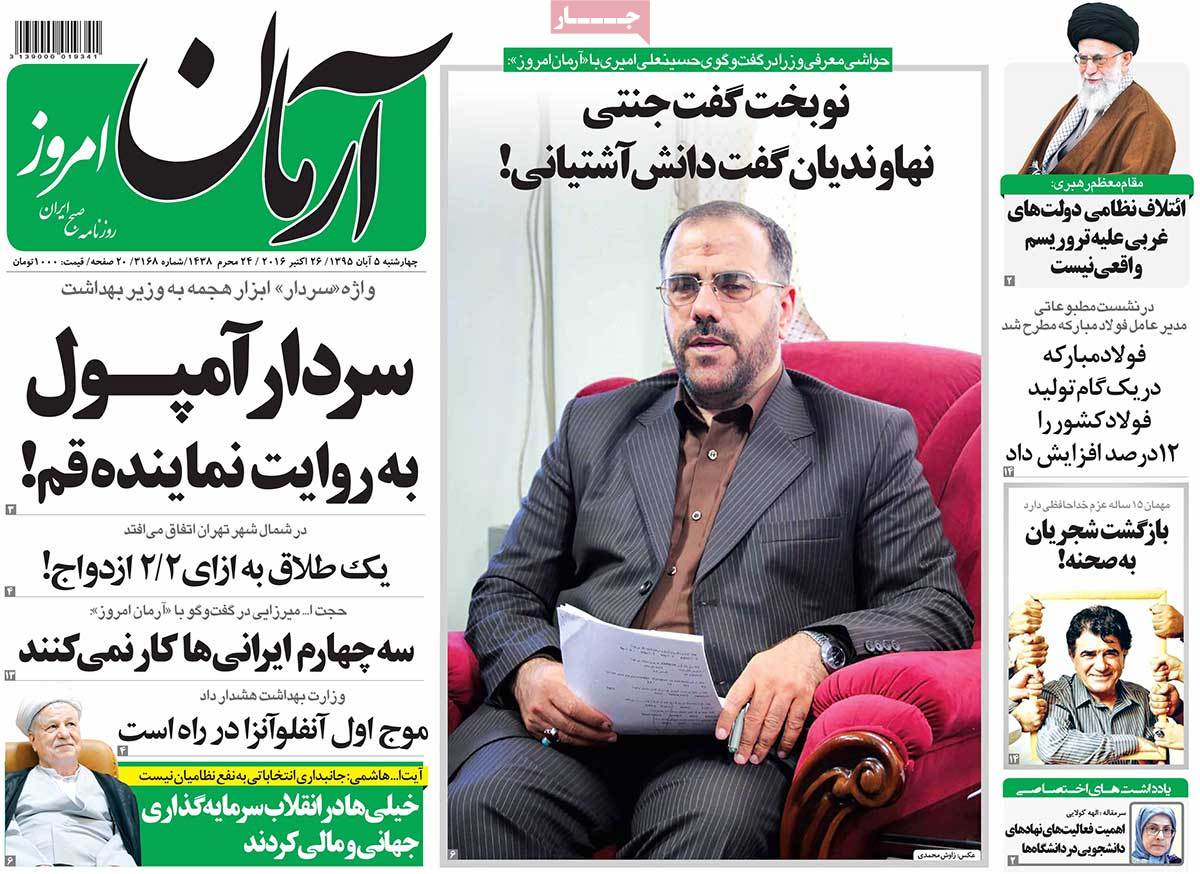 ---
Asrar:
1- Foreign Policy: US Congress Mulling a Plan to Assassinate Bashar Assad
2- $1,000bn, the Price of Lake Urmia's Shrinkage
3- EU Looking for Expansion of Ties with Iran
---
Besharat-e Now:
1- Intelligence Minister: Countering the Foreigners' Infiltration Doesn't Need Closure of Iran's Doors to Outside World
2- Reformist Figure: Rouhani Has Done Well beyond Expectations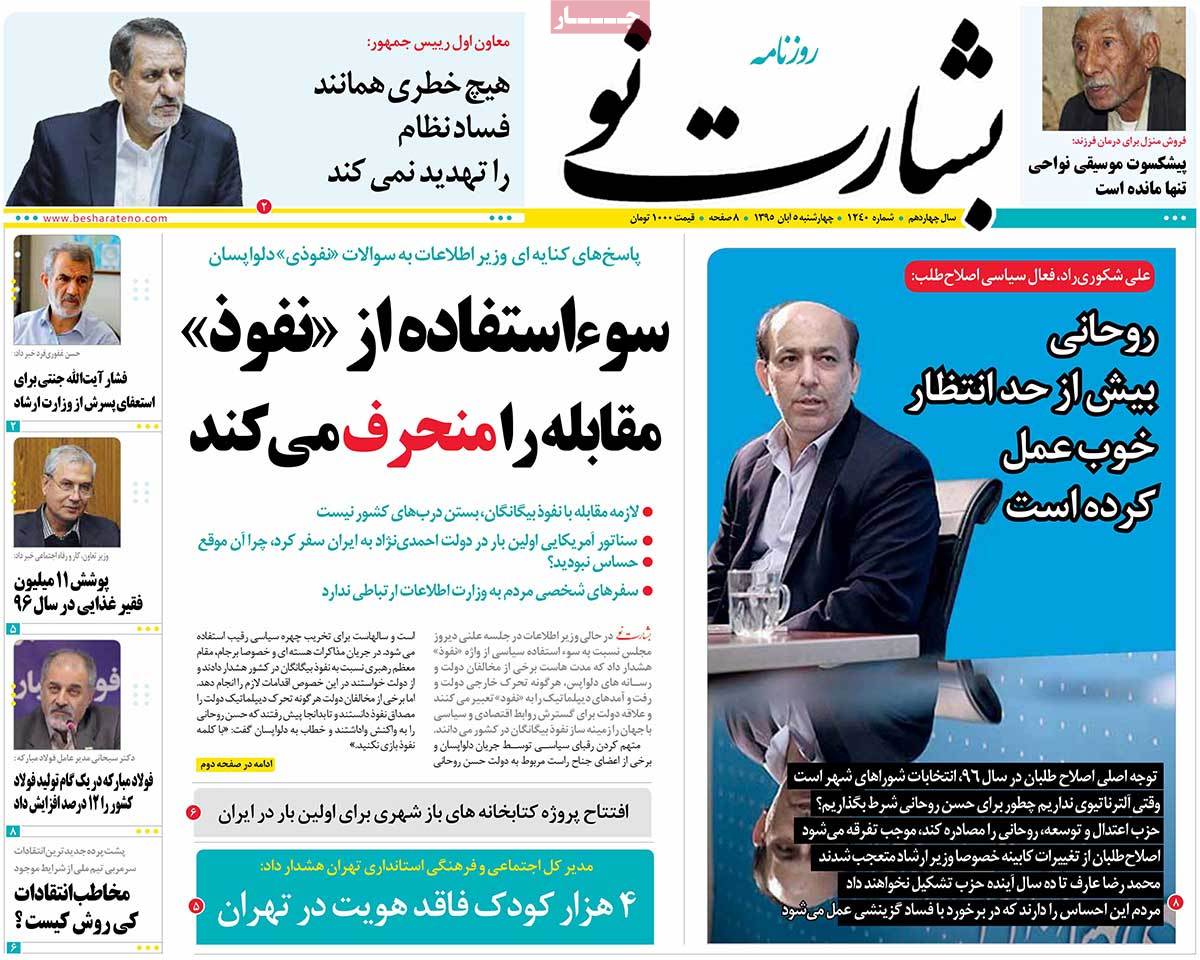 ---
Etemad:
1- Intelligence Minister's Intelligent Responses: Alavi Explains about US Senator's Visit to Iran
2- Pakistan Gripped by Nightmare of ISIS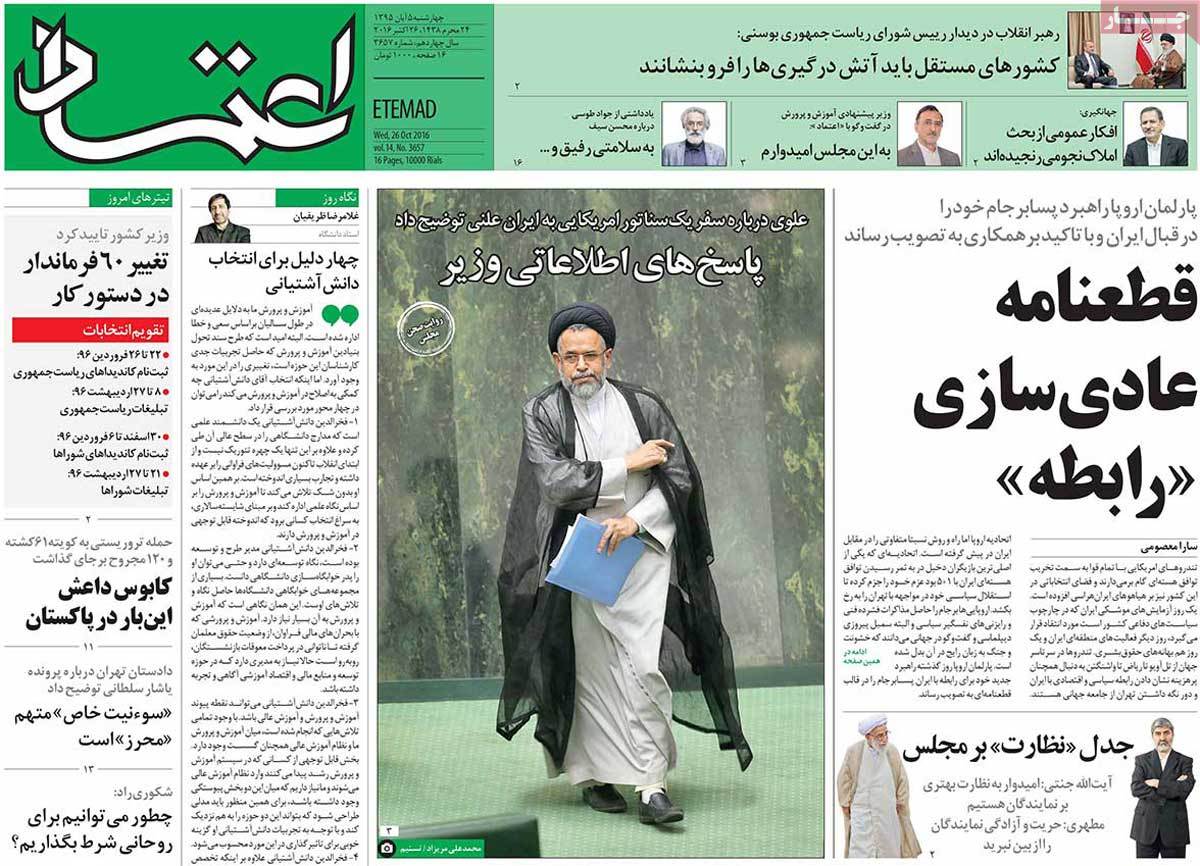 ---
Ettela'at:
1- Leader: Independent Countries Should Extinguish Fire of Conflicts by Strengthening Ties and Refusing to Be Influenced by Arrogant States
2- Iran and Bosnia Presidents Underline the Expansion of Mutual Cooperation
3- Suicide Attack on Quetta Police Academy Leaves 60 Dead and 125 Wounded
---
Hamshahri:
1- Finland's President: Interaction with Iran in Win-Win Situation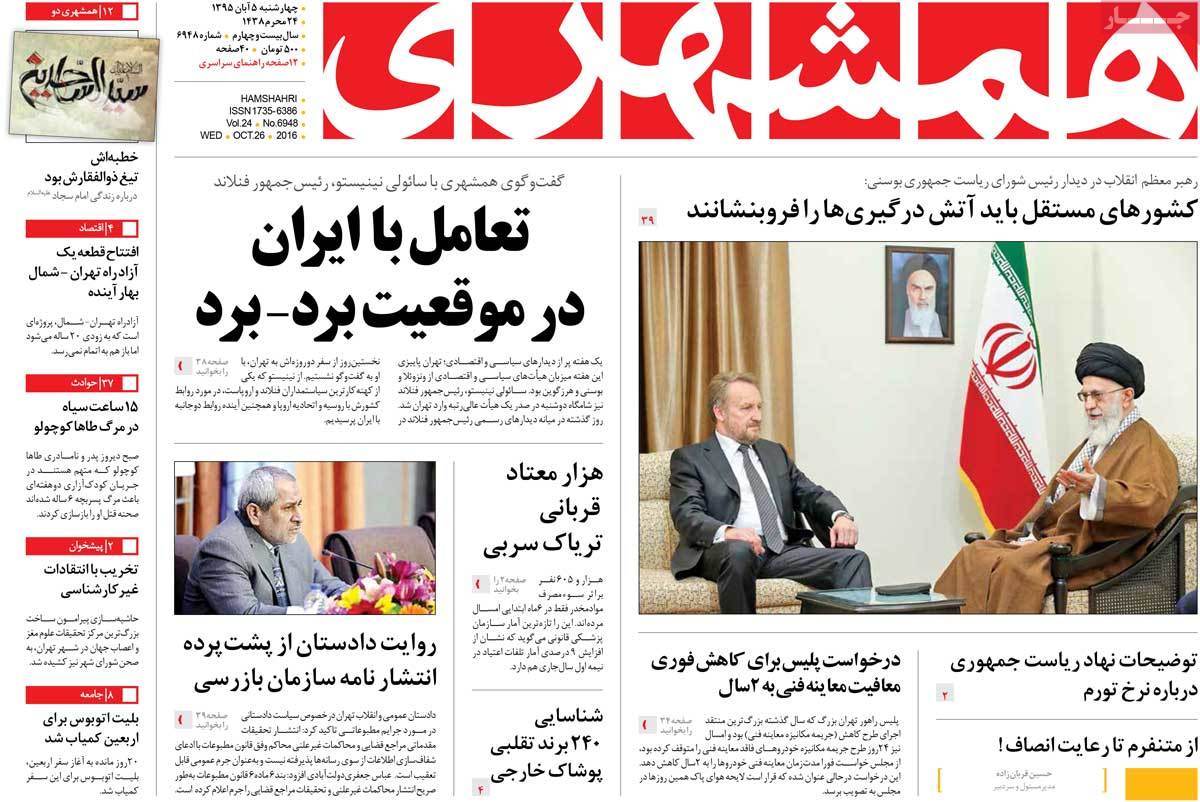 ---
Iran:
1- Petrol Self-Sufficiency after 36 Years
2- European Parliament Gives 456 Yes Votes: EU Passes Resolution to Normalize and Expand Ties with Iran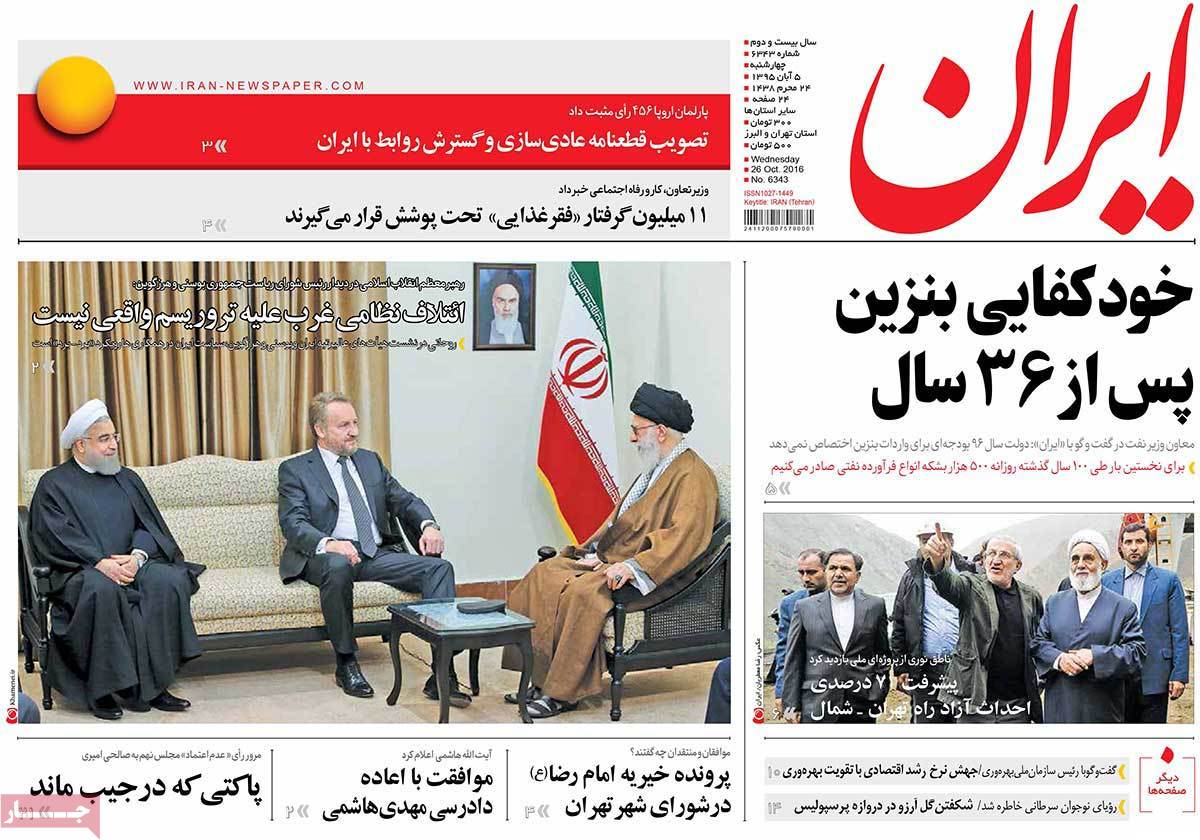 ---
Javan:
1- Leader: Europe Has Created Terrorism and ISIS by Humiliating Muslim Youths
2- ISIS Unveiled in Pakistan
---
Jomhouri Eslami:
1- Rouhani: Promotion of Tehran-Sarajevo Cooperation Is a Must
2- Syria's Request for Receiving War Reparation from US Coalition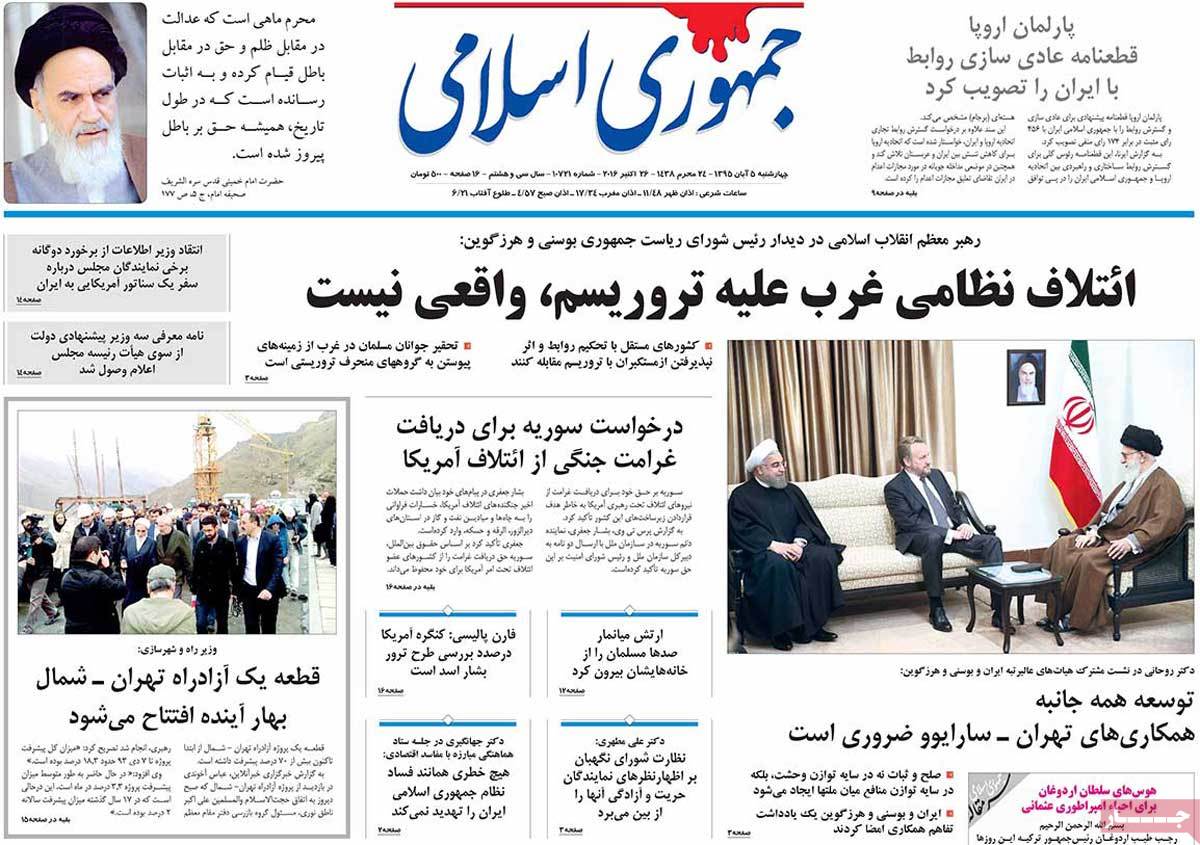 ---
Kayhan:
1- Leader: US and Europe Are Birthplace of Terrorism and Takfiri [Extremist] Ideology
2- Israeli Commander: In Next War, Hezbollah Will Not Show Any Mercy to Us
3- Cross Installed on Iraqi Church: Iraqi Popular Forces Heal Wounds of Nineveh's Christians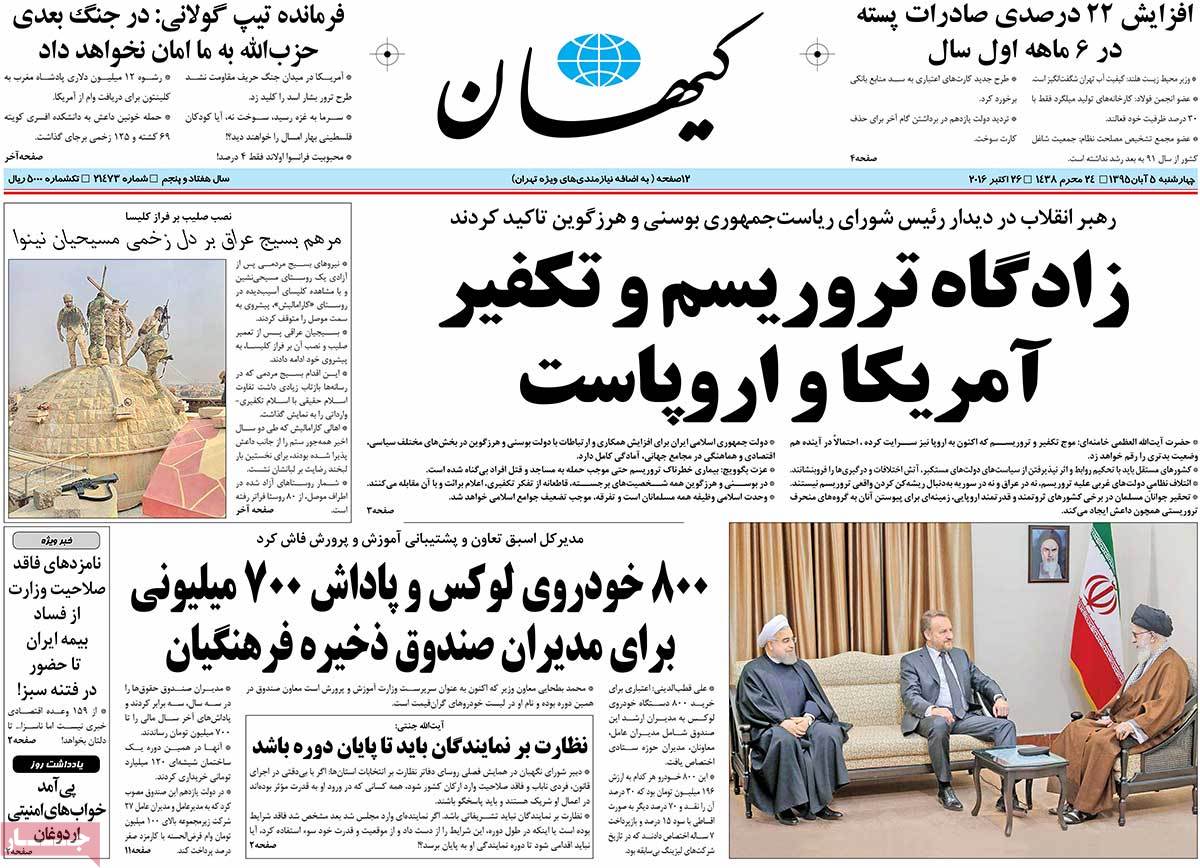 ---
Khorasan:
1- Explosion in Antalya: Attack on Heart of Turkey's Tourism
---
Payam-e Zaman:
1- SNSC Secretary: Iranians Won't Leave Their Stances against Zionism and US
2- President: Radical Islam Has Nothing to Do with True Islam
---
Rah-e Mardom:
1- Rouhani: Iran and Bosnia Trying to Portray True Image of Islam
---
Resalat:
1- Leader: West's Evil Policies Increasing Humanity's Problems on Daily Basis
2- Ayatollah Jannati: In the Name of Interaction, Some Are Calling for Submission to Enemies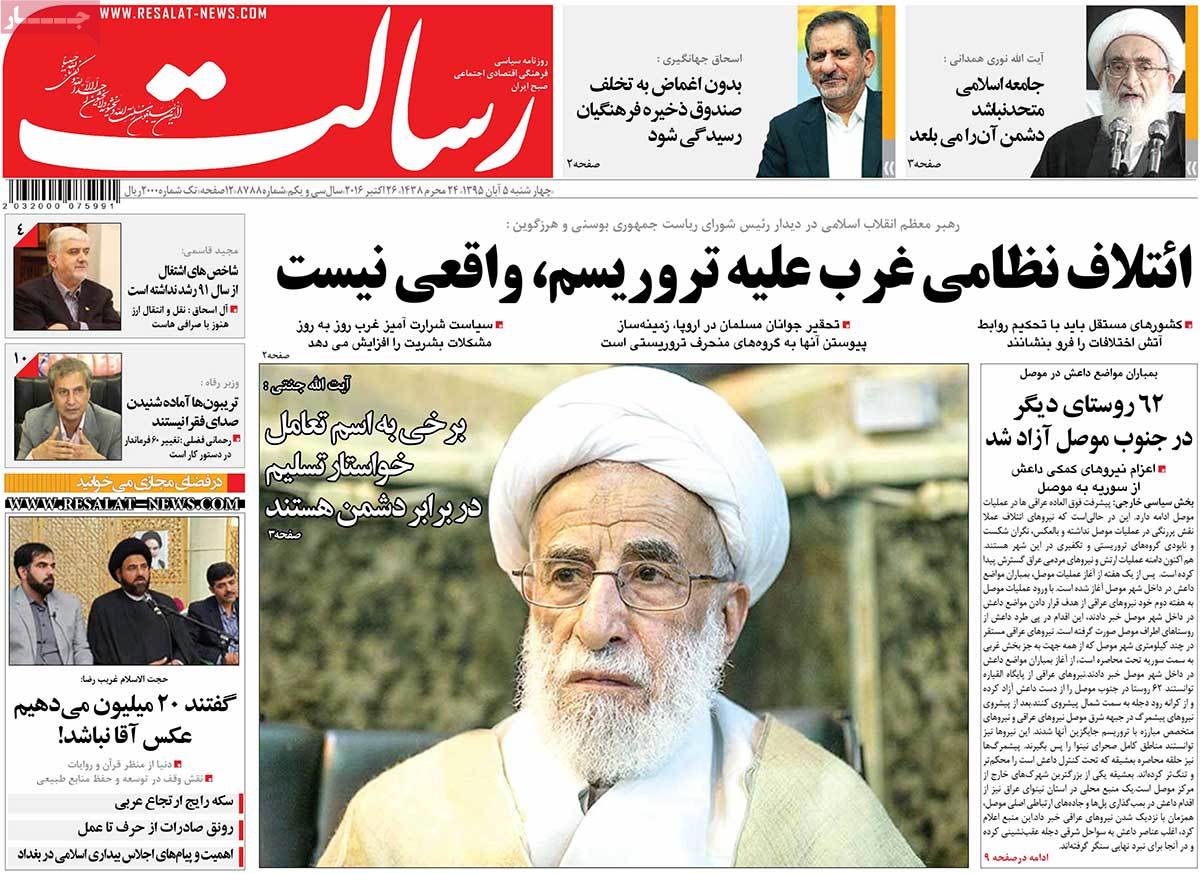 ---
Sayeh:
1- Iran's 0.25% Share of Halal Food Market: Muslims Importing Halal Foods
2- Dutch Environment Minister: Quality of Iran's Water Is Amazing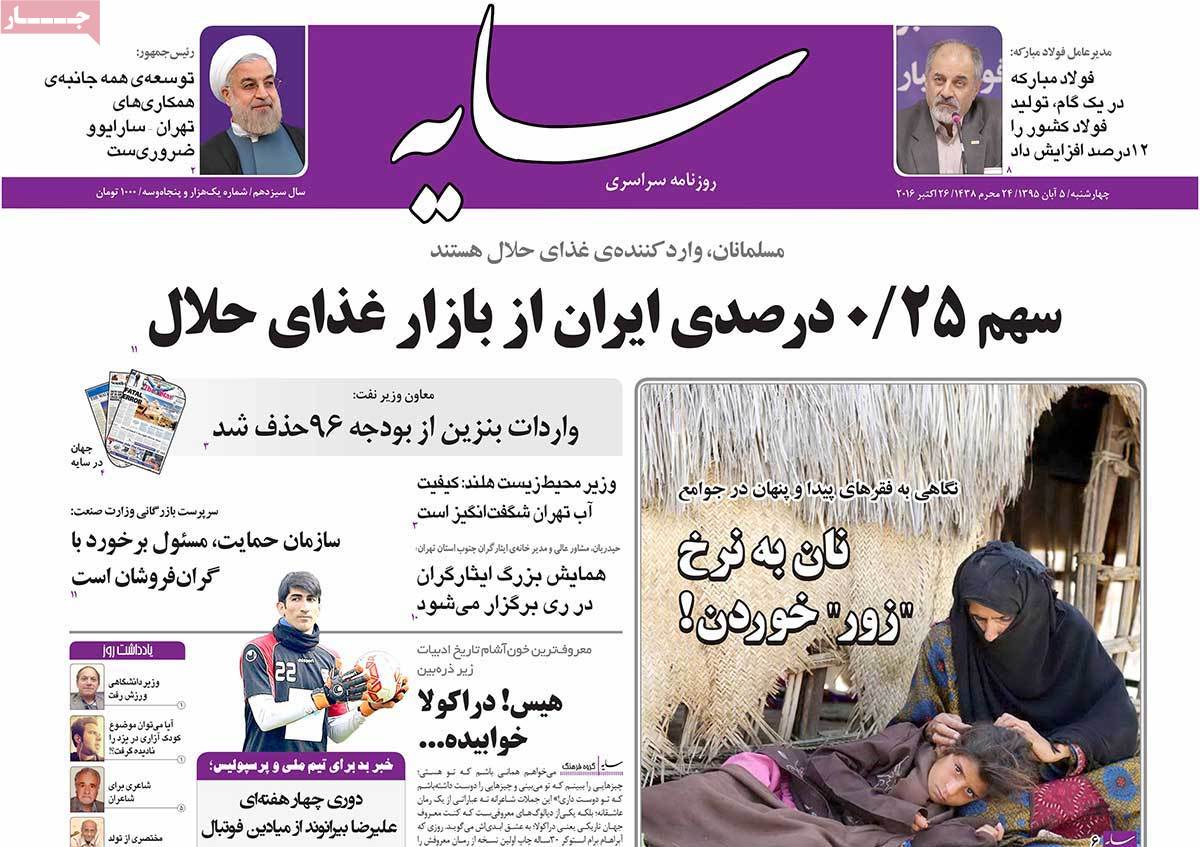 ---
Sepid:
1- Trump's Fear: Psychiatrists and Psychologists Say People Are Suffering from Insomnia and Stress Because of the Fear Caused by Trump
2- Air Pollution Is as Dangerous as Obesity, Research Shows
---
Setareh Sobh:
1- Leader: Security and Peace Are Prerequisites of Growth and Prosperity of a Nation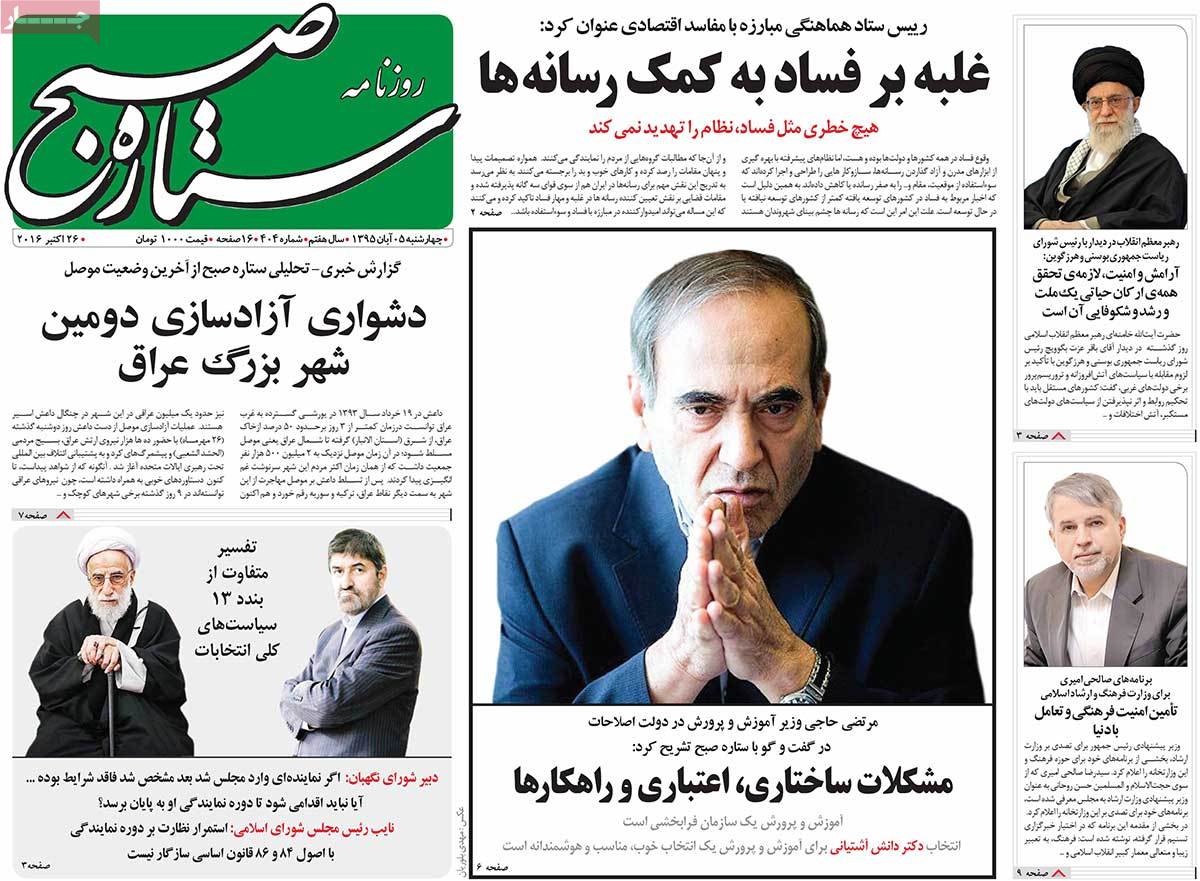 ---
Shahrvand:
1- From Fear of Iran to Love of Iran! Major World Media Introduce Iran as One of the World's 10 Wonderful Countries
2- Share of Tourism Industry in Iran's GDP Increased to 7.6%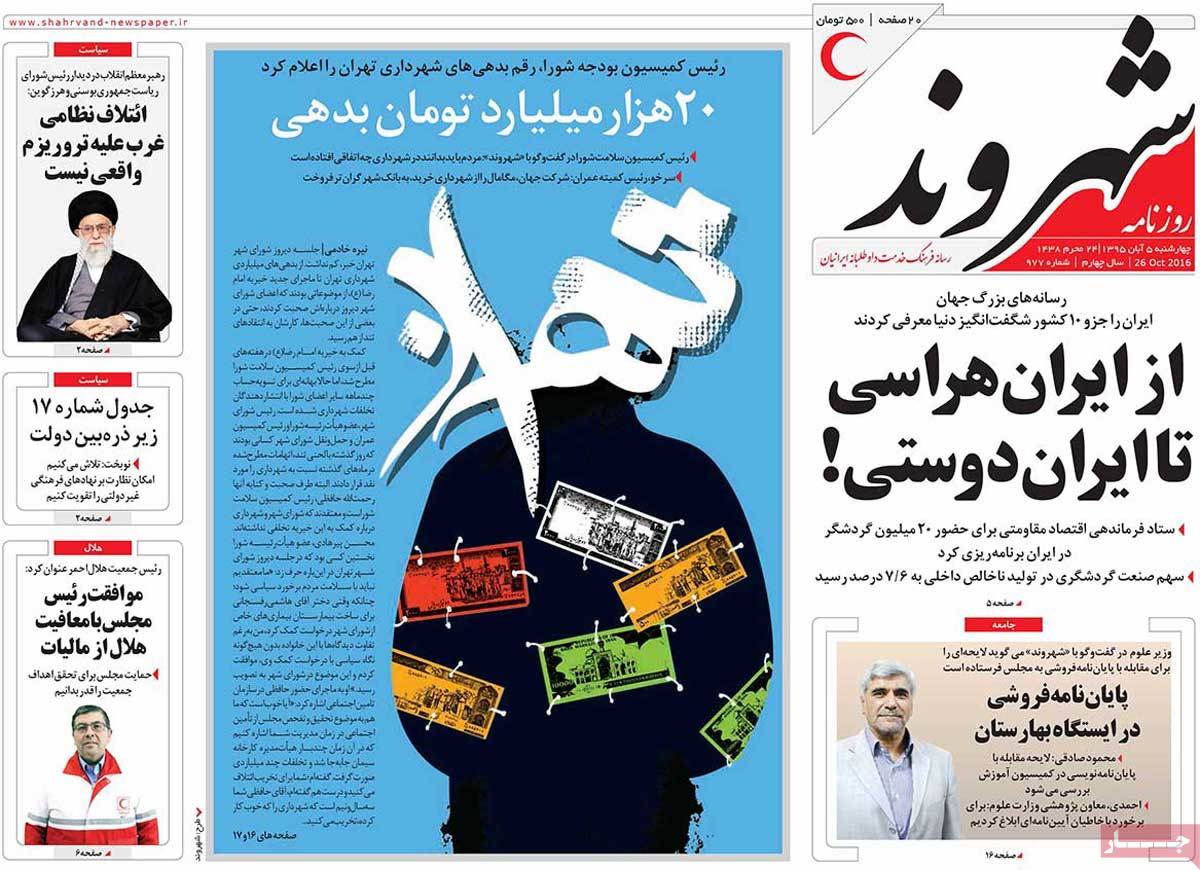 ---
Vaghaye Ettefaghieh:
1- EU's Resolution, a Green Light for Iran [Editorial]
2- People Vote in Popular Sports Show: Let Women Go to Stadiums
3- Sexual Abuse of Children, a Crisis That Is Screaming: Serious Concerns Raised in Child Rights Group Meeting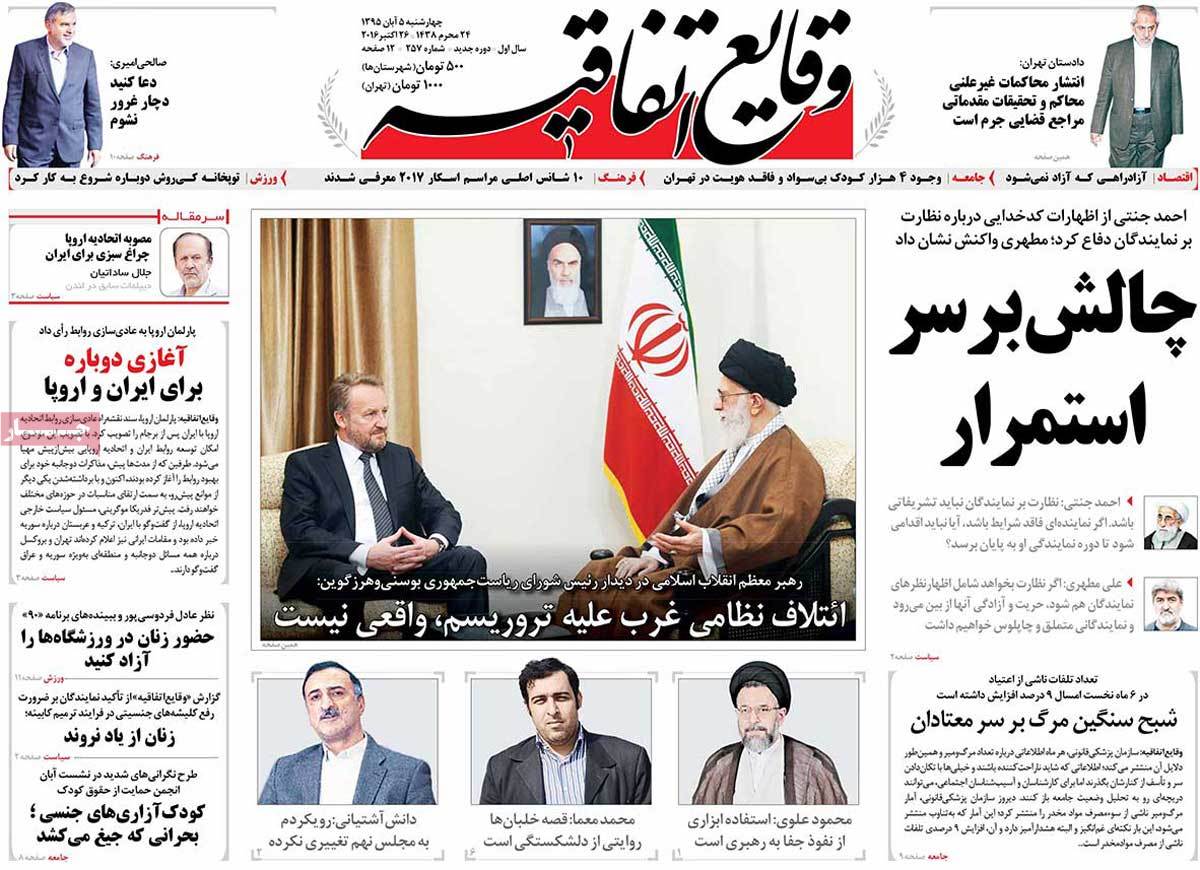 ---
Vatan-e Emrooz:
1- Queen's Prize: A Report on the Prize Given by Royal Institute of Chatham House to Zarif and Kerry for JCPOA!
[:es]
La prensa de hoy ha cubierto por unanimidad las importantes declaraciones del Líder Supremo de la Revolución, el ayatolá Seyed Ali Jamenei, en un encuentro con el jefe del Consejo Presidencial de Bosnia y Herzegovina.
En esta misma línea, las observaciones del Presidente Hasan Rohani sobre las relaciones Teherán-Sarajevo y el mundo islámico, recibió una buena acogida por parte de los periódicos.
Los diarios también mostraron gran interés en la gran decisión del Parlamento Europeo sobre la normalización de relaciones con el país persa.
Los temas antes mencionados, así como varias otras cuestiones se destacan en los siguientes títulos:
Abrar:
Un alto clérigo iraní: "Rohani no es tan popular según las encuestas."
Ar Rutba, bajo pleno dominio de las fuerzas iraquíes; Inicia el bombardeo de posiciones de Daesh en Mosul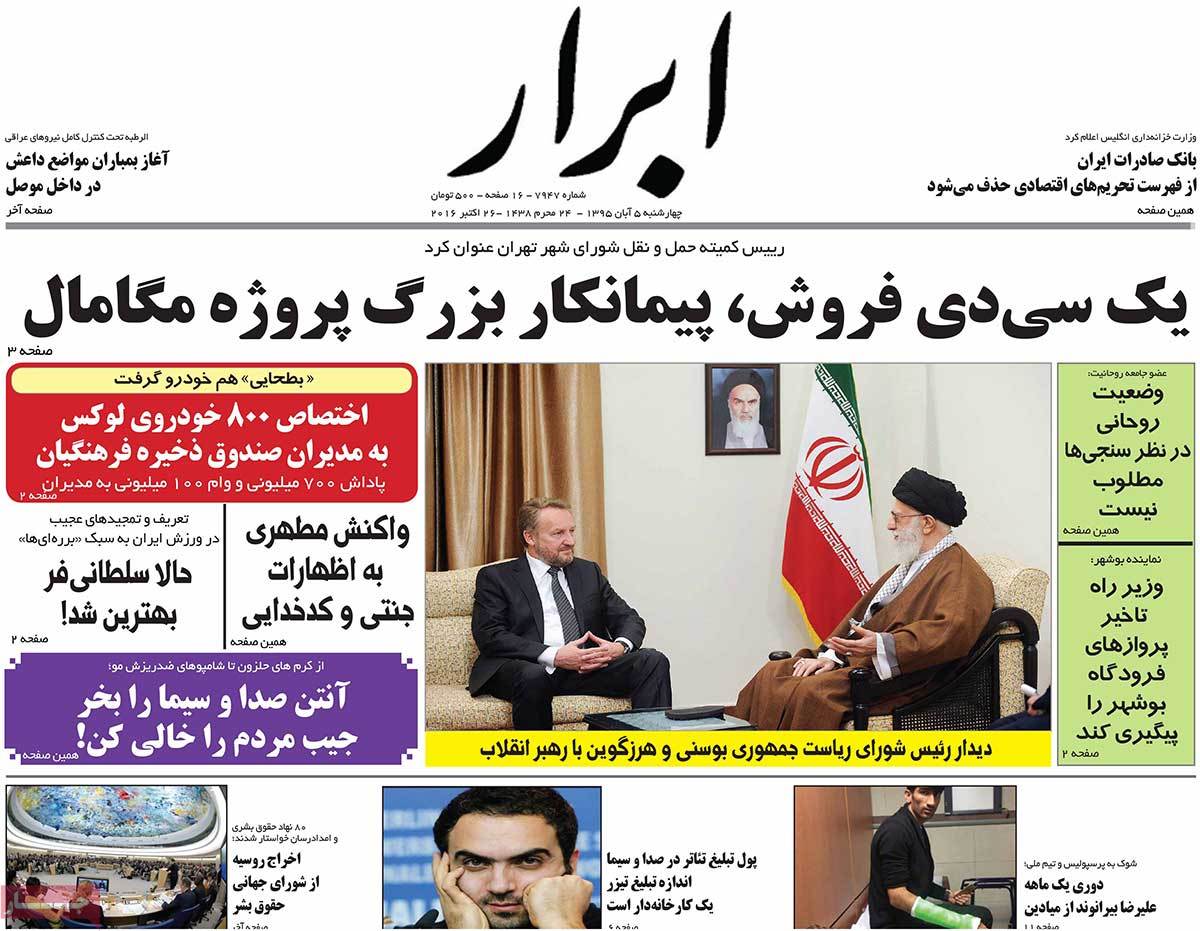 ---
Abrar Eghtesadi:
Irán importa 17% menos productos chinos
35 países invertirán en el comercio de Caviar con Irán
Desarrollan los intercambios bancarios entre Irán y Singapur
Gran Bretaña libera las propiedades del Banco Saderat de Irán
---
Afarinesh:
Irán reacciona ante la entrega del premio Chatman House 2016 al ministro de Asuntos Exteriores; Zarif: "este premio pertenece a la nación iraní"
Eliminada, la importación de gasolina del presupuesto del próximo año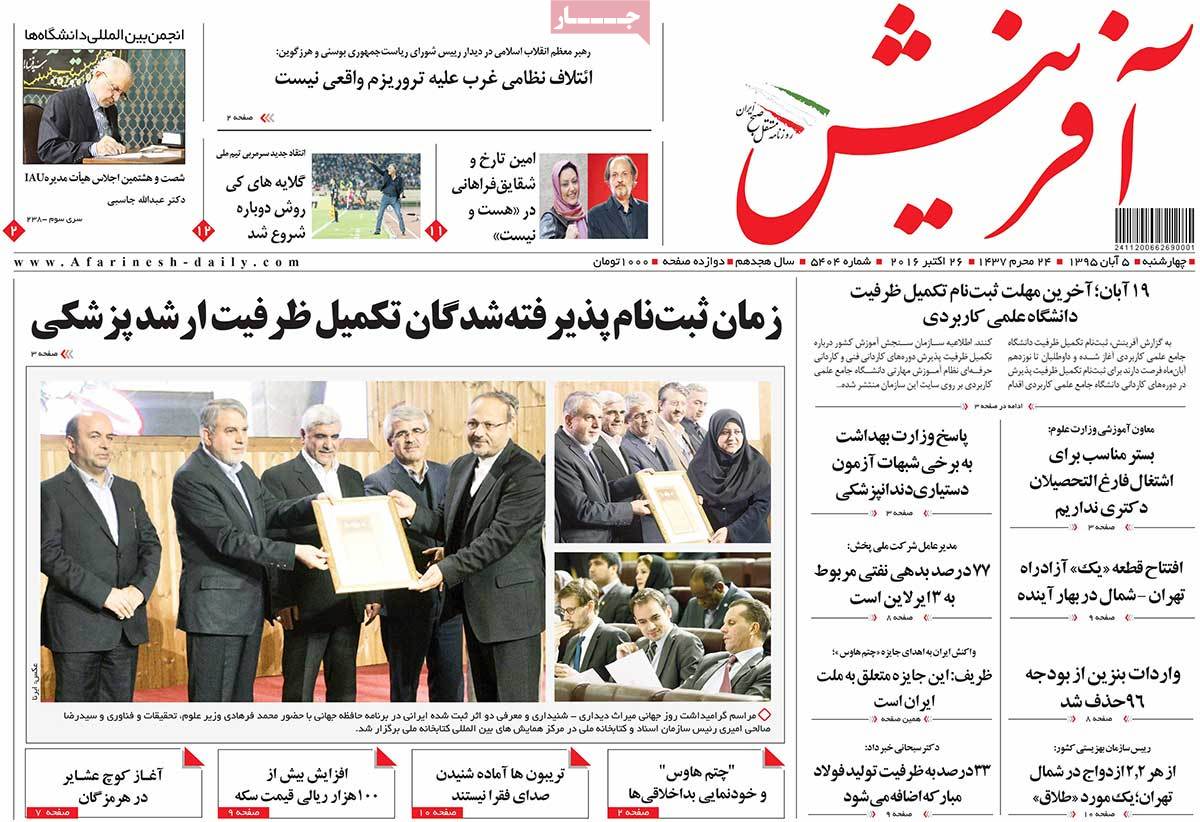 ---
Afkar:
Fabrican en el país, envases nanotecnológicos comestibles
El Primer Vicepresidente: "La capacidad misilística de Irán constituye el índice principal de la disuasión."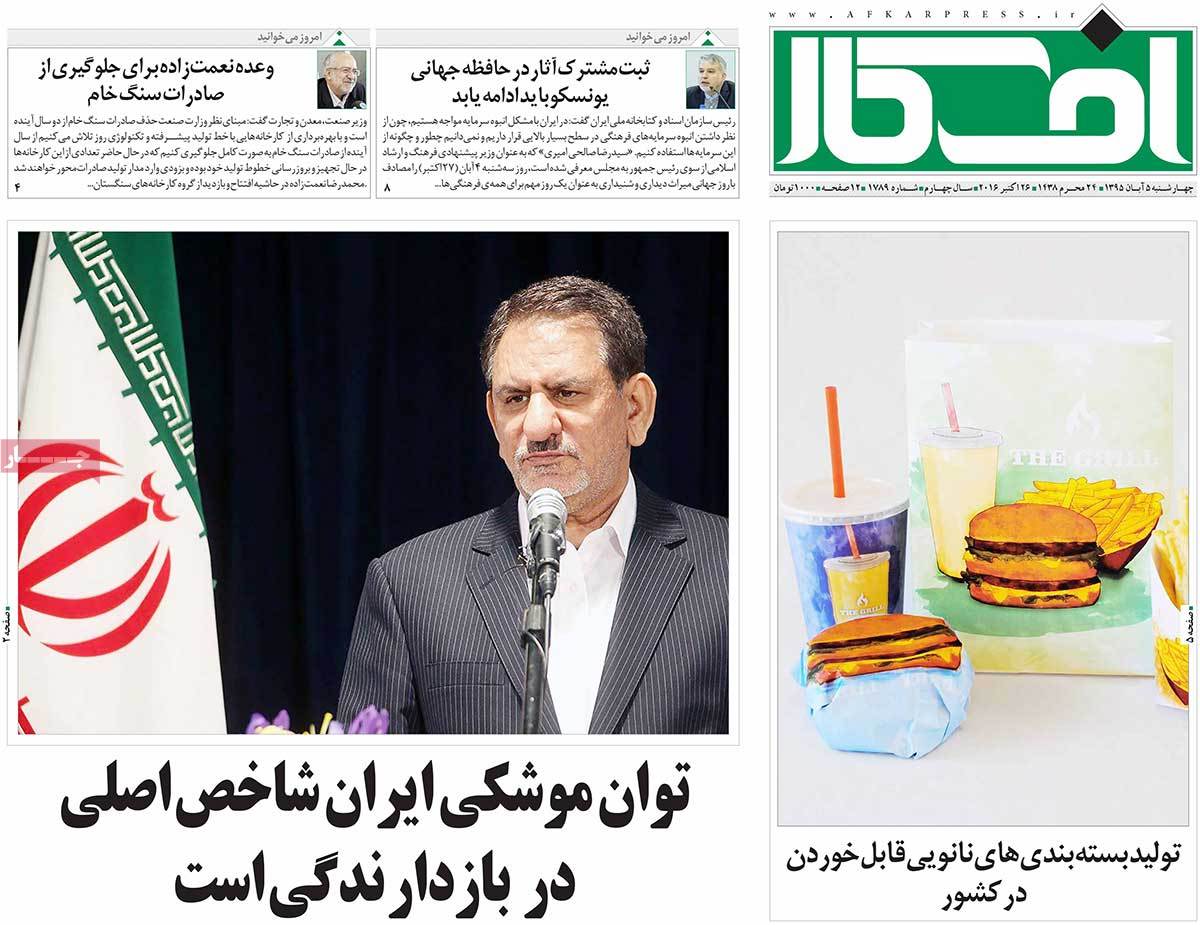 ---
Aftab:
Se normalizan los lazos entre Irán y Europa; En medio de duras críticas de los opositores del gobierno, el parlamento europeo aprueba la resolución sobre normalización de relaciones con Irán;
Sarcasmo del ministro de Inteligencia a los protestantes contra el viaje de un senador estadounidense a Irán: "El senador había viajado antes en 2010 a Irán, ¿Por qué los parlamentarios no se preocuparon en ese entonces?"
---
Amin:
Lucha feroz de Irán contra Daesh; durante el año en curso los agentes de seguridad iraníes han descubierto complotes terroristas, capturando a sus autores e incautando sus explosivos.
---
Arman:
El Líder de Irán, en un encuentro con el Jefe del Consejo Presidencial de Bosnia y Herzegovina: "La coalición militar de los Estados Occidentales frente al terrorismo, es irreal."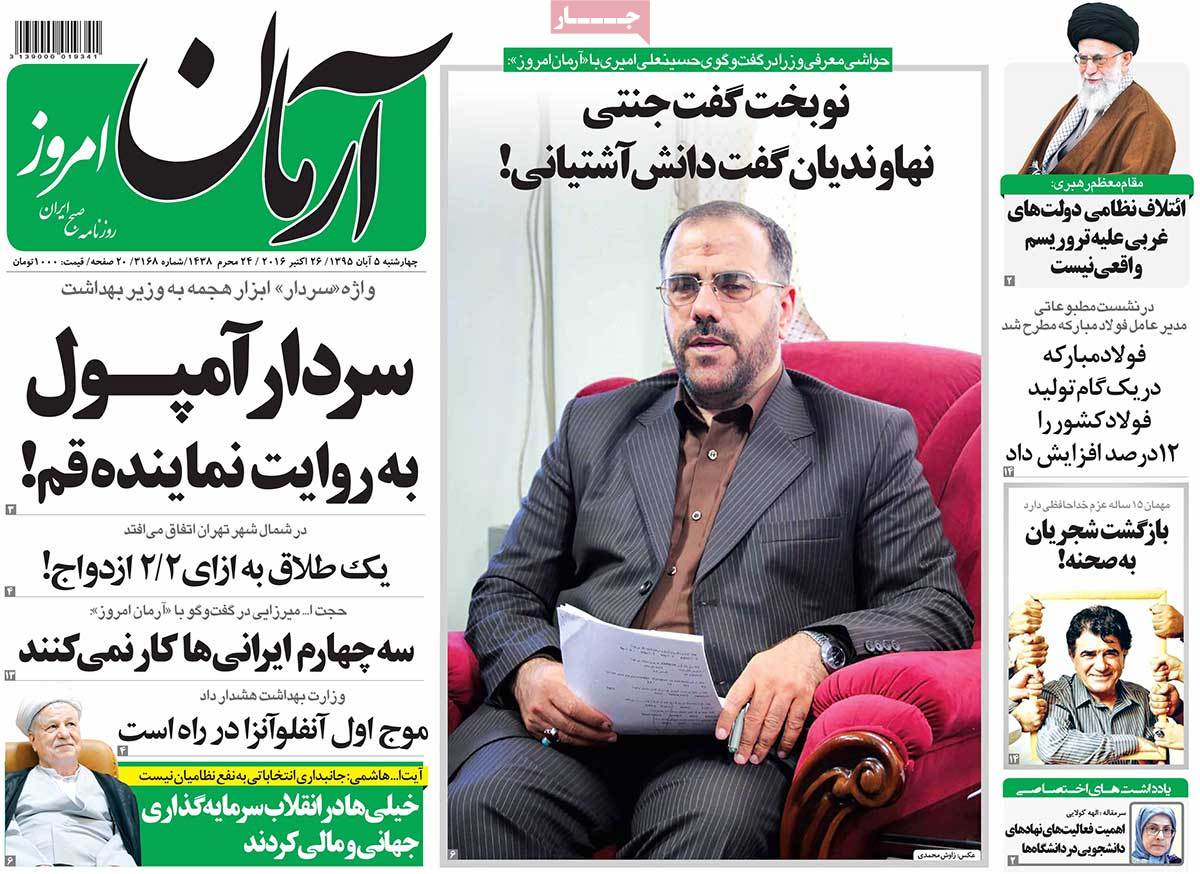 ---
Asrar:
Foreign Policy: "El congreso estadounidense estudia el plan de asesinato de Bashar al-Assad."
Secado del lago Urmia le ha costado 1000 millones de dólares a Irán.
La UE busca ampliar sus nexos con Irán
---
Etemad:
El ministro de Inteligencia responde a las preguntas y dudas sobre el viaje de un senador estadounidense a Irán.
La pesadilla de Daesh aparece en Pakistán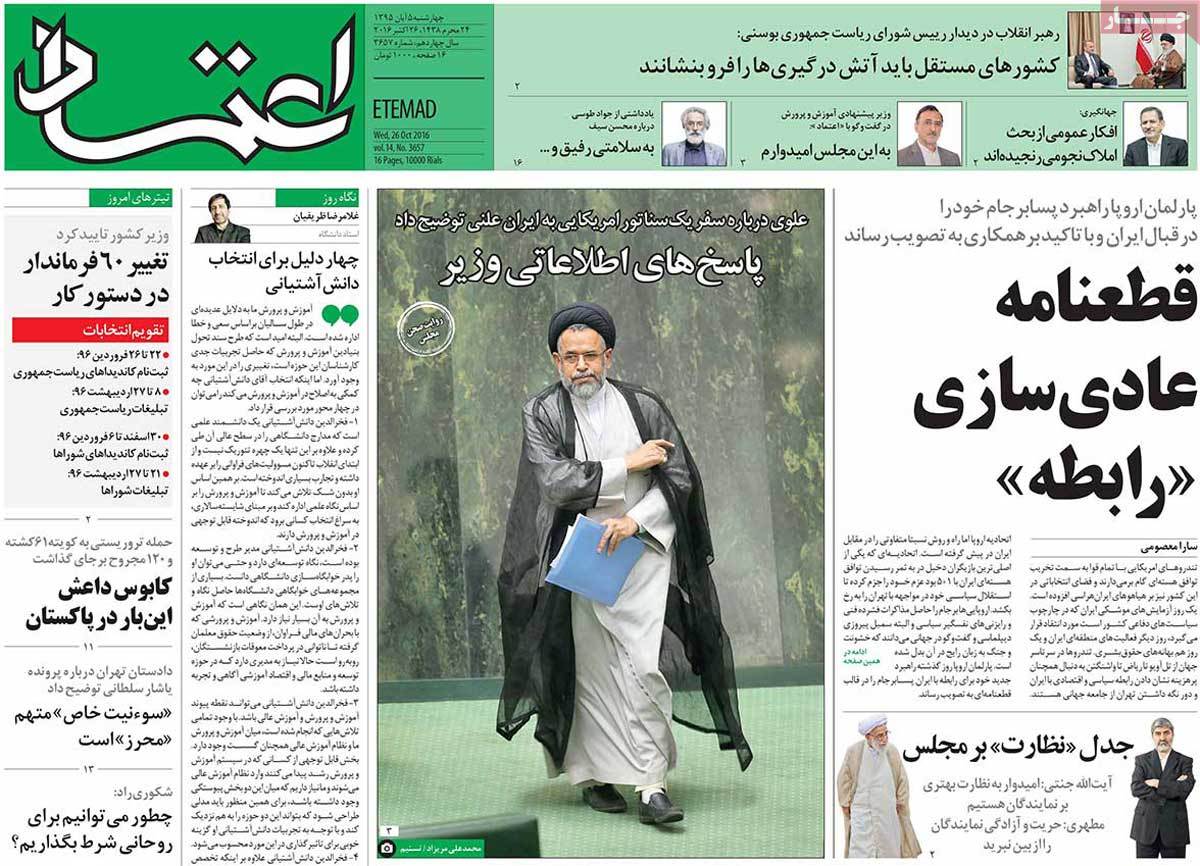 ---
Etelaat:
El Líder de la Revolución: "Los países soberanos deben reforzar sus lazos, reducir sus diferencias y no ser influenciado por las políticas de Estados arrogantes."
Academia de Policía en Pakistán, blanco de un atentado suicida; mueren 60 y 125 resultan heridos
---
Besharat_e_No:
El ministro de Inteligencia, se dirige a los Opositores del gobierno: "No hace falta necesariamente clausurar las fronteras para frenar la influencia de los extranjeros."
Activista político reformista: "Rohani ha actuado mejor de lo que se esperaba."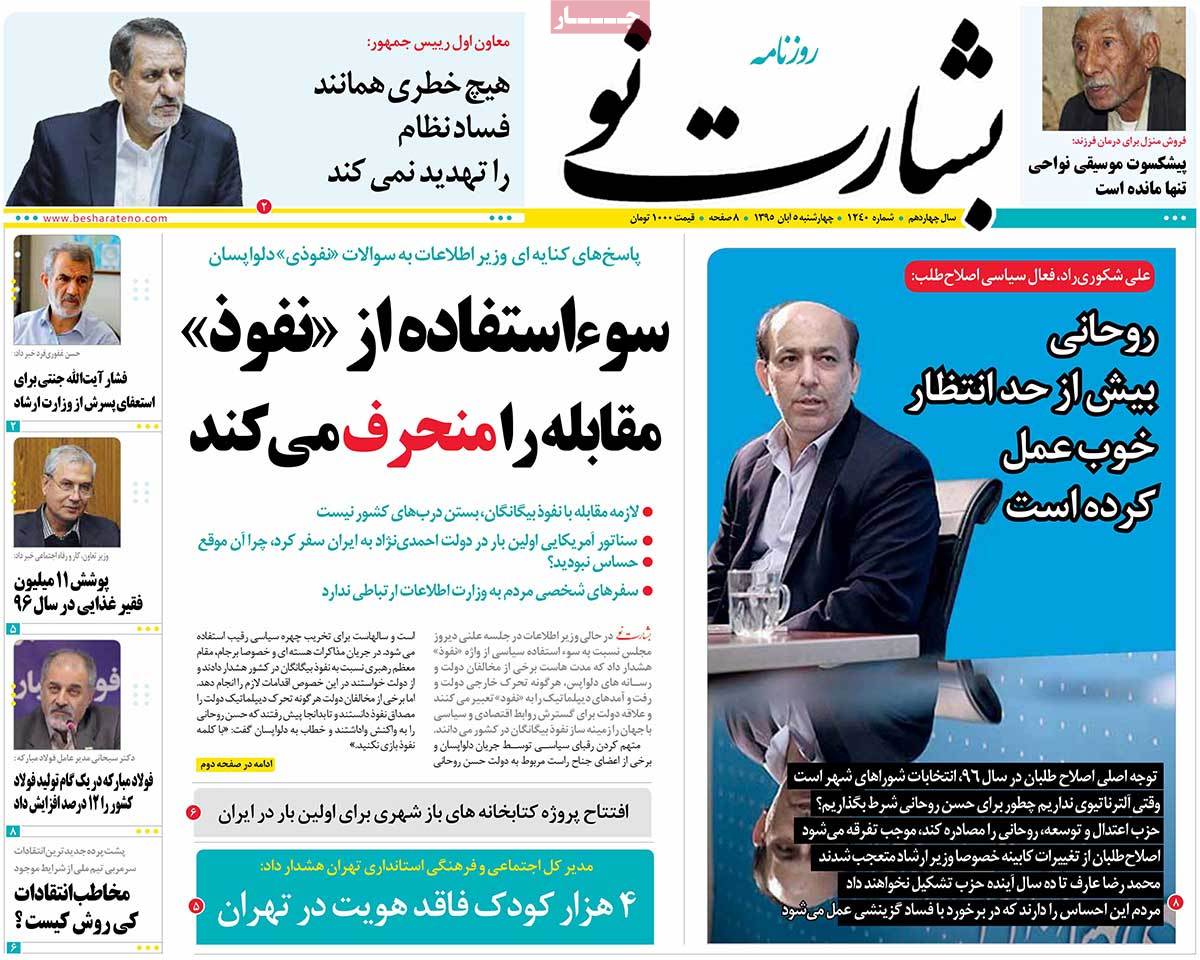 ---
Hamshahri:
El Presidente de Finlandia, en una entrevista con Hamshahri enfatiza en mantener lazos con Irán, bajo un juego suma cero.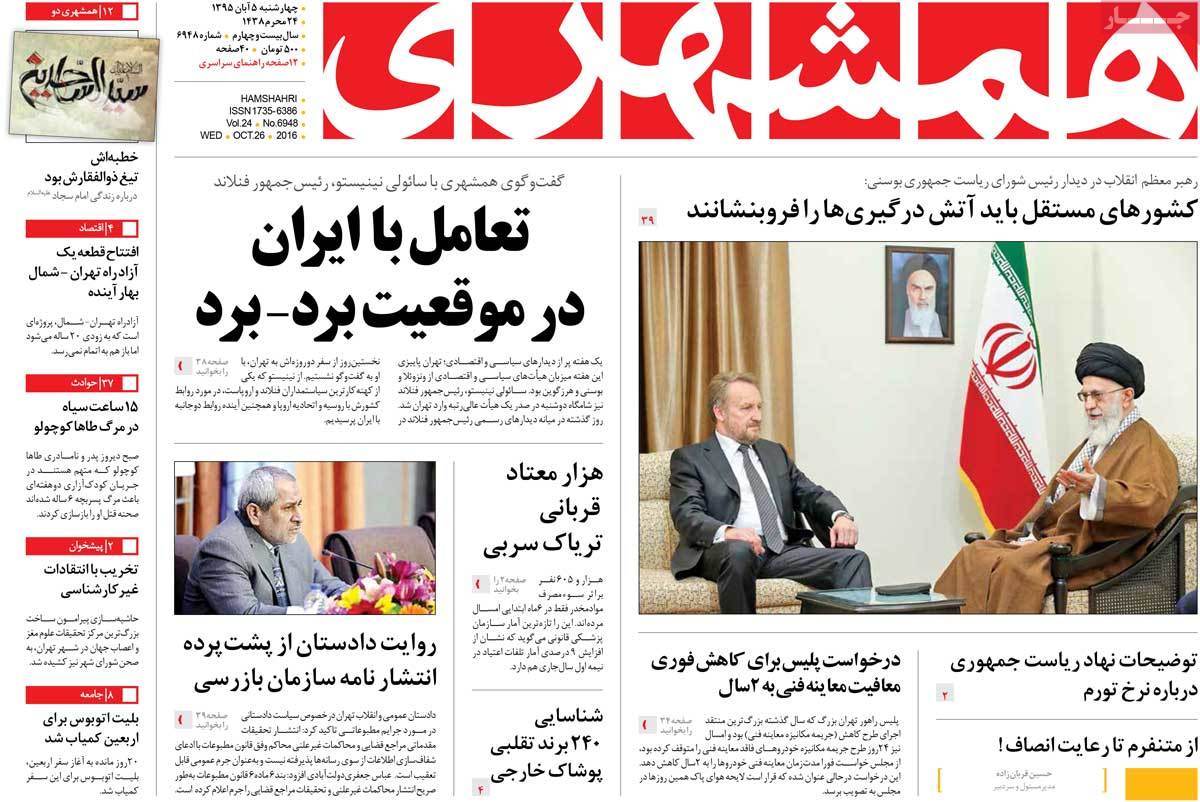 ---
Irán:
Irán, autosuficiente en la producción de gasolina tras 36 años
El Parlamento Europeo aprueba la Normalización de Relaciones con Irán, con 456 votos a favor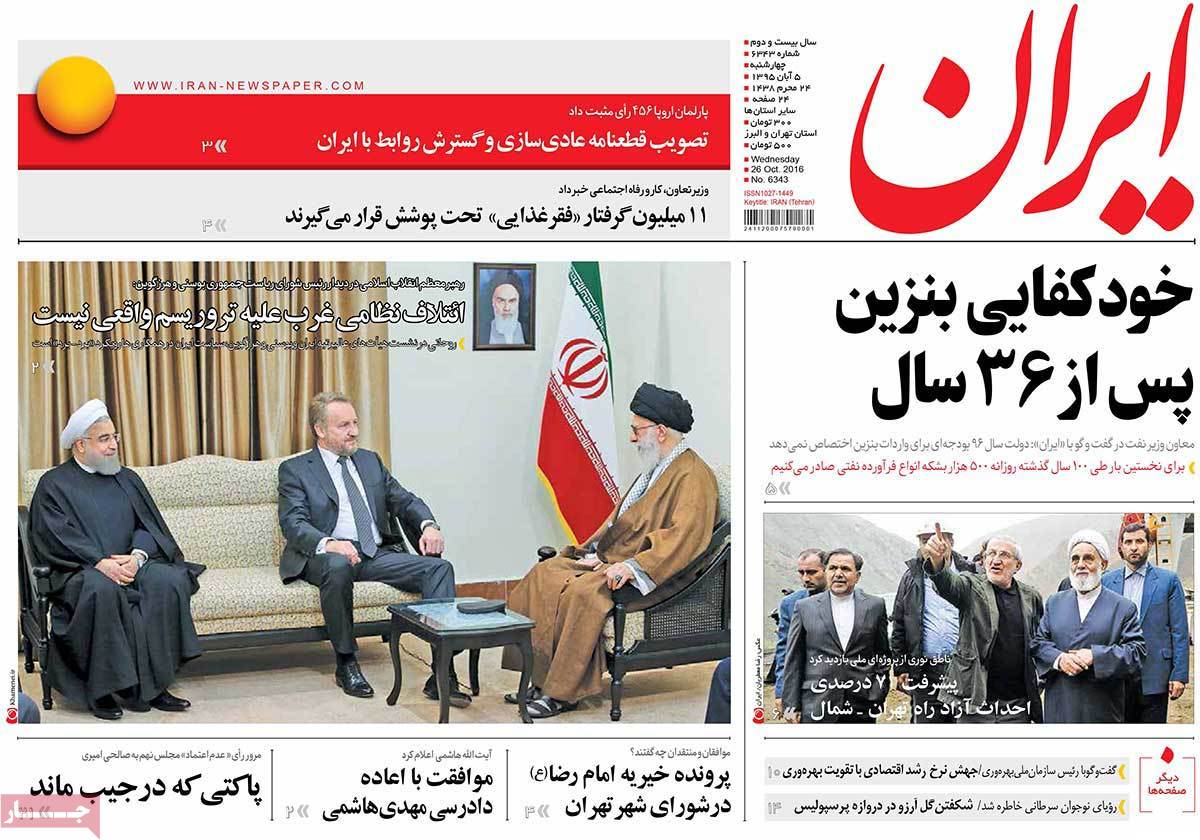 ---
Yavan:
El Líder de la Revolución: "Europa ha creado al terrorismo y a Daesh, humillando a los jóvenes musulmanes."
Daesh aparece en Pakistán
---
Yomhuri Eslami:
Rohani, en una reunión con la delegación bosnia de alto rango, urge el desarrollo multilateral de cooperaciones Teherán- Sarajevo
Siria pide la indemnización de guerra de la coalición militar liderada por EE.UU.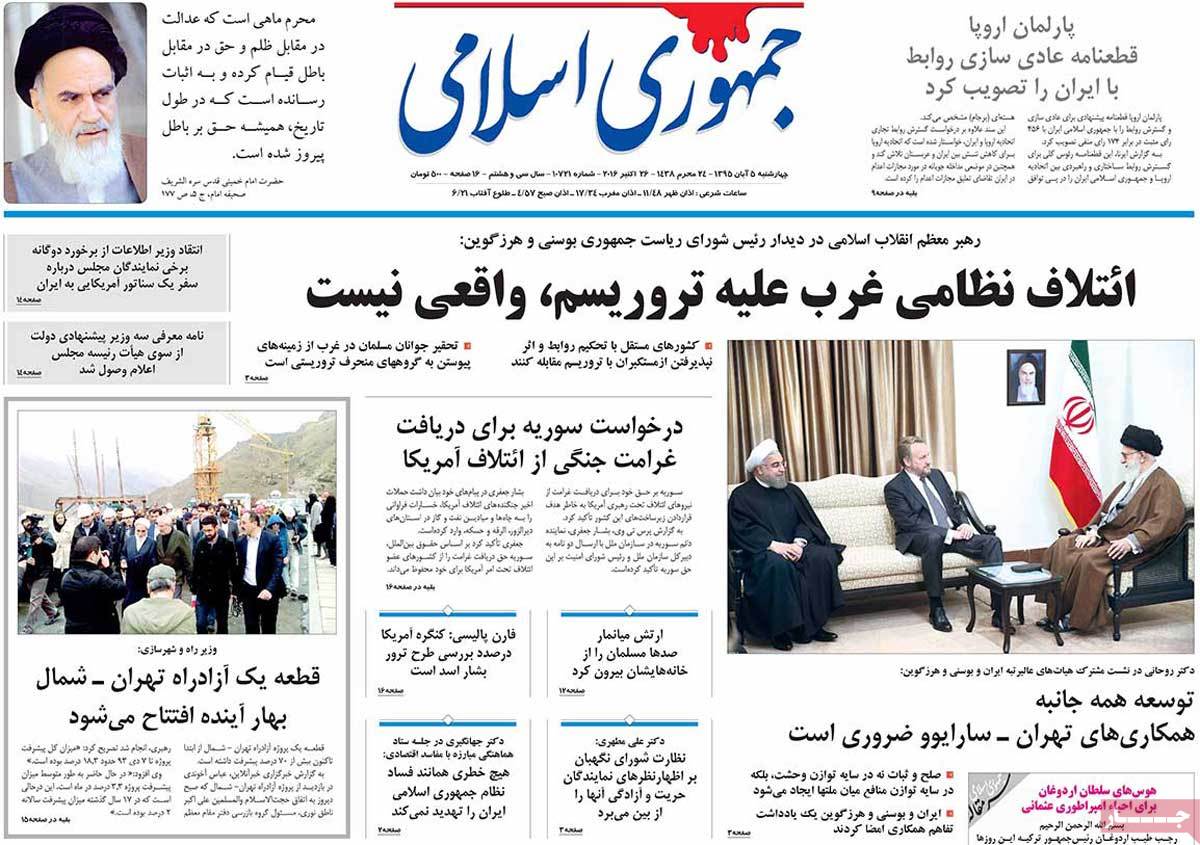 ---
Keihan:
EL Líder de la Revolución: "Europa y EE.UU originan el terrorismo."
El Comandante de Brigada Golani: "Hezbolá nos aplastará en la próxima guerra."
Instalan una cruz por encima de iglesia de cristianos iraquíes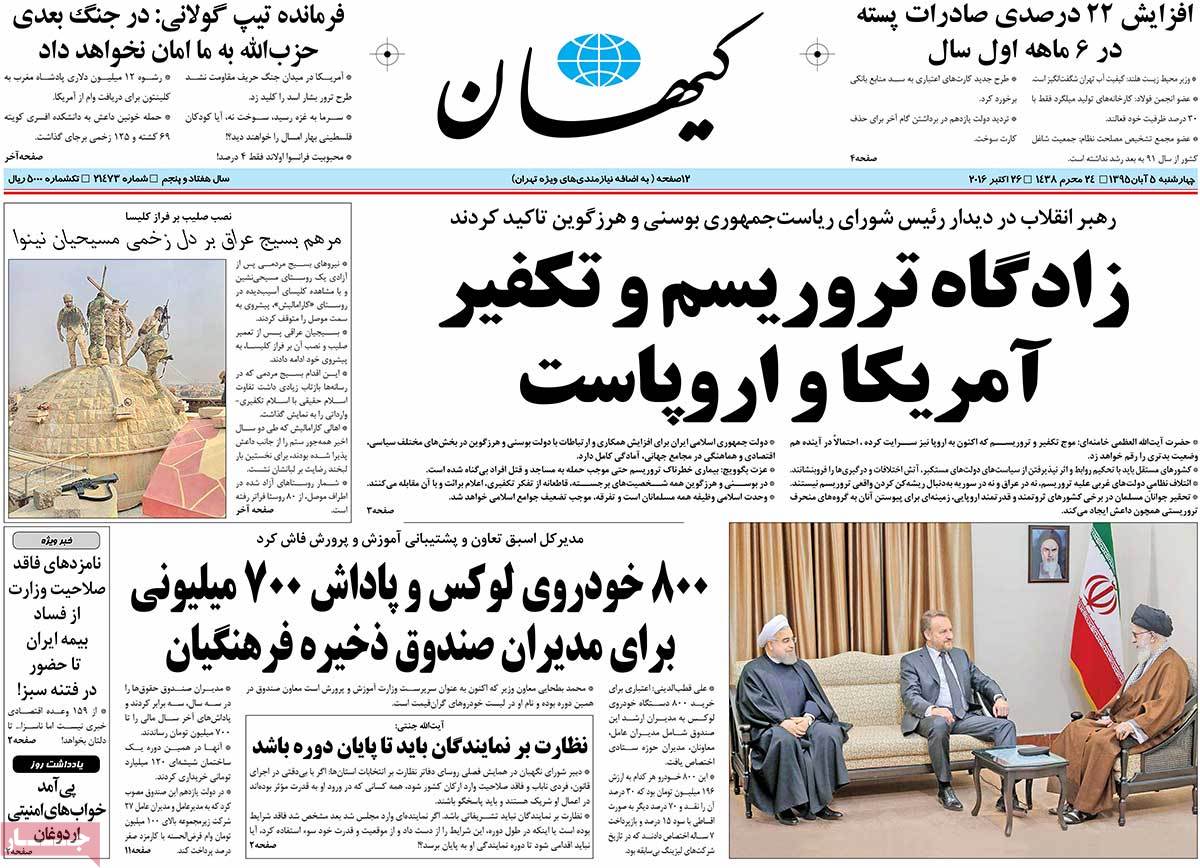 ---
Jorasán:
Atentado en Antalya; Ataque apunta al corazón turístico de Turquía
---
Paiam_e_Zaman:
Secretario del Consejo Supremo de Seguridad Nacional: "Los iraníes no dejarán sus tendencias antiestadounidense y anti sionistas."
Presidente Rohani: "El islam extremista no tiene nada que ver con el Islam Verdadero."
---
Rah_e_Mardom:
Rohani: "Irán y Bosnia y Herzegovina se esfuerzan por presentar al Islam Verdadero."
---
Resalat:
EL Líder de la Revolución: "Las políticas bélicas del Occidente se suman cada día a los problemas de la humanidad."
El Presidente del Consejo de Expertos del Liderazgo: "Algunos desean rendir al enemigo, bajo la excusa de mantener relaciones."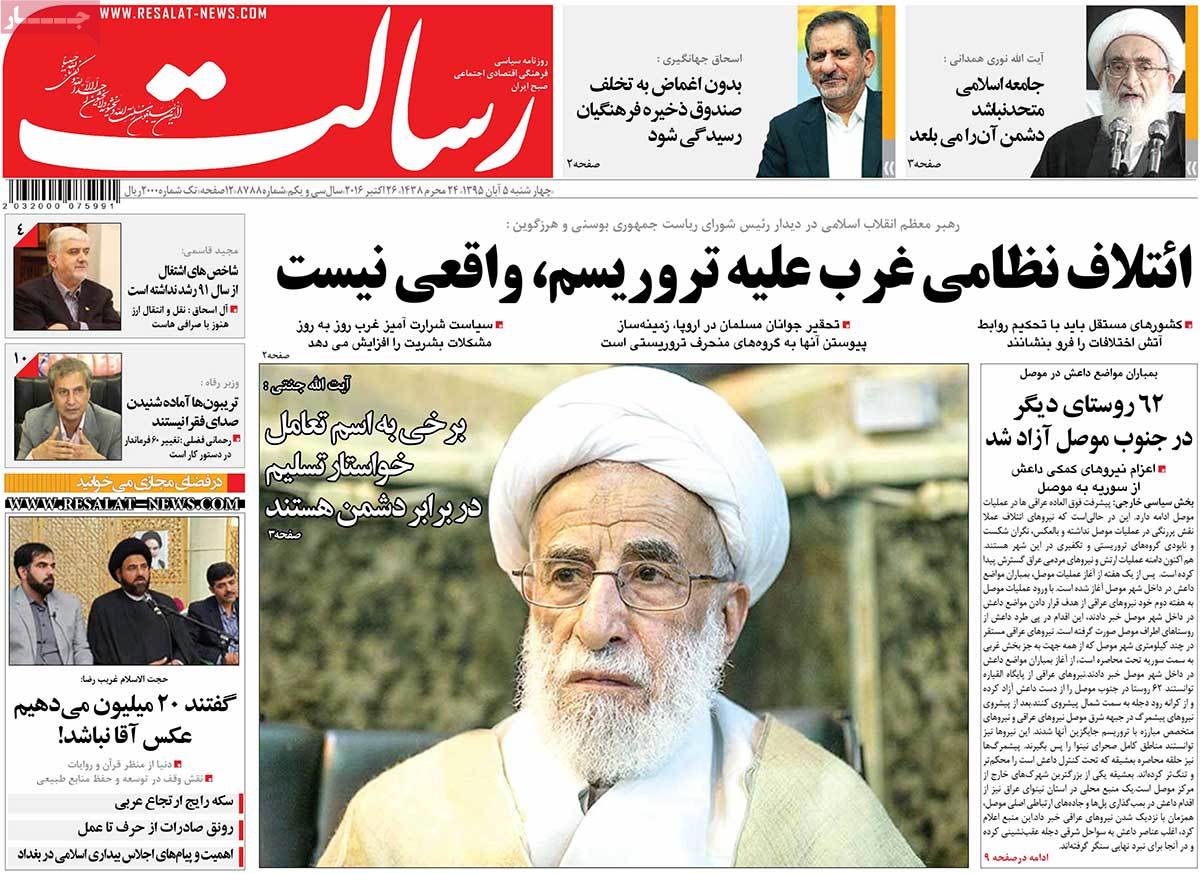 ---
Sayeh:
Irán produce 25% de la Comida Halal; los musulmanes importan la Comida Halal.
El ministro del Medio Ambiente de Holanda: "La calidad del agua de Irán es magnífica."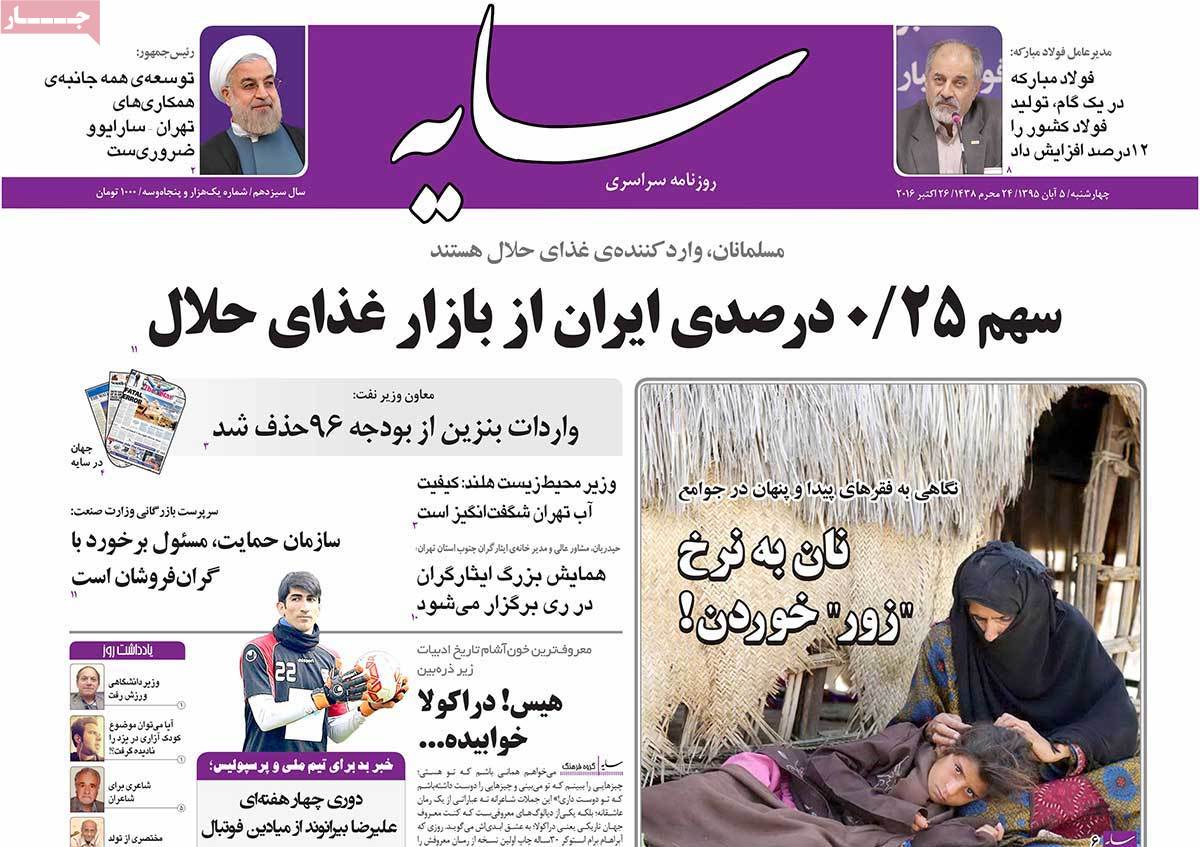 ---
Sepid:
Los psicólogos estadounidenses afirman que Donald Trump ha sembrado el pánico en la sociedad causando el aumento del nivel de estrés entre los ciudadanos de este país.
---
Setare Sobh:
El Líder de Irán: "La paz y la seguridad constituyen elementos vitales para la prosperidad y el avance de todos los sectores de una nación."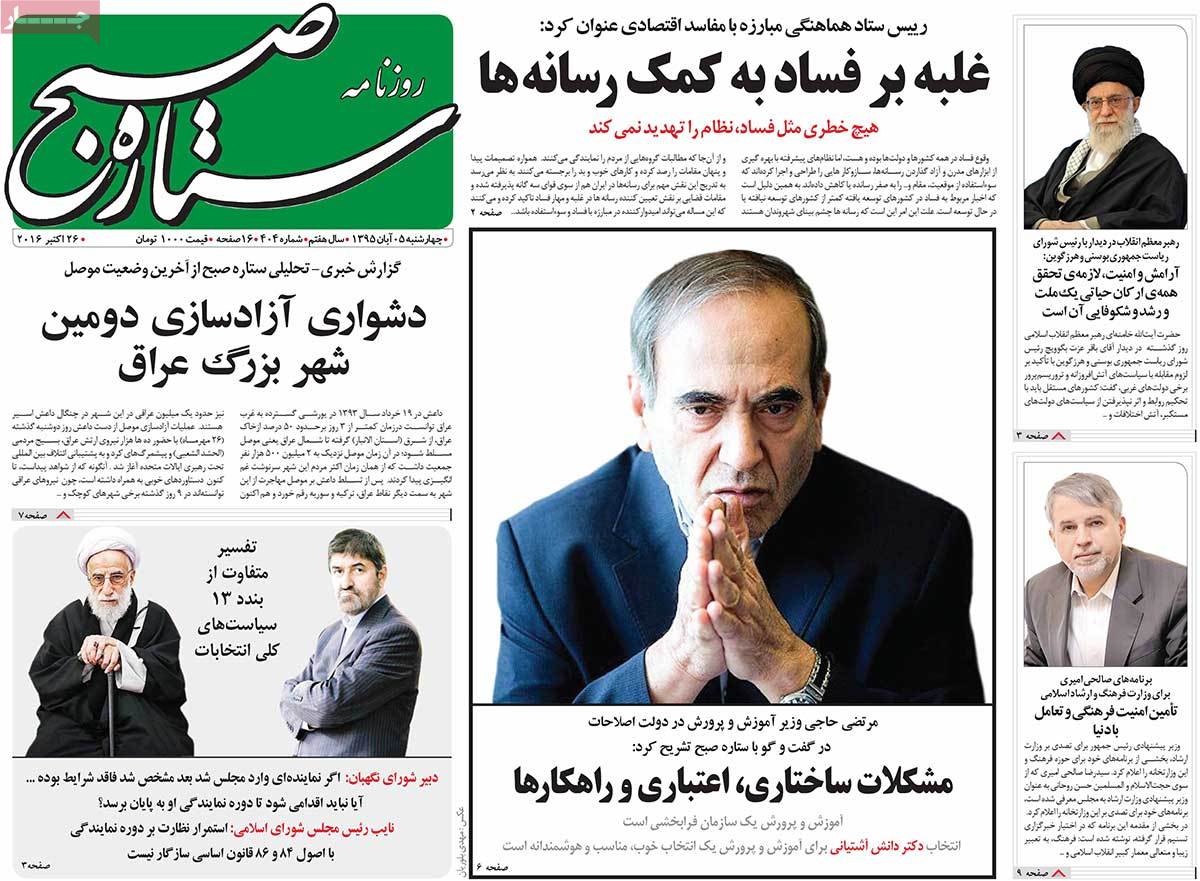 ---
Shahrvand:
De la Iranofobia a la Amistad con Irán; Los medios de comunicación del mundo ubican a Irán entre 10 países maravillosos del orbe; La industria del turismo ya representa para Irán un 7.6% de su PIB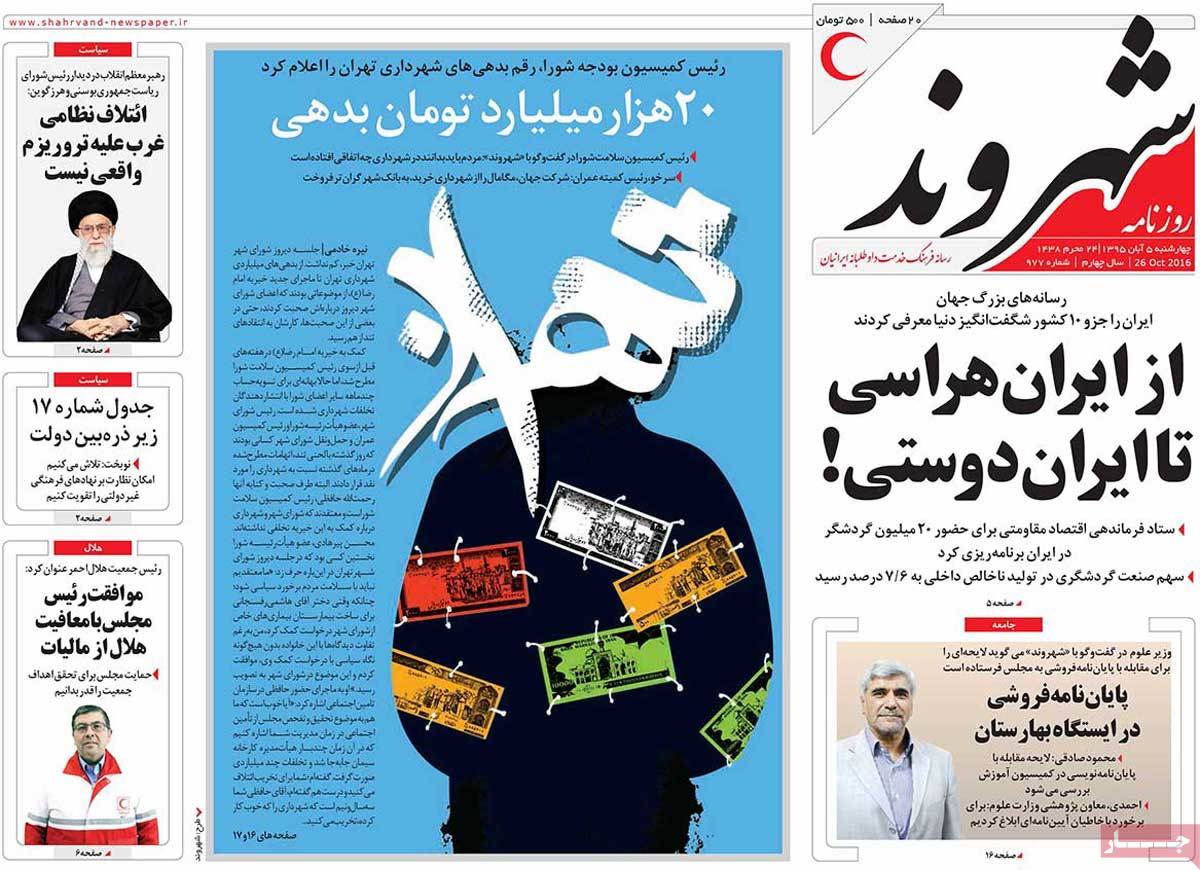 ---
  Vaghaie Etefaghia:
La resolución aprobada por la UE, una luz verde a Irán
Encuesta de un programa deportivo refleja la opinión pública: "Permitan la entrada a las mujeres en los estadios deportivos."
Abuso sexual infantil se convierte en una crisis; "La Asociación al Apoyo a los Derechos de los Niños se siente preocupada por el caso."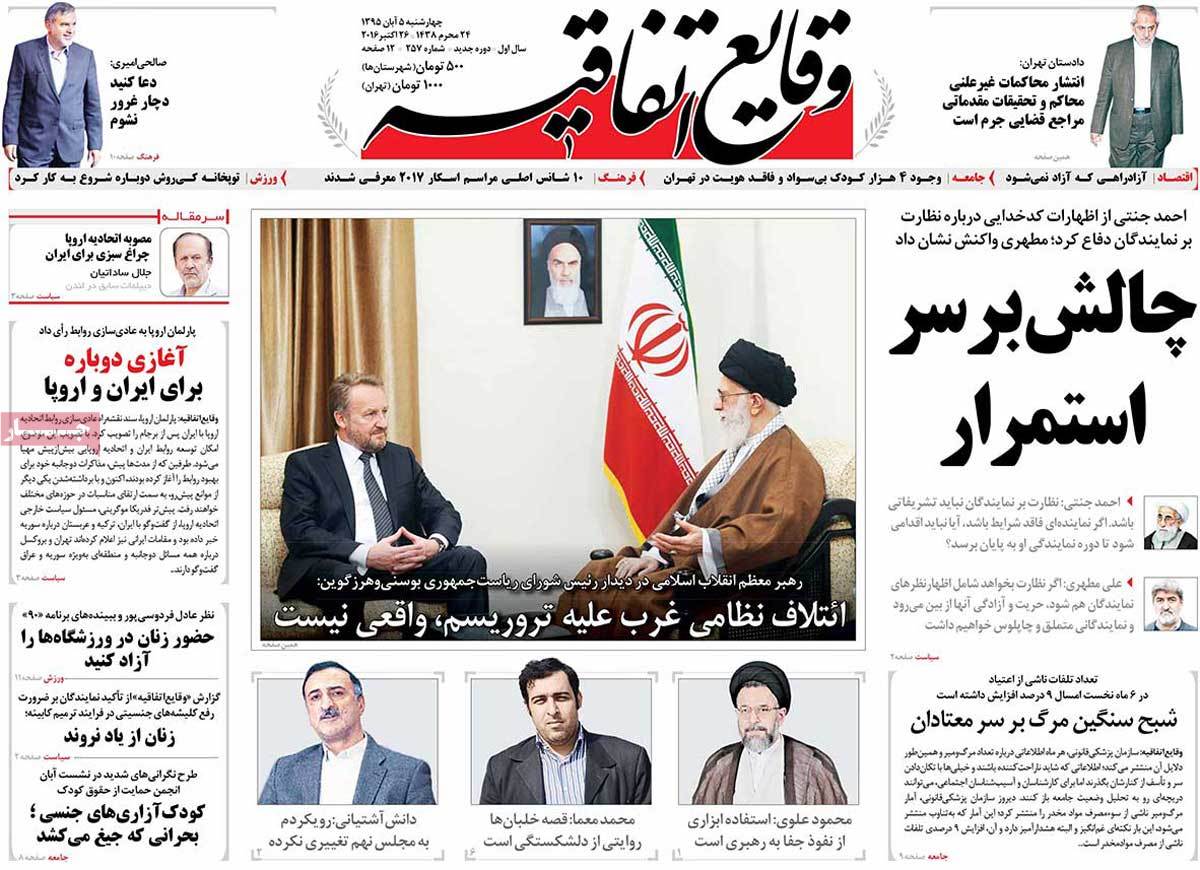 ---
Vatan_e_Emruz:
Premio de la reina; un reporte sobre entrega del premio Chatman House 2016 a los cancilleres de Irán y de EE.UU, Zarif y Kerry, respectivamente, por el Acuerdo Nuclear.