IFP has taken a look at the front pages of Iranian newspapers on Monday and picked headlines from 20 of them. IFP has simply translated the headlines and does not vouch for their accuracy.[:es]IFP ha echado una mirada a las portadas de periódicos iraníes, publicados el lunes, 24 de octubre de 2016, y ha recogido titulares de 20 de ellos. IFP ha traducido simplemente los titulares y no es responsable de su veracidad.
Newspapers today covered the remarks made by President Hassan Rouhani, who stressed that the country has only one leader and one government, and is governed by only one body.
They also highlighted the ongoing battle in Iraq to retake the ISIS-held city of Mosul, and also Turkey's efforts to play a role in the liberation operation.
The US Presidential Election has also remained a top story in many newspapers including Etemad which discussed the possible options for the post of US Secretary of State.
The above issues, as well as many more, are highlighted in the following headlines:
Abrar:
1- Rouhani Refers to Both US Presidential Candidates as Corrupt Politicians
2- We'll Stay in Iraq after Mosul Liberation If Baghdad Is OK: US
3- Turkey's Presidential Term to Be Increased to 5 Years
4- Rouhani: One Country, One Leader, and One Government
---
Aftab-e Yazd:
1- Leader: It's a Great Mistake to Think that US Is Invincible
2- Ahmadinejad Can't Get Rid of His Global Management Concerns! Former Iranian President Writes Letter to New UN Secretary General
3- How Much Are Trump's Affairs with Women Important to American People?
---
Asrar:
1- Iran Governed by a Single Body; There's No Dual Management: Rouhani
2- Air Leasing Becomes Possible with Germans: Transport Minister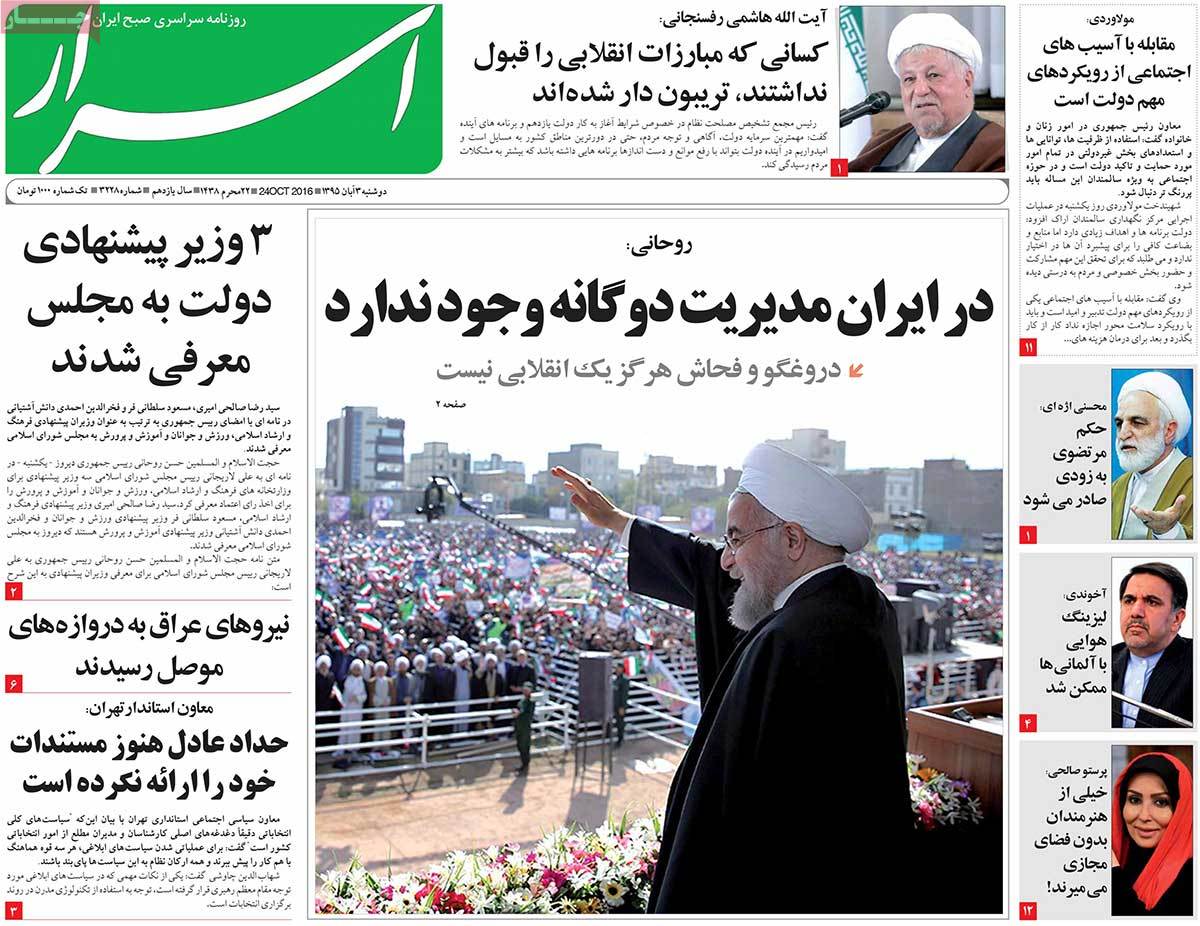 ---
Ebtekar:
1- Leaving the Habit of Being Used to Inflation Disease
2- Symphony of Horn Noise: Districts 11, 10, and 6 in Tehran Are the Most Polluted Districts in Terms of Noise Pollution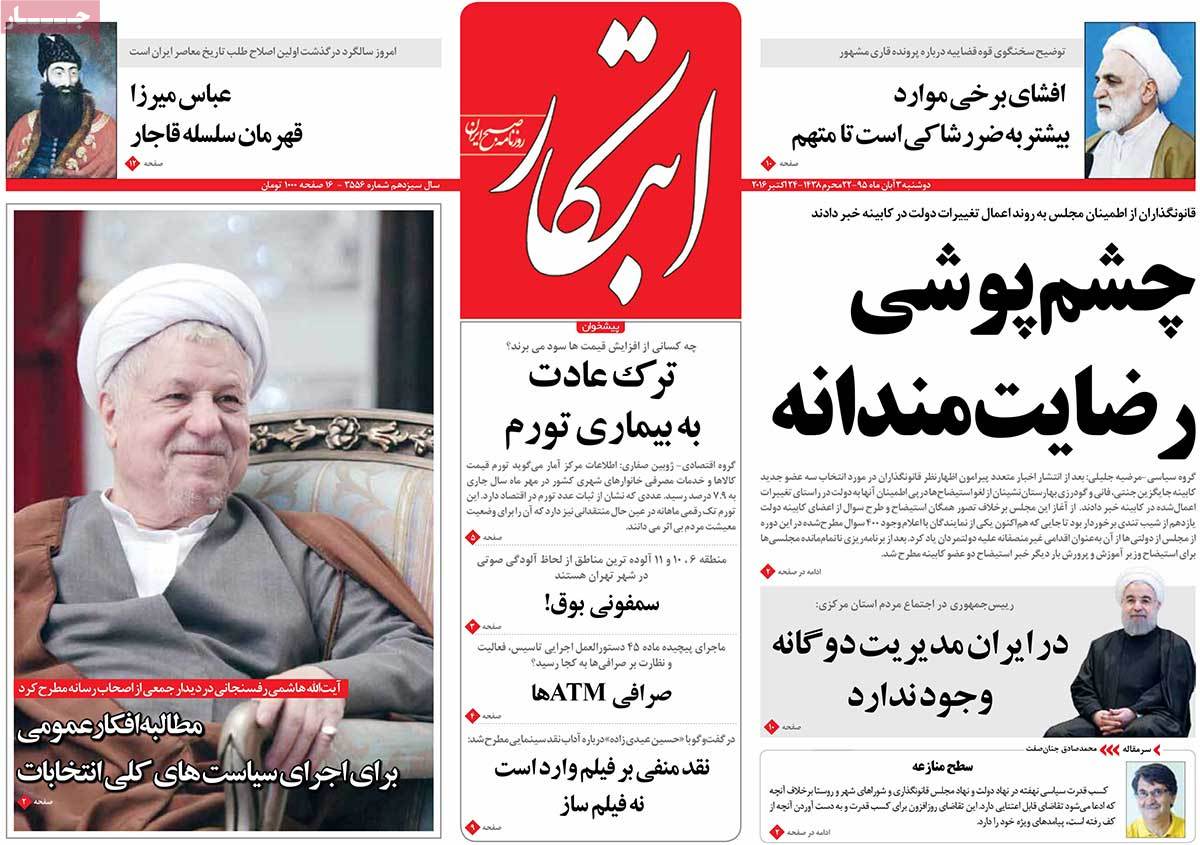 ---
Emtiaz:
1- 38m People Exposed to Air Pollution: Deputy Health Minister
2- More than 10 Tons of Narcotics Discovered in Past Month
3- Iran Becomes Self-Sufficient in Manufacturing CNG Tanks for Cars
---
Etemad:
1- Rouhani Criticizes Those Who Criticize JCPOA
2- Heirs to JCPOA: A Report on Possible Candidates for Post of US Secretary of State under Clinton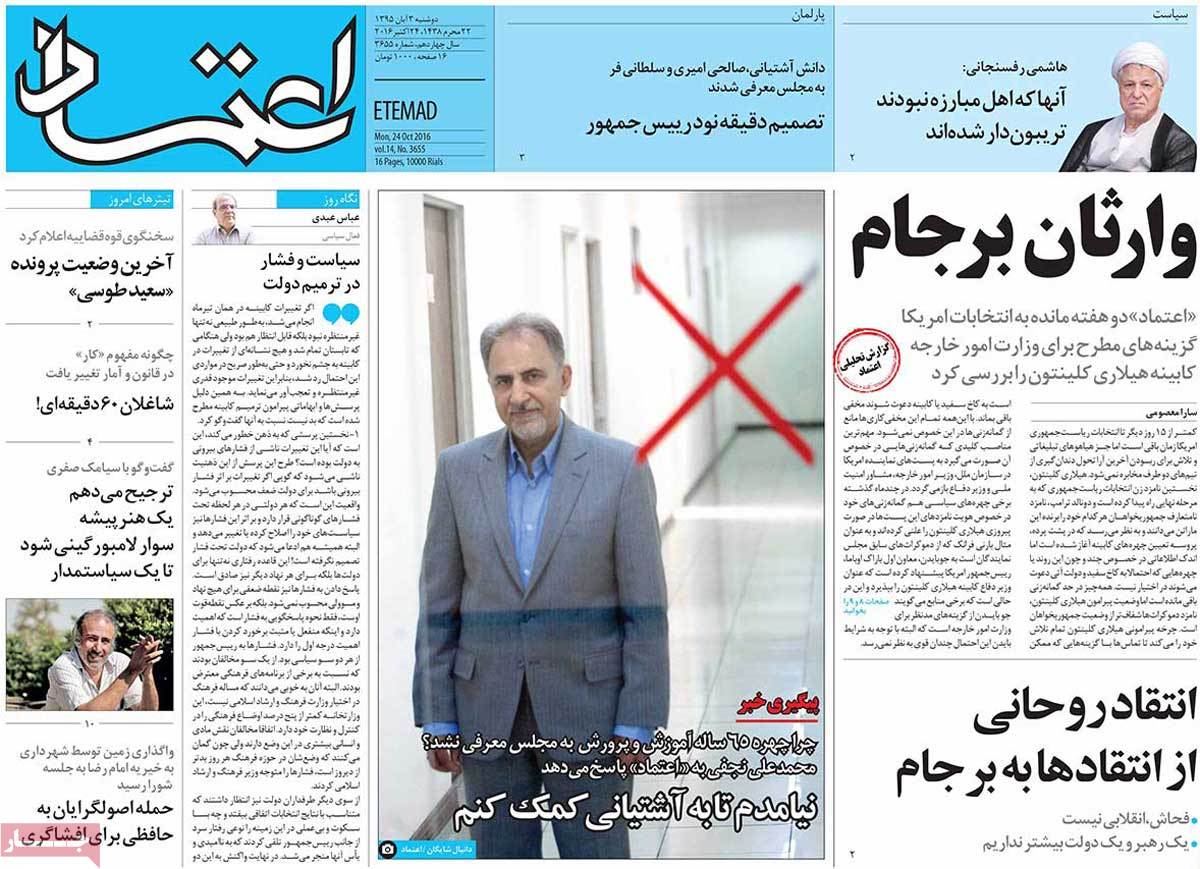 ---
Ettela'at:
1- Inflation Rate Stands at 7.9% in Past Month
2- Rouhani: $1.6bn Foreign Investment Absorbed in Iran's Industry, Mines, and Trade Sector in Post-JCPOA Era
3- Iranians Are Compatible People, Not Compromisers: Analyst
4- Freedom of Expression and Post-Expression Security Should Be Welcomed: Ayatollah Rafsanjani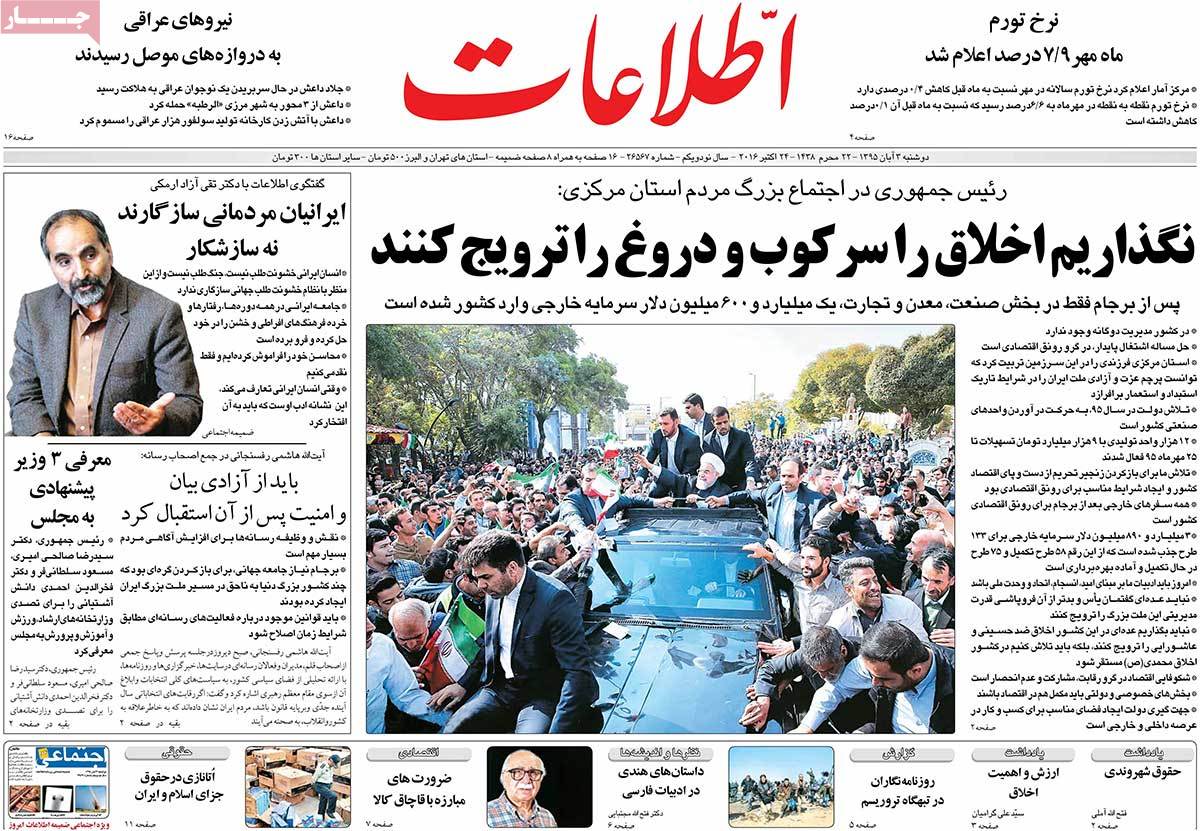 ---
Haft-e Sobh:
1- When John Rates Iranians: Story of the American Tourist Who Came to Iran and Loved People and Architecture Here
---
Hemayat:
1- Officials with Dual Nationality to Be Dismissed: Judiciary Spokesman
2- Iranian People Can Now Receive Foreign Exchange Using ATMs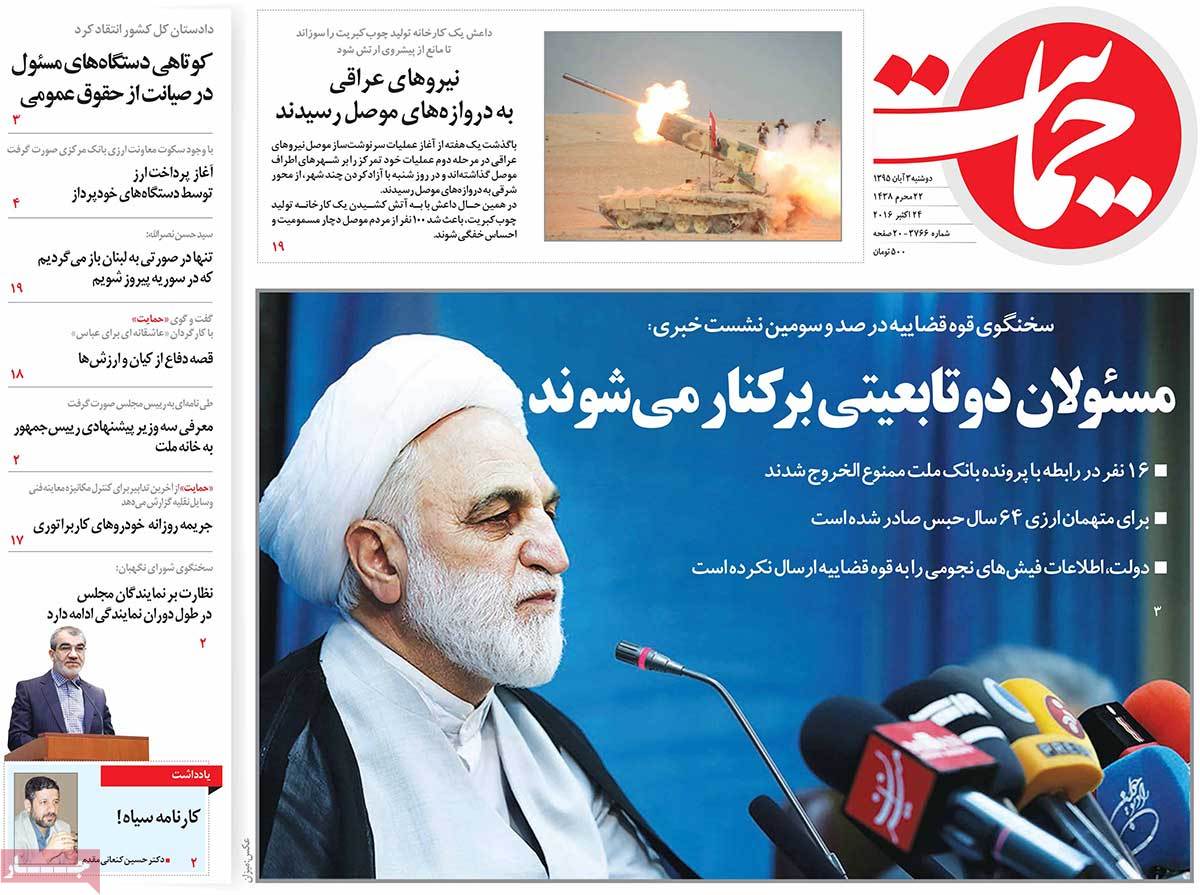 ---
Hosban:
1- Rouhani: Over 12,000 Production Units Start Their Work Using Bank Facilities
2- Oil Minister: Non-OPEC Oil Producers to Accompany OPEC Member States
---
Iran:
1- Beginning of Amsterdam-Tehran Flights: Dutch Airline Introduces 21 World Heritage Sites in Iran to Its Passengers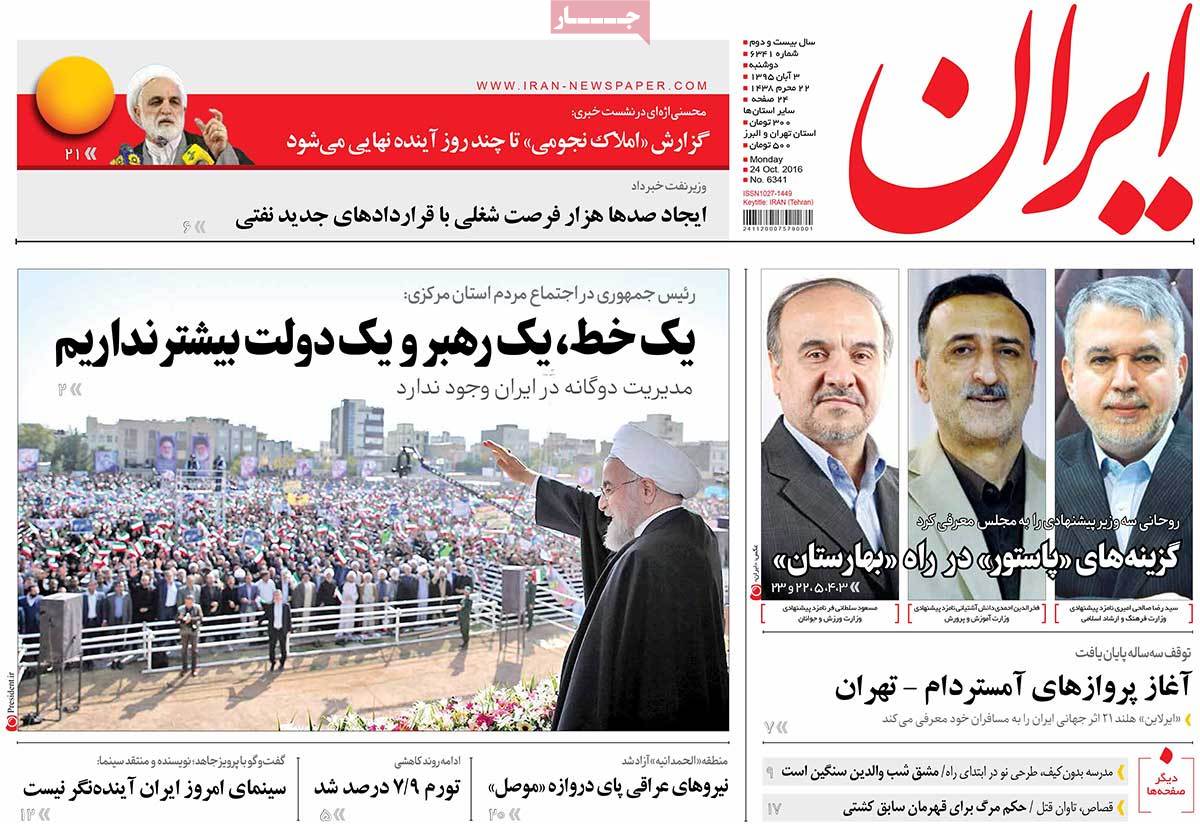 ---
Jame Jam:
1- Drug Addiction, the Godfather of AIDS
---
Javan:
1- Rouhani: JCPOA Opened the Door of a Garden to Iranian People. A Bunch of Kids Came to the Garden's Door and Asked Where the Apples and Pears Are!
2- Advertisement for Taking Part in US Green Card Lottery Becomes Public! 5,000 Iranians Annually Permitted to Take Part in US Project While Iranian Officials Are Asleep!
3- Al Saud and Al Khalifa Regimes Playing with Their Warships in Persian Gulf! Bahrain and Saudi Arabia's 5-Day Drills Started in Persian Gulf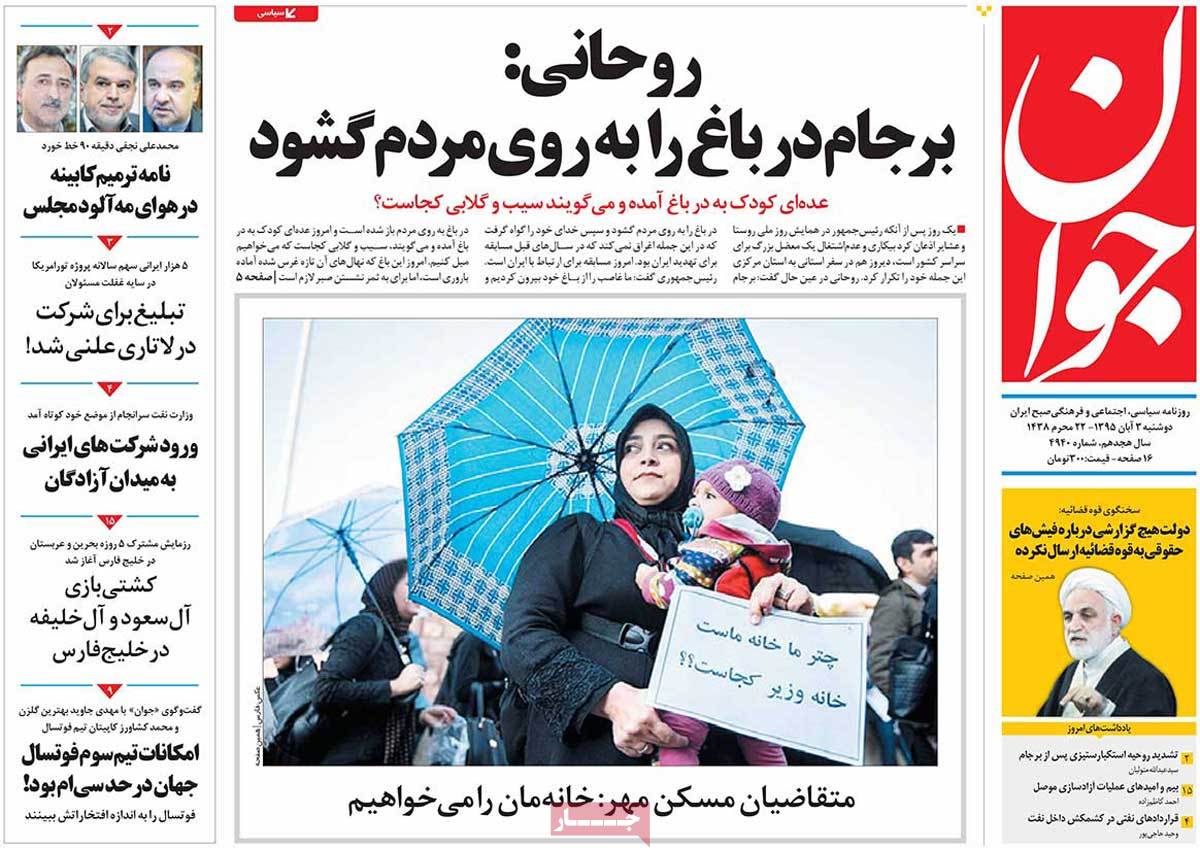 ---
Jomhouri Eslami:
1- Iran and Germany Sign 6 Documents of Cooperation in Rail Transportation
2- Independent Media Should Be Supported: Ayatollah Rafsanjani
3- Syria Gives Warning to Turkey's Aggressive Troopers
4- Iran-Austria Ties Are Expanding after JCPOA: Larijani in Meeting with Austrian Counterpart
5- Karlheinz Kopf: Cooperation with Iran, Which Has Stabilizing Role in Middle East, Should Be Taken into Account
6- Iraqi Forces Arrive at Mosul Gates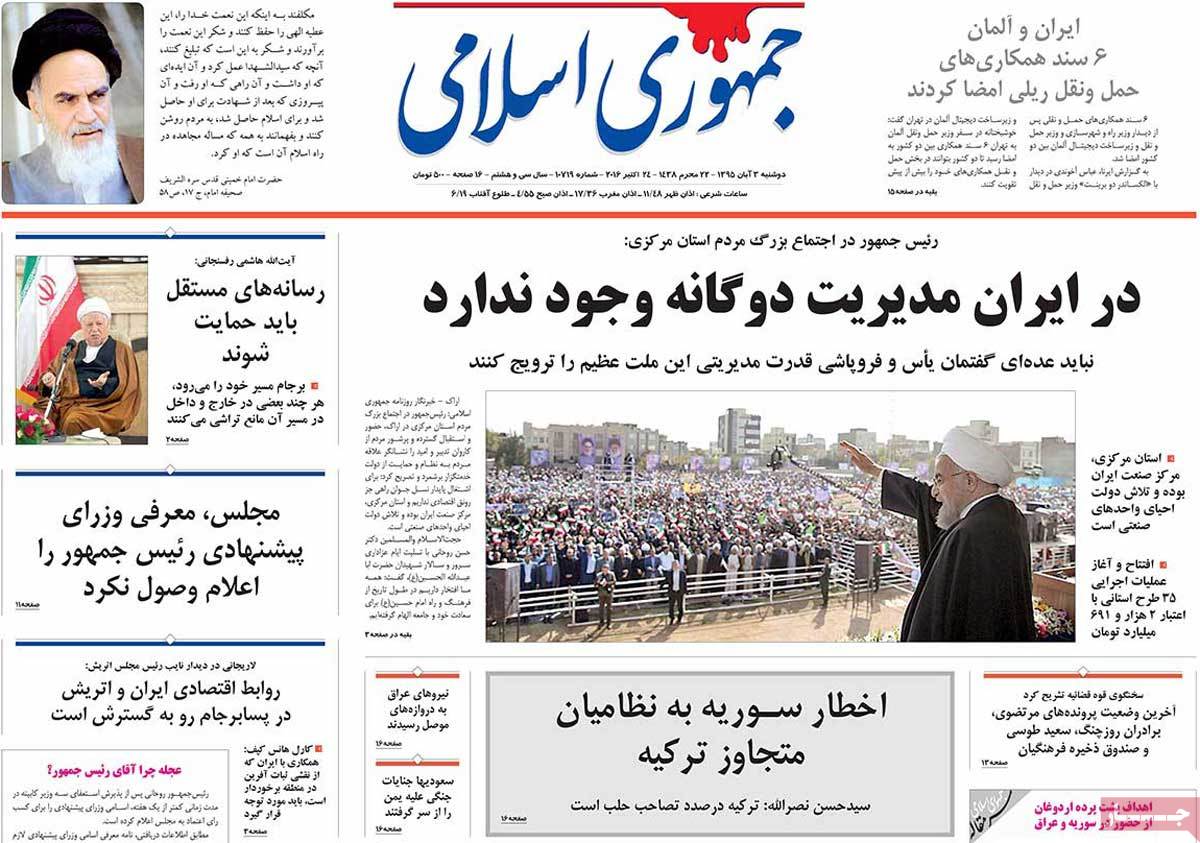 ---
Kayhan:
1- Rouhani: We've Planted Apple and Pear Trees, Wait for It to Bear Fruits!
2- Nasrallah: Erdogan Will Claim Tomorrow that Aleppo Belongs to Turkey!
3- Oppression in France, Rape in Germany, and Torture in Australia: Conditions of Asylum-Seekers in Countries that Claim to Be Advocates of Human Rights
---
Khorasan:
1- Ups and Downs of Polls in US Elections
2- 43% Increase in Production of Illicit Drugs in Afghanistan
---
Payam-e Zaman:
1- Defensive Might Lies behind Our Politicians' Smile: Civil Defence Chief
2- Carlos Queiroz's Team Has Remained Top Asian Football Team for 22 Months
---
Resalat:
1- Nowhere in the World Can You See 12,000 Candidates Competing for 300 Seats: Guardian Council Spokesman
2- New Concerns in Europe: Plan for Formation of a European Army and Britain's Worries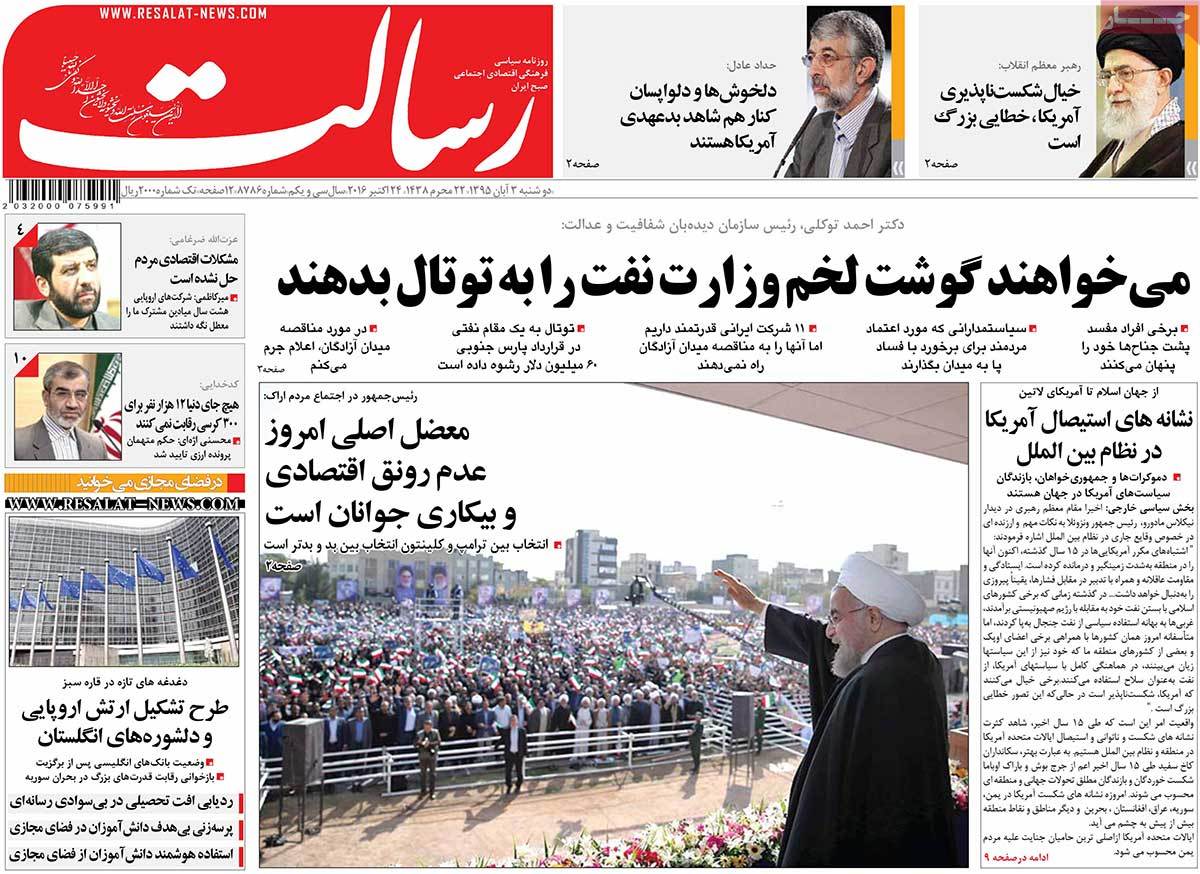 ---
Shahrvand:
1- Tehran's Noise Pollution Is Now in a More Serious Level: Members of City Council Warn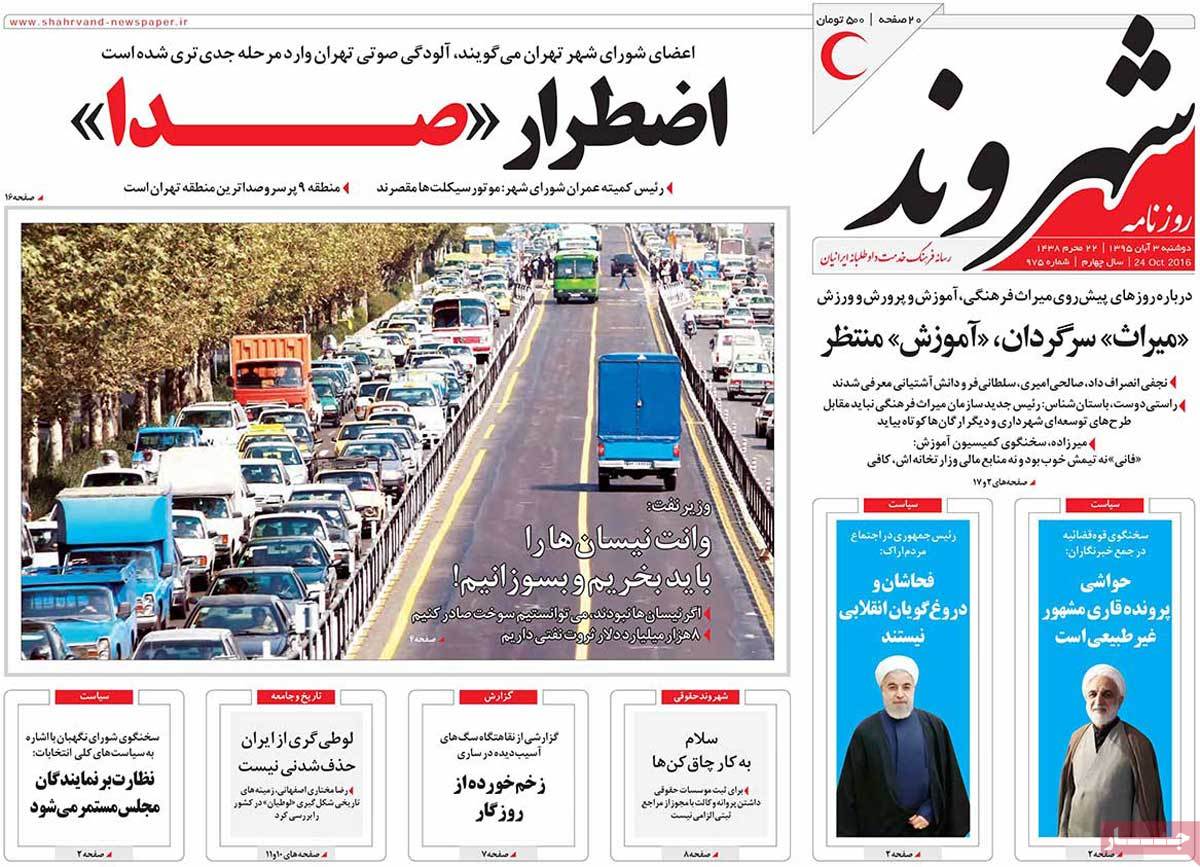 ---
Sobh-e Now:
1- Increase in Zarif's Chance: Latest Poll about Possible Presidential Candidates
2- Nasrallah: Aleppo and Mosul Will Influence Middle East's Fate
[:es]
En el día de hoy, las declaraciones del Presidente Hasan Rohani ante el público en la ciudad central de Arak, provincia de Markazi, ha recibido la mayor cubertura por la prensa.
Los diarios también prestaron una especial atención al tema de contaminación acústica y climática en Teherán, ya que en la actualidad esta ciudad superpoblada atraviesa por una situación alarmante.
Asimismo, las próximas elecciones presidenciales tanto de Estados Unidos de América como de la República Islámica de Irán, siguen siendo actualidades del día.
Los temas antes mencionados, así como varias otras cuestiones se destacan en los siguientes títulos:
Abrar:
Rohani calificó de "corruptos" a los candidatos a la presidencia de EE.UU
El Secretario de Defensa de EE.UU: "Si está de acuerdo Irak, permaneceremos en este país después de (la liberación de) Mosul."
Turquía extenderá el periodo del mandato presidencial a 5 años
Rohani: "El país cuenta con un solo líder y un solo gobierno."
---
Aftab Yazd:
El Líder: "La fantasía de invencibilidad de EE.UU es un gran error."
Ahmadineyad no deja su preocupación por la Gestión Mundial
El Expresidente vuelve a enviar una carta al Secretario General de la ONU
¿Qué tan importante es para los estadounidenses el escándalo sexual de Trump?
---
Asrar:
Rohani: "En Irán no existe la doble administración"
Se posibilita el leasing aéreo con las empresas alemanas, informa el ministro de Carreteras y Urbanización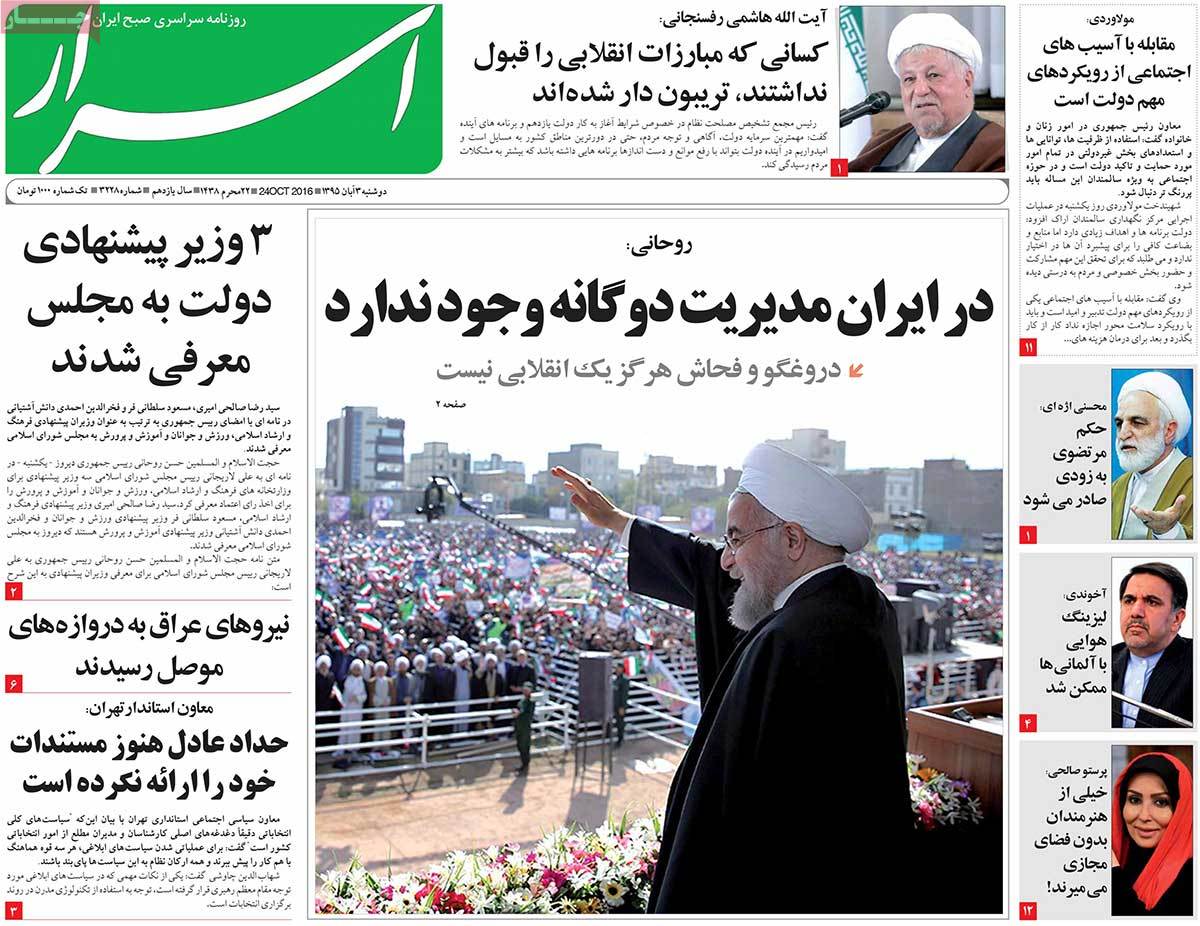 ---
Ebtekar:
Rohani: "No existe una adobe administración en Irán."
Abandonar el hábito de la inflación
Sinfonía de la bocina; Los distritos 6,10 y 11 se encuentran entre los peores desde el punto de vista de contaminación acústica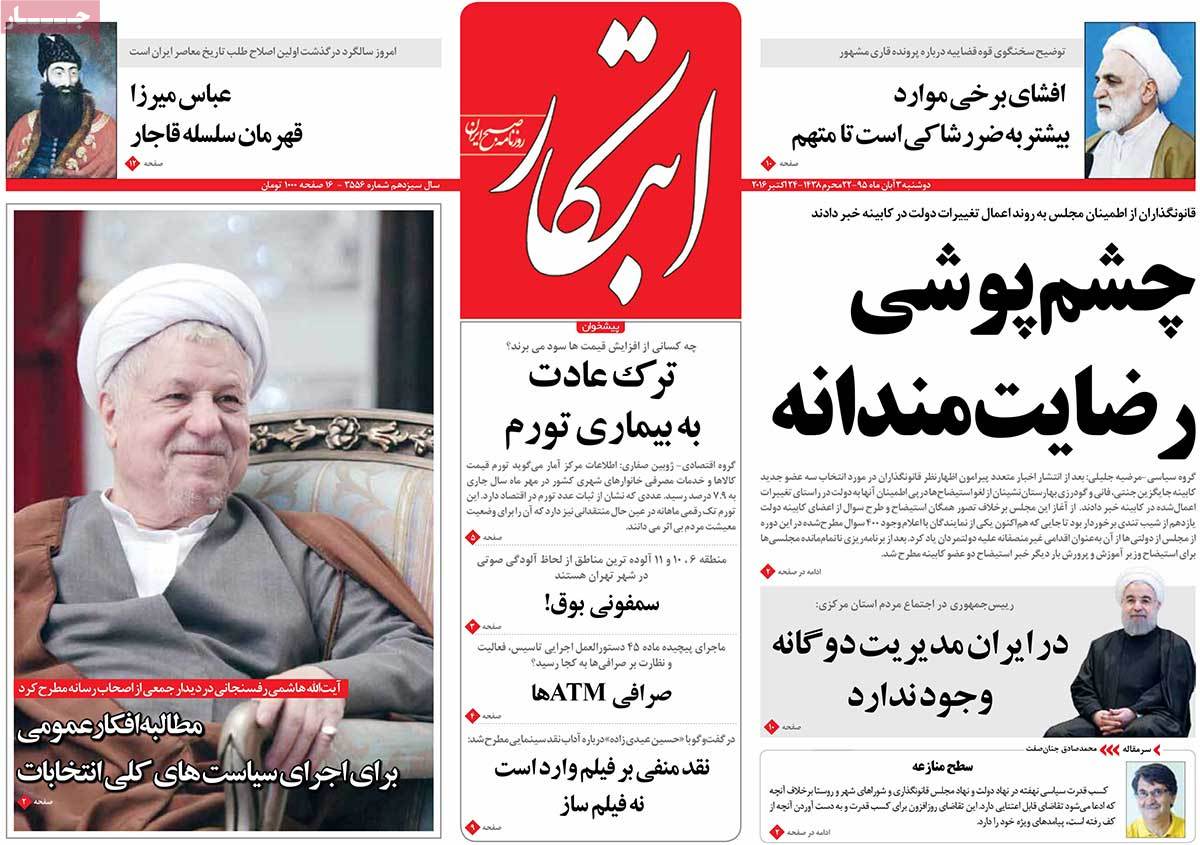 ---
Emtiaz:
Ministro de Salud: 38 millones de personas en Irán sufren por la contaminación del aire.
Se incautaron más de 10 toneladas de narcóticos en Irán el mes pasado
Irán consigue la autosuficiencia en la fabricación de tanques de CNG y vehículos
---
Etemad:
Rohani sensura a los críticos del Acuerdo Nuclear
Los herederos del PIAC
Etemad ha estudiado la biografía de dos candidatos a la presidencia de EE.UU, 2016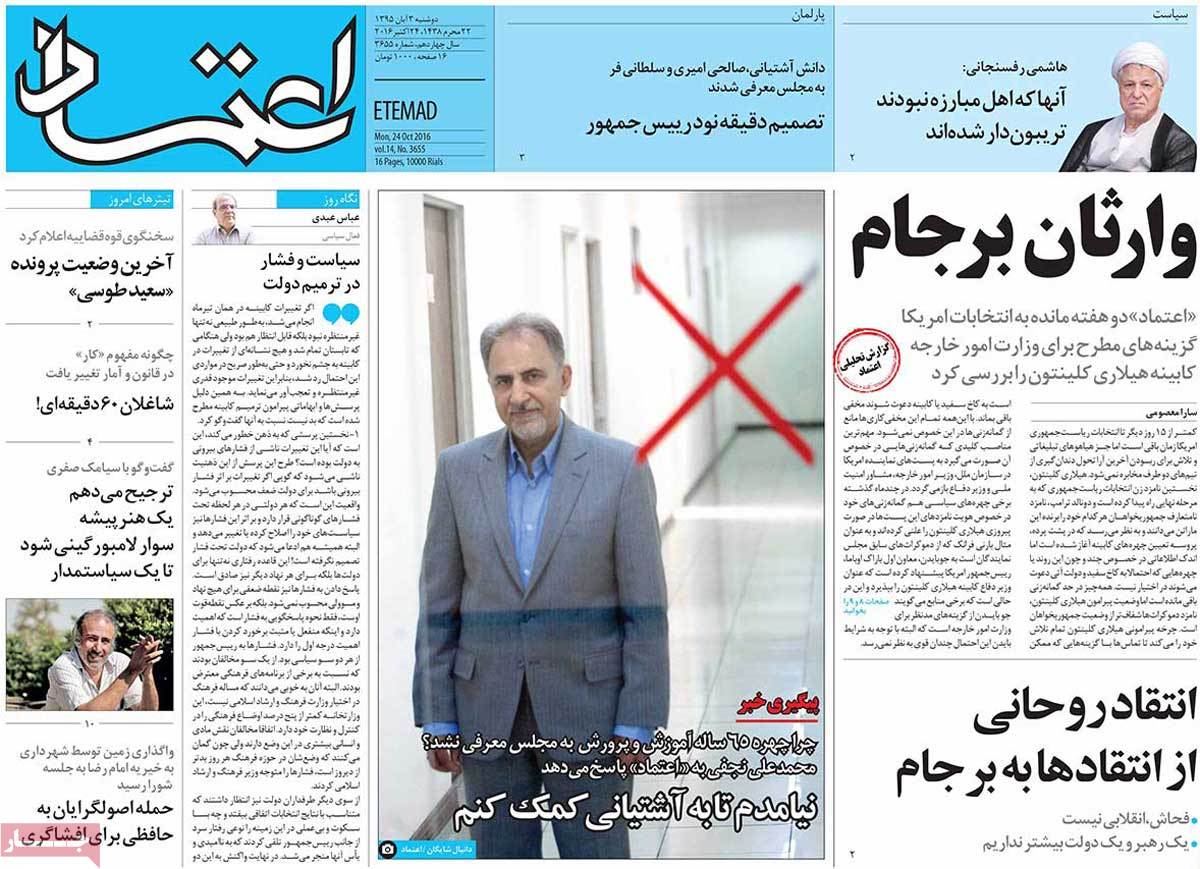 ---
Etelaat:
La Tasa de inflación del mes pasado en Irán, 7.9%
Rohani: "El Acuerdo Nuclear aportó al país 1.600 mil millones de dólares solamente en el ámbito comercial"
Experto político: "Los iraníes son gente compatible y no se rinden."
Hashemi Rafsanyani: "Se debe admitir la libertad de expresión y la seguridad."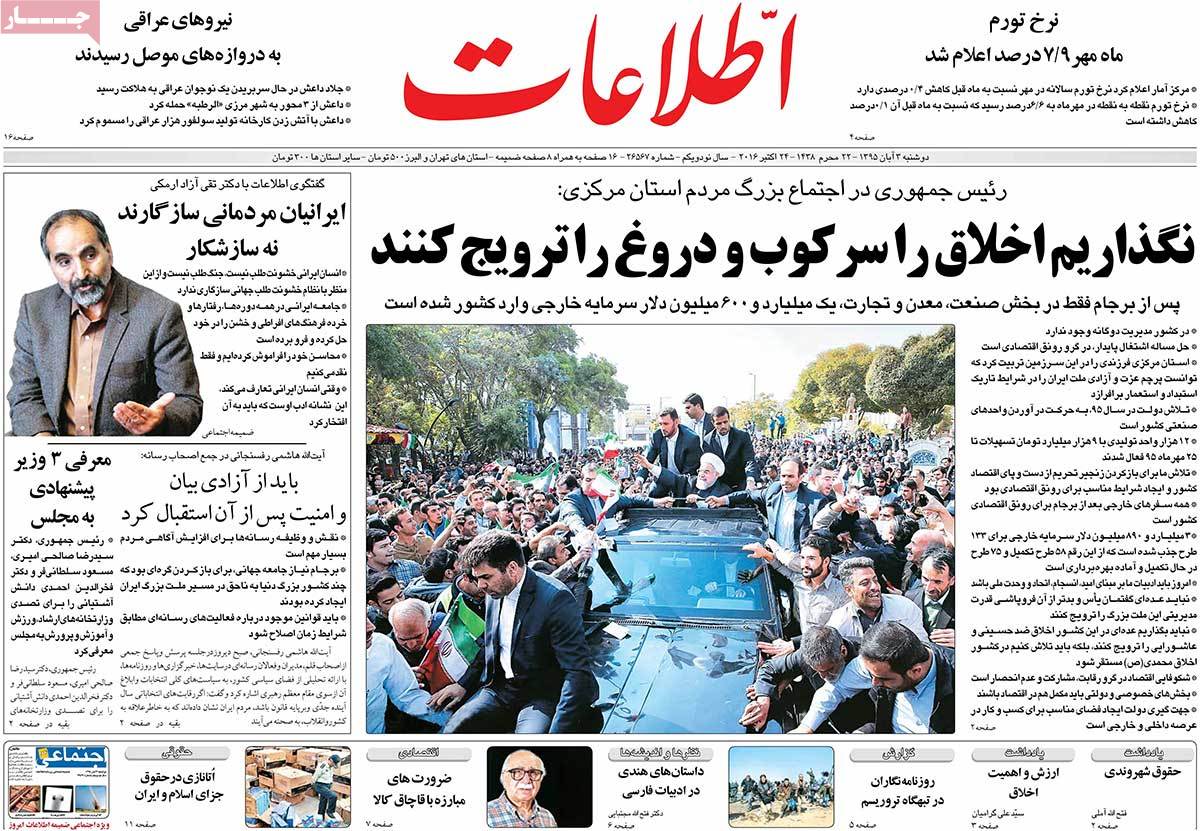 ---
Hafte Sobh:
Cuando John le otorga puntos a los iraníes; Historia del viaje de un turista estadounidense a Irán, el cual se queda atraído por la hospitalidad del pueblo y la arquitectura iraní.
Un informe sobre el beneficio y déficit bancarios en Irán; 4 bancos han tenido una actuación magnífica
---
Hemaiat:
El portavoz del Poder Judicial: "Los funcionarios de doble nacionalidad serán despedidos."
Los cajeros automáticos empiezan a depositar divisas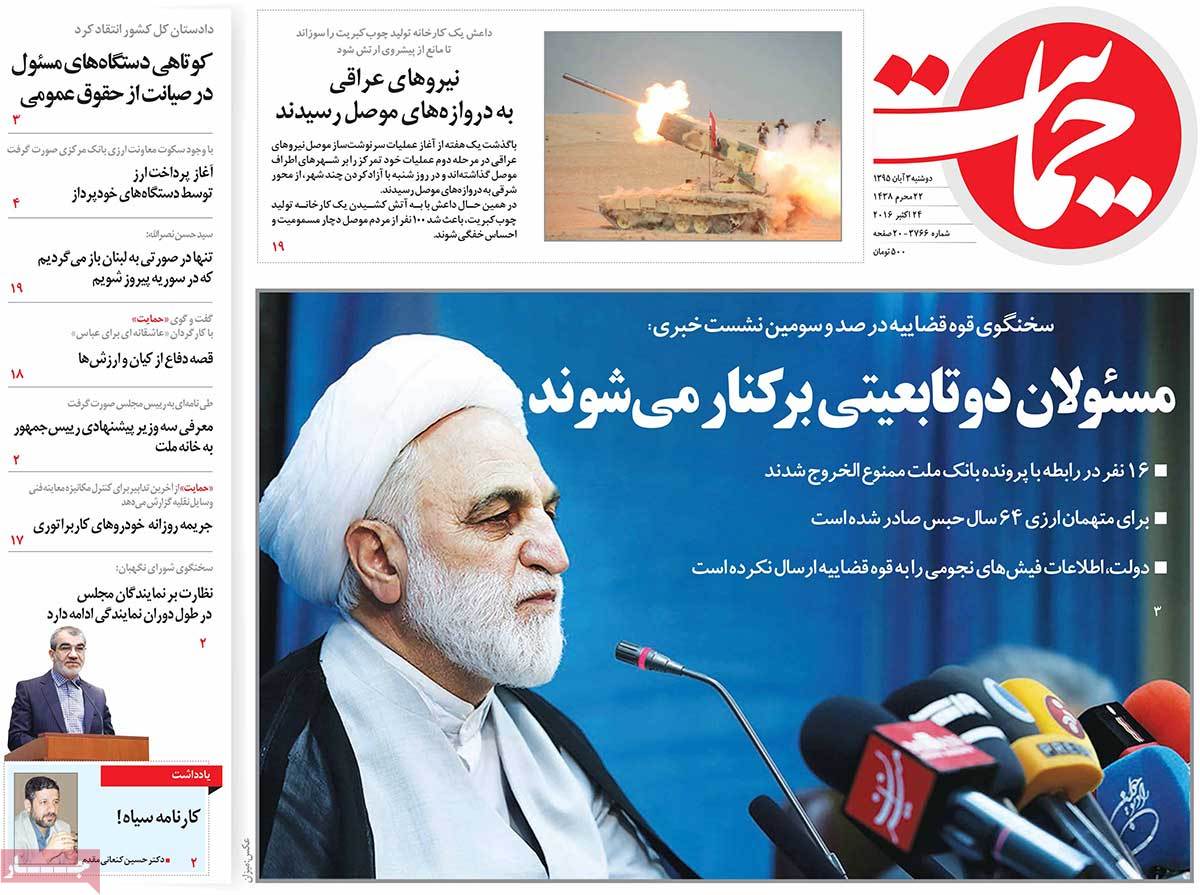 ---
Hosban:
Rohani informa sobre el inicio de más de 12 mil microempresas mediante préstamos bancarios
Ministro del Petróleo: "Que otros productores de petróleo contribuyan a ser miembros de la OPEP."
---
Irán:
Rohani: "En este país existe un solo gobierno, un solo líder y una sola línea."
Teherán y Ámsterdam reabren sus vuelos directos; las aerolíneas de Holandesas presentaron a sus pasajeros 21 obras de fama mundial iraníes.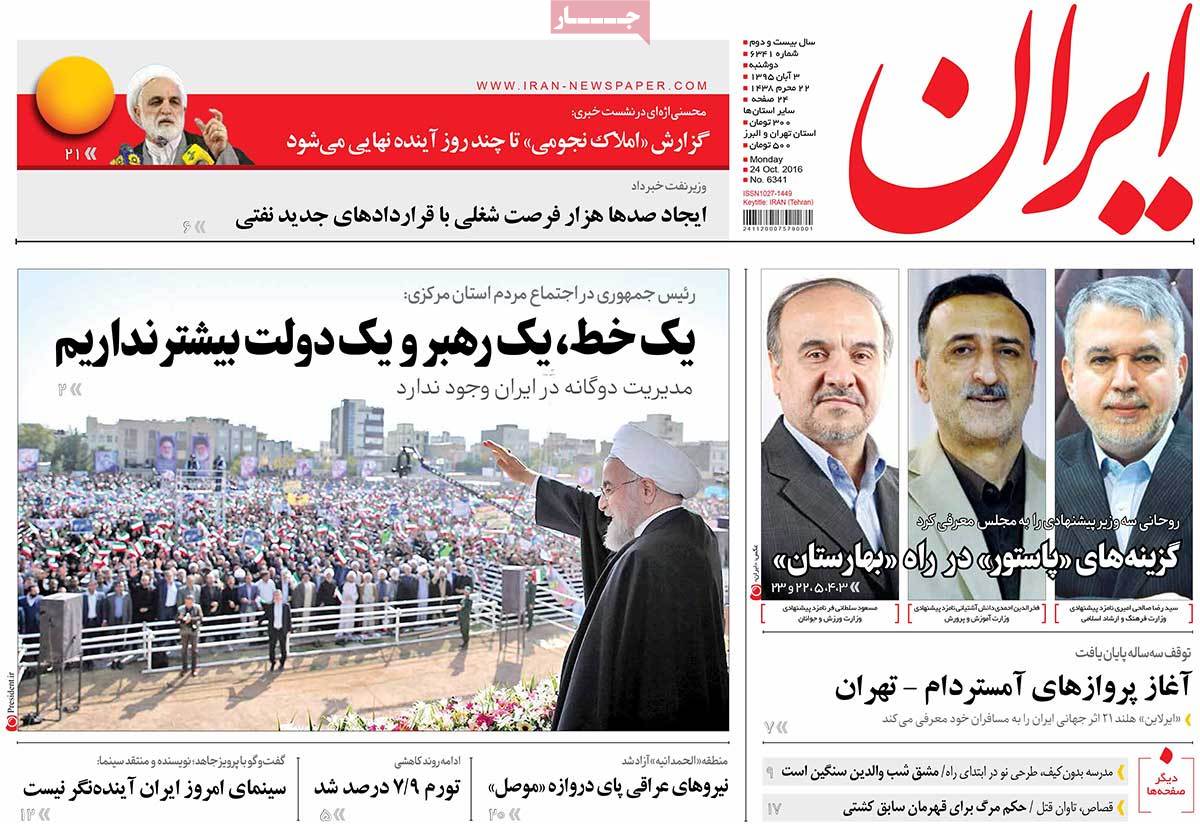 ---
Yaam_e_Yam:
La adicción, padrastro del SIDA
---
Yavan :
Rohani: PIAC ha abierto grandes puertas ante los iraníes; Algunos menores entran en la escena y preguntan ¿dónde están la manzana y la pera?
Aparecen nuevos casos de propaganda para asistir a las loterías; 5 mil iraníes, atraídos por el proyecto turístico de EE.UU, ante la desatención de las autoridades.
Juego de barcos entre la Dinastía Saudí y Al Jalifa, en el Golfo Pérsico; Se lanza una maniobra militar de 5 días entre Bahréin y Arabia Saudita.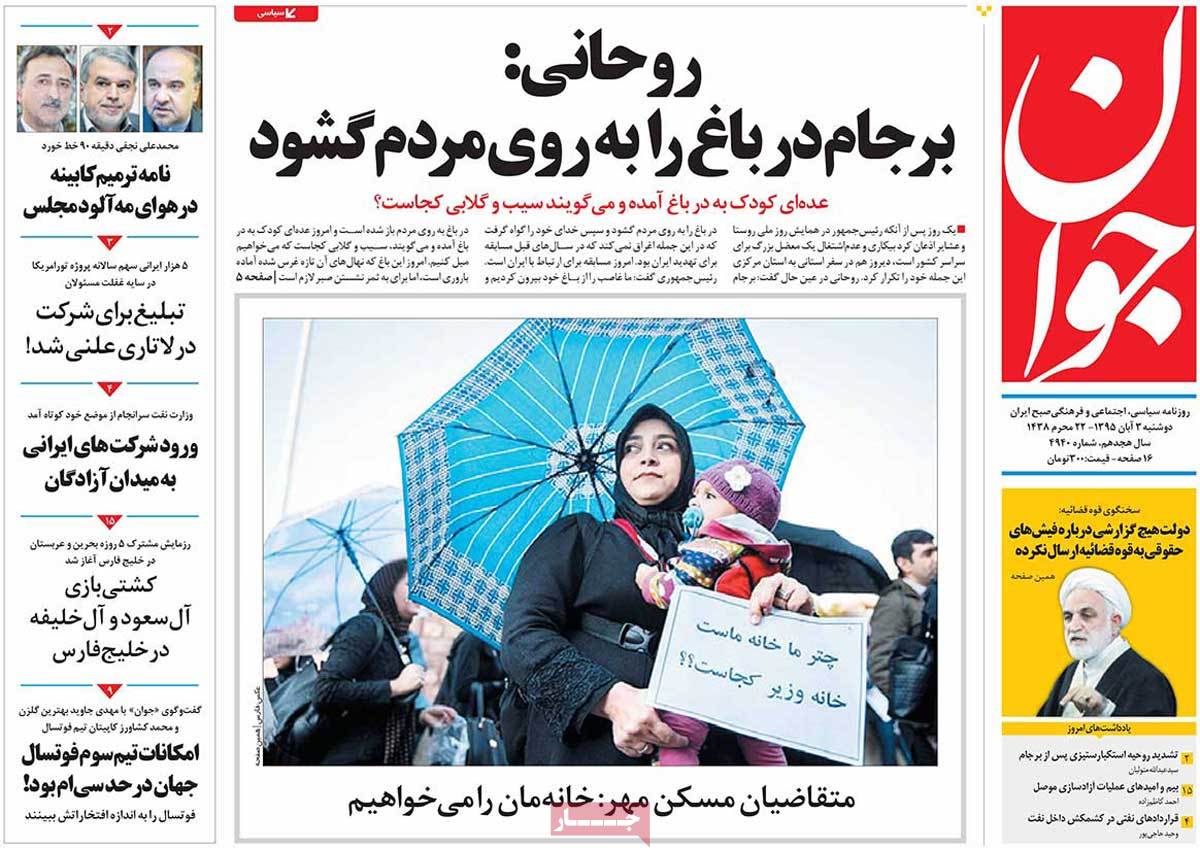 ---
Yomhuri Eslami:
Irán y Alemania firman 6 memorandos de cooperación en ámbito ferroviario
Hashemi Rafsanyani: "Los medios de comunicación independientes deben ser apoyados."
Siria advierte a las tropas invasoras de Turquía
El Presidente del Parlamento de Irán, en un encuentro con el Presidente adjunto del parlamento austriaco: "Las relaciones entre Irán y Austria se desarrollaron tras el acuerdo nuclear."
Las fuerzas nacionales de Irak entran en la ciudad de Mosul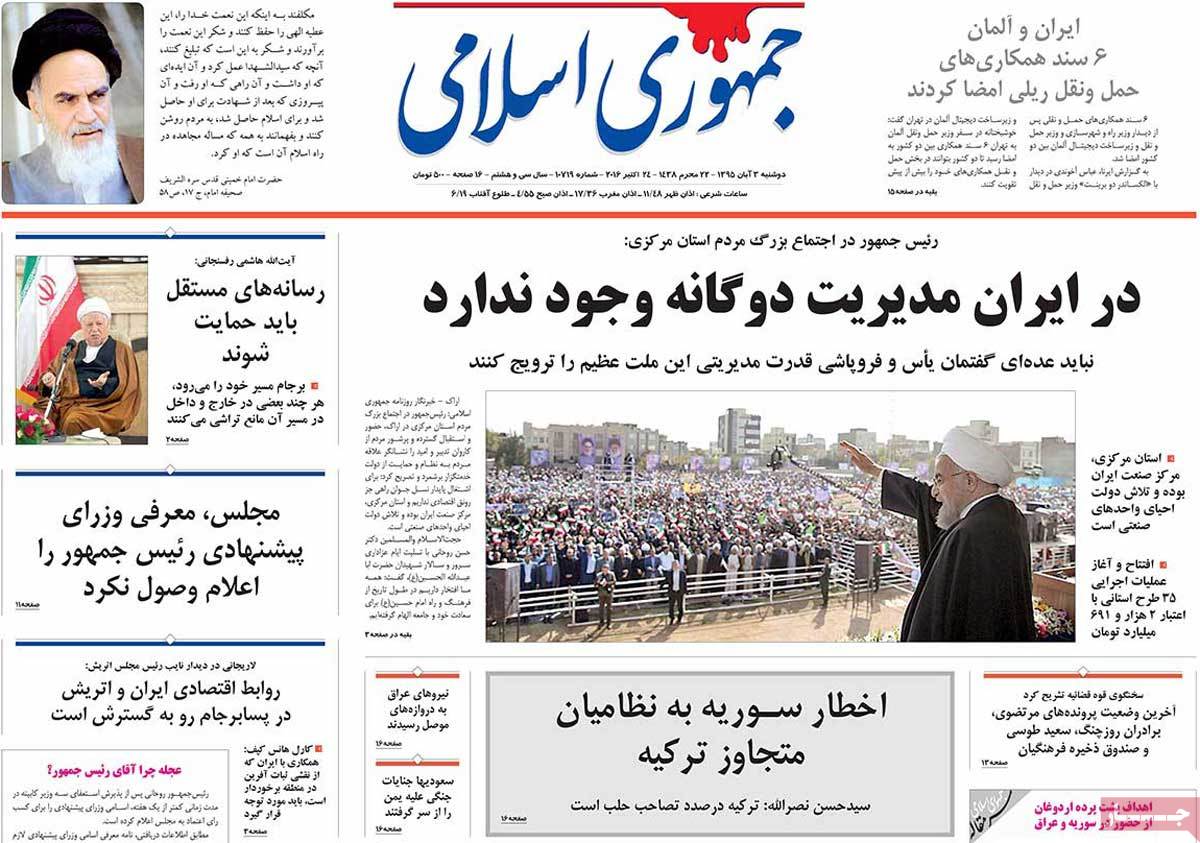 ---
Keihan:
Rohani se dirige al público en Arak: "Hemos cultivado manzanas y peras, ¡esperen a que den frutas!"
Secretario General de Hezbolá del Líbano: "El día der mañana Erdogan alegará que Alepo pertenece a Turquía."
Las drásticas condiciones de los refugiados: Represión en Francia, Violencia en Alemania y torturas en Australia.
---
Jorasán:
Altibajos de los censos sobre las elecciones presidenciales en EE.UU
Afganistán registra un aumento del 43% en narcóticos.
---
Paiam_e_Zaman:
Militar de alto rango iraní: "Detrás de la risa de nuestros políticos está la potencia defensiva."
Irán se mantiene el primer lugar en Asia en Ranking FIFA por 22º meses.
---
Resalat:
Portavoz del Consejo de Guardianes: "En ningún país existen 12 mil candidatos que compitan por obtener 300 escaños."
Nuevas inquietudes en el Continente Verde: El plan de Formación de un Ejército Europeo y una Inglaterra agobiada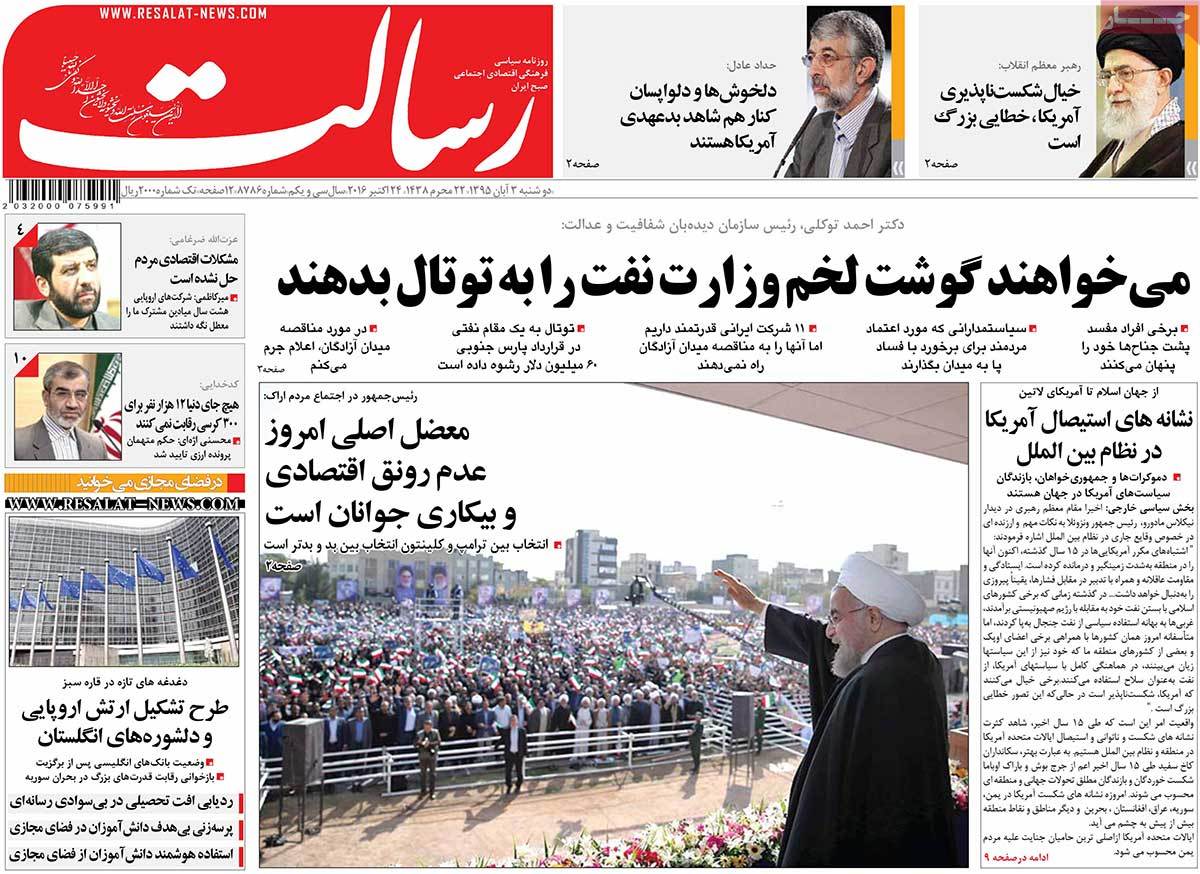 ---
Shahrvand:
La situación alarmante del Sonido Excesivo (contaminación acústica) en Teherán; los consejeros de Teherán advierten sobre la contaminación auditiva.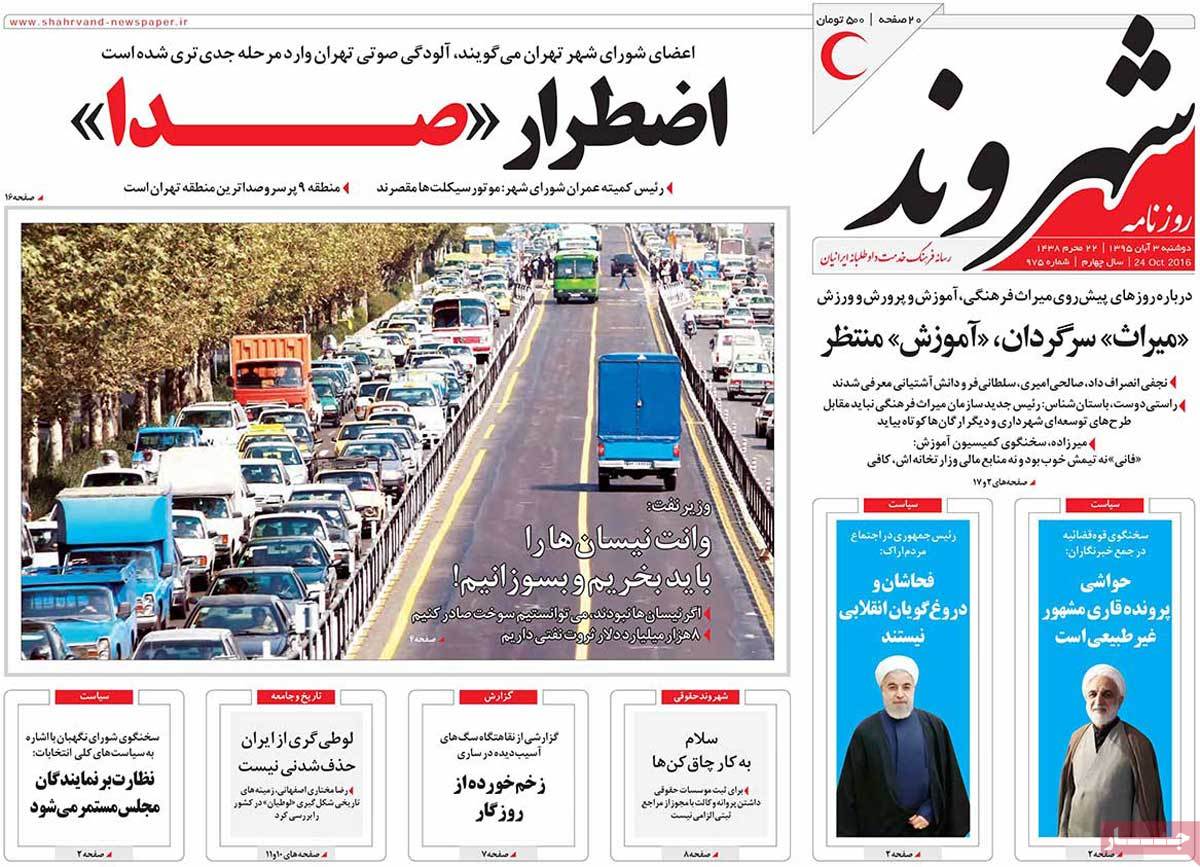 ---
Sobhe No:
Zarif aventaja; los resultados de la encuesta sobre los próximos comicios presidenciales en Irán
El Secretario General de Hezbolá del Líbano: "El destino de Alepo y Mosul son determinantes para la región."