IFP has taken a look at the front pages of Iranian newspapers on Sunday and picked headlines from 17 of them. IFP has simply translated the headlines and does not vouch for their accuracy.[:es]IFP ha echado una mirada a las portadas de periódicos iraníes, publicados el domingo, 23 de octubre de 2016, y ha recogido titulares de 17 de ellos. IFP ha traducido simplemente los titulares y no es responsable de su veracidad.
Almost all newspapers on Sunday covered the Venezuelan President Nicolas Maduro's visit to Tehran and his separate meetings with the Leader of the Islamic Revolution Ayatollah Seyyed Ali Khamenei and President Hassan Rouhani.
They also covered the remarks made by President Rouhani about his cabinet reshuffle and the ongoing problems in the country, including unemployment.
The latest developments of the ongoing operation in Iraq to retake the northern city of Mosul also remained a top story today.
The above issues, as well as many more, are highlighted in the following headlines:
Abrar:
1- Deputy Health Minister: 38m Iranians Exposed to Air Pollutants
2- ISIS Leader Executes 59 Senior Commanders
3- Erdogan: Mosul Historically Belongs to Turkey
---
Abrar-e Eqtesadi:
1- Deputy Oil Minister: Return of Deutsche Bank to Iran's Oil Deals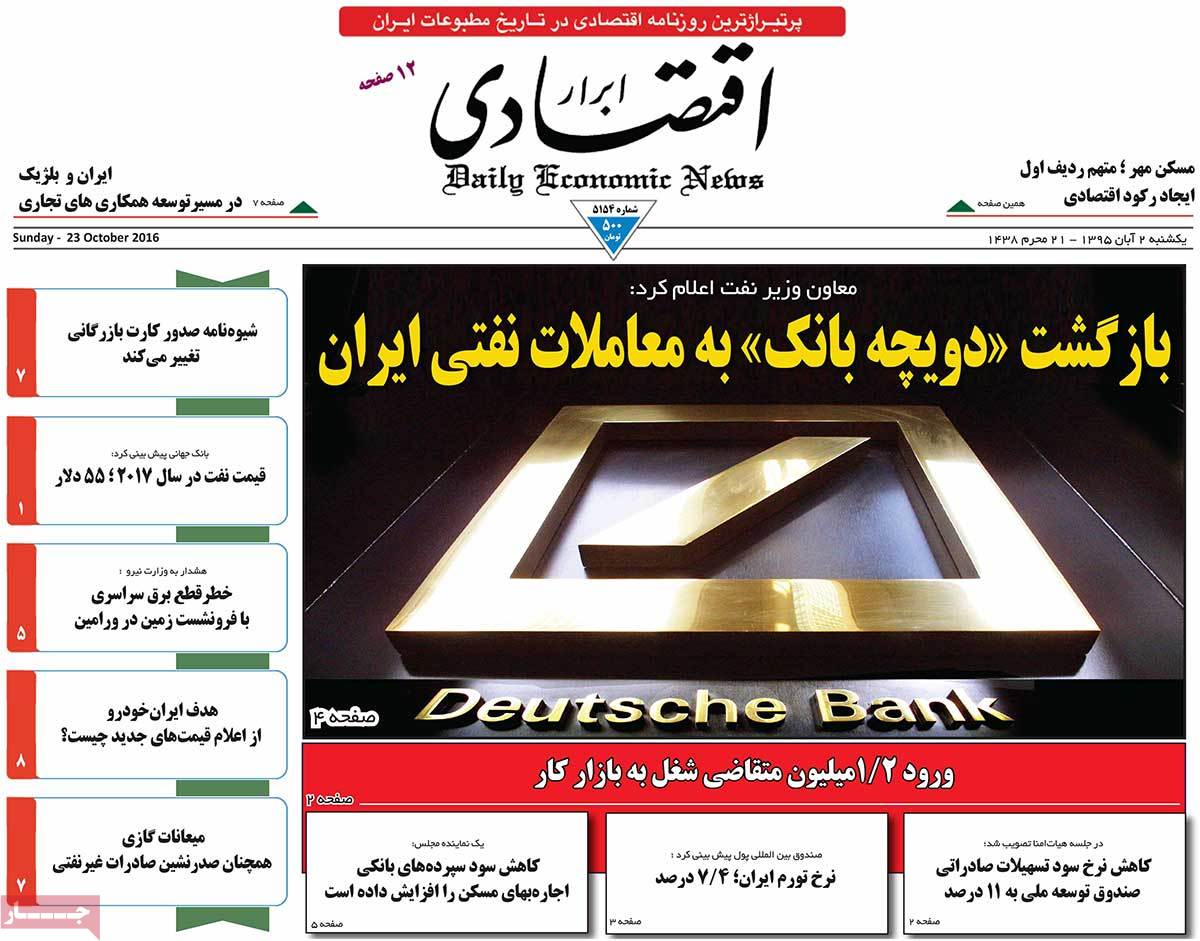 ---
Aftab-e Yazd:
1- Rouhani: Media Should Stop Telling Lies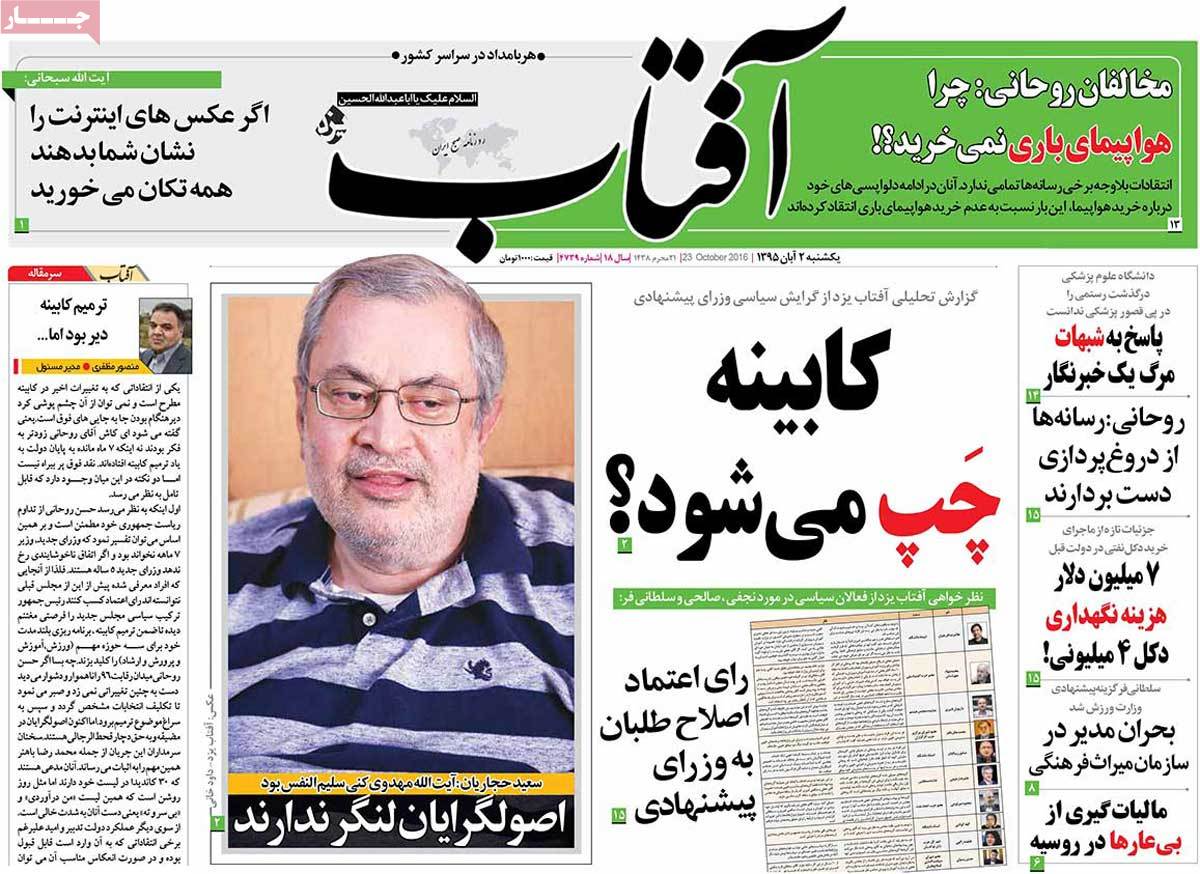 ---
Amin:
1- Wives of 12 Foreign Ambassadors Join "I'm Lake Urmia" Campaign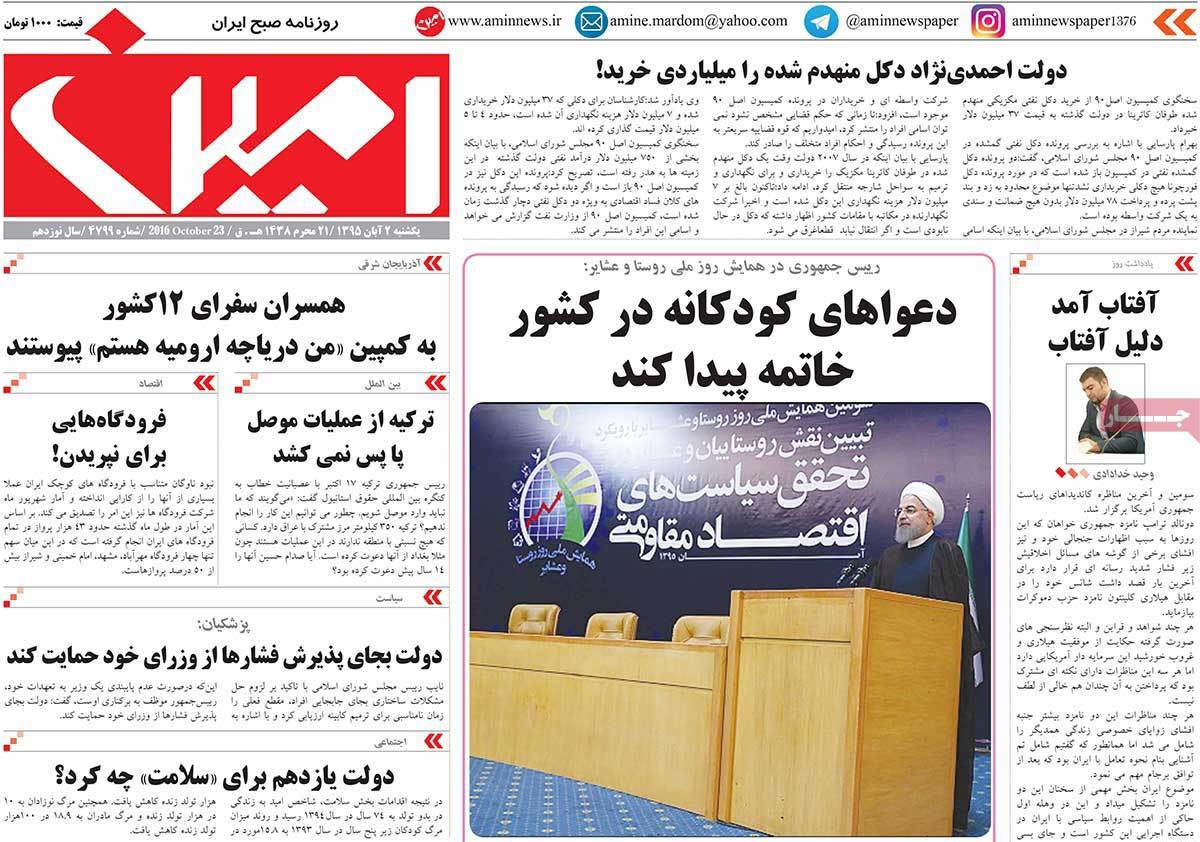 ---
Arman-e Emrooz:
1- Leader in Meeting with Maduro: West Is Using Oil as a Weapon
2- Violation of Law in Oil Industry during Ahmadinejad's Gov't Continues to Be Revealed: Paying $37m for an Oil Rig that Was Worth $5m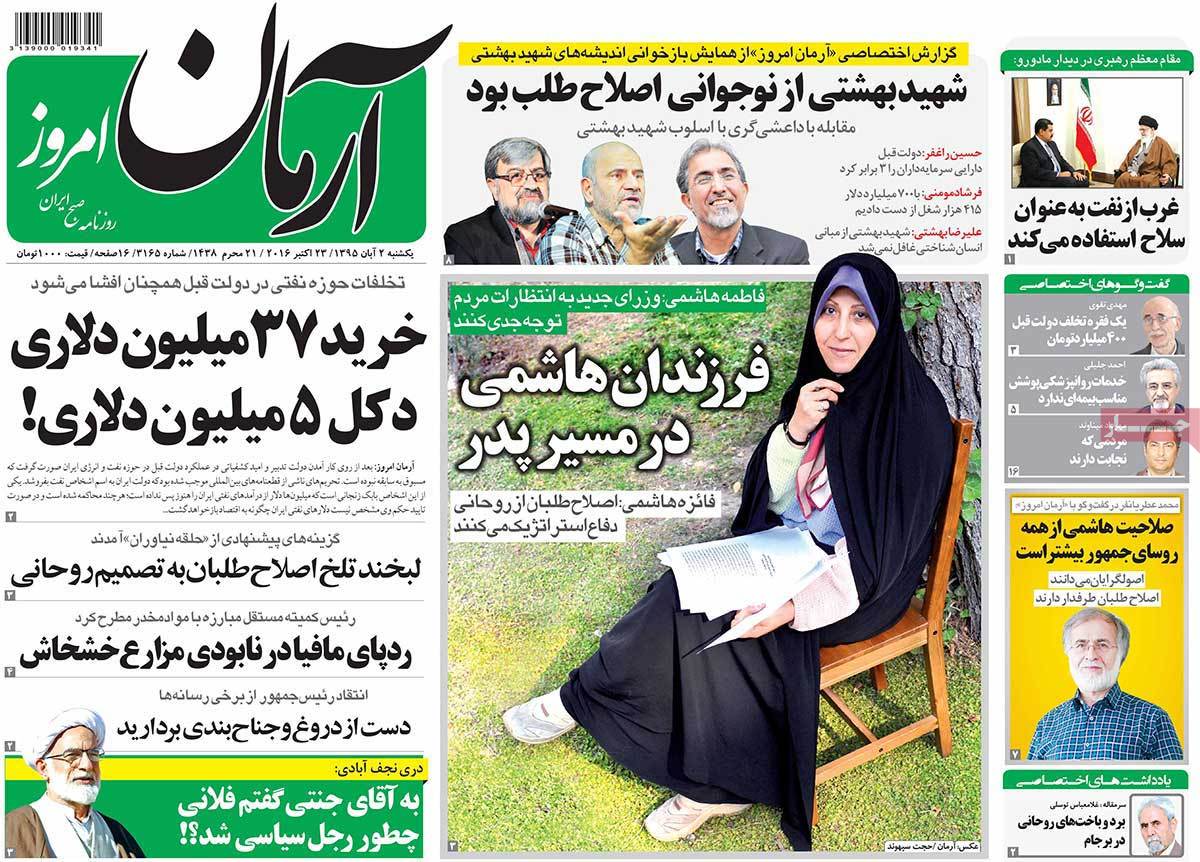 ---
Asrar:
1- Rouhani: Childish Fights in Iran Should End
2- 5 Presidents from 3 Continents En Route to Iran
3- Velayati: Al Saud Doesn't Understand Anything but Force
4- Deputy FM: Iran Has No Problem with Human Rights Talks with Europe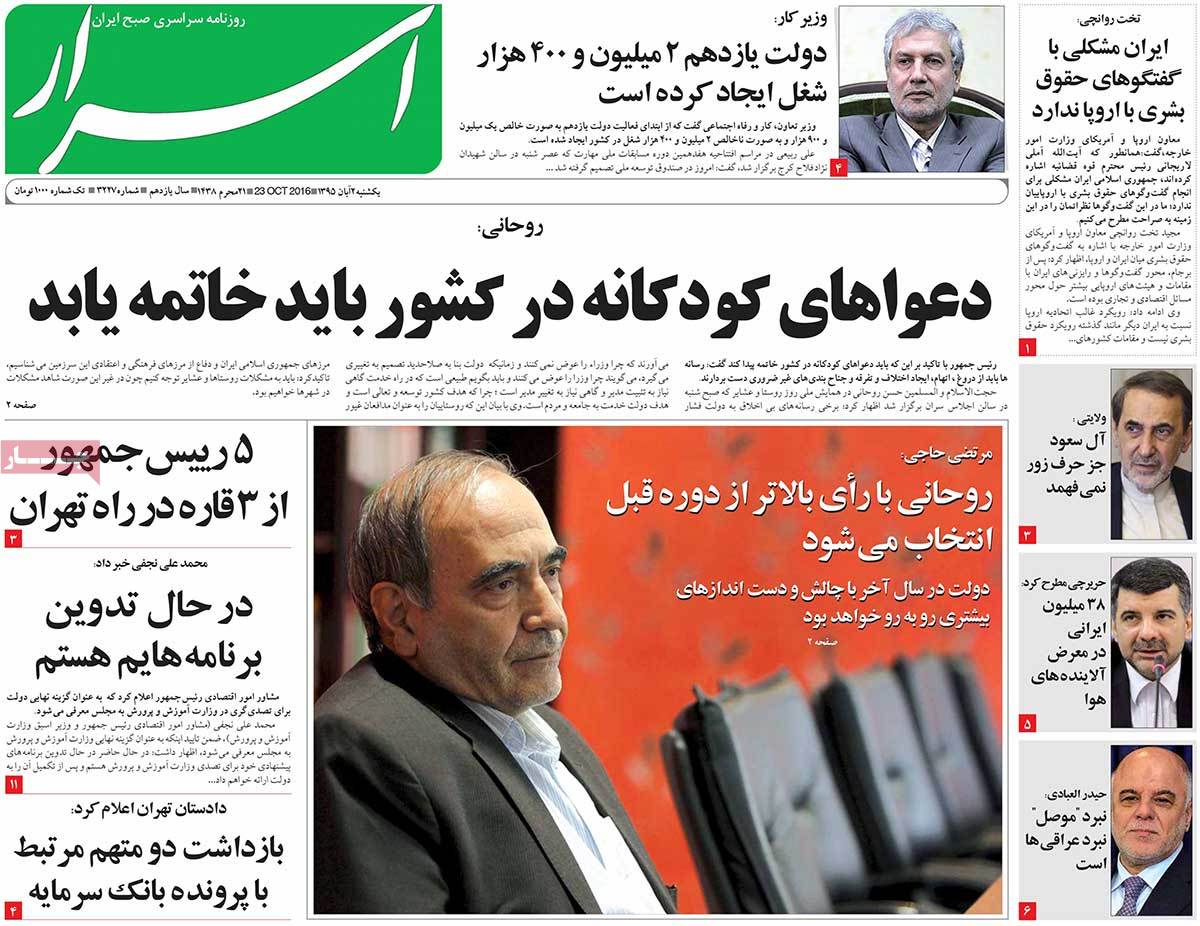 ---
Ettela'at:
1- Leader: With Wise Policies, Plots Can Be Overcome
2- Rouhani in Meeting with Venezuelan President: Iran Supports Any Move towards Fair Oil Price
3- IMF's Prediction about Continued Decrease of Inflation Rate in Iran
---
Hemayat:
1- Germany Ready to Exchange Anti-Corruption Experts with Iran
2- Ramadan Abdullah: Iran Is the Only Country that Supports Palestine
3- Deputy of US Treasury: Imposition of Heavy Sanctions against Countries Affiliated with Iran
---
Iran:
1- Iran's Marine Trade Flourish in Post-JCPOA Era: 16 Giant Shipping Companies Return to Iran
2- Central Insurance: Iran Starts Cooperation with 7 Major Int'l Insurance Companies
3- President: Both Changing the Executives or Keeping Them Are Sometimes Required for Giving Better Services to People
---
Jame Jam:
1- Leader: It's a Big Mistake to Think that US Is Invincible
2- Selling Theses Is a Scientific Crime
3- Rouhani: Unemployment Is Iran's Biggest Problem
4- Saudi Arabia and Turkey Sharply Criticized in World Assembly of Islamic Awakening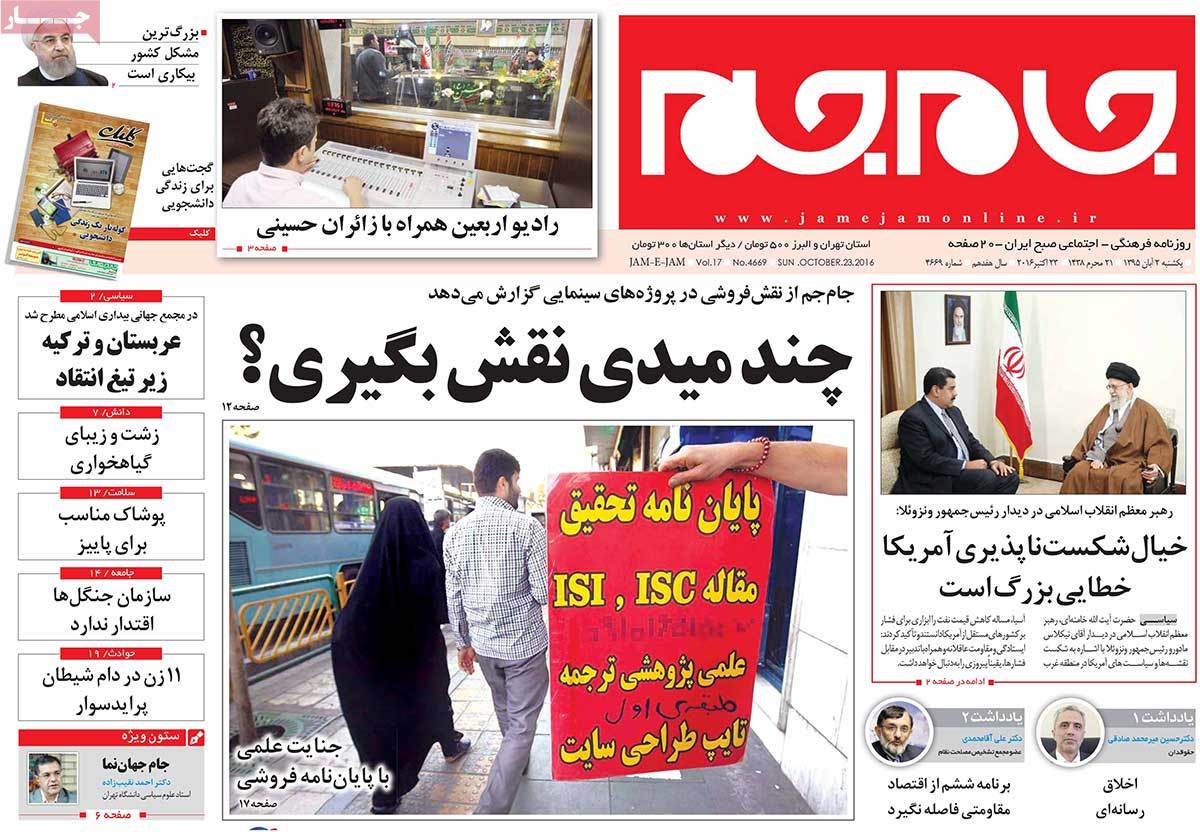 ---
Javan:
1- Banks Have Roles in All Economic Corruption Cases
2- Russian Plant for International Monitoring over US Elections: US State Department Says It Is for Show, But It Welcomes Such Supervisors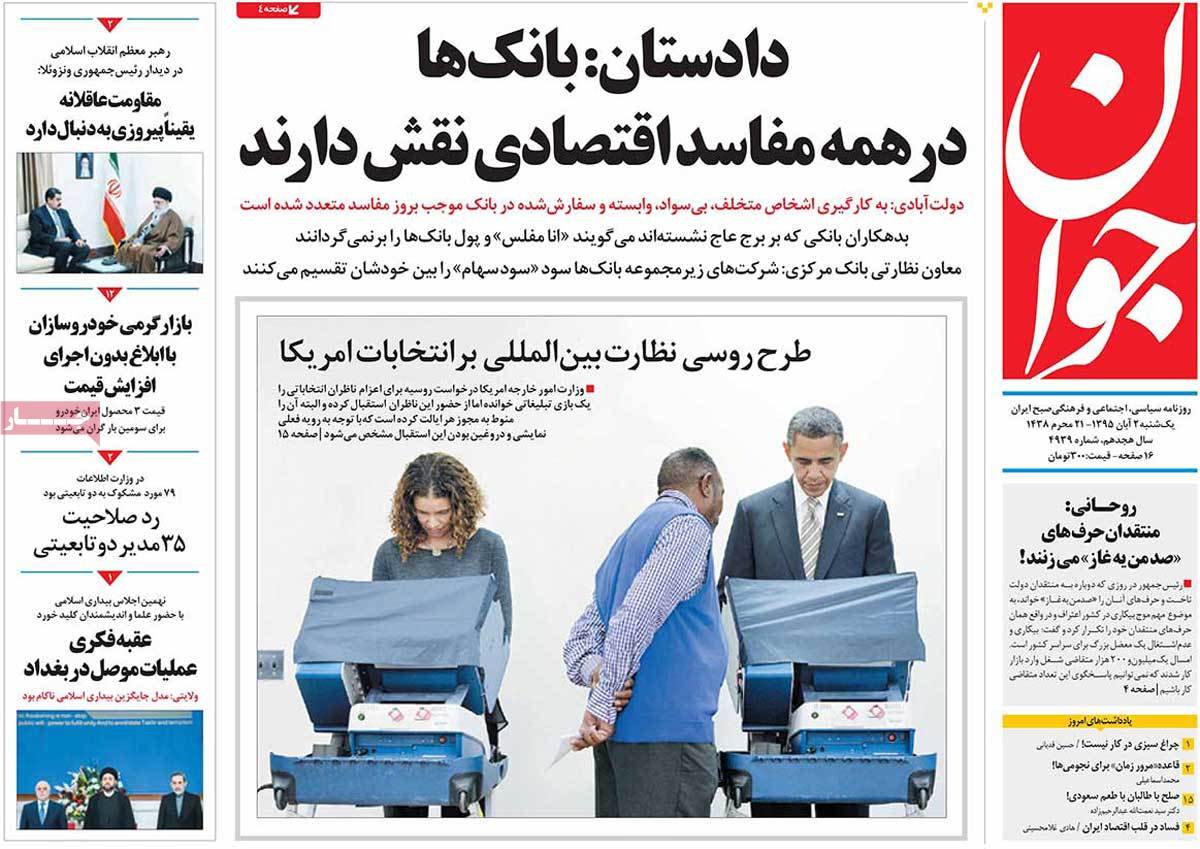 ---
Jomhouri Eslami:
1- Iran and Malaysia Agree on Return to Pre-Sanction Level of Economic Ties
2- Rouhani: Tehran Welcomes Expansion of Ties with Latin America, Including Venezuela
3- 3 Candidates to Be Introduced Today by Government to the Parliament for Ministries of Education, Sports, and Culture
4- Rouhani to Inaugurate Longest Power Transmission Line Today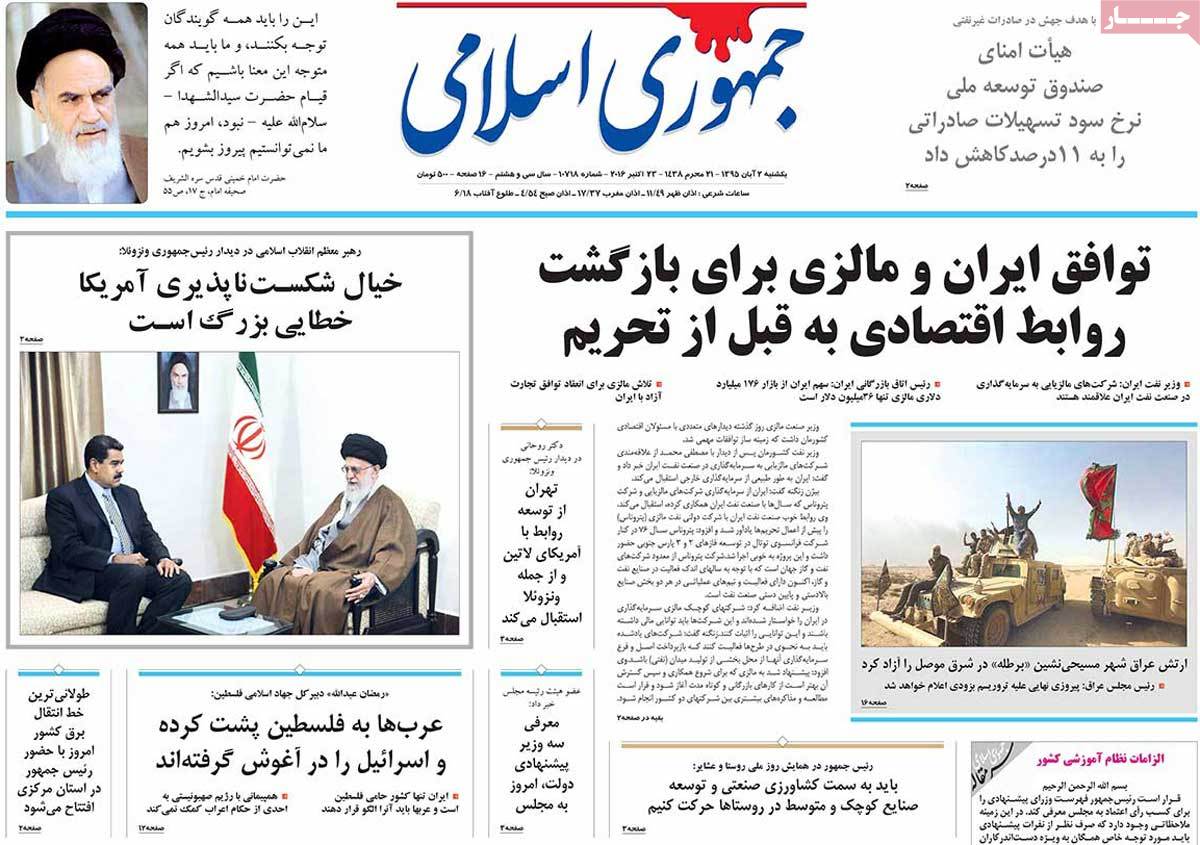 ---
Kayhan:
1- Based on Transport Ministry's Statistics: 8 Months after JCPOA, Transit of Goods from Iran Sharply Declined
2- US Analyst in Interview with Kayhan: Why US Was Engaged in Yemen War
3- Third Released American Also Sues Iran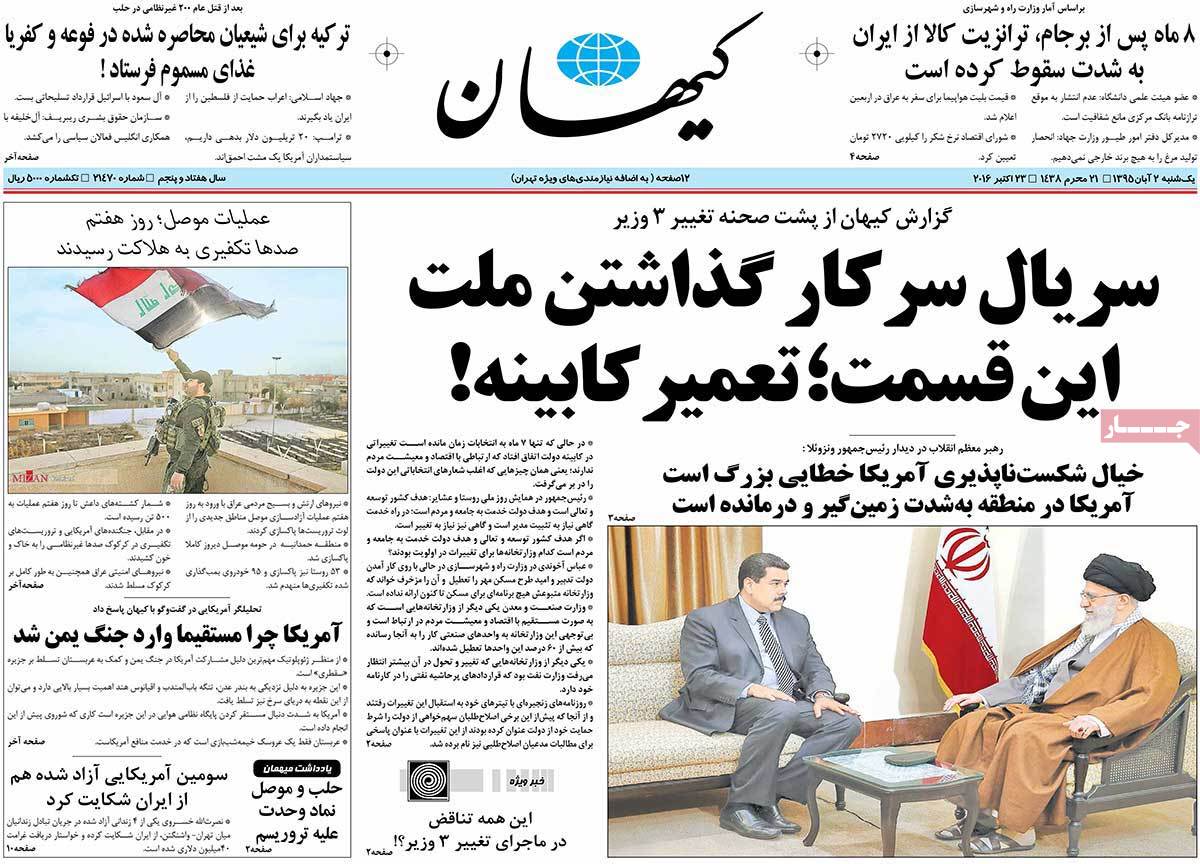 ---
Resalat:
1- Rouhani: We Can't Respond to the Demands of Those Seeking a Job
2- Head of Civil Defence Organization: Biological Attack Is Possible in Iran
3- Ayatollah Sobhani: Beliefs of Young People in Iran Are Bombarded in Cyberspace
4- US Psychological War Defeated in Mosul: Reports of a Deal between Turkey and Iraq Dismissed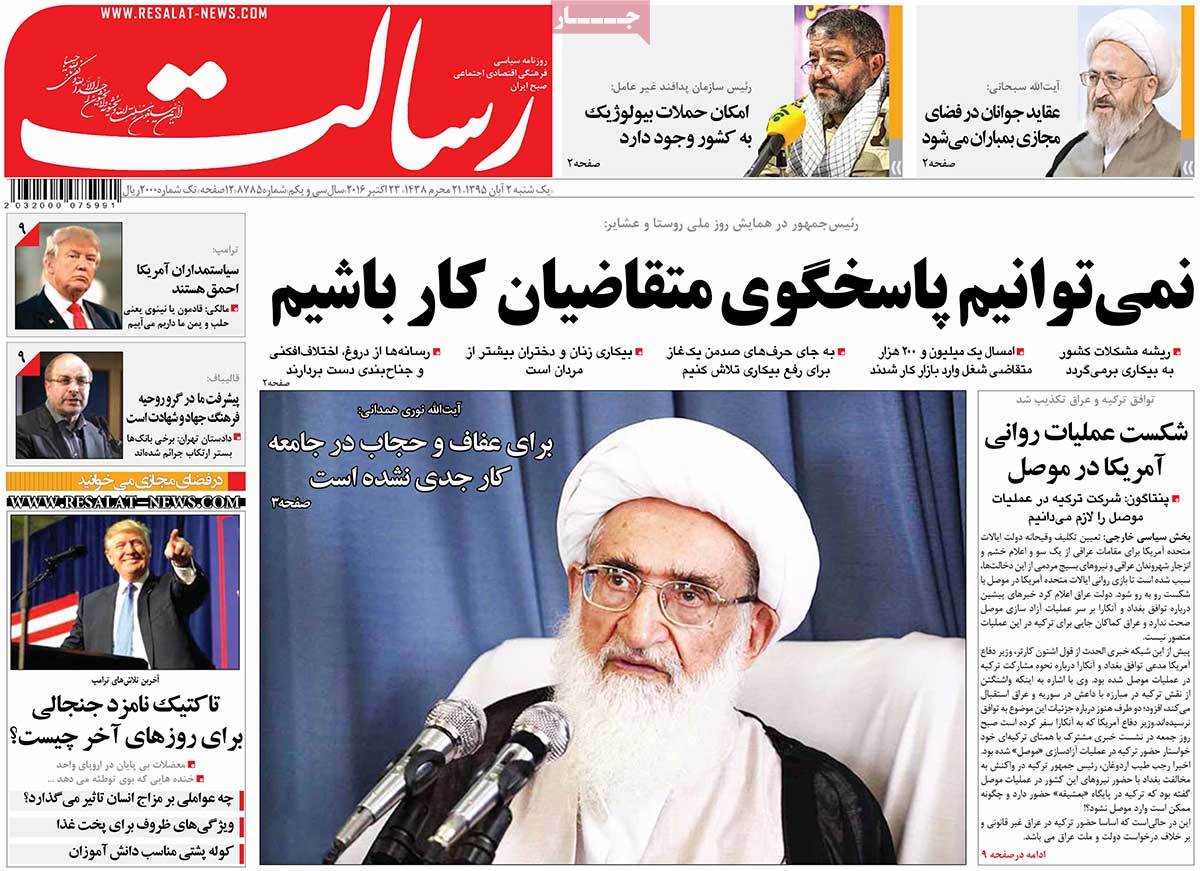 ---
Sepid:
1- Iran's Special Advantages in Medical Tourism: Health Tourism, the Lucrative Sleeping Dragon
2- Decrease in Deaths Caused by Air Pollution in Past Two Years
---
Shahrvand:
1- One President in Iran Every 35 Days: A Report on Reciprocal Visits of Rouhani's Gov't in Past 19 Months
2- Football without Pain: About the Campaign '90 Minutes without Cigarettes' Launched in Iran by FIFA's Medical Centre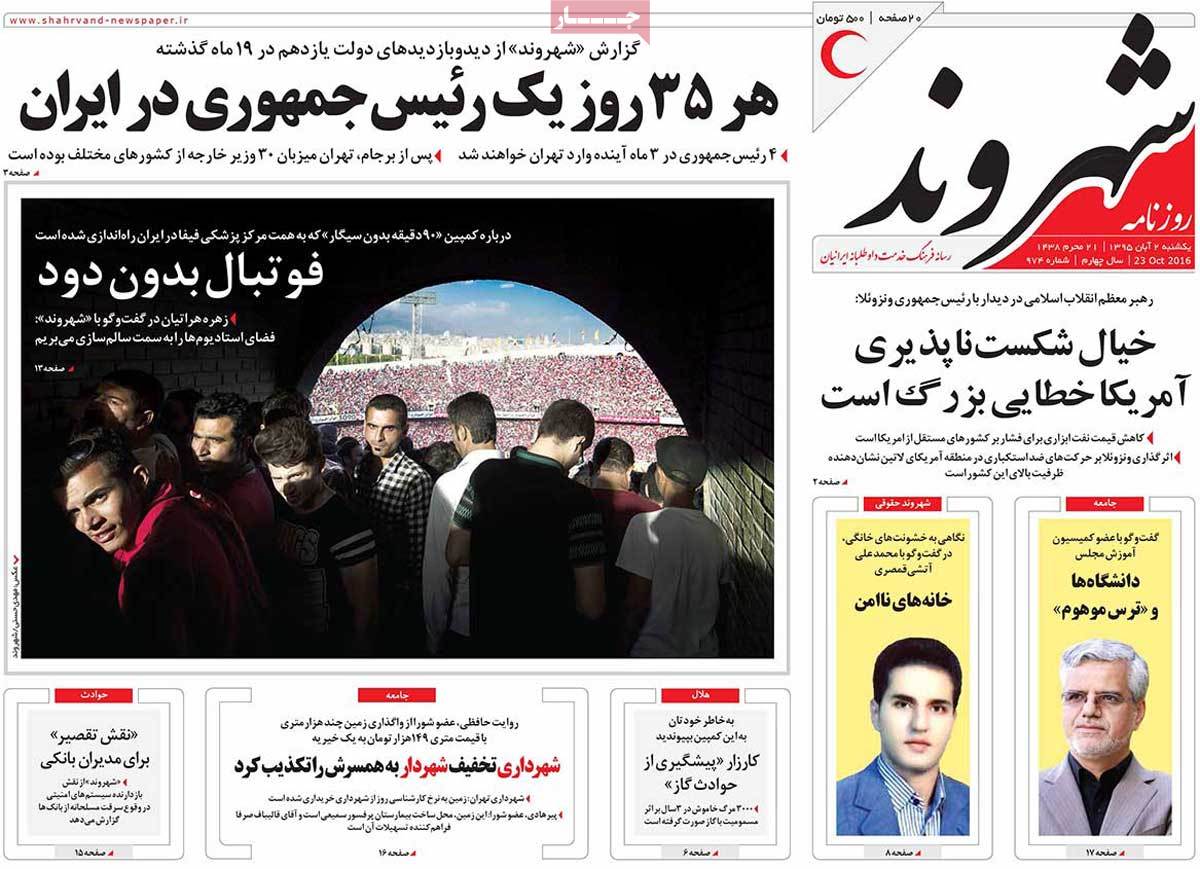 ---
Vaghaye Ettefaghieh:
1- Tehran Waiting for a Less-Polluted Winter: Predictions Suggest Some Measures in Controlling Tehran's Air Pollution Have Borne Fruits
2- Happiness among Kurds Is Much More than Many Other Areas: Sociologist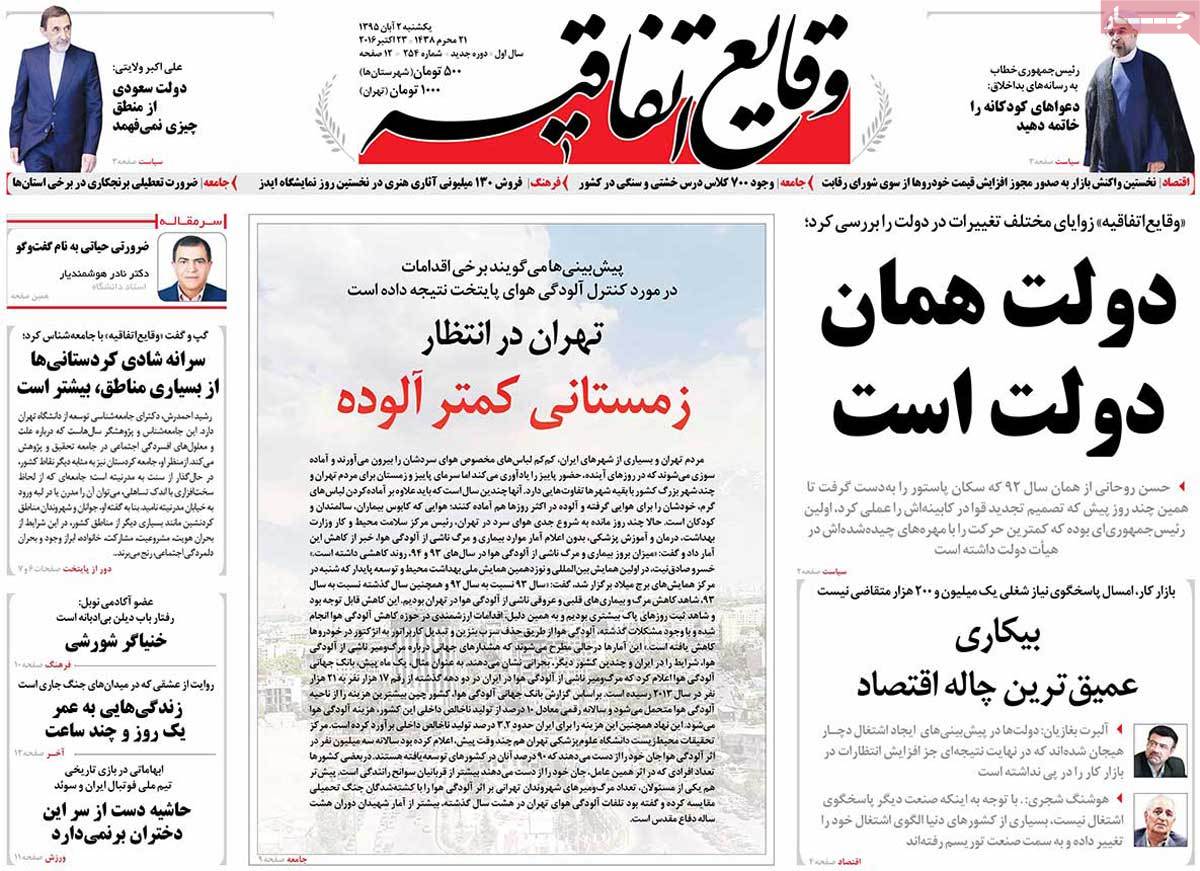 [:es]
La prensa de hoy, el domingo, ha dedicado sus principales titulares a la visita del presidente venezolano, Nicolás Maduro, a Irán, así como sus encuentros con el Líder de la Revolución Islámica, el ayatolá Seyed Ali Jamenei, y su homólogo, Hasan Rohani.
En esta misma línea, se destacaron también el apoyo brindado por el Estado de Irán a Venezuela a América Latina.
El desarrollo económico de Irán, especialmente tras alcance de un acuerdo nuclear con las potencias mundiales y posteriormente el levantamiento de sanciones, siguen siendo temas de actualidad cubierta por los diarios.
Los temas antes mencionados, así como varias otras cuestiones se destacan en los siguientes títulos:
Abrar:
El ministro adjunto de Salud: "38 millones de iraníes están expuestos a la contaminación del aire."
Líder de Daesh ordena ejecutar a 59 generales del grupo terrorista
Erdogan: "Históricamente, Mosul pertenece a Turquía"
---
Abrar Eghtesadi:
El viceministro de Petróleo: "Deutsche Bank vuelve al Mercado petrolero iraní."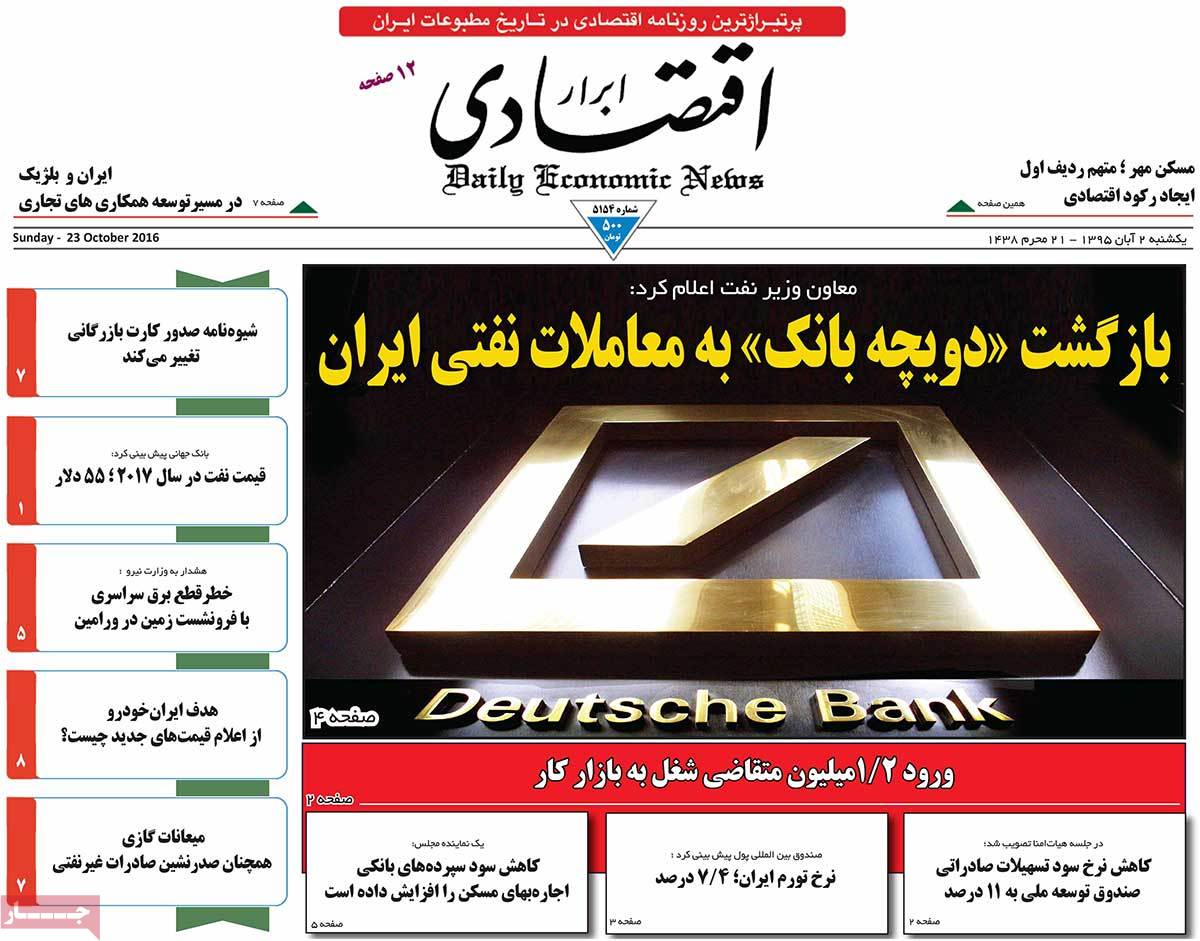 ---
Aftab_e_Yazd:
Rohani: "Los medios de comunicación debe frenar la difusión de mentiras."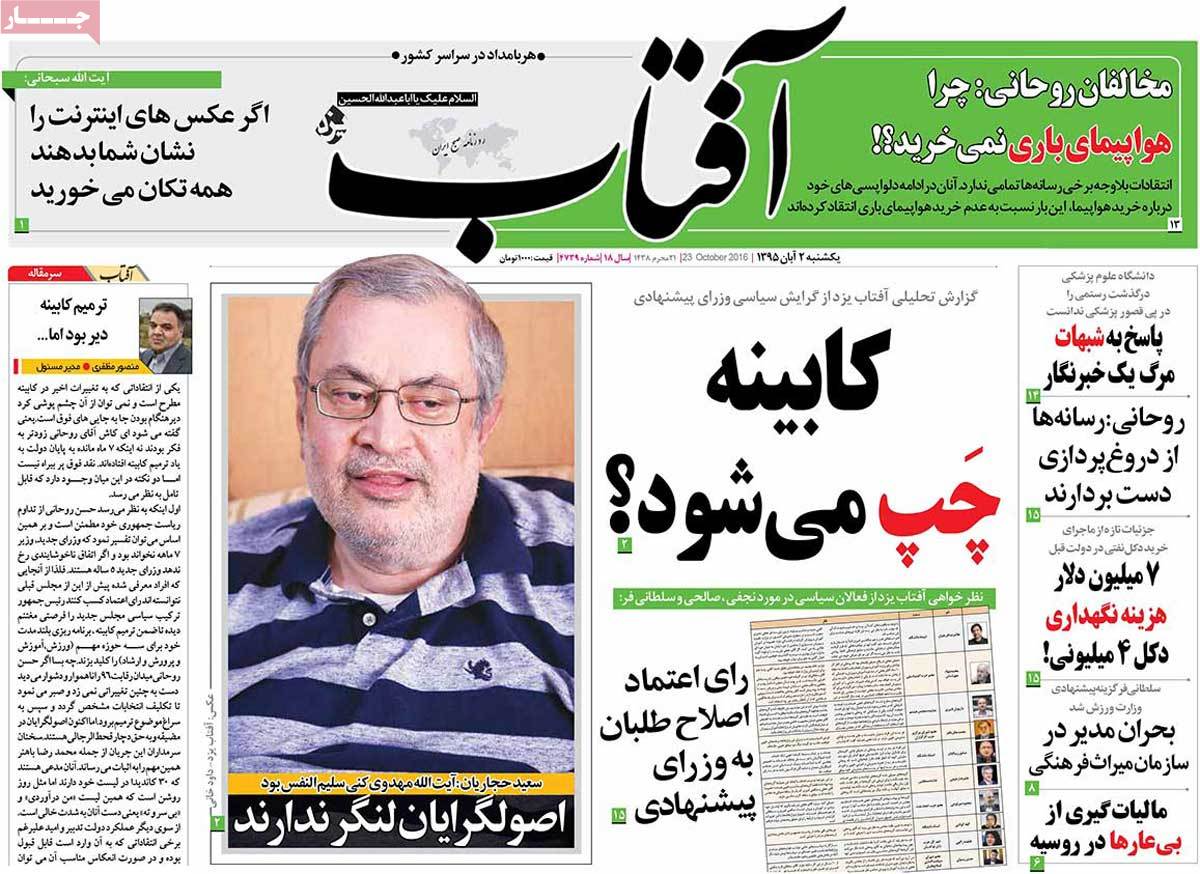 ---
Arman_e_Emruz:
El Líder de Irán en un encuentro con Nicolás Maduro: "El Occidente utiliza el petróleo como un arma."
Se revelan nuevas infracciones del anterior gobierno en materia petrolera; "Se adquirió una Torre de Perforación que costaba 5 millones de dólares por 37 millones de dólares"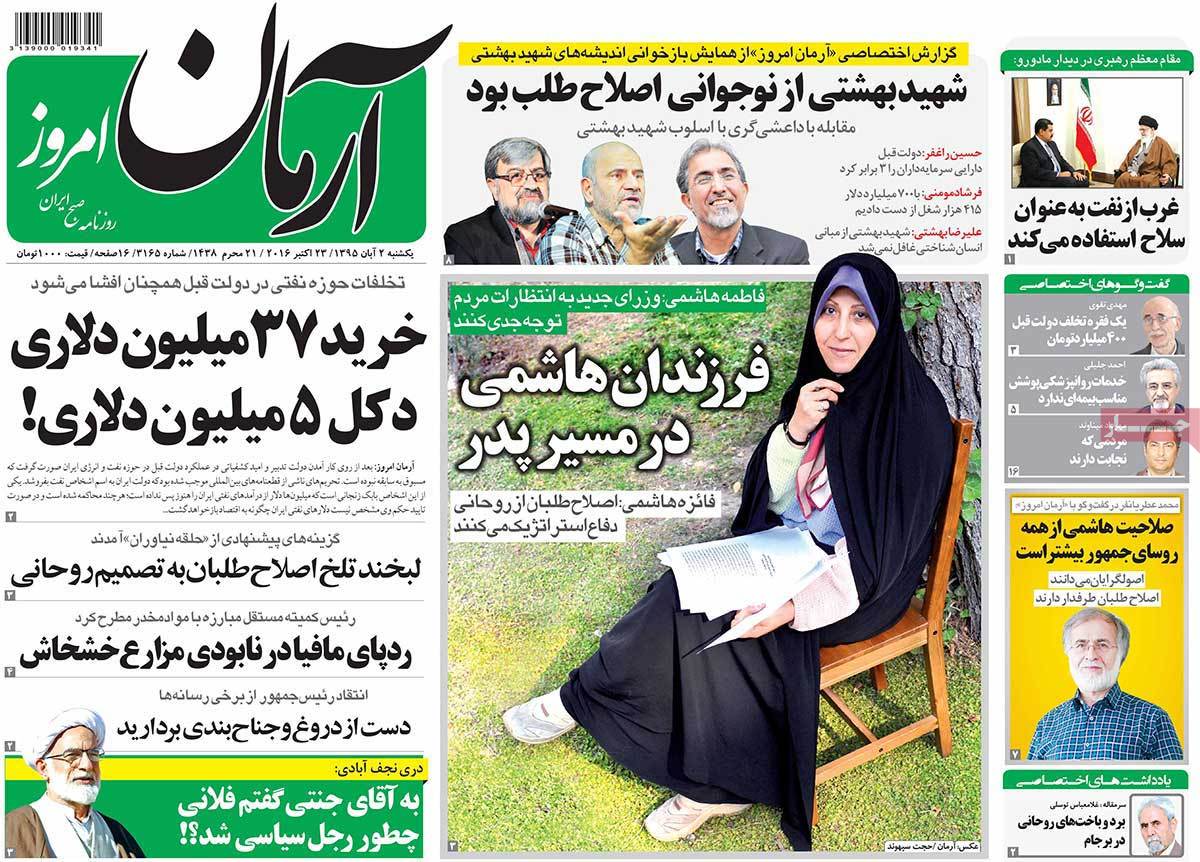 ---
Asrar:
Rohani: "Se debe terminar las peleas infantiles en el país."
5 presidentes de 3 continentes viajarán a Teherán
El ex canciller de Irán, Velayati: "La Dinastía Saudí no entiende más el lenguaje de la fuerza."
El Vicecanciller de Irán para Asuntos de Europa y América: "Irán no tiene problema con los diálogos en pro de DD.HH de la UE."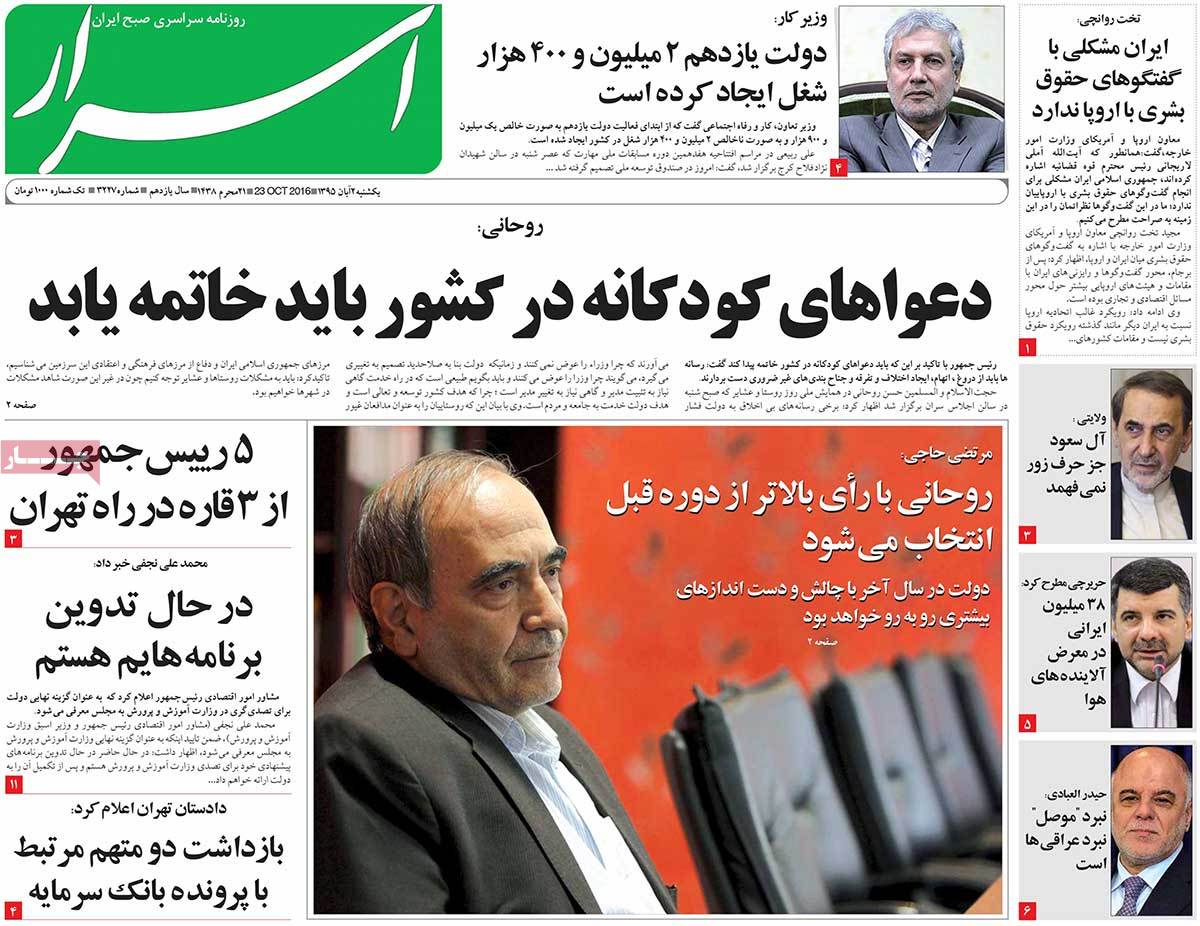 ---
Amin:
Las esposas de 12 embajadores residentes en Irán se unen a la campaña "Yo Soy el Lago Urmia."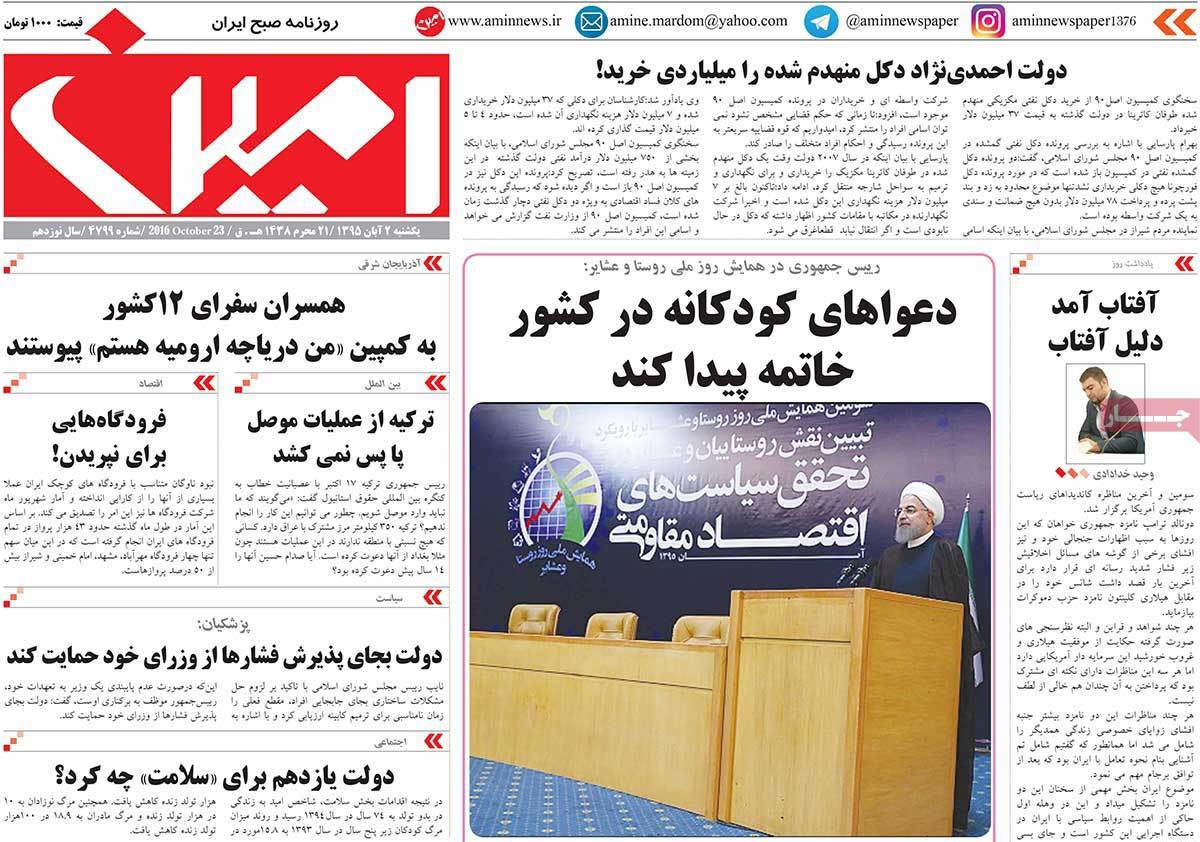 ---
Etelaat:
El Líder de Irán, en una reunión con el mandatario venezolano: "Es posible superar los complots mediante políticas lógicas."
Rohani, en un encuentro con Maduro: "Irán apoyará cualquier medida para estabilizar el mercado petrolero."
FMI presagia la disminución de la tasa de inflación en Irán
---
Hemaiat:
Anuncia el Fiscal General de Berlín en una reunión con el jefe de la Oficina General de Inspección de Irán: Alemania está dispuesta a intercambiar expertos anti corrupción
Secretario General del Movimiento de la Yihad Islámica: "Irán es el único país patrocinador de Palestina."
Vicesecretario de Tesoro de EE.UU informa sobre restringidas sanciones contra países que mantienen vínculos con
---
Irán:
Progreso del comercio marítimo de Irán, tras el acuerdo nuclear;
Jefe de la Organización de Puertos de Irán: "16 gigantes de transporte marítimo mundial comercializarán en Irán."
El Presidente Rohani: "A veces es recomendable cambiar o confirmar a un ministro para servir al pueblo."
---
Yomhuri Eslami:
Irán y Malasia acuerdan alcanzar el nivel de relaciones económicas antes del PIAC
Rohani: "Irán da la bienvenida al desarrollo de relaciones con América Latina y Venezuela."
Un diputado del Parlamento anuncia la presentación de 3 candidatos a sustituir a los ministros renunciados.
Se inaugural la mayor línea de transporte de energía eléctrica en Irán, con la presencia del Presidente Rohani.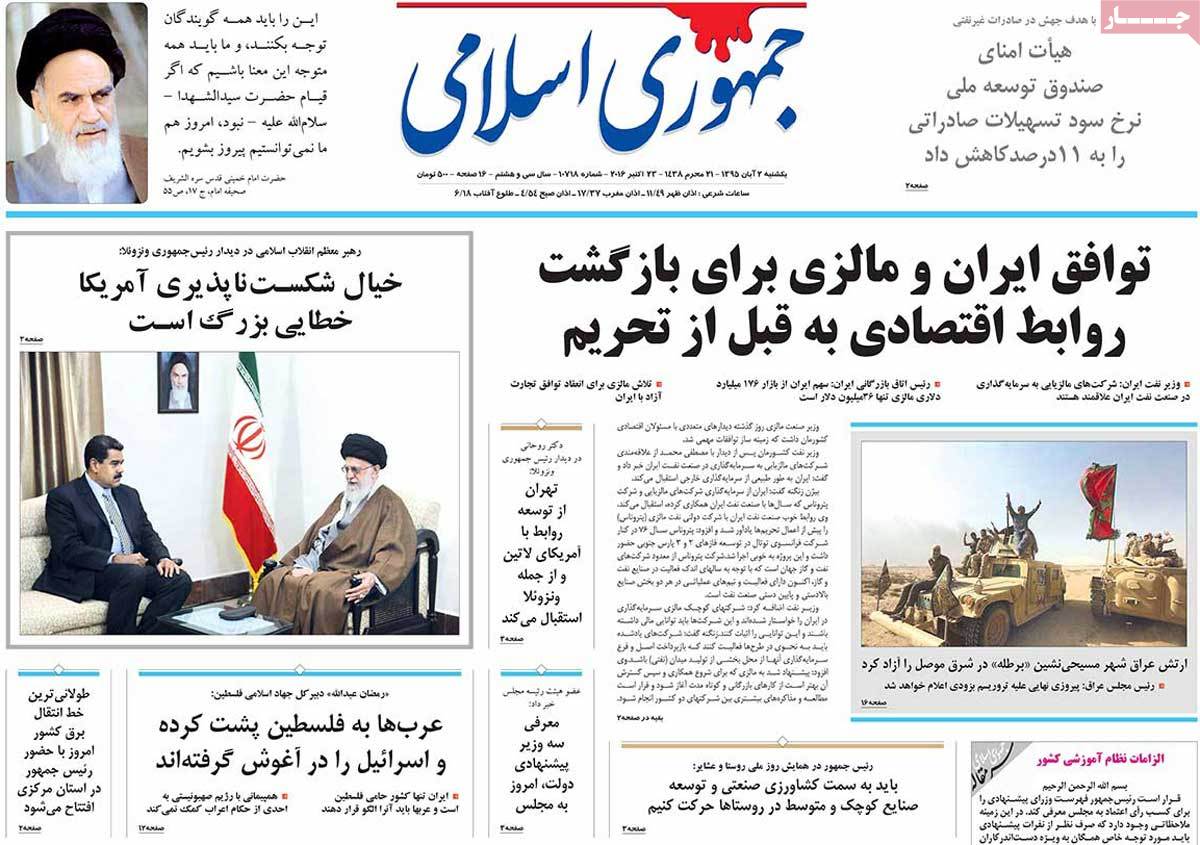 ---
Yavan:
El Fiscal General: "Los bancos están implicados en todas las corrupciones económicas."
El Ministerio de Asuntos Exteriores de la Federación de Rusia propone un plan para monitorear las elecciones presidenciales de EE.UU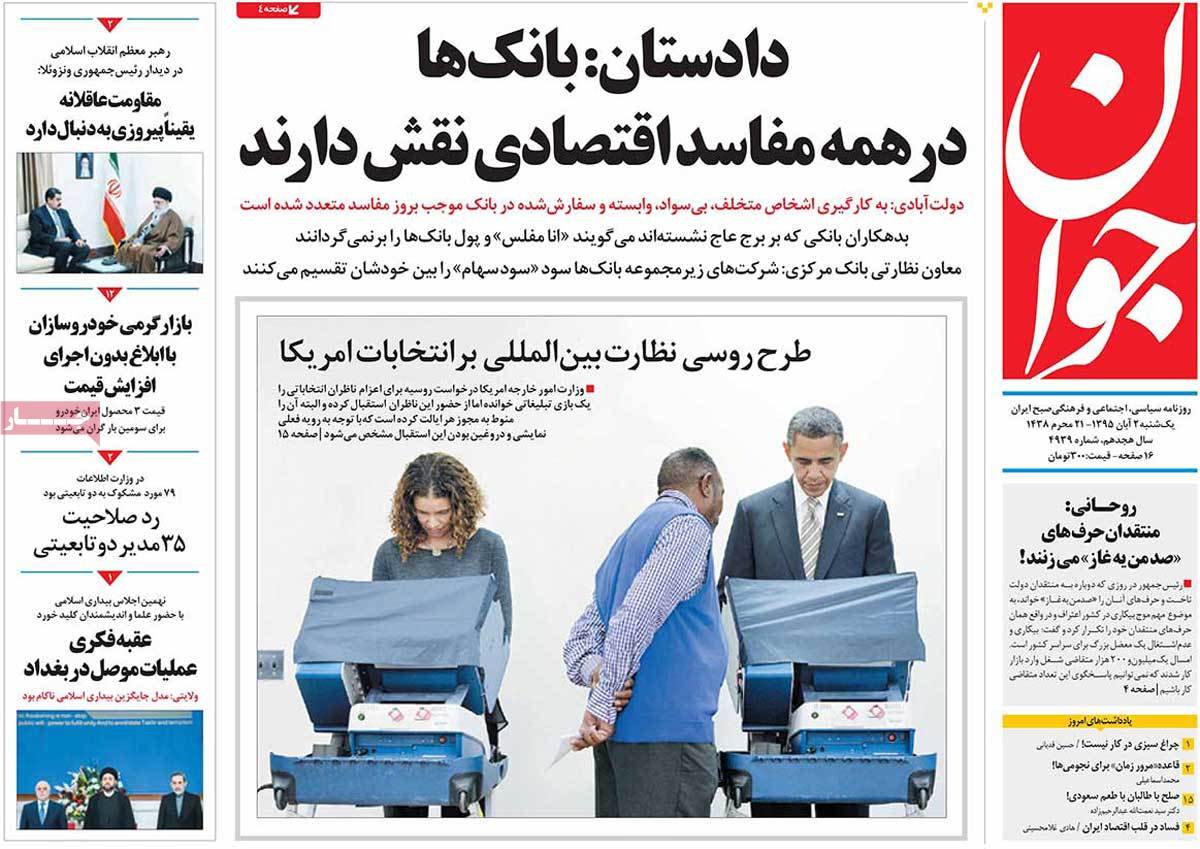 ---
Yaam_e_Yam:
El Líder de Irán, en un encuentro con Nicolás Maduro: "La fantasía de invencibilidad de EE.UU, es un gran error."
Crimen científico; Venta de tesis universitario
Rohani: "El desempleo, es el mayor problema del país."
Asamblea Mundial del Despertar Islámico critica a Arabia Saudita y a Turquía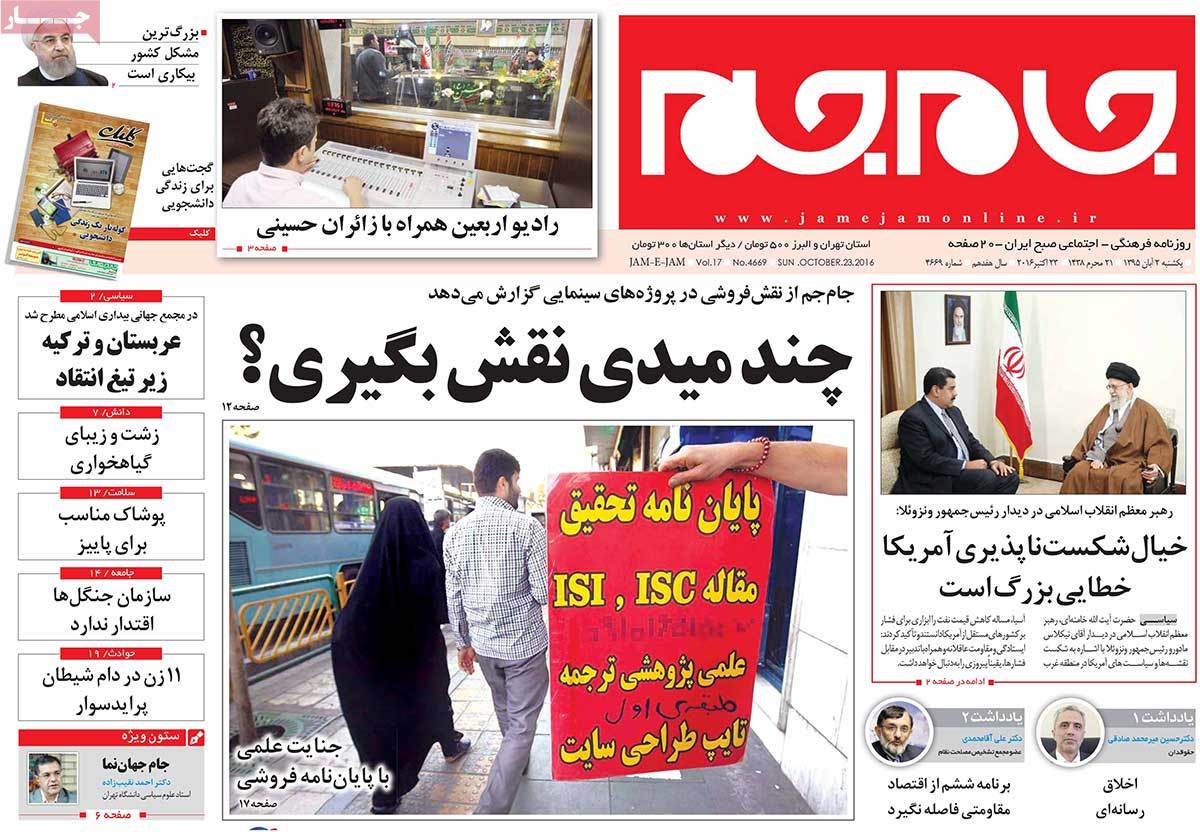 ---
Keihan:
Las estadísticas del ministerio de Carreteras e Urbanización confirma la notable caída del tránsito de mercancías tras el acuerdo nuclear.
Analista estadounidense en una entrevista con Keihan: "¿Por qué EE.UU se unió a la guerra de Yemen?"
Tercer estadounidense liberado demanda contra Irán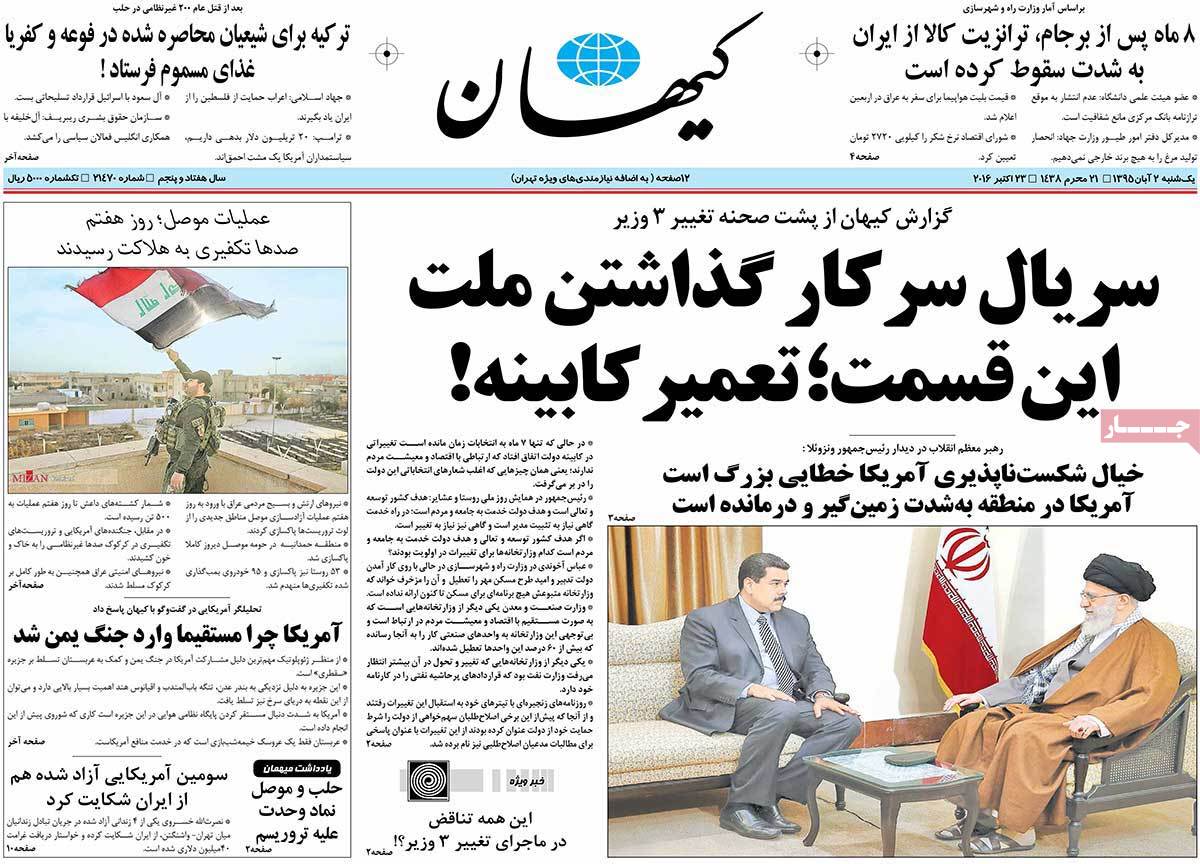 ---
Resalat:
Rohani: "No podemos aún crear tanto empleo."
El jefe de la Organización de Defensa Aérea reitera la posibilidad de ataque biológicos en el país
El alto clérigo iraní: "Se bombardean creencias de la juventud en el ciberespacio."
Frustrada la operación psicológica de EE.UU en Mosul; Descartan un acuerdo entre Irak y Turquía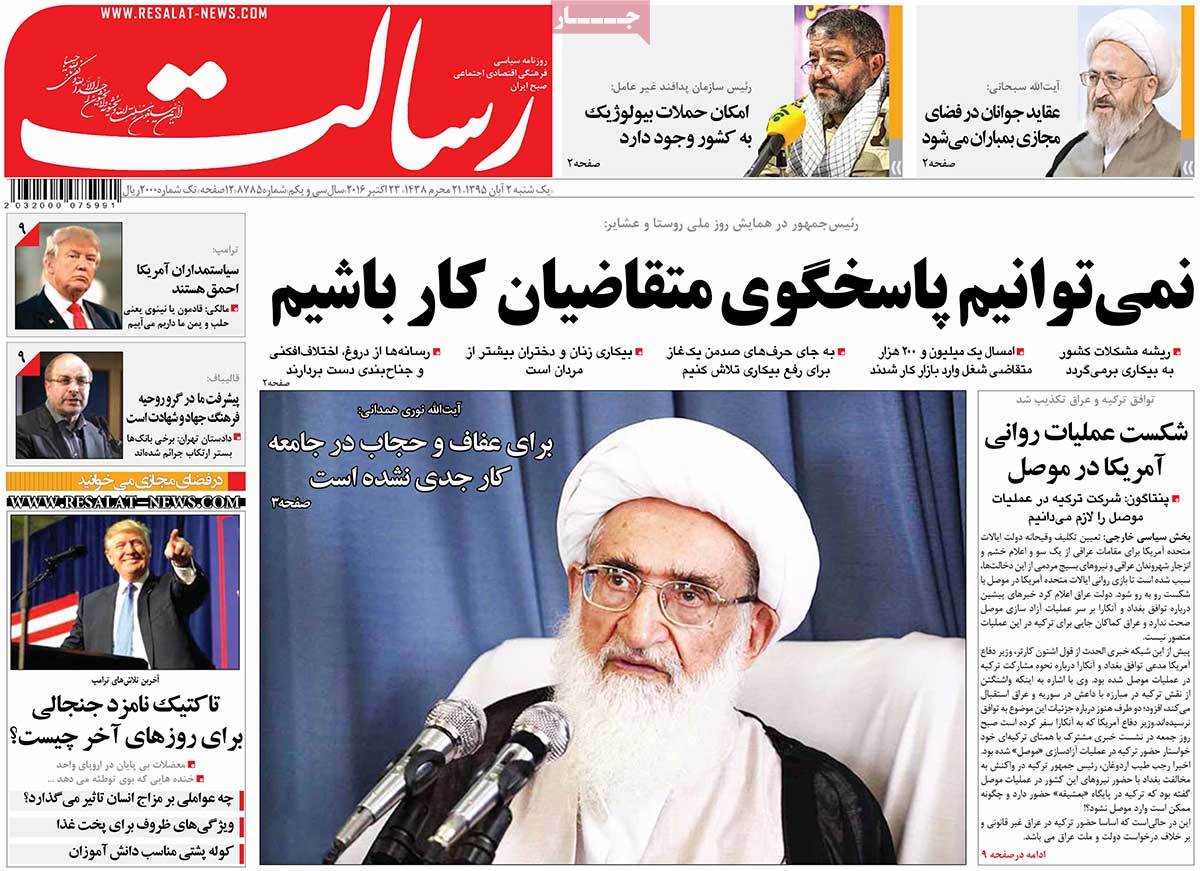 ---
Sepid:
Privilegios de Irán en el Turismo de Salud; el turismo sanitario, un monstruo de alto ingreso
Reporta la Conferencia Internacional sobre la Sanidad y Desarrollo Sostenible: Reduce la tasa de muerte en Irán por la contaminación del aire.
---
Shahrvand:
Cada 35 días un mandatario visita Irán; Shahrvand informa sobre las visitas del gobierno desde hace 19 meses
Futbol sin dolor; la campaña "90 minutos sin cigarrillo" se lanza en Irán, gracias al centro sanitario de FIFA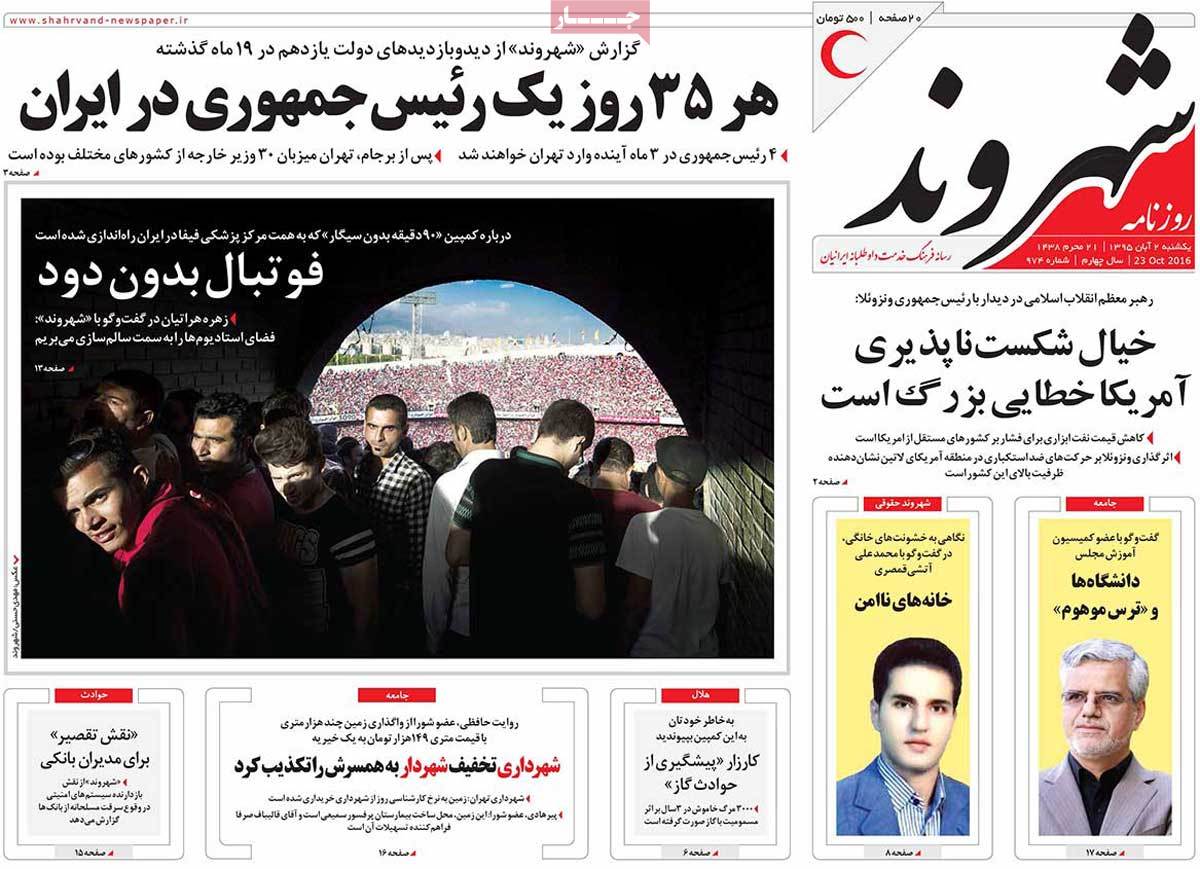 ---
Vaghaye Etefaghie:
Teherán esperará un invierno con menos contaminación; Las predicciones revelan las medidas eficaces del gobierno para el control de la contaminación del aire.
Un sociólogo: "los kurdos en Irán son más alegres que otras regiones."