IFP has taken a look at the front pages of Iranian newspapers on Thursday and picked headlines from 14 of them. IFP has simply translated the headlines and does not vouch for their accuracy.[:es]IFP ha echado una mirada a las portadas de periódicos iraníes, publicados el sábado, 20 de octubre de 2016, y ha recogido titulares de 14 de ellos. IFP ha traducido simplemente los titulares y no es responsable de su veracidad.
Newspapers today covered the remarks made by the Leader of the Islamic Revolution Ayatollah Seyyed Ali Khamenei in a meeting with Iranian top university students and elites.
They also highlighted the decision made by President Rouhani to accept the resignations of three of his ministers as part of his cabinet reshuffle.
The International Monetary Fund (IMF)'s latest report and its promising statistics about Iran's economy also received great coverage.
The above issues, as well as many more, are highlighted in the following headlines:
Abrar:
1- Ahmadinejad's $3.3bn Legal Case
2- US Elections Will Have No Impact on JCPOA: Iran's Deputy FM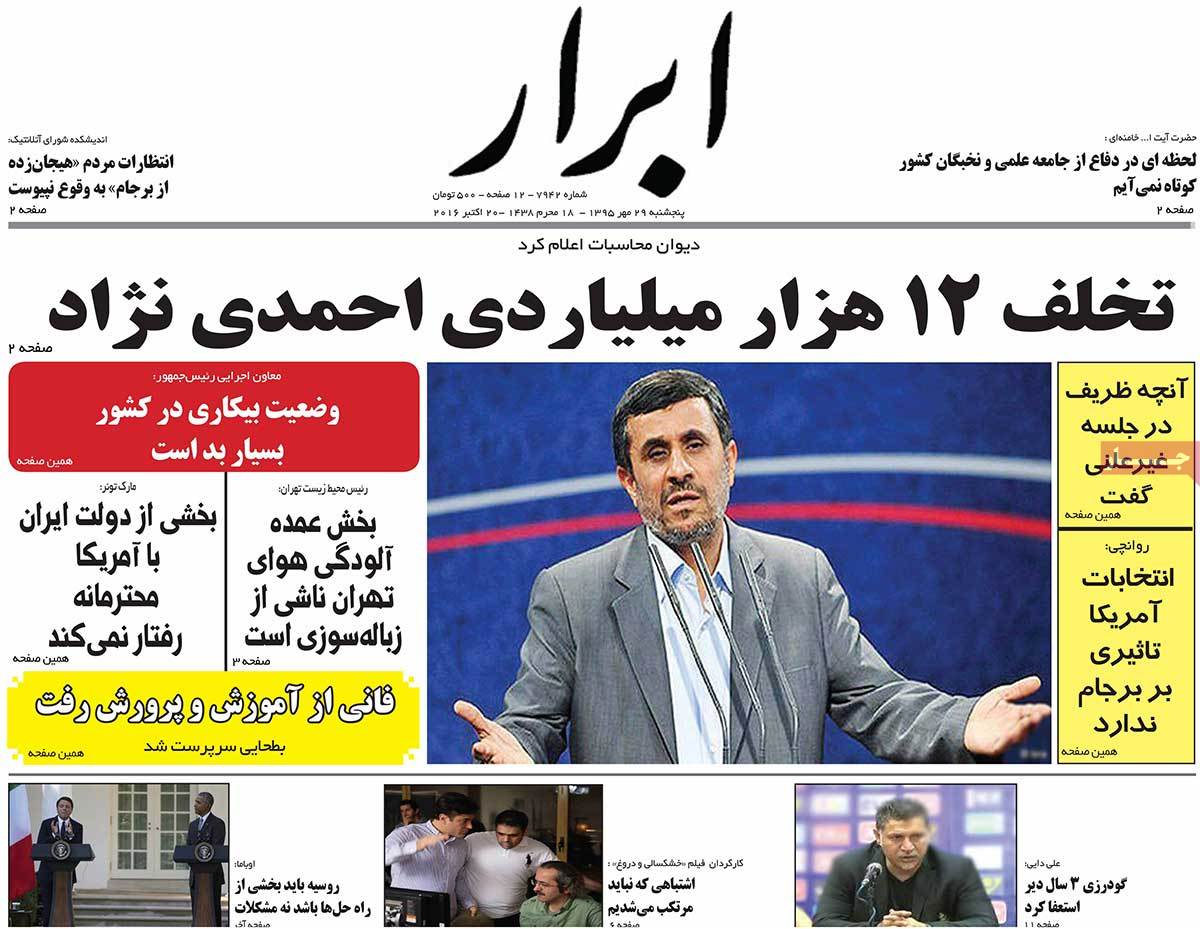 ---
Afkar:
1- Leader: US Looks for Removal of Religious Criteria in Ruling System
2- Mosul to Be Liberated before Arbaeen [40th day after martyrdom anniversary of Imam Hussein]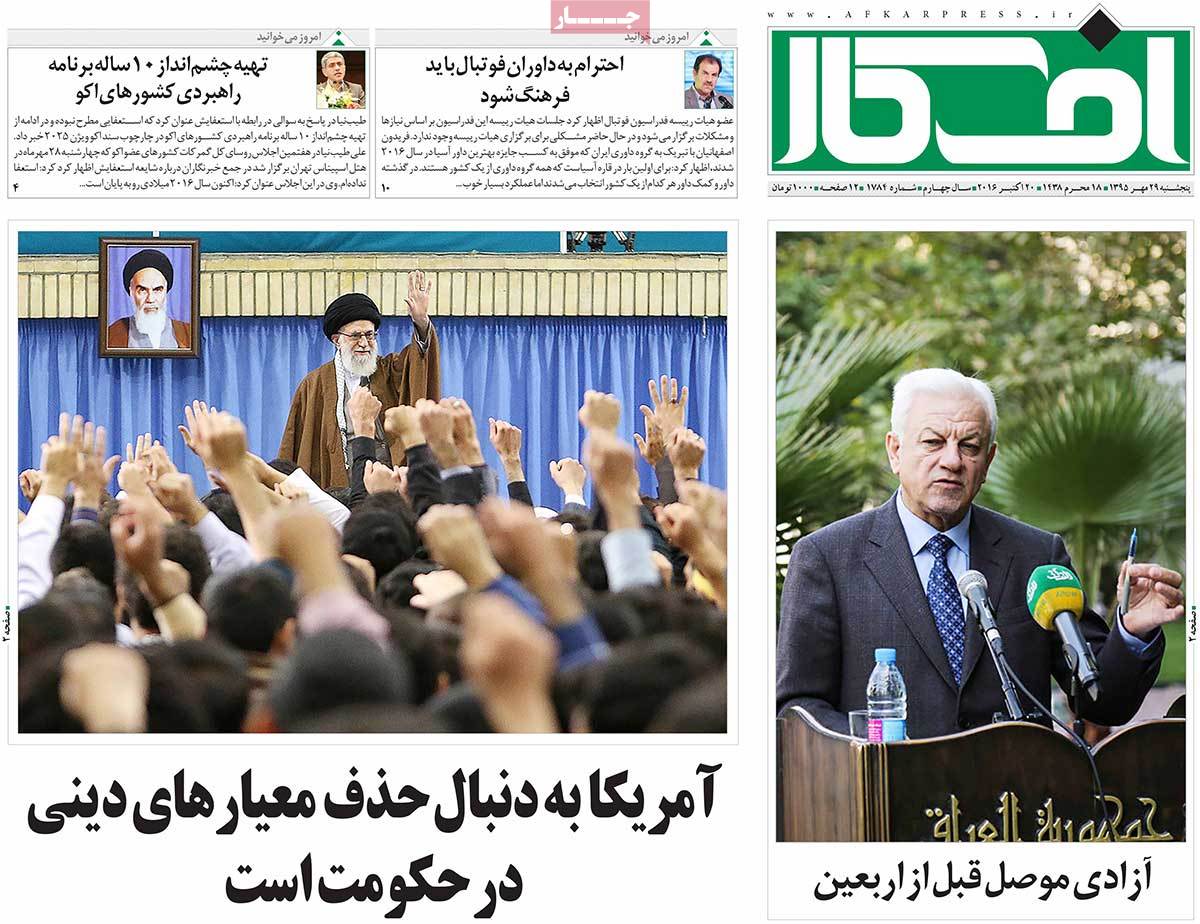 ---
Aftab-e Yazd:
1- End of the Stubborn Minister: Education Minister Finally Resigns after 24 Hours of Resistance
2- Does Rouhani Government's Economic Team Need Any Improvement?
3- Trump's Style of Revealing Opponent's Secrets: GOP Candidate Says Obama's Brother Is More Intelligent than the US President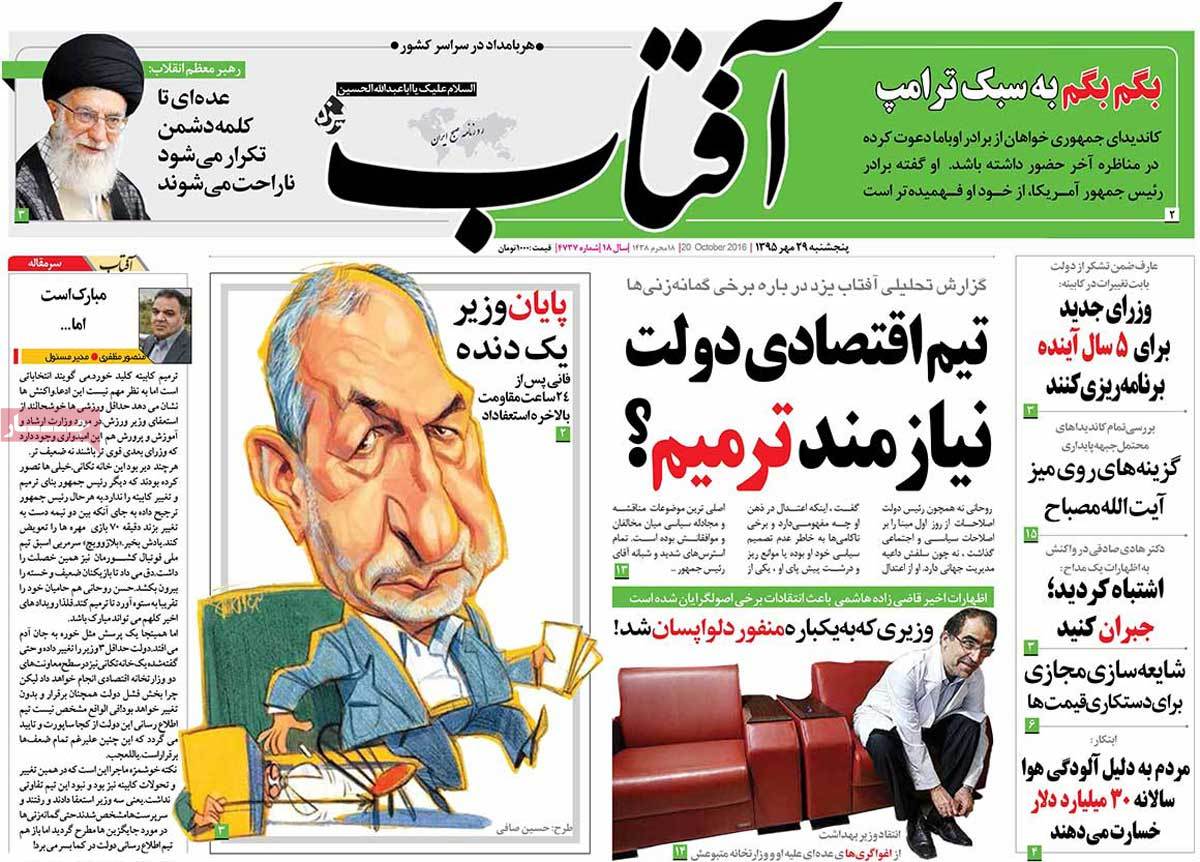 ---
Arman-e Emrooz:
1- Leader: Repetition of the Word Enemy Is 'Awareness of Conspiracy', Not 'Illusion of Conspiracy'
2- Rouhani's Moves to Improve His Cabinet: New Ministers to Be Introduced Next Week
3- People Have Lost $30bn Because of Air Pollution: Environment Chief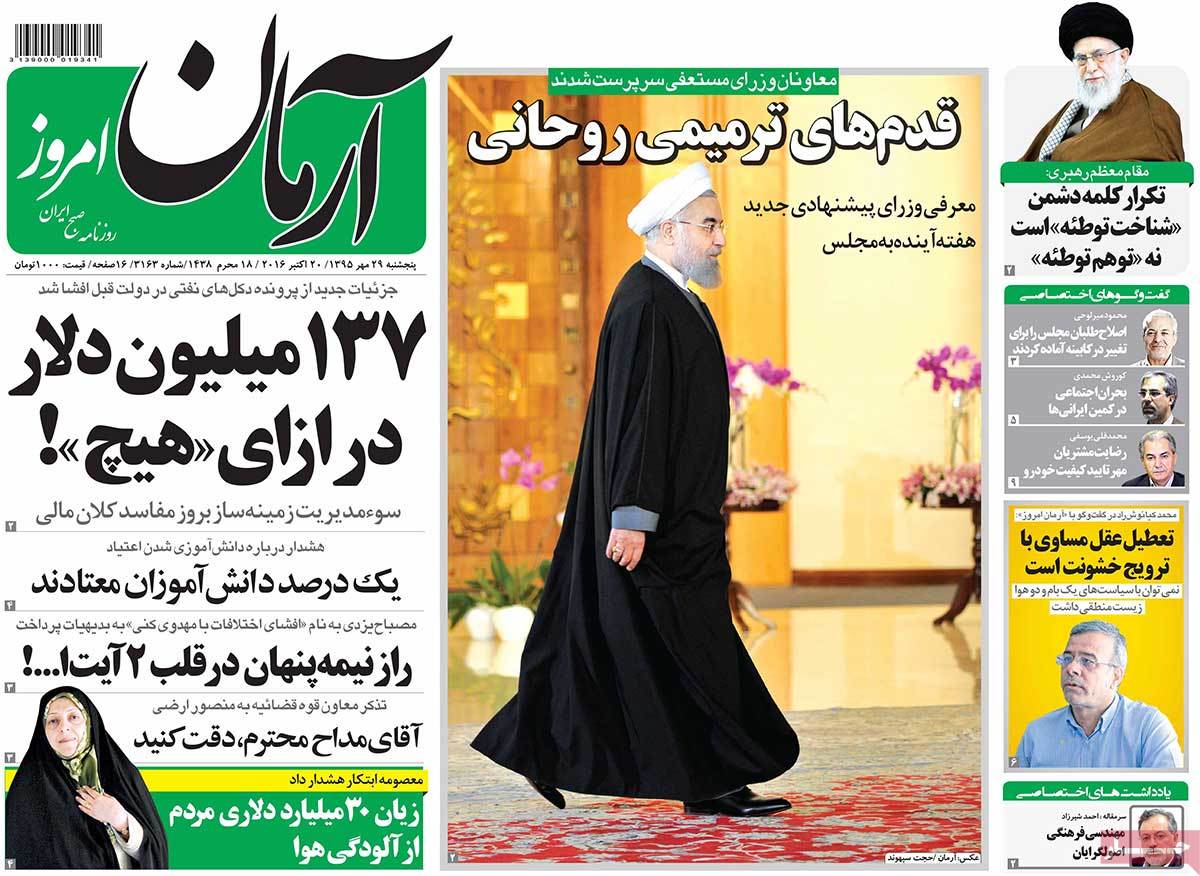 ---
Ebtekar:
1- Leader: I Won't Stop Defending Iran's Scientific Community and Elites Even for a Second
2- Iranian Lawmakers Consider Rouhani's Cabinet Reshuffle as a Move in Line with People's Demands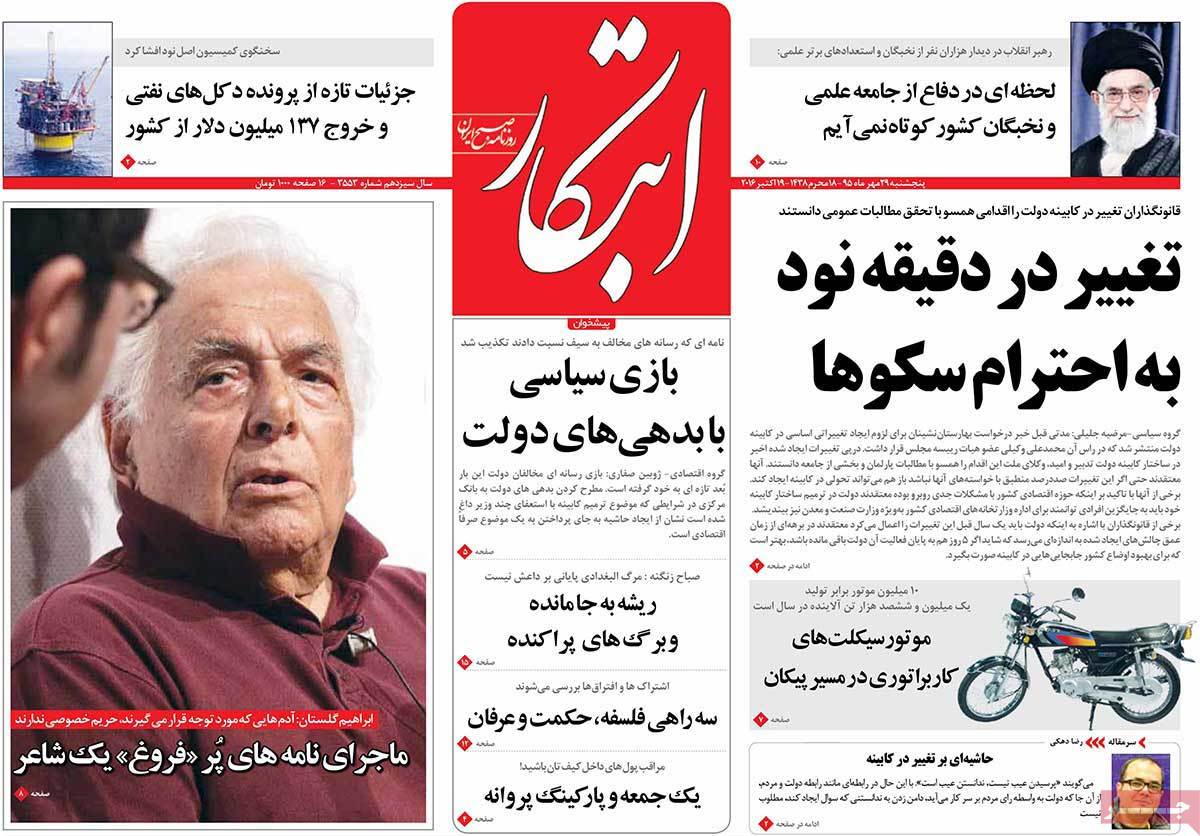 ---
Emtiaz:
1- 10th Train of Foreign Tourists to Arrive in Iran Tomorrow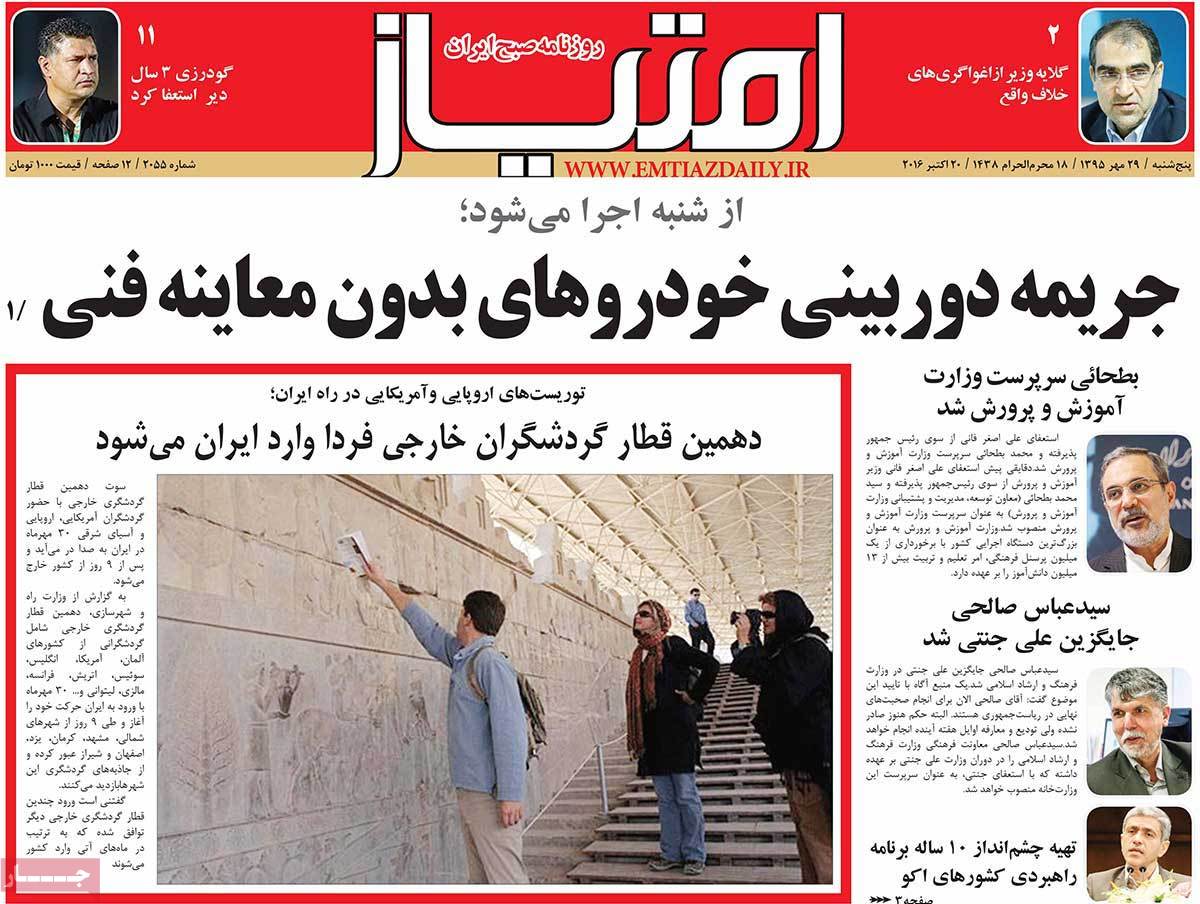 ---
Ettela'at:
1- Leader Underlines the Need for Paying Special Attention to Elites
2- 350sqm of ISIS-Held Territories Liberated in Mosul Operation
3- Environment Chief: Energy Consumption in Iran Is 9 Times More than Industrial Countries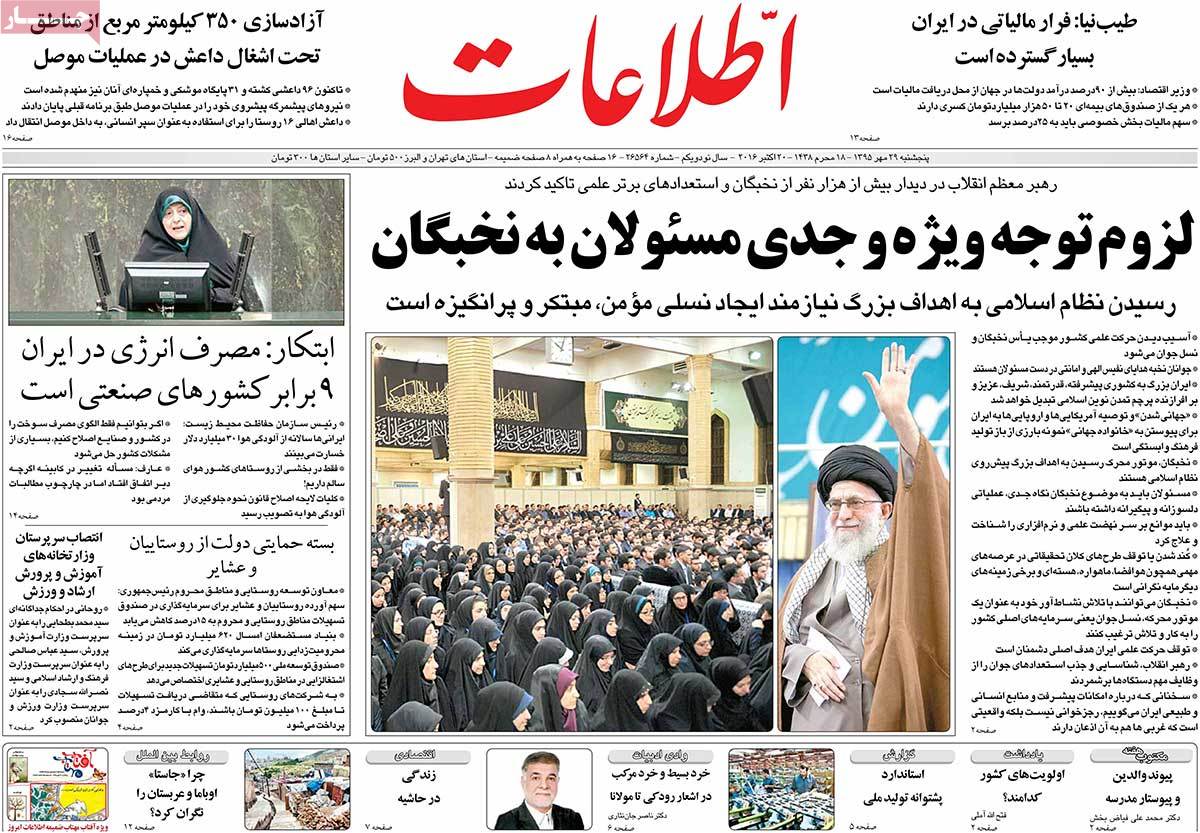 ---
Haft-e Sobh:
1- Germany's Siemens Will Make Investment in Iran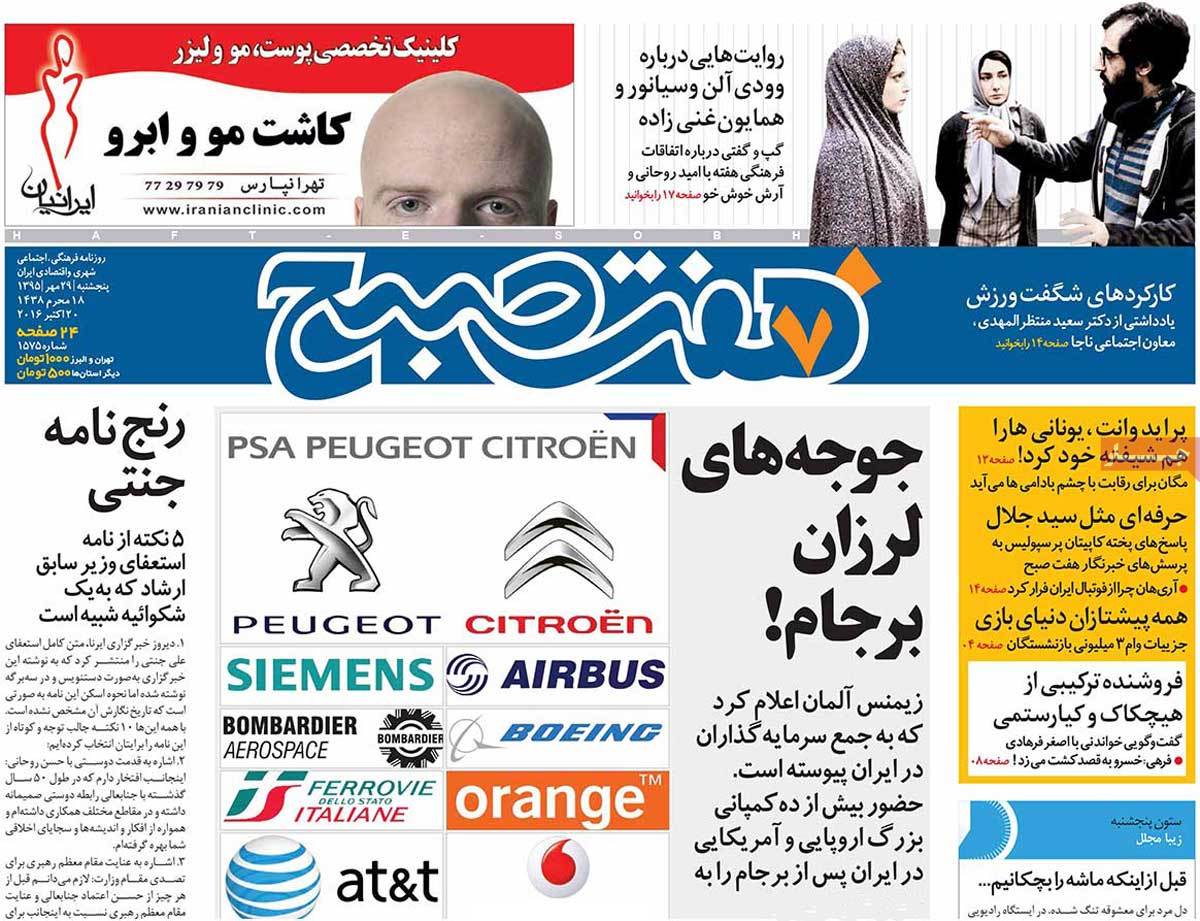 ---
Iran:
1- Iran's Economic Performance Has Been Way beyond Expectations: Latest Report by IMF Shows
2- Iranian People Has Had World's Greatest Participation in Online Census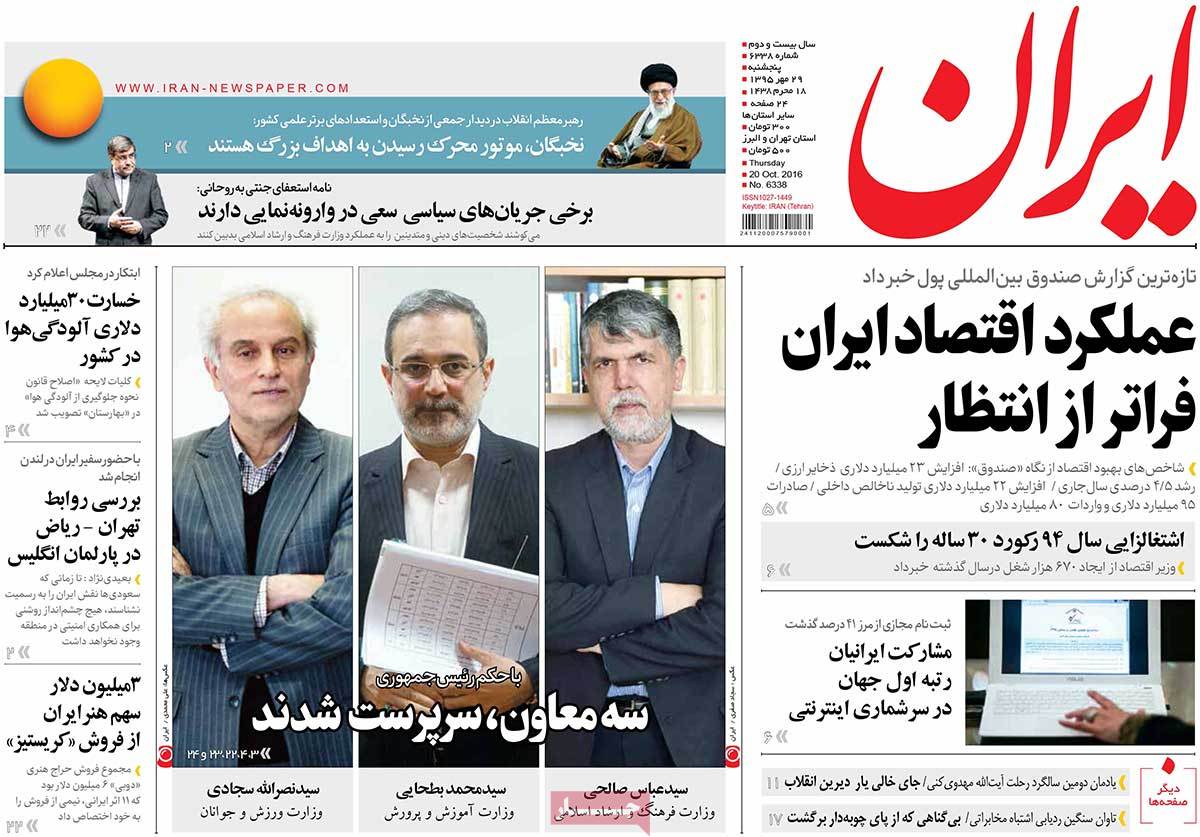 ---
Jame Jam:
1- Leader: Current Generation Is a Revolutionary One
2- A Law for a Clean Sky: Parliament Passes General Principles of Clean Air Bill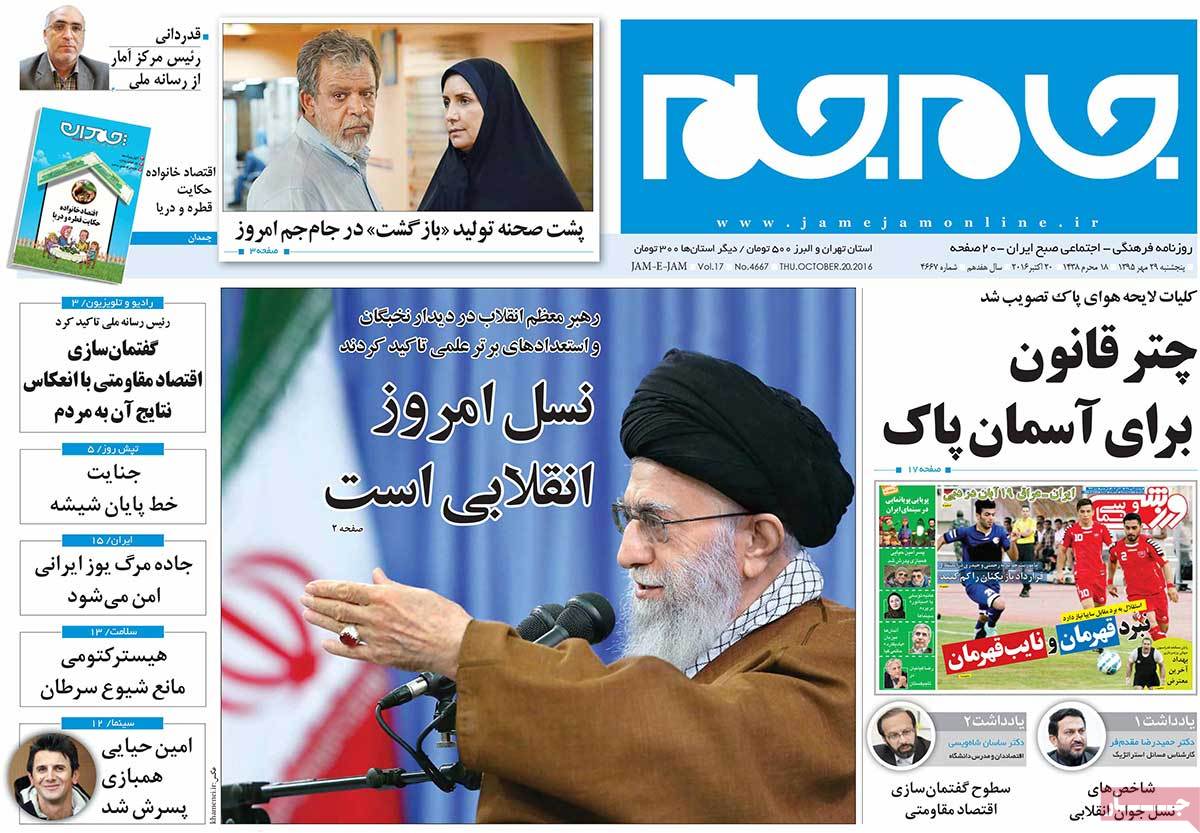 ---
Javan:
1- Leader: I Had Warned Officials of the Consequences of Nuclear Withdrawal
2- Moscow: Washington Should Be Waiting for a Painful Reaction
3- Removal of Minister without Resignation and Impeachment
4- Escaping the Yemen War with $17.5bn Gamble: Saudi Arabia Starts Selling Bonds amid Ceasefire
---
Kayhan:
1- Leader: Enemies Want Iran's Scientific Growth Be Stopped
2- Hundreds of Terrorists Give Up Their Guns and Flee From Damascus
3- Education Minister: I'm Ready to Continue My Job; President: I Accept Your Resignation!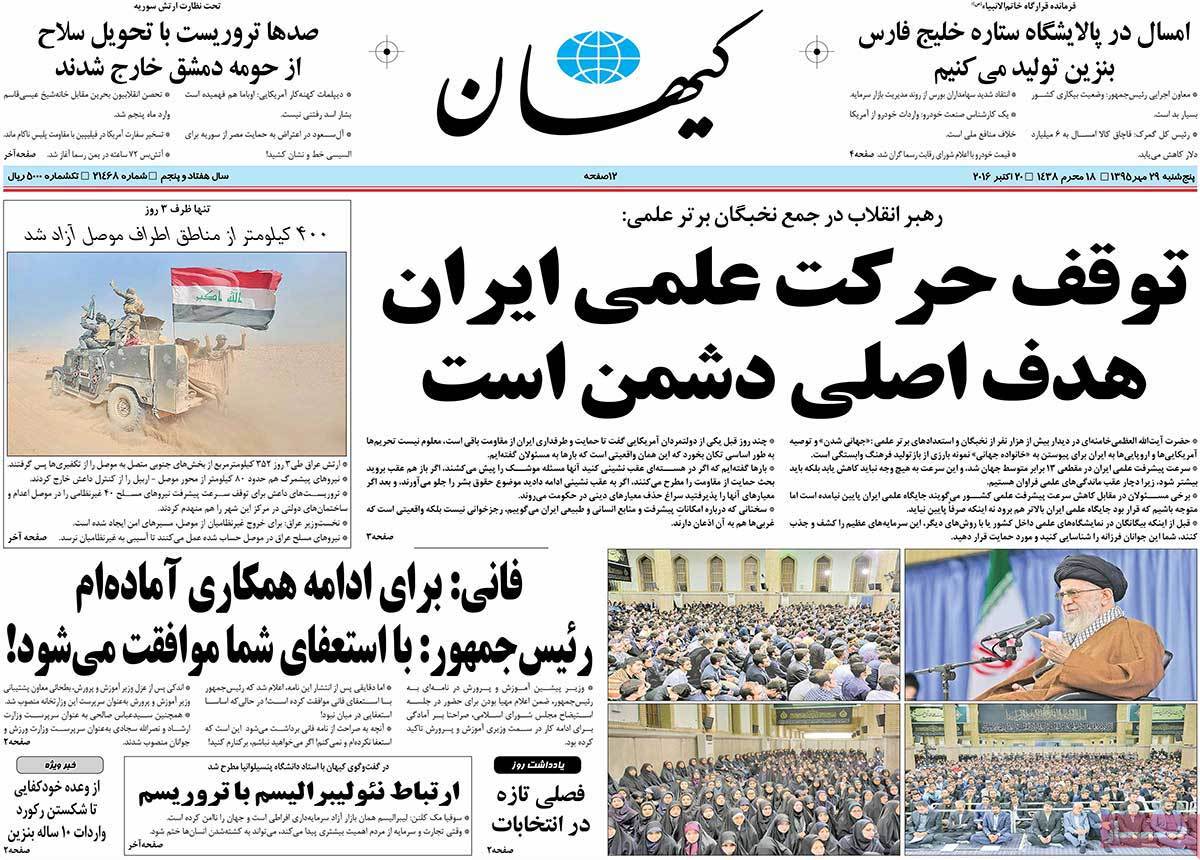 ---
Khorasan:
1- Elites Are Precious Divine Gifts Officials Should Protect: Leader
2- Iran's Foreign Exchange Reserves Increase to $132bn: IMF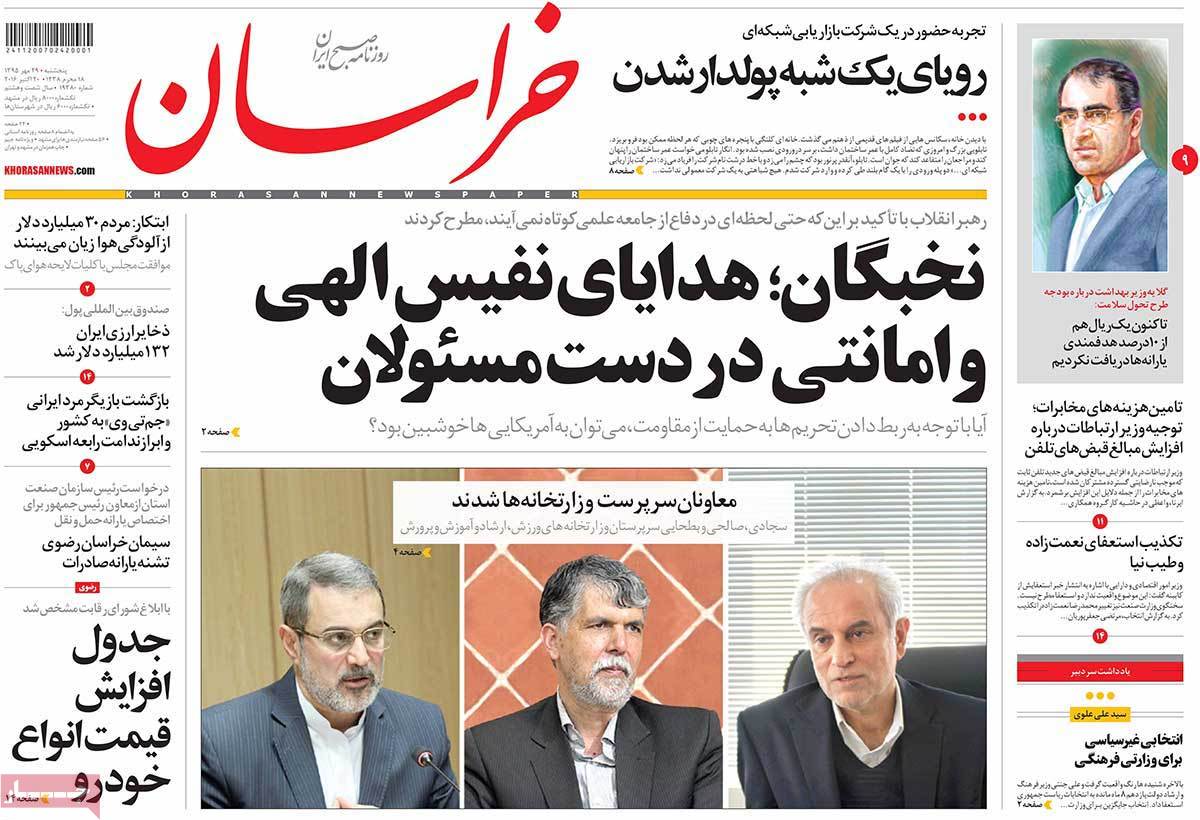 ---
Sayeh:
1- Those Who Are Not Hungry Don't Know Anything about the Starving People: Impact of Food Waste on Spread of Poverty in the World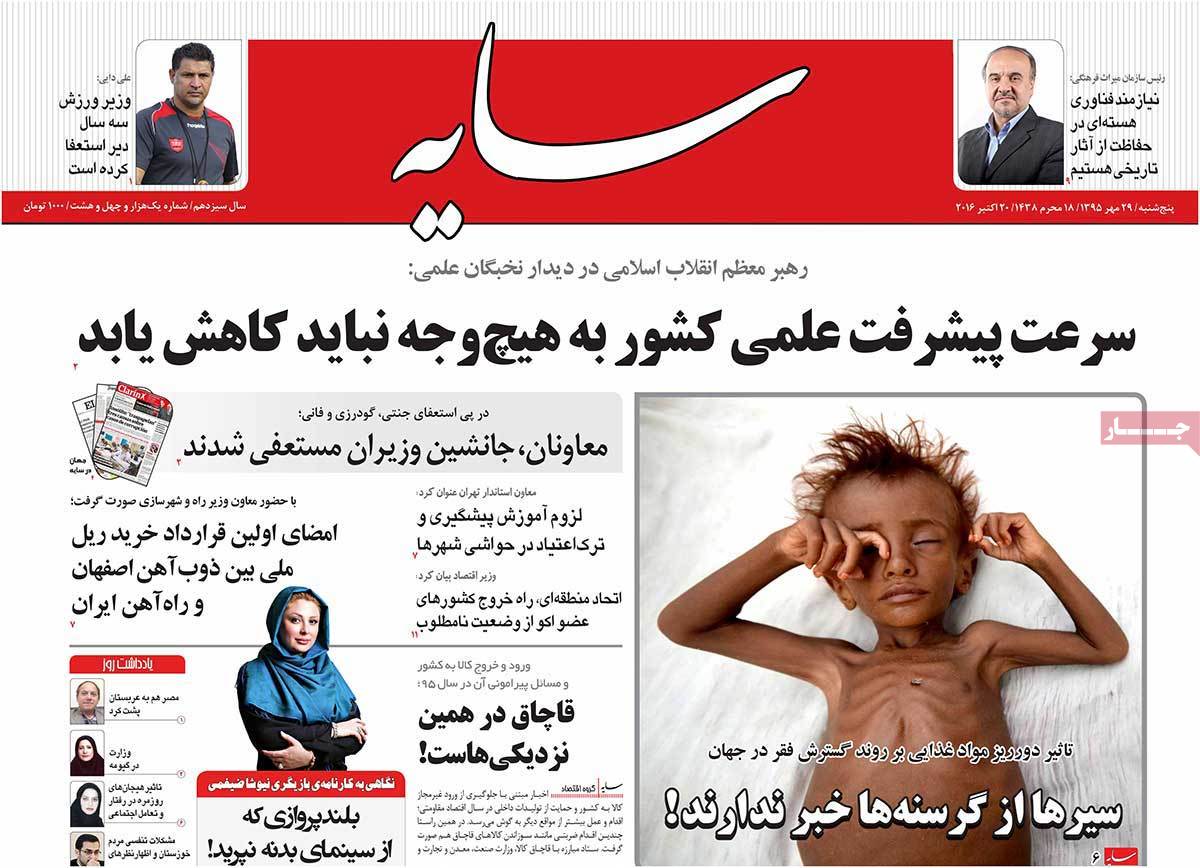 [:es]
Los periódicos iraníes de hoy cubrieron las declaraciones del Líder de la Revolución Islámica, el Ayatolá Seied Ali Jamenei, en un encuentro con los estudiantes sobresalientes iraníes.
También se destacó la decisión del presidente Rohani de permitir la renuncia de tres miembros de su gabinete, o sea, los ministros de Deporte, Cultura y Educación.
El informe del Fondo Monetario Internacional (FMI), así como sus estadísticas prometedoras acerca de la economía de Irán también recibió una buena acogida por los diarios.
Los temas antes mencionados, junto con varios otros, figuran entre los siguientes títulos:
Abrar:

1- Ahmadineyad ha cometido un abuso económico de 3.3 billones de dólares
2- El vicecanciller iraní: las elecciones en Estados Unidos no tendrán ningún impacto en el acuerdo nuclear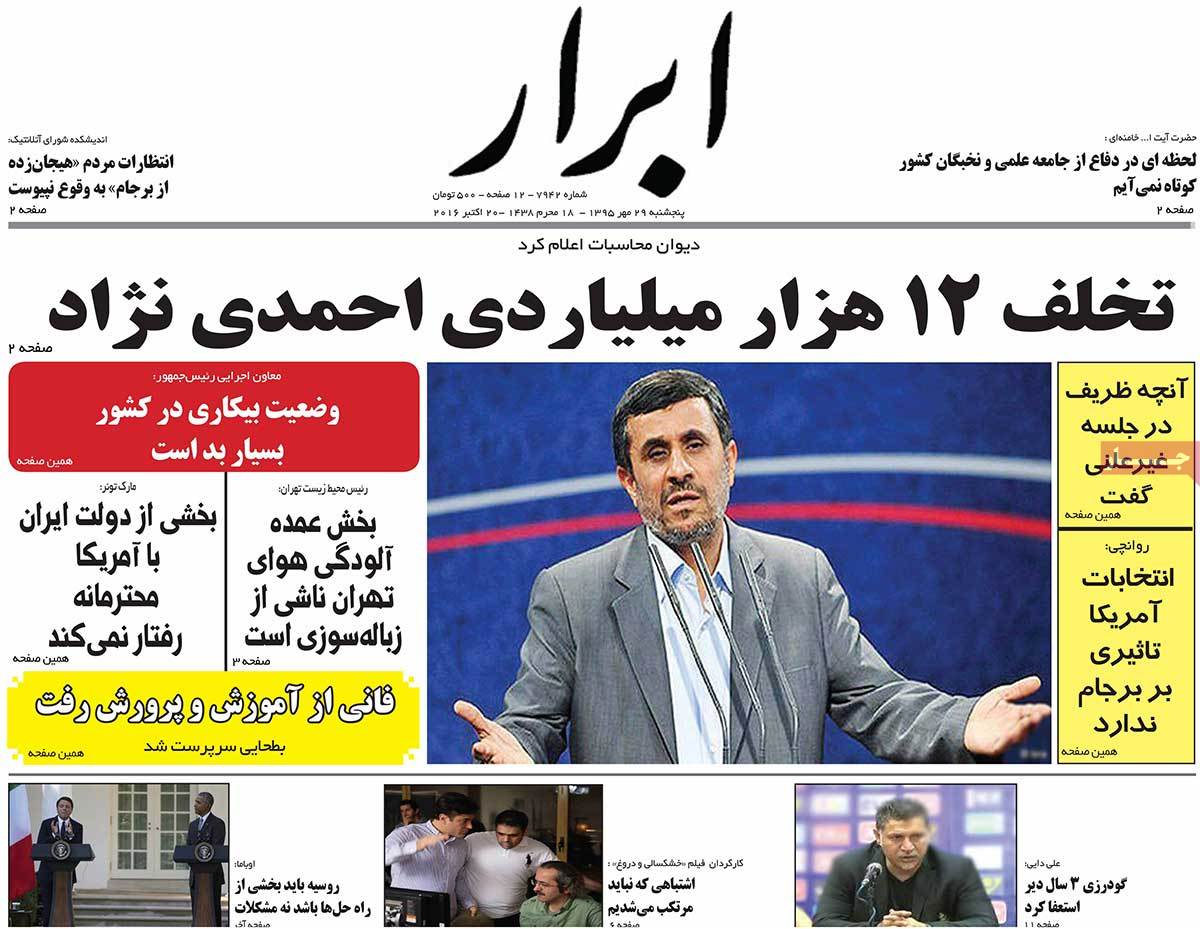 ---
Afkar:

1- Líder: Estados Unidos busca eliminar criterios religiosos en el gobierno
2- Mosul será liberado antes de la Ceremonia de Arbain [Marcha con el motivo de 40 días del aniversario del martirio del imán Hussein]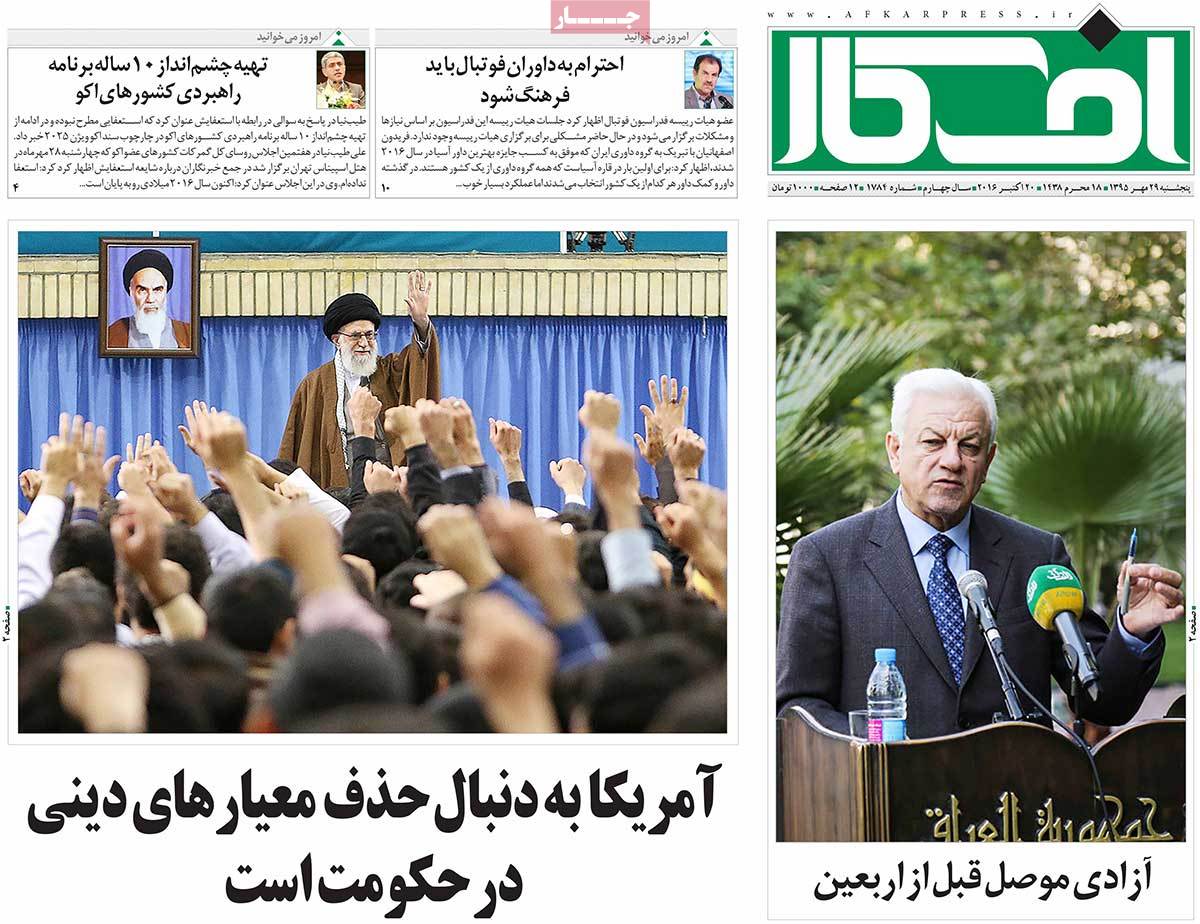 ---
Aftab-e Yazd:

1- Fin del ministro impetuoso: Por fin, renuncia el ministro de Educación después de 24 horas de resistencia
2- ¿Se necesita una reforma en el equipo económico del Gobierno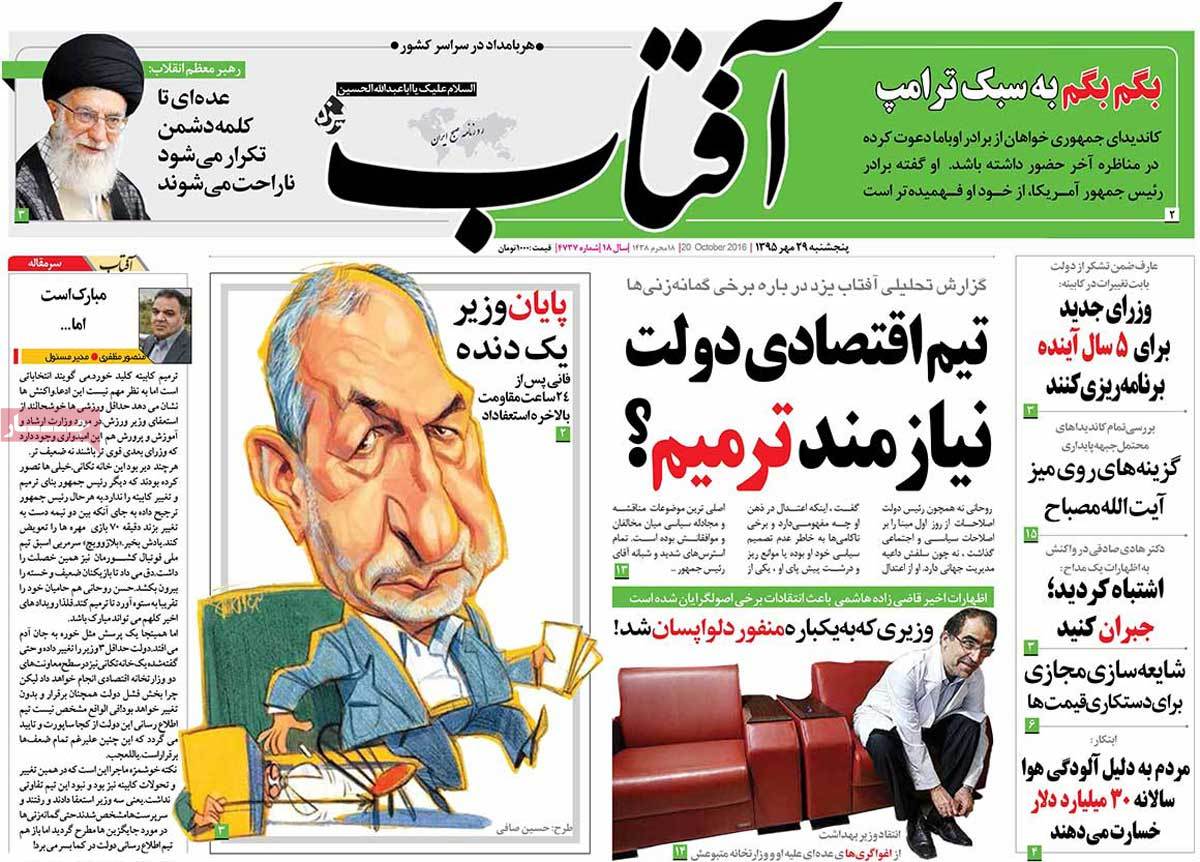 ---
Arman-e Emruz:

1- Líder: La repetición y el énfasis en el término "enemigo" significa "conocer la conspiración ', y no' Ilusión de la conspiración '
2- Rohani modifica su gabinete: Nuevos ministros serán presentados la próxima semana
3- Presidenta de la Organización del Medio Ambiente: "La población ha perdido 30 millones de dólares por la contaminación del aire."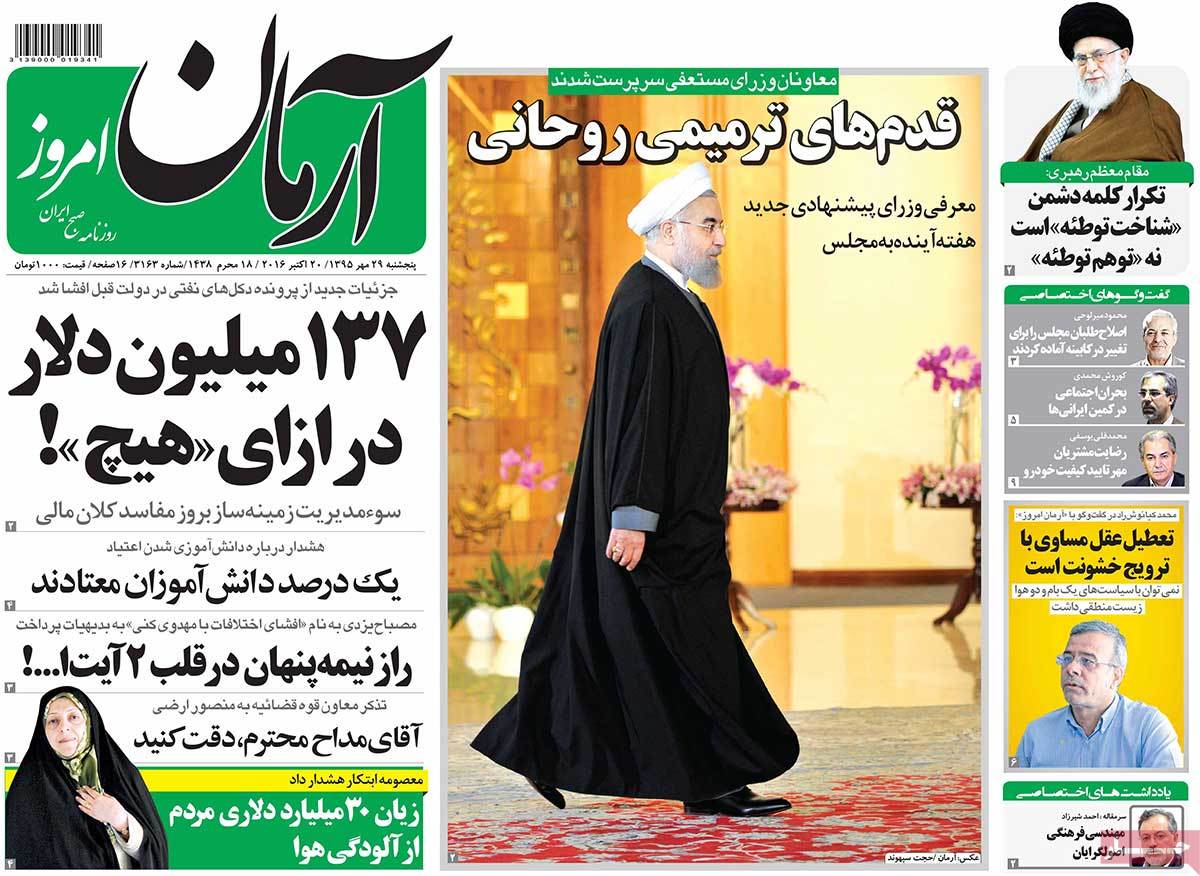 ---
Ebtekar:

1- Líder: No se detendrá el avance científico de Irán ni por un segundo
2- Los legisladores iraníes piden a Rohani a reorganizar un gabinete conforme a las reivindicaciones populares.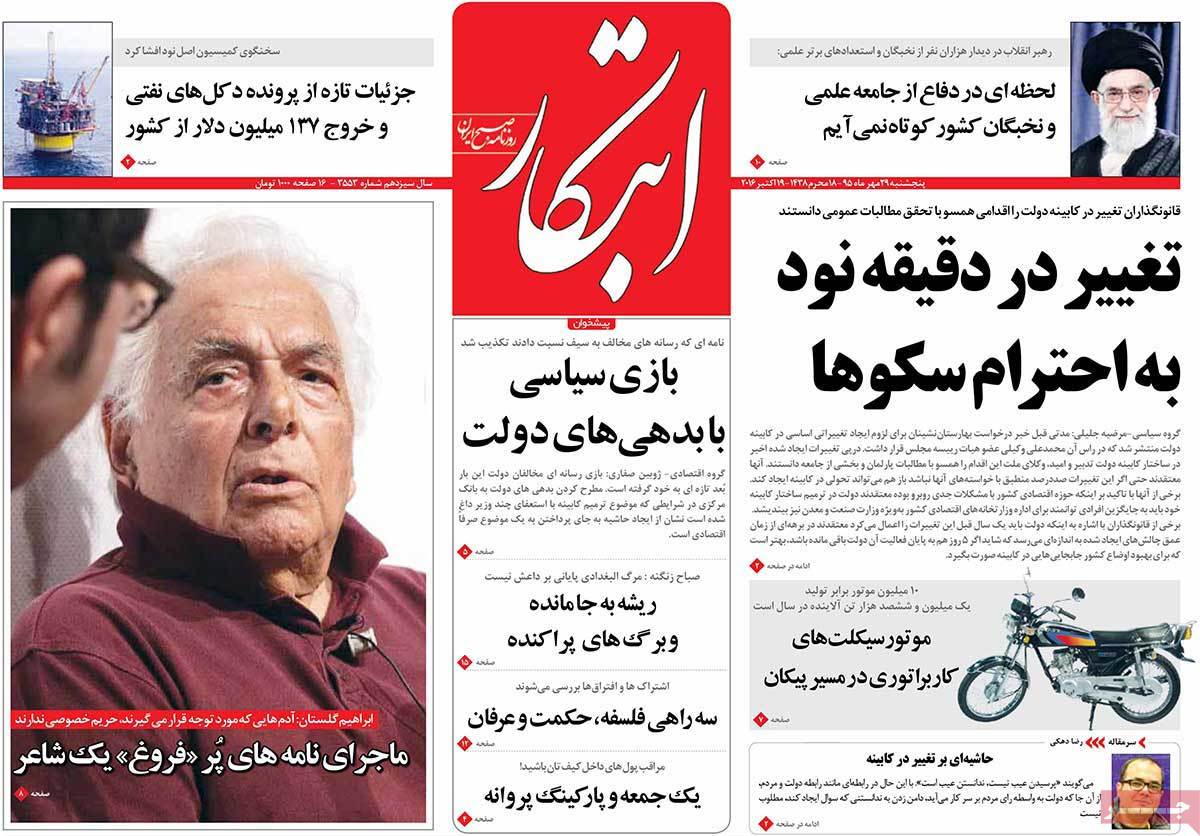 ---
Emtiaz:

1- 10 tren de turistas extranjeros llegarán mañana a Irán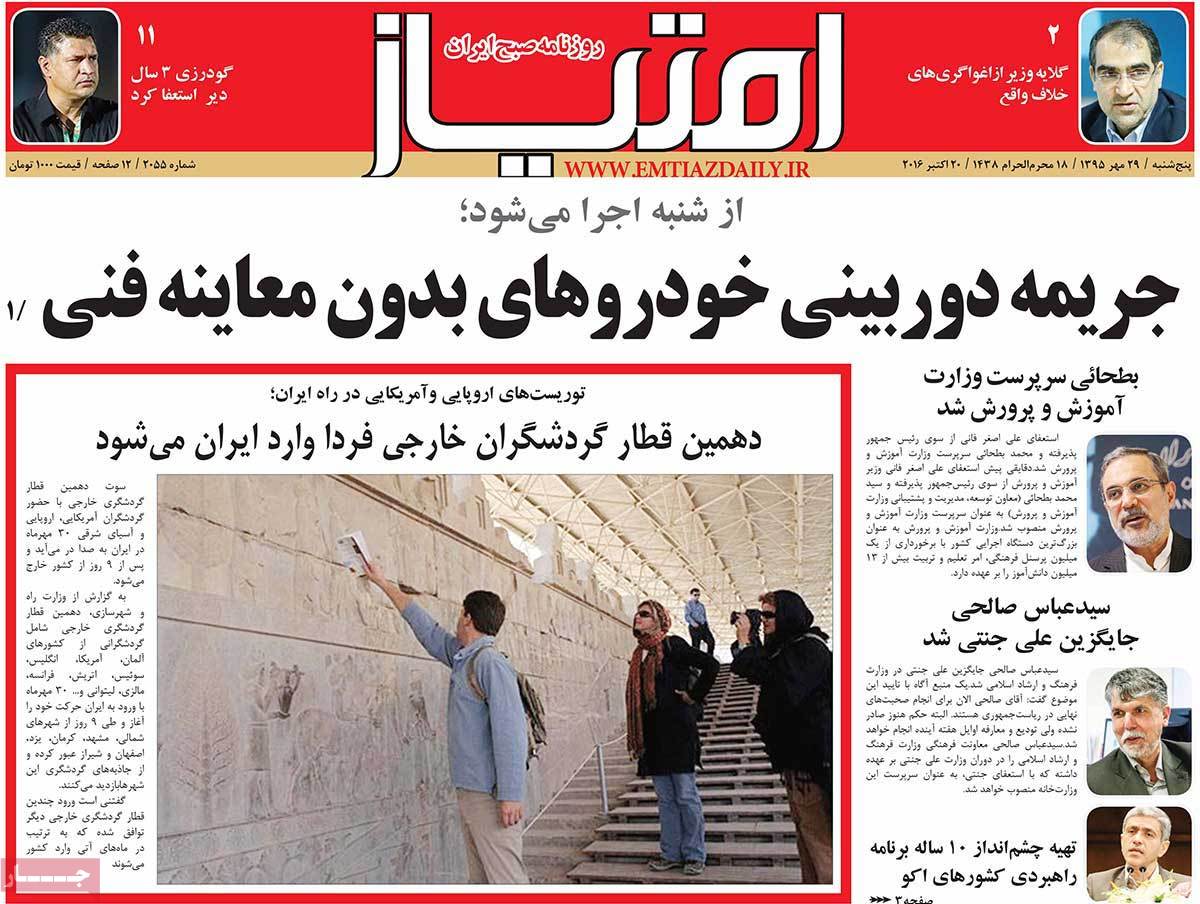 ---
Ettela'at:

1- Líder destaca la necesidad de prestar una atención especial a las élites del país
2- 350 metros cuadrados del territorio iraquí, de la ciudad de Mosul, liberados por el ejército nacional
3- Presidenta de la Organización del Medio Ambiente: Irán consume energía 9 veces más que los países industriales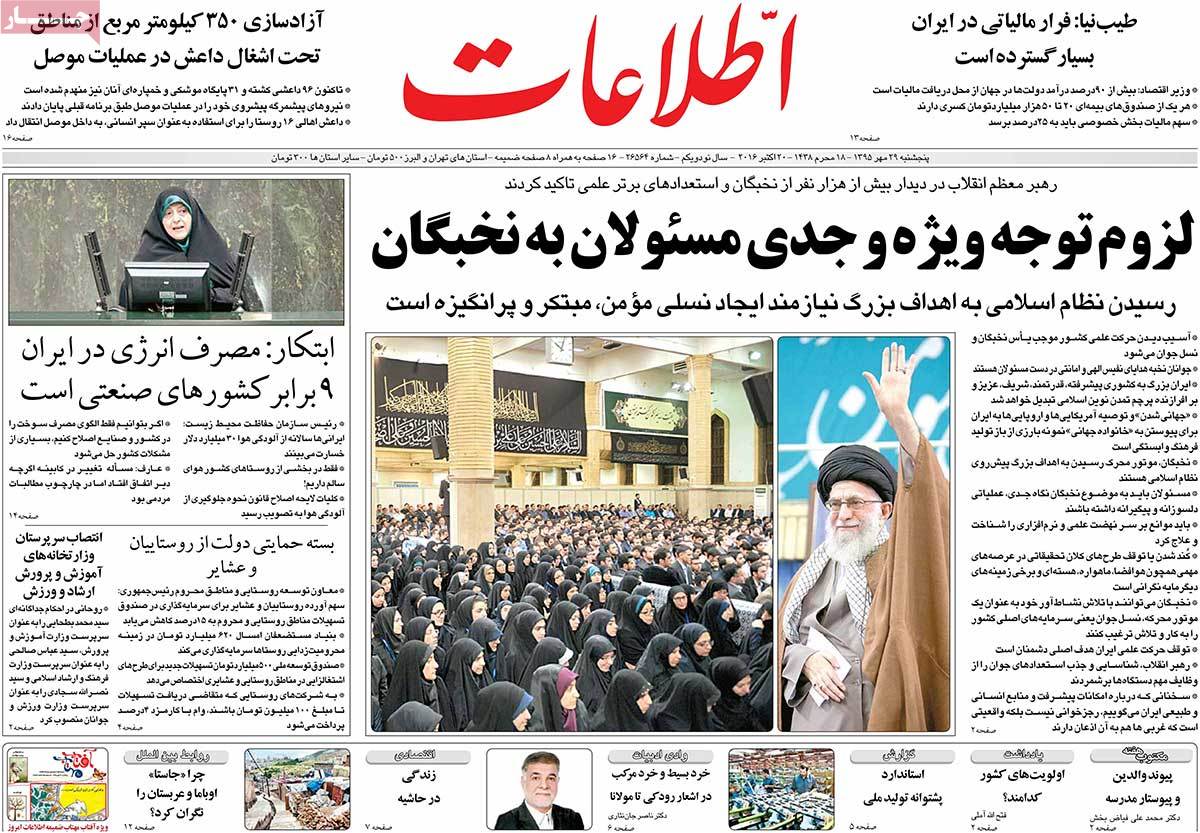 ---
Haft-e Sobh:

1- La empresa alemana Siemens realiza inversiones en Irán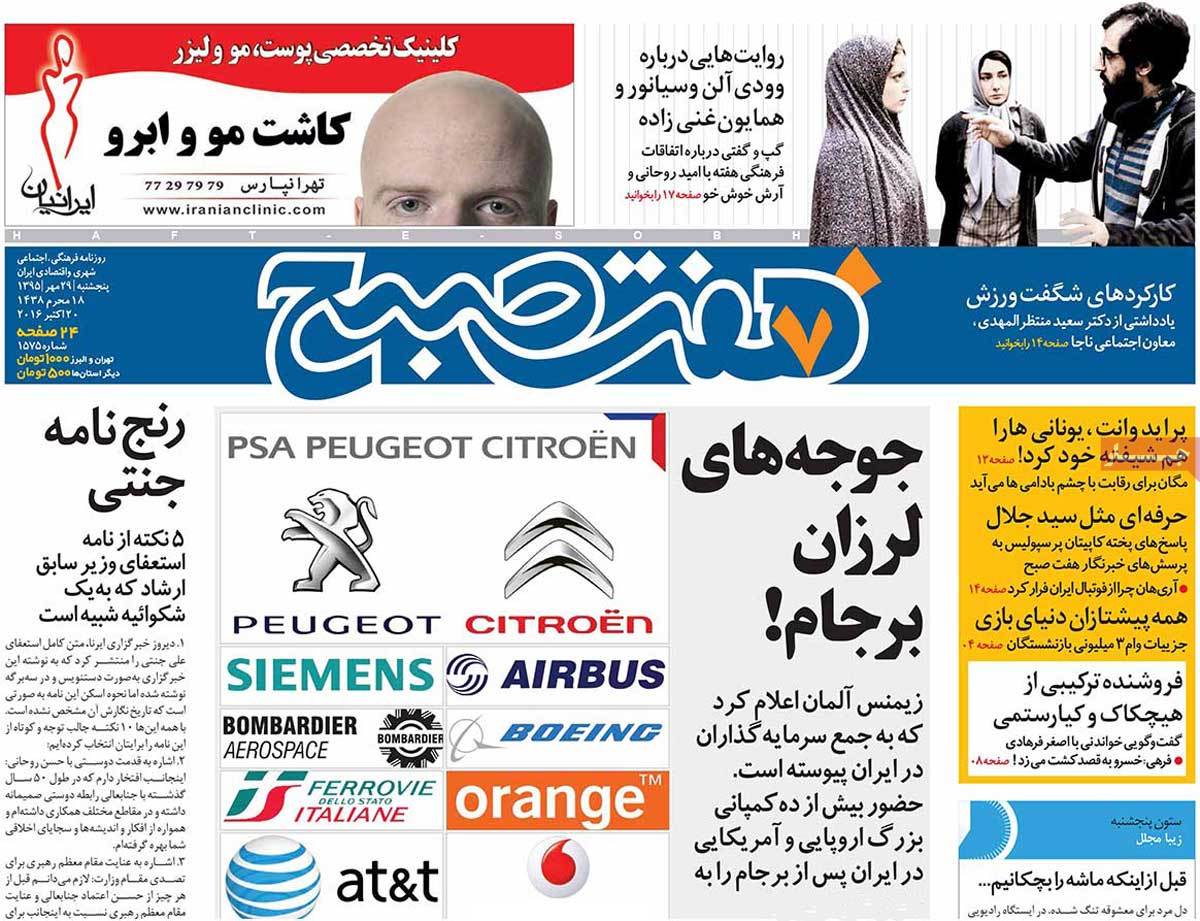 ---
Irán:

1- El informe de FMI revela que el desempeño económico ha sido mayor que las expectativas
2- La población iraní ha tenido la mayor participación en línea del mundo censo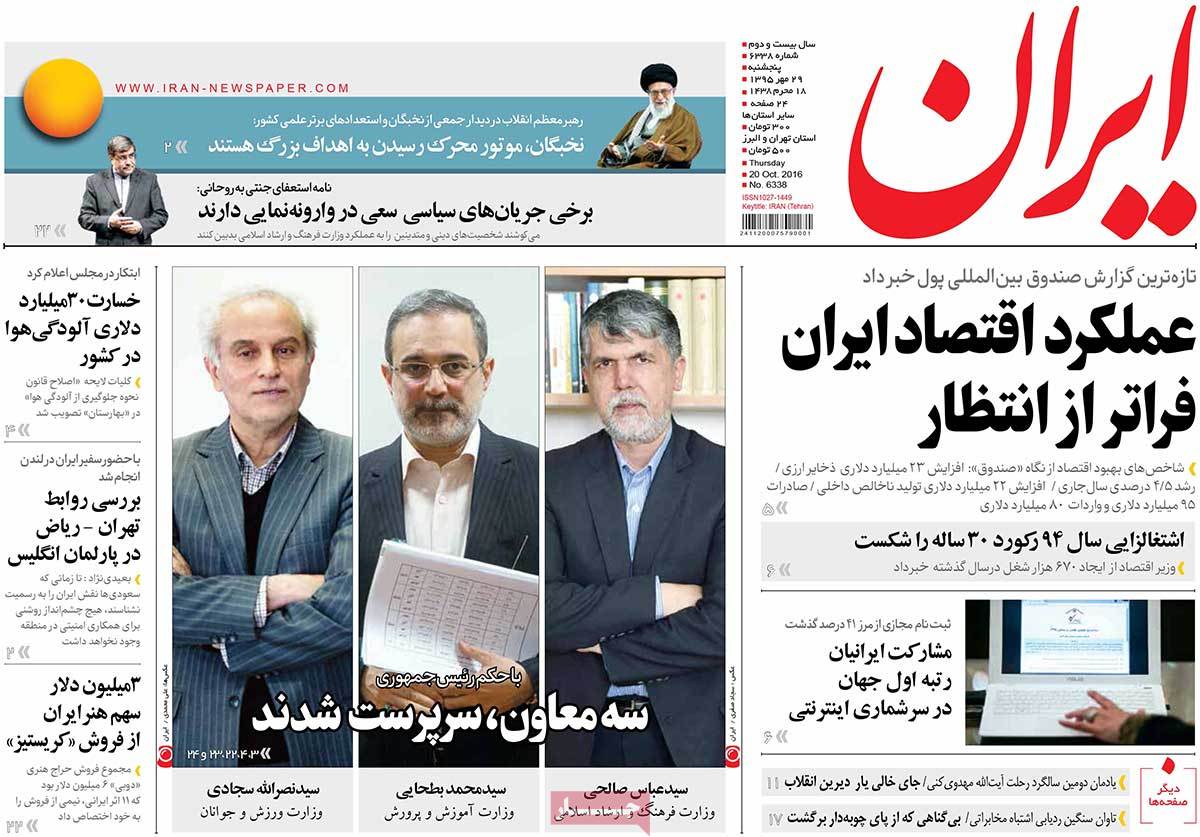 ---
Yaame Yam:

1- Líder: La actual generación es revolucionaria
2- Los parlamentarios iraníes aprueban una ley sobre el "Aire Limpio"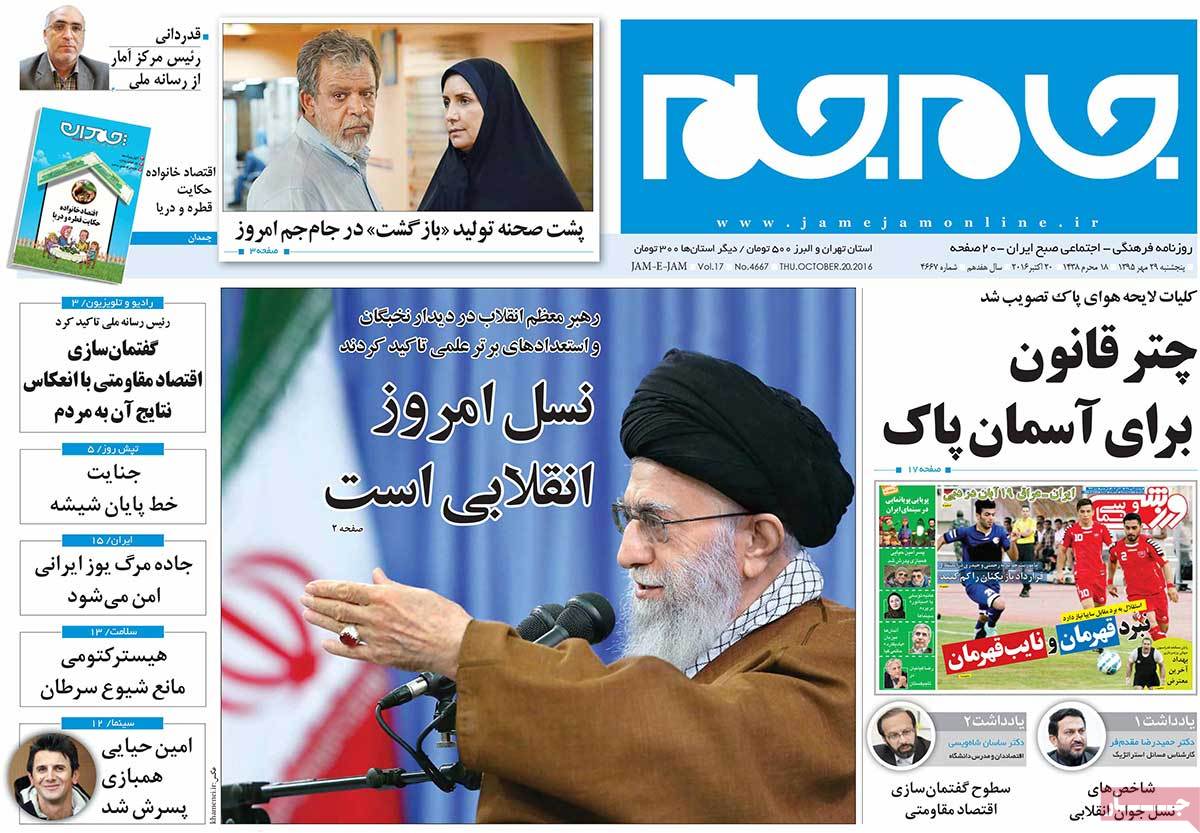 ---
Yavan:

1- Líder: Había advertido a los negociadores del país sobre la rendición ante las demandas nucleares del Occidente
2- Moscú: Washington debería esperar una reacción dolorosa
3- La eliminación de un ministro, sin renuncia ni destitución
4- Arabia Saudita emite bonos a valor de 17.5 mil millones de dólares para escapar de la Guerra de Yemen
---
Kayhan:
1- Líder: Los enemigos buscan frenar el crecimiento científico iraní
2- Cientos de terroristas entregan sus armas e huyen de Damasco
3- Ministro de Educación: "Estoy dispuesto a continuar mi trabajo"; El Presidente: "Acepto su renuncia."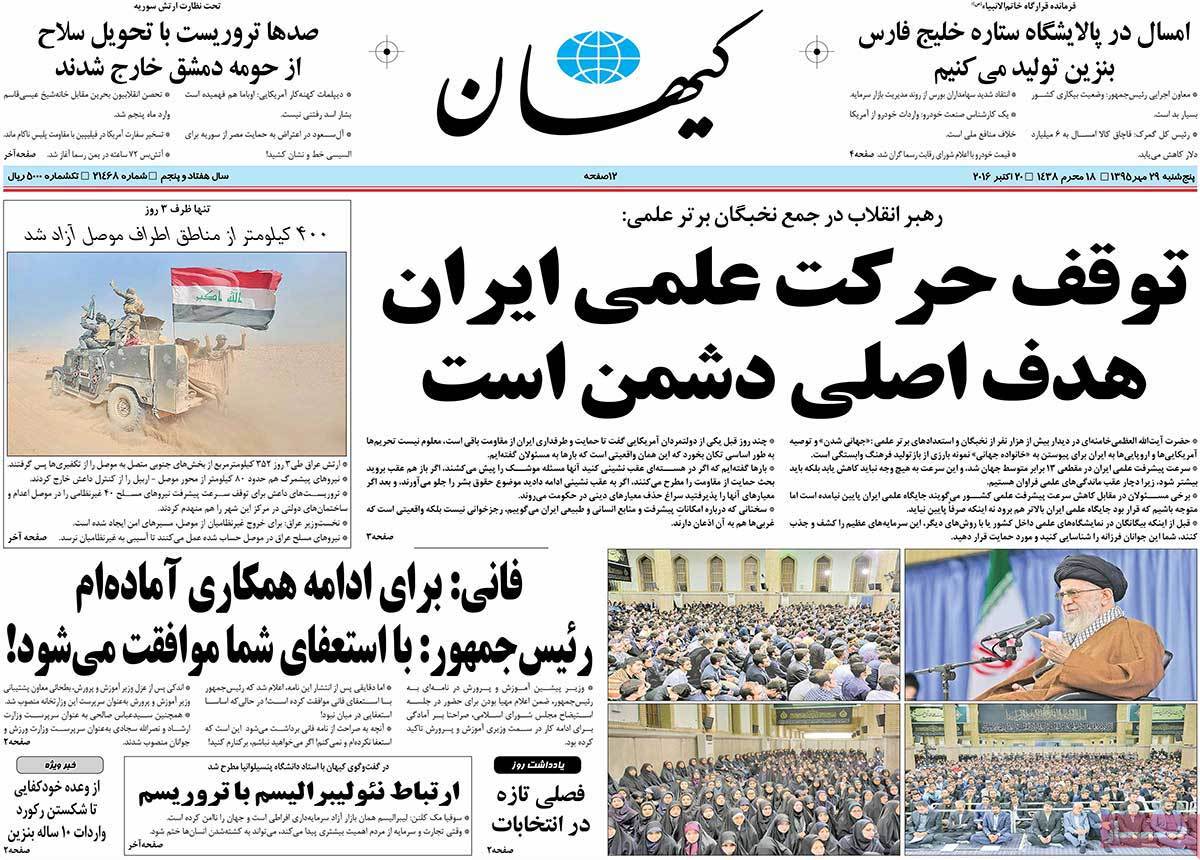 ---
Jorasan:

1- El Líder: "La juventud élite es un regalo valioso divino que deben ser protegidos por las autoridades."
2- FMI anuncia el aumento de reserva de divisas iraníes a 132 billones de dólares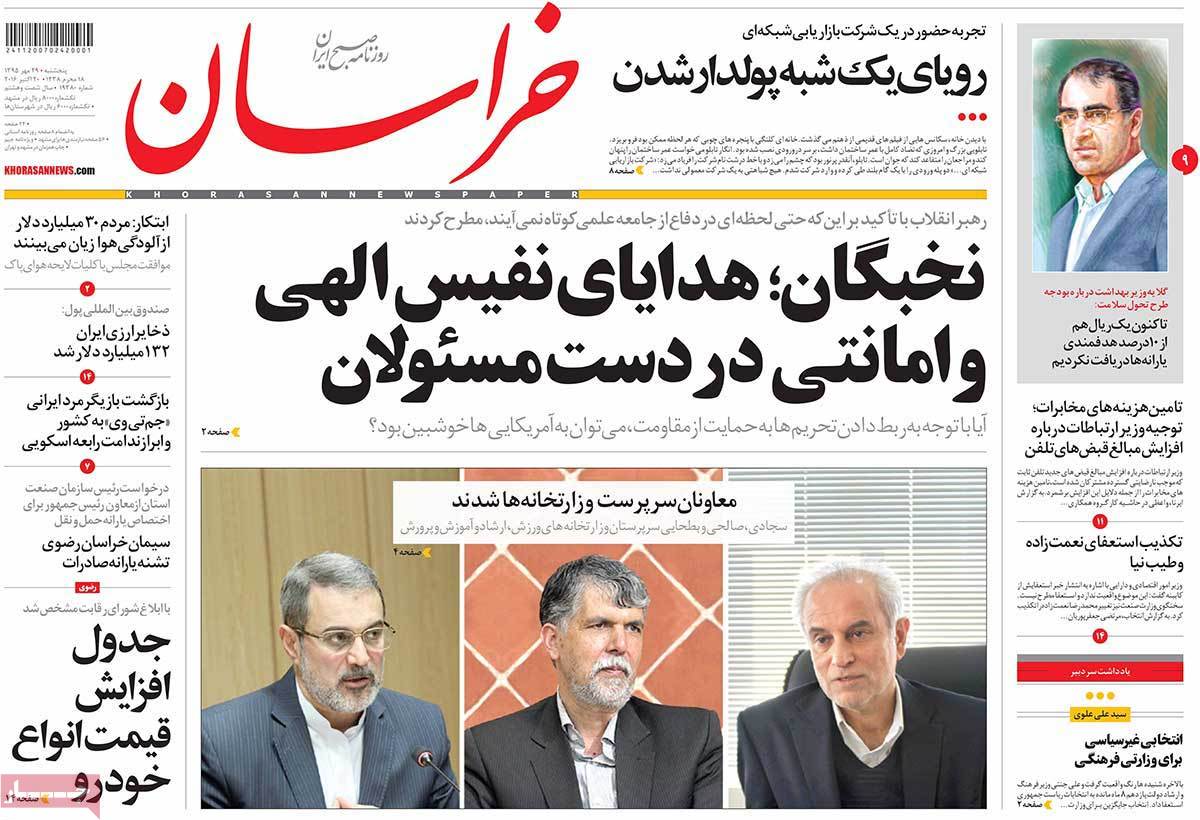 ---
Saieh:

1- Los que no tienen hambre no saben nada de las personas hambrientas: Impacto de desgaste de alimentos sobre el aumento de pobreza en el mundo