IFP has taken a look at the front pages of Iranian newspapers on Saturday and picked headlines from 23 of them. IFP has simply translated the headlines and does not vouch for their accuracy.[:es]IFP ha echado una mirada a las portadas de periódicos iraníes, publicados el sábado, 15 de octubre de 2016, y ha recogido titulares de 22 de ellos. IFP ha traducido simplemente los titulares y no es responsable de su veracidad.
Newspapers on Saturday mainly covered the upcoming Syria talks in the Swiss city of Lausanne between Iran, US, Russia and other major regional players. At first, Iran was not going to attend the talks; however, FM Mohammad Javad Zarif later decided to join the talks.
The Nobel Prize in Literature, which was given to the American songwriter Bob Dylan, also sparked controversy and received good coverage in Iranian media.
The speculations about Iranian Minister of Culture and Islamic Guidance Ali Jannati's resignation under the pressure of hard-line groups were also a top story today.
The above issues, as well as many more, are highlighted in the following headlines:
Abrar:
1- Russia Says Delivery of S-300 to Iran Is Finished
2- Second Yemeni Missile Attack on American Warship
3- NATO's AWACS Aircraft Join the War against ISIS
4- New Moroccan Ambassador Arrive in Iran after Eight Years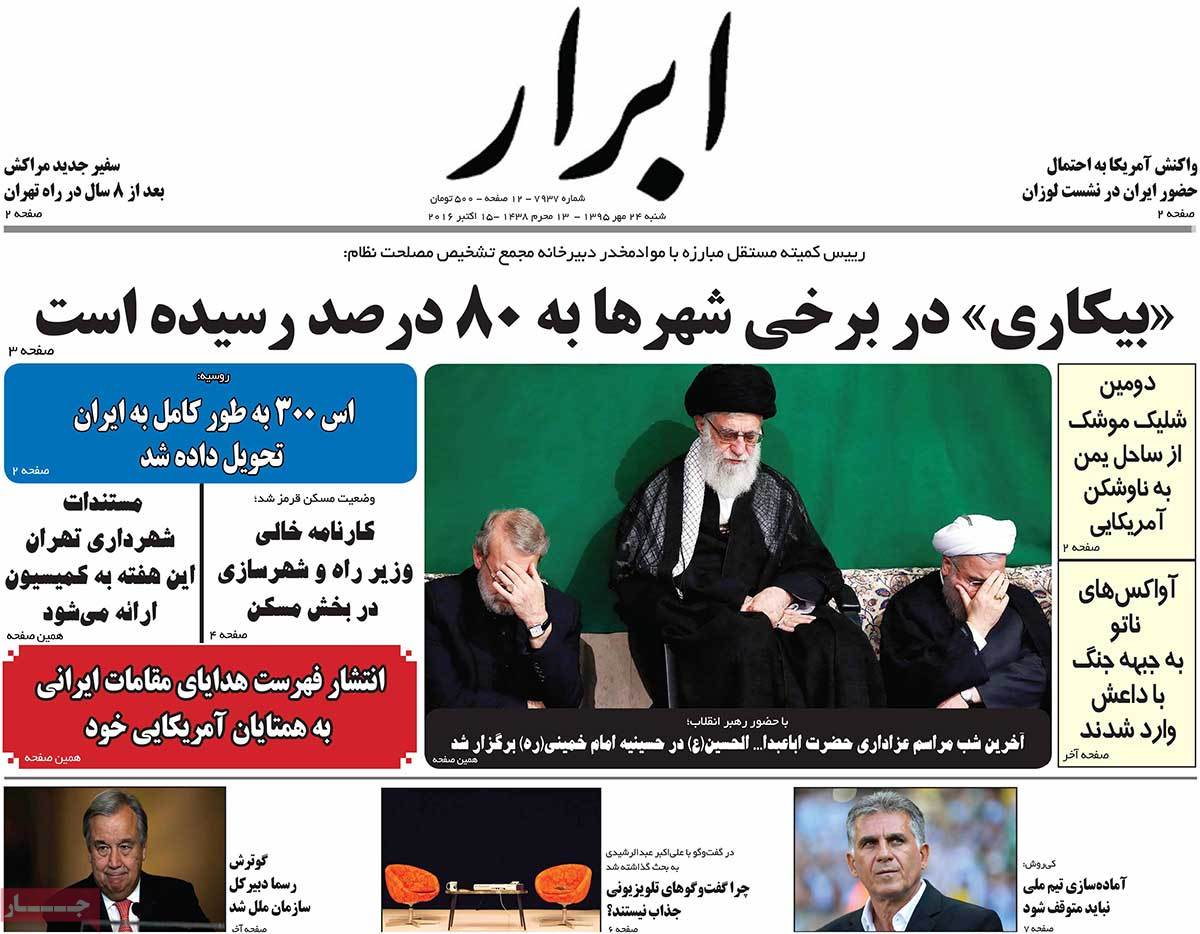 ---
Abrar-e Eqtesadi:
1- New Era of Iran-World Bank Ties Begins
2- Iran Ranks Second among ECO Member States in Terms of Trade
3- Iran and Pakistan's Initial Deal to Ditch US Dollar in Bilateral Trade
4- Iran Signs Initial Petchem MoU with Shell
5- Major European Banks' Cooperation with Iran
6- US and Japanese Banks to Fund Boeing Sales to Iran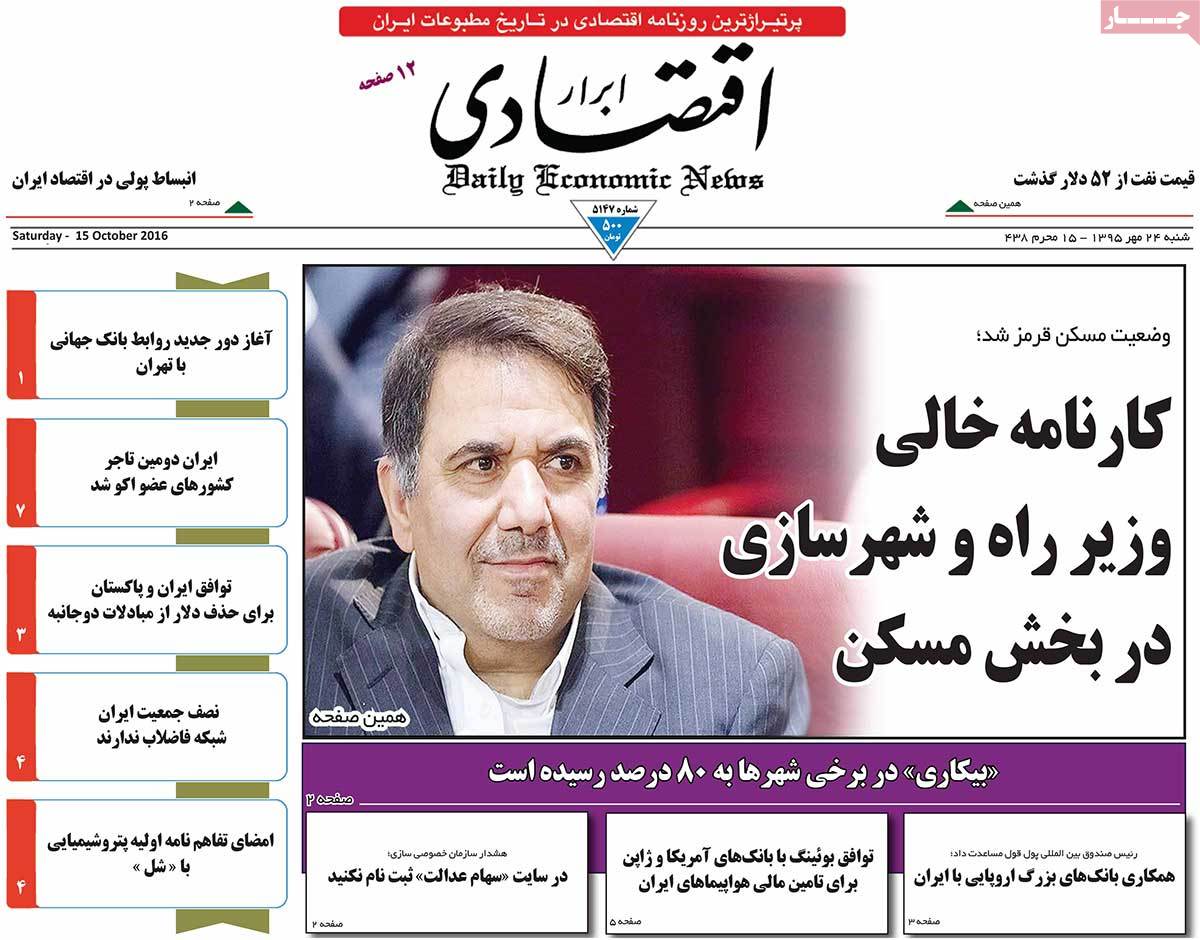 ---
Afarinesh:
1- Russian Army's Unlimited Presence in Syria with Putin's Order
2- New Instruction in US Treasury: Ban on Dollar Transactions with Iran Is Lifted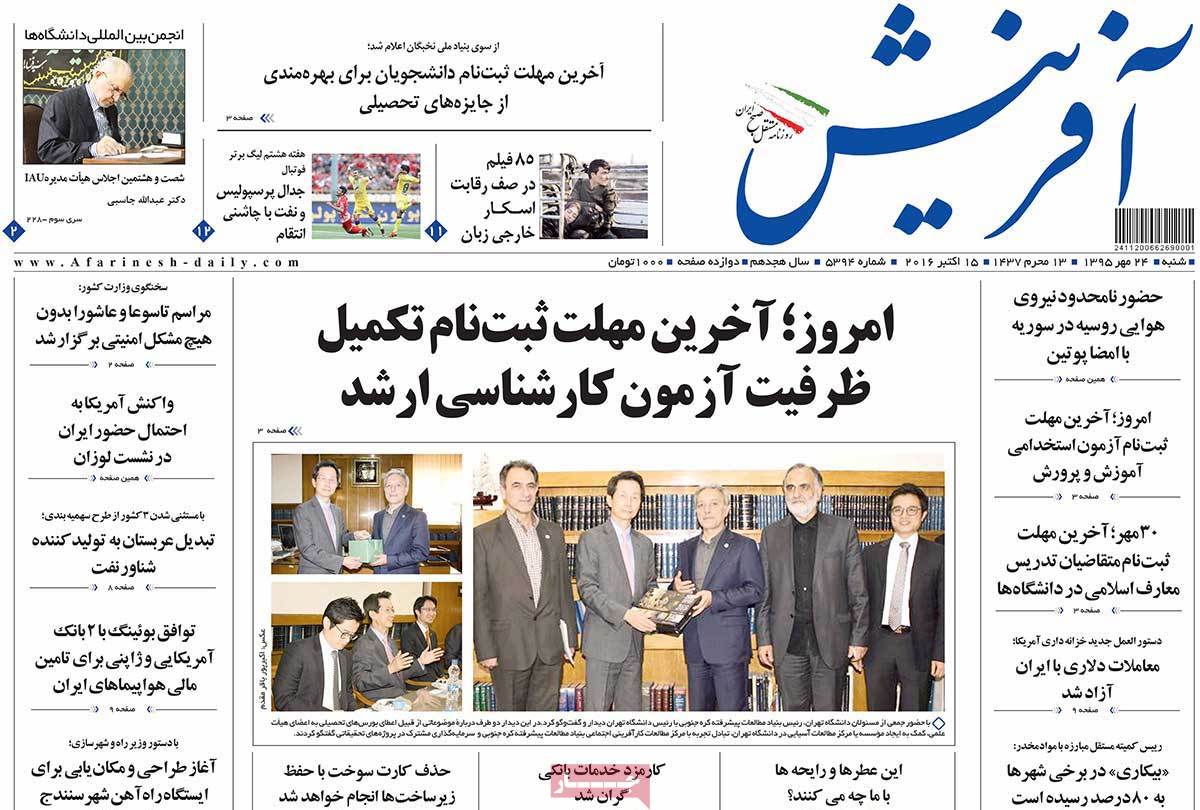 ---
Afkar:
1- US Reaction to Iran's Presence in Lausanne Talks: Iran Is an ISSG Member State, But We Can't Comment on Their Presence in Lausanne
2- Explosion in Ashura Rituals in Afghanistan's Balkh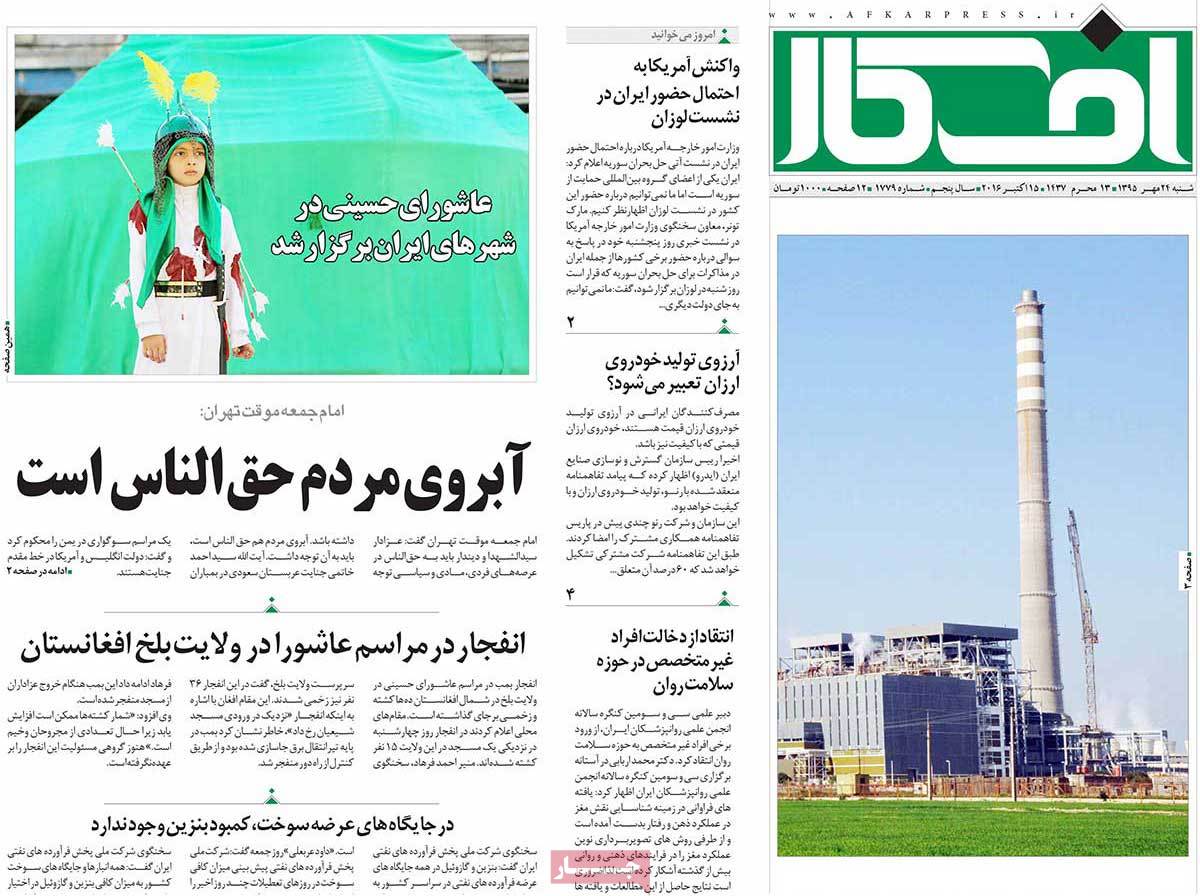 ---
Aftab-e Yazd:
1- American Bank May Give a Billion-Dollar Loan to Iran after Talks between Iranian and US Economic Officials for Plane Purchase
2- Resignation Based on Order or Protest? Speculations about End of Ali Jannati's Term as Culture Minister
3- Political Ethics Have Declined in US: Coverage of What Happened in Presidential Debate between Trump and Clinton
4- What Was Zarif's Gift to John Kerry?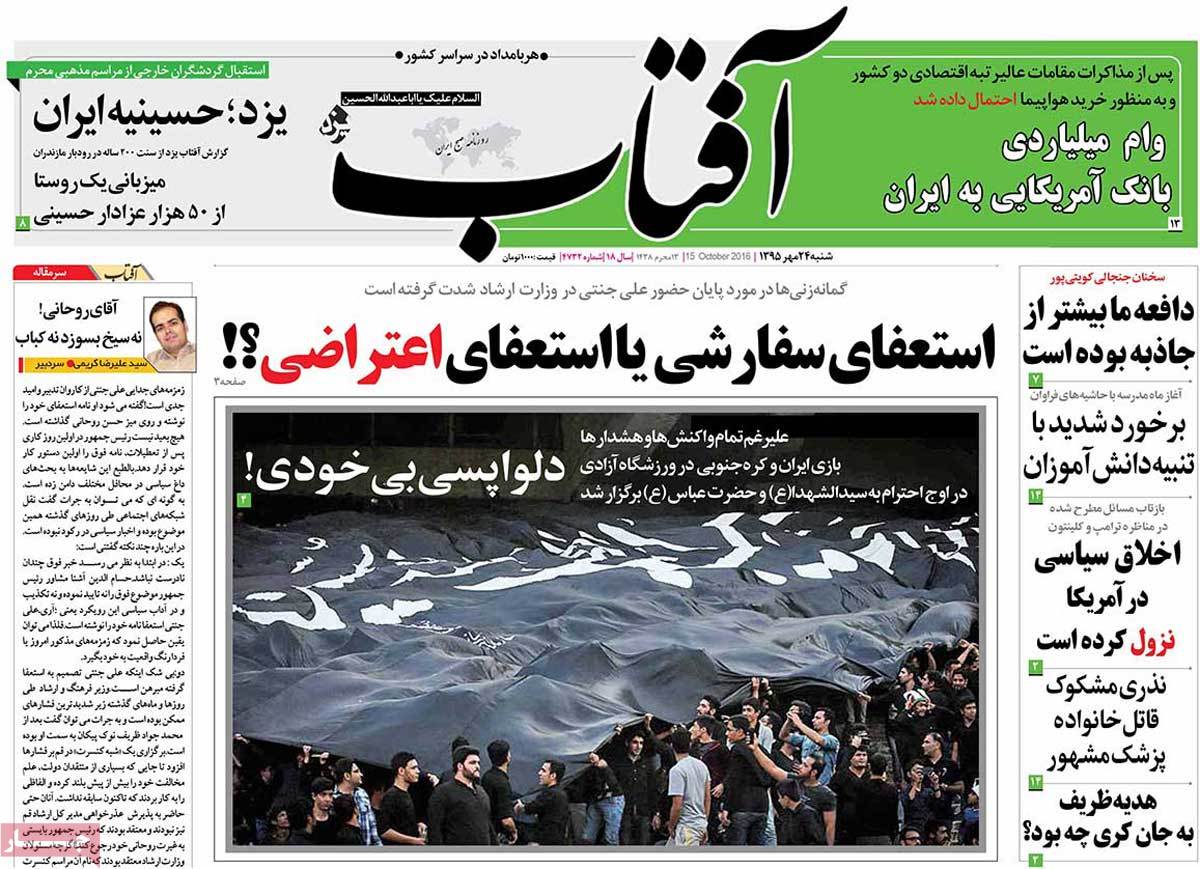 ---
Amin:
1- Foreign Takfiri [Extremist] Terrorists Arrested and Terrorist Operation Neutralized in Iran's Fars Province
2- Culture Minister Undecided about Leaving or Staying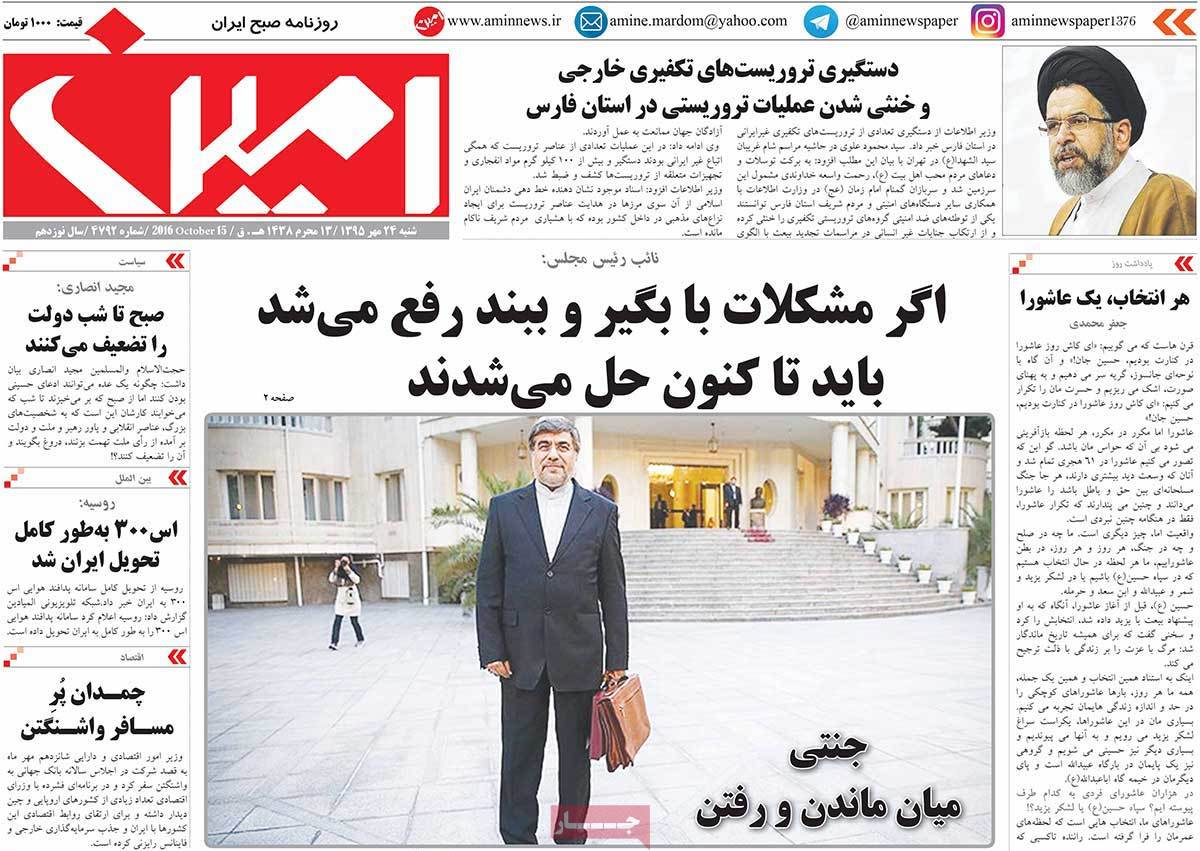 ---
Arman-e Emrooz:
1- Reformist Cleric: Conservatives Seek to Make Progress Using Rouhani
2- Rouhani's New Rival Unveiled: Conservatives' Presidential Campaigns Still in Chaos
3- Head of Education Office Resigns after Physical Punishment of a Student: Tsunami of Physical Punishment in Schools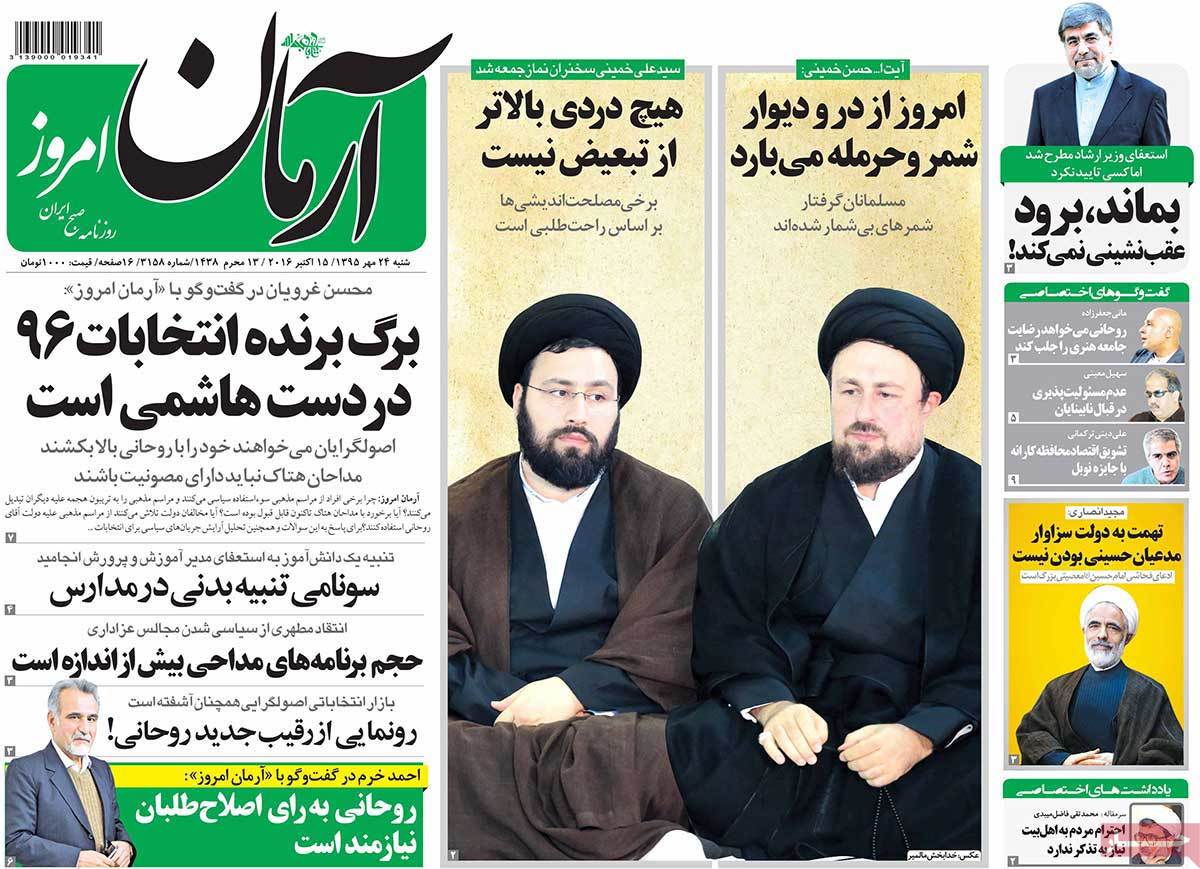 ---
Asrar:
1- IRGC Lieutenant Commander: Saudi Arabia Not Capable of Countering Iran
2- Assad: France and Saudi Arabia Asked Syria to Stay Away from Iran
3- Iran to Become Self-Sufficient in Petrol Production by March 2017: MP
4- Iranian Fugitive Banker Still in Interpol's Blacklist: He'll Remain in the List until 2022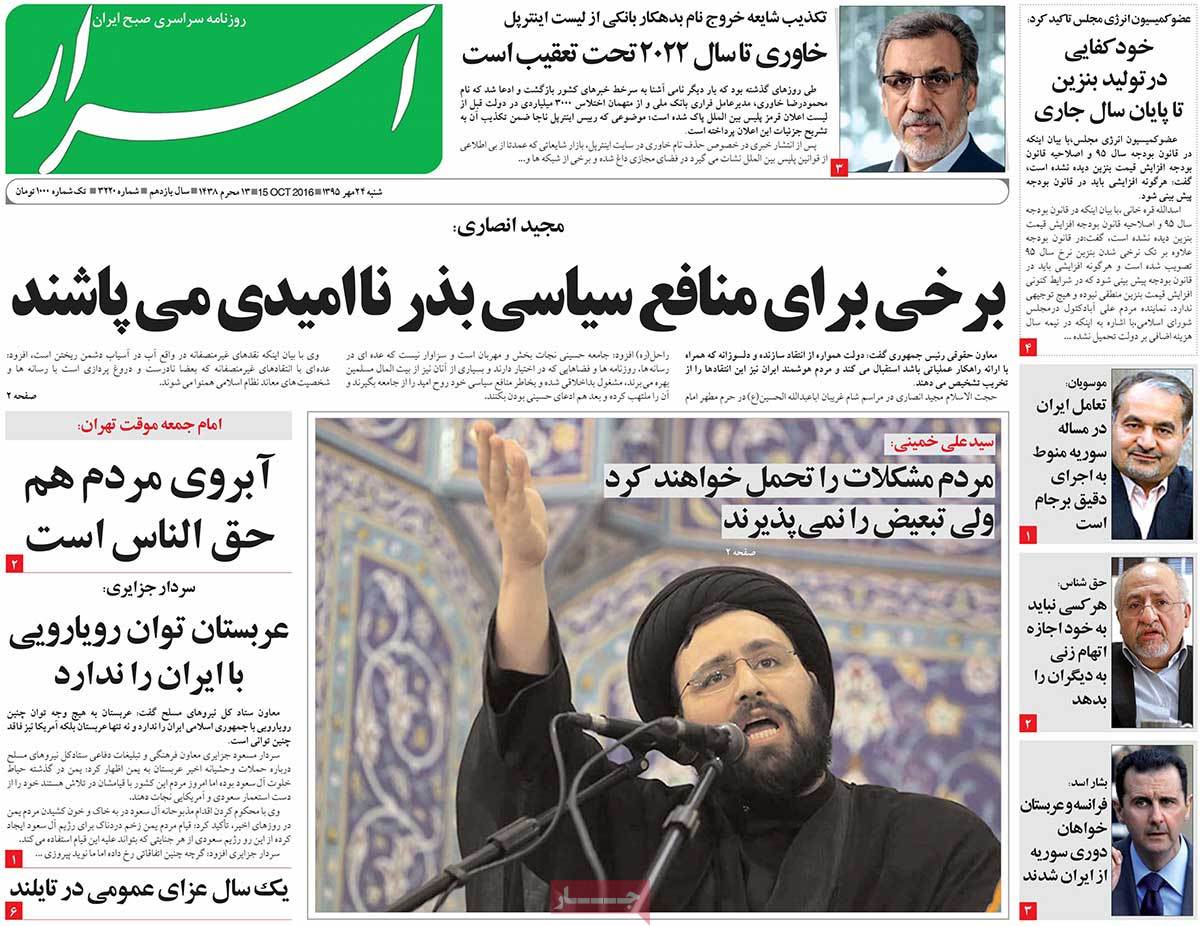 ---
Donya-ye Eqtesad:
1- New York Times Reveals What Lies beneath Al Saud's Economic Management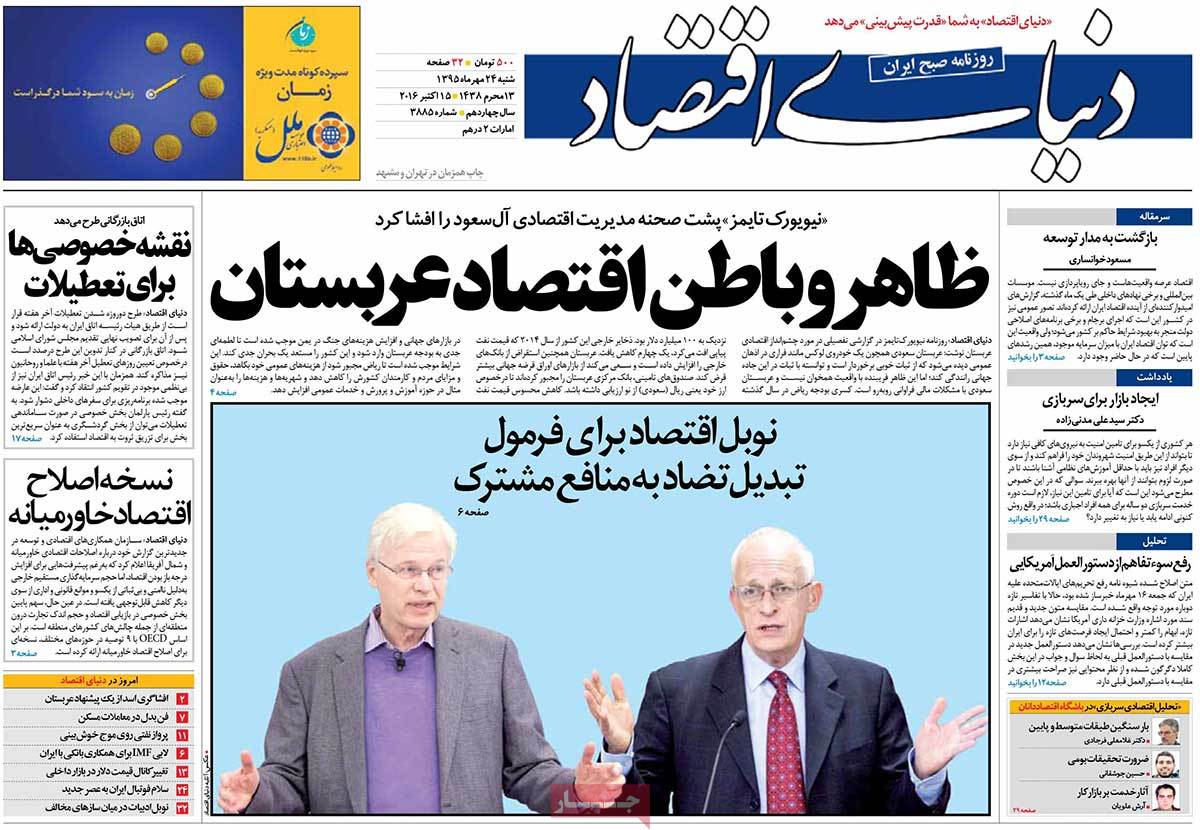 ---
Ebtekar:
1- Reconciliation and Peace instead of Expression of Concern: Guterres Replaces Ban as UN Secretary General
2- Why Nobel Prize in Literature Was Awarded to Bob Dylan?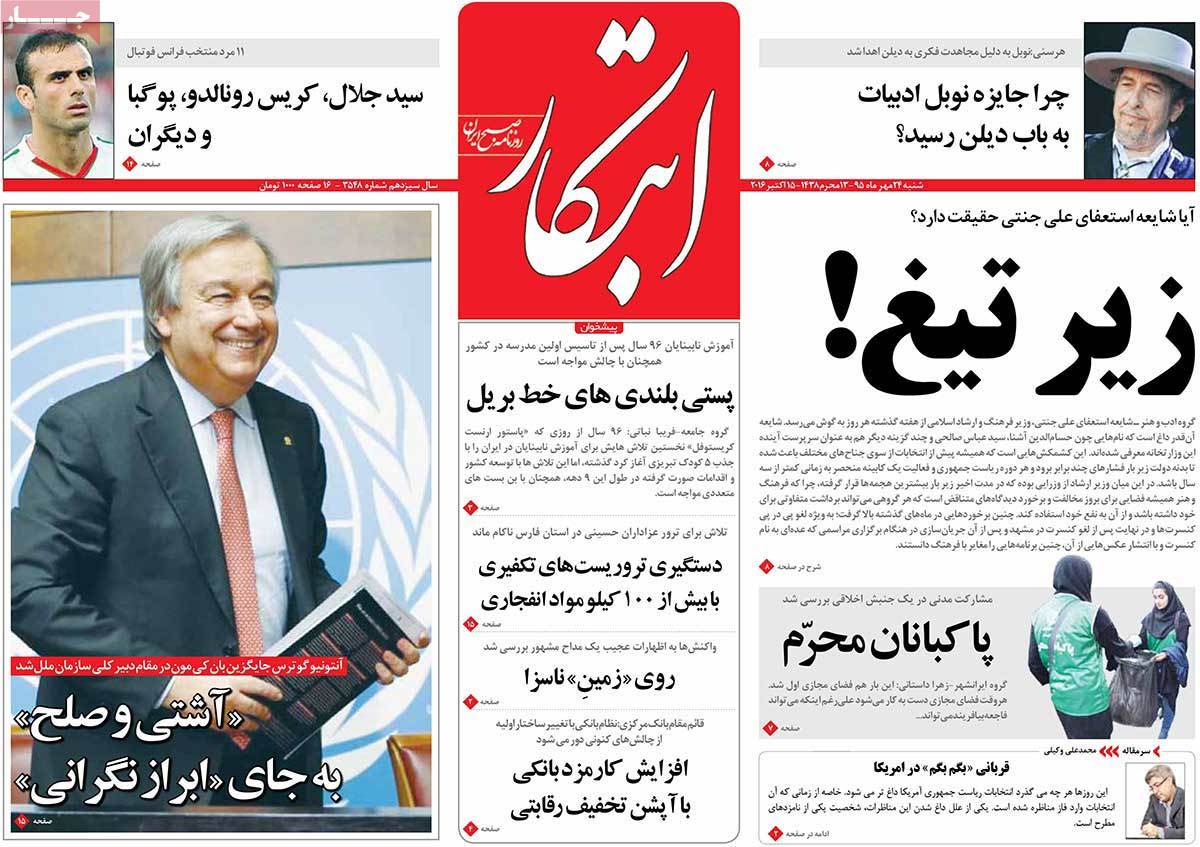 ---
Etemad:
1- Zarif En Route to Lausanne: Major Regional and Ultra-Regional Players Will Discuss Syria
2- Another Scandal: Trump Is Once Again Accused of Sexual Assault
---
Ettela'at:
1- Zarif and Lavrov Release Statement: There's No Alternative to Political Resolution of Syrian Crisis
2- UNESCO: Aqsa Mosque Belongs to Muslims Only
3- Sisi to King Salman: Egypt Won't Help Saudi Arabia in Destroying Other Countries
4- Hezbollah Secretary General: World Knows That Saudi Arabia Is the Source of Terrorism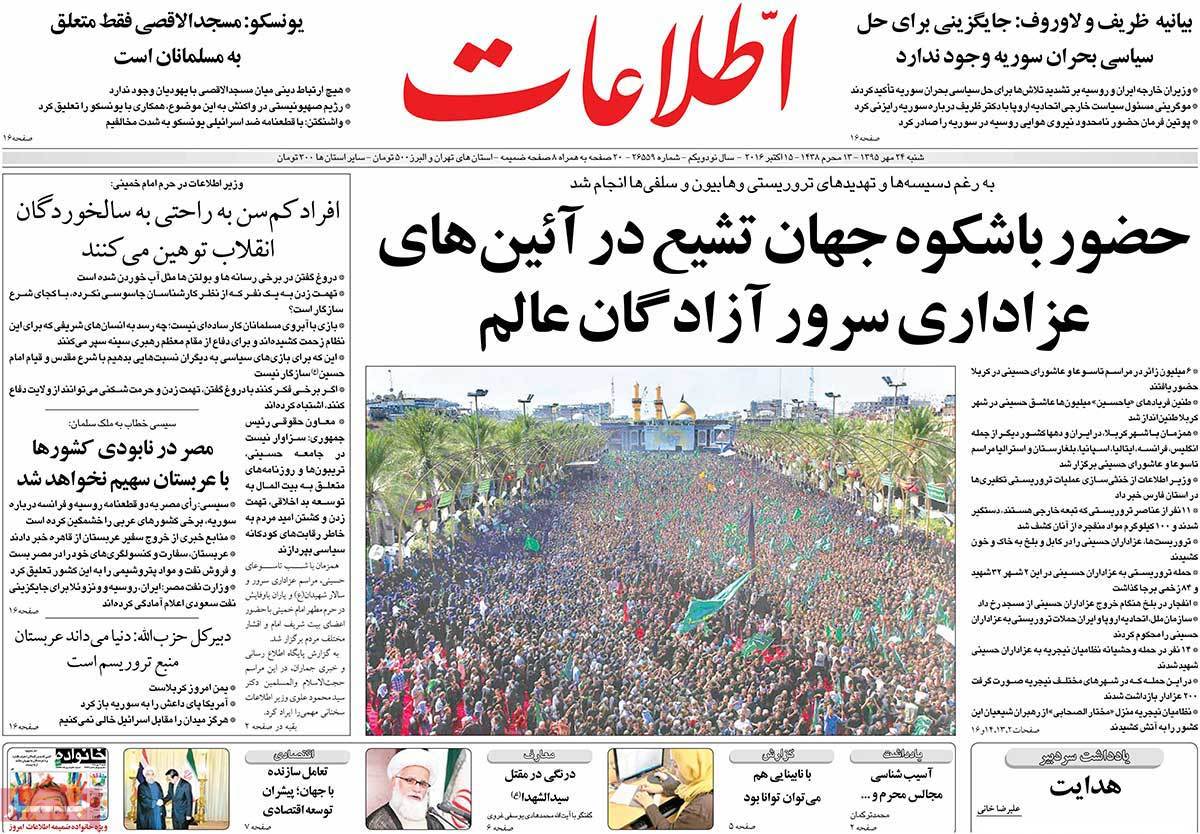 ---
Iran:
1- Rouhani among Leaders of Asian Countries: Iran Welcomes Presence of Asian Investors
2- Nobel Prize in Literature Given to American Signer: Bob Dylan's Award Sparks Controversy
---
Javan:
1- Ansarullah Base Targeted by Missile Attack: US Directly Enters Yemen War to Impose Saudi Ceasefire
2- Only Sexual Scandals! Sexual Allegations against US Presidential Candidates Have Become Dominant Feature of the Elections in a Country that Claims to Be World's Biggest Democracy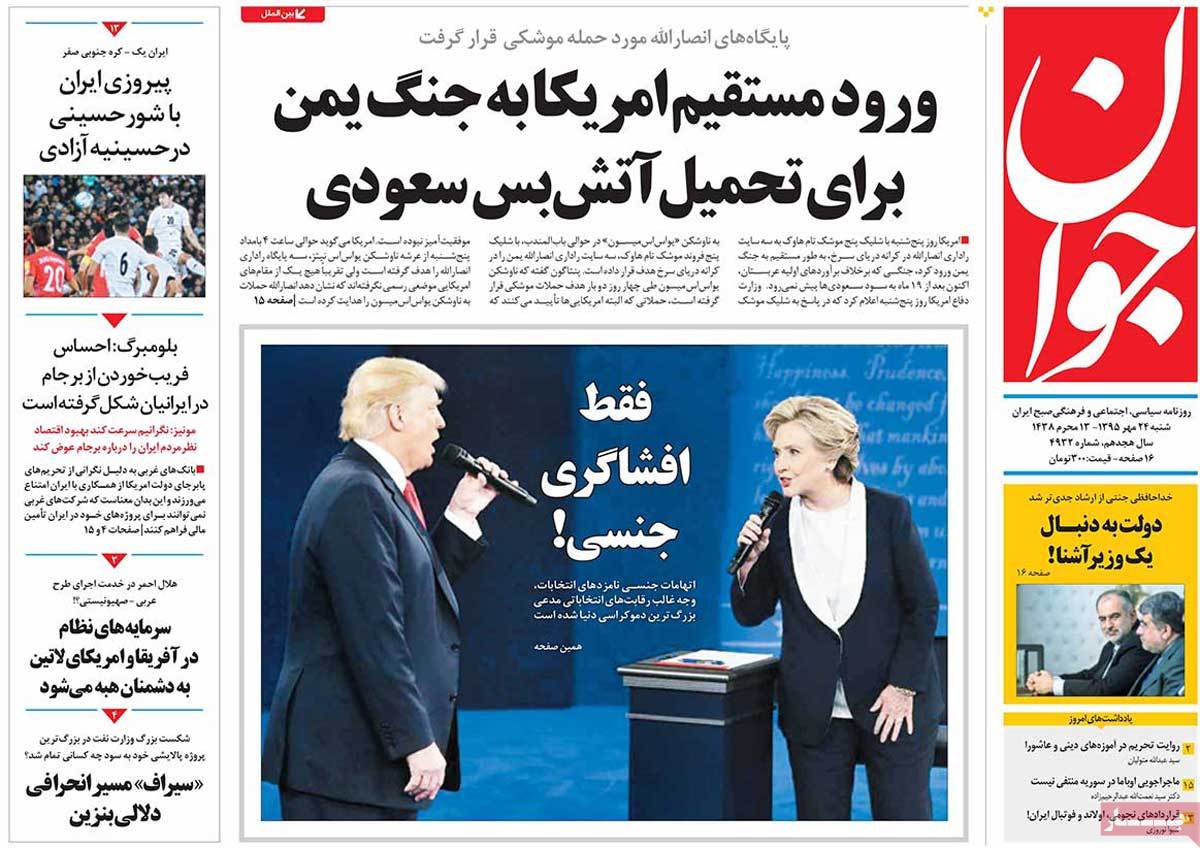 ---
Jomhouri Eslami:
1- West Takes Back the Bluff of Attacking Syria: Iran Invited to Join Lausanne Talks
2- Erdogan's Arrogant Reaction to Baghdad's Call for Withdrawal of Turkish Troops from Iraq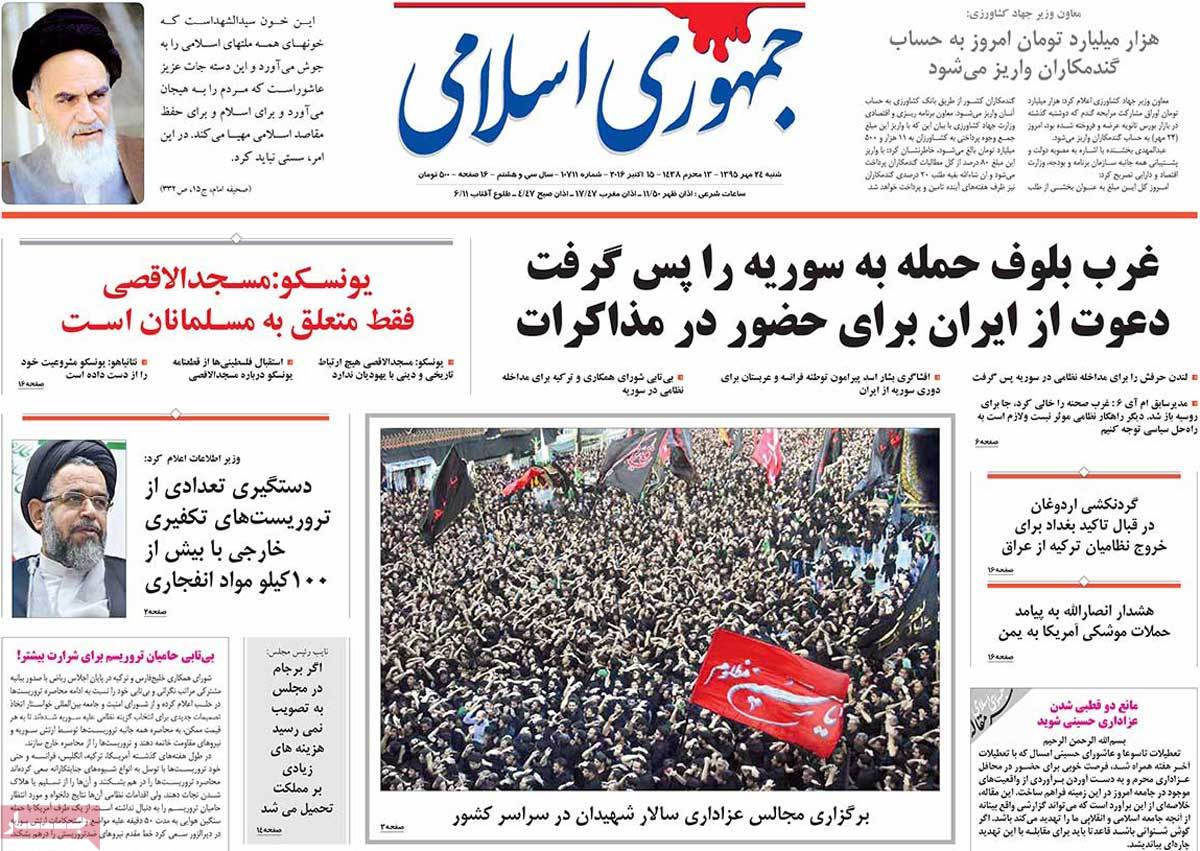 ---
Kayhan:
1- Bloomberg Says Sanctions Have Remained in Place against Iran, and Iranian People Are Increasingly Feeling Deceived by the West
2- Reuters: Ban on Iran's Use of Dollar Prevents Finalization of Major Oil Deals
3- American Enterprise: When Saudi Arabia's Oil Is Over, Wahhabism Will Be Thrown into History's Trash Bin
4- Senior Cleric: Each of Al Saud Leaders Deserve to Be Executed for a Number of Times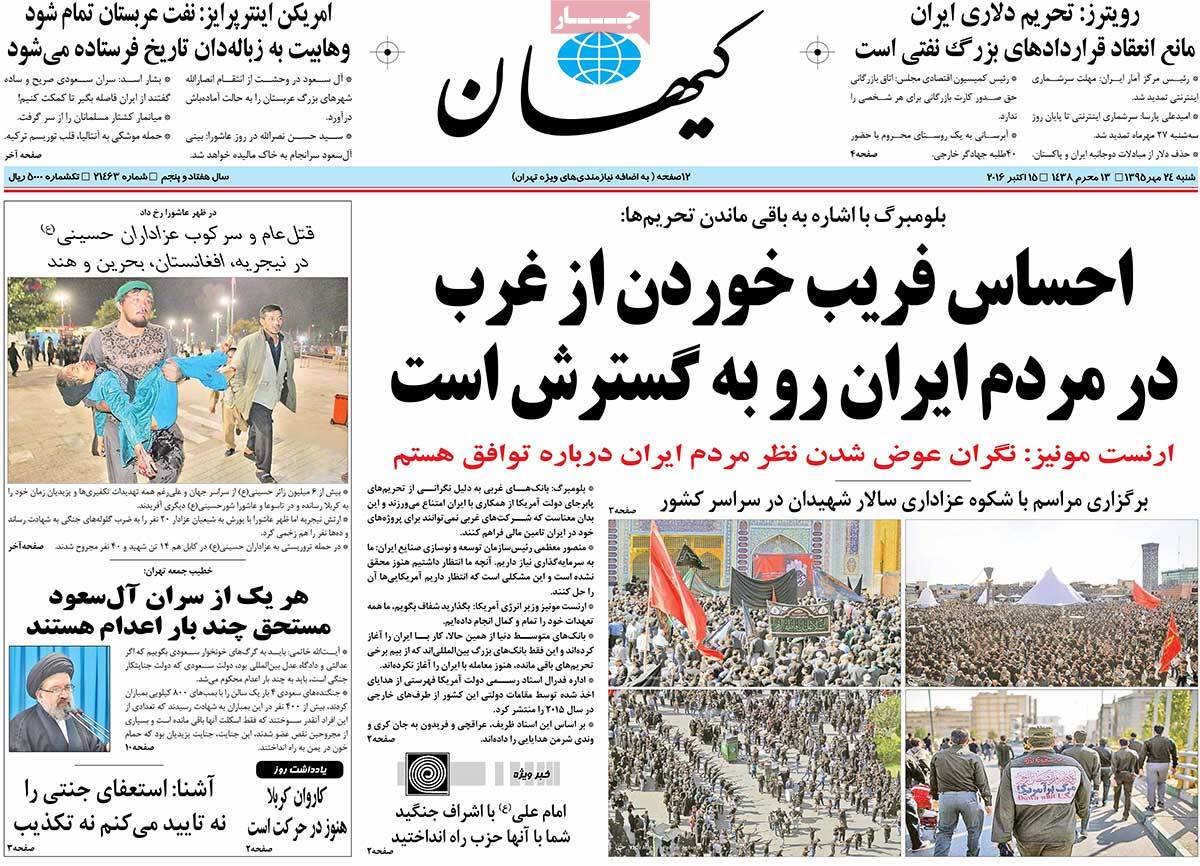 ---
Khorasan:
1- Army's Crimes in Nigeria's Ashura: Why Nigerian Government Has Started New Round of Suppression against Sheikh Zakzaky's Movement?
2- Saudi Arabia's New Accomplice: Yemen's Ansarullah Says It Reserves the Right to Respond to US Missile Aggression
---
Payam-e Zaman:
1- Iran Becomes World's 20th Car Manufacturer
2- Iran's Petrol Imports Is Halved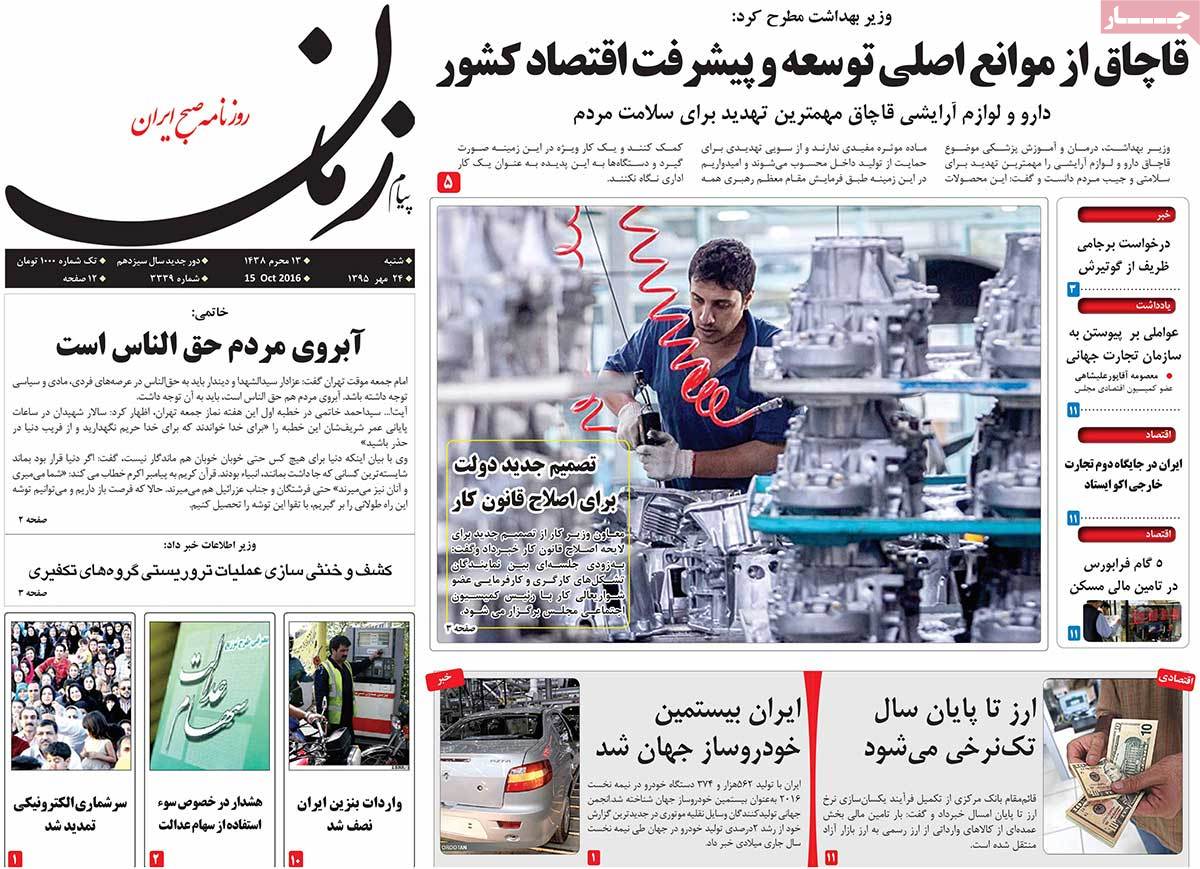 ---
Resalat:
1- Nasrallah: Israelis Should Return to the Countries Where They Came from
2- Putin: Russia Doesn't Hold Any Talks with US Government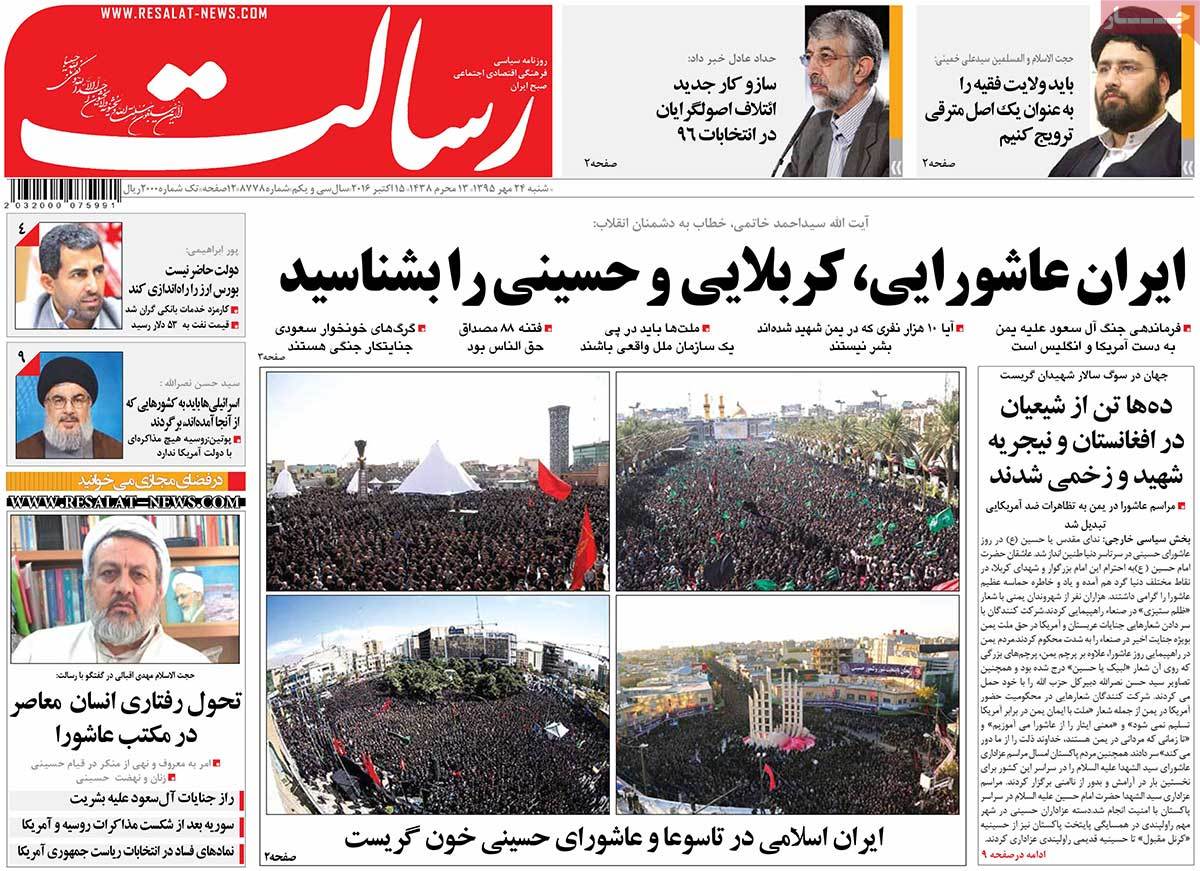 ---
Roozan:
1- Jannati's Resignation, a Test for Rouhani: Will Rouhani Accept His Resignation and Back Off in Reaction to Radicals' Pressure?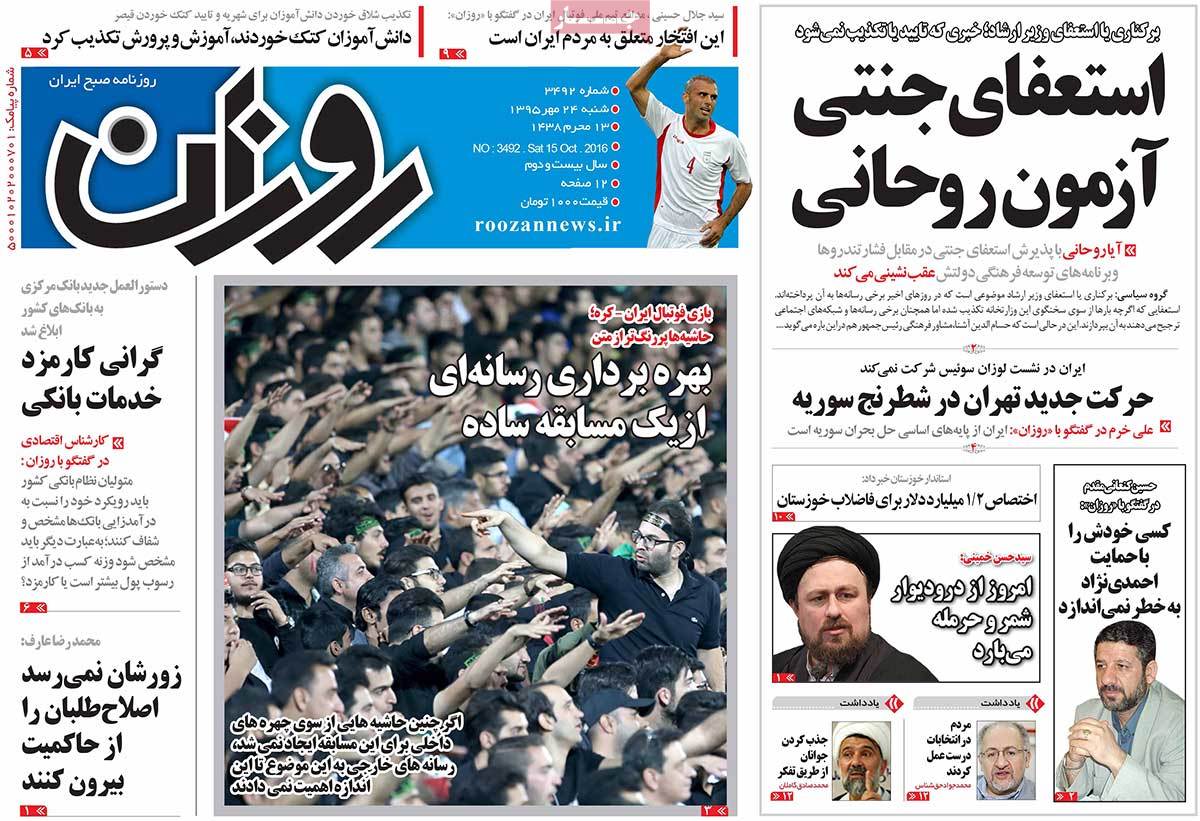 ---
Saheb Qalam:
1- Foreign Ministry Spokesman: Slaughter of Mourners in Afghanistan Shows Terrorists' Hatred of Islamic Unity
2- Iranian Photographer's War Photos Win Second Prize in Bayeux-Calvados Festival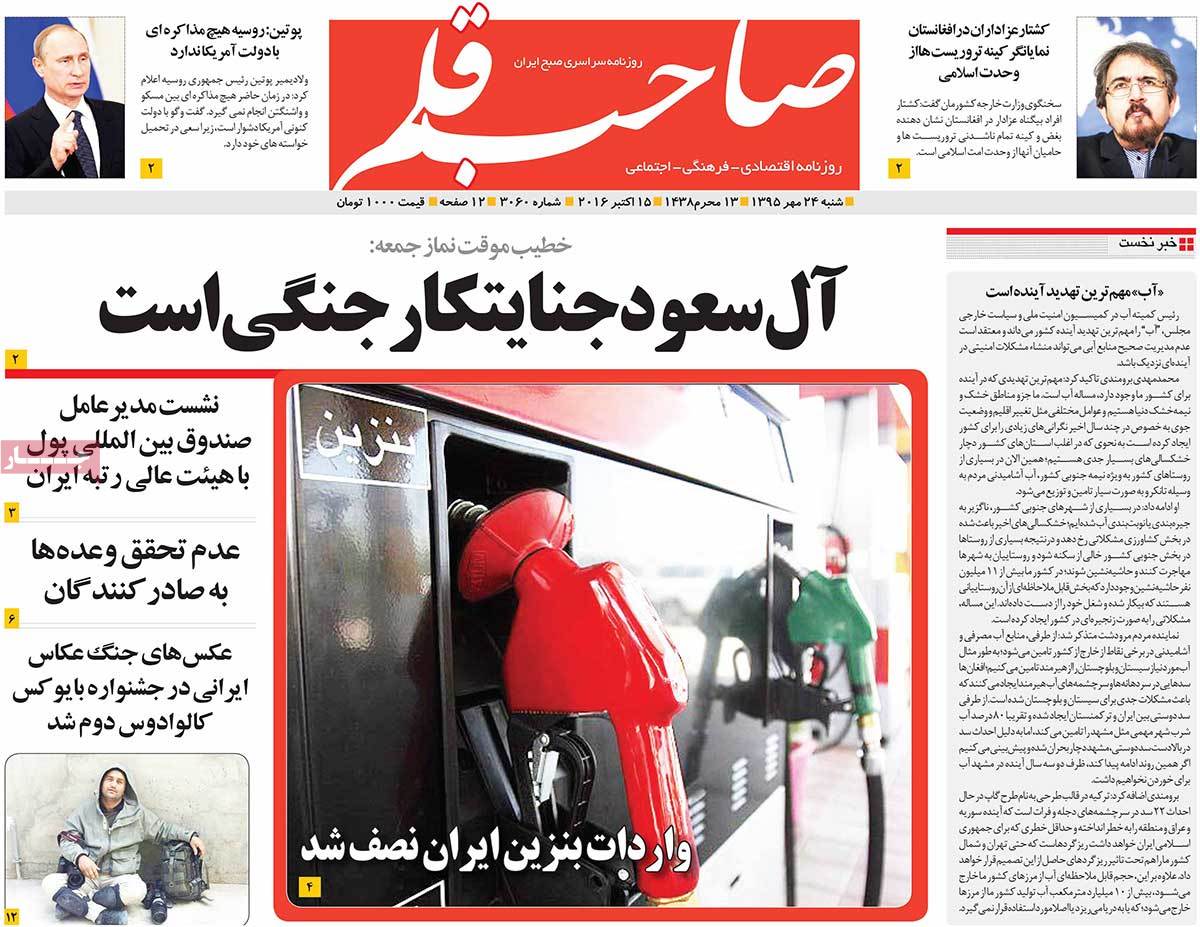 ---
Setareh Sobh:
1- Russia's Harsh Warning to US on Possible Attack on Assad and Russia's Forces: Moscow Not to Allow Any Aggression on Its Forces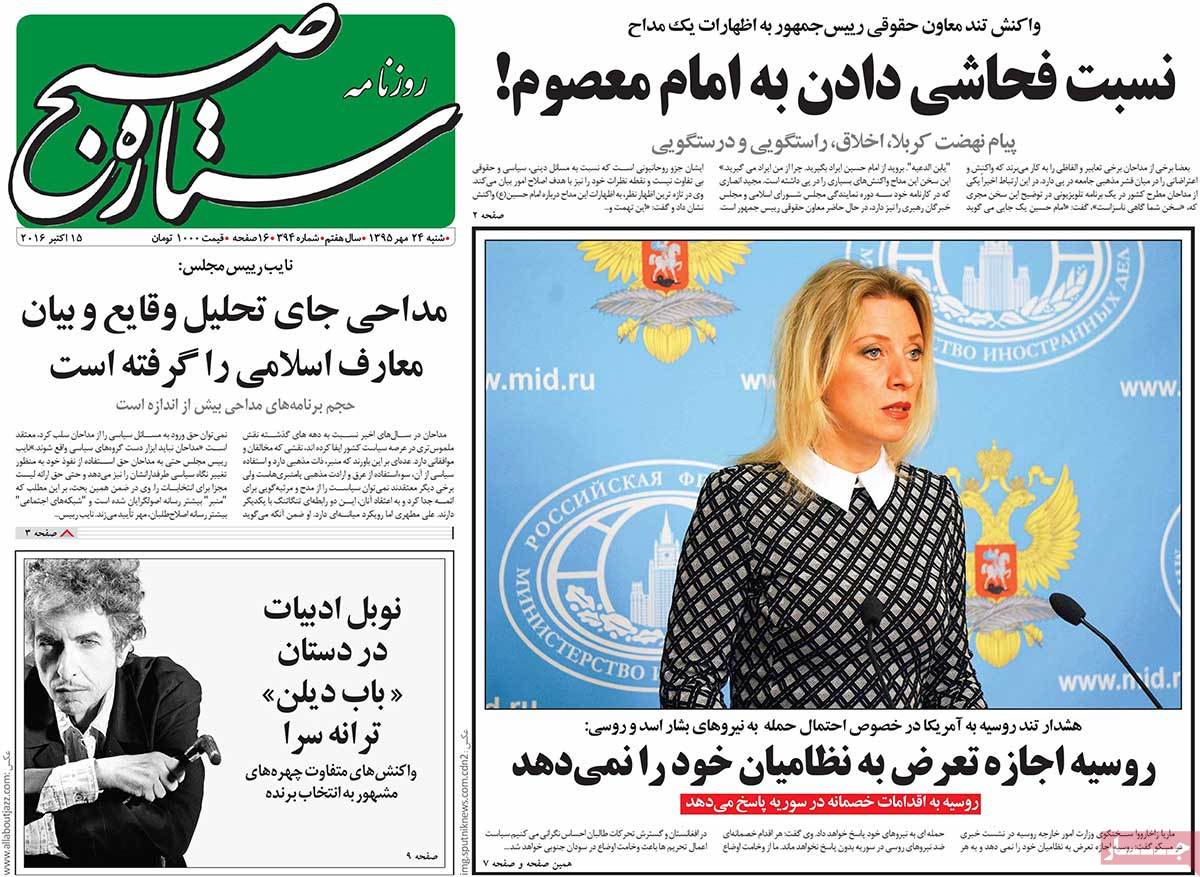 ---
Vatan-e Emrooz:
1- USS Nimitz Attacks Yemeni Army's Radar Centre in Bab el-Mandeb
2- Al Watan: Saudi King Is a Sponsor of Terrorists
3- Assad: They Said Cut Your Ties with Iran; Syrian President Reveals an Offer by Riyadh Made 5 Years Ago to End Takfiris' Sedition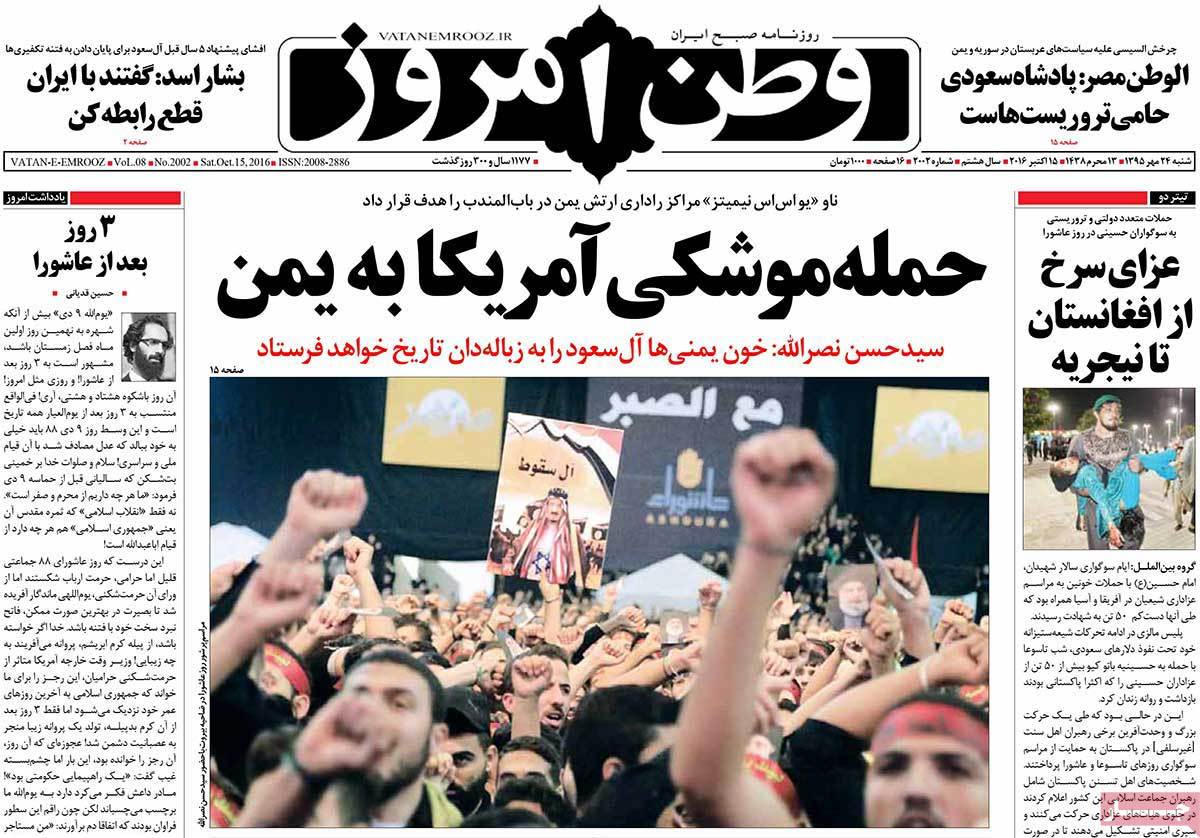 [:es]
La prensa de hoy, sábado, dedicó sus titulares a un temario diversificado, con insistencia en una reunión sobre la crisis Siria, a celebrarse en la ciudad suiza, Lausana, entre Irán, Estados Unidos, Rusia y otros principales actores regionales. En un primer momento, Irán no iba a asistir al encuentro; Sin embargo, el canciller iraní, Mohammad Yavad Zarif optó por unirse a las conversaciones.
El Premio Nobel de Literatura, entregado a la compositora estadounidense Bob Dylan, también provocó controversia y recibió una buena cobertura por los diarios iraníes.
Las especulaciones sobre la dimisión del ministro iraní de Cultura y Orientación Islámica, Ali Yanati, bajo la presión de los grupos políticos de línea dura, y varios otros asuntos figuran entre los siguientes titulares.
Abrar:
Rusia: "Hemos concluido la entrega de los S-300 a Irán."
Yemen lanza su 2º misil al destructor estadounidense
Los sistemas de radar AEW&C se emplean por la OTAN en la ofensiva contra EIIL
Nuevo embajador de Marruecos en Irán, después de 8 años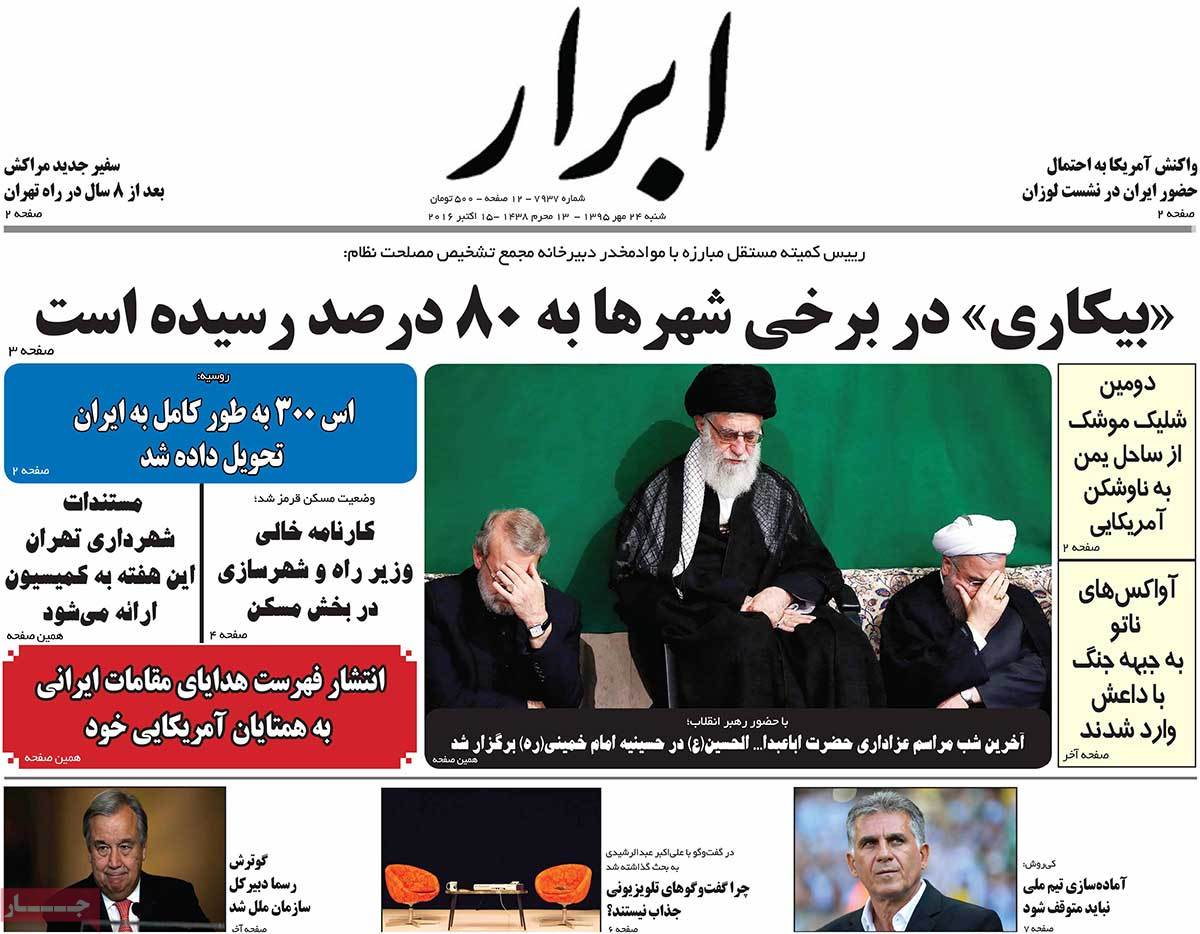 ---
Abrar_e_Eghtesadi:
Nueva era de relaciones entre Irán y el Banco Mundial
Irán, segundo país comerciante, miembro de la Organización de Cooperación Económica (OCE)
Irán y Pakistán acuerdan eliminar el dólar de sus intercambios mutuos
El sector petroquímico iraní firma un memorando de entendimiento con la Empresa petrolera Shell
Los principales bancos europeos ya cooperan con Irán
Boeing negocia con los bancos estadounidenses y japoneses para financiar la entrega de aviones a Irán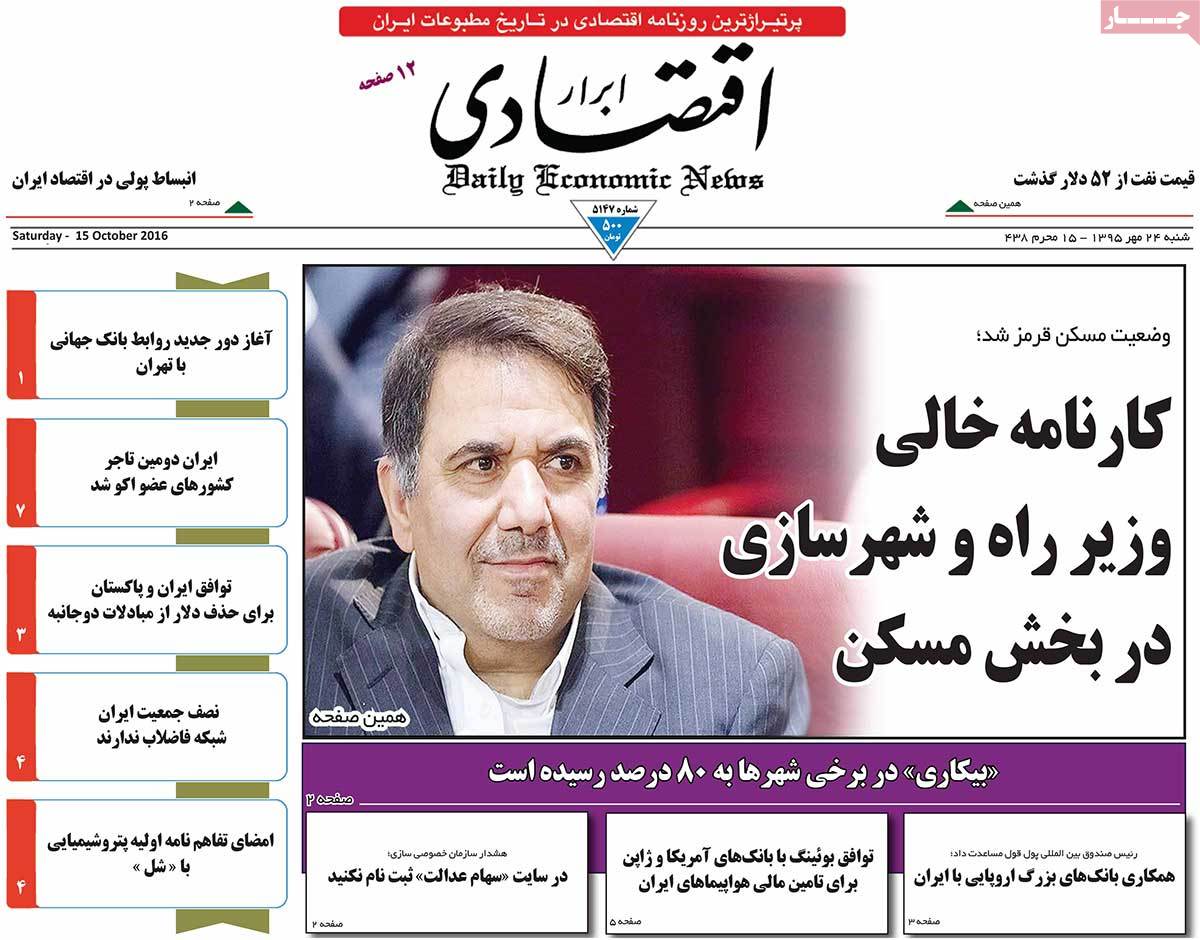 ---
Afarinesh:
Putin emite el orden de la presencia de tropas rusas en Siria por tiempo indefinido
Nueva directiva del Departamento del Tesoro de EE.UU permite intercambios con Irán a través del dólar
Arabia Saudita se convierte en fabricadora de plataforma petrolífera flotante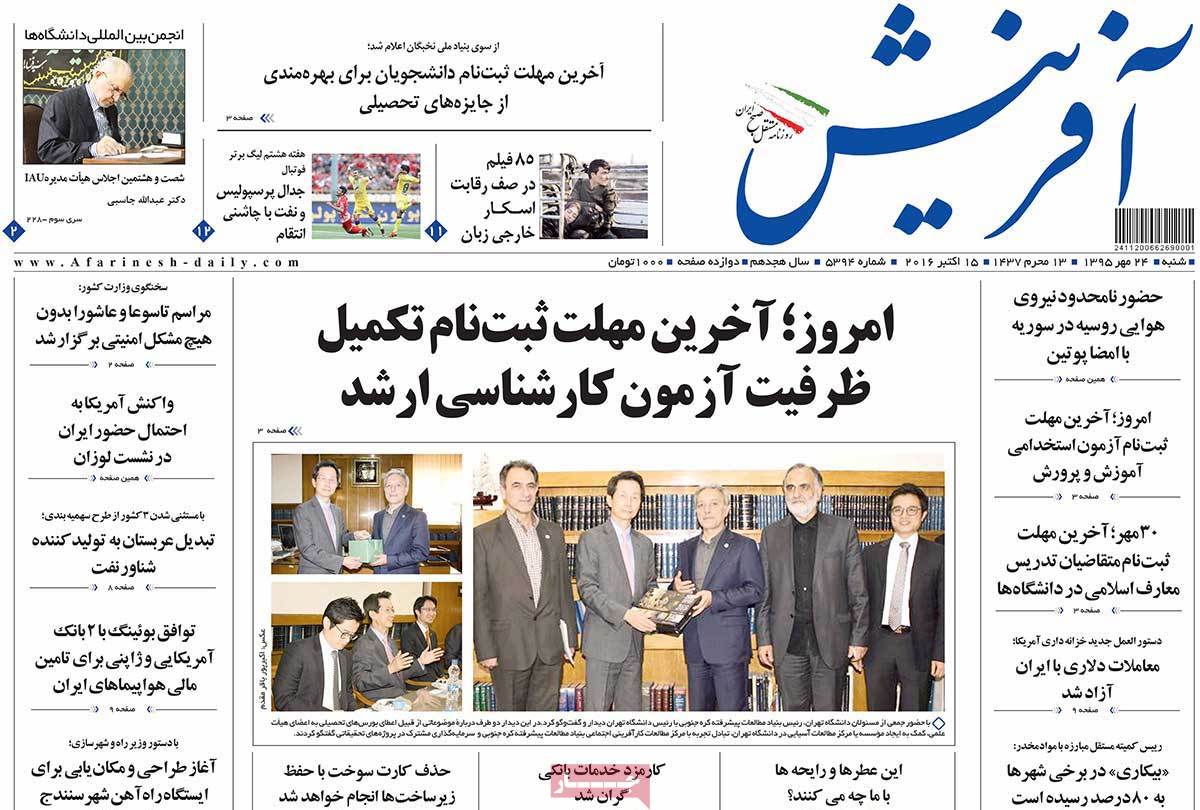 ---
Afkar:
UU reacciona ante la presencia de Irán en la reunión sobre los asuntos de Siria en Lausana; Kerry afirma que no hubieron comentarios sobre la presencia de Teherán en esta cumbre
Atentado contra los participantes en la ceremonia de duelo de Ashura en la ciudad afgana Balj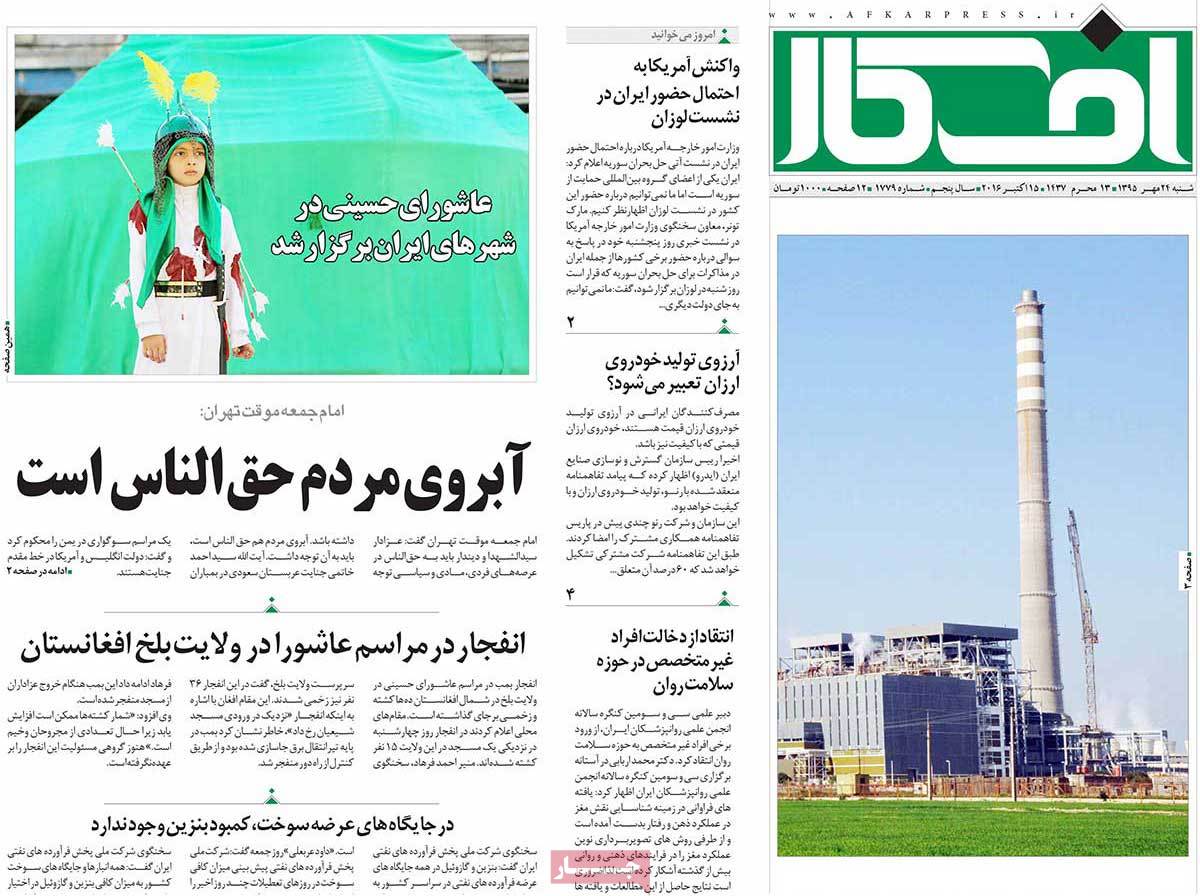 ---
Aftab Yazd:
Supuesto préstamo bancario de EE.UU a Irán por valor de miles de millones de dólares (caso de venta de aviones)
Nueva hipótesis sobre la destitución del ministro de Cultura; ¿Una dimisión formal o de protesta?
El debate presidencial de EE.UU revela la decadencia de la moralidad política en el país norteamericano
¿Qué regaló Zarif a John Kerry?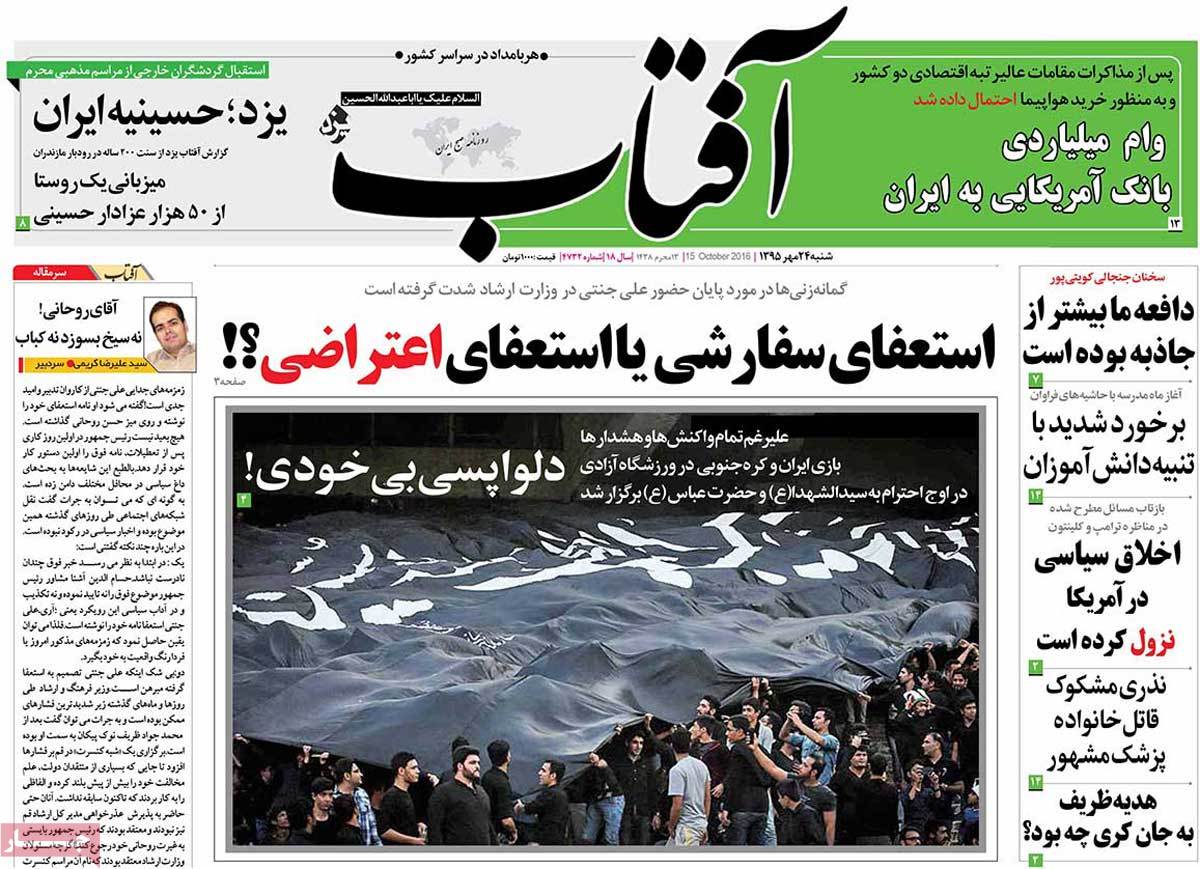 ---
Amin:
Neutralizada una operación terrorista en la provincia de Fars; Detienen a varios terroristas extranjeros
El ministro de Cultura, está en el aire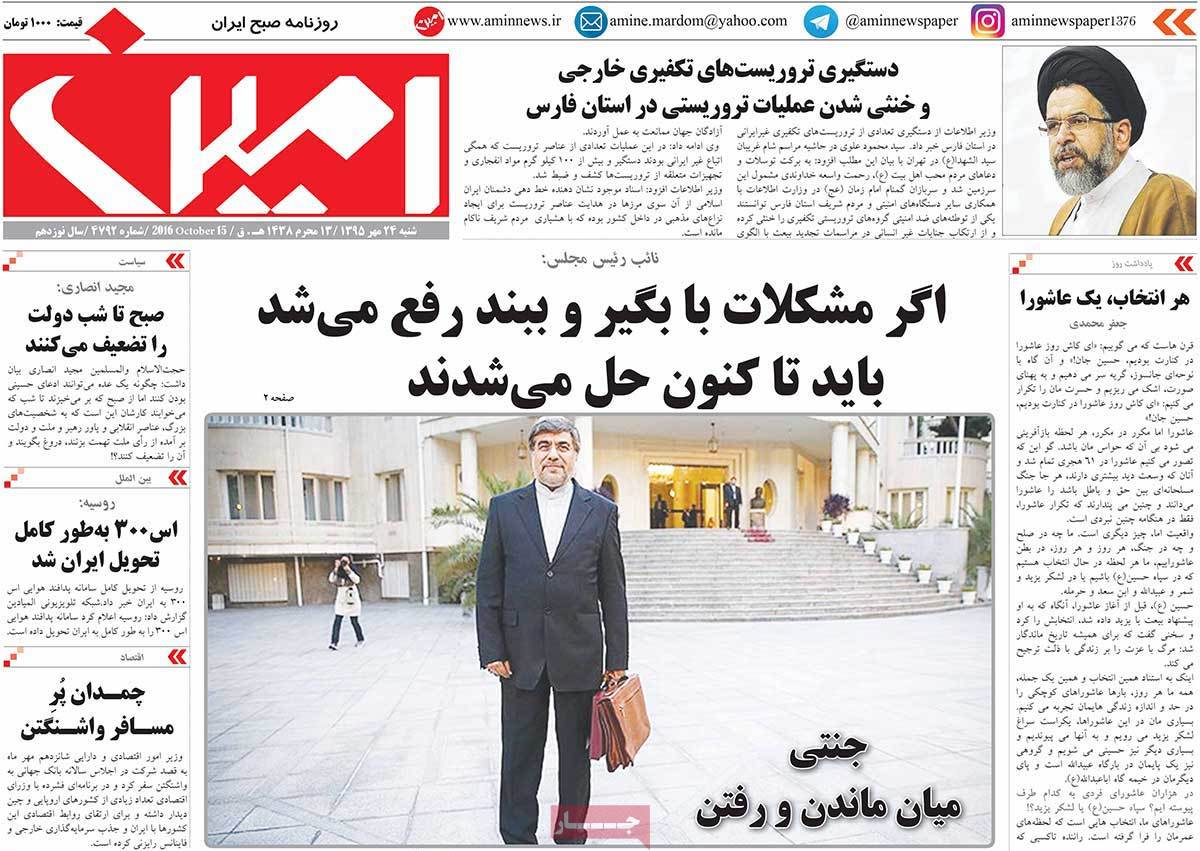 ---
Arman_e_Emruz:
Clérigo reformista: "Los fundamentalistas buscan elevar su posición por medio de Rohani."
Presentan al nuevo rival de Rohani; El mercado electoral de los fundamentalistas sigue desorganizado
Castigo a un estudiante acaba en la dimisión del Jefe Local del Departamento de Educación;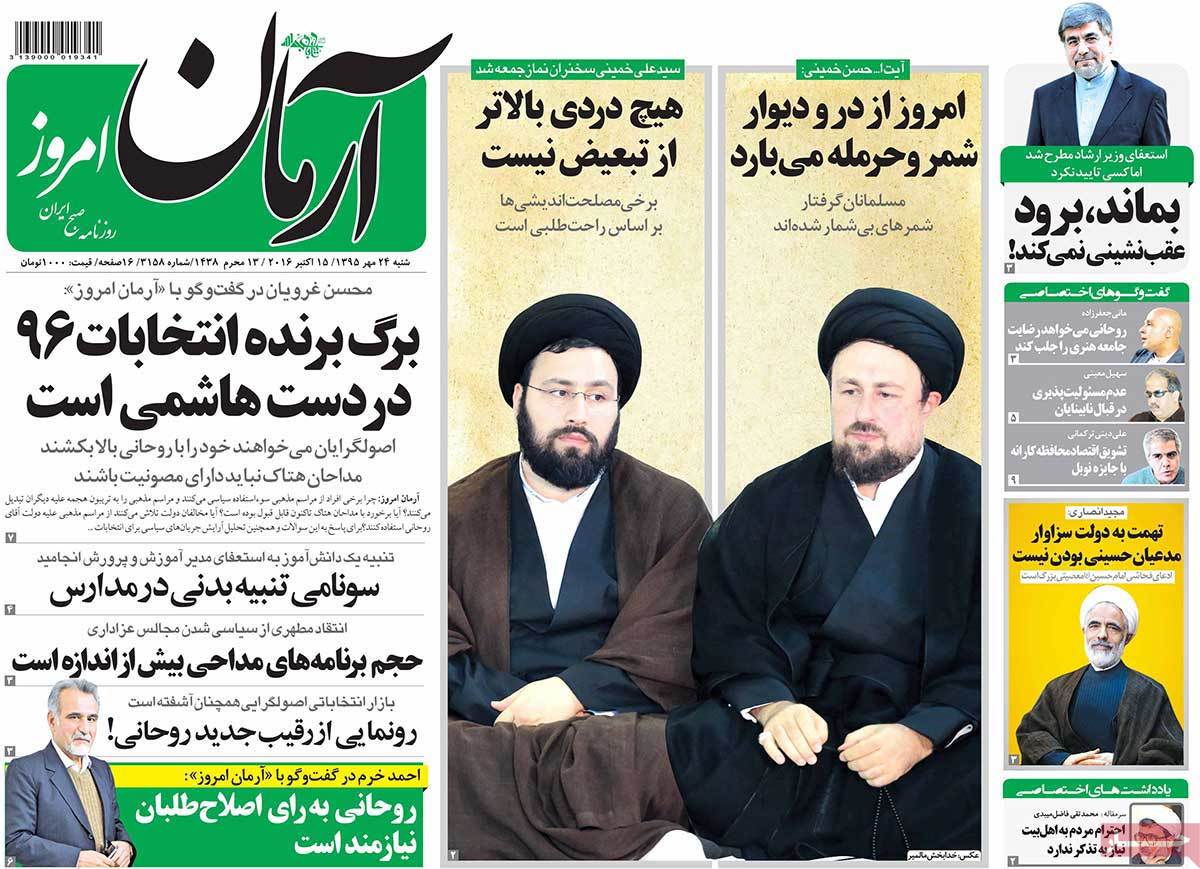 ---
Asrar:
Alto comandante de CGRI: "Arabia saudí no es capaz de enfrentarse con Irán."
Bashar al-Assad: "Riad y Paris intentan separar a Irán y Siria"
Miembro de la Comisión de Energía del Parlamento informa sobre la autosuficiencia de Irán en la producción de gasolina hasta fines del año en curso
Desmienten la eliminación del nombre de un delincuente financiero de la lista de Interpol; Javari estará perseguido hasta el 2022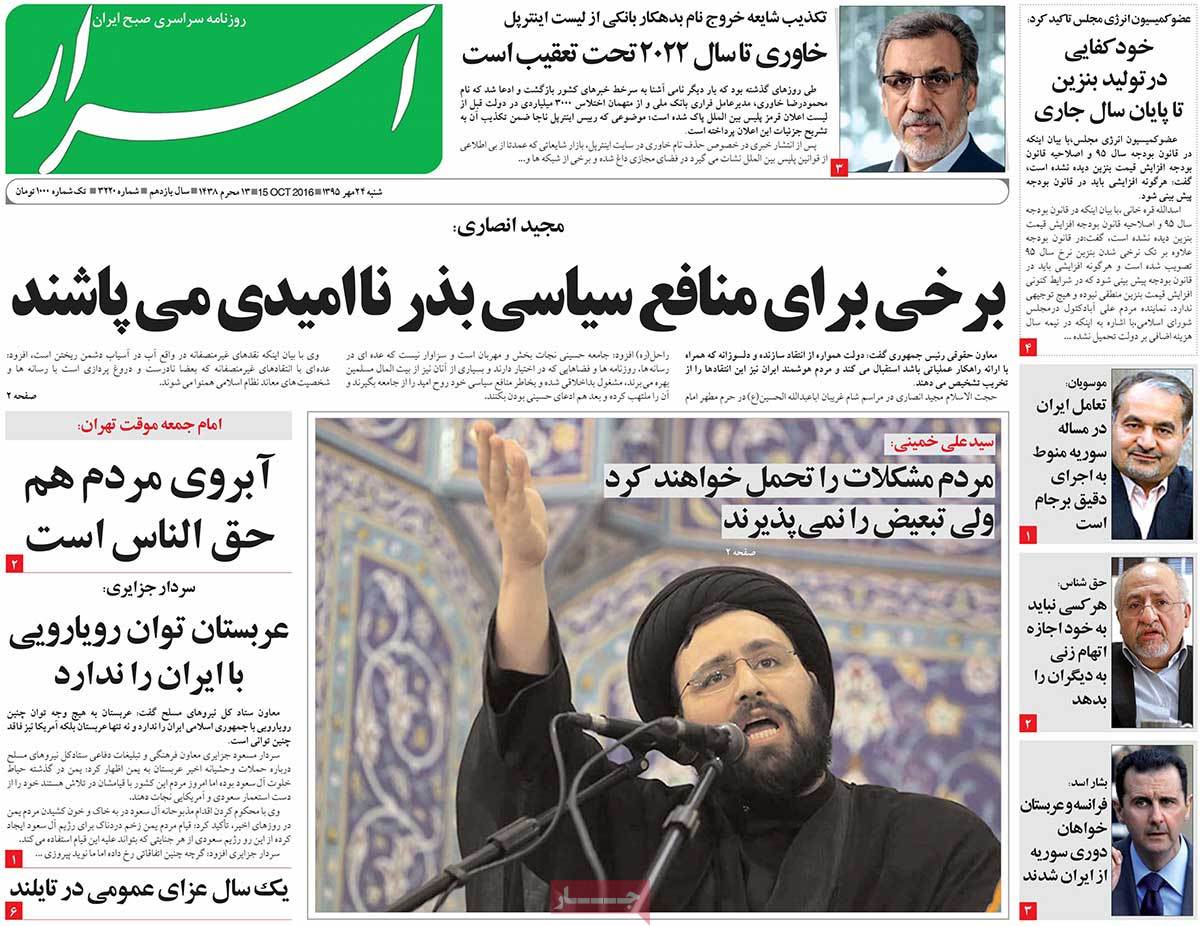 ---
Doniai_e_Eghtesad:
Fachada y esencia de la economía de Arabia Saudí; New York Times revela otra cara de la administración económica de la Casa de Saud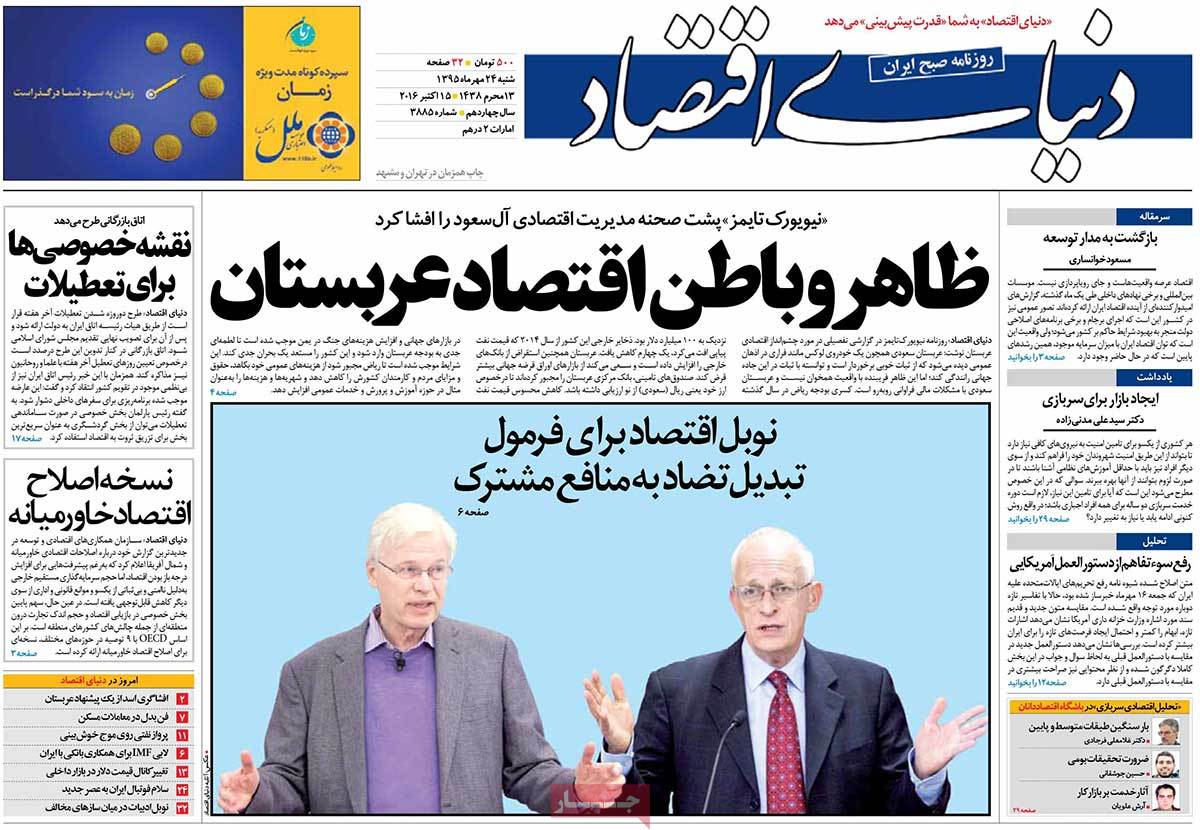 ---
Ebtekar:
La "paz y reconciliación" , en lugar de "manifestar la preocupación"; Antonio Guterres sustituye a Ban Ki-moon como secretario general de la ONU
¿Por qué Bob Dylan recibió el premio Nobel de Literatura?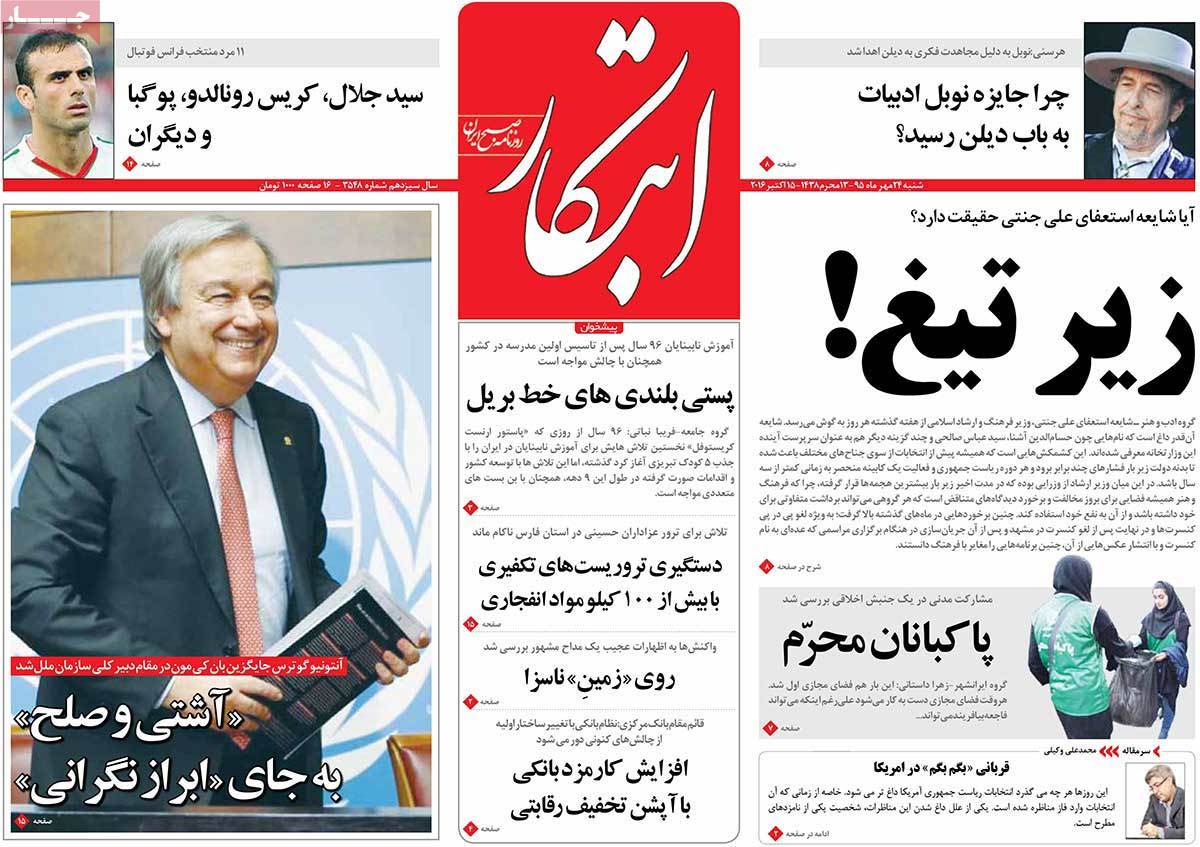 ---
Etemad:
Zarif sale hacia Lausana; Los actores políticos importantes intra y extrarregionales conversarán sobre el destino de Siria
Un pantano llamado "El Escándalo"; Trump sigue estando acusado de crímenes sexuales
---
Etelaat:
Declaración conjunta de los cancilleres de Irán y Rusia: "La crisis siria se solucionará sólo por vías políticas."
La UNESCO: "La mezquita de Al-Aqsa pertenece a los musulmanes."
Al-Sisi se dirige al rey de Arabia Saudí: "Egipto no acompañara a Riad en la desolación de los países."
El Secretario General de Hezbolá: "El mundo considera a Arabia Saudí la fuente del terrorismo."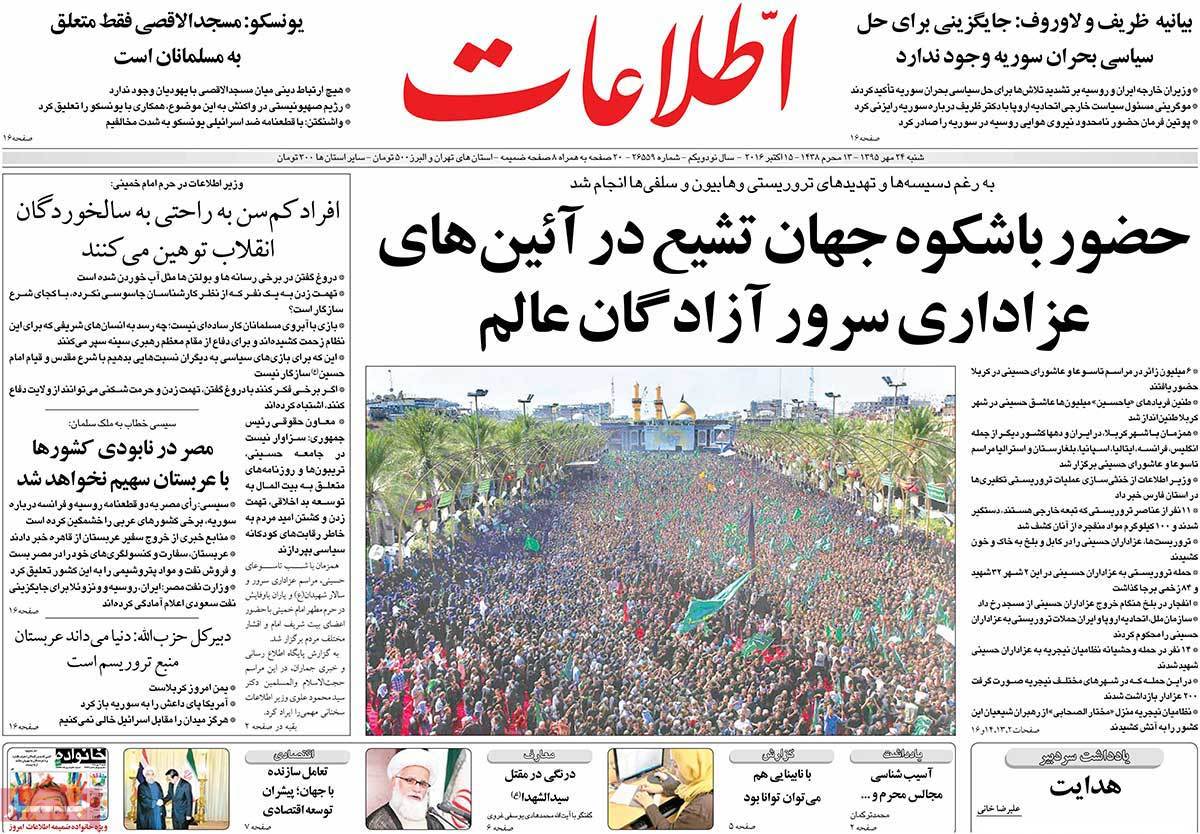 ---
Irán:
Rohani en la Reunión de líderes de la Cumbre de ACD: "Irán da la bienvenida a los inversionistas asiáticos."
Un cantante estadounidense gana el premio nobel de Literatura (la polémica elección de Bob Dylan como premio nobel de Literatura)
---
Yavan:
Ataque misilístico a la base militar de Ansarolá; Washington interfiere directamente en la guerra de Yemen para imponer la tregua saudí
Sólo escándalo sexual; Prevalecen las acusaciones sexuales de candidatos a la presidencia del mayor país velador por la democracia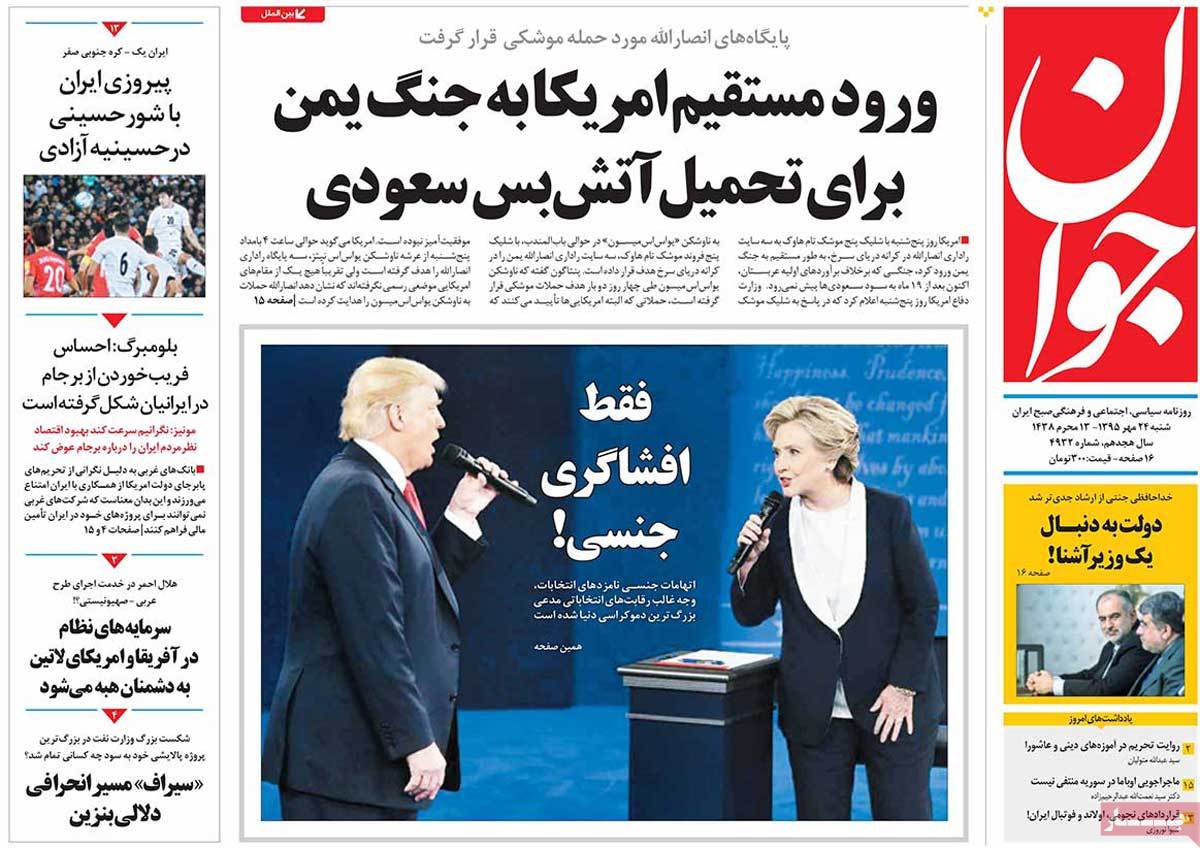 ---
Yomhuri_e_Eslami:
El Occidente desmiente la drama de ataque a Siria; Invitan a Irán a participar en las negociaciones
Erdogan se desafía ante la insistencia de Bagdad de retirar a los militares turcos de Irak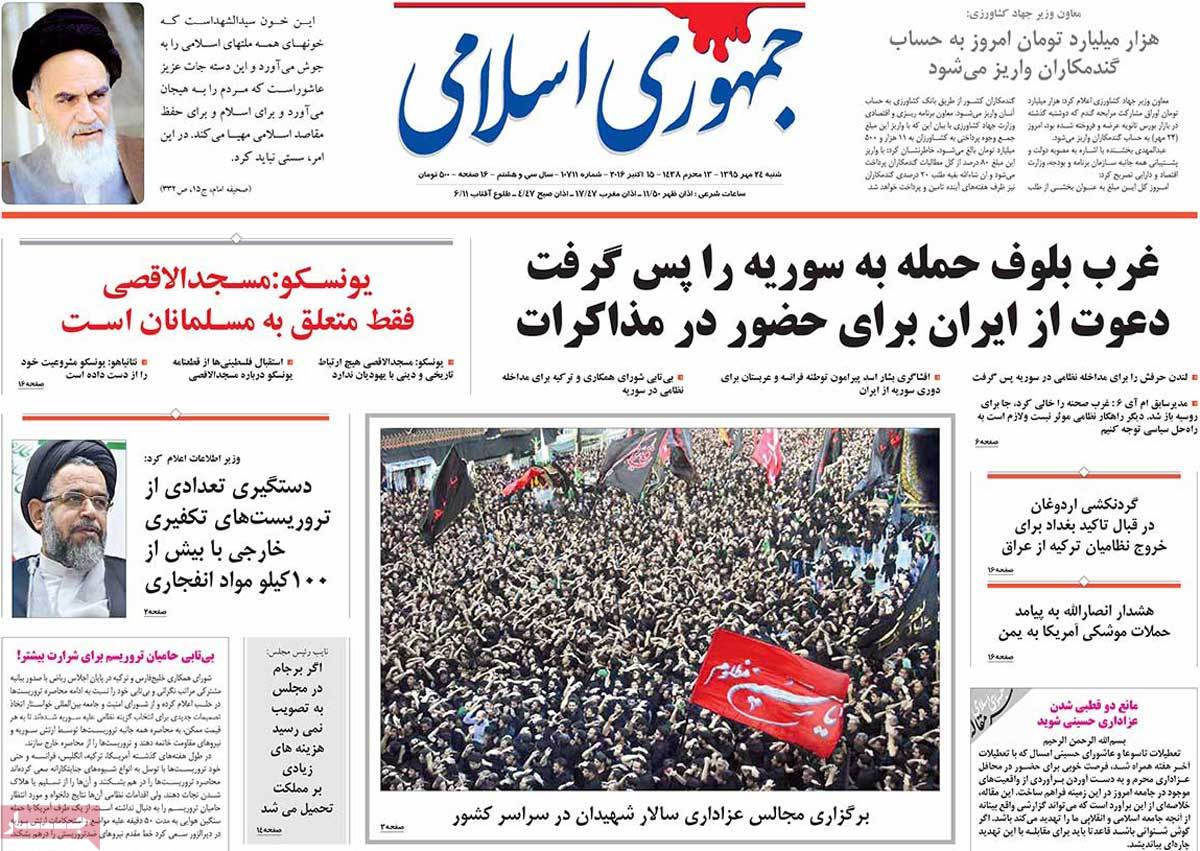 ---
Keihan:
Bloomberg, en referencia a la permanencia de sanciones: "El pueblo iraní cada vez se siente más engañado por el Occidente."
Reuters: "Las sanciones bancarias antiiraníes obstaculizan la firma de grandes tratados petrolíferos."
American Enterprise: "Si termina la fuente de petróleo de Arabia Saudita, los wahabíes pasarán al basural de la historia."
El Imán del rezo conjunto del Viernes en Teherán: "Cada cual de los líderes saudíes merece ser ejecutado varias veces."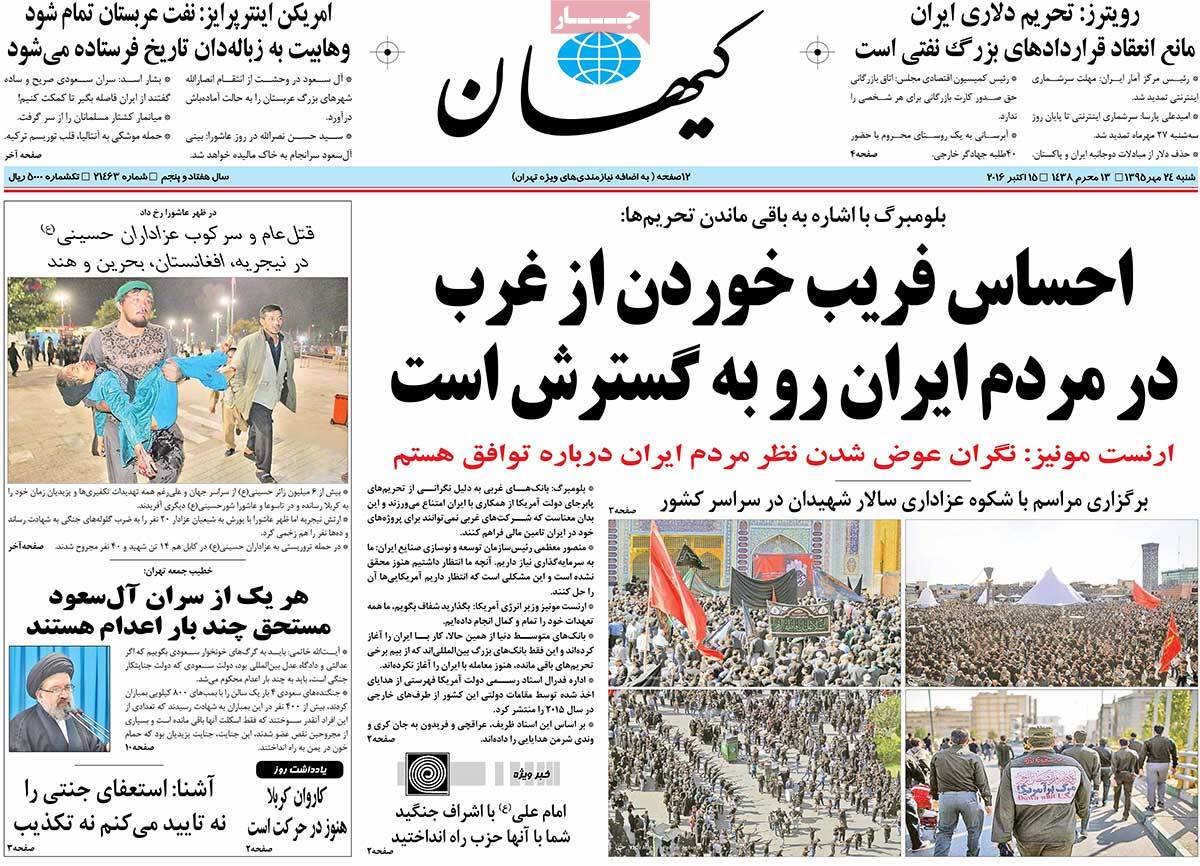 ---
Jorasán:
Crímenes del Ejército Nigeriano en el Día de Ashura; ¿Por qué el ejercito de Nigeria ha empezado nueva ronda de represiones contra el movimiento del Jeque Al-Zakzaki?
UU, un compañero de Arabia Saudita; El líder de Ansarolá de Yemen: "Conservamos el derecho de responder las ofensivas misilísticas de EE.UU."
---
Paiam_e_Zaman:
Irán alcanza el 20o puesto en la fabricación de automóviles
La importación del petróleo de Irán se reduce a la mitad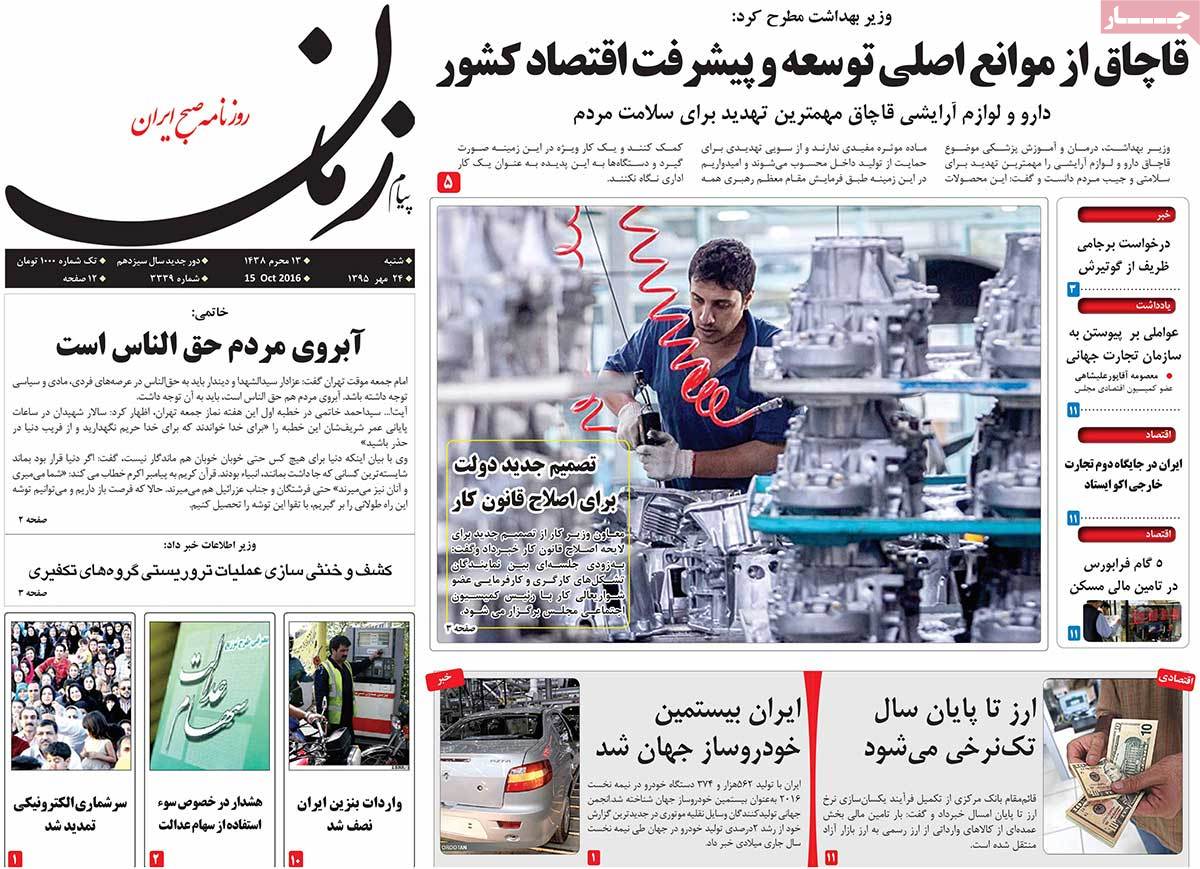 ---
Resalat:
Seied Hasan Nasrolá: "Los israelíes deben volver a los países de donde provienen."
Putin: "Rusia no negocia con EE.UU sobre ninguna cuestión."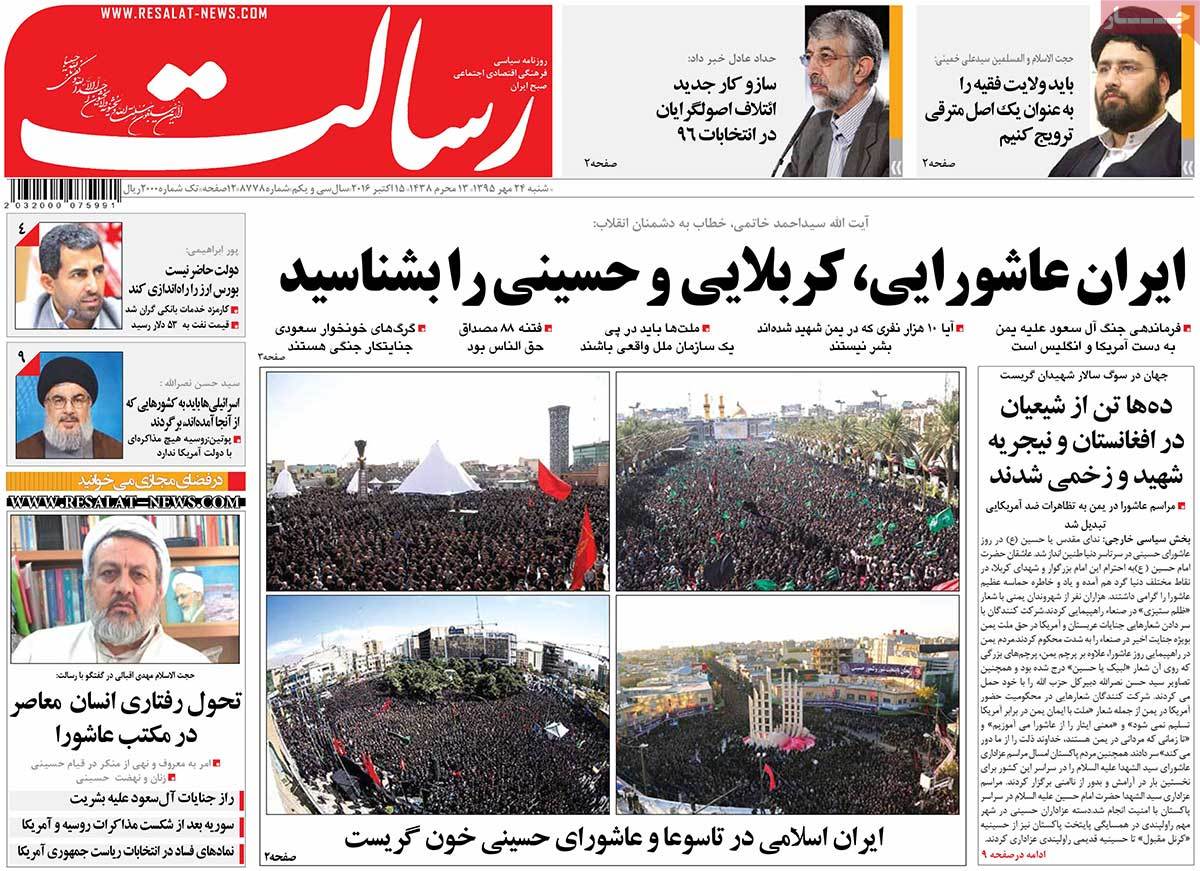 ---
Ruzan:
La dimisión del ministro de Cultura pone a prueba a Rohani; ¿Acaso Rohani se rinde ante las presiones de los fundamentalistas por el desarrollo de planes culturales de su gobierno?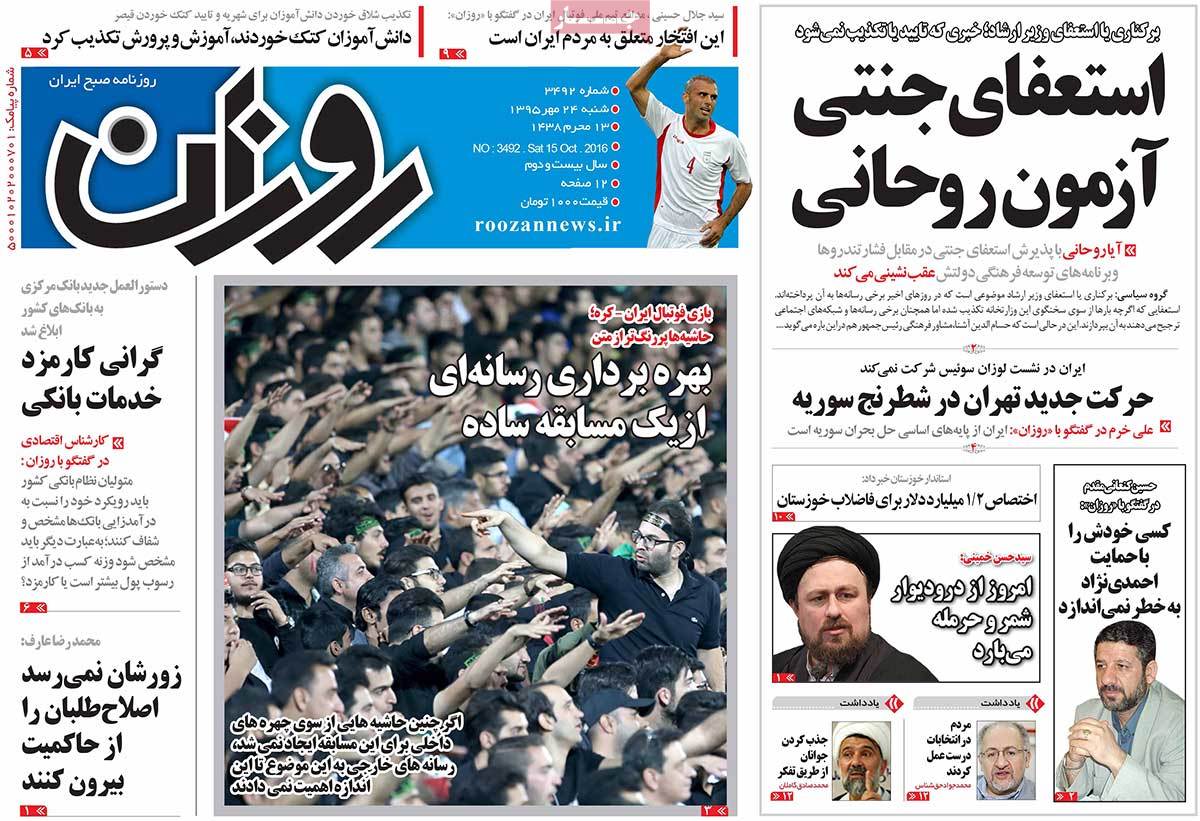 ---
Saheb Ghalam:
Portavoz de la Cancillería: "La matanza de los chiíes afganos en Ashura manifiesta el rencor de los terroristas por la unidad islámica."
Un fotógrafo iraní gana el segundo puesto en el Festival de Fotografía Bayeux-Calvados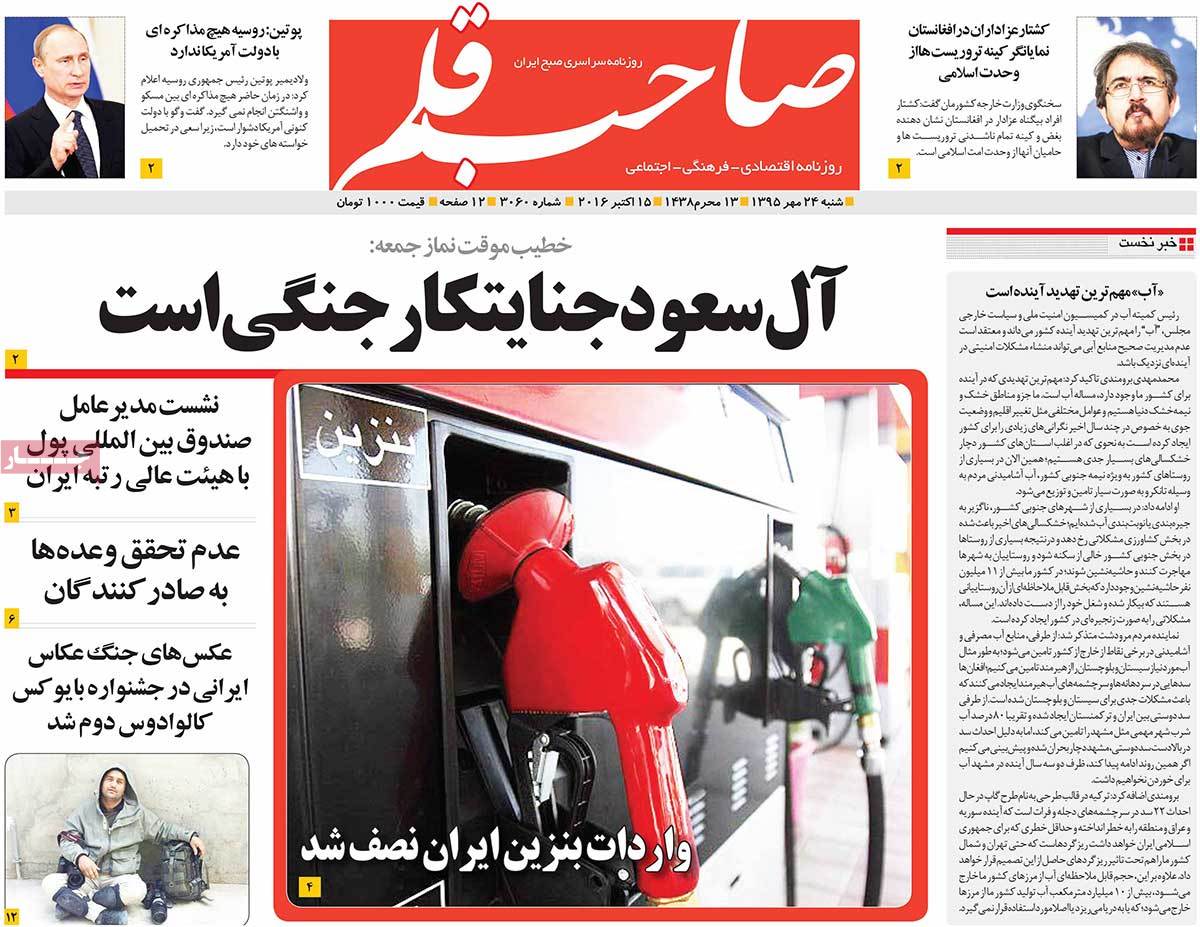 ---
Setarei_e_Sobh:
Rusia reacciona ante posible ataque estadounidense a las fuerzas sirias-rusas: "No permitiremos una ofensiva contra sus militantes."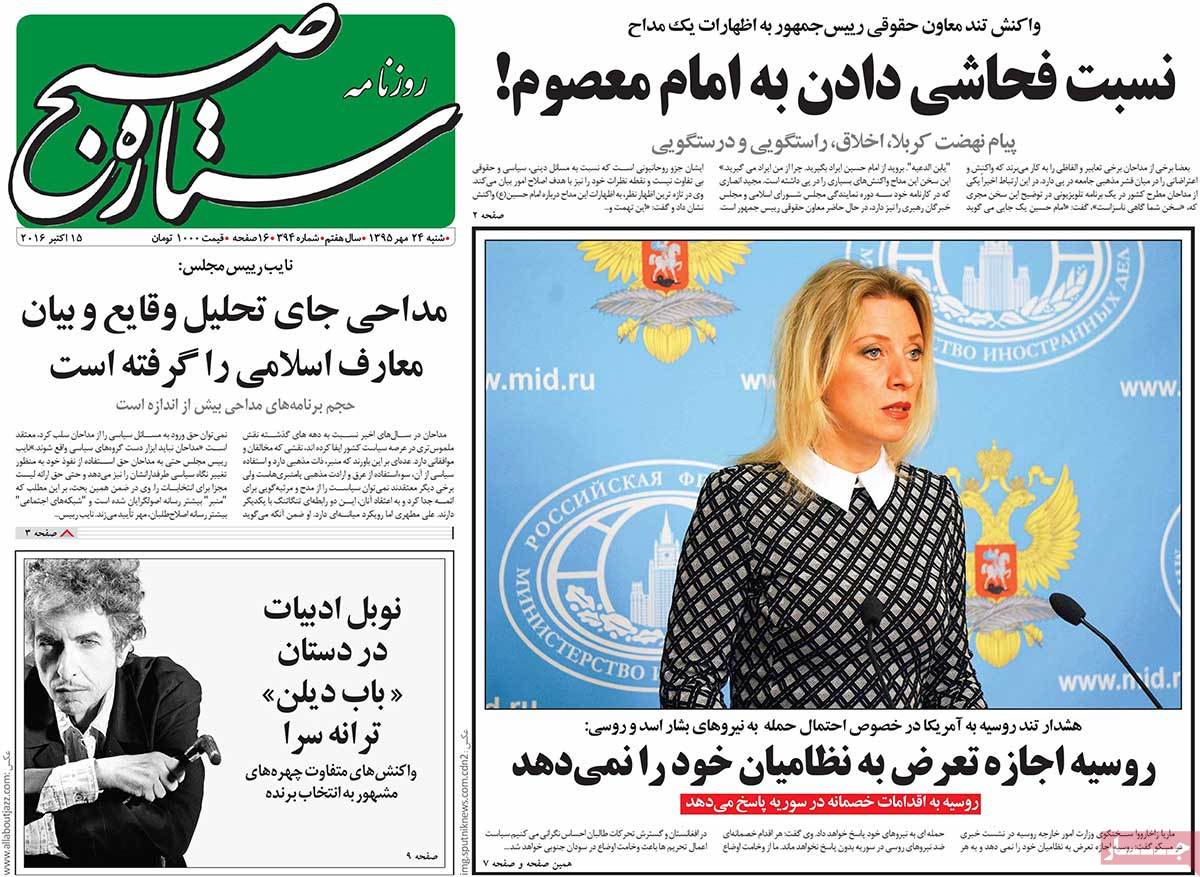 ---
Vatan_e_Emruz:
El portaaviones USS Nimitz ataca centros de vigilancia aérea del Ejército yemení en el Estrecho de Bab al-Mandeb
Diario Al-Vatan: "El rey saudí apoya el terrorismo."
Bashar al-Assad: "Me pidieron que cortara los vínculos con Irán." (Se revela la propuesta del Régimen Saudí de hace 5 años.)